When you get ready to start making a recipe, you want a mixing bowl that won't let you down. Making summer salads, hearty sauces, cookie dough and meat marinade all call for distinct bowl features. The most useful mixing bowls should be able to cover as many of these bases as possible. This guide will review the best mixing bowls you can buy for your kitchen.
Glass Mixing Bowls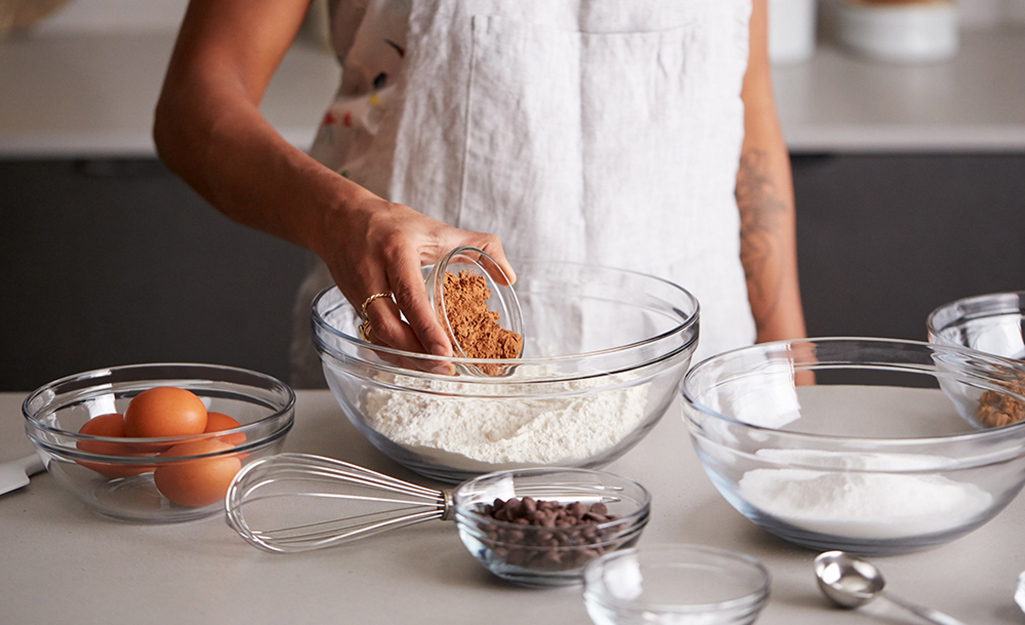 As you think about the best mixing bowls, consider the material the bowl is made of. Glass mixing bowls rank quite highly.
They are nonreactive, microwaveable and transparent, making thorough mixing a breeze. If you choose your material wisely, your glass mixing bowl will be well-suited to a wide range of temperatures. Borosilicate glass is an incredibly strong option. In a freezer, microwave or preheated oven, all will be safe.
Glass is both nonporous and nonreactive. The color, texture and flavor of food won't be impacted by this material. Also, the food won't leave its impact on the bowl. You should opt for a glass mixing bowl when marinating meat and veggies, mixing batters or preparing recipes that include pungent ingredients like garlic or onion.
A downside to glass is its weight. Of course, glass is also breakable, which means you should not be using your electric hand-mixer in a glass bowl. If you're concerned about managing the weight of a heavy glass bowl or accidentally breaking it, stainless steel mixing bowls may be the better option for you.
Stainless Steel Mixing Bowls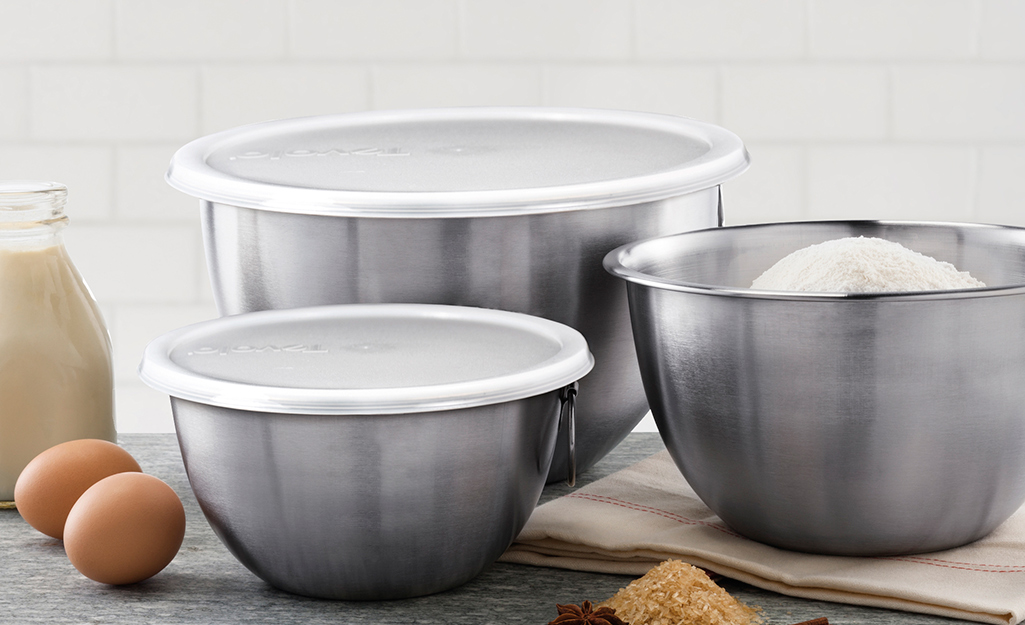 The best stainless steel mixing bowls are durable and cost-effective. These lightweight bowls allow you to manipulate the angle of the bowl while you stir. They're great for folding, tossing and whisking, either with an electric whisk or with a traditional whisk. 
If you have two sizes of stainless steel mixing bowls, you could easily fashion a double-boiler for your chocolate tempering and béarnaise sauce-making needs. You can even bake in the best stainless steel mixing bowls. Cooking in a mixing bowl may add about 5 minutes of cook-time to your dish, though.
While stainless steel mixing bowls have great range, you should not be putting anything too hot or acidic in them. Generally, the best stainless steel mixing bowls will resist reacting. However, opting for glass in such cases is your best bet. If you need to put a mixing bowl in the microwave, use a glass one. Stainless steel mixing bowls are not microwave safe.
Other Mixing Bowl Materials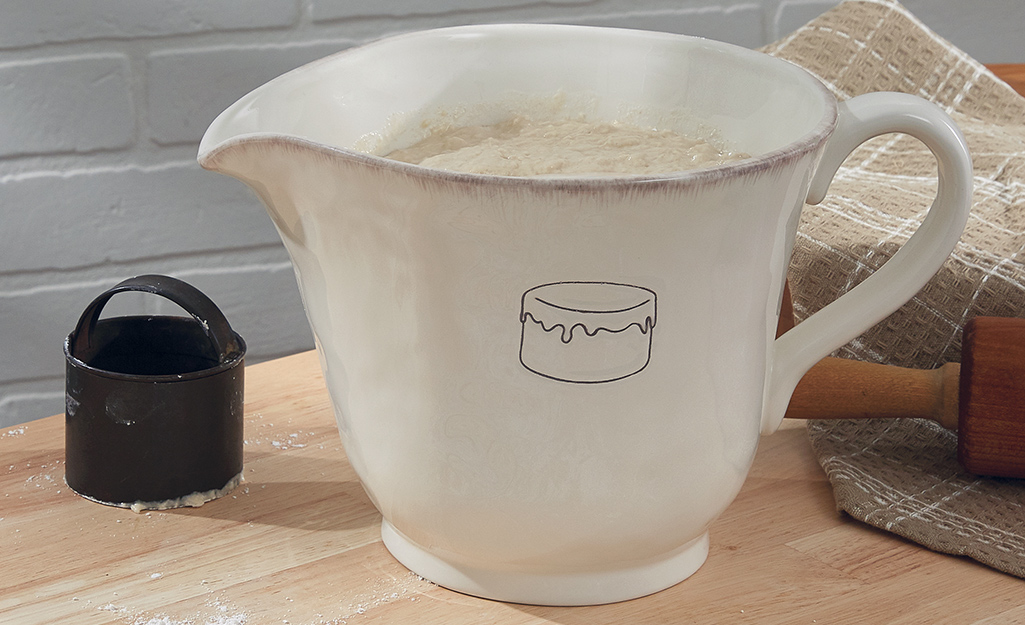 Beyond glass and stainless steel standbys, you can find copper, wood, ceramic, plastic, silicone and melamine mixing bowls. They all serve a purpose and are best suited to specific projects. Here's an overview: 
Copper:
Copper mixing bowls are a costly option. They're really only meant for projects that demand a highly reactive material. Specifically, copper is a dream for creating stiff peaks out of egg whites or dairy. When inside a copper basin, egg whites actually undergo a chemical reaction thanks to the copper ions. The material is also super conductive, meaning it warms quickly and uniformly. Copper deftly maintains a high heat. 
Wood:
This porous material really shouldn't be used for anything but serving. That said, a wooden bowl does serve a salad well. An unmasked grain of a mixing bowl looks gorgeous with mixed greens. Wooden bowls will often come with a set of useful and aesthetically pleasing tossing utensils. 
Your wooden bowl should not go into the dishwasher. The porous material does not do well with lengthy water exposure. The dishwasher's extremely high temperatures can cause the material or warp or even crack. Stick to hand washing. Never soak a wooden mixing bowl.
Ceramic:
Also referred to as "earthenware," as it is the finished product of clay, ceramic is another good option for serving. This material is prone to chipping and quite heavy. If your counter space is limited, investing in a ceramic mixing bowl isn't recommended. However, ceramic mixing bowls do work well for bakers. 
Clay bowls that do not have a glaze on them make phenomenal baking bowls. Baking in a clay pot is a technique is called "cloche" baking. This method creates a heavenly, crisp crust. The material is quite porous, meaning it gets very hot and fosters the steamy environment that wet bread doughs favor for development of a good exterior. For baking, your ideal clay bowl will have a lid, which is removed about 15 to 30 minutes before bread is pulled from the oven.
Plastic:
A great option for butter-fingered cooks and picnic enthusiasts alike. Packing for a picnic or barbecue is made easy if you're using a plastic mixing bowl. Just be mindful that plastic can absorb flavors, so avoid putting umami-packed dishes in plastic. Alternatively, you can designate various bowls to hosting certain flavors. Use one for garlic-y dishes, another for mild and savory foods and yet another for sweets. 
Melamine mixing bowls are an option for the pro-plastic set. Melamine is an organic industrial compound that is created through the combination of melamine resin with strengthening materials. It is super durable, as long as you avoid heating any of its contents to over 160 degrees Fahrenheit. Bowls with silicone bases help with stability.
A quick note on oven-safe bowls: Make sure to read labels. Many bowls made of tempered glass, metal, enamelware and ceramic are oven-safe up to at least 350 degrees Fahrenheit, and many can go higher. But it's not worth running the risk of a glass or glazed ceramic bowl shatter in the oven. Always play it safe. 
Mixing Bowl Sizes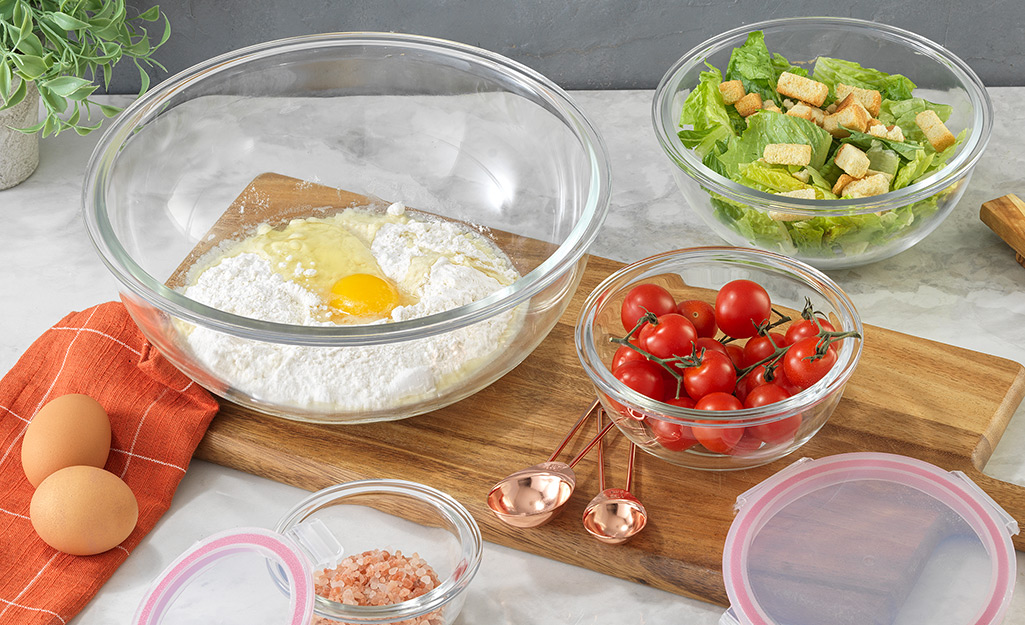 The second factor to consider when looking for the best mixing bowl is size. A solid set of nesting bowls will be a welcome addition to your kitchen. They save you counter space and ensure your needs are almost always covered. The sizes of bowls are intended to fulfill the typical home cook's needs.
In a standard mixing bowl set, you will get bowls with capacities of 1 to 2 quarts, 3 to 3.5 quarts, and 5 quarts. If large-format projects are the norm for you, you might want a set that includes a 7- to 8-quart bowl, too. If you want to start with a single bowl, one that holds 3 to 4 quarts should be suitable for everyday use.
Small bowls will help you portion and prep spices, herbs and crunchy bits. Mid-sized bowls should hold the ingredients for most dishes that serve two to four people and do not demand vigorous mixing. 
Large bowls are well-suited to tossing salads sized to serve a group. They work for making dough that sometimes lead to a flour explosion. Large bowls are also ideal for using with an electric mixer.
Mixing Bowl Shape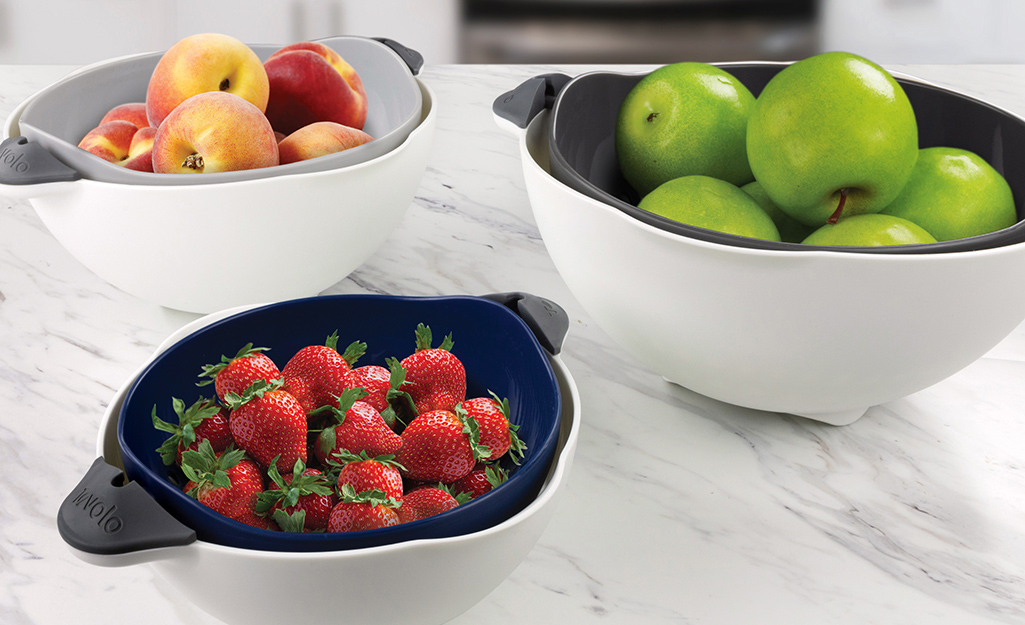 The shape of a mixing bowl is also important. A wide base makes for a stable mixing experience. A wide opening will allow for optimal access. As you look for the best mixing bowls you can buy for your kitchen, steer clear of anything too narrow. With an open and shallow mixing bowl, you can fold and toss easily.
A mixing bowl with a healthy depth will stave off splashing. A deeper bowl is particularly useful when you're using a hand-mixer or vigorously blending something like a vinaigrette or creamy base sauce. 
Also important is the bowl's lip. Opt for something substantial that allows for easy pouring. A sizable rim will give you more surface area grip, keeping the mixing bowl secure as you work.
As you may have noticed, this guide doesn't address electric stand mixers and their accompanying bowls. A kitchen's need for an electric mixer and bowl should not be confused with the need for standalone mixing bowls, which you'll likely be getting much more regular use out of. 
As you shop for the best mixing bowls you can buy for your kitchen, look for a multi-purpose bowl. Consider the material of the mixing bowl, as well as its size and shape. Mixing bowl sets offer a lot of options, but you may want to buy bowls one at a time. A three-to-four quart bowl makes a good general purpose bowl.
Ready to shop for the best mixing bowls for your kitchen? The Home Depot delivers online orders when and where you need them.
Explore More on homedepot.com