It should go without saying that you should drink wine out of whatever helps you enjoy it best. It could be a fancy wine glass for a specific varietal or a plain old juice glass. Go with whatever types of wine glasses work for you and makes you happy.
Wine Glass 101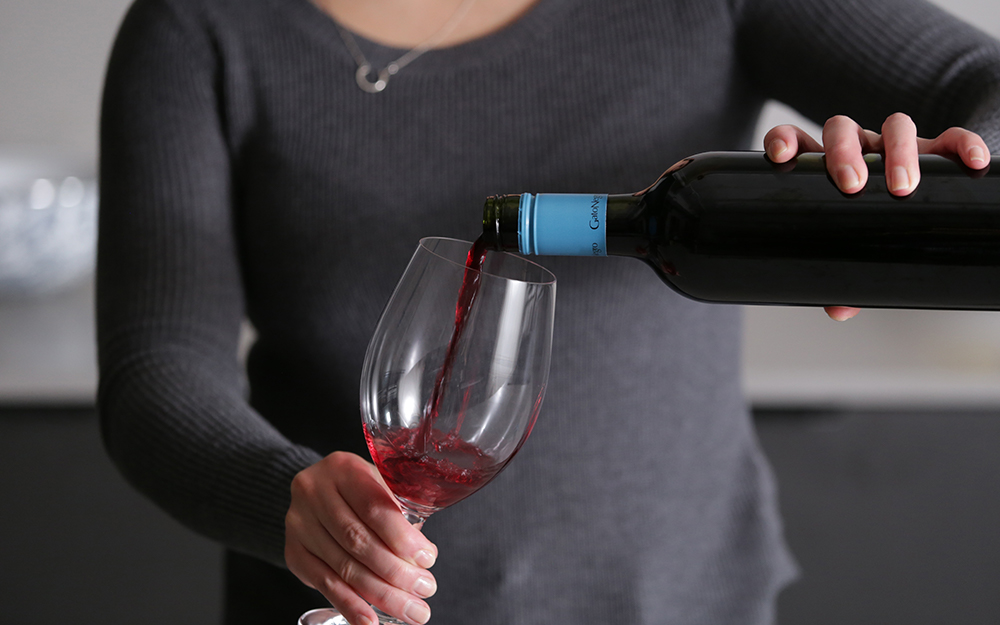 Interestingly enough, however, different-shaped types of wine glasses can actually help you better taste and enjoy specific types of wines, thanks to various factors: bowl size, bowl shape and stem. (If it's not obvious, the "bowl" is the part of glass you pour the wine into.)
 
The bowl size and shape help control air contact, aromas and the way the wine is taken into your mouth. Different shapes can direct the wine to different parts of your palate, helping to highlight certain flavors and suppress others. The stem, which is the long skinny part you're meant to hold, helps keep the wine at the optimal temperature, so you don't warm it up with your hands. 
The Best Wine Glasses for Everyday Use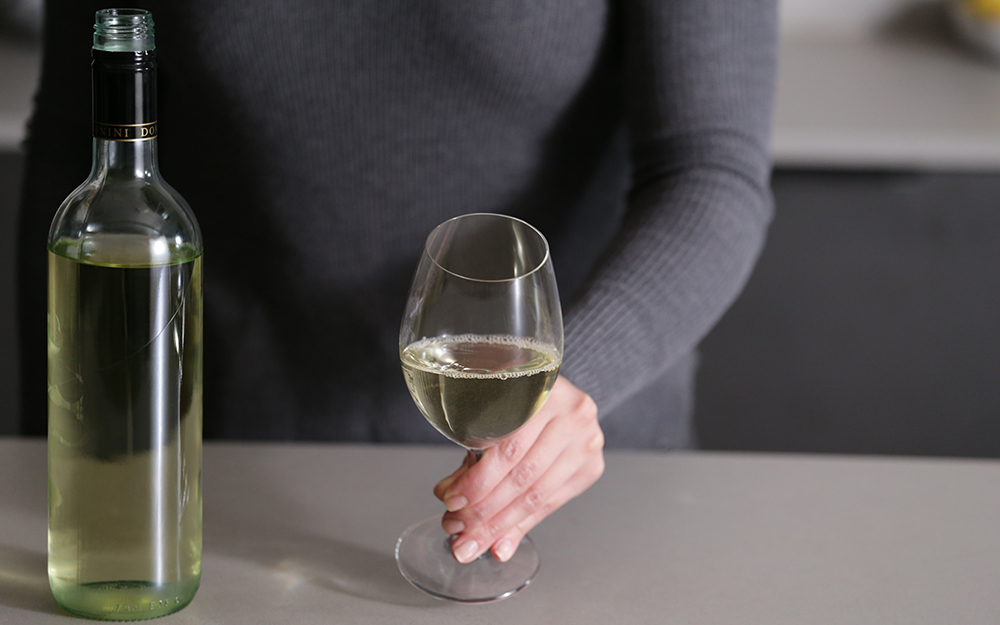 Most people like to have at least one set of glasses for white wine and one set for red wine, plus a set of coupes or flutes for sparkling wine and Champagne. You can buy these separately or look for a set from one company. Here's a breakdown of basic wine glass shapes:
RRed wine glasses have larger bowls, to bring the wine into contact with more air. This is also called letting the wine "breathe." The glasses also usually have wider rims to let your nose take in all the aromas. 
WWhite wine glasses have smaller bowls because these wines don't need to breathe as much as red wines. The smaller bowl also helps them stay cooler. 
Tall, thin sparkling wine flutes help keep the wine cool and retain its bubbles, but unless you really like the look, you don't need to bother with them. These days most sommeliers say Champagne and other sparkling wines should be enjoyed in a tulip glass or white wine glass, so you can swirl the wine and better enjoy the aromas. 
The Best Wine Glasses for Different Varietals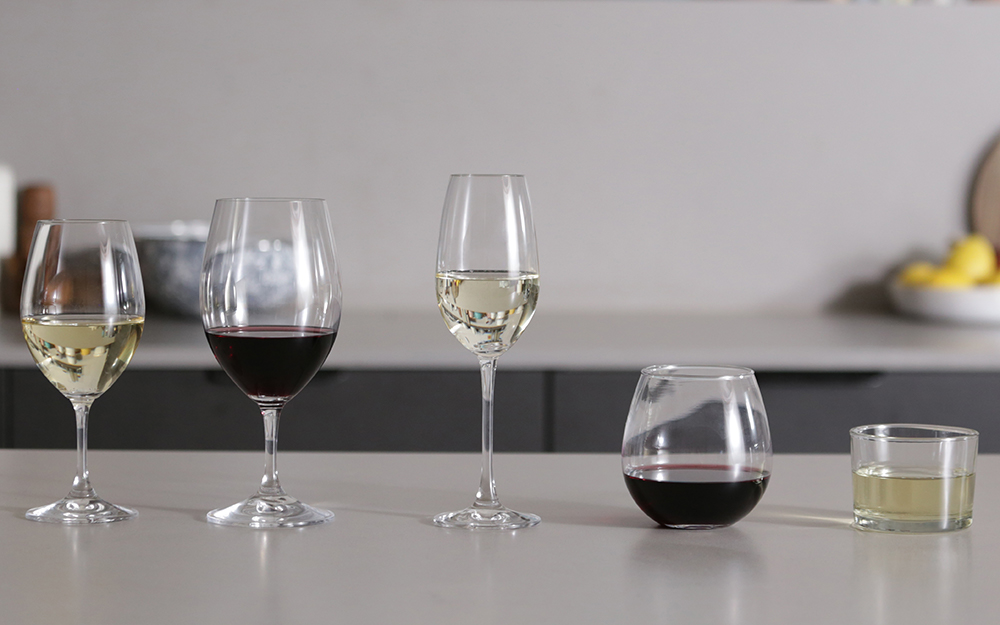 If you've got more room in your cabinets, consider looking for glasses specifically designed for your favorite varietals. These glasses fine tune the bowl shape to highlight certain notes in the wine that are characteristic of each type of wine.
To help you understand how that works, here are a few solid examples:
Sauvignon Blanc glasses are usually narrow and upright, which helps keep the delicate aromas in the glass and directs the wine down the center of your palate, away from the sides where you pick up more acidity — because this wine tends to be more acidic.
Pinot Noir glasses have the largest bowl of any wine glass; this maximizes air contact while the much smaller, almost triangle-shaped lip angles the aromas toward your nose and keeps them in the glass. This shape also minimizes acidity and helps highlight the sweetness of the varietal.
Dessert wine glasses have a highly tapered rim, which emphasizes the acid in the wine so it won't taste overwhelmingly sweet.
Don't feel a need to buy every varietal's ideal shape and size. Instead, look for options that enhance wines you drink frequently. Also consider whether you want to buy a full set of glasses for entertaining or just a few for enjoying with your family and friends.
After you've narrowed down what type of wine glasses you want, there are still a few other things to consider to find the best wine glasses for your household:
Types of Glass in Wine Glasses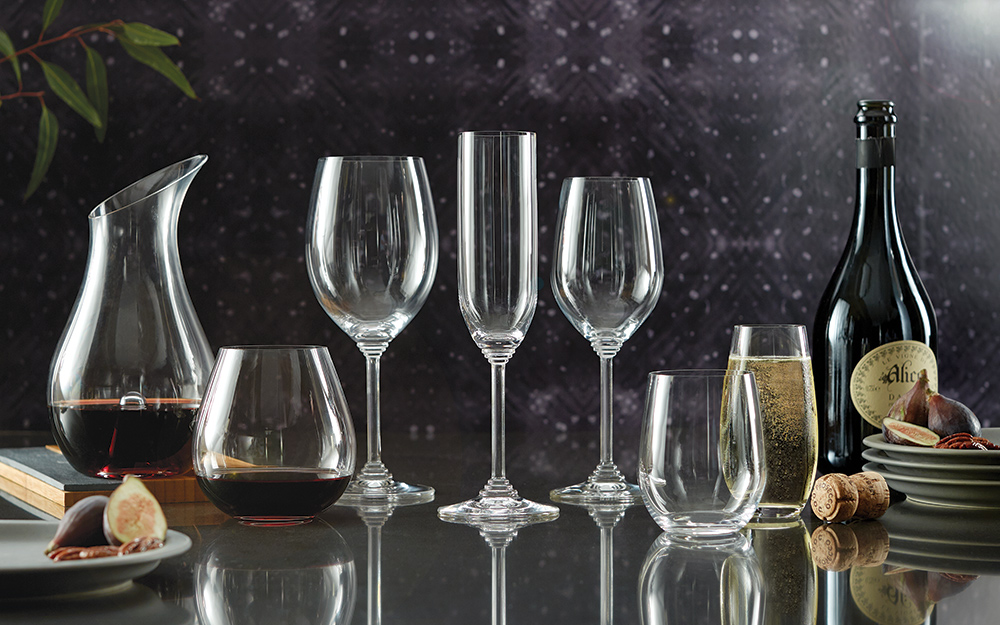 Clear glass is ideal so you can better see and appreciate the color of the wine. For serious wine drinkers, the color gives you a lot of information about the wine.
Crystal will give you a little more sparkle and catches the light best, but it's not a requirement.
Look for glasses with a nice weight in your hand, and a thin, flat rim.
Stemless Wine Glasses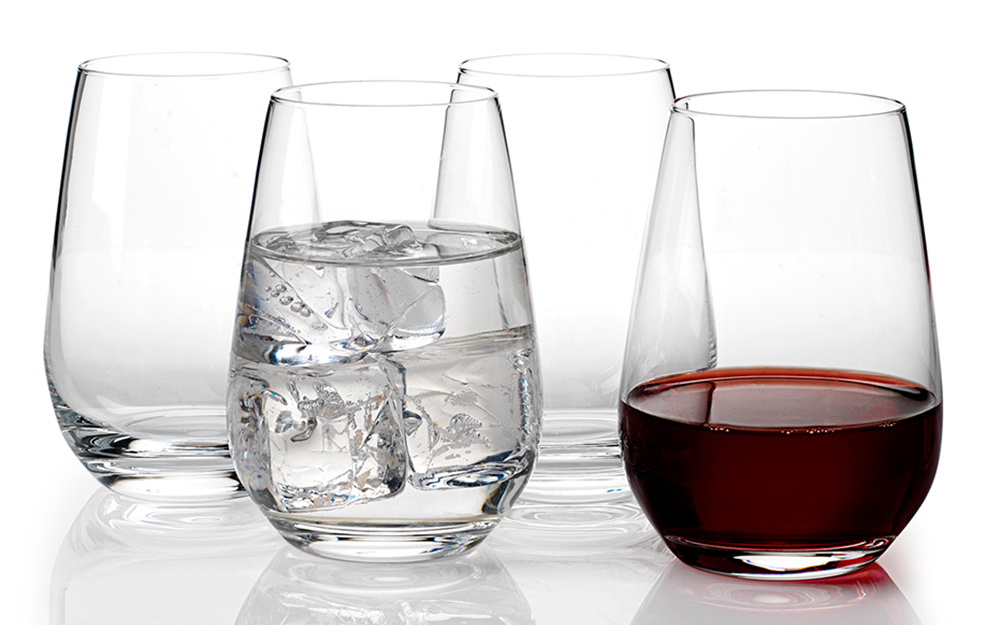 Some people prefer stemless wine glasses because they are more casual and have less risk of spillage or breakage. The stem only affects the temperature of the wine, so if this is your preference, go for it!
Similarly, it's become trendy to use simple, short bodega glasses for everyday red and white wine. If you don't have a lot of cabinet space and like to keep things casual, this is the perfect option for you. 
Wine Glass Sets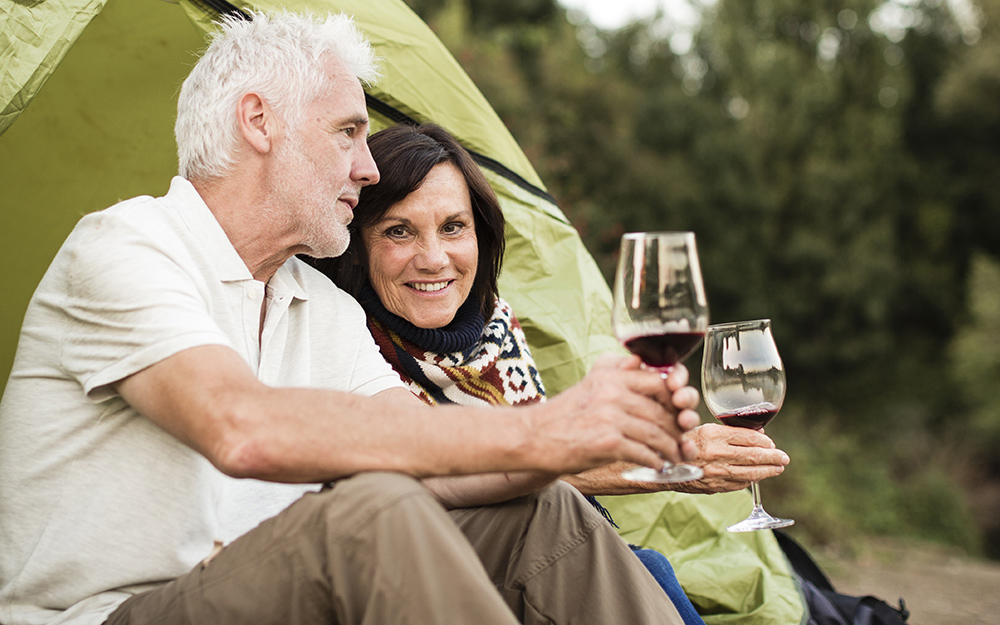 Shoot for an equal number of wine glass sets and place settings that you have for entertaining.
If you entertain outside a lot, don't forget about an outdoor option that's less breakable. 
You might want to go a little more nontraditional with these; goblets are fun because you can also serve cocktails like gin and tonics or frozen margaritas in them; as are stainless steel wine glasses, which are also great for bringing along to the beach or a campsite.

 
Need help identifying a wine glass? Find products fast with image search in The Home Depot Mobile App. Snap a picture of an item you like and we'll show you similar products.
Explore More on homedepot.com