When you open your kitchen cabinets, do you see too many drinking glasses that you never use? While you may have plenty of cups and mugs, you might not have the everyday drinkware that you really need. 
The right types of drinking glasses can keep your cabinets more organized and add to the appeal of your table settings. Plus, you may even enjoy what you're drinking a little more.
This guide covers the types of drinking glasses you need in your kitchen. It includes options for water, juice, coffee and tea. You'll find cocktail glasses in another guide, however. 
Drinking Glasses for Water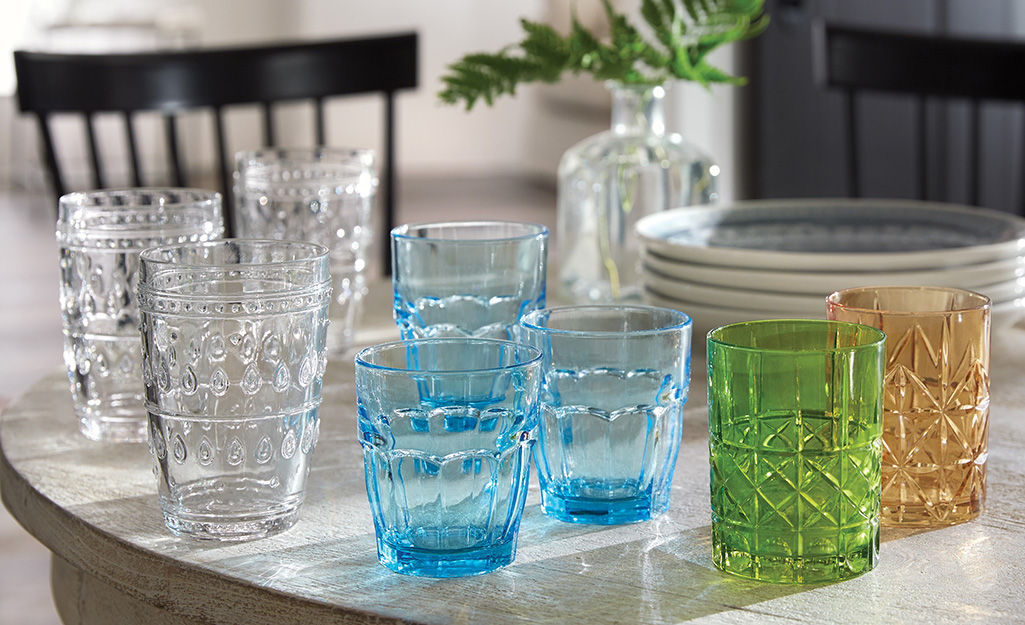 A tumbler, which may be made of glass or plastic, is quite possibly the best water glass you can choose. By definition, a tumbler is a flat-bottomed drinking glass without a foot or stem. This shape feels great in your hand. When weighted on the bottom, this kind of glass deftly avoids tipping over (or, as you could say, "tumbling"). 
You'll find it easy to drink out of a tumbler. It doesn't have a drip-inducing raised lip. A tumbler is also bigger around than the body of a Collins or highball glass, which can seem too narrow.
Tumblers come in a wide range of sizes. For water, between 14- and 16-ounces will serve you well. This size holds a fair amount of liquid without being too heavy to hold. Anything over 16 ounces can be tough to manage.
You can find tumblers made in several different materials. Tempered glass makes for a relatively shatterproof glass and ensures durability.
However, if you're more comfortable with plastic, don't shy away from it. Some plastic glasses are insulated, which means they will keep an ice-cold glass of water cooler longer. You've just got to know what you're looking for when you're looking at plastic glasses. Read the product label and make sure you're purchasing a BPA-free plastic vessel. 
Here's a few things you should know before you buy plastic tumblers: 
The only kind of plastic that contains BPA, or bisphenol-A, is polycarbonate. This type of plastic is hard and virtually unbreakable. However, studies have shown that being exposed to BPA can have negative health effects. 
Tritan plastic, polypropylene plastic, acrylic and SAN are all great alternatives. 
Tritan plastic is characterized by its clarity and performance. It is the closest to glass in appearance. Sturdy and dishwasher-friendly, this type of plastic is relatively unbreakable. It's usually labeled as "BPA-free."
Polypropylene plastic is slightly opaque and rubbery in texture. Perhaps a less stylish option, this recognizable kind of plastic is nearly unbreakable. Polypropylene is typically labeled as "BPA-free." It's great if you're nervous about accidentally reaching for a BPA plastic.  
Acrylic and SAN are closest in resemblance to BPA-laden drinkware. These plastics look very similar to actual glass, but are less durable. While they are among the best water glass options out there, they need to be handled with care. Acrylic is typically labeled "hand-wash." SAN is usually marked as  "dishwasher-safe."
Juice and Table Glasses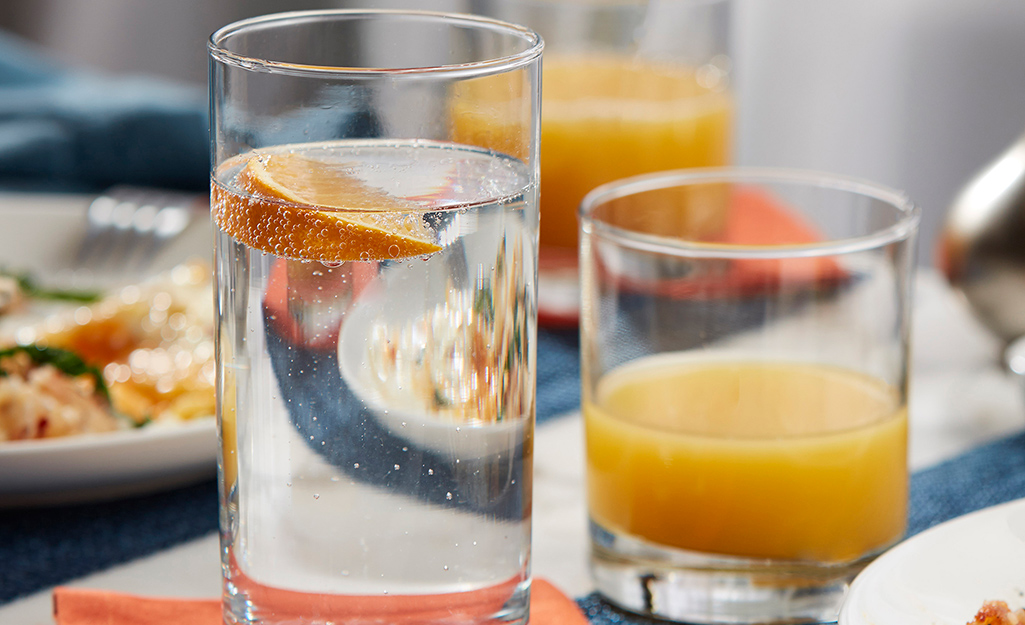 In addition to water glasses, you should be sure to keep some glasses for juice and other flavorful beverages. You may want a few different shapes and styles. As far as size goes, the best drinking glasses for everyday use within this category fall into the 8- to 12-ounce range.
Think of your water glasses as the workhorses of your kitchen glassware. Drinking glasses for juice can be a little less practical and a lot more fun. 
Create an elegant atmosphere by serving juice in delicate hand-blown glasses. Colored glasses with a retro feel can add visual appeal to kitchen and your table settings. 
A narrow and tall Collins or highball glass works wonders for a drink you want to sip slowly. Even the plainest beverage can feel like something special when you have a colorful or embossed glass in your hand.
One word of caution, avoid anything with a fluted or bulbous lip. This design feature often leads to a dripping glass.
Mugs and Tea Cups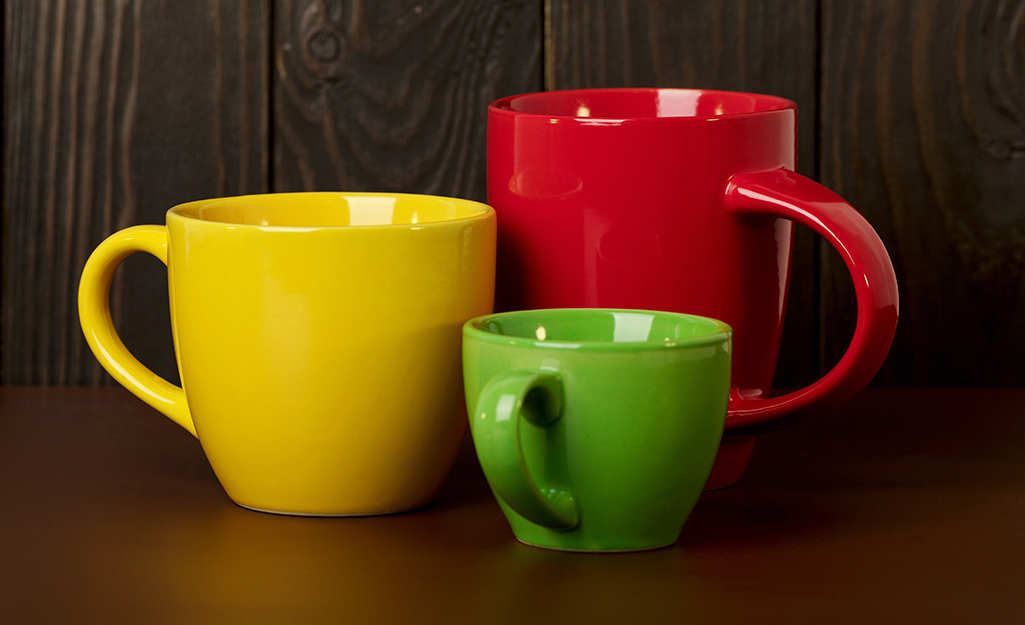 Hot beverages have their own considerations. If you pour a boiling hot drink into a glass, it can shatter. To serve coffee and tea safely, you need top-notch cups and mugs that can handle the heat. 
For coffee mugs, look for something with a comfortable handle, solid weight and an impressive ability to withstand heat. The average coffee mug is 12 ounces, but that size may require you to go for a refill more often. A cup that holds 14 to 16 ounces is an ideal size. 

If you're only making tea for yourself, you might choose a tea set that comes with a small teapot that sits on top of a cup and saucer. For everyday use, however, you might prefer a tea mug with a larger capacity than the average 8-ounce tea cup.  
While it's entirely possible to brew a cup of tea in a coffee mug, it's better if you don't. The surface of ceramic mugs can absorb strong flavors. If you serve tea in a mug that's been used for coffee, the tea may not taste right. Stock separate sets of coffee mugs and tea cups, no matter your beverage preference. Chances are you'll encounter a house guest who does have an allegiance.
As you learn about the types of drinking glasses, you can figure out which ones will best meet your needs. Stock your kitchen with the glassware that works well for your favorite beverages. You may also want to keep glasses and mugs for the drinks that your friends and family enjoy. If storage space is an issue, display your glassware on open shelves or in a cabinet with glass doors. Another option is stackable drinkware that takes up less room. 
Ready to upgrade your drinking glasses? The Home Depot delivers online orders when and where you need them.
Explore More on homedepot.com