Door knobs, levers and handlesets come in many different styles and finishes. Most are easy to install and many are made for left-handed or right-handed users. This guide explains the different types of door knobs, levers and door handlesets available. 
Dummy Door Knobs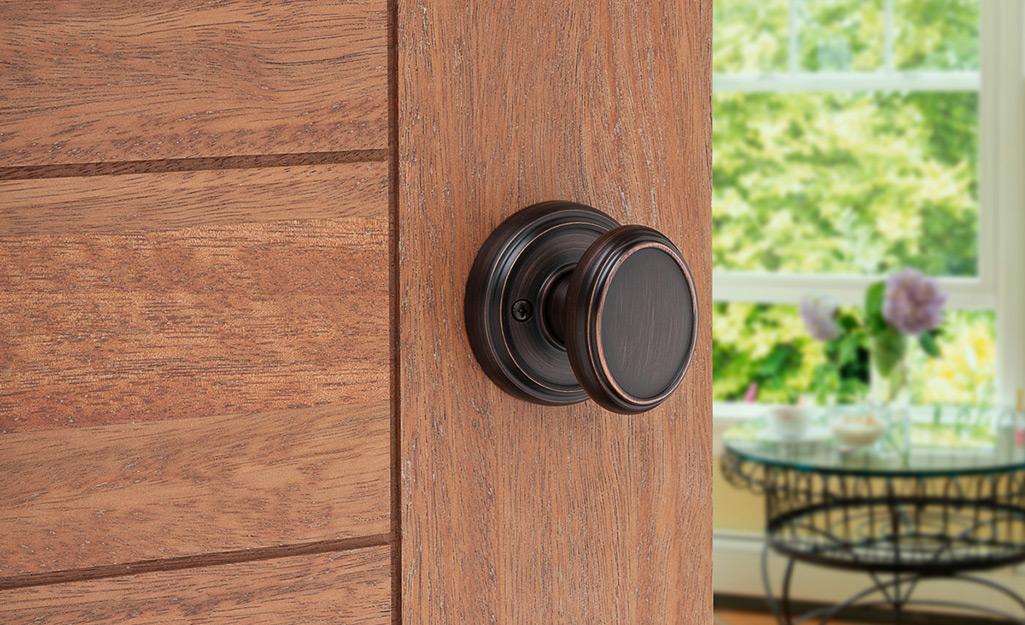 What is a dummy door knob? Dummy door knobs are one-sided "fake knobs." They're usually installed on the surface of a door or behind it. Some come in pairs so you can use them on double doors. These types of door knobs don't have any working parts. They're good for a shallow closet or small pantry and the interior of French doors.
Passage Door Knobs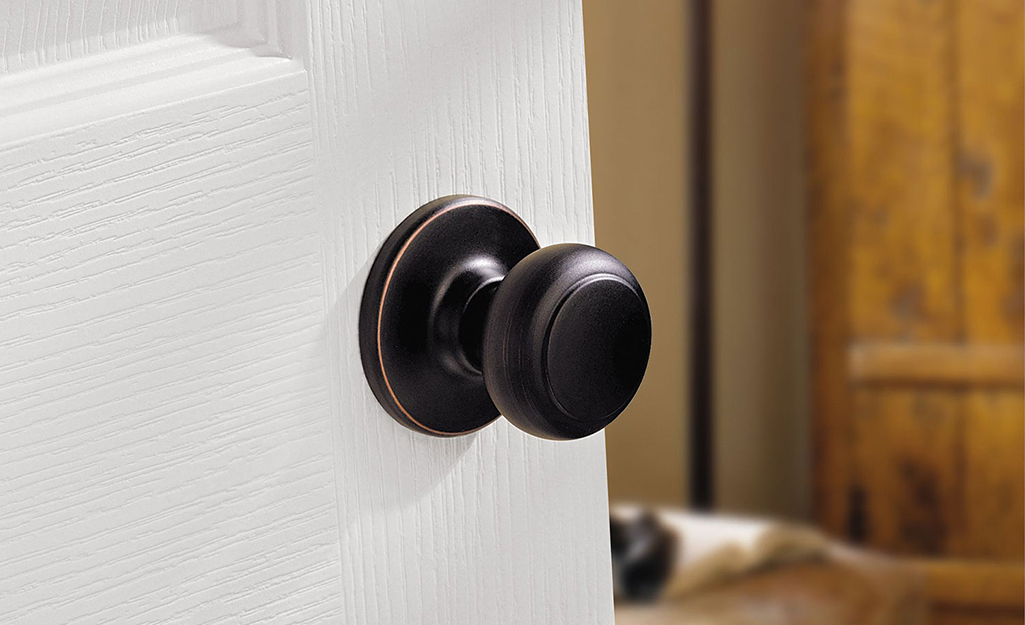 Passage door knobs are similar to dummy door knobs. They don't lock but are used to open doors and go between rooms. Passage door knobs are ideal for interior hallways, closets and other rooms that don't need privacy locks. They're also called unkeyed knobs.
Keyed Entry Door Knobs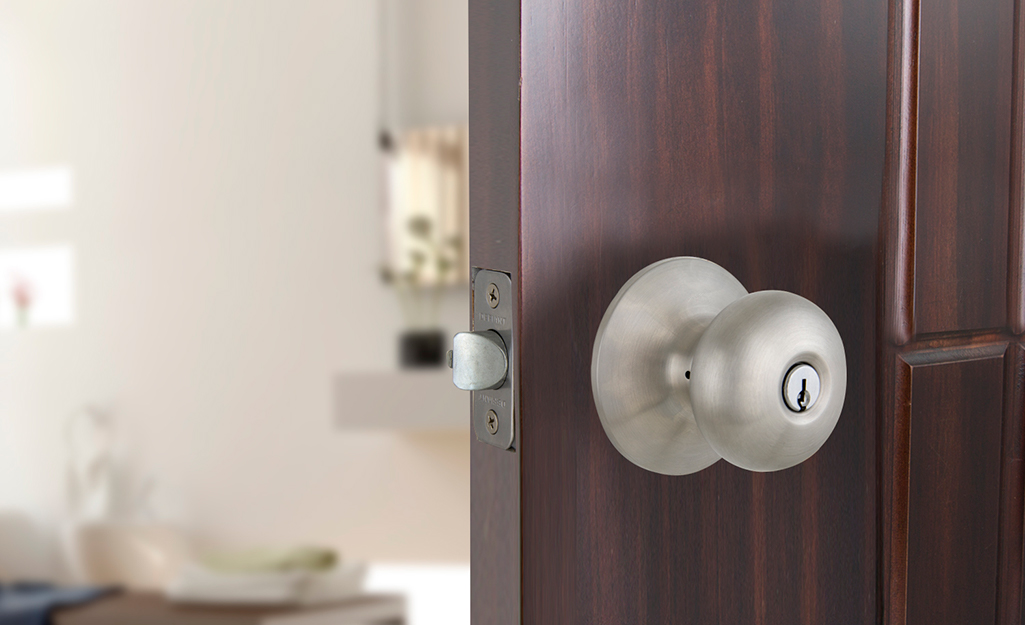 Keyed entry door knobs have a lock and key mechanism on both sides for safety and security. They're used on front doors, patio doors, garage doors that go into your home or other exterior doors. Some have a button on the inside that you press to lock the door. The button unlocks when you turn the interior knob. Other keyed entry door knobs have a twist mechanism on one side that you turn to lock or unlock the door.
Privacy Door Knobs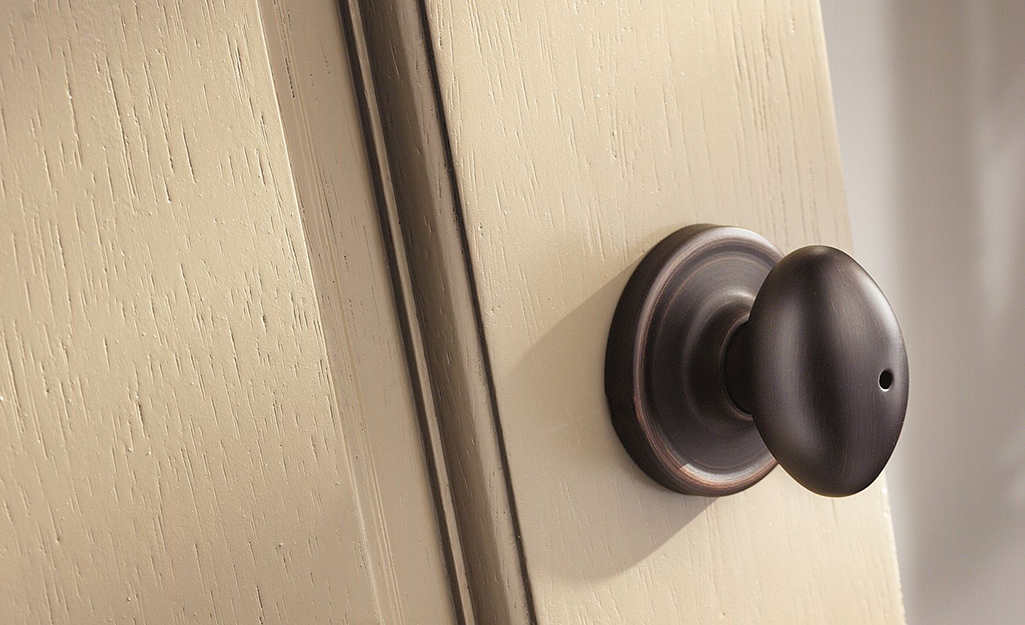 Privacy door knobs have a twist or button lock that works from only one side. 
Some privacy door knobs with button locks have a pin hole on the outside knob and a generic key that opens the lock. These types of door knobs are typically used in bathrooms, bedrooms and other rooms that call for privacy but don't need keyed locks.
Other Types of Door Knobs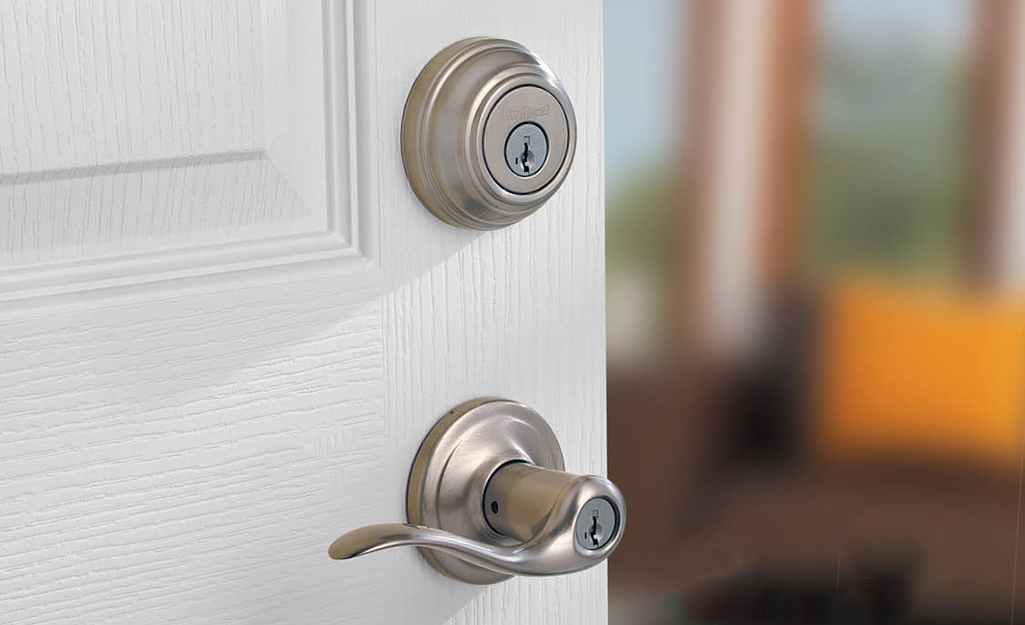 Other types of door knobs include:
Door Levers: Often found on French doors, door levers can be used anywhere standard knobs are used. These come in different sizes and are easier to use than regular door knobs, making them ADA compliant for handicapped users.
Handlesets: Door handlesets come with a handle and key lock to install on the exterior of a door. They also come with a lever or door knob for the other side of the door and a deadbolt. They're popular and attractive to use on front doors. After you unlock the door, you press a thumb latch on the handleset to open or close the door.
Door Knob Styles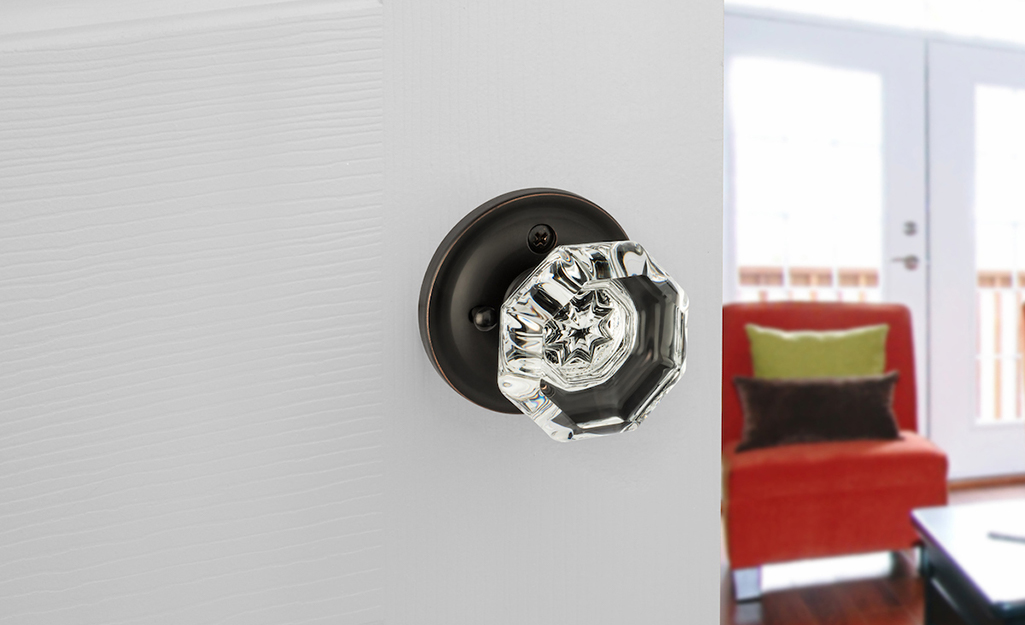 Door Knob Finishes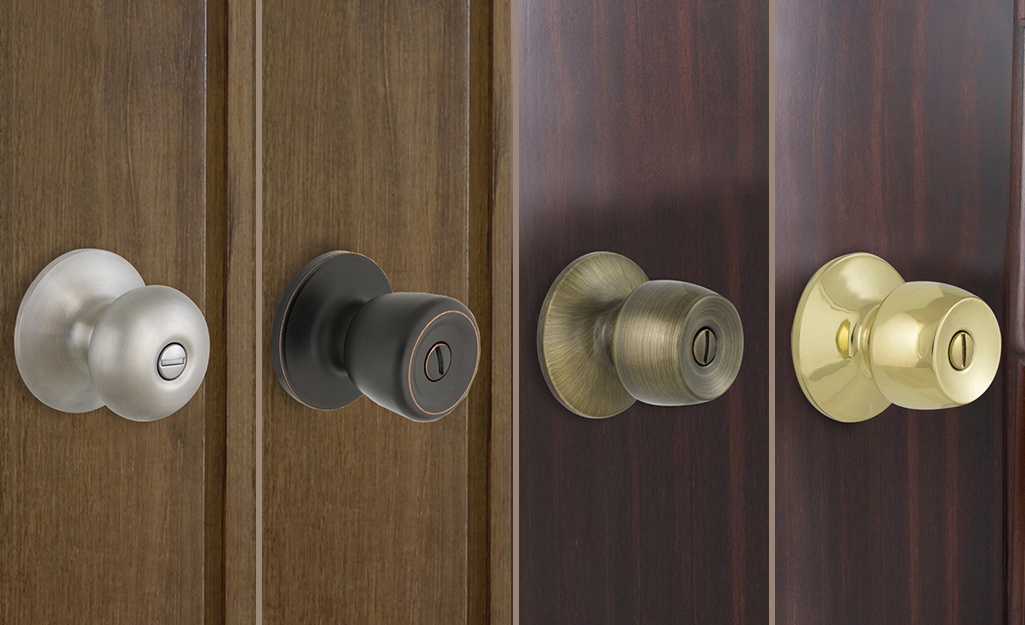 Door knobs come in many different finishes to coordinate with your room decor or other details in your home. When you want to match your electrical or bath fixtures, consider buying the same brand. 
Bronze: The color of antique bronze and oil-rubbed bronze door knobs can change over time. As you handle the knob, more of the color underneath the brown veneer will show.
Nickel: Satin nickel, sometimes called brushed nickel, has a textured look.
Black: This stylish, sophisticated choice is ideal for modern, minimalistic and other decor.
Chrome: Polished chrome looks traditional, yet sleek enough for contemporary and modern interiors.
Brass: To avoid tarnishing, look for a polished brass finish made for outdoor use if you plan to use the door lever, knob or handleset on an exterior door. Polished brass looks great with contemporary and traditional designs.
Pewter: Pewter door hardware comes in an antique or flat finish.
Stainless steel: Durable stainless steel won't rust, so it's ideal for exterior uses.
Copper: Elegant and stylish copper handles are believed to have antimicrobial properties, which means they may help stop the spread of some microorganisms.
Clear, faceted or etched finishes: Any of these will add an extra decorative detail to your room.
Zinc: Door handles made of zinc alloy are durable and rust-proof.
Custom door knobs: For one-of-a-kind accents, look for custom door knobs.
Special Door Knob Features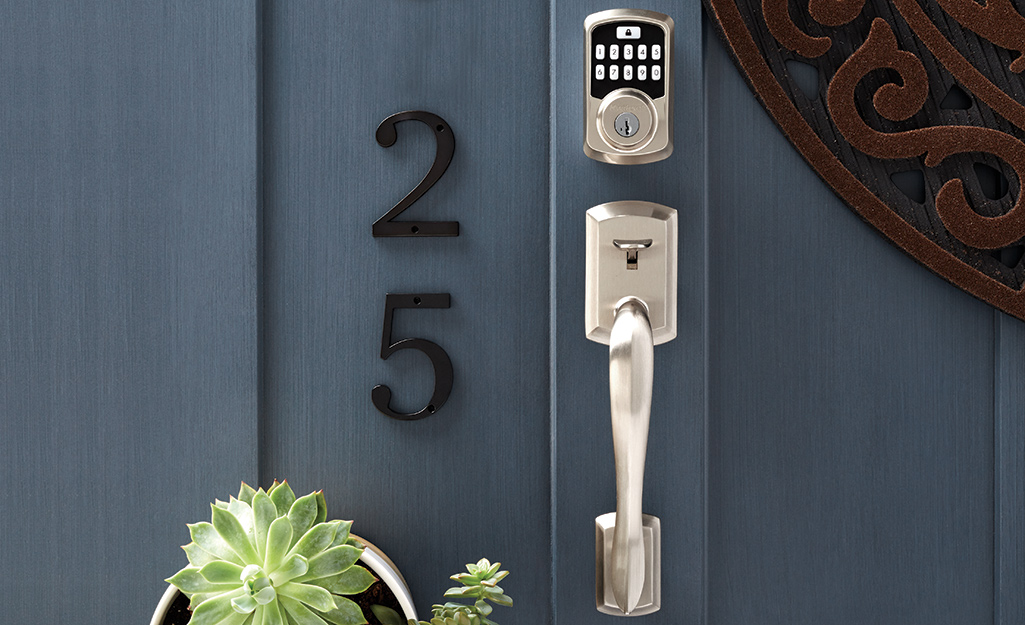 Door knobs with antimicrobial coatings can help prevent the spread of common germs and bacteria. This special coating also helps protect your finish. 
A door knob with an adjustable backset makes it easier to install a new lock with your existing hardware. The backset is the distance from the edge of your door to the center of your bore hole. It's usually 2 3/8 or 2 3/4 inches. Latches come in different lengths, so you may need an adjustable backset to make your new latch fit. Dummy knobs don't have latches, so they can be installed anywhere on your door. 
Smart locks use wireless technology to lock or unlock doors with your smart device. They also let you give virtual "keys," or guest codes, to your family or others you trust. The codes can be set to work for as long as you want.
Combination locks come with a deadbolt and keyed entry door lock that are keyed alike (that is, the same key works for both of them)
Electronic door locks, similar to the ones on some cars, can replace physical keys. Some come with a physical key to use if the power goes out. Otherwise you lock or unlock them with a remote control or keypad. 
Fingerprint door locks and deadbolts use Wi-Fi or Bluetooth-enabled keypads to recognize your fingerprints and lock or unlock doors. 
Delay timers let you set how long your door waits after you unlock it before it relocks itself. 
 Built-in alarms alert you to possible security threats.
Easy-installation locks are designed to provide security and are easy for DIY-ers to use.  
Fail-safe operation refers to a door that stays unlocked by default. You must have power to lock it. If the power goes out, the door automatically unlocks so you can still go in or out. This could be important in the event of an emergency. Fail-safe locks are often used on entries to lobbies or offices. 
Keyless door knobs lock by pushing a button in the knob or by pushing and turning the knob itself. These are used mainly for privacy on interior doors, such as bedroom and bathroom doors. 
Commercial door hardware is made for hallways, storerooms, closets, bathrooms, keyed entry door locks and other uses.
Backlit keypads on entry door locks help you see which buttons to press, so you don't need a key. Some use LED backlights.
Indicator lights on electronic door knobs, levers, deadbolts and handlesets have illuminated keypads or digital screens. Some flash green when a correct entry code is entered or red for an incorrect code.
A rekeying lock lets you insert your existing key into the lock along with a rekeying tool that comes with it. After you remove both the key and the tool, you insert a new key into the lock and it will rekey itself. Then the old key will no longer work. (Depending on the brand you have, your directions may differ.)
Wondering "What is a passage door knob?" Curious about whether you can find a handleset to match your decor? Browse through the wide variety of knob types, finishes and styles in our door hardware section.
Door knobs also offer many kinds of useful features. Keyed entry door locks, smart door locks and electronic locks use wireless technology to open and close doors. Some door handles have antimicrobial coatings to help prevent the spread of certain germs and bacteria. Other knobs, levers and handlesets have indicator lights, built-in alarms and additional options. 
Need help finding a tool, product or material? Search by voice or image for all your door hardware needs with our mobile app.
Explore More on homedepot.com