Whether you're looking for a door lock for a new entry door or replacing an old lock, smart door locks bring a whole new level of access and convenience to your home.
Smart locks not only enable you to get into your home without a key, but also send alerts so you can track who comes in and out. These features are great for any homeowner who needs to grant remote access to relatives, guests or service workers on a regular basis.
This guide will review the best smart door locks. It will cover the smart home technology used in the best keyless door locks and the functionality and benefits of the types of smart locks.
Tip: If you are replacing an old lock, make sure you take measurements of your existing door thickness and bore size. Measure the distance between the deadbolt and the door frame to ensure your new lock fits and has the reach necessary to operate properly and secure the door after installation.
Smart Door Lock Basics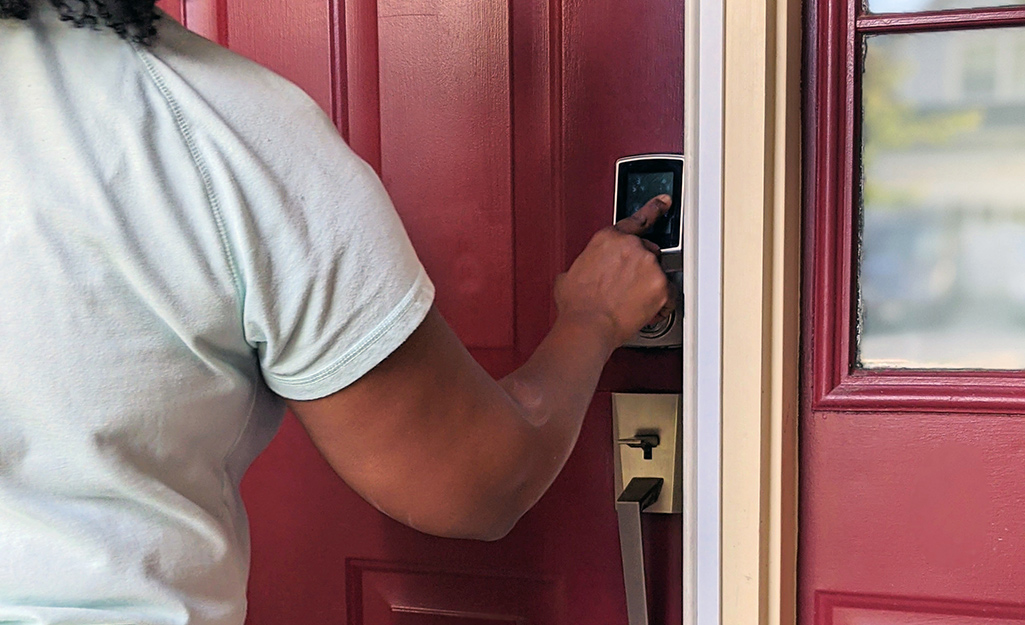 Smart door locks include the same functionality as regular deadbolts and door locks. In addition, they offer the advantages of keyless entry systems, code monitoring and reporting capability via your smartphone.
Keyless entry systems come in keypad, key fob and remote access formats. To unlock a keypad smart lock, you enter your code using the number buttons on the door. To unlock a key fob lock, press a button on the key fob when you're in range of the door. For remote access, smart locks need to be connected to Bluetooth, Wi-Fi or Z-Wave. You can unlock some smart door locks using your fingerprint. Fingerprint door locks work using biometric technology.
You can also activate most smart locks with a key, or by entering a specific code that you create on the keypad, which is a convenient feature for allowing access to service technicians or friends and neighbors while you're away. The best smart locks include advanced communication encryption for added security.
Smart locks operate via battery power. Normal battery lifespan ranges from 6 months to one year. The locks will sound an audible alert as the battery power begins to fade, so you'll know when to replace them. Key fobs also use batteries. A key fob battery has a lifespan of 1 to 3 years, depending on how many activations are used.
Remote Access Smart Door Locks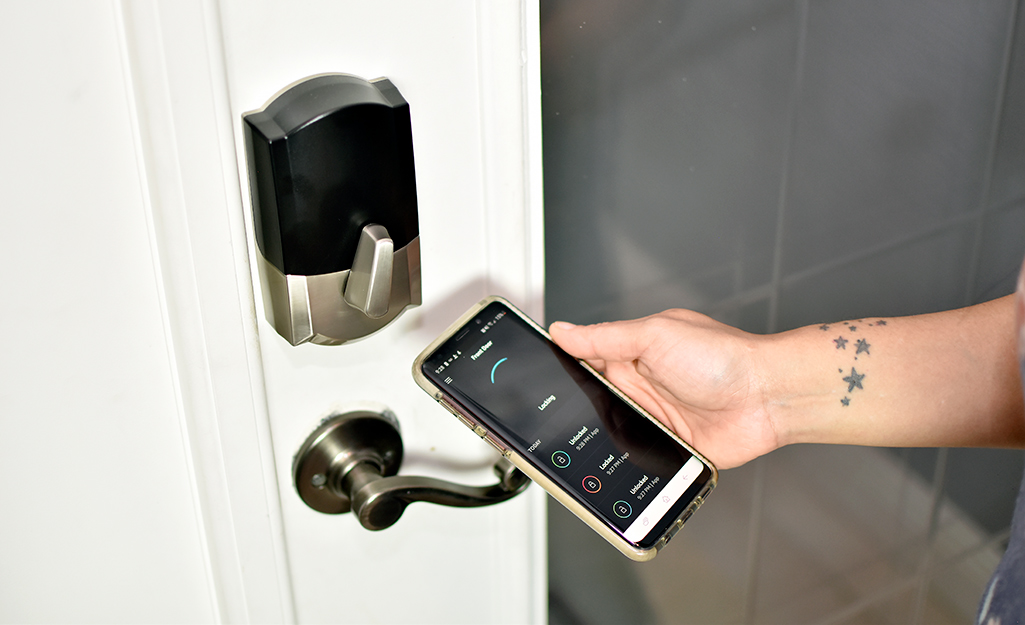 Before you purchase a smart door lock that offers remote access, make sure the locking system you choose is compatible with your smart hub protocol: Wi-Fi, Bluetooth or Z-Wave. 
Wi-Fi smart locks have an unlimited range once they're connected to your router. Using your smartphone, you can activate the lock from just about anywhere with cell service or Wi-Fi.
Bluetooth smart locks are the easiest to set up. However, Bluetooth only has a range of around 20 to 40 feet. You'll need to pair your smartphone with the lock via the door lock manufacturer's app. The door lock will recognize your phone and unlock automatically.
Smart locks with Z-Wave require a home automation system that uses system controllers to activate the lock. It also needs to be connected to the Internet and to a smartphone or other device that also sends commands via the same home automation system.
Smart Door Lock Features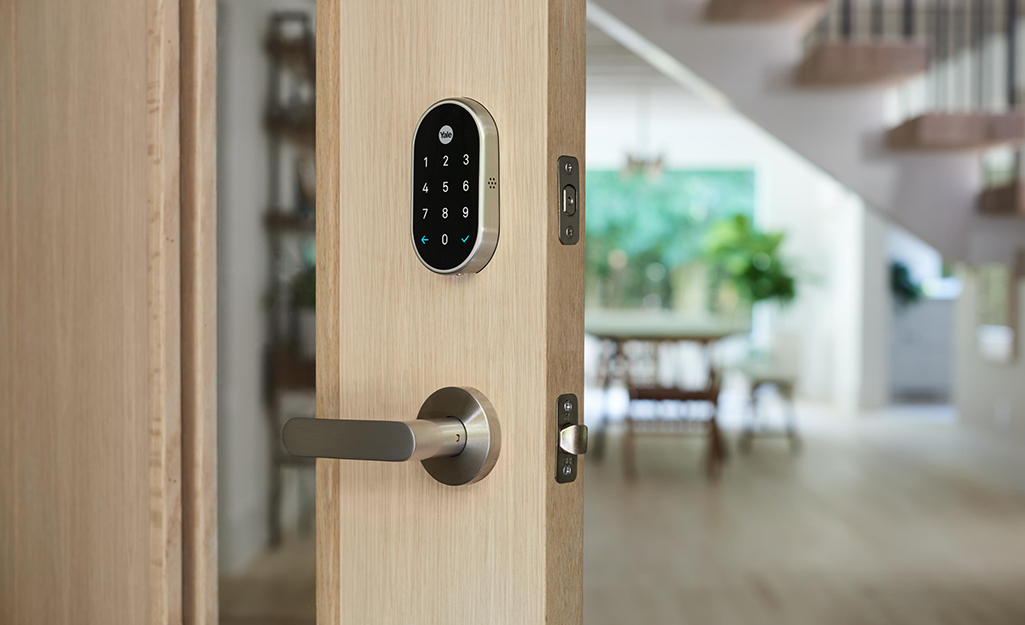 There are a number of features to consider when deciding on the best smart lock for your home. Be sure that the smart lock you select comes with a mobile app that will be compatible with the phones that need to access the lock. Real-time notifications are useful to be able to track who comes and goes when you are not home.
With some smart door lock apps, you can use a scheduling feature to manage who has permanent and temporary access to unlock your door. A lock with an activity log allows you to see who has used the lock and when they came in or out. 
More advanced smart locks provide security features that can increase your peace of mind. A tamper alarm can notify you in the event of an attempted break-in. A perimeter lock feature, also known as a geo-fence, ensures that outer doors will lock automatically when you leave a certain range. Some locks can be set to lock automatically once a certain amount of time has gone by.
Smart locks can also interact with other smart home products that are tied to your network. For example, you can program your lights to come on automatically whenever you unlock the door. If your smart home security network includes cameras, you can get a photo of anyone who uses your lock sent to your phone.
Some smart locks include voice control, so you can use verbal commands given to a virtual assistant to unlock your door. There are smart locks that work with Alexa and others that work with Samsung SmartThings hub.  
Smart Door Locks and Deadbolts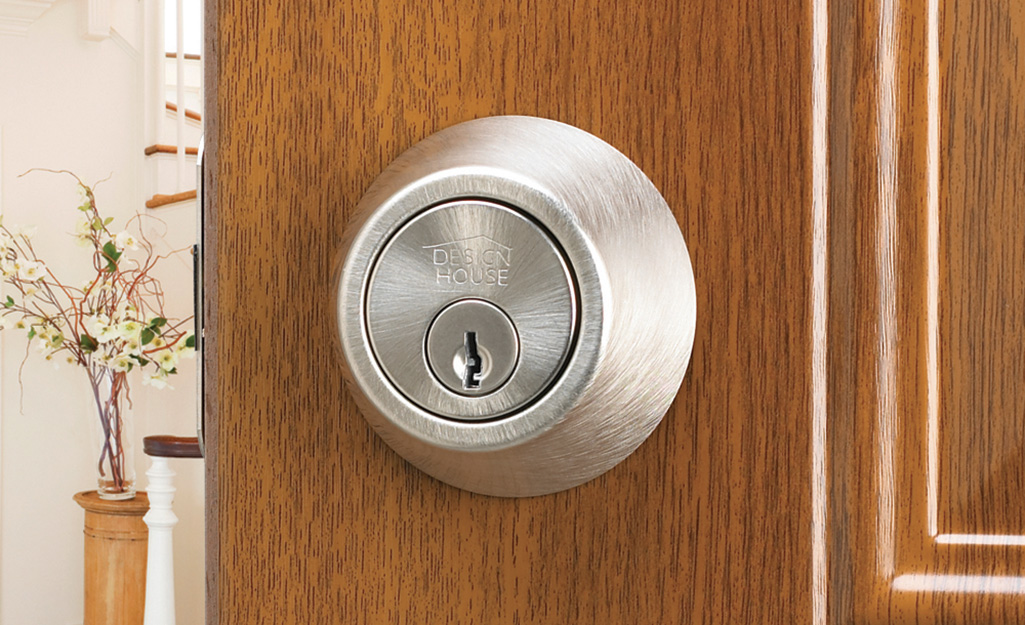 If you decide you want to keep your old deadbolt, there are a few smart locks that fit or clamp over the existing deadbolt, essentially turning your deadbolt lock into a smart lock. Installation can be complete in as little as 15 minutes.
If you choose to completely replace your lock, choose a smart lock that is compatible with your existing door hardware.
Smart door locks offer you and your guests convenient access to your house without having to keep up with keys. Depending on the features you select, a smart lock can add security features to your home. Some smart locks will contact you anytime someone enters or exits. Others connect to your smart home system. When paired with security cameras, they can even send you a photo of anyone who comes in or out of the door. 
Shopping for the best smart door locks? Use the Home Depot Mobile App to find the products you're looking for, in-store and online.
Explore More on homedepot.com