Quality fencing has two main purposes: security and privacy. Most fences can solve these two needs. Another equally important consideration is how the fence will look on your property. With so many different fence types and styles of fencing available, choosing the right design and functionality is important. Read on to learn about the different fence materials, which types work best for a backyard, maintenance tips and more.
Wood Fences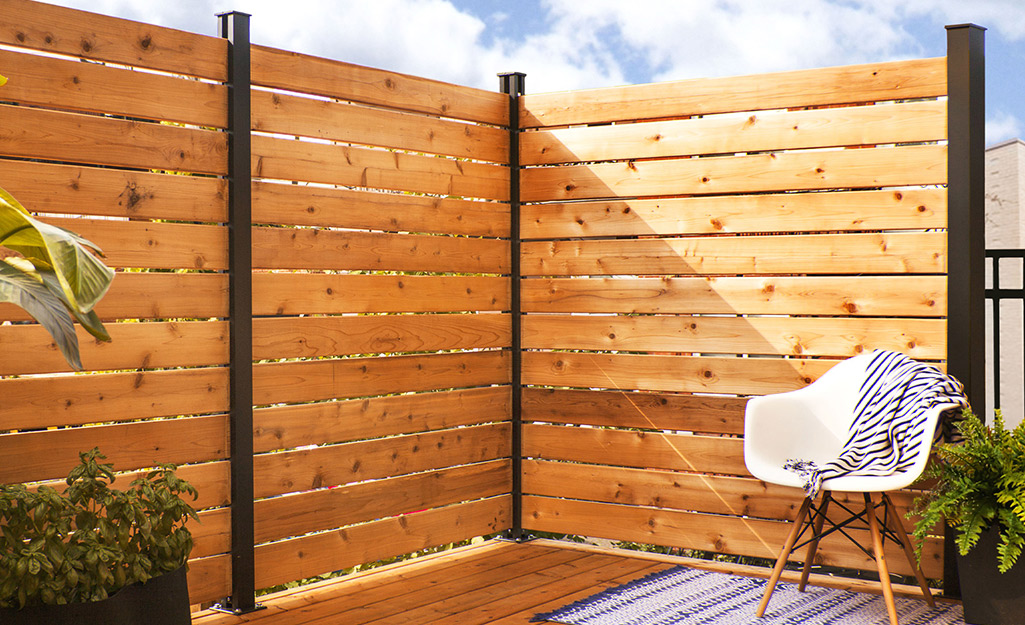 The most popular type of fence is a wood fence. Solid wood fencing can come in a variety of styles. Beautiful looks such as redwood slats make it the first choice for a backyard privacy fence. A solid wood fence is versatile and graded on the quality of its appearance. 
The highest-grade types of wood fences are rated clear, followed by premium, select, standard and quality. Lumber has a lower upfront cost than wood alternatives. It's also easy to seal or stain and retains finishes well. Some of the top types of wood fences are:
Redwood Fencing:
Resists insects and rot
Absorbs and retains all finishes
Popular in Western and Southwestern U.S.
Cedar Wood Fencing:
Resists moisture, rot, insects
Easy to seal or stain
Weathers to gray when left untreated
Popular in Pacific Northwest U.S.
Southern Pine Fencing:
Must be treated for outdoor use to resist rot and termites
Popular in Northern, Southern, Midwestern U.S.
It may be easiest to use the most popular wood type for your region. 
Tip: Although different wood species are typically available and used in specific areas of the U.S., all our solid wood fencing can be special ordered at your local store. The Home Depot only offers Earth-friendly products, and do not purchase wood products from old-growth forests or rainforests. See our Wood Purchasing Policy for more information on the types of wood fences we carry. 
Picket Fences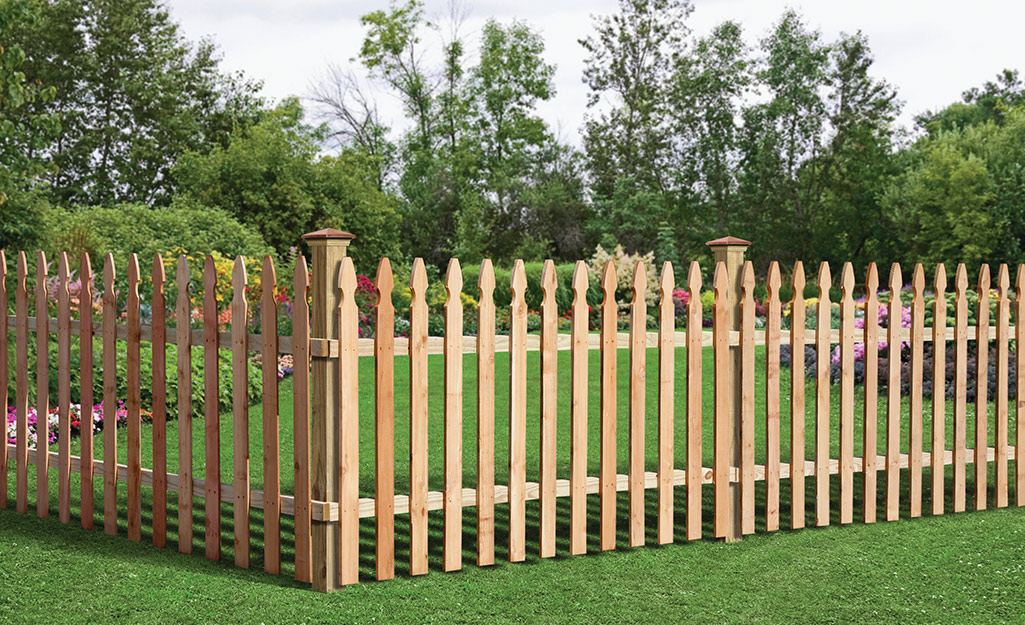 An iconic style of wood fencing is the picket fence. Often painted white, it is one of the most traditional fence styles. It is very popular, especially in suburban or rural areas. Some fences feature spaced out pickets while others have these wood pieces closer together. Picket fences are relatively budget-friendly and easier to install than most other fences. They are available in wood, vinyl or other materials. 
Can be painted any color and are low maintenance if made of vinyl.
Fairly durable and broken pickets can be replaced.
Makes a good border fence but provides minimal security.
Ideal of front yards and garden areas.
Spaces between pickets make this type of fence ideal for areas with high winds.
Wrought Iron or Metal Fences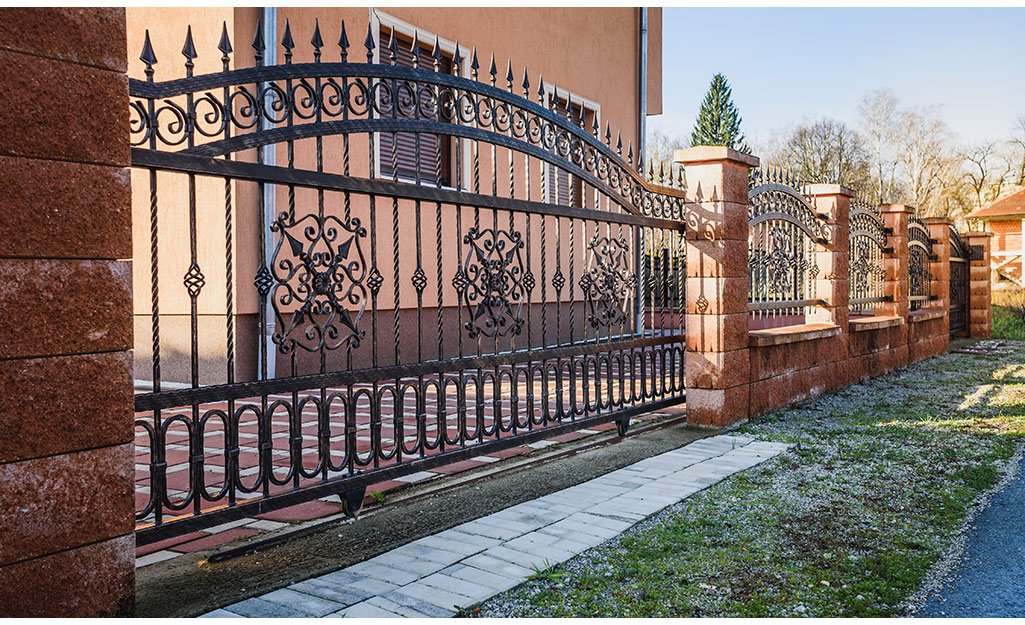 Metal fencing is the longest-lasting type of fence. It often requires the most upfront investment but rarely needs to be replaced. Metal fences typically have openings between the different poles. This makes it hard for animals to enter or leave your property while providing minimal disruption to your sightlines. Upfront costs for these types of fences can be high but they rarely need replacement.
Heavy-duty wrought iron adds security and is difficult to cut.
Very sturdy and durable.
Aluminum is heavy-gauged and powder coated with an acrylic finish.
Low maintenance with minimal cleaning or repair needed.
Use for security, as a decorative piece, for a pool or for garden/farm fencing.
Pre-assembled panels and gates make for easy installation.
Will not fade or discolor.
Split Rail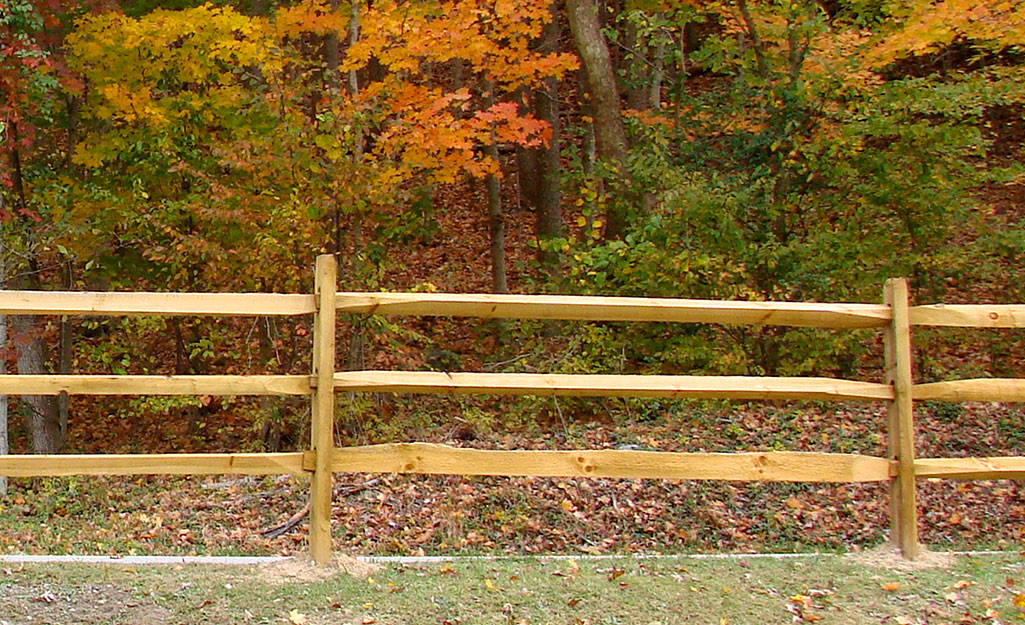 Rising in popularity, a split rail fence adds a bold look and charm to a property. Much more budget-friendly than a full wood fence, they are often easier to install. A split rail fence is ideal if you have a large property line to cover. 
Attractive fencing for a more rustic look.
Works well for a sloped, hilly, uneven and flat yards.
Provides little to no privacy or security.
Won't deter wildlife or pets.
Maintenance is minimal.
Vinyl Fences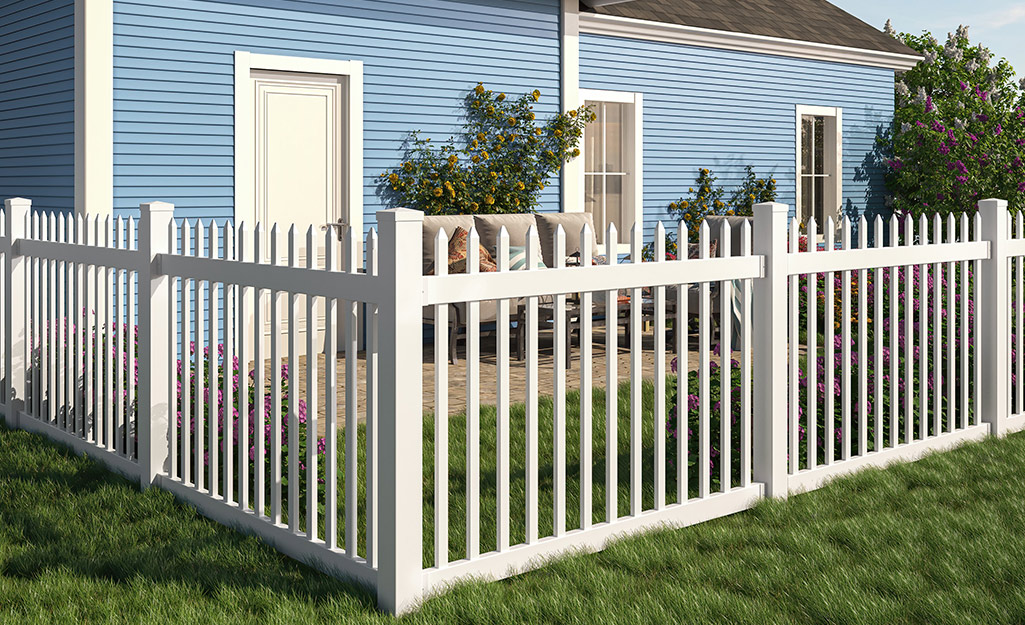 Vinyl fencing is a durable, budget-friendly way to bring privacy to a yard. These plastic-based fences are easy to hose down when they're dirty and come in a range of neutral finishes.
Made from a resilient, plastic-based substance.
Easiest to maintain and never needs painting or staining.
Available as easy-to-install kits and pre-assembled panels.
Can be used for security, as a decorative piece, for a pool or for garden/farm fencing.
Matching gates are available.
Composite Privacy Fencing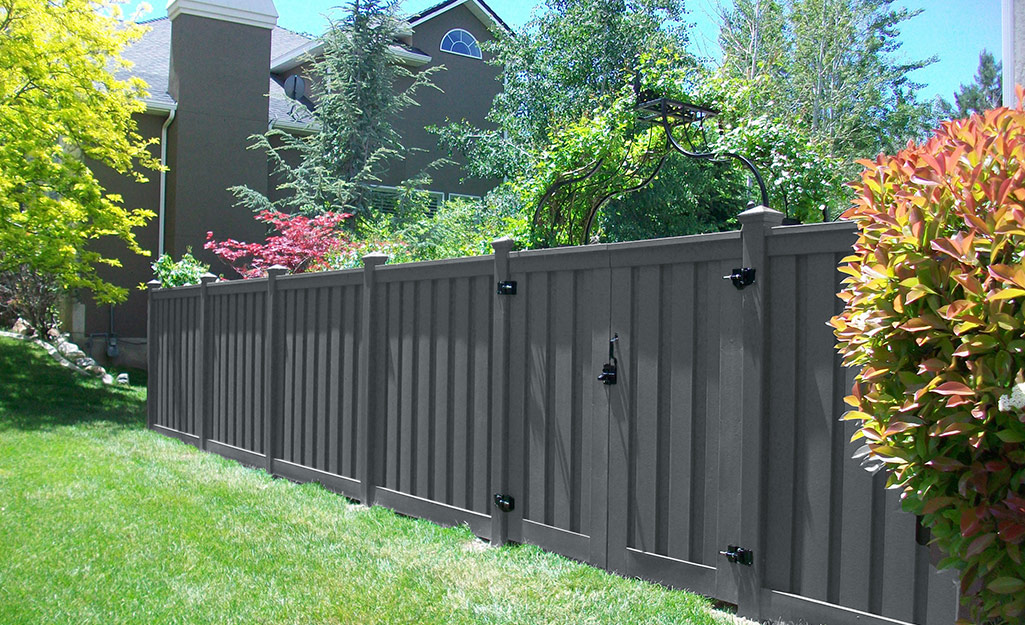 Composite fencing is an excellent choice for privacy fencing. It offers the look of natural wood without the susceptibility to the elements. Crafted of a resin or plastic with wood elements, this type of fence can require more investment up front. However, it is built to stand up to the test of time.
Great fence for backyards when privacy is needed.
Appearance is like natural wood or stone and comes in a variety of colors.
Use for security, as a decorative piece, for a pool or for garden/farm fencing.
Heavyweight mixture of recycled wood fibers in a resin base.
Chain Link Fences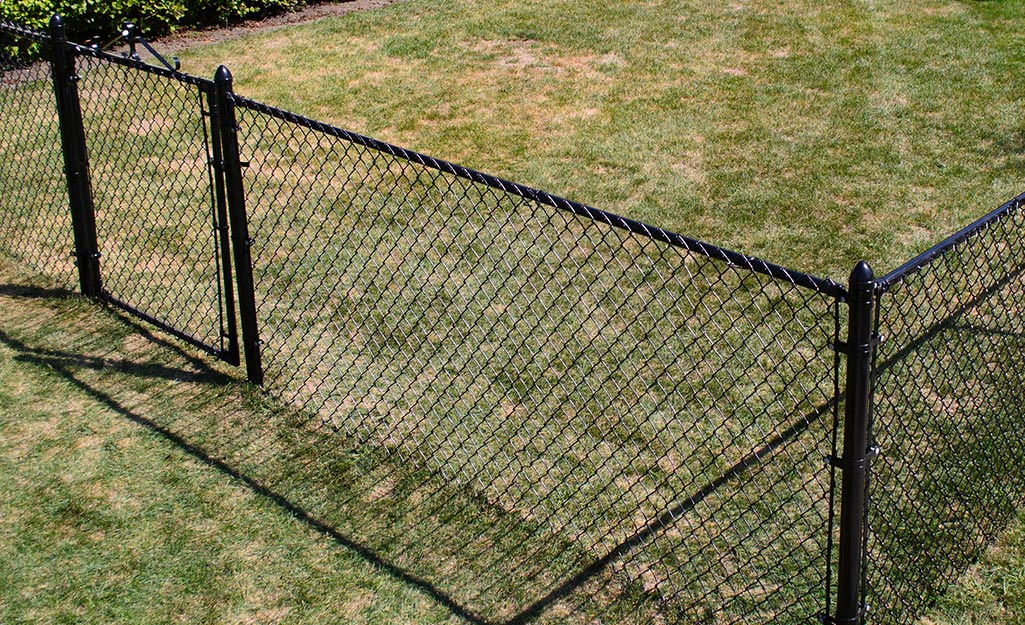 Chain link fencing is perhaps the most budget-friendly yard fencing option. It is popular with pet owners and gives a clear view of surrounding property. Chain link can also be incredibly secure and durable, which is why it is commonly used for commercial properties.
Easy and fast to install.
Identical appearance from all sides.
Great fence for backyard fencing.
Available in several colors.
Gates, posts, braces and latches can be added.
Ideal for security.
Galvanized or coated for corrosion resistance.
Fence slats can be added for privacy and to reduce wind, dust and noise.
Speciality Fences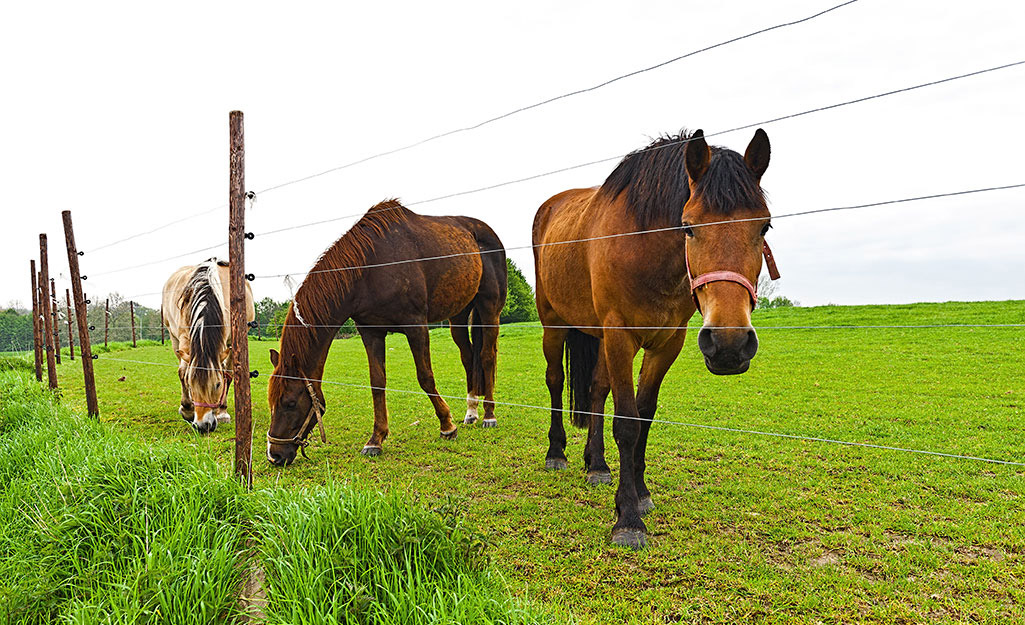 Sometimes a fence is needed to serve a very specific function. When that's the case, there are several types of fences specifically designed for those purposes. Here are the most common specialty fence types: 
Horse and livestock fencing: If you have horses or livestock, keep them contained while protecting them against injury with galvanized steel class-one coating fences and flexible vinyl rail fences. Both give way when struck to minimize leg injuries due to high-force kicking. Think of a "bend, but don't break" rule of thumb. The galvanized steel, class-one coating fences stretch and conform to rough terrain as they are woven rather than welded, and resist sagging. The vertical mesh adds stability and flexibility.
Pool fences: If you have a pool in your yard, you may be required to install a pool fence for safety. Check your local building codes and regulations for specific pool safety standards before installation.
Invisible fencing: For pets that tend to wander off, an in-ground invisible fence allows you to set specific boundaries. Invisible fences work by sounding a sharp alarm and mild static correction if the dog nears the border.
Vinyl rail fencing: This type of fencing is designed specifically to contain horses and other large animals. It's constructed with continuous polymer or high-tensile wire technology that allows the fence to flex upon impact to reduce injury.
Barbed wire fencing: Barbed wire fences are also good for covering large acreage and containing livestock and other thicker-skinned animals. They can be electrified and come with a convenient carrier reel.
Contoured or stepped fences: If your yard is sloped, these types of fences are for you. The rails of a contoured fence follow the slope of the ground while a stepped fence features fence posts that run downhill in a series of steps, so that the slope of each subsequent post drops accordingly.
Parts of a Fence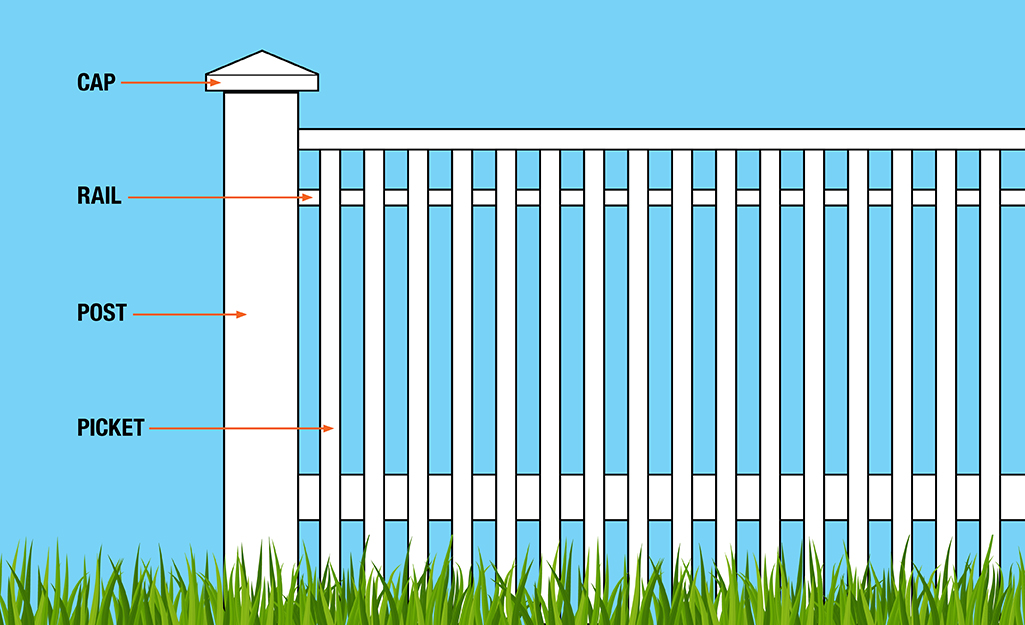 There are various types of fences, but each has the same basic parts:
Cap: Decorative cap that adds a finished look to the fence.
End Post Cap: Rounded cap used to protect end posts.
Rail: Horizontal bar that spans the top of the fence.
Post: Vertical component, set in the ground, that provides the main support for the fence.
Pickets: Vertical panels that attach to the rails and provide screening.
Depending on the fencing you select, there are other common parts such as:
Brace Band: Used to hold the rail end in place.
Tension Band: Used to attach the chain link fence fabric to line posts and end posts.
Terminal Post: End, corner and gate posts.
Rail Cup: Holds the top rails and secures them to the terminal posts.
Tension Bar: Vertical bar that secures the chain link fabric to the tension bands and posts.
Tension Wire: Can be added to the bottom of a chain link fence to discourage animals from pushing underneath the fence.
Line Post Cap: Ringed cap that rests on top of the line posts and holds the rails.
Line Post Eye Top: Corrosion-resistant with a polished look, fits on top of line posts to help support rails.
Panel: Pre-assembled unit that attaches to the posts and provides screening.
Fastener: Galvanized or stainless-steel nails, screws and other hardware used to secure the fence components.
Cross Rails: Horizontal elements that connect the posts and support the pickets.
Adding a fence to your property is a great way to enhance curb appeal while elevating security around the home. A fence is essential if you have pets or young children because it provides them with boundaries. With so many types of fences available, there's one that will best suit the style and needs of your property. Need help installing or getting your fencing home? From pickups to fencing staplers, our tool and truck rental has you covered. Or hire professionals through our fence installation services.
Explore More on homedepot.com