Interior doors help ensure privacy, reduce noise and can also hide rooms or areas that are untidy. Interior doors come in a wide variety of styles, which makes it easy to match or complement an existing trim and finish in your home's decor.
This guide will walk you through the different types of interior doors so you can find the one best suited to your needs. Choose between slab, accordion, bi-fold, barn, French doors and more.
Tip: Specific rooms, such as bathrooms, bedrooms and closets require different door functionality, so be sure to consider where you will be installing your new door and its appearance before making your purchase.
The Home Depot offers professional door installation. Learn more here.
| | |
| --- | --- |
| | Description |
| slab doors | Panel doors, also known as slab doors, contain patterns of square or oblong panels and are a classic choice. A door may contain two large panels, six small ones or some other configuration. Choose panels with straight or curved tops to suit your decorating needs. |
| accordion doors | Accordion doors are ideal for closets and entryways with space constraints. They may consist of a few large panels or multiple small panels that fold in on themselves and rest against one side of the door opening. |
| bi-fold doors | Bi-fold doors are a good option for closets, laundry rooms, pantries, storage rooms and other smaller spaces in your home. Choose bifold doors that fold back to one side of the opening, or bifold doors that fold back to both sides of the opening. |
| barn doors | Barn doors offer a classic, rustic look. They hang from a top rail, allowing them to slide over door openings. |
| french doors | Gorgeous French doors brighten any room. They come in a variety of sizes, wood types, styles and glass pane configurations. |
| sliding doors | Wooden or mirrored sliding doors are a good choice for closets. They use space economically, and mirrored doors do double duty. Large mirrors also make a room appear more spacious. |
| cafe & saloon doors | Swinging hinged doors or cafe doors can add easy flow from room to room while maintaining privacy. |
| hidden doors | Hidden doors are becoming more popular in homes. They provide added security as well as a touch of whimsy to a room. They usually take the form of an outer bookcase that slides or rotates to reveal a hidden room entrance. However, these doors can be created customized to encompass more elaborate designs. |
| prehung doors | Prehung doors come with hinges in their own frame, ready to fit into your doorway. |
Construction and Materials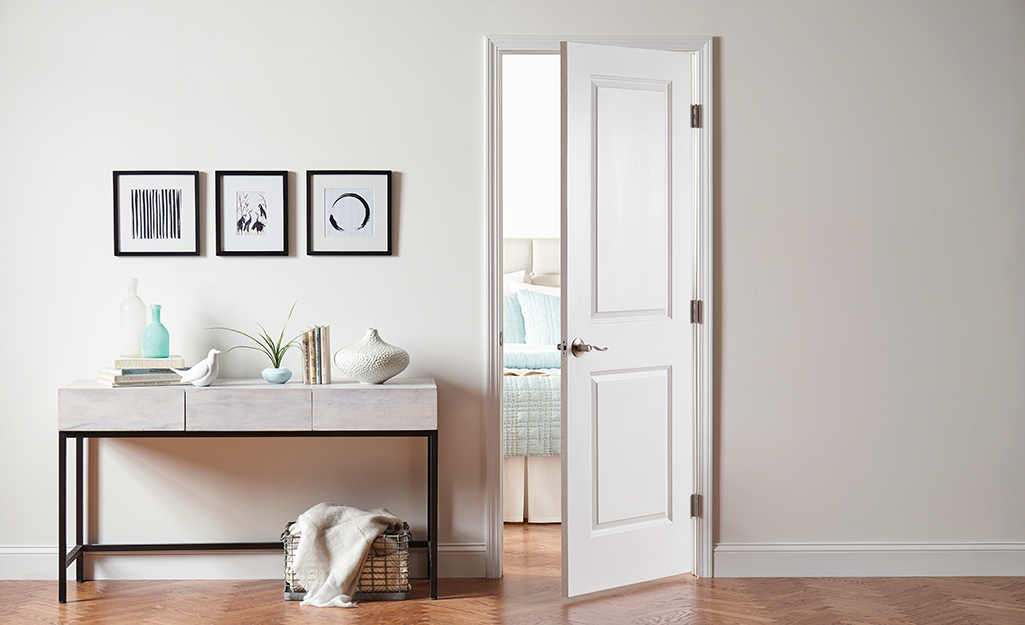 Standard interior doors aren't all alike. Panel doors and flush doors are constructed in one of three ways: of solid wood, with a solid core or with a hollow core.
Tip: The Home Depot does not apply paint, stain or varnish to doors. To maintain your door's warranty, you should seal and finish your door soon after it is installed. If you prefer, you can special order interior doors that come already painted, stained or finished.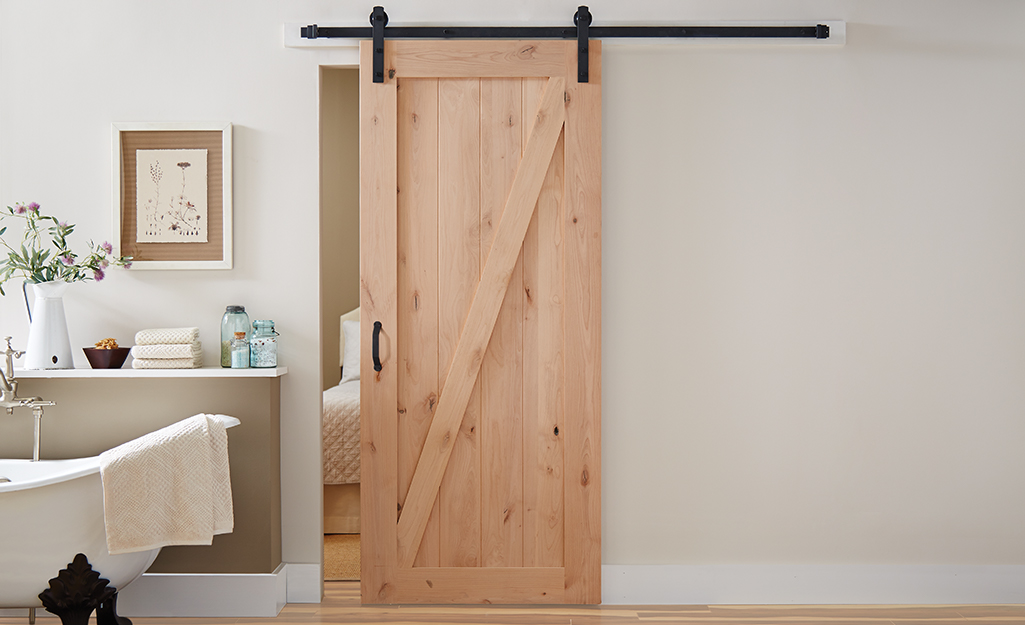 Warm look and beautiful grain patterns add richness and depth to a home's interior.
Available in a wide variety of wood species to complement any decor.
Good for shutting out noise.
Can be stained and finished.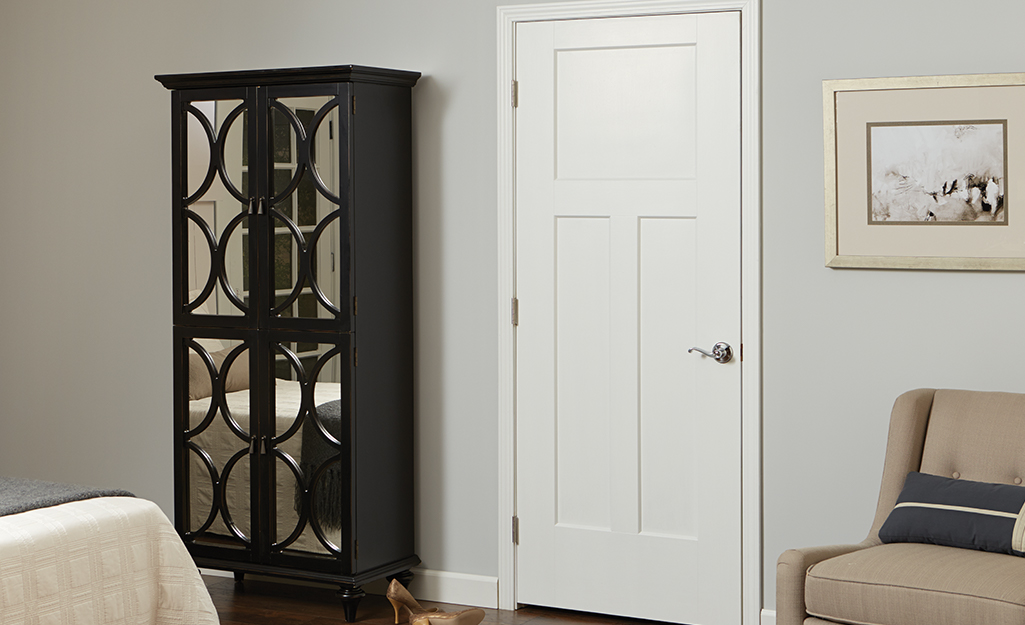 Offer the appearance and durability of solid wood at a more affordable price.
Engineered with a solid wood fiber core for a heavy feel that's closer to that of a solid wood door.
Available with smooth or textured finishes, including a wood-grain surface that mimics the look and feel of a solid wood door.
These muffle sound better than hollow-core doors.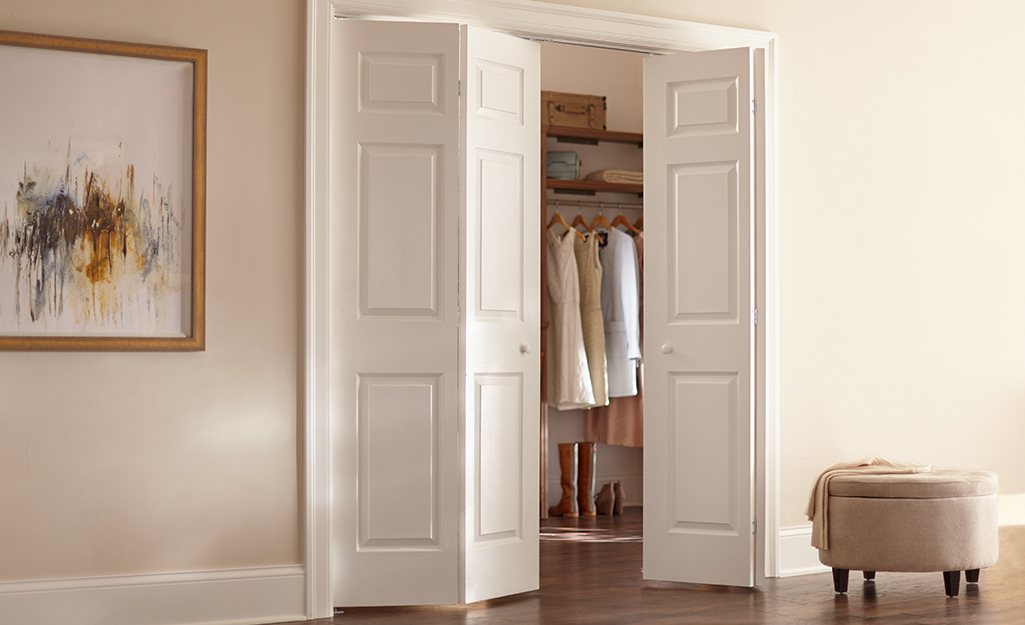 Constructed with wood boards that make up the outside of the door and sandwich a honeycomb or gridwork core of wood material.
Less expensive, lighter and easier to handle than a real wood door.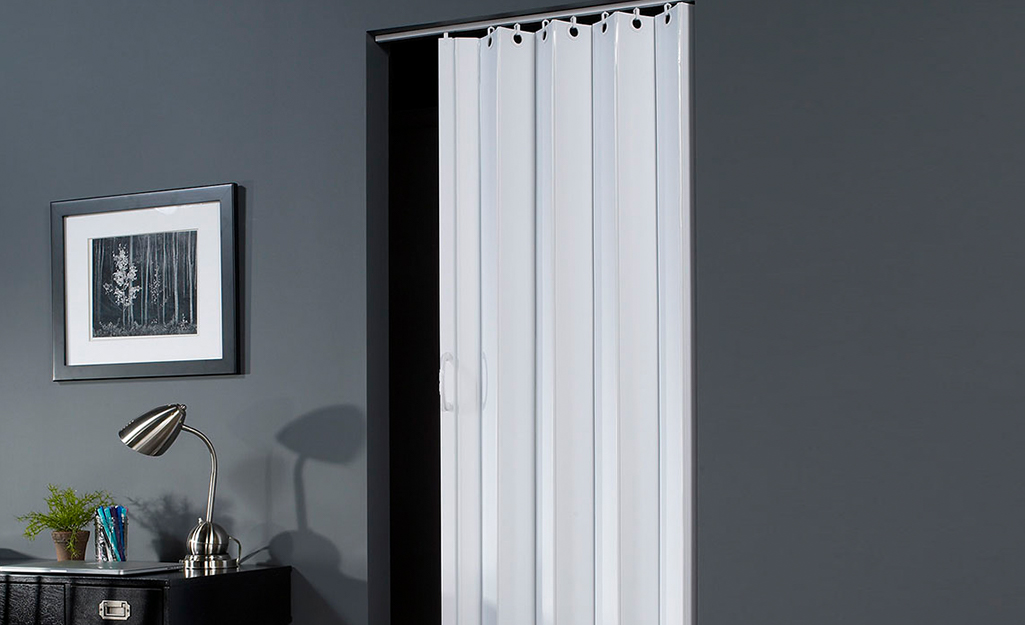 Masonite and hardboards are also used for interior doors and feature a flat surface that is easier to paint.
Vinyl doors are available as a cost-effective option for sliding doors.
If you need a door that leads to a garage or attic, you may be required to install a door comprised of fire-resistant materials (consult your local building codes).
Slab Doors vs. Prehung Doors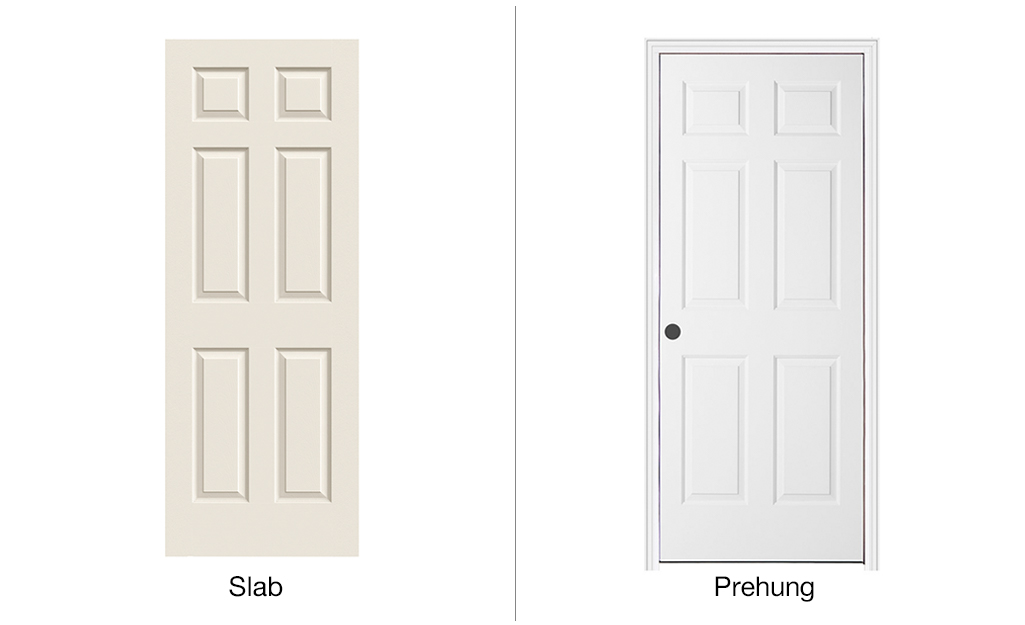 Standard interior doors are available in prehung and slab styles. Prehung doors install easily as they include the jamb and frame, providing a uniform appearance. Slab doors are more economical as they can be mounted using the existing jamb and trim.

Prehung Doors
Good choice if the door and framing must be replaced.
Door comes already attached to hinges and to door framing
Existing door and framing are removed, and the prehung unit is installed.
Hardware (doorknobs, handles and locks) sold separately.
Slab Doors
Good choice if only the door needs to be replaced.
Framing not included.
Old door is taken off its hinges, and the new one is hung in place.
Hardware (doorknobs, handles and locks) sold separately.
Tip: Stock slab and prehung doors (panel and flush doors) come in several standard sizes. The typical height is 80 inches, with standard widths of 24, 28, 30, 32 and 36 inches.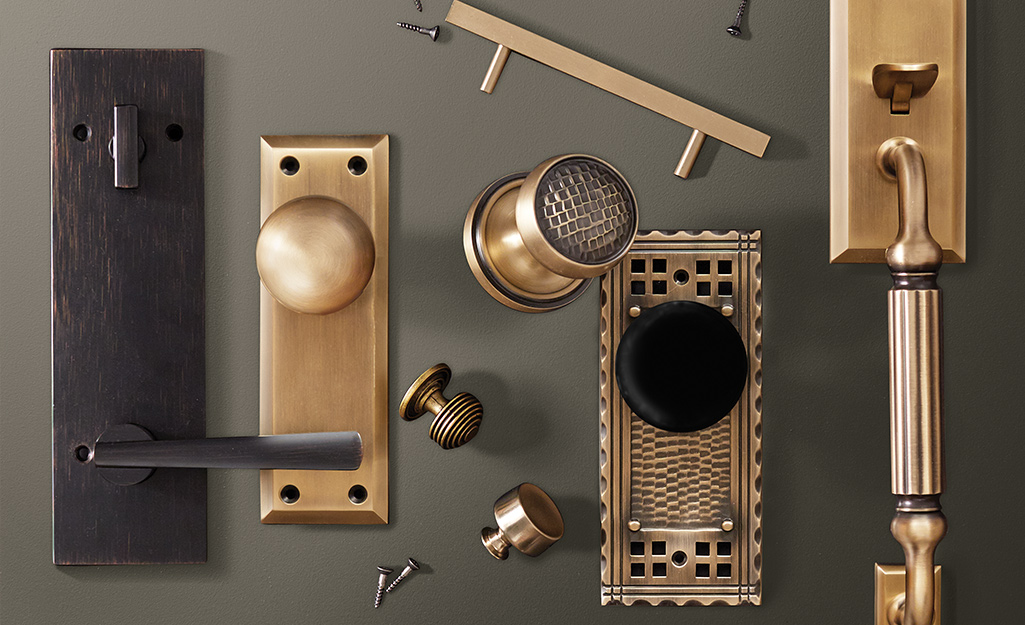 Complete your door's look by choosing hardware to match your home's decor and your personal style.
Passage door knobs or handles come in an extensive array of styles, materials and finishes, such as polished chrome, nickel, antique brass, bright brass and more.
If privacy is not an issue, an interior door may not need a lock. However, bedroom and bathroom doors usually need privacy locks. These locks have a locking button on the knob that's inside the bedroom or bathroom. To prevent someone from being locked in the room, the locking button can easily be picked open with a tiny screwdriver or paper clip.
Installation Considerations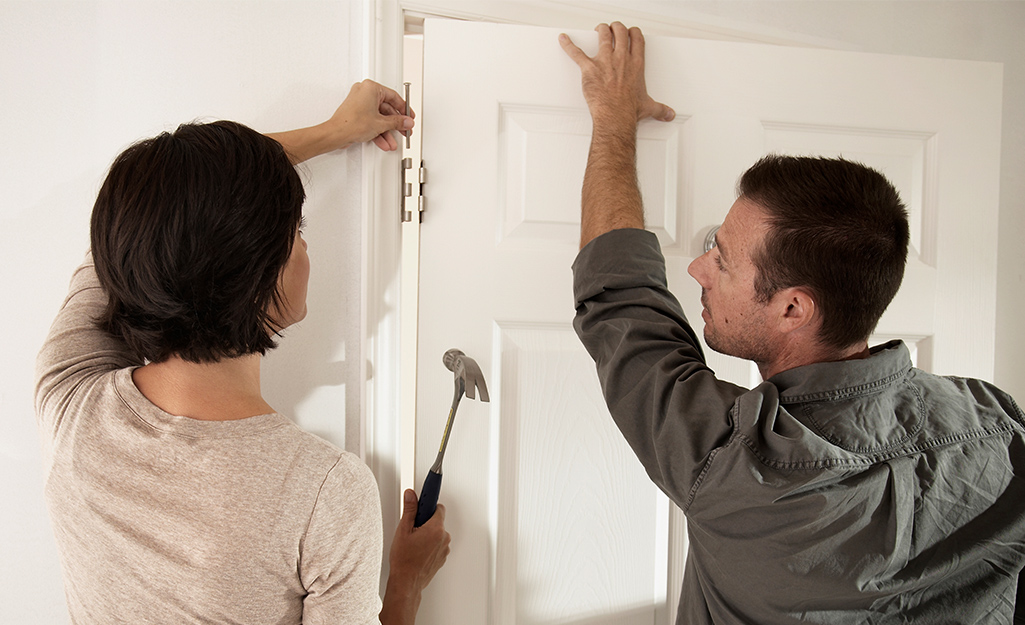 Before installing, determine the door swing direction and handle placement. Replacement doors should have the same measurements as old doors.

1 - 3/8 inches is the most common depth, but other depths are available.
Standard widths include 18, 20, 24, 28, 30, 32 and 36 inches; standard heights include 80, 84 and 96 inches.
Customized sizes are available in a wide range of different designs.
To measure a prehung door, remove the interior casing and measure the opening.
Need help identifying an interior door? Find products fast with image search in The Home Depot app. Snap a picture of an item you like and we'll show you similar products.