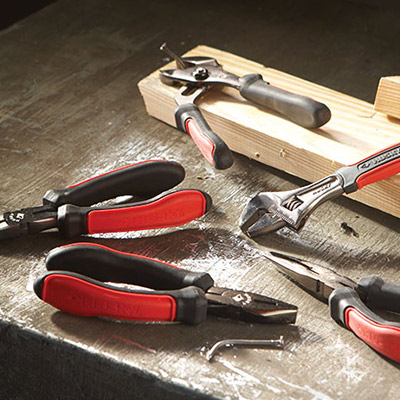 Pliers offer tremendous versatility, but some are used for highly specialized tasks. Because they are so valuable, it is best to keep several types in your toolbox to help you navigate specialized repair jobs more efficiently. 
This buying guide highlights the different types of Pliers, along with the uses of each.
Plier Types
Pliers can have either a fixed design or adjustable
Fixed or solid-joint pliers have a rivet attached to the pivot that allows them to open only to a set width.
Adjustable or slip-joint pliers offer two or more widths to accommodate a wider range of tasks.
Handles are used to grip the pliers, a pivot allows the jaws to open and the head grips or cuts the material you are working with.
Pliers are designed to transfer the power of your grip from your hand to a more precise point.
Pliers can have a long, short or curved nose.
Uses of Pliers
There are approximately 9 different types of pliers and some can duplicate tasks while others are specialized
Pliers can tackle a variety of jobs including installing and shaping wire, tightening and loosening nuts and bolts, removing nails and a host of other functions.
Not all pliers are designed for electrical work. Make sure the handles are insulated to protect from electrical shock if you use them on or around wires.
Protect polished pipes by wrapping a cloth around them prior to gripping with a pair of pliers.
Avoid using light pliers for heavy-duty jobs.
Use wrenches and other tools for turning nuts when possible.
Explore More on homedepot.com