Cooktops, or stovetops, make a great addition to any kitchen. They provide you with a high-quality cooking surface for preparing meals without having an oven directly beneath it. The most common types of stovetops are gas and electric. Some models feature a modular design that can accommodate optional accessories such as grills, griddles, woks and more. This guide gives an overview of different types of stovetops. Learning your options helps you select the best gas cooktop or best electric cooktop for your kitchen. 
Types of Cooktops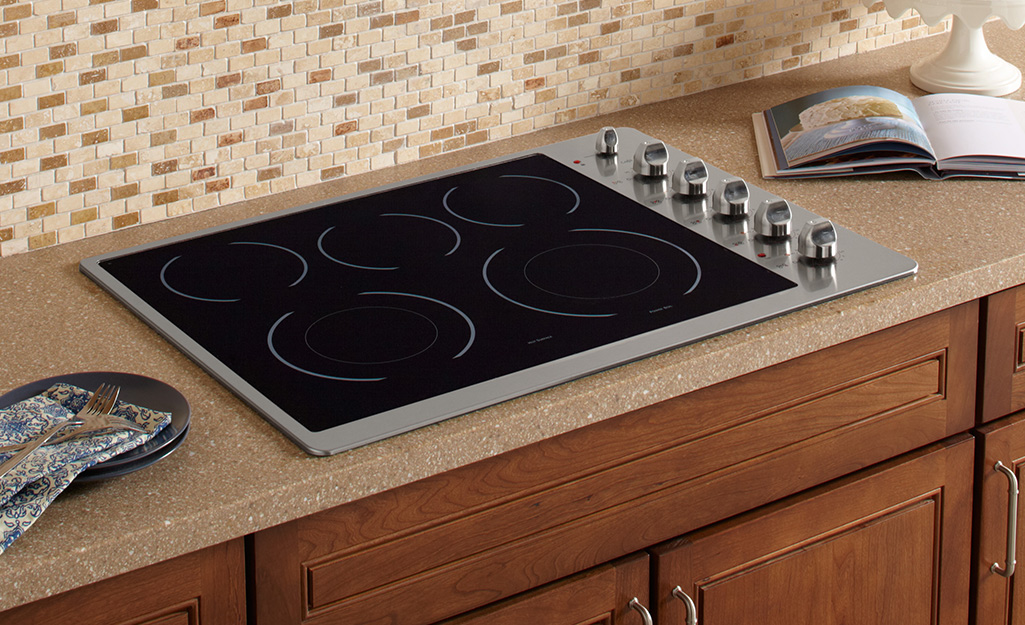 Cooktops can be powered by natural gas, liquid propane (LP) or electricity. Some electric cooktops can have raised, heated coils for a pot to sit. Most types of electric stoves today have the heating elements beneath a smooth glass surface. Induction cooktops use electricity and also have a smooth surface. However, these types of stovetops use electromagnetism instead of electricity to create energy for cooking.
Electric cooktops are the most common type of cooktop. Yet both gas and electric are both capable of delivering a great cooking experience. Induction stoves are also excellent, but they cost more up front. You may find it easier to judge cooking heat by a gas flame instead of a glowing electric burner.
When you adjust the knob for a gas burner, the amount of heat generated changes almost immediately. There's no delay where you wait for an element to heat up. Similarly, as soon as the flame is turned off, no more heat is transferred to the pot. In contrast, an electric burner takes time to heat up and cool down.
Cooktops are commonly 30 inches or 36 inches wide, though smaller and larger sizes are also available. Most 30-inch models usually have four heating elements. Larger types of cooktops generally have more burners. This lets you cook with multiple pans and reduces crowding when using large pots.
Consider a modular type of stovetop for more flexibility with the appliance. Some types of stovetops have built-in or insertable accessories for grills, griddles or wok stands.
Gas vs. Electric vs. Induction Cooktops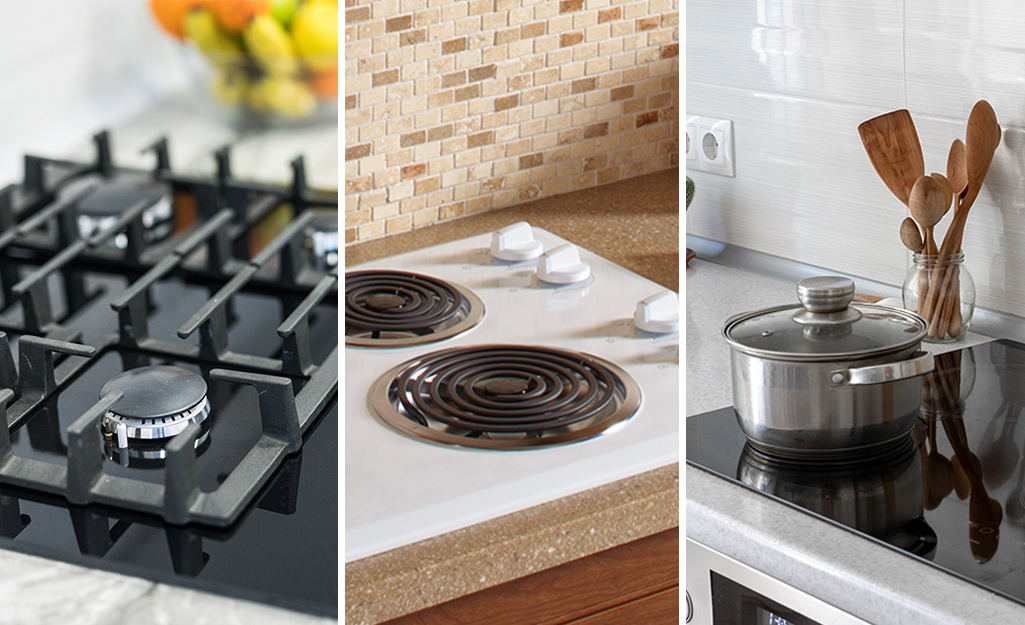 When choosing a gas, electric or induction stove, consider your cookware and cooking preferences as well as your budget. Some cooktops work better with specific types of pans. Similarly, certain stoves might be better for households with curious pets or children.
Gas Cooktops: 
Natural gas or liquid propane produces flames to heat pans for even cooking.
Many cooking enthusiasts prefer gas stoves for their quick temperature changes. A gas flame creates a wide range of heat settings with a clear visual in the flame size and color. 
You can use almost any type of cookware, including well-loved pans that are slightly warped.
If your home has electric heat, check to see if a gas stove can easily be installed. You may need to add a gas line if the utility isn't already run to your house.
Induction Cooktops:
Electromagnetic technology creates heat when cookware made from magnetic metal contacts the induction burner.
The process creates heat within the cookware, but not on the cooking surface itself.
With no open flame or radiant heat coils, induction cooktops are safer than a gas or electric stove. This is a plus for homes with kids or pets.
Induction cooktops heat up quickly and the smooth surface keeps cleaning easy. Be careful of scratching the surface with pebble-bottomed cookware like cast iron.
Only cookware marked "induction safe" or with a magnetic bottom works with this cooktop. Induction compatible cookware is often stainless steel.
Electric Cooktops:
Electricity heats a metal coil or glass element, transferring the heat to the pan resting on top of it. The heating element is exposed on coiled varieties. It's beneath a glass surface on radiant cooktop models.
Cost and durability are the big benefits of coil models. You don't need special cookware. For electric coil cooktops, you can scrub away grime from the metal with no worries of causing damage. 
Take care when cleaning a radiant smooth-top electric cooktop. The sleek surface can be scratched by rough cookware or cleaners.
Stovetop Features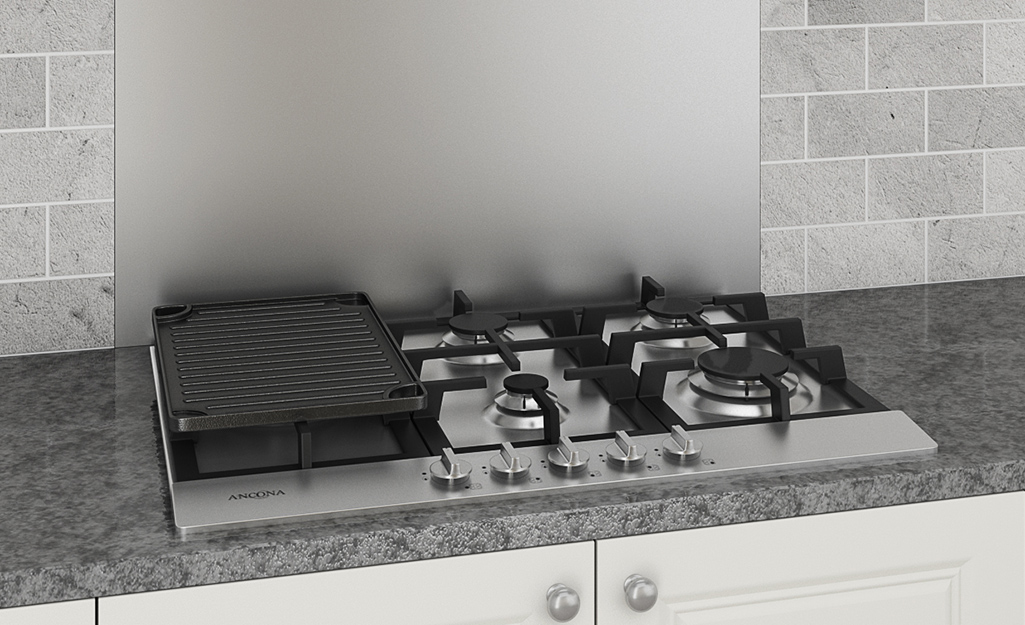 Shop different types of cooktops and look for any number of features to meet your needs. Special features include high-heat burners, electronic controls and space for additional burners.
Downdraft Venting: Cooktops that include a built-in downdraft vent eliminate the need for a range hood. These downdraft cooktops draw smoke, steam and cooking odors down and away from your kitchen. This leaves you with fresh, clean air.
Electronic Touchpad Controls: Touch-sensitive controls with digital displays make it easy to select precise cooking temperatures. It helps make operation more intuitive.
Wok/Griddle/Grill: Some units accommodate a wok accessory, while others provide space for a griddle or grill. A cooktop griddle makes whipping up pancakes a snap.
Simmer/High-Heat Burners: Simmer burners can handle more delicate foods like savory sauces. A high-heat burner provides increased energy on command. It's perfect for rapidly boiling water or quickly cooking dinner.
Dual Elements: Dual elements allow you to select between two differently sized elements (6-inch and 9-inch). Just match the burner size to the cookware. 
Bridge Elements: These pieces sit between two of the main burners like a bridge. They're excellent for accommodating oblong or oversized pots and pans or a griddle.
Additional Burners: Most standard cooktops include four burners, but some models include one or two additional burners. Extra burners come in handy for elaborate meals with several sides and sauces.
Hot Surface Indicator Lights: On some electric models, these lights alert cooks to a still-hot cooking surface, even though it's turned off. An electric cooktop with hot surface indicator lights is particularly useful for multi-tasking cooks or when several people are working in the kitchen.
Measure the space that you have available for your cooktop. Know the width and depth of the area you want the new model to fit into. If selecting a gas cooktop, you must connect to a gas source at the installation location. You'll need an electrical hook-up for both gas and electric cooktops.
With so many different types of stovetops available, you're sure to find the right one for your situation. Whether you're shopping two-burner coil cooktops or looking for a 48-inch gas model, get the best size to fit in your kitchen. 
Shop online for your new stovetop or cooktop parts. Scheduled delivery is free for most appliances. You can place online orders and pick up your purchases at your local store.
Explore More on homedepot.com