Transmission fluid is designed to lubricate many of the moving parts within your vehicle. If your car has an automatic transmission, this viscous and slippery fluid also acts as a coolant and aids power flow from your car's engine to the interior of the transmission. For these reasons, knowing how to check transmission fluid and maintaining the proper levels is crucial to performance.
Use this guide to discover the signs of low transmission fluid and learn how to check transmission fluid quickly and effectively. Some vehicles require a specific type of transmission fluid. Check your owner's manual before making a purchase.
Safety Tip: This project should only be performed outdoors in open air to ensure proper ventilation.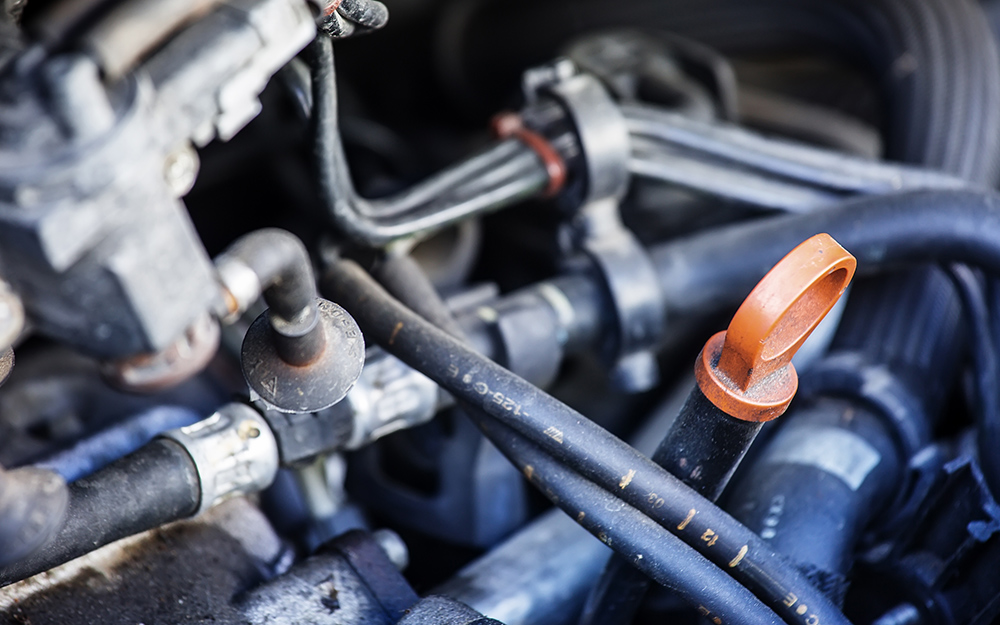 The transmission fluid dipstick looks like the engine oil dipstick. The location will depend on your vehicle. Here's how to locate the dipstick: 
Step 1: Leave the engine running and open the hood to your car. The car must be warm when you check transmission fluid. 
Step 2: If you have an inline engine, look behind your oil dipstick, toward your windshield, to locate the transmission fluid dipstick.
Step 3: If you have a front-wheel drive vehicle, look to the right of your oil. The transmission fluid dipstick will likely be located near your car's battery.
Safety Tip: Cars with a manual transmission must be raised on a hoist to access a special plug at the bottom of the vehicle. If you feel unsafe doing this on your own, or you do not have the proper equipment, consult a mechanic for guidance on how to check transmission oil.
2
Check Your Transmission Fluid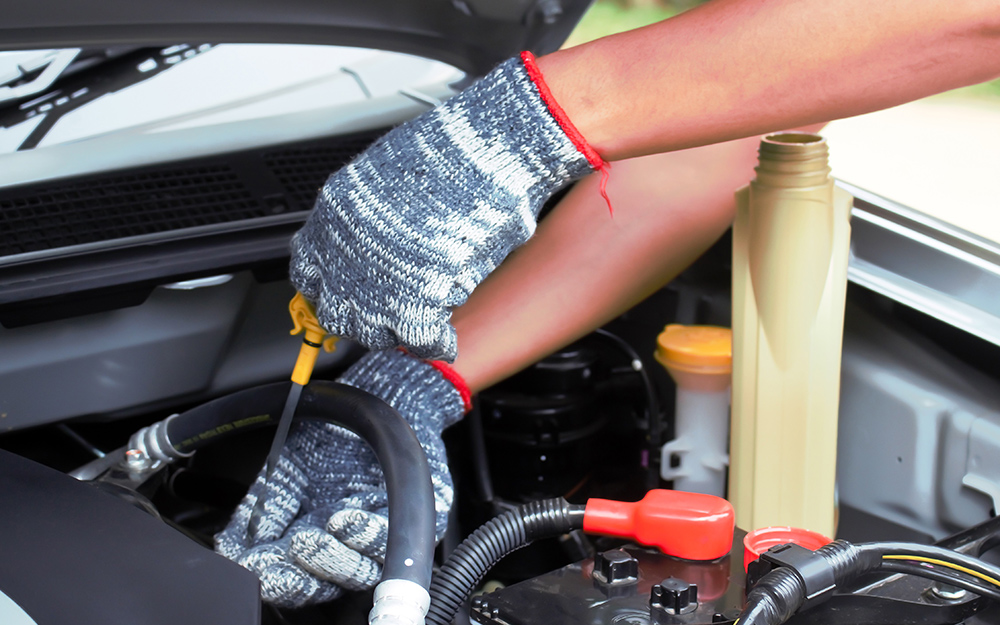 Once you've located the dipstick, it's time to assess your fluid levels. The process should take only a few minutes if you're familiar with your vehicle. Here's how to check transmission fluid:
Step 1: Remove the dipstick. Make sure the engine is running and your car is in park or neutral. The parking brake (also known as the emergency brake) should be on as well.
Step 2: Wear plastic gloves if you have sensitive skin. Touch the tip of the dipstick with your finger. Rub the fluid between your thumb and index finger, checking to see if the color is clean and clear/pink. Look for burnt particles or a dark color. If you notice burnt particles or a dark color, you should have your transmission fluid changed by a professional. If not, proceed to step three.
Step 3: Wipe the dipstick clean with a lint-free cloth and re-insert it back into the transmission fluid. Remove the dipstick again and check the level. The fluid should reach the "FULL" line. If not, add a small amount of transmission fluid at a time, checking to make sure you don't overfill.
3
Transmission Fluid Tips and Maintenance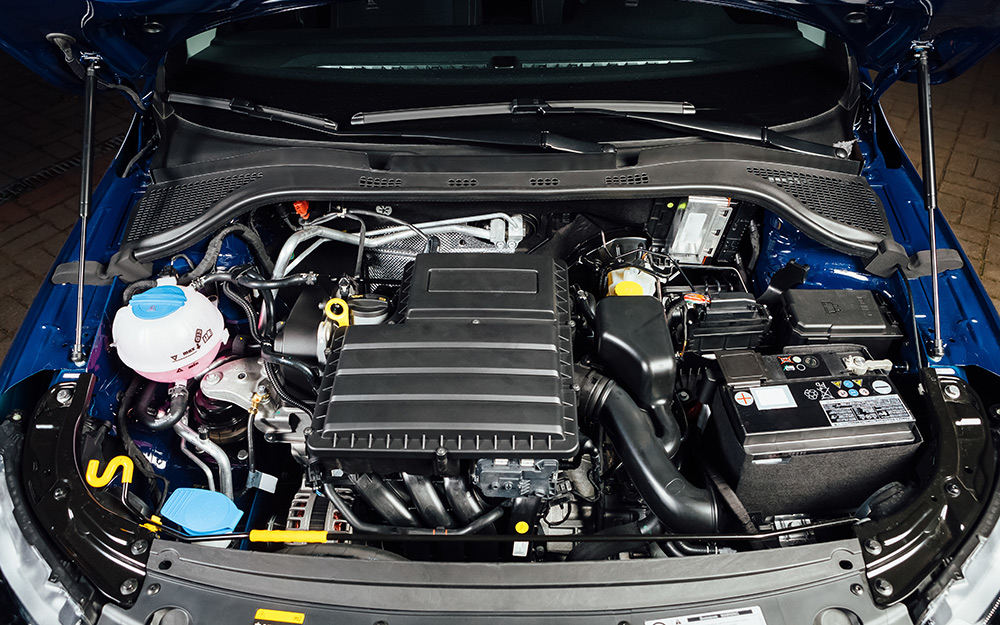 Maintain proper transmission fluid levels to keep your vehicle running smoothly. Here are a few tips to help preserve your car and transmission:
Checking transmission fluid levels can be more difficult depending on the make and model of your car. Consult your owner's manual before performing any of the steps above.
Check levels at least once per year. Many mechanics will do this as part of a routine service. You can do this on your own more often as well to ensure optimal performance. 
Many experts recommend changing your transmission fluid every 30,000 to 50,000 miles. 
4
Signs of Low Transmission Fluid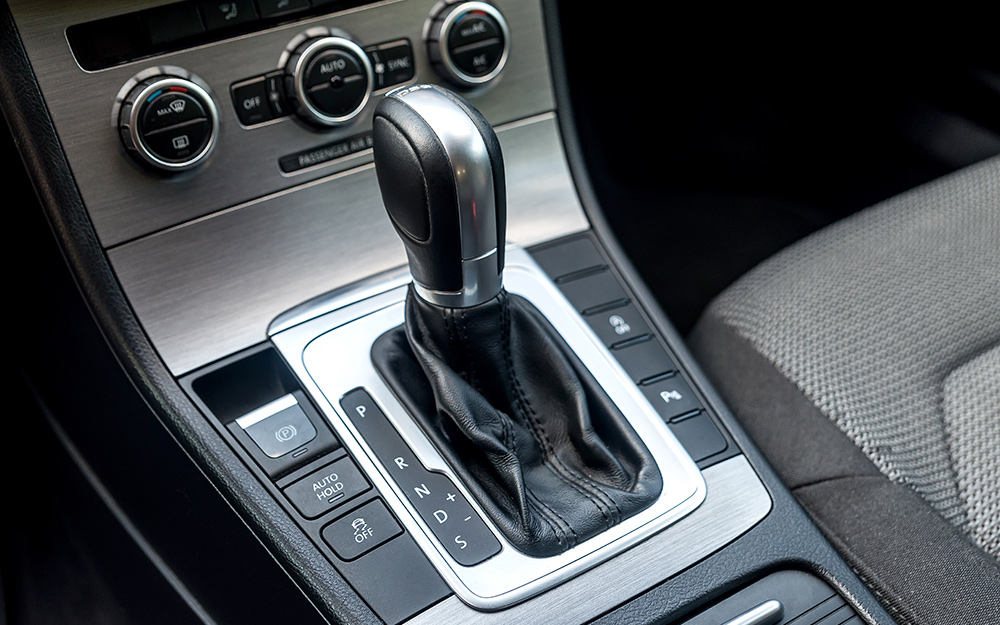 Here are the common signs of low transmission fluid:
A burning smell inside or outside your car.
Grinding or vibrating when shifting gears.
The vehicle is shifting gears slowly or not accelerating properly.
The car feels rough, particularly when shifting gears or performing tasks like accelerating onto the freeway.
Learning how to check your transmission fluid is simple and will help you keep up with your car's maintenance while saving money on repairs. Make sure to check out The Home Depot's wide variety of transmission fluids to keep your car in great condition. Shop online today and find the right transmission fluid for your vehicle. 
Explore More on homedepot.com