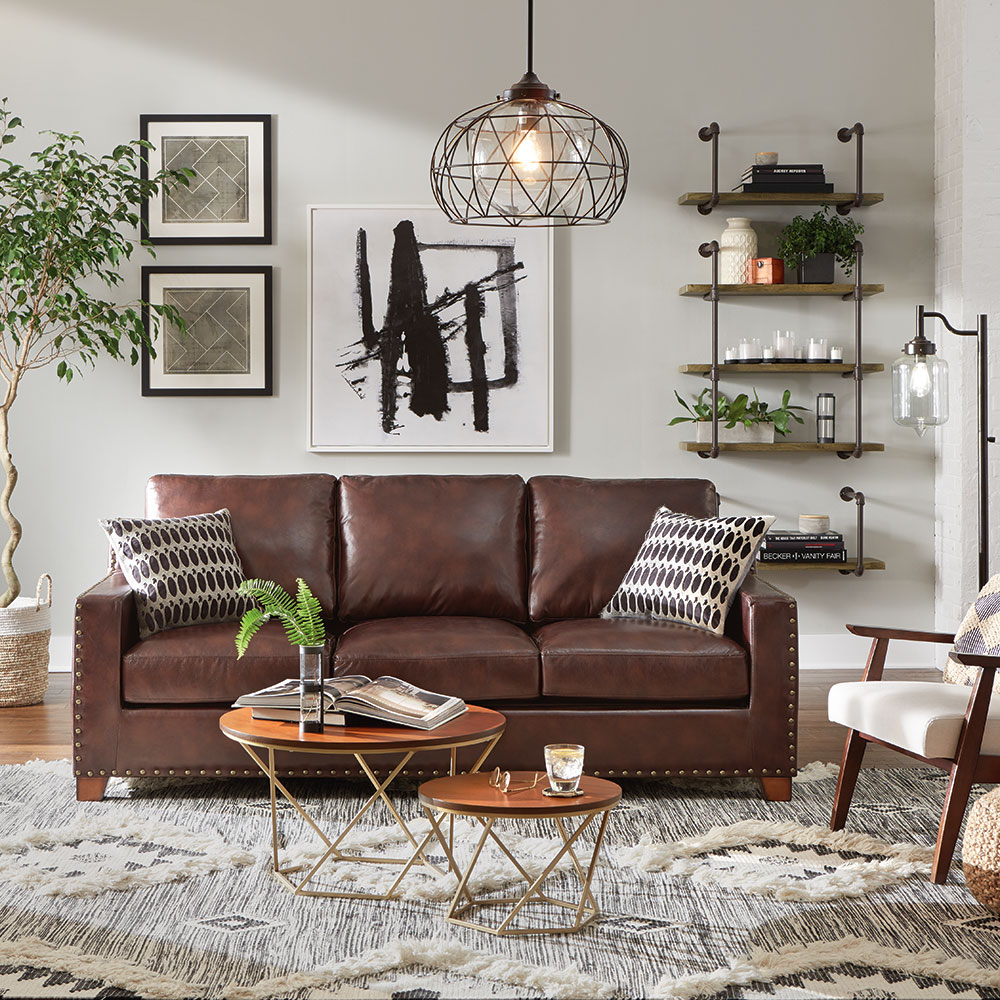 Wool is a natural, renewable fiber that deters bacterial growth, repels stains and inhibits the growth of dust mites. Wool rugs tend to be more expensive than cotton or synthetic rugs, but they are durable and can last a lifetime with proper maintenance. Although it's recommended to have wool area rugs professionally dry cleaned for stubborn stains, cleaning your wool rug with a gentle surface scrub about once a year is doable. This guide will show you how to clean a wool rug so it will last and look great.
1
Tools for Cleaning a Wool Rug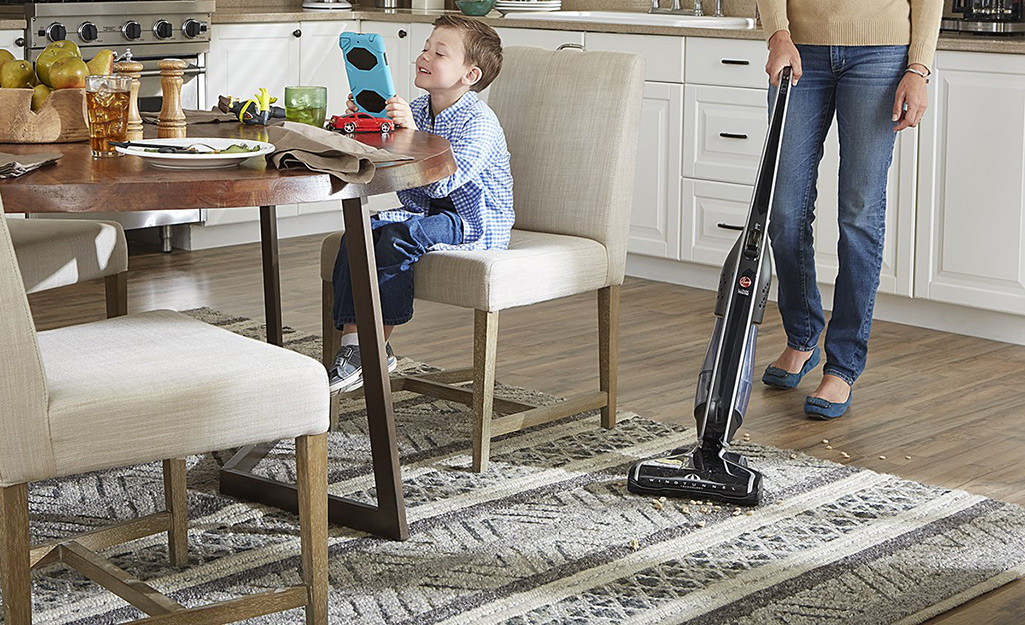 Most of the tools and supplies needed for cleaning a wool rug are easy to find at your local Home Depot. The basic tools and supplies needed are: 
Vacuum
Rug beater or broom
Wool safe cleaning solution
Two 5-gallon buckets
Large sponges
Large tarp
Fan
Before attempting to clean a wool rug, read the care instructions on the rug's label. Wait for a sunny, moderate day for cleaning a wool rug at home and take the project outdoors. This will keep most of the dust and dirt out of the house. Plus, it will help the rug dry faster and the sun is a natural and effective deodorizer. If an outside area is not available, use any floor area that moisture will not damage (like vinyl or concrete floor in the kitchen or garage).
2
Different Methods for Cleaning a Wool Rug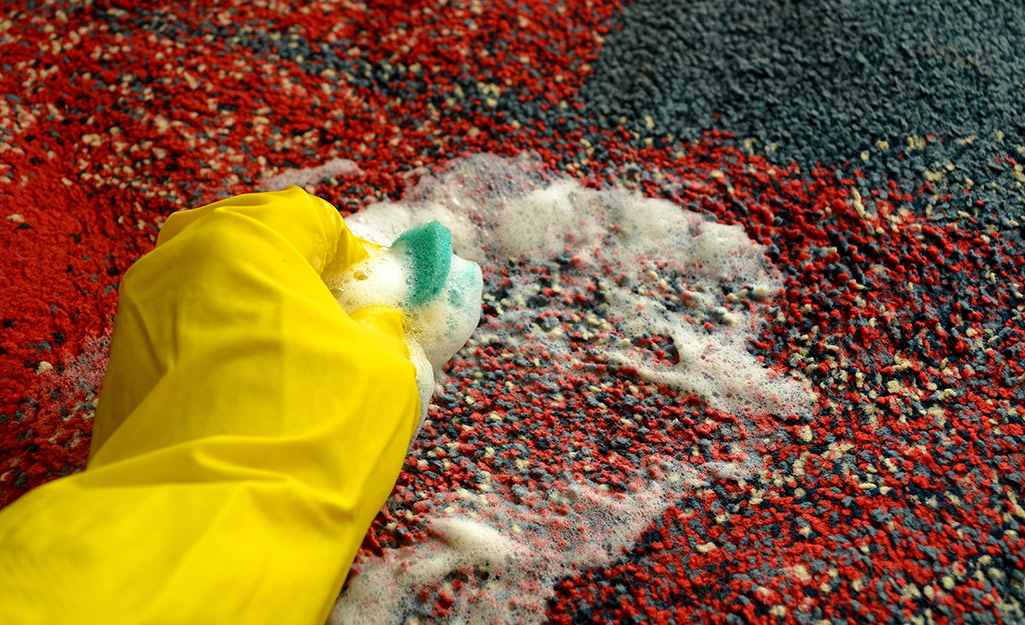 Here is a mix of dry and wet cleaning methods for your wool rug:
Shake or beat: Take the area rug outdoors and shake it. If the rug is large, ask a partner for help to hang the rug over a porch railing or over a couple of solid chairs. Use a broom or rug beater to hit the rug all over to loosen deeply embedded dirt. Don't forget to shake out the rug pad too.
Vacuum: Lay a tarp on the ground and place the rug on top. Vacuum the rug well. Flip the rug over and vacuum the other side.  
Use the dry bath method: If the rug isn't too dingy and just needs to be refreshed, try using a dry shampoo. Sprinkle dry rug shampoo onto the surface, let it sit for the recommended time and vacuum it up. 
Mix the cleaner: For a heavily soiled rug, a gentle scrub is needed. Use a detergent that's safe for use on wool. Fill one of the buckets with cool water and add one to two tablespoons of the detergent. Fill the other bucket with cool, clean water.
Scrub: Start at one end of the rug. Dip the sponge into the cleaning solution. Do not over-wet the fibers—wool is very absorbent and will take a long time to dry if it gets too wet. Use gentle pressure to lightly scrub the rug. Work in a three by three-foot grid. Rinse out the sponge frequently so the dirt will not be transferred. 
Rinse: It's important not to leave any soap substance on the rug. Soap will attract more dirt. Dip a clean sponge in the rinse water and remove any soap in the area just cleaned. 
Blot: Use the towels to absorb any excess moisture. Scrub, rinse and blot an area before moving to the next.
Dry: Hang the rug or place a fan near the rug to help speed up the drying. Make sure the rug is completely dry before it is placed back into the room. It can take a few hours for the rug to dry.
Steam cleaners: Renting a commercial steam cleaner may be an effective way to clean rugs, but it's not worth the time and cost for a small area rug. These cleaners are more cost-effective for wall to wall wool carpet or large area rugs.
If your wool rug has stains, cleaning methods will vary slightly. In-between deep cleanings, spills or muddy footprints will need prompt treatment to protect a wool rug. Try these steps to spot clean a wool area rug:
Immediately lift away any solids from the rug. Do not rub the stain—that will only push the dirt deeper into the rug.
Use a dull edge like a spoon or spatula to get as much of the solid off the rug.
Blot any liquids with paper towels. However, if there is mud on the rug–let it dry. It's easier to remove it once it's dried.
Use a wool-safe cleaner to clean the stain. Place a dab of the cleaner on a white cloth and gently scrub to remove any of the remaining residues, then rinse and blot.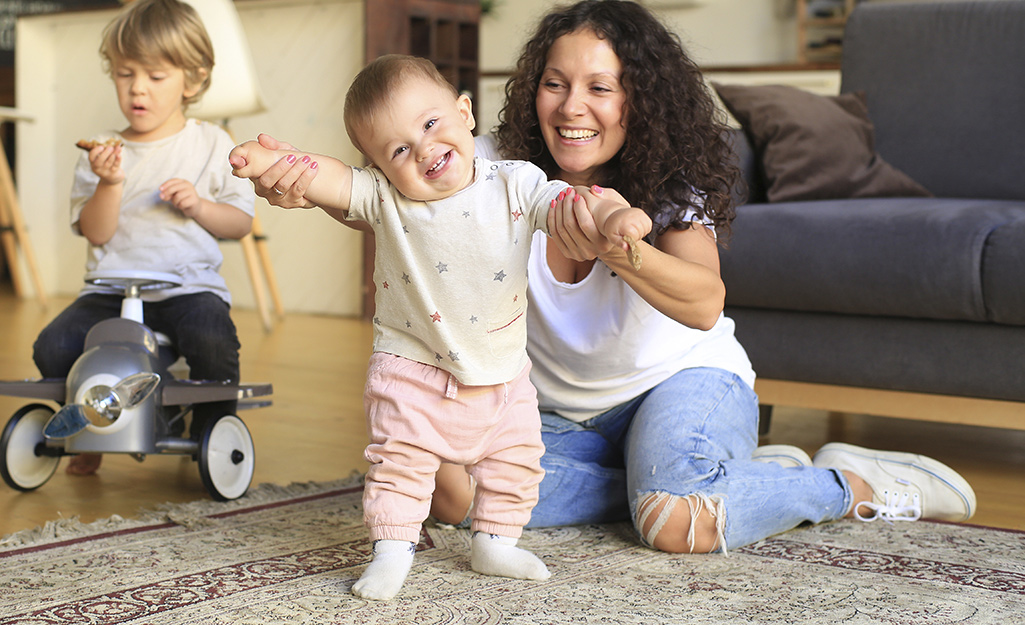 Regular maintenance will keep a wool rug looking great and increase its lifespan. In general, wool rugs only need to be vacuumed twice a month. However, if the rug gets a lot of foot traffic or if there are pets that reside indoors, the rug should be vacuumed more often. Deep cleaning a wool rug is only needed once a year—light spot cleaning can be done on an as-needed basis. To keep a wool rug in good shape, rotate the rug for even wear every six months and ask friends and family to remove shoes before walking on the rug.
Wool area rugs are a good investment. They offer unparalleled warmth and classic style to any space. When properly cleaned, wool rugs can last for many years. The Home Depot has area rugs, vacuums and other cleaning supplies for cleaning a wool rug at home. Use The Home Depot Mobile App to locate products and check inventory. We'll take you to the exact aisle and bay.
Explore More on homedepot.com