Area rugs add color and style to every room of the house, warm up hardwood and tile floors and offer a comfortable landing for bare feet. Over time, rugs bear the brunt of a busy household. To keep an area rug looking as new as the day you brought it home, give it a good cleaning regularly. If you haven't cleaned your rug in the last year, it's probably time for a deep clean. Get your area rugs looking picture perfect again in no time. Learn how to clean a rug with this step-by-step guide. 
1
Know When It's Time to Clean
Regular vacuuming is great for weekly maintenance, but dust and dirt can settle deep into the fibers. This can be especially hard to see in colorful, patterned rugs. To determine when it's time to clean your rug, it's best to do examine it closely. 
Pick up a corner of the rug and drop it. If it emits a cloud of dust, it's time for a deep clean.
Do some areas look darker or uneven in color? If so, it's cleaning time.
Gently rub over a high-traffic spot in the rug. If it feels rough and matted down or has residue, the rug is holding in dirt.
Take a sniff. If the rug doesn't smell clean, it isn't clean.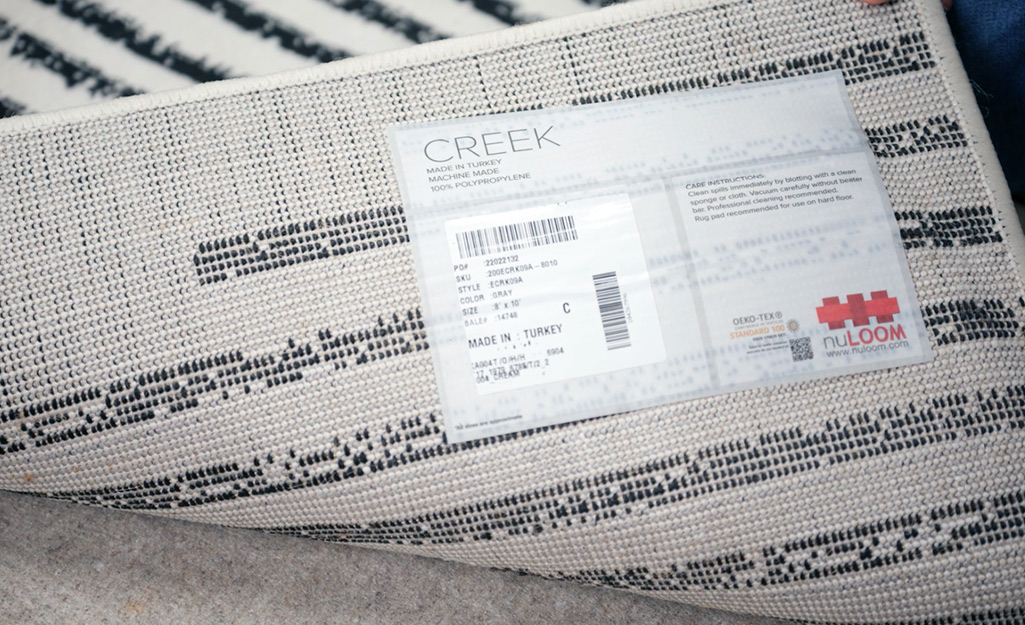 Some rugs may be easy to clean in your washer and dryer. Small cotton rugs and washable rugs fit into this category. For other rugs, it's best to see if they are tagged with cleaning instructions. Unless specific guidelines are attached, most rugs can be hand cleaned or you can use a machine. 
Tip: If you have an especially fragile antique or vintage rug, consult a professional rug cleaner.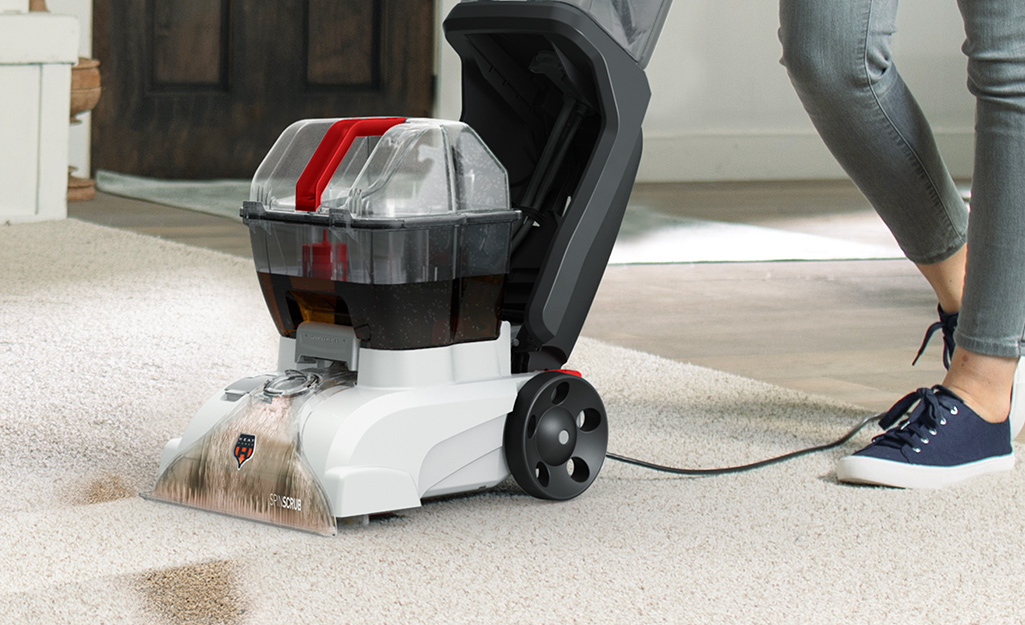 Cleaning a rug can be time consuming. With the right supplies, you can move the job along quicker. You'll need a vacuum cleaner and a rug beater or broom. Get carpet stain remover and a rug shampoo. A 5-gallon bucket is just the right size for mixing the cleaner. Use a garden hose with spray nozzle for rinsing. Other cleaning supplies include white towels, large sponges, a soft bristle brush and a tarp to use as a work surface. For drying, get a squeegee to push out excess water. A box fan is a handy appliance that will help the rug dry even faster. 
Tip: Plan to clean your rug on a sunny day. The fresh air, heat and sunshine will speed up the drying process. If an outside area is not available, use an indoor area that moisture will not damage such as  a kitchen or garage floor.
Vacuum the rug in place. Empty the filter on the vacuum cleaner to make sure you capture as much dirt and dust as possible. After a thorough vacuuming, take the rug outside. Hang it over a fence, outdoor table, sawhorses or sturdy chairs. Use a rug beater or broom to beat the rug. This will release and loosen deep down dirt and dust. If you have allergies, wear a dust mask. Don't forget to shake out the rug pad too.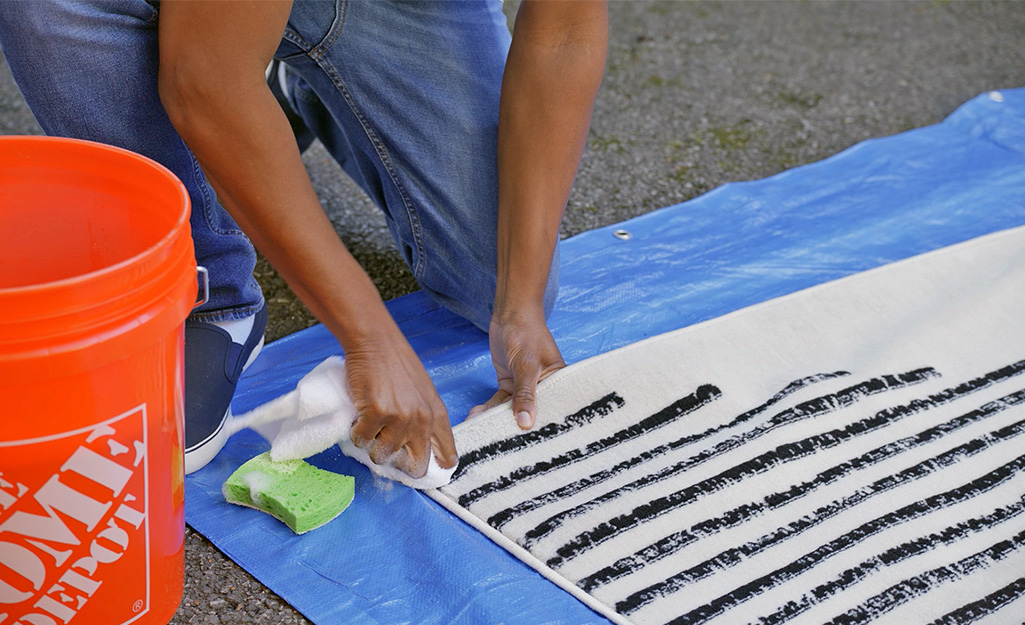 Some cleaners come ready to apply. Others need diluting. Have a five-gallon bucket handy and follow the cleaner's instructions. For a homemade solution, drop two to three teaspoons of mild dish soap into the bucket and fill it with warm water. 
Once your solution is ready, lay a tarp on a flat surface. A patio or driveway works well. Place the rug on top of the tarp. The tarp will prevent the bottom of the rug from picking up extra dirt from the work surface. 
Before you start scrubbing, test the cleaning solution to make sure it won't affect the dyes on your rug. Dab the cleaning solution on a small corner of the rug. Rub the spot with a white towel to ensure the color stays on the rug. Once dry, check for fading or color bleed. If the colors hold fast, you're ready to go. If not, consider dry cleaning your area rug.
Using a sponge, work the cleaning solution into small areas of the rug. Work on one area at a time. Repeat steps until the entire rug is clean. Scrub the rug with a bristle brush if needed to remove stains or excess dirt.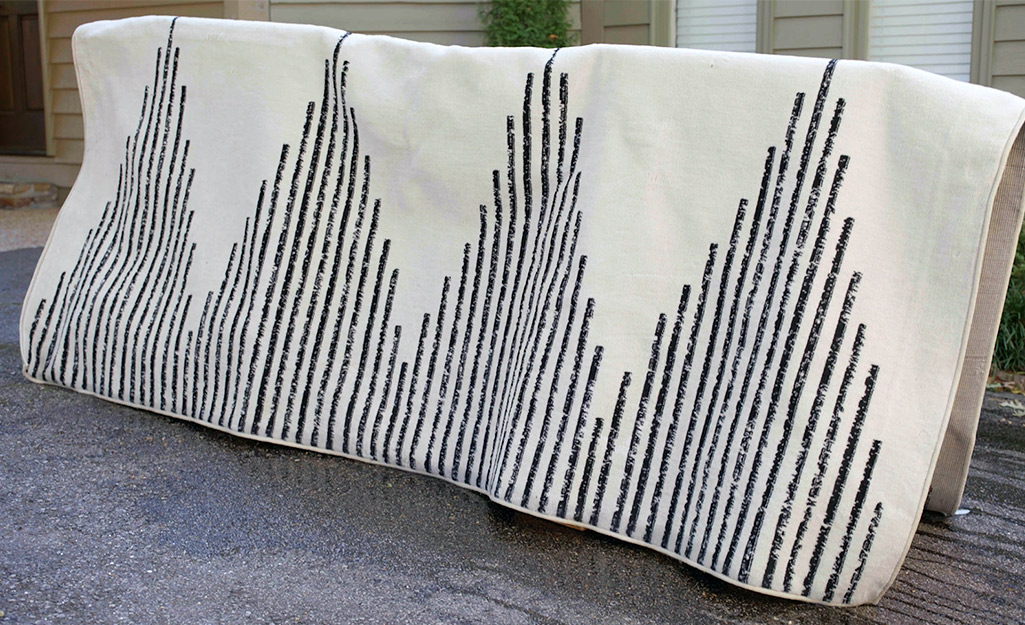 Using a hose with a spray nozzle, start at one end of the rug and rinse. Continue moving across the rug until the water runs clear. Repeat if necessary. Remove any excess water by pushing a squeegee in parallel rows from one side to the other. Follow the grain of the rug fibers. Repeat if necessary. It is important to remove as much water as possible from the rug.
Find an elevated place to dry the rug. You can hang the rug over two sawhorses, sturdy chairs or bed risers. The key is to provide air flow on both the top and bottom. Rotate the rug during drying.. If you can, place it in a sunny spot outside. You can also use a box fan to speed up drying time. Make sure the rug is completely dry before laying it back on the floor. Use a vacuum or brush to set the fibers back in place.
7
Area Rug Maintenance Tips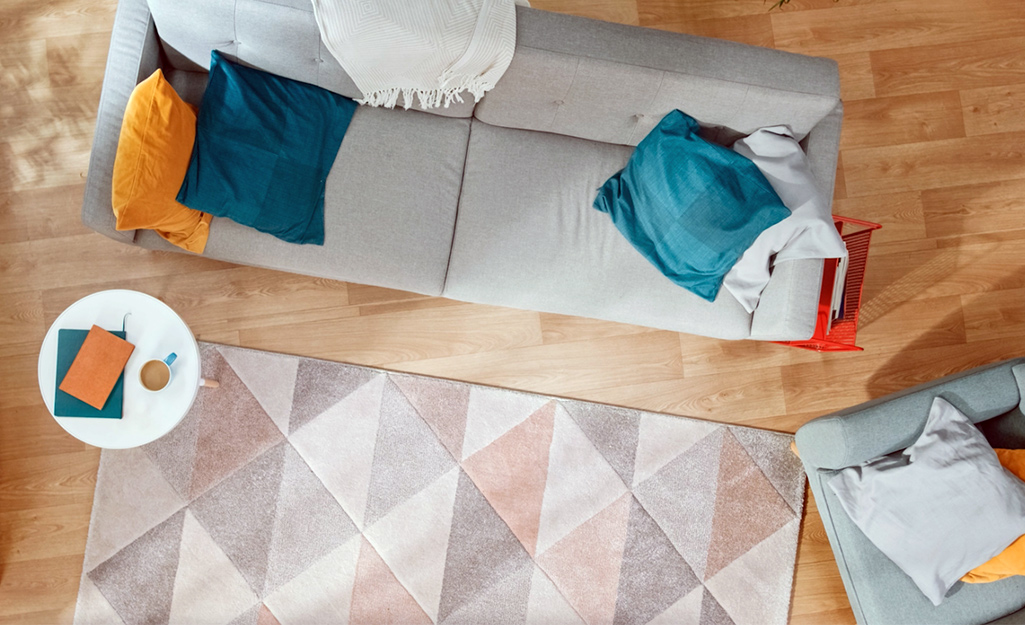 To keep that brand-new rug feeling, vacuum your rug regularly. Once or twice a week should do it, depending on foot traffic and pets. Before vacuuming, sprinkle on a little baking soda or odor eliminator. It's also a good idea to rotate a rug on occasion for even wear. In case of spills or stains, spot clean the rug right away.
Area rugs add warmth and character to any space. Keep your area rugs bright and spotless with our tips on how to clean a rug. Examine your rug carefully to determine when it needs deep cleaning. Check the care label on the rug and use the right cleaning supplies. Now that you know the ins and outs of how to clean a rug, get the tools and supplies you need to keep it looking great.  Use The Home Depot Mobile App to locate products and check inventory. We'll take you to the exact aisle and bay. Or you can consider a carpet shampoo rental to get your project done. Use once, then bring it back - no maintenance required. 
Explore More on homedepot.com