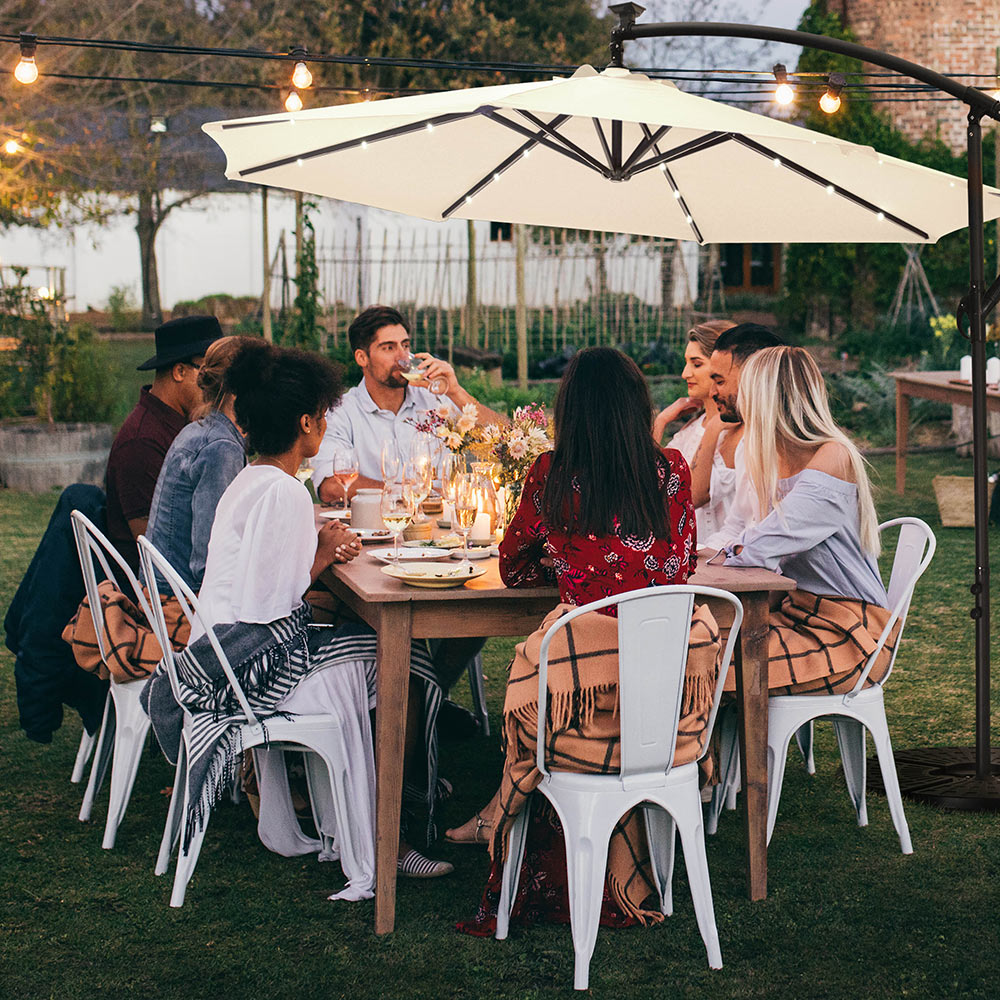 If you have a backyard, it can be the perfect place to entertain guests. While an empty grassy space does have a lot of possibility, you may have to make some upgrades before you invite people over. Maybe you'll want add patio furniture, get a grill or install a fire pit. As you plan your event, don't forget to include food and activities.
This guide will help you learn how to entertain in your backyard.
1
Set Up Your Outdoor Entertaining Space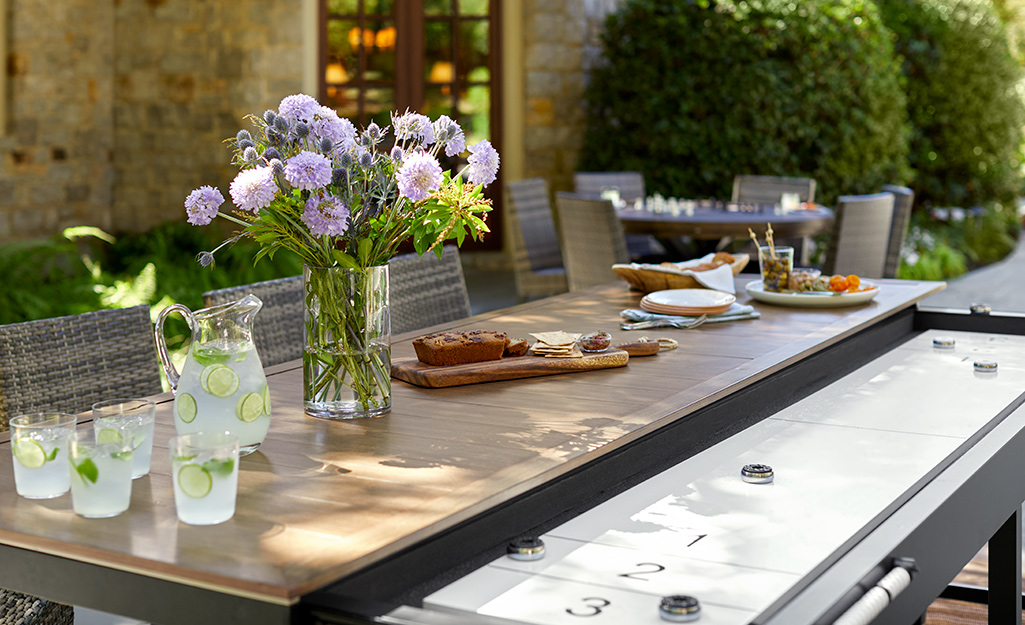 Start by thinking about how you'll use your backyard entertaining space. If you love to cook, consider adding an outdoor kitchen or grill station. If you're more interested in relaxing around a fire, then an outdoor fire pit might be the perfect addition. No matter how you use your yard, it should be a reflection of your own personal style. With a little planning and effort, you can create an inviting space that will make entertaining a breeze.
2
Provide Enough Places to Sit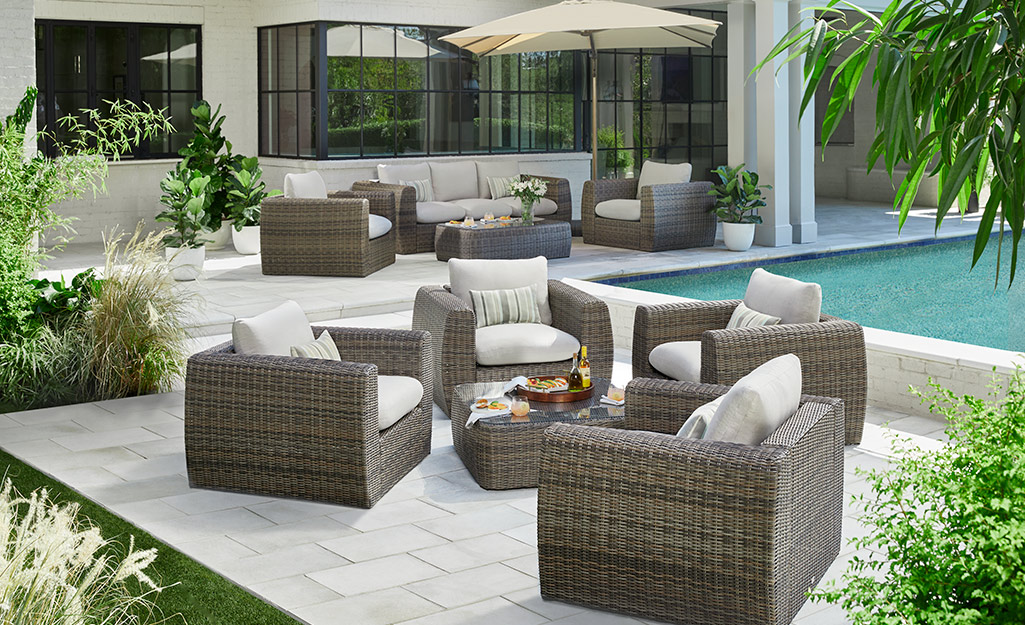 For a successful event, make sure you have a place for your guests to sit. Seating can include anything from patio furniture to benches around an outdoor fire pit. 
There are many different types of patio furniture to choose from, including chairs, couches and benches. The furniture that's right for your space will depend on the size and layout of your patio. Look for pieces that are comfortable and inviting. Also, consider style and durability. 
Provide a range of seating options to accommodate your guests. Think about chairs that work well for tall people and ones that would better suit shorter people. Friends or family with mobility issues might need special considerations when it comes to seating and accessibility. 
If you have a small backyard, you may not have space for a full patio set that include a couch and chairs. In that case, consider individual chairs or loveseats that can be arranged in conversational groupings. 
Expecting a crowd for your event? Ask people to bring camping chairs or set up folding chairs around your main patio set.
3
Add Accessories to Your Patio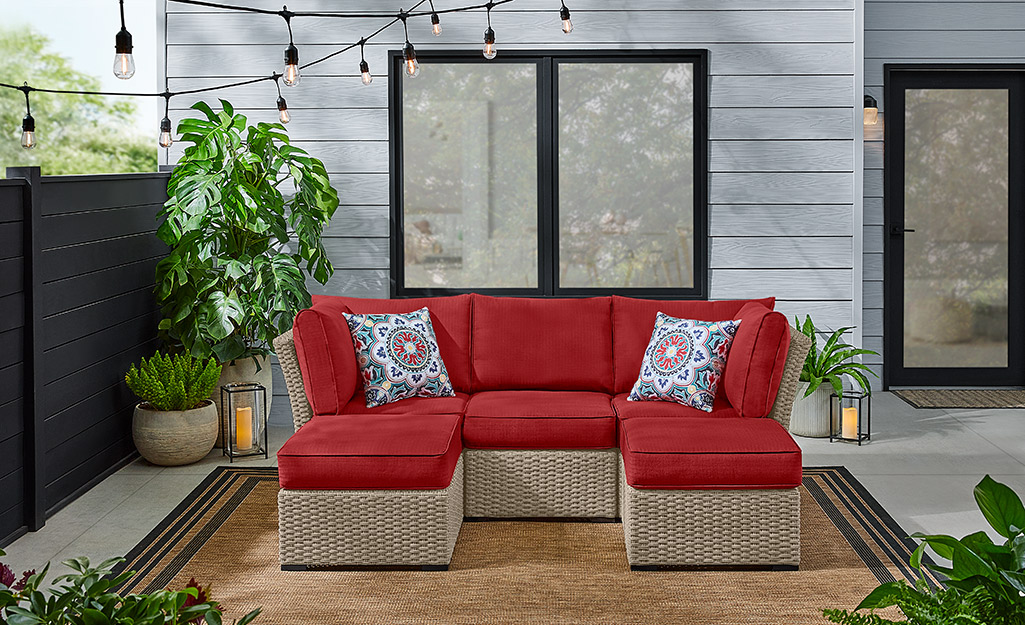 Patio accessories can make your outdoor space more comfortable and inviting. Throws and blankets offer a cozy touch. Cushions and pillows can add an extra layer of comfort. Lanterns and string lights can create an inviting ambiance. They can also be practical for providing illumination after the sun goes down. By adding a few simple patio accessories, you can transform your backyard into an outdoor oasis that your friends and family will love.
4
Gather Around an Outdoor Firepit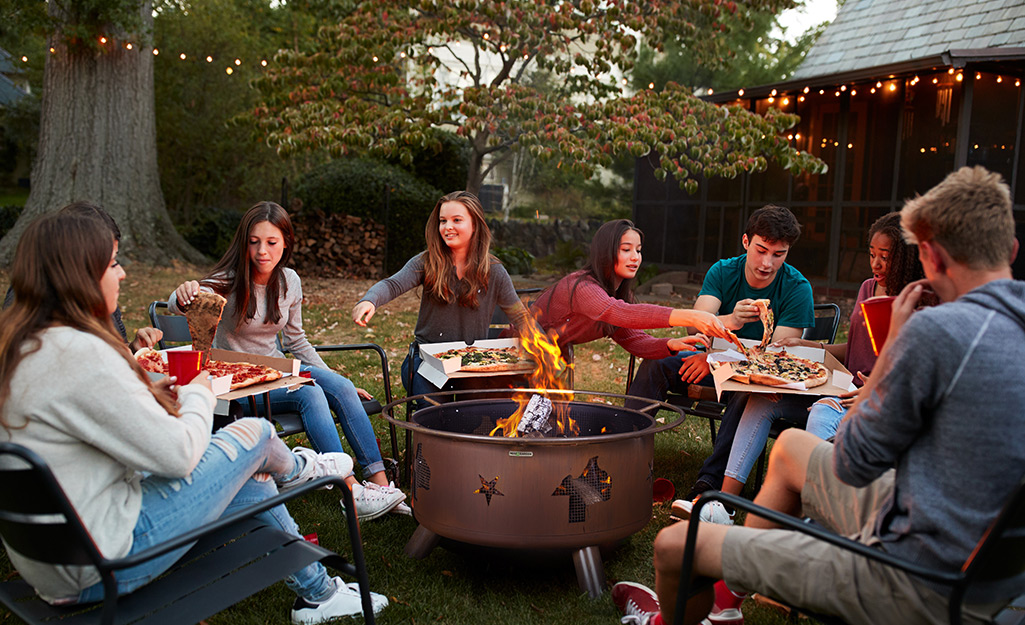 Whether you're roasting marshmallows for s'mores or simply enjoying the warmth of a fire on a cool evening, an outdoor fire pit can be a great addition to your home. Unlike a traditional fireplace, an outdoor fire pit can be enjoyed from all sides, so it's a perfect spot for social gatherings. With a wide range of designs to choose from, it's easy to find an outdoor fire pit that fits your budget and style.
First, consider the size of your outdoor space. A fire pit can take up quite a bit of room, so you'll want to make sure you have enough space to accommodate it. Second, think about how you'll use your outdoor fire pit. If you're planning on entertaining large groups of people, you'll want to choose a larger model. However, if you're mostly using it for intimate gatherings or simply enjoying the occasional bonfire, a smaller fire pit should work. Finally, be sure to check local ordinances before purchasing an outdoor fire pit. Depending on where you live, there may be restrictions on the sizes or types of outdoor fire pits that are allowed.
Adding a fire pit to your backyard can be a DIY project. Start by choosing a location. A fire pit should be set back from any buildings or trees. It should be at least 10 feet away from any combustible materials. Next, decide on the size and shape of your fire pit. It should be large enough to accommodate the wood you'll be burning, but not so large that it's unsafe. Finally, you'll need to choose the material you want to use for your fire pit. There are many options available, including stone, brick and metal.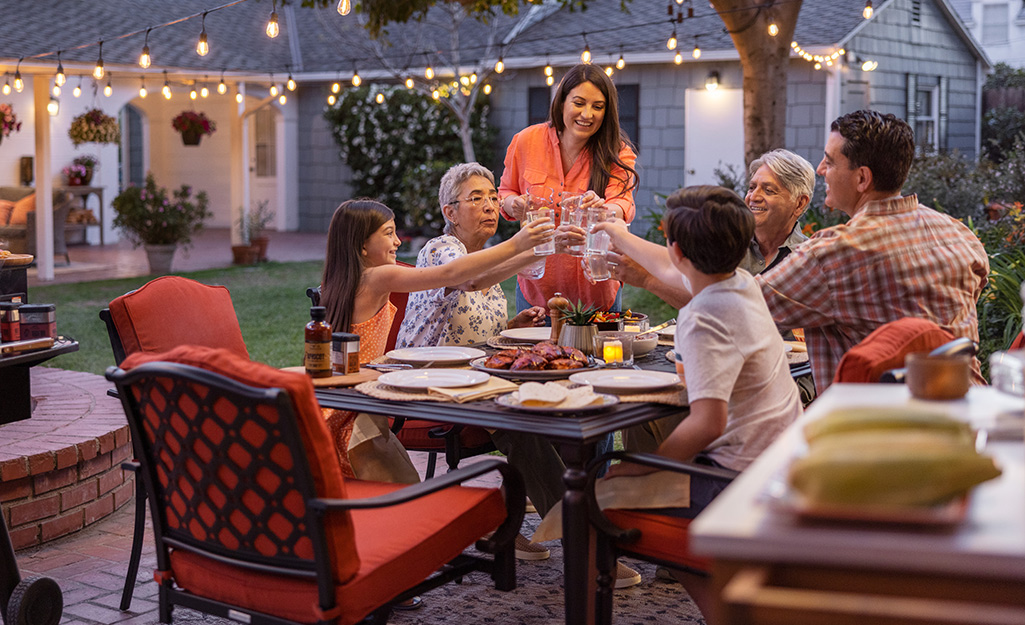 As you entertain in your backyard, there's nothing quite like cooking and eating outdoors. For starters, why not try grilling some of your favorite vegetables? You can also use your outdoor grill to cook up a variety of meats, including chicken, steak and fish. If you really want to impress your guests, you could even invest in an outdoor kitchen or pizza oven. If you have an outdoor fire pit, you can use it to roast marshmallows or make s'mores.
Here are some tips for hosting an outdoor dinner party:
Whatever you decide to serve, plan your menu carefully. Ask guests about food allergies or dietary restrictions and plan accordingly.
Prep as much as you can ahead of time and make sure you have everything you need on hand. Don't forget plates, napkins, cups and flatware. Put trash cans in places that are easy to see and access. 
If you're short on time, you can have food delivered instead of making everything yourself.
If your budget is stretched, consider asking each guest to bring a dish to share. 
Offer a selection of beverages. If you're serving cocktails, wine and beer, also plan several options for those who won't be consuming alcohol. 
Make sure there is enough space for everyone to sit and relax. Create a comfortable seating area for your guests with a patio dining set or picnic table. If you'll be hosting a lot of guests, you may need several tables and additional chairs. 
Don't forget the little details that will make your party memorable, like music and lighting.
Depending on the season, bugs may crash your party. Figure out how you'll handle insect repellent before your guests arrive.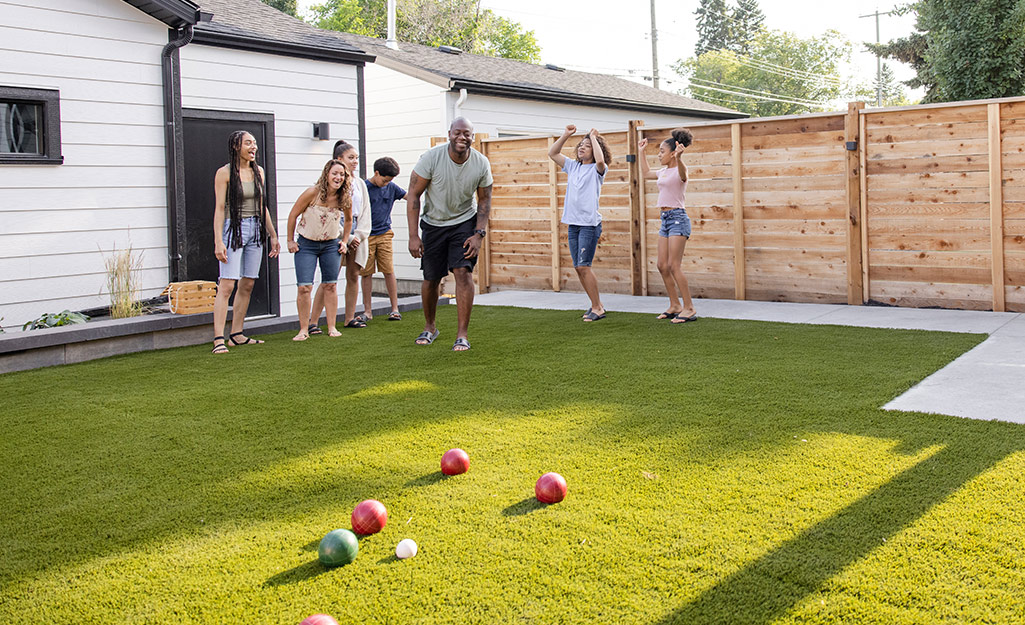 No matter how many people you have over, there are plenty of backyard games and activities to keep everyone entertained. As you plan activities, think about the amount of space needed for each one. Also, consider the atmosphere of your event. Some activities are better suited for high-energy crowds, while others work well for more sedate settings.
Lawn games such as croquet or bocce are easy to set up. People of all ages and skill levels can enjoy these two games. 
Cornhole is a classic game is easy to learn and can be played by kids and adults. You can buy pre-made cornhole sets or make your own cornhole game.
Other backyard favorites include horseshoes and badminton. 
Frisbee and tag don't require a lot of equipment, though your guests will need space to run. 
Water games can be a great way to cool off on a hot day. You can set up a sprinkler or splash pad. If you have a swimming pool, you can invite your guests to take a dip. 
For evening entertainment, set up an outdoor projector and a screen. You can show a movie or the big game.
As you figure out how to entertain in your backyard, know that the options are limitless. Still, no matter what kind event you'll be hosting, you'll need to provide a place for your guests to sit. The best parties also have an inviting atmosphere, great food and fun activities.  
Ready to get everything for entertaining in your backyard? The Home Depot delivers online orders when and where you need them.