Getting paint out of carpet may seem like an impossible task, but it can be done. With the right preparations and techniques, your carpet can be saved. Whether the stains are fresh or have dried, you can remove them with the right cleaning agents and some elbow grease. 
This guide will show you how to get paint out of carpet. It will cover removing water-based paint, also known as latex paint, and oil-based paint. 
1
Figure Out the Paint Type & Gather Supplies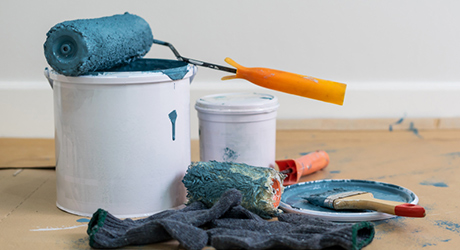 Before you start figuring out how to remove paint from carpet, you need to know the type of paint that was spilled. Check the paint container to determine if the paint is latex or oil-based. Read the label to help you figure out if you need to know how to get latex paint out of carpet or how to get oil-based paint out of carpet.   
The method you'll use depends on the kind of paint. If you aren't sure, take the paint container to a nearby The Home Depot for help.
The supplies you'll need for getting paint out of carpet are similar for both types. Get your tools and materials together before you start working. 
The faster you tackle the paint spill, the better. Wet paint requires less effort to remove. As you learn how to get dried paint out of carpet, you'll find it's a more difficult task.
2
Prepare a Wet Stain for Removal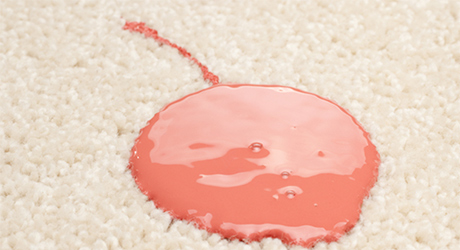 If possible, it is best to clean paint spills as soon as they happen. 
Use a thick paper towel or cleaning cloth to lightly blot the area and soak up the excess liquid. 
Make sure not to scrub the area as you figure out how to get paint out of carpet. Scrubbing will likely press the stain deeper into the carpet fibers.
3
Prepare a Dried Stain for Removal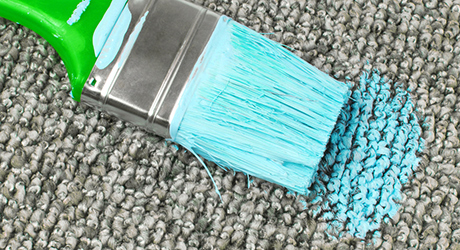 Figuring out how to get dried paint out of carpet is harder. But with some extra effort, dried paint spills can be cleaned up.
Start by clearing the immediate area. Use a utility knife or a pair of needle nose pliers to scrape away the thicker paint chunks. 
Vacuum the carpet to remove any excess debris.
4
How to Remove Water-Based or Latex Paint from Carpet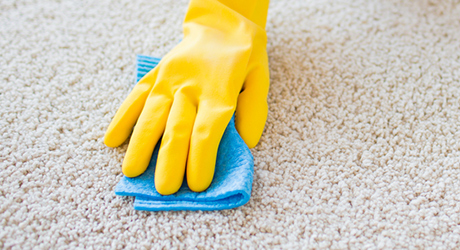 Water-based paint, also known as latex paint, is a low-VOC alternative to oil-based paint. Its odor is faint. This paint type dries fast and is easier to clean up.
Once the area is prepped, follow these steps to remove water-based paint from carpet:
Pour some hot water over the stain to moisten the area. 
Add a bit of mild dish soap to the wet spot. Start scrubbing the area with a stiff-bristled scrub brush until the water and dish soap mix into a light lather.
Keep scrubbing until the paint stain begins to dissolve. For stubborn stains, go over the area with an upright or handheld carpet cleaner.
5
How to Remove Oil-Based Paint from Carpet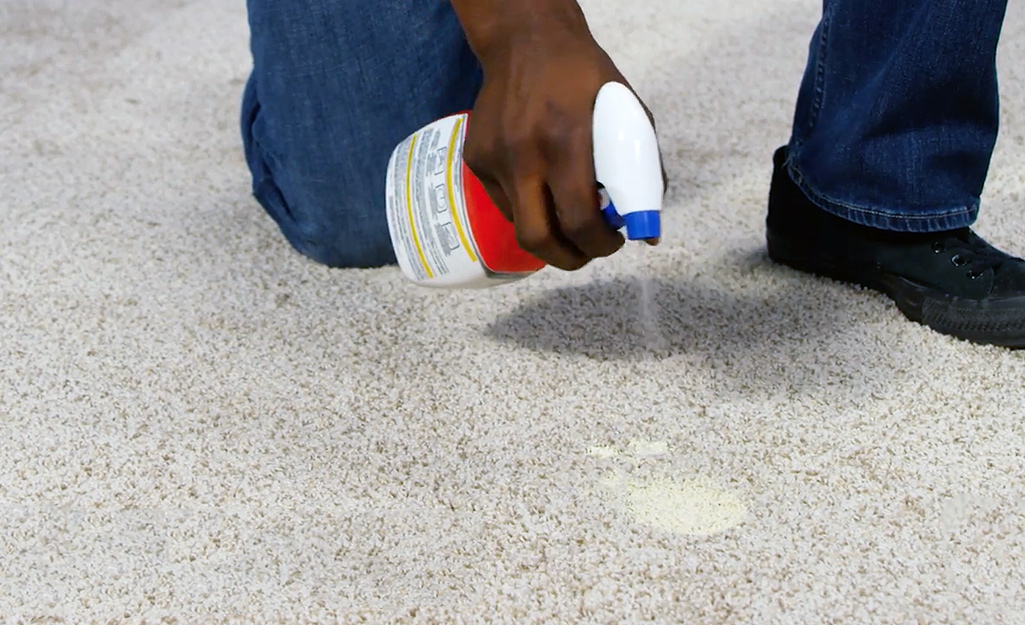 Oil-based paint is made using synthetic or natural oils as the foundation of the formula. This kind of paint is resistant to moisture and considered very durable. Because it's designed to be long-lasting, this kind of paint stain can be harder to remove.
After prepping the carpet, follow these steps to get out oil-based paint:
Start by cleaning the area with an upright or handheld carpet cleaner and cleaning solution. Pass over the stain multiple times until the spot is fully saturated. 
Wet a cleaning cloth with a bit of paint remover and start blotting the area. 
If you don't have paint remover on hand, 100 percent acetone or hydrogen peroxide are suitable alternatives. You can use either one in place of the paint cleaner. There is a possibility that hydrogen peroxide can remove color from carpet fibers, basically bleaching it. Before you try using hydrogen peroxide to get paint out of carpet, test it on a more hidden spot. Wait a few minutes and check to see if the peroxide has left a visible spot on your carpet.
Continue blotting the area until the stain begins to break down and dissolve. At first, you'll see color transfer to the cleaning cloth. As you get more of the stain up, you should see less color transfer to the cloth.
With oil-based paint stains, it may take a while to fully dissolve the pigment. Keep working until you see some improvement.
Once the stain has been removed, shampoo your carpet. After it dries, go over it with a vacuum. 
Safety tip: When working with paint remover or an alternative, open a window or turn on a fan to keep the fumes to a minimum. 
No matter how carefully you paint, accidents happen. When spills occur, you can be prepared to protect your floors by knowing how to get paint out of carpet.
If you or your kids will be using paint in the house, be ready to handle messes. Now that you've learned how to remove paint from carpet, stock up on supplies before you start a project. The Home Depot delivers online orders when and where you need them.
Explore More on homedepot.com