Beautiful and hassle-free, peel and stick or removable wallpaper can be installed in minutes and removed even faster. Also called self-adhesive wallpaper, this versatile wall covering lets you add a pop of color, pattern or texture to walls, stair risers and even furniture.
This guide outlines the steps for hanging peel-and-stick wallpaper, as well as the prepwork needed beforehand.
1
Determine How Much Wallpaper You Need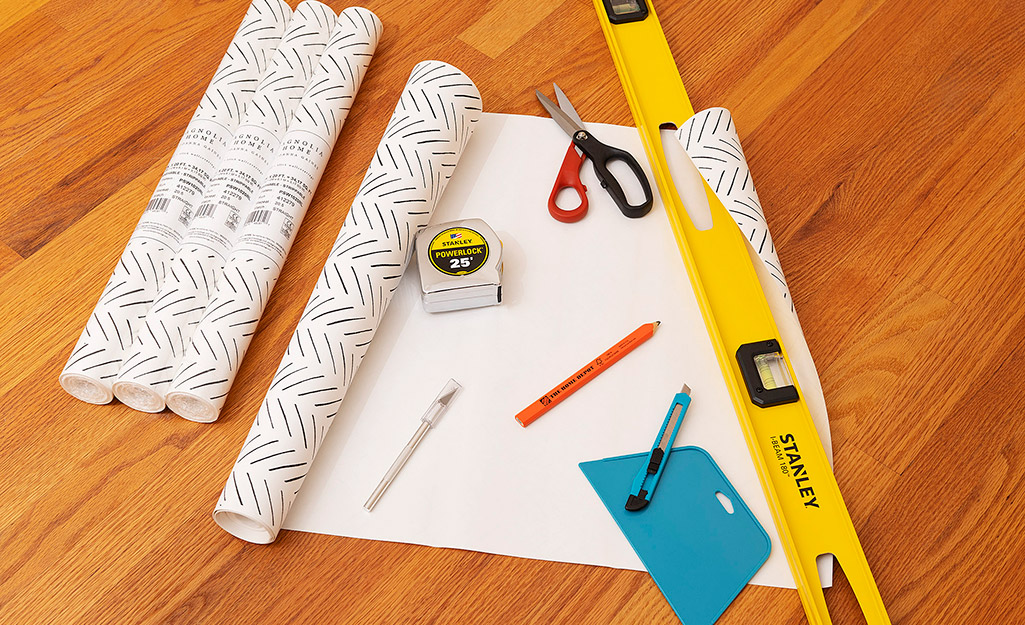 Before you begin transforming your space, you'll need to measure the room's height and depth to determine just how many rolls you need. You can use a tape measure and do the math, or take advantage of ourwallpaper calculator to determine the number of rolls you need for your project.
At this step, you may also want to order peel-and-stick wallpaper samples to confirm the product is exactly what you're looking for before you buy.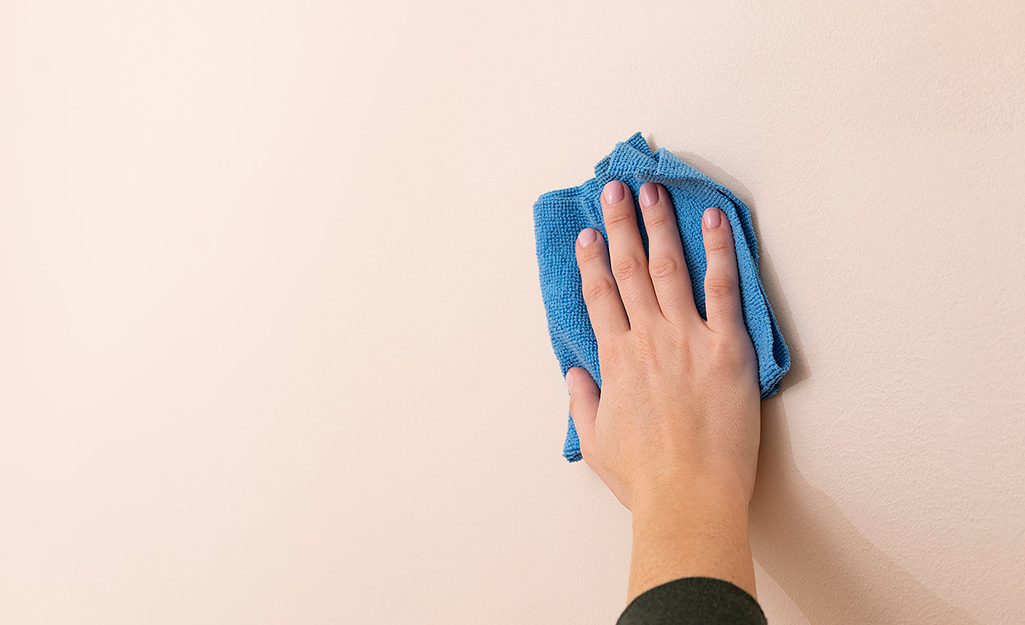 Remove all faceplates and socket covers. (Be safe and turn off power first.) Use a sponge or cloth and a gentle cleanser to remove dirt and dust from walls. Allow to dry.
Tip: If your walls are newly painted, wait three days before applying peel-and-stick wallpaper.
3
Make a Guide for Your First Step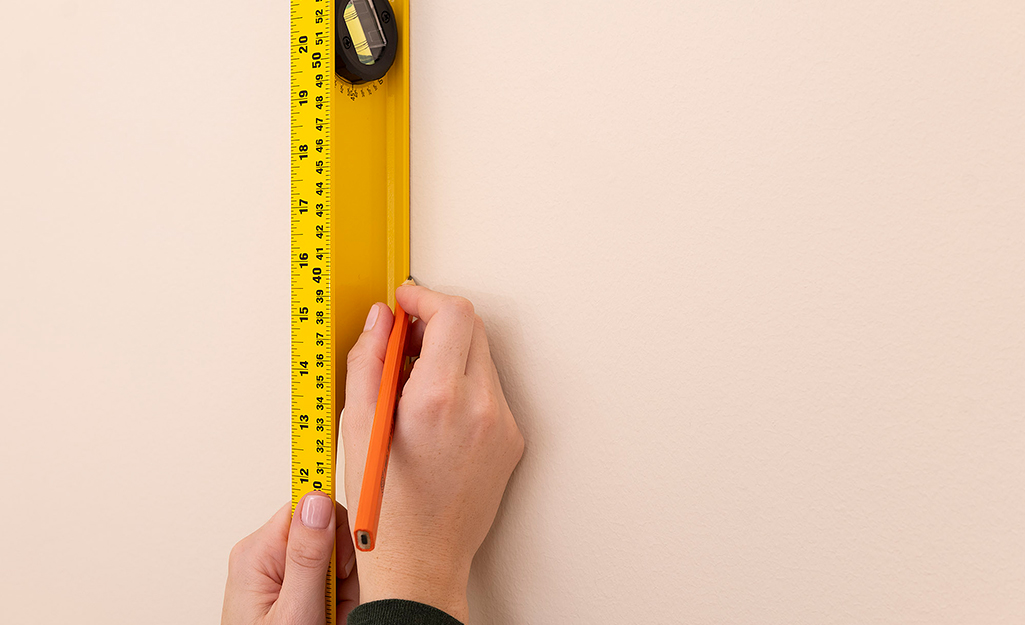 Measure the width of your wall. Starting from the left side of your wall, use a tape measure to mark the wall lightly on the right with a pencil. Put your level on this mark and draw a straight, level, vertical line. This is the guide for your first strip.
4
Cut Strips and Start Hanging from the Top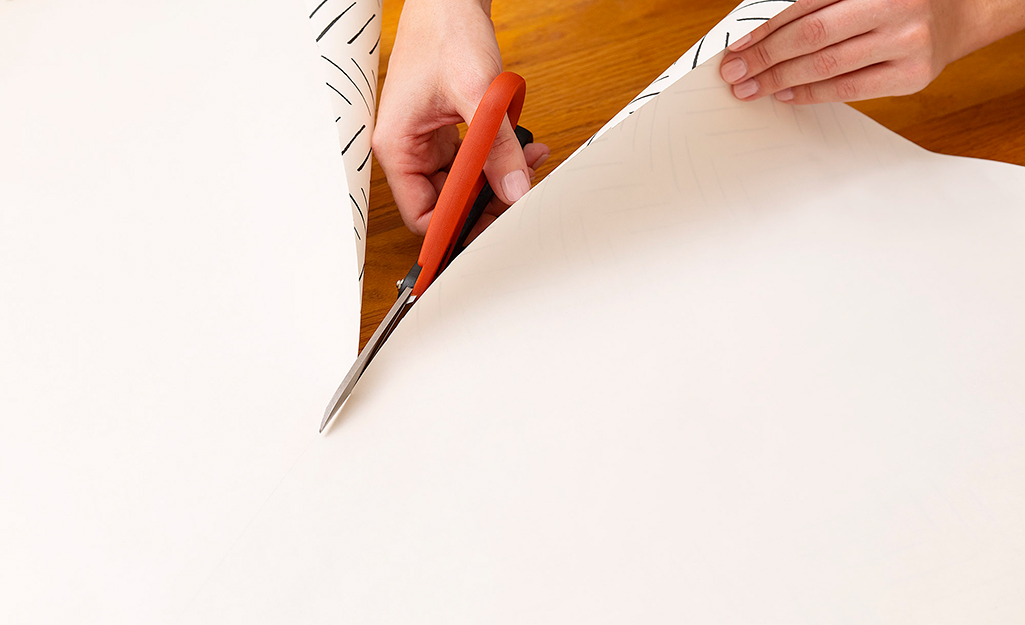 Measure and cut strips of wallpaper with your razor blade to fit the height of the wall. Peel back about 12 inches of the backing on a strip, line up the top of the paper at the ceiling, then slowly peel and stick the paper down the wall.
5
Smooth Paper and Cut Along Edges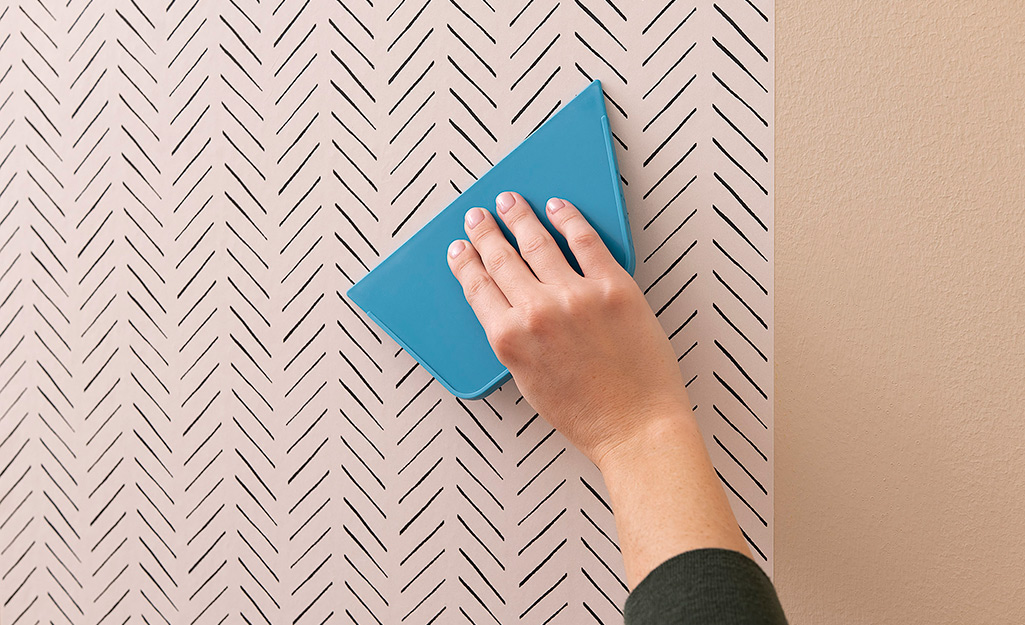 Use a plastic smoother to get rid of the air bubbles and create an even look. Repeat all along the wall, making sure not to press the plastic smoother too hard into the wallpaper so you don't cause tearing. 
When adding paper along windows, line the wallpaper up along the top and side of the window. Cut along the edge, using a utility knife, then smooth the wallpaper down.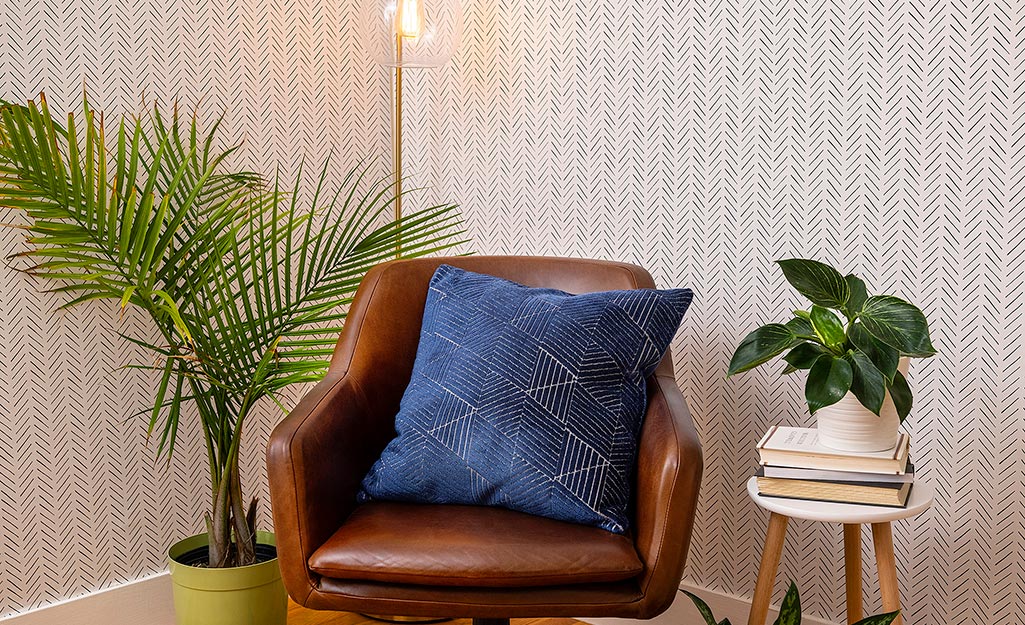 Once you've smoothed out the wallpaper, you can start adding outlet covers back to walls and bring furniture back into the room. Enjoy your newly updated space.
7
Other Ways to Install Peel-and-Stick Wallpaper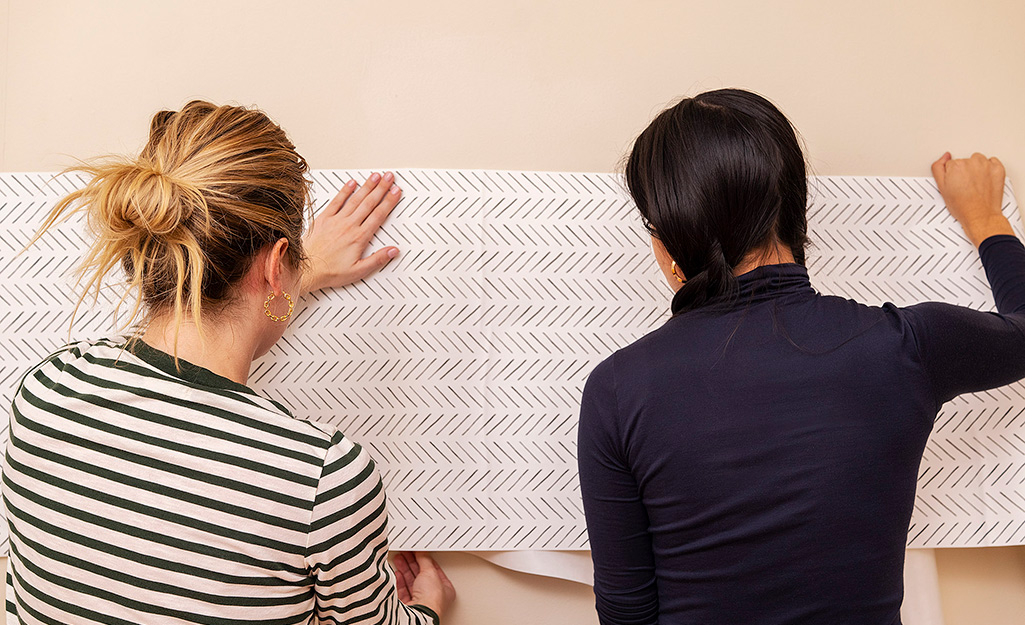 These steps are the easiest way to install peel-and-stick wallpaper, but there are alternative methods you can try as well. For instance, some people prefer to lay the first strip of wallpaper in the center of the wall and work outward from there. This can help create symmetry within the room. However, you'll still want to draw an initial guideline using a level, as this will ensure the wallpaper goes on straight. 
Another interesting twist on peel-and-stick wallpaper is to hang the strips horizontally. You'll want to follow the same basic steps, but you'll need someone to hold up the other end of each strip as you work. Otherwise, the wallpaper may get twisted or peel itself off the wall as you're working.
8
Try Using Wallpaper in Different Rooms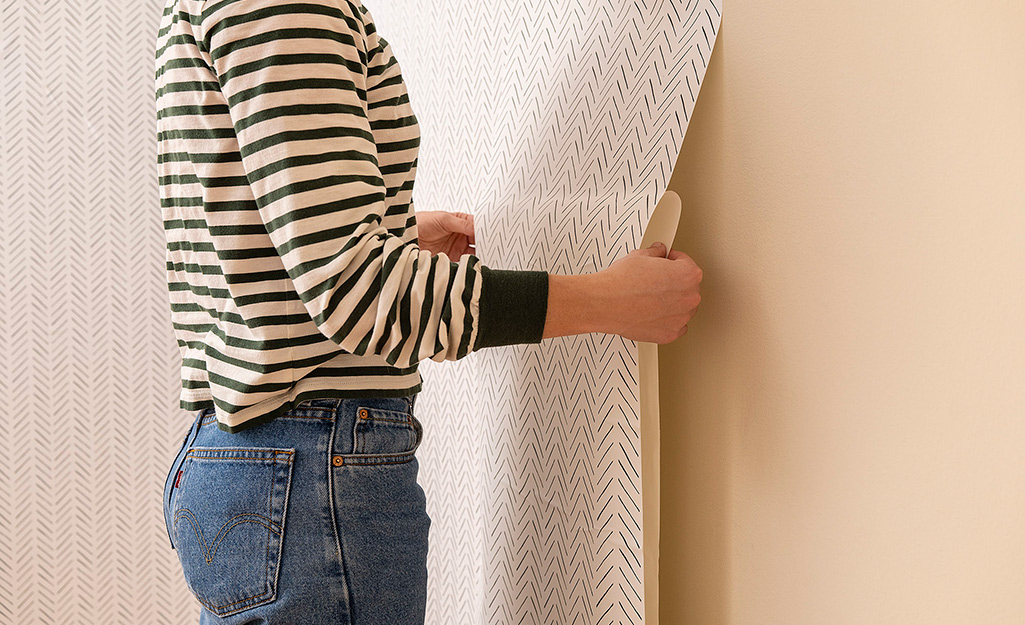 Many people install peel-and-stick wallpaper in their bedrooms or living spaces, but it can be used in other areas of your home, too. If you're planning to use wallpaper to decorate your bathroom or kitchen, you'll want to opt for a product that's moisture-resistant, which will prevent damage if it's accidentally splashed. 
If you don't necessarily want a whole wall of wallpaper, there are also peel-and-stick wallpaper borders that run along the edges of your walls as a fun accent. Or, for a pop of texture, consider using peel-and-stick wallpaper panels, which are three-dimensional and designed to resemble materials like brick or stone.
9
General Wallpaper Installation Tips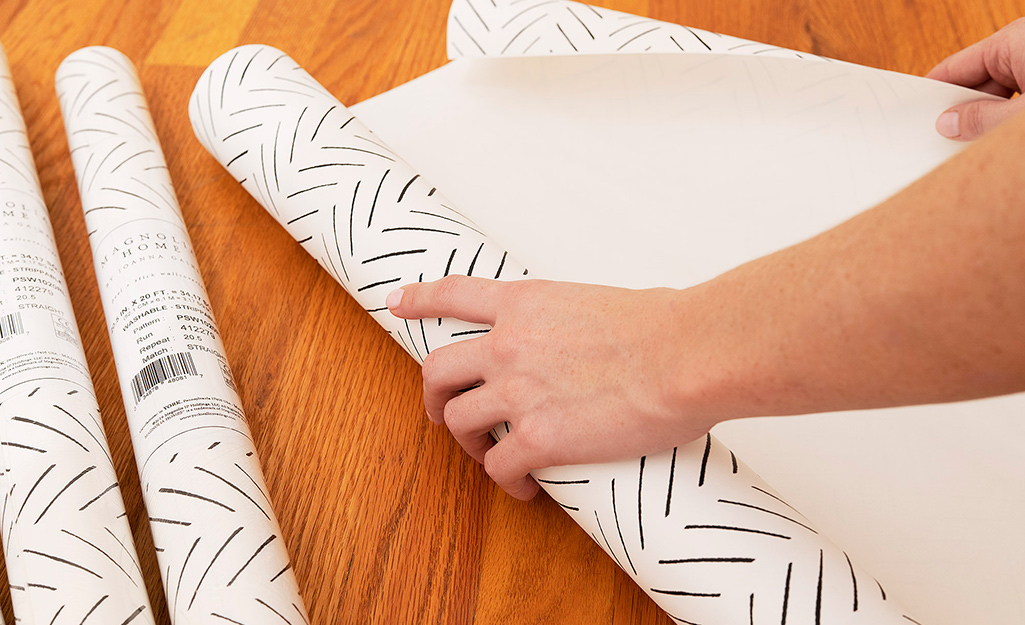 You'll quickly get the hang of installing peel-and-stick wallpaper, but here are a few other ways to ensure your project goes off without a hitch:
Enlist a Friend: It's possible to install peel-and-stick wallpaper by yourself, but the task is much quicker and easier with two people. As you work, one person is able to hold up the strip and smooth it onto the wall while the other peels the backing off and ensures the lines are straight.
Don't Follow the Ceiling: It's tempting to line up the top of your wallpaper along the ceiling, but ceilings aren't always perfectly straight. Instead, use a level to create a vertical guideline, and align the wallpaper against it.
Save the Scraps: As you work, you'll likely end up with lots of scraps that you trimmed off the bottom and top of each strip, and you should keep these until you're finished the project—they're ideal for filling in tight spaces.
Don't Pull the Wallpaper: Peel-and-stick wallpaper will stretch if you pull on it too hard, which can prevent the pattern from lining up perfectly. For this reason, you'll want to be careful not to apply too much pressure to the strips as you work.
Adding wallpaper to a room can easily add an element of style. With this guide and the right supplies, you'll be ready to update any room in your house. The Home Depot delivers online orders when and where you need them.
Explore More on homedepot.com