Project Guide
How to Make a Garden Half Barrel Whiskey Planter
Time Required:

Under 2 hours

Difficulty:

Beginner
---
Whether you find a diamond in the rough at a flea market or pick one up at the store, a whiskey barrel is your best bet for a new planter.
And no matter your taste — flowers, veggies or herbs — your favorite plants are sure to take root in their new home. All you need are the right ingredients to grow a natural, good-for-you garden. Follow these five simple steps to get growing.
Presented by Scotts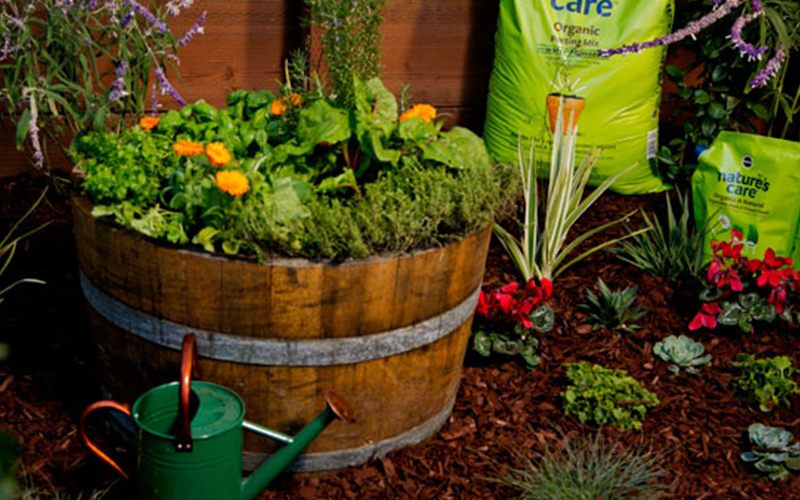 When using a whiskey barrel, make sure it has drainage holes in the bottom to let the water out. Fill your container three-fourths full with Nature's Care Organic Potting Mix to give your plants a sturdy and nourishing foundation. This potting mix also helps absorb water like a sponge to protect against over and under-watering.
It's time to make a game plan. Arrange your plants while still in their containers, taller ones in the back and trailing or low plants in the front; don't let those little plants get covered up! Remember to add some pops of color with flowers or bright veggies. Now that you have your arrangement in mind, gently take your plants out of their containers, loosen the roots and set them in your barrel. Fill in the spaces between them with your organic potting mix.
Water your containers thoroughly until water runs out of the drainage holes. After about a month, start feeding your plants regularly.
Keep critters from helping themselves. Nature's Care® garden helpers are gentle and made for edibles to stop pests and diseases from enjoying your plants before you do.