No matter how big your yard or garden is, you need the best gardening tools to manage your outdoor space. This guide will help you figure out the best gardening tools for your yard. It includes information about the types of gardening tools and their uses.
Safety Tip: If you're gardening in a new area, "Call before you dig!" Call 811 or visit https://call811.com to have your utilities marked before breaking ground. Utility services, like electrical, water, telephone, internet and cable TV can be buried just a few inches below the surface. They may run through unexpected areas.
Short Handled Digging Tools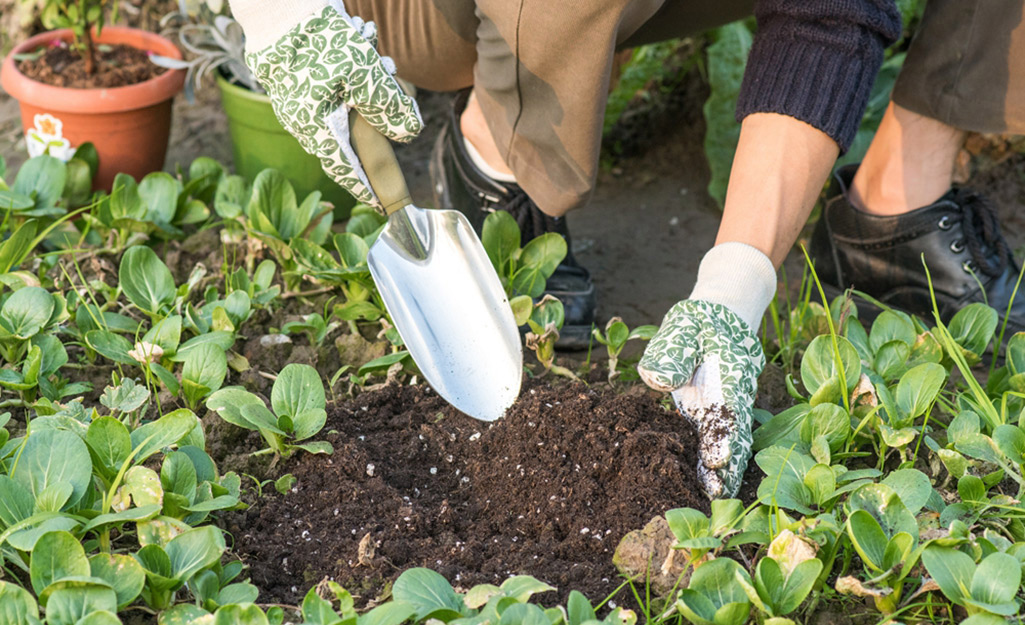 For smaller projects in elevated garden beds or container gardens, a hand trowel is one of the best gardening tools to have. Basically a miniature shovel, a garden trowel is designed for small, precise work. Use it for small planting projects and shallow digging. If you grow vegetables and flowers from seeds, you need a transplant trowel to transfer delicate seedlings from nursery pots to garden beds. This narrow trowel keeps tender roots intact while planting.
Like a gardening trowel, a hand cultivator is a handheld tool ideal for smaller gardening needs. This multi-pronged tool will easily break up tough soil and loosen compacted dirt and gravel.
Hand cultivators are often available as a combination tool with a hoe (also called an adze) on the opposite side. Whether you buy a regular hoe or a combo tool, it is useful for leveling and smoothing surfaces. If you need to dig deeper holes, you can move more dirt with a hoe than with a trowel. 
Keep a hori-hori knife at hand to dig in the garden, break up roots on perennials and tear open bags of soil. 
Round out your collection of gardening hand tools with these specialty tools:
Bulb transplanter: This tool makes speedy work of digging into soil to plant bulbs. Marks on the side help set the bulb to the proper depth.
Soil scoop: This tool looks like a generously sized trowel, but don't use it to dig in your garden. Use it to scoop garden soil from bag to planter or raised bed.
Long Handled Digging Tools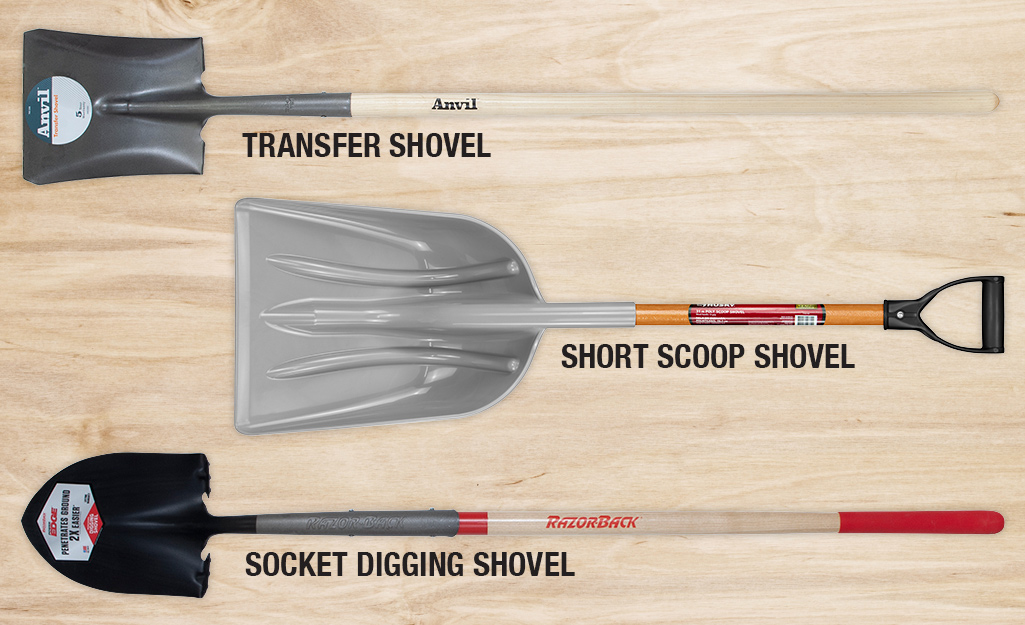 A basic shovel is one of the best gardening tools to have. Shovels are great for digging most materials in your yard or garden. They're also good for breaking up and turning over soil and compost. Shovels have a bowl-shaped blade with a rounded edge. The other end of the blade is often flat, giving you a place to put your foot as you push the shovel into the ground.
Specialty shovels, like trenching, square point and drain shovels, are purpose-specific tools that make jobs like burying an irrigation pipe or planting trees easier. There are also shovels designed to cut through thick roots.
Spades are designed to slice through tough soil or roots quickly and smoothly. They have a flat blade with a straight edge, ideal for edging projects. Their shorter, knee-length handles make them easier to handle than shovels.
Choose the right digging tool for the job:
Garden forks are used for digging, turning and aerating soil. The tines help break up tough soil and clay.
Many types of handle lengths and configurations are available, such as straight, bent, O-handle, D-handle and even handles with helper springs. There's certain to be one that is right for you and your project.
When digging holes for planting small trees and shrubs, or mass planting bulbs, sturdy post hole diggers get the job done. Jam the upright blades into the ground, scissor them open and scoop out the soil. Continue until you have the right size hole for your plants.
Pruners and Snips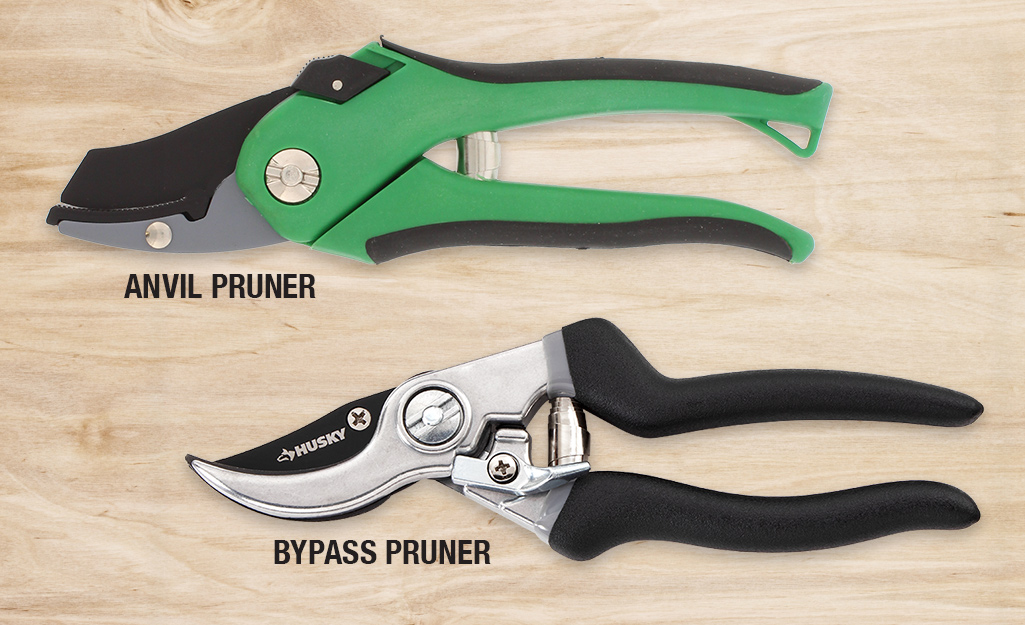 For small, precise trimming and pruning needs, get a pair of handheld pruning shears. With minimal effort, you'll be able to cut branches or limbs up to an inch in diameter. Designed for one-hand use, pruners are spring-loaded. Most lock closed for safe storage.
Anvil pruners crush stems and are good for trimming off dead plant matter. 
Bypass pruners give a cleaner cut and are used with live plant material.
More options for pruning:
Pruning knives: These hand pruners are useful for cutting sod, harvesting vegetables and for grafting and budding.
Folding saw and bow pruning saw: These tools are handy for removing small trees and tree limbs in your landscape.
Pole pruner: Brings high branches within reach for pruning. 
Shears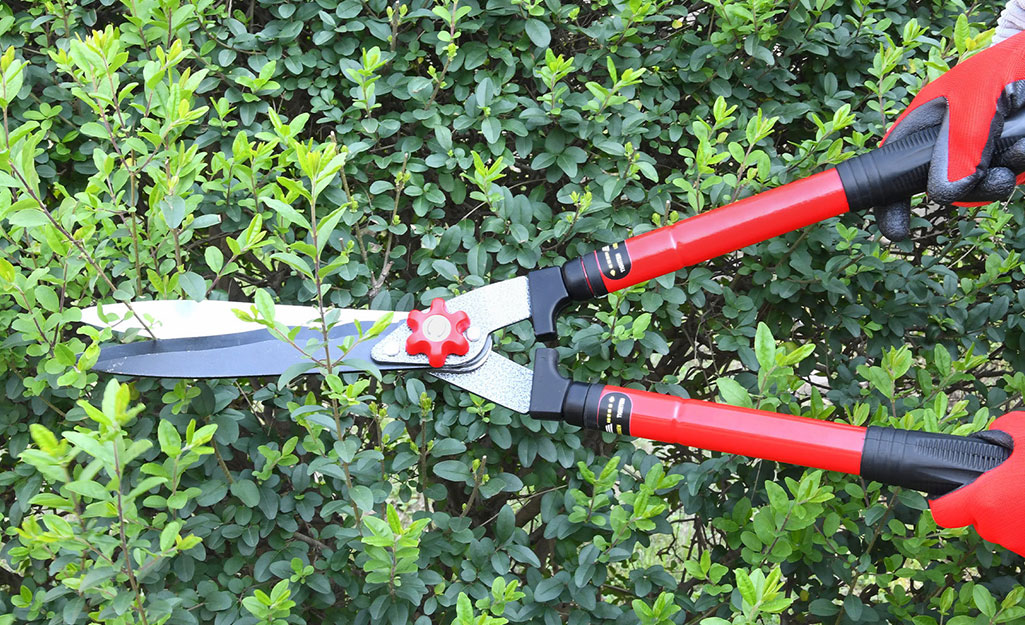 For projects that require precision, invest in a pair of garden shears. Shears operate like scissors with long, straight blades. They are designed for two-handed use. They can delicately prune with little leverage on tender plant stems. The long, straight blades help you hold a straight line when trimming hedges.
Grass shears: Used for edging and trimming lawns and other grasses.
Hedge shears: Powerful shears keep shrubs like boxwoods in shape.
Garden scissors and snips: These handheld pruners are useful for snipping tender plant stems for cut flowers, deadheading and pruning annuals and perennials.
Loppers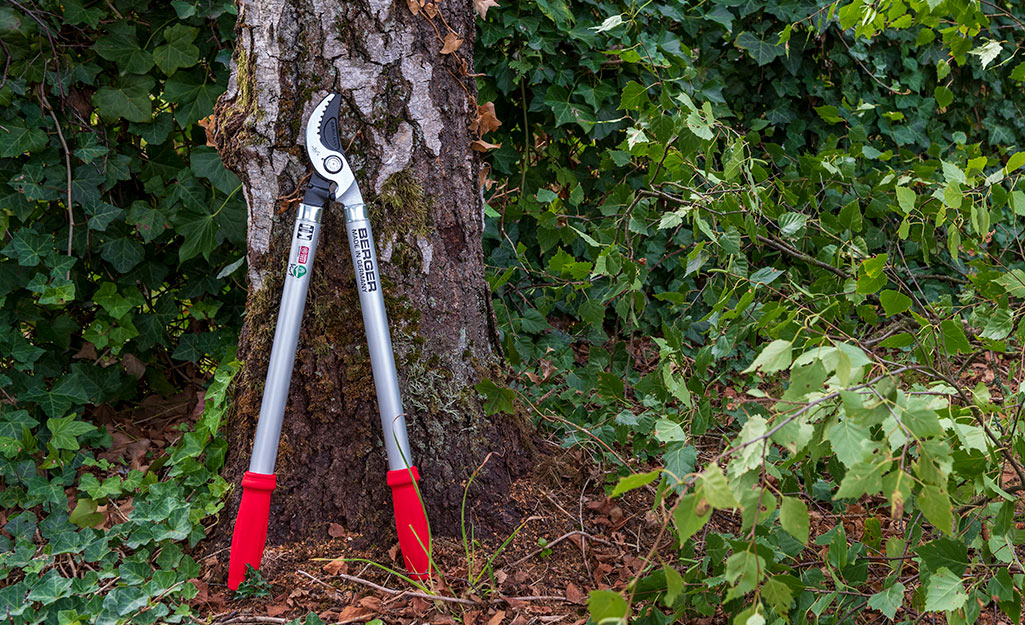 Loppers are long-handled pruners with curved blades designed to cut branches up to 2 inches in diameter. Anvil loppers are built for strength. They have one stationary blade that digs into an unwanted branch, while the other moves to slice it. 
Bypass loppers operate like scissors with both blades moving for a smooth cut. Loppers are available with gearing that increases leverage. Versions with extendable handles increase reach and leverage.
If you're clearing brush, you may need a machete or a billhook. A machete is a long bladed knife that you swing in front of you to clear overgrown vegetation. A billhook is similar in use, but shaped more like a hatchet to power through thick brush.
Garden Hose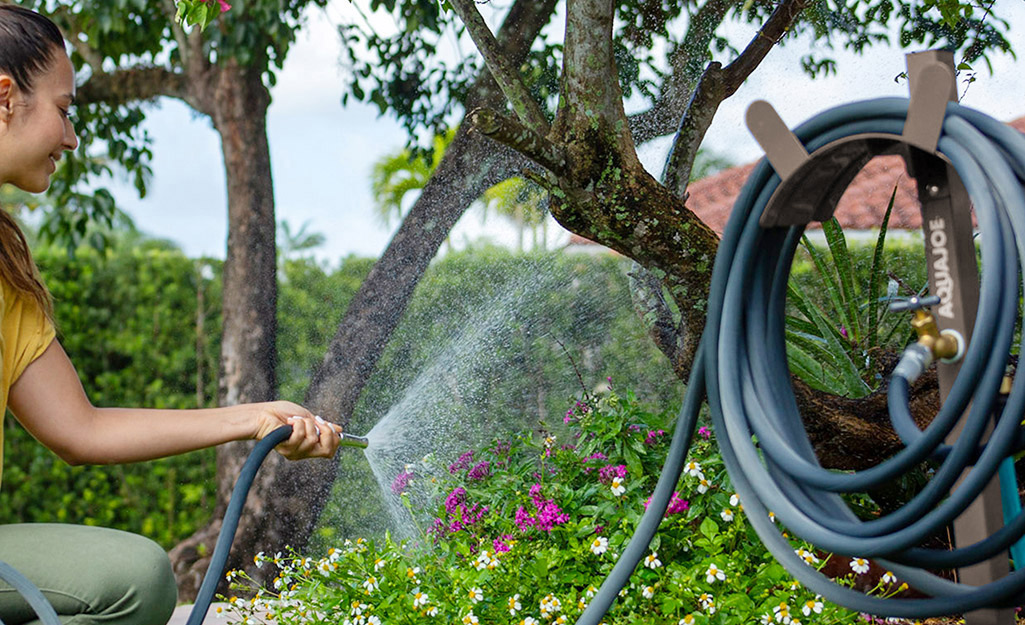 Garden hoses allow you to water everything quickly. There's no need to lug a watering can around your backyard, going from plant to plant. Easily shut off the water supply with a hose connector that will save trips to the spigot. Soaker hoses can be arranged on the ground to give consistent watering to plants that need it.
A quality watering nozzle or wand will make irrigation much easier. A wand extends the hose's reach, so you can spray water on plants that are high or low. Get a hose reel to keep everything tidy when the hose is not in use.
Rakes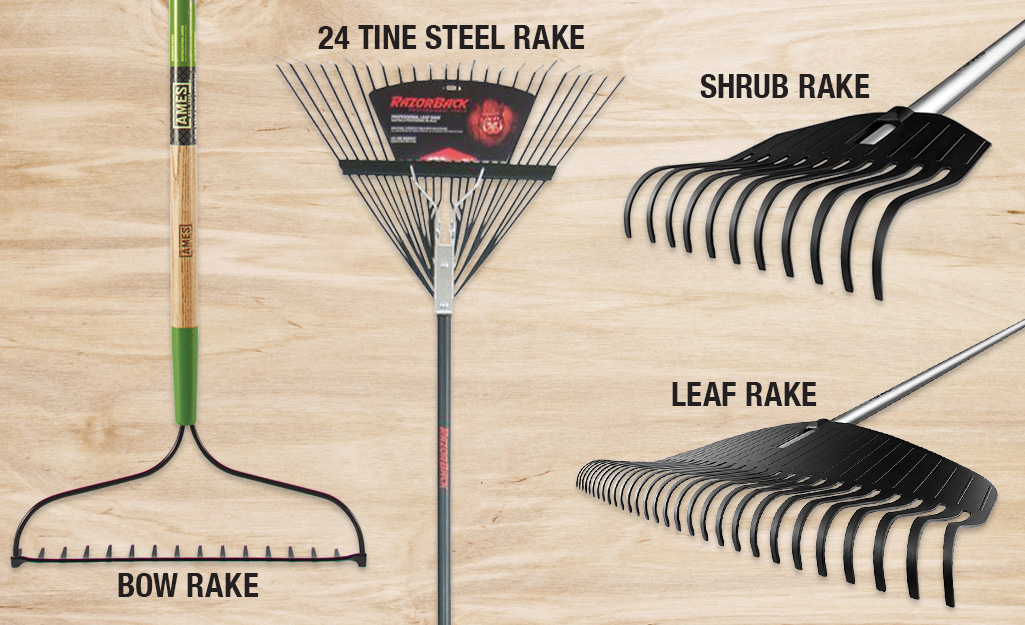 To help keep your space clean, rakes are among the best yard tools. They can be used to collect debris and smooth soil, sand or small pebbles. Garden rakes are lightweight and usually made of sturdy plastic or steel. Their long, flexible tines let you access hard-to-reach spots. 
Landscaping rakes have short, firm tines that aren't flexible. They are designed to move heavier debris such as pebbles or mulch. You can also use these rakes to break up hard, compacted soil and spread it evenly.
More kinds of rakes for your landscape:
Leaf: Lightweight tines form a wide fan shape to gather and remove fallen leaves. Look for 24-tine steel leaf rakes that can remove thatch from your lawn, too. 
Shrub: A compact long-handled rake designed for tight spaces between plants.
Bow: A heavy-duty garden workhorse designed to break up soil and spread mulch.
Lawn Mowers and Outdoor Power Tools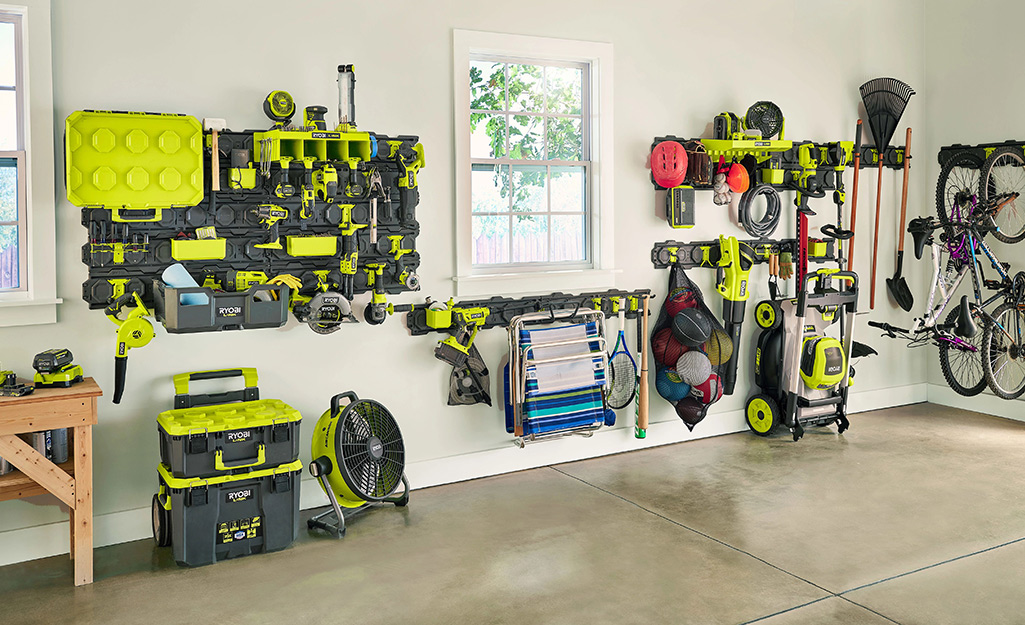 Outdoor power tools make lawn chores easier. They make lighter work of jobs like mowing and edging lawns, trimming hedges and general tidying up.
Gas-powered tools are the best choice for heavy-duty work. However, if you have a small space, corded and cordless outdoor electric tools are efficient and increasingly more powerful. 
If you have half an acre or less of grass to maintain, consider a cordless battery push mower. It won't disturb your neighbors if you mow early in the morning. You can also choose a non-electric manual reel mower to care for your lawn.
A handheld leaf blower is handy for tree-shaded driveways and decks. It's not just for fall leaves, though. A handheld blower can clean up pine straw, sand, dust and other debris. Consider it a power broom, able to sweep up your outdoor space in a snap.
A gas-powered blower is still the way to go if you have a lot of territory to cover. If your space is small, a corded electric blower will go as far as your extension cord allows. With an electric blower, you won't need fuel and oil. Plus, winterizing electric tools requires little more than cleaning and storing. Battery-powered blowers will make clearing your driveway easy no matter how long it is.
Safety Tip: Many outdoor power tools, even when powered by electricity, are loud enough to call for the use of hearing protection. Almost all power tools can throw debris and kick up dust. Wear eye protection, dust masks and gloves when using them.
Trimmers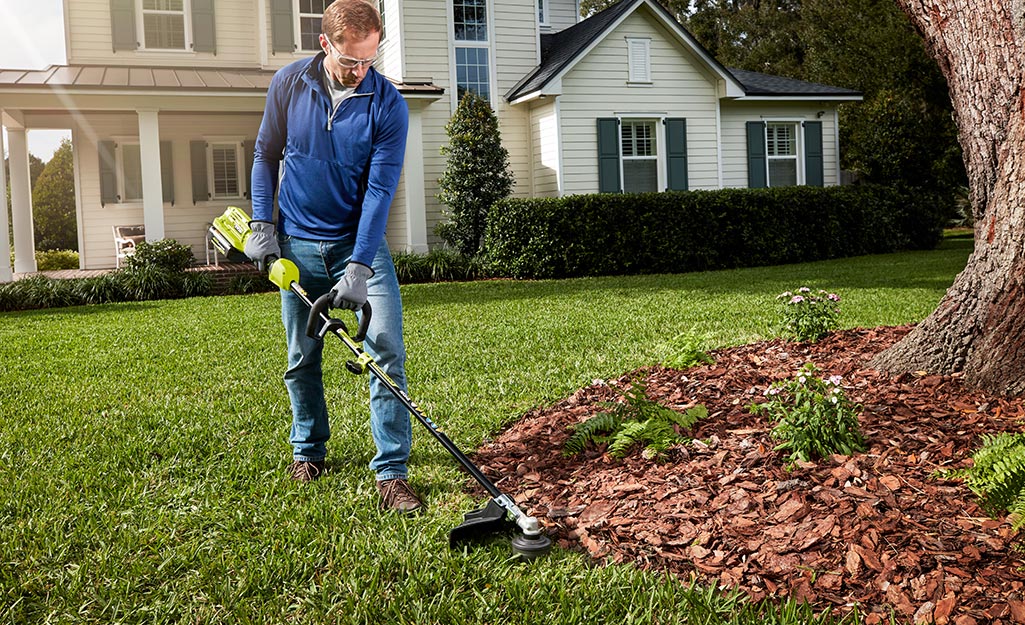 String trimmers get into tight spots, like around fence posts and trees, that lawn mowers can't reach. Use a string trimmer to keep a crisp edge along sidewalks and driveways.
String trimmers can be gas-powered, corded electric or cordless electric. The cordless string trimmers are nearly as heavy as the gas-powered options, though. Corded electric models are the easiest to move around and more wallet-friendly. Both corded and cordless electric trimmers share the advantage of no fuel, no fumes and no pull handles.
A power hedge trimmer will keep your shrubs in shape. As with string trimmers, gas models have more power, but electric models weigh less. Cordless technology means easy starts, portability and no fuss with fueling. Cordless hedge trimmers can handle stems up to 3/4 inches thick. 
As you shop for power tools, try them out in the store to see how they feel. Make sure the handles are comfortable and that the weight won't give you fatigue. Review safety information so you know how to use these power tools safely. Wear safety glasses. When using trimmers and chainsaws, wear long pants, boots and gloves.
Safety Tip: Look for trimmers that lock in the "off" position to prevent children from accidentally turning them on. Dual switches are safer, too. 
Gardening Gloves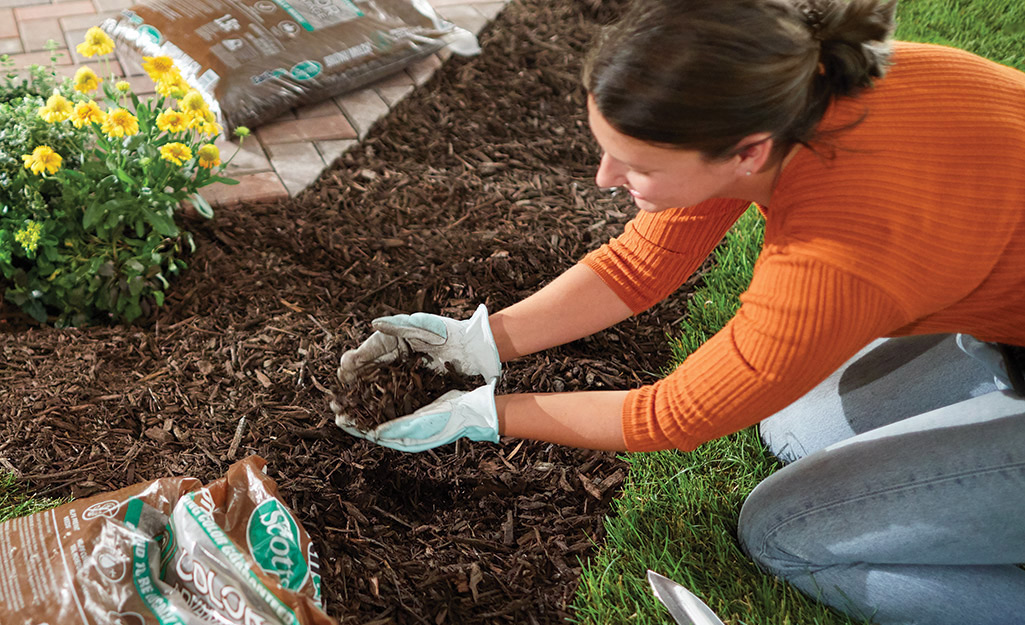 A quality pair of gardening gloves is very important. Choose the style of glove based on the type of yard work you'll be doing. Working with plants in containers, plants without thorns and doing other low-impact tasks? Cloth gloves should be enough to protect you. For projects that require handling thorny roses, rough tree bark or any other plant that could injure you, get gloves with a thick rubber or leather layer for protection. 
Tough work gloves are best for projects that involve heavy lifting or handling tools with any force. Thick leather work gloves will provide a good grip. They also protect you from blisters, splinters and more serious injuries.
Wheelbarrow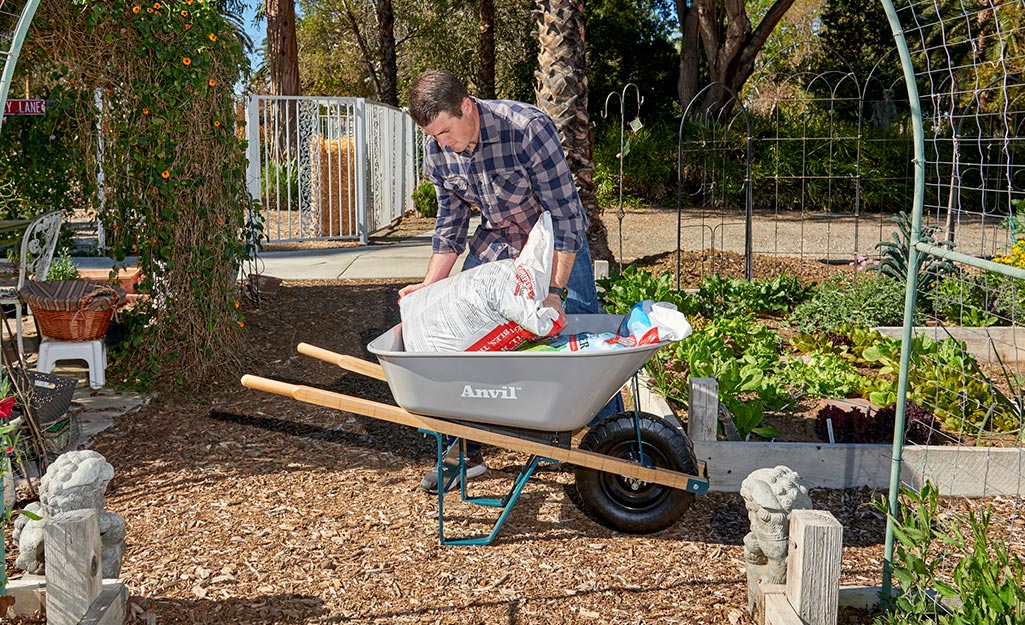 Wheelbarrows save your back and knees from the strain of heavy lifting. You can also get big projects done faster by carrying more supplies each trip.  
Wheelbarrows usually have one wheel in the front and two legs in the back. You tip the wheelbarrow to push it in front of you. The single wheel is easy to roll over bumps, but your load can be unstable.
Wheelbarrows can be made of steel or poly. Choose steel if your landscape needs heavy duty applications of gravel or other heavy materials. Poly is a durable choice for a home landscape.
Garden Cart and Wagon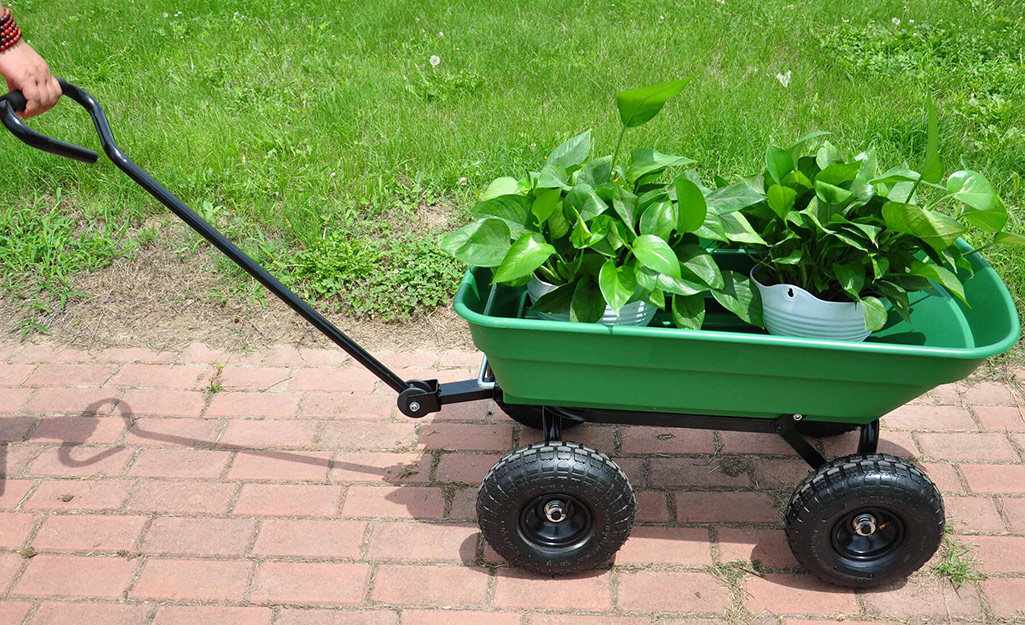 Garden carts and wagons are typically more stable than wheelbarrows, but may not be as easy to maneuver. They may offer unique features such as removable sides or a dump lever. They have a rectangular frame with a flat bottom, two or four wheels and a handle pulled behind the user.
Use a garden cart to transport items that must remain stable during transportation. A wagon may allow you to move a heavier load, since you can pull it without lifting its weight.
To keep your yard and garden in top shape, you'll need all types of gardening tools. The best gardening tools for your yard will depend on the size of your space and the tasks you want to get done. Manual tools such as shovels, pruners and wheelbarrows will help keep your small yard and garden in top shape. If your yard is larger, you'll benefit from outdoor power equipment like lawn mowers and leaf blowers.
If you need equipment you don't have, from lawn mowers to wheelbarrows, you can get them using The Home Depot Tool Rental.
Explore More on homedepot.com