Create your own unique, personalized photo booth for memorable holiday parties. Build a sturdy frame and hang your decorated backdrop to see your friends and family line up for their chance in front of the camera! 
Here a step by-step guide that shows you how to build cheer with your own holiday photo booth.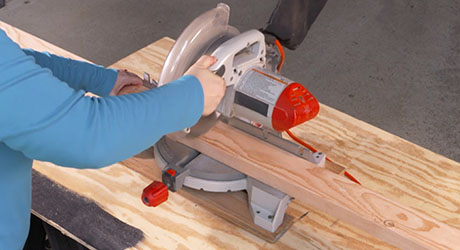 Cut two of the 2" x 4" x 8' boards in half so you have four 4' boards. 
Cut one of the 2" x 4" x 8' boards down to 5 feet in length. 
Leave the other four boards untouched, so you end up with this cut list: 
4 - 2" x 4" x 8' 
4 - 2" x 4" x 4' 
1 - 2" x 4" x 5' 
Tip: If you choose to paint the boards for this project, it is easier to do so after they are cut and before assembly.
2
SANDWICH BOARDS TOGETHER TO FILL FRAME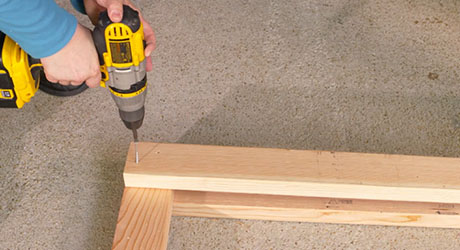 Sandwich two 8' boards around one end of the 5' board. 
Use an L-square to ensure positioning, then screw the boards together. 
Repeat this same process on the other end of the 5-foot board, using the two remaining 8-foot boards.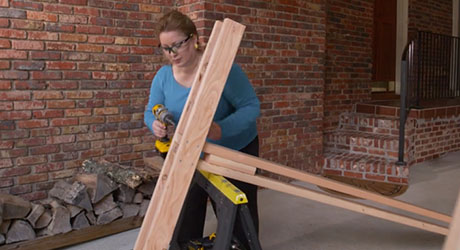 Sandwich two of the four 4' boards around each vertical post and screw or bolt into place. 
It's easiest to do this if you can lay your frame horizontally onto a set of sawhorses for stability. 
When you stand the frame upright on its feet, it should be square and level. It will be heavy and too wide to carry comfortably yourself, so find a helping hand when transporting.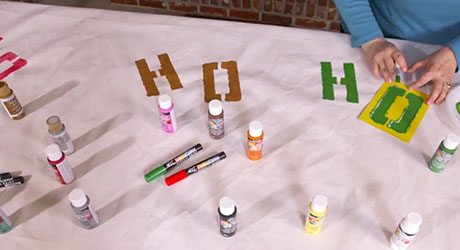 Place the canvas drop cloth into a clothes dryer with a damp, freshly washed bath towel to help relax the drop cloth's creases. Once removed, lay immediately on a flat surface. 
Choose your favorite holiday phrases to paint on the backdrop. 
Measure approximately 6 1/2 feet up from the bottom of the drop cloth to map out your stencil placement — the words need to be high so they are visible above everyone's heads. 
Use your stencils and stencil brush to apply the paint.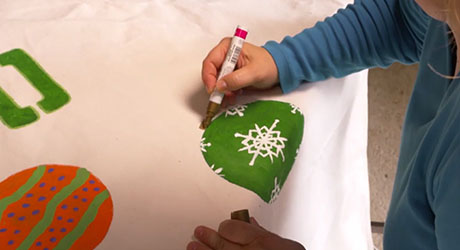 Outline 6- and 8-inch circles randomly with your pencil on the canvas to create large ornaments. Concentrate your decorations toward the top of the canvas where they will be visible in the photos. 
Paint your ornaments, starting with the background and then adding the decorative details – polka dots, zig-zags, candy stripes – after the background color is completely dry. 
Use paint markers to paint cap-loops on the top of the ornaments, then allow the entire canvas several hours to completely dry.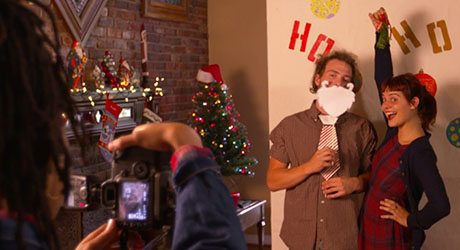 Hang the drop cloth from your wooden frame with spring clamps. 
Set up a camera on a tripod and align the focus so that the words are visible and the edges of the cloth are inside the frame. 
Lay out your props and let the fun begin!
Explore More on homedepot.com