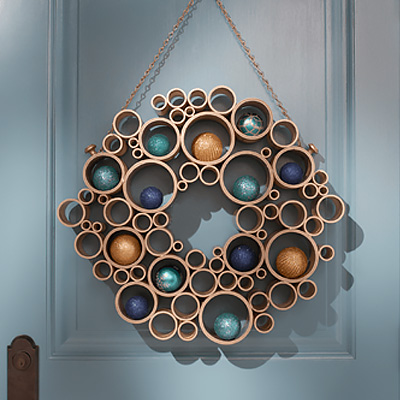 Circle around a simple wreath this holiday made of PVC pipe, glue and a piece of chain.

Using a miter saw, cut all PVC pipes into lengths of approximately 5 3/4 inches.

Arrange the pieces around a round object that is approximately 6 inches in diameter. A roll of duct tape would work, as would a 6-inch bowl. Arrange the pieces with the different sizes evenly distributed. The only requirement is that you place 2-inch pieces where the chain will eventually go. That would be at approximately the 10 o'clock position and the 2 o'clock position on the wreath.

Once you have the pieces arranged, use a pencil to mark the locations where each piece comes in contact with another piece. This will help you apply the glue in the right place. Glue one piece at a time until you have all of them glued together.

Drill a hole in both of the pieces that will hold the chain. The holes should be the appropriate size to fit the screw threads of the two drawer knobs.

Use the two drawer knobs to attach the two ends of the chain to the wreath.

Spray paint your wreath. We used Rust-Oleum Universal Paint & Primer in One, in Champagne Mist color.
When your wreath is finished, place small items or ornaments in the circles to celebrate the changing seasons or special occasions.
Explore More on homedepot.com