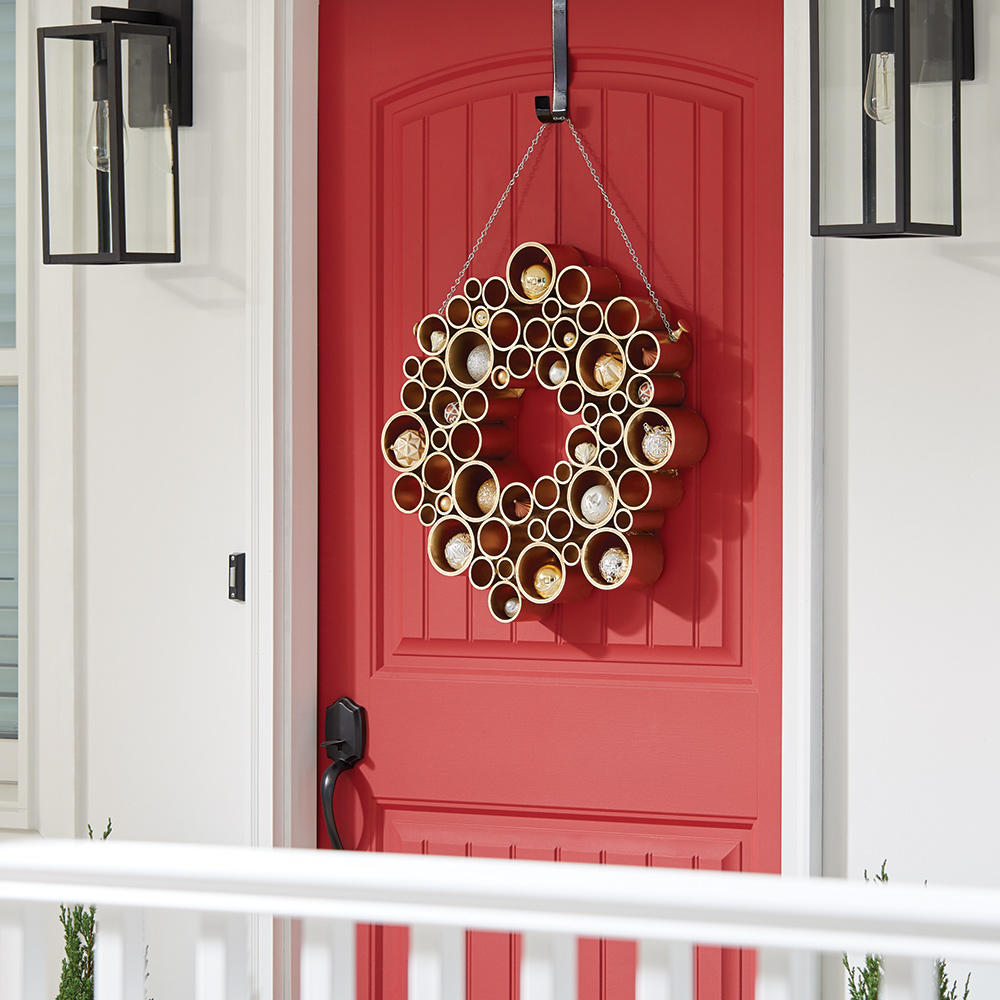 Greet your holiday guests with a unique outdoor wreath. Hang a work of modern art that's budget-friendly and simple to make. Read on to learn how to use PVC pipe, glue and a piece of chain to add an artistic touch to your holiday decor.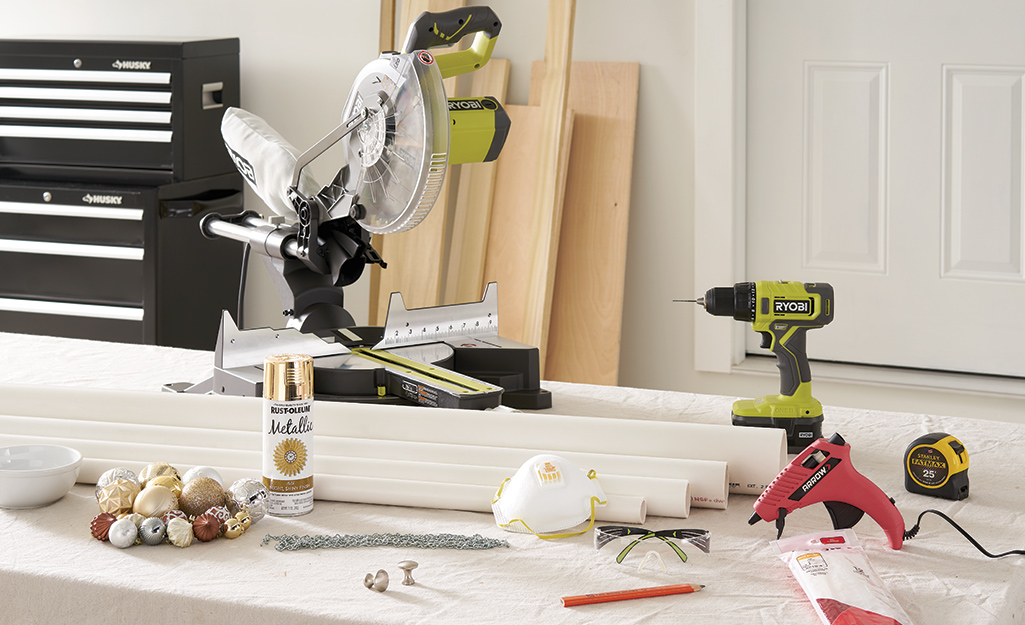 PVC pipe comes in a variety of sizes. For this project, you'll need:
PVC in assorted sizes/diameters
A round object (like a roll of duct tape or 6-inch bowl)
Miter saw
Hot glue & hot glue gun
Chain of your choice to hang the wreath (~14 inches)
2 drawer knobs
Ball holiday ornaments
Drill with a 1/4-inch drill bit
Measuring tape
Pencil
Door hanger
Once you've gathered your materials, you can get started on your front door decor.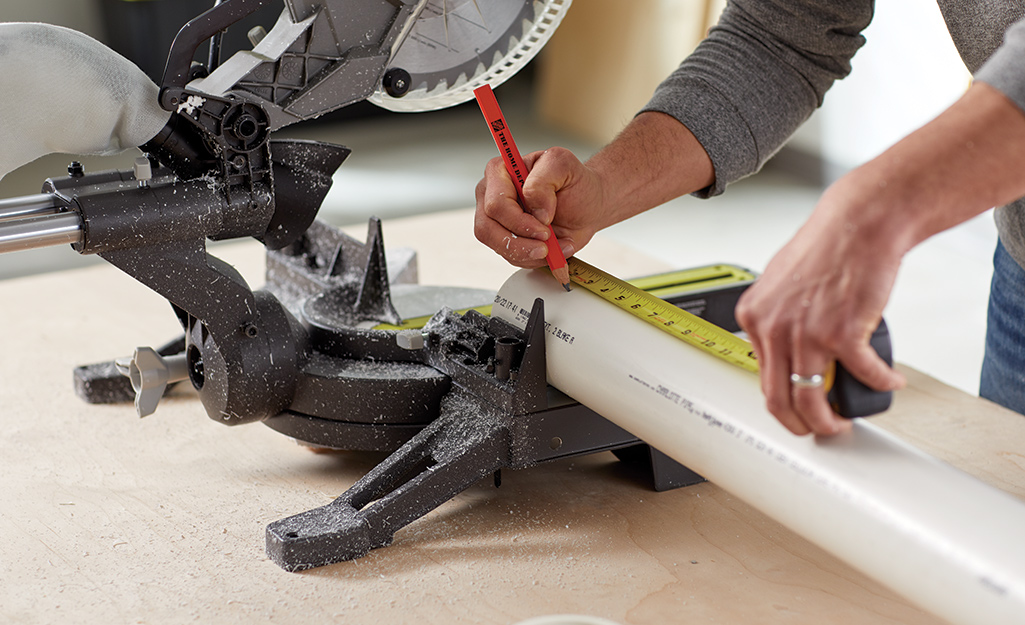 Prep your miter saw. Wear safety glasses or goggles to protect your eyes. Use a dust mask or respirator as well. Wear any necessary hearing protection if your ears are sensitive. Wear close-toed shoes and protective handwear.
Using the miter saw, cut the assorted PVC pipe into lengths of about 5 3/4 inches. The diameter (how wide the circle is) will differ, but the lengths of the pieces should be the same.
Use a measuring tape and pencil to mark the PVC pipe.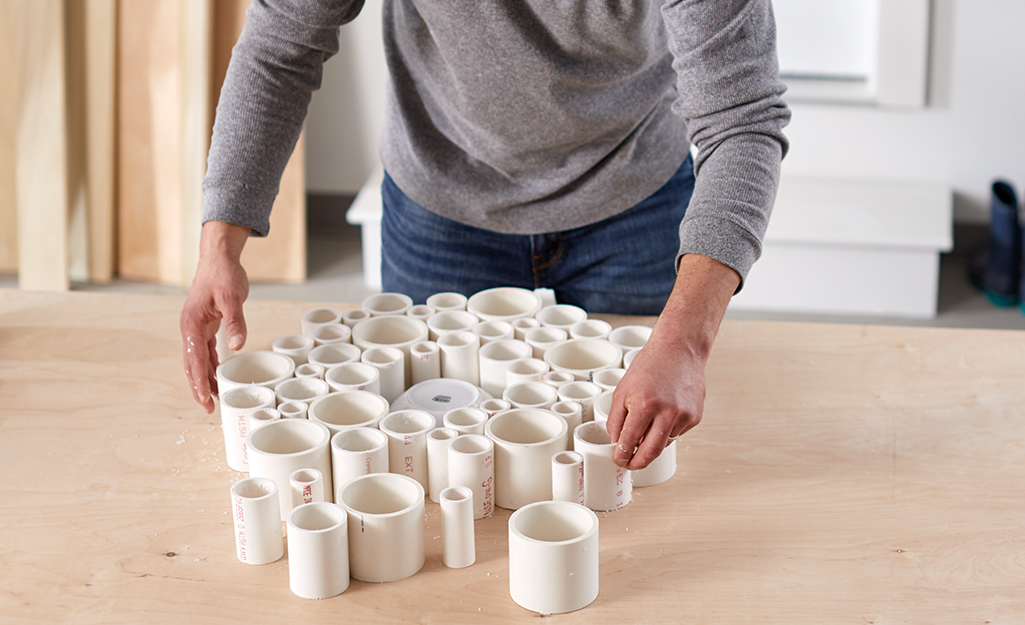 Once your PVC pipes are cut, you can start to arrange them for the wreath. Make sure you do it on a flat surface.
Arrange the pieces around a round object that is 6 inches in diameter. A roll of duct tape would work, as would a 6-inch bowl.
Arrange the pieces so that the different diameters are evenly distributed.
Place 2-inch wide pieces where the chain will go. This will be the 10 o'clock position and the 2 o'clock position on the wreath.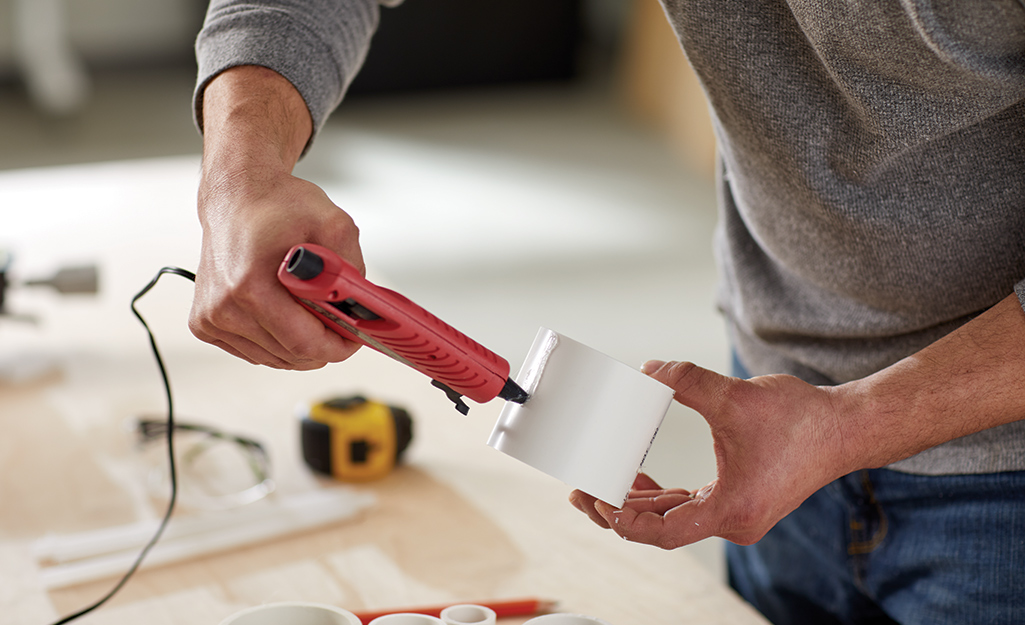 Once you arrange the pieces, it's time to mark and glue.
Use a pencil to mark the locations where each piece touches another. This will help you apply the glue in the right place.
Glue one piece at a time until you have all of them glued together.
5
Drill a Hole and Attach the Chain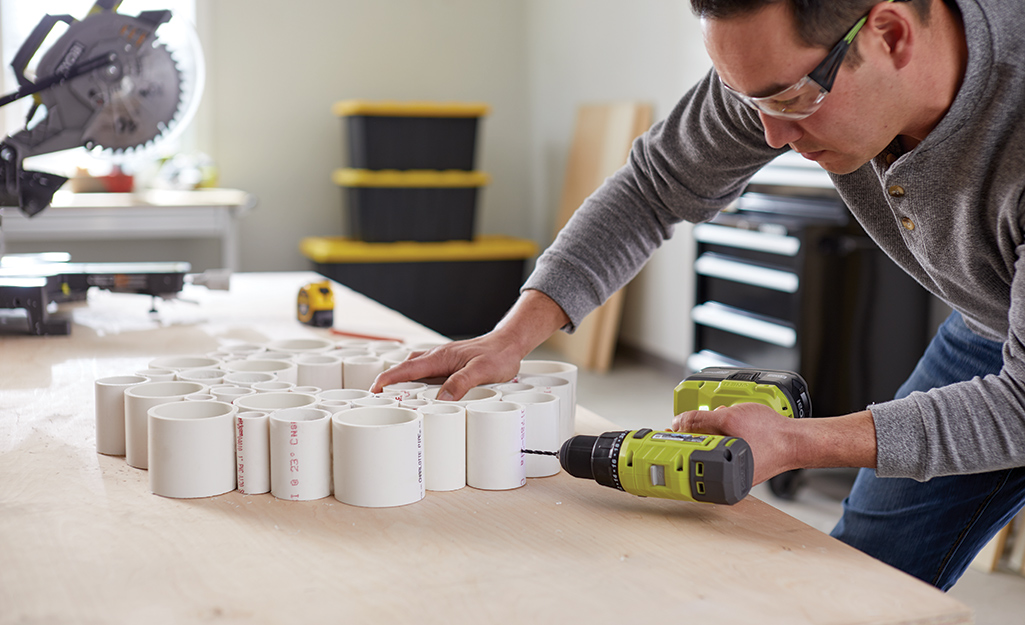 Once the wreath is all glued together:
Fit your drill with a 1/4 inch drill bit.
Drill a hole in the two 2-inch pieces that will hold the chain. Make sure the holes are the right size to fit the screw threads of your two drawer knobs.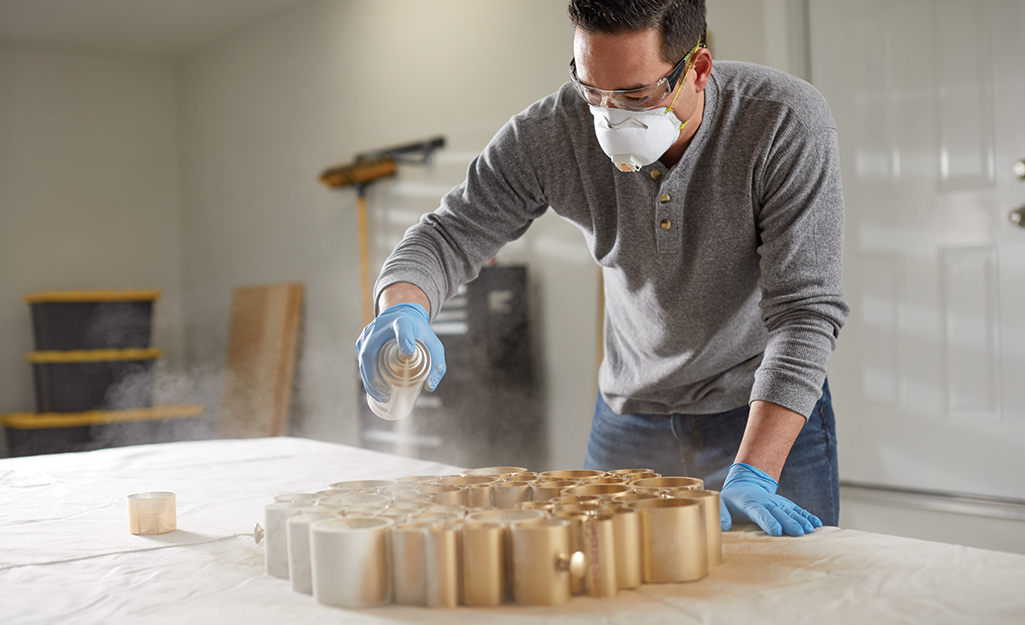 Add some color with a can of spray paint. Choose a festive holiday color such as gold. Make sure you wear a mask to avoid any fumes.
Spray paint your wreath evenly. Hold the can 8 inches from the pipe's surface.
Move back and forth in a slow and controlled manner.
Do it in spurts to keep it uniform.
Let wreath dry thoroughly before next step.
Tip: For a more rustic look, you can leave the wreath as is.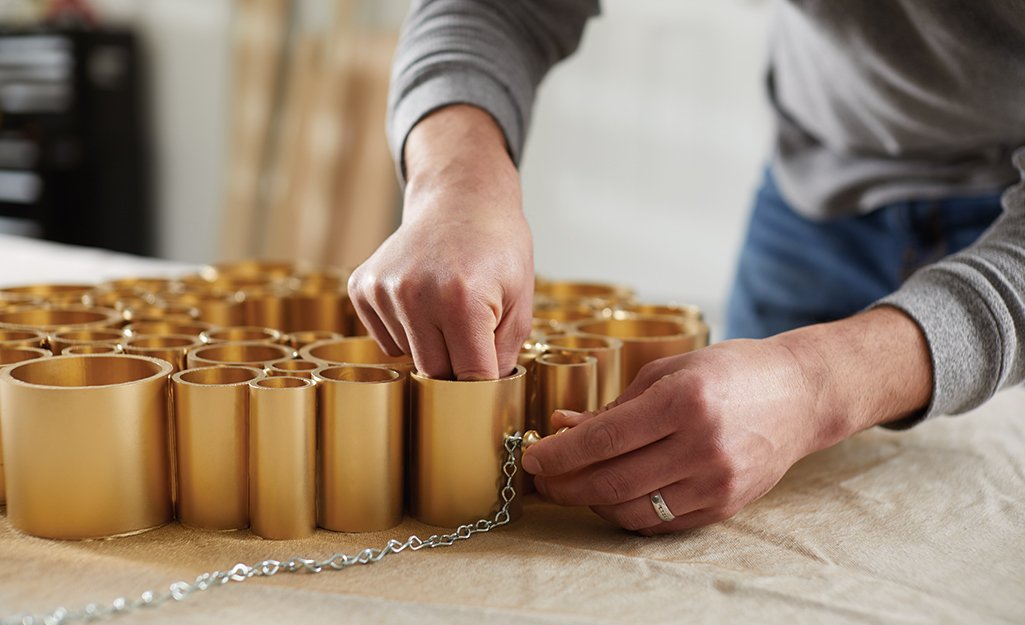 Using the two drawer knobs in Step 5, attach the two ends of the chain to the wreath. Fit the screw end of one knob through one end of the chain, then screw into the drilled hole. Repeat with the second knob at the other end of the chain.
Place ball ornaments of your choosing in the circles. Use contrasting colors that will stand out. Consider adding sparkle with seasonal metallics.  Hang your holiday wreath. 
Make your own holiday wreath and give your home a personal touch. All you need is a few tools, PVC pipe, holiday ornaments, a chain and paint. Guests who arrive will be welcomed and instantly feel the Christmas spirit. Looking for PVC pipe and other materials to complete your project? The Home Depot delivers online orders  when and where you need them. 
Explore More on homedepot.com