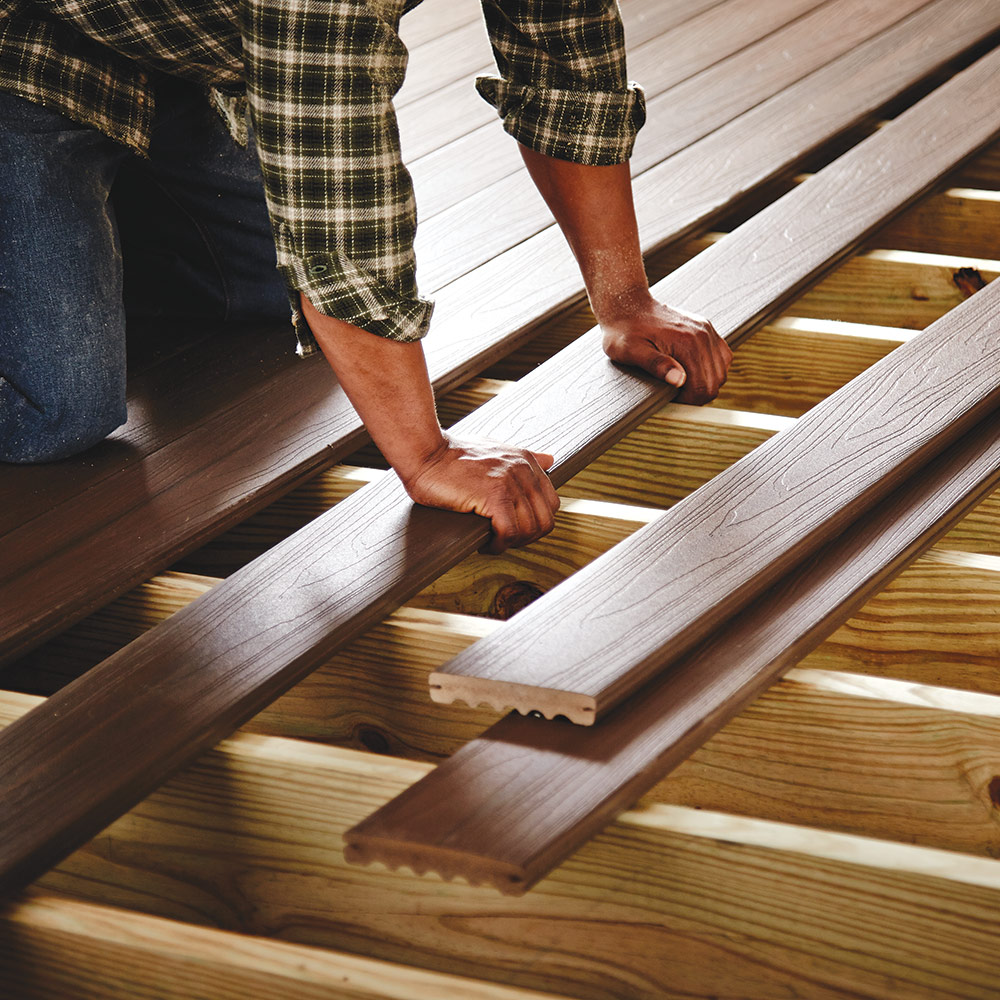 Repairing a deck can save you time and money, especially if it's a small area. Whether a cosmetic repair or a damaged joist, decking repair can be a DIY project. 
This guide will teach you to how to repair a deck or joist safely.
1
Removing Nails and Screws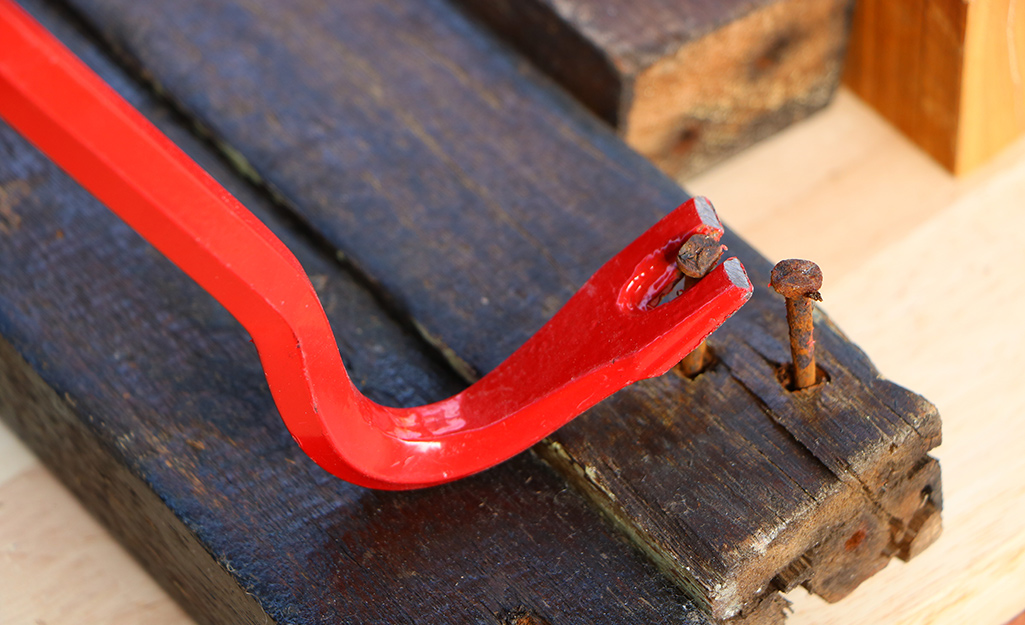 For a cosmetic deck issue, it's easiest to remove the plank, flip and refasten. If repairing a damaged joist, support the deck on one side or it could crash. 
When repairing a deck, you'll need to remove nails or screws from the damaged boards. Use a pry bar, screwdriver, nail puller or drill with screw extractor bit on the decking. If the fasteners won't come out, chop the board into pieces with a chisel or saw, pry up the slivers and replace the board.
Tip: Make any wood replacements with a similar type of pressure-treated lumber.
2
Inspect Joists and Remove Rotted Portions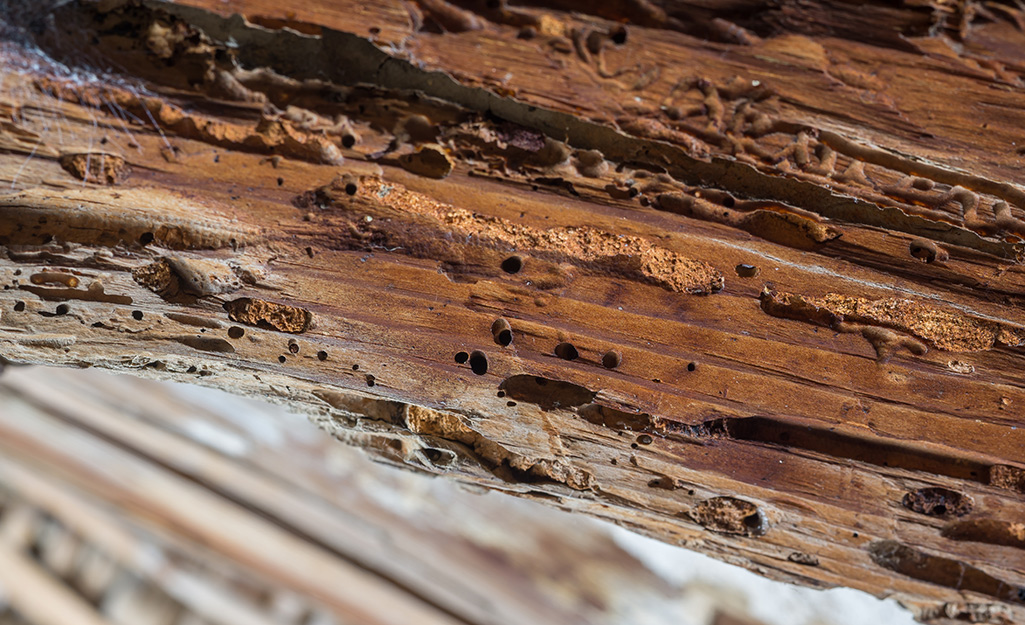 Inspect the joists underneath for signs of rotted wood. Use a hammer and chisel to remove any rotted portions of joists. Cosmetic repairs can be made with wood putty, but structural repairs will require replacement or additional joists.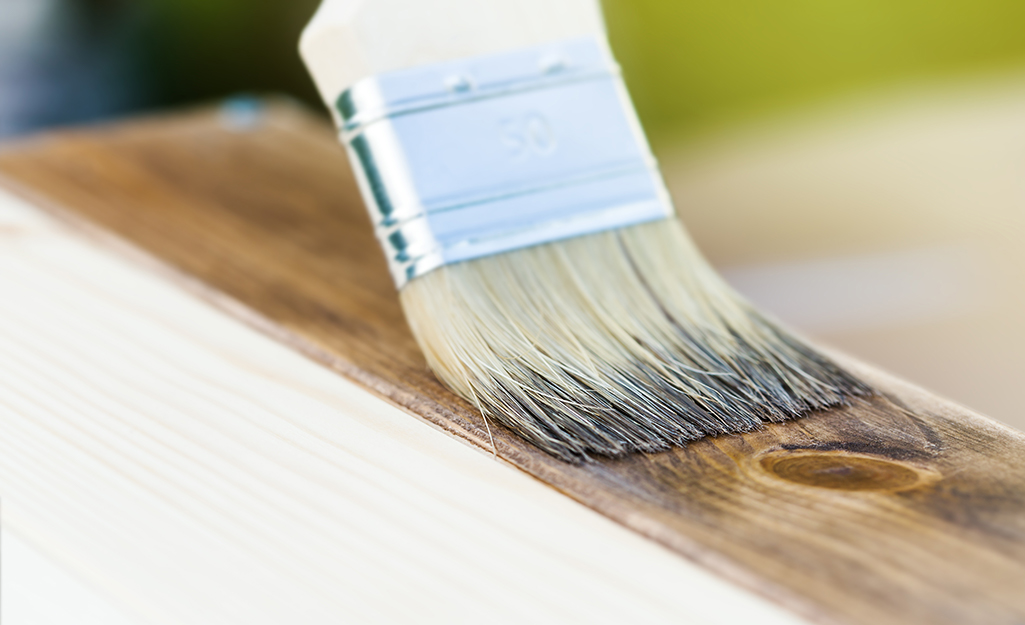 When looking at how to repair a deck, reinforcing a joist will be a priority. In some cases, a damaged joist can be repaired by adding new wood to the side of the damaged wood. This is often referred to as "sistering." 
The new piece should be the same size as the existing work, that is, a 2 x 8 should be used to reinforce an existing 2 x 8. The "sister" should be as long as possible, fitting squarely against any structural components that are perpendicular to the joist being repaired. Position the reinforcing joist tightly against the damaged joist. Attach it with 16d (3 1/2-inch) galvanized nails driven every 2 feet or fasten it with 3 1/2-inch galvanized deck screws.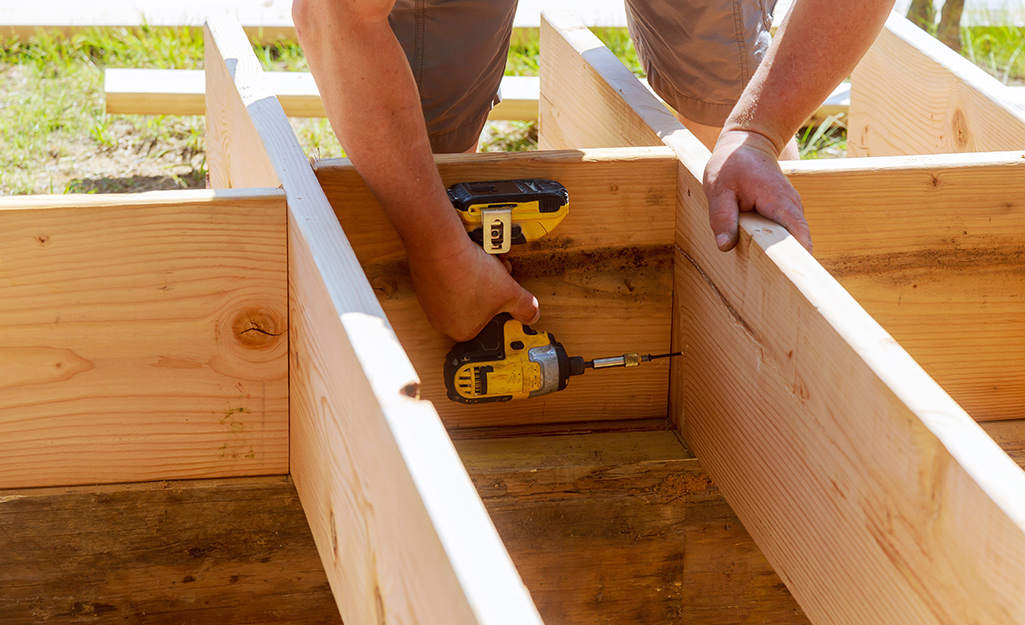 If an entire joist must be replaced, the first step is to support all of the framework surrounding the joist to be removed. Use concrete blocks, heavy posts or other bracing materials, depending on the situation. If working high above the ground, scaffolding will likely be needed.
Measure the existing joist before removing, as it may come out in pieces.
Pull any fasteners that you can and cut through the rest with a reciprocating saw. Replace the existing joist hangers with new ones. If the deck is old, it may not have joist hangers. Now would be a good time to add them to every joist.
5
Prepare Replacement Deck Board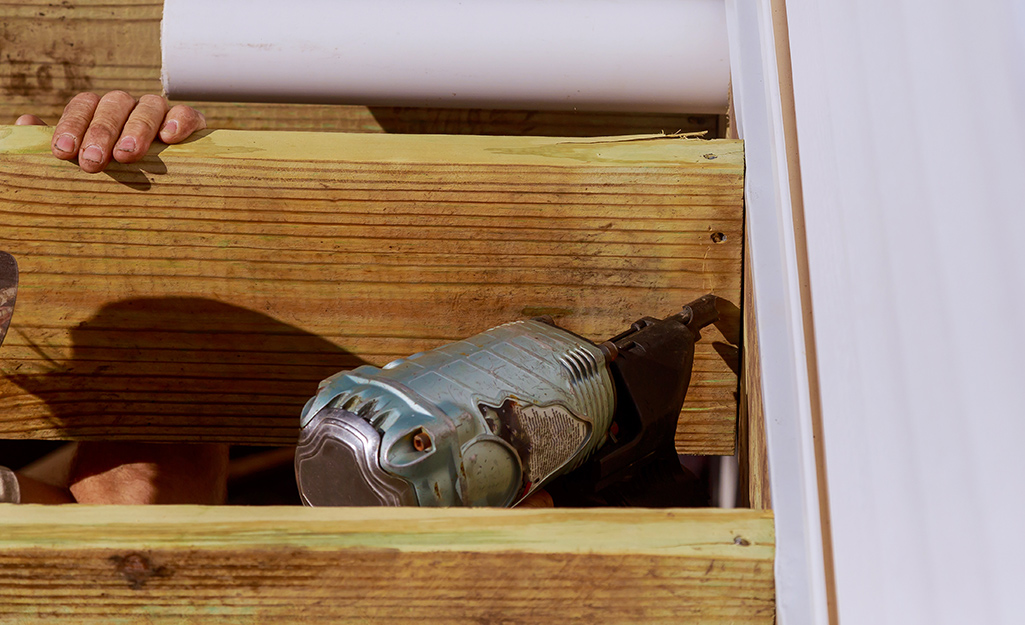 Cut replacement deck boards from matching lumber using a circular saw. If the existing decking is gray, "weather" the new decking with a solution made from 1 cup of baking soda and 1 gallon of warm water. Apply the solution with a scrub brush. Rinse and let dry.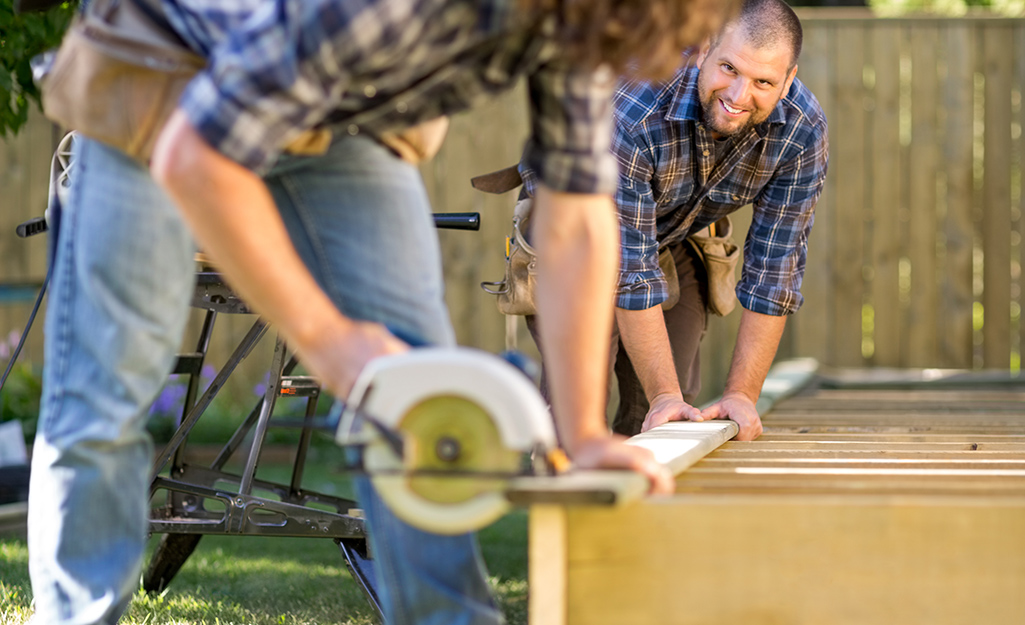 In repairing a deck, you must use wood stain that is the same color as the rest of the deck. Apply stain to both sides of the board and the edges.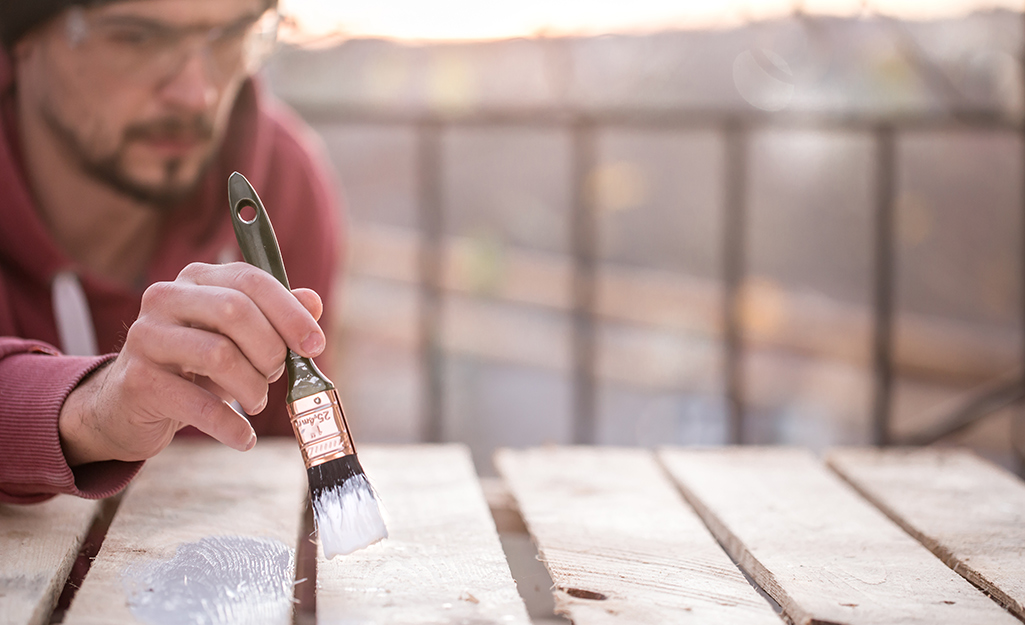 Position the new decking, making sure the space between boards matches that of existing decking.
Note the type of fasteners used and try to match them as closely as possible. Be sure to select deck screws or nails that are made for use in pressure treated lumber. Even if your decking is a composite or some other material, the framework is likely to be pressure treated pine.
Learning how to repair a deck is a great way to maintain your outdoor space and save money. Ready to find the supplies you need in your local store? Use The Home Depot Mobile App to locate products and check inventory. 
Explore More on homedepot.com