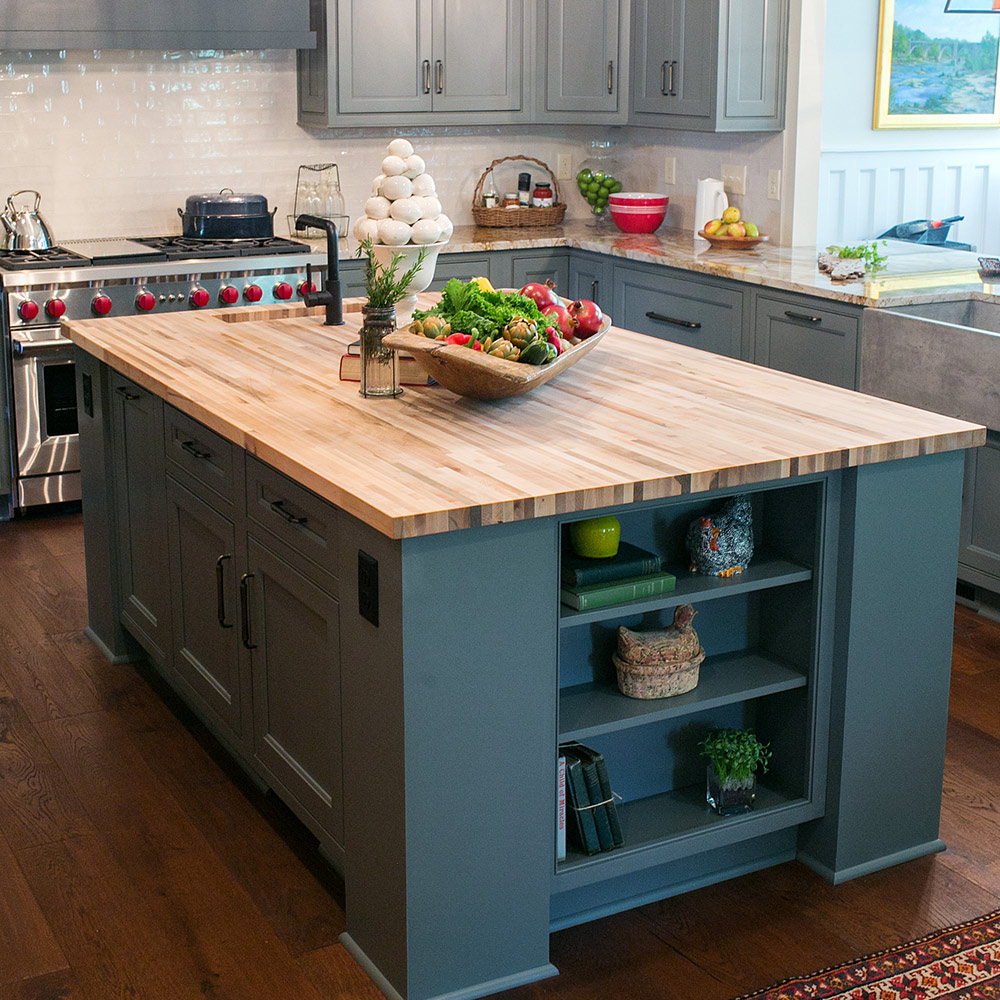 Thinking about installing or refinishing butcher block countertops? Then you'll want to know how to stain butcher block as part of the process. This guide outlines everything you need to know.
1
How to Finish Butcher Block
Butcher block is a popular choice for kitchen countertops because of its affordability and versatility. It's also one of the most forgiving materials for countertops. If it stains or gets damaged, it can be sanded and refinished to like-new condition. Knowing how to stain butcher block can help you keep your countertops in peak shape.
The process for staining butcher block has three steps. You'll prep the surface, stain the wood and then seal it.
2
How to Prep Butcher Block for Staining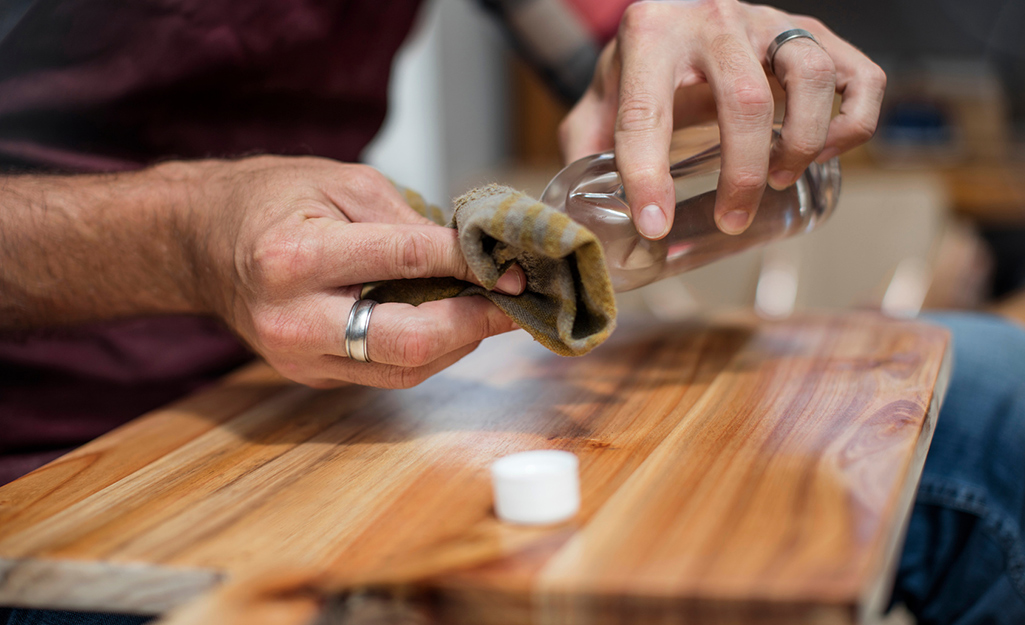 Most butcher block countertops are sold unfinished. While you can choose the finished color for your countertops, they also require some work. If you are installing butcher block countertops, prep and stain the butcher block before installation. 
Start by sanding the surface of the butcher block with 120-grit sandpaper. Before sanding, make sure the dust collector on your palm sander is free of dust. You'll be collecting the dust created by the 120-grit sanding. You will use the dust to make a putty to use to fill in cracks or splits in the butcher block. If possible, connect your palm sander to a shop vac to collect the dust as you work.
Wear a dust mask while you're sanding. 
Mix the dust you collected while sanding with a food-safe wood glue. Make a mixture the consistency of a thick milkshake. Use the putty to fill any cracks or splits in the butcher block.  
Side A is the countertop side and is usually blemish free. Side B shows more knots. If you notice places in the wood where food could get stuck, use the putty to fill them. Use your fingers to press the filler into the crack. Remove any excess with a scraper.
If the corners of your butcher block aren't eased with a roundover, it's time to do that. Use a palm sander and a 1/8 roundover bit. Test the bit setup on a scrap piece of butcher block. Adjust the cutterhead to the correct depth. Then, run the router along the edges of the butcher block to create a uniform profile that rounds over the hard edges.
After the putty has dried, sand the entire surface of the butcher block with 120-grit sandpaper, followed by 150 grit. Check the sandpaper for loading (buildup on the paper) and change it if necessary. Sand thoroughly. 
Once you've finished sanding, clean the surface with a tack cloth or compressed air to remove the dust. Use distilled water to lightly dampen the surface of the butcher block. Allow it to dry. Once it's dry, sand the butcher block lightly with 150-grit sandpaper so that the surface feels smooth.
At this point, you'll need to decide how you will be using the butcher block. If you intend to cut meat and vegetables on the butcher block, then it's important to use food-safe finishes. Use a butcher block oil that is labeled as food safe. Flood the surface with oil on both faces. Wipe away the excess oil. You may need to apply several coats for maximum penetration.
If you want to stain the butcher block and use it as counter surface rather than a cutting surface, there are a few steps to consider. First, you'll need to use a wood conditioner on the surface to help the stain penetrate evenly into the wood. 
3
How to Stain Butcher Block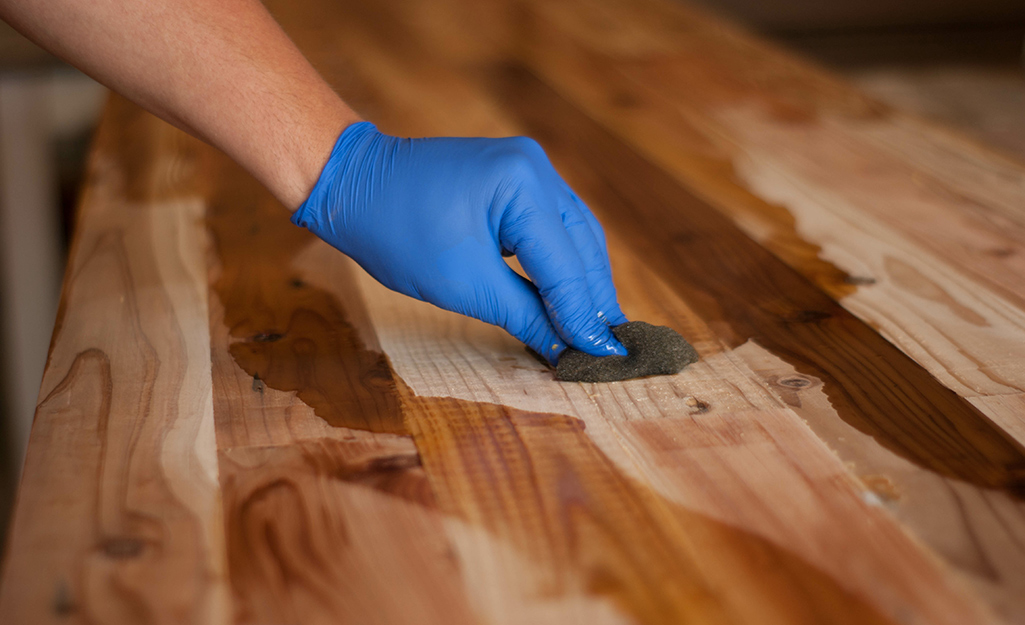 Before learning how to stain butcher block, you need to choose your stain. There are two types of wood stain especially suited to finish butcher block countertops. An oil-based stain for kitchen countertops is extremely durable and soaks into the wood to form a strong barrier to moisture. This type of interior wood stain or wood finish is also more scratch-resistant than a water-based stain. Oil-based stain comes in a variety of colors but is not food safe. This means that some of the stain could seep into food that is prepped on the countertop.
Water-based stain for countertops has less odor, a shorter drying time and doesn't have the yellowish finish that comes with oil-based stain. When first applied, it can have a streaked, milky appearance, but this will fade and disappear when the stain dries. It is a better choice if you want to preserve the natural color of the wood. Like oil-based stain, water-based stain is available in several colors.
You could also use wood oil or mineral oil to finish the countertops. The oil soaks into the wood and brings out its natural color. It is also food safe.
Before staining your entire countertop, try out the color on a scrap piece of butcher block or on the underside of the countertop material. 
Begin by staining the entire top and sides of the butcher block. Wipe away any excess with a rag. Let dry. If you live in a humid climate, work with air conditioning to keep the humidity away during drying. 
When the stain is dry, lightly sand with a piece of brown paper to remove any slight blemishes. Repeat staining and sanding about six times to achieve the depth of color that you desire. If the color is duller than you like, adding a sealer will brighten the finish.
Safety tip: If you are using an oil-based stain, do not throw the rags into a trash can when you're done using them. Lay the rags out in the sun or hang them up to dry. Oil-soaked rags can spontaneously combust and start a fire. Always allow oil-soaked rags to dry completely before throwing them away. Be sure to clean and store your brushes appropriately as well. 
4
How to Seal Butcher Block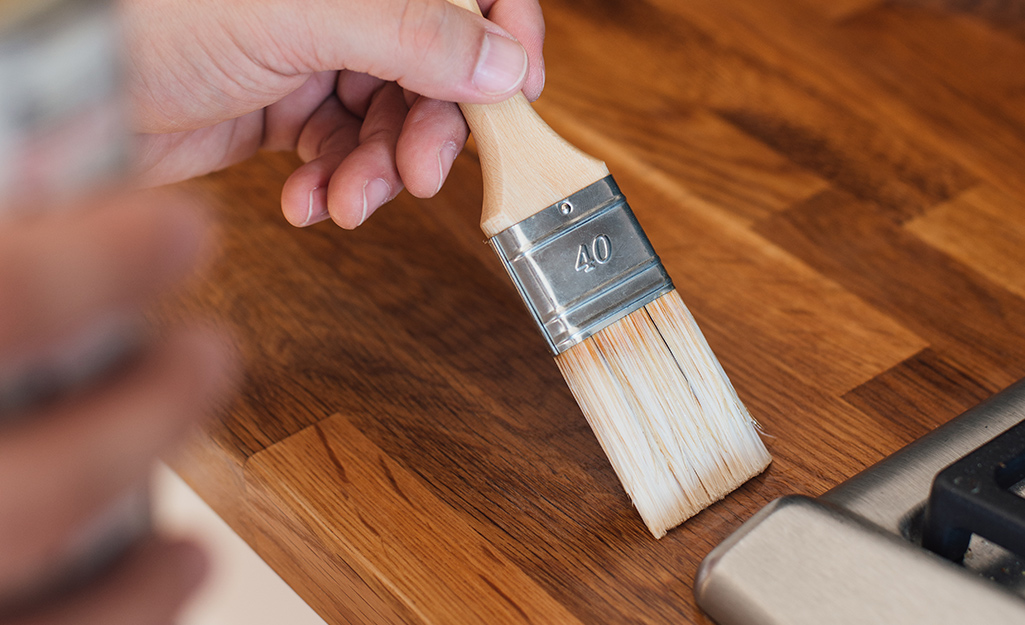 Sealing butcher block countertops is the last step. You can choose from a matte or gloss finish. If you plan to prep food on your butcher block countertops, look for a food-safe sealer. Using a foam brush, apply sealer over wood surfaces and let dry. Repeat for a final coat.
If you used mineral oil to stain your butcher block, then you won't need to seal the wood. The oil forms a barrier to keep stains from soaking in the wood. Never apply a sealer over a countertop finished with mineral oil.
If you chose an oil-based stain, you can finish your countertops with polyurethane. 
5
How to Maintain Butcher Block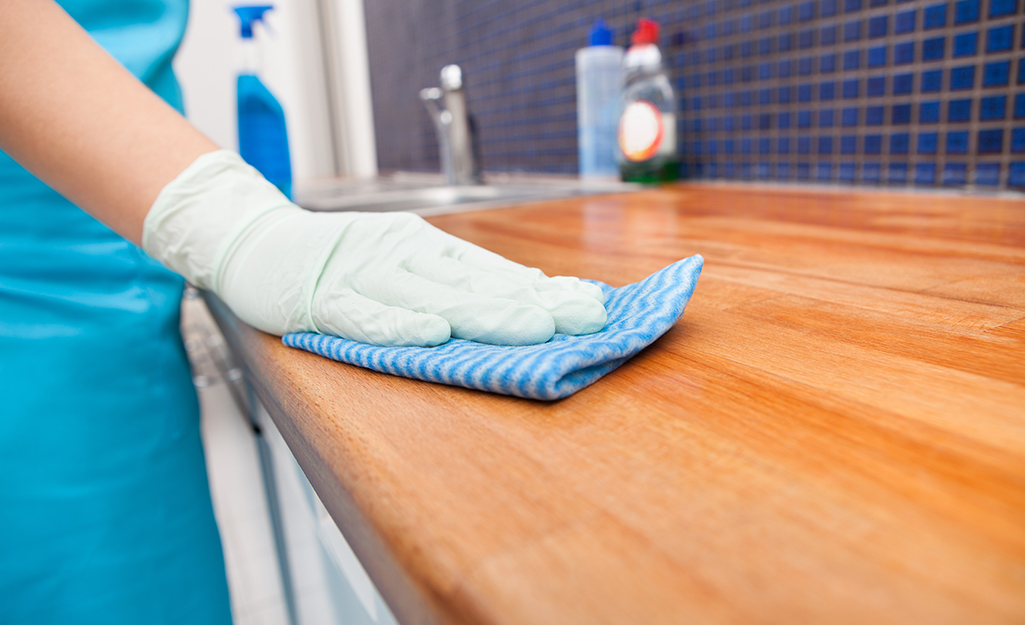 It's easy to care for butcher block countertops. Clean with soap and water and add vinegar to the mixture to make an antibacterial cleaning solution. If your butcher block gets stained or damaged, you can sand away the stain and refinish the countertop. 
Finally, if you chose to finish your countertop with mineral oil, apply a new coat every month or when the wood looks dry. 
Butcher block has classic appeal and complement many different styles of decor. They're also extremely functional and easy to care for. If you're ready to tackle this project, check out our selection of butcher block at The Home Depot. You can also have butcher block countertops installed by the countertop installation services at The Home Depot. Simply request a free consultation which includes a free virtual design of your kitchen and countertop space. 
Explore More on homedepot.com