1
Select a Location for the Swing Set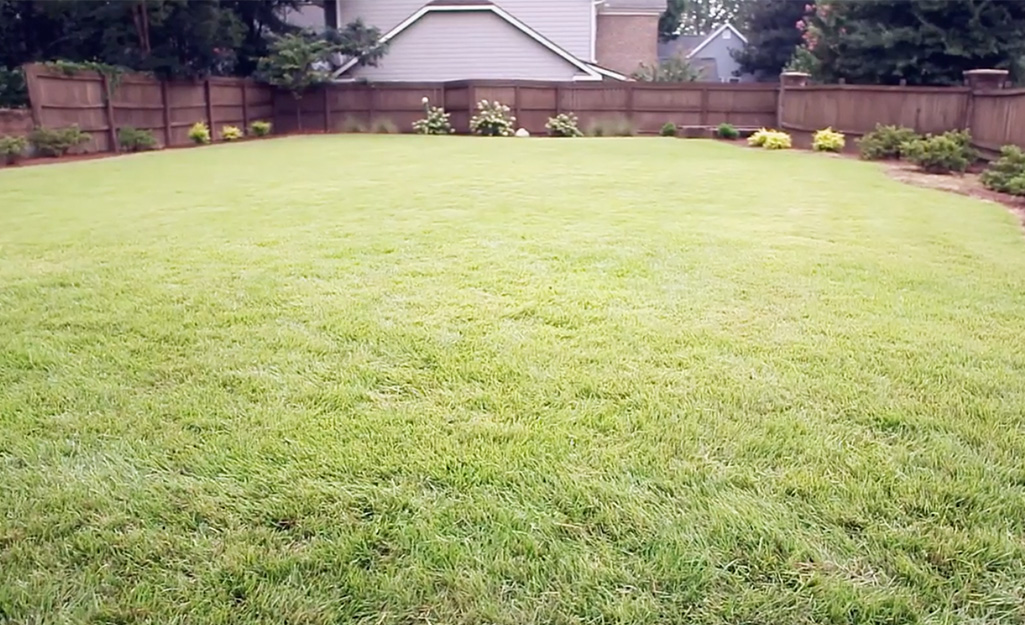 Kids run around, climb on and jump on and off a swing set, so the biggest consideration in installing a swing set is location. A flat area with plenty of run-around room is ideal. You'll also want to think about visibility. It's great when parents can see the swing set from several windows in the house so you can keep an eye on children as they play. Installing a playset away from the street and in a more secluded location is also good for privacy and safety.
Following are a few other considerations: 
Stay away from underground utility lines, sprinklers and septic tanks. The last thing you want to do is move a swing set to address maintenance issues.
Install the swing set away from overhead obstacles such as power lines, roof overhangs and tree limbs.
Choose a location with at least six feet of open space on all sides so that kids can run and play freely.
If you're planning to install protective surfacing, measure the height of the top bar then extend the surfacing the same distance from the front and the back of the swing set. 
Watch sun exposure. Bars and metal pieces get hot in direct sunlight. A slide that faces north will receive the least direct sunlight.
2
Swing Set Size and Design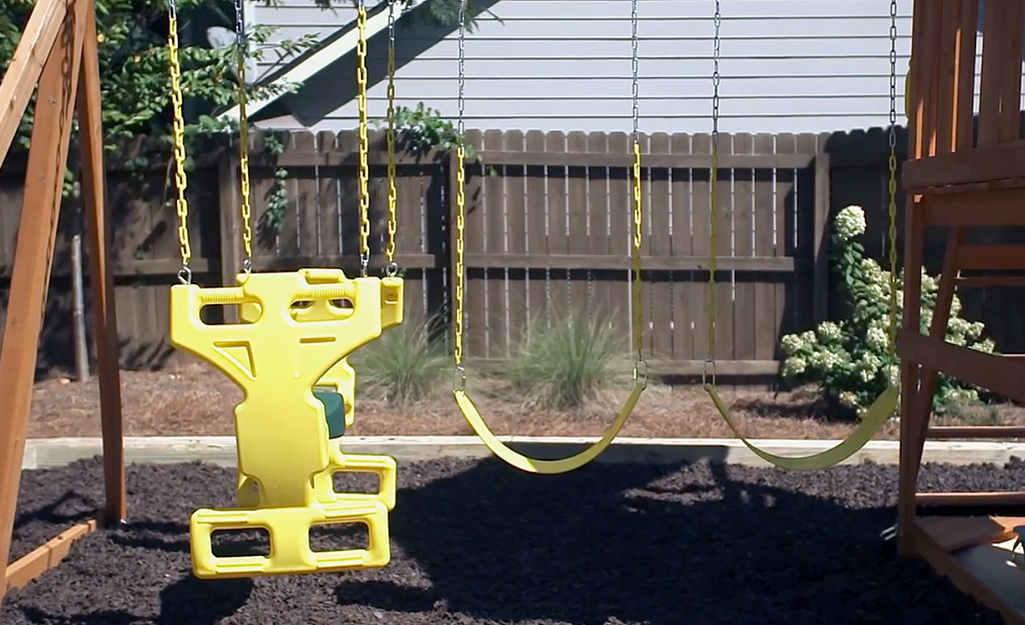 When it comes to swing set features, the sky is the limit, but even modest swing sets provide kids with hours of fun. Figure out the activities your child enjoys to determine what types of features and add-ons to choose. Remember that space considerations can also limit the size and features of your swing set. 
Next, decide what materials you prefer for your swing set. Outdoor playground sets are available in wood, metal and vinyl-coated frames and come in a wide variety of footprints and with multiple activities.
Wood swing sets, though durable and attractive, require maintenance. Redwood is known for its beauty but generally costs more. Preserved pine is also a popular choice because it can withstand harsh weather conditions. Cedar is the least expensive wood for a playset but must also be maintained for longevity.
Metal playground sets are significantly easier to maintain but can heat up in the summer sun.
 Vinyl-coated playsets are low-maintenance but the wood frame is prone to rot underneath the protective vinyl layer. Vinyl-coated playsets will also crack when exposure to heat over time. 
Other considerations to keep in mind:
To maximize use, choose a deck height of at least 5 feet so that your child won't outgrow the swing set. If you won't need the playset to accommodate children past age eight, a 4-foot deck height will work. 
Don't skimp on safety. Make sure the design you choose incorporates standard safety features such as commercial-grade recessed hardware, rounded or capped corners and solid swing beams and base posts.
Trapezes, firemen poles and climbing walls are not recommended for children under 4 years.
3
How to Prep Your Yard for a Swing Set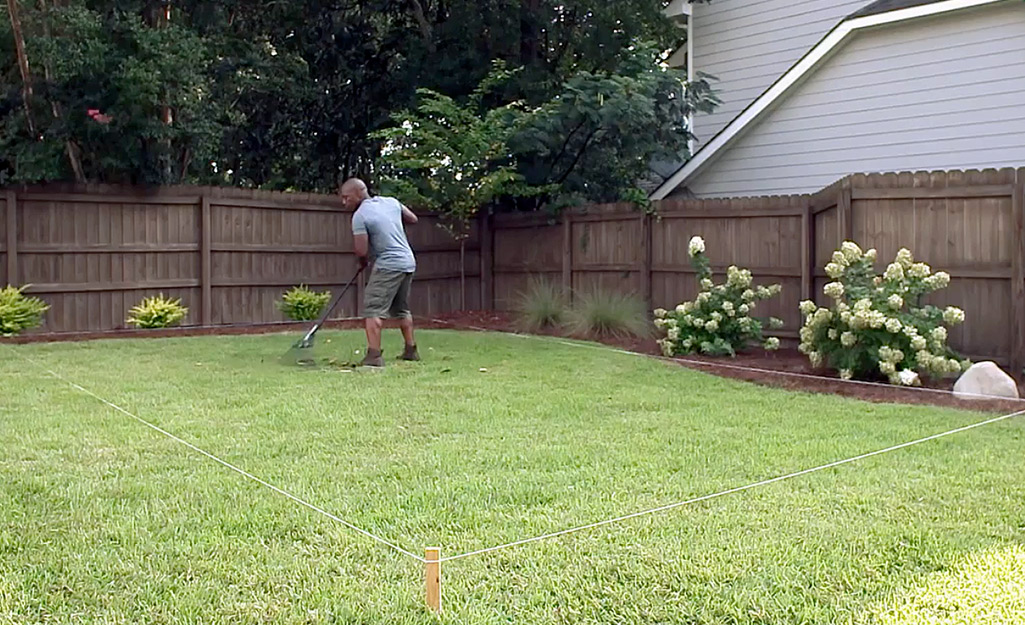 Once you've decided where you'll install your swing set, you'll want to prep the space for installation. This includes:
Clearing away any debris. 
Moving hazards to children away from the area. 
Measuring the space to ensure children have ample room to jump from and run around the swing set. 
4
How to Level Ground for Swing Set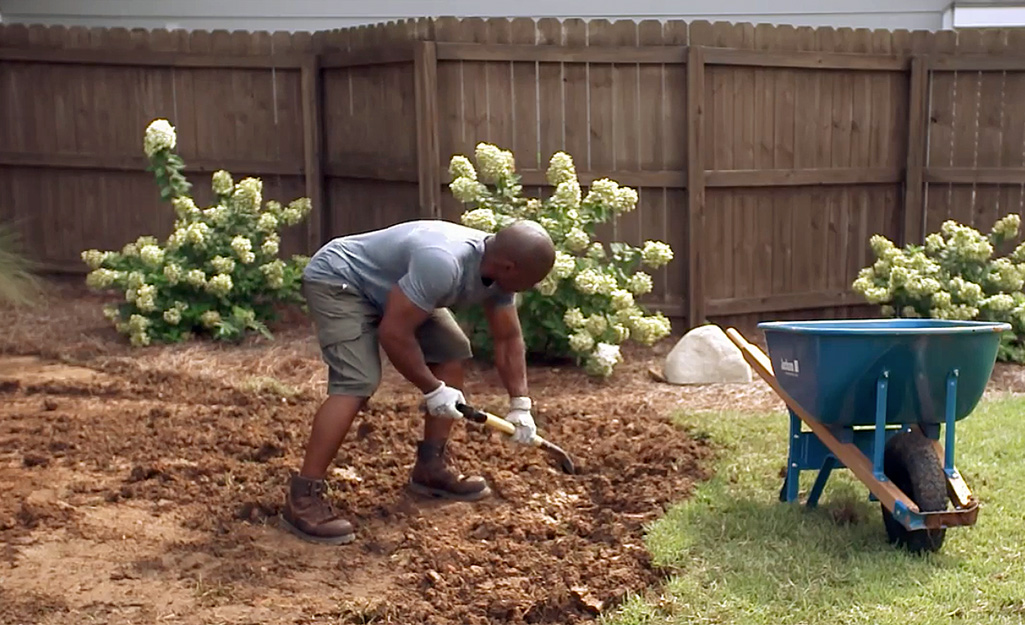 Any backyard playground DIY project should have a level base to provide a safe area for your children to play. Swing set anchors are designed to keep the unit in place but if there is any slope, you'll need to level the yard to prevent the playground equipment from tipping over.
Installing a swing set requires leveling the ground. This is the same process used for installing a patio. Depending on size, you should be able to accomplish this task in a weekend. 
Measure and mark the perimeter of the playground area. Place a wooden stake at each corner and outline the area with twine or string tied between the stakes.
Use a carpenter's level to determine the strings are level and adjust as necessary.
Remove grass and dirt within the outlined area with a shovel, beginning at the highest point.
Gauge the depth by measuring from the twine to the base of the hole. The depth depends on the type of cushioning material used; see below for more information.
Place a carpenter's level in several locations within the hole to make sure the base is level.

How to Add a DIY Playground Border:

A playground border adds definition to the area. To hide the area or add visual interest, plant low-growing shrubs around the playground border. Or you can opt for a recycled rubber border, composited border, landscape timbers or other types of landscape accessories to keep the playground surface in place.
5
Playground Surface Options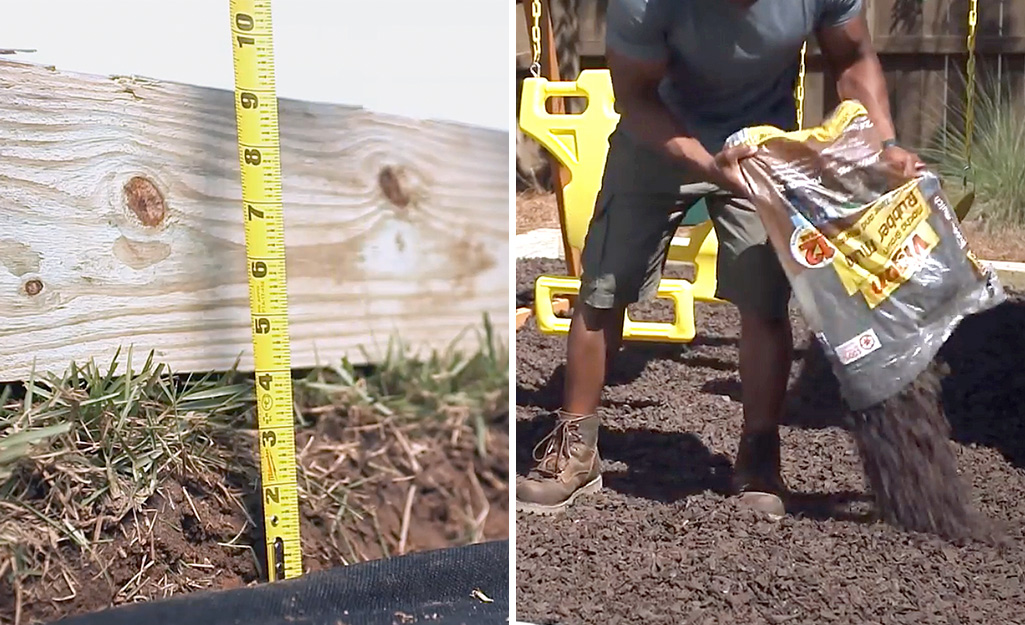 After installing a swing set and anchors, you will need to install a shock-absorbing surface to cushion children at play. Protective material should be at least 9-inches to 12-inches deep, depending on the playset deck height.

What to Put Under a Swing Set: 
Natural grass is not a thick enough cushion to protect kids when they fall. Instead, it's good to install a protective surface such as:
Wood mulch/chips, shredded rubber mulch or engineered wood fiber for equipment up to 8 feet high.
Sand, pea gravel or mulch for play equipment up to 5 feet high.
Surface mats with impact protection that's appropriate for your swing set.
Sand or Pea Gravel:
Pros
Inexpensive
Natural material
Cons
Pets and wild animals may use for waste relief
Can be scattered or blown away more easily
Sand can compact when wet
Not recommended for wheelchairs

Mulch or Chips:
Pros
Inexpensive
Environmentally friendly; biodegradable
Less inviting to pets
Cons
Must be replaced every 2 years
Absorbs moisture; freezes in cold weather 
Wood chips attract roaches in warm, damp climates

Shredded Rubber/Rubber Mulch:
Pros
Does not decompose
Supports recycling
Cons
More costly than other loose-fill solutions
Must be raked regularly to keep in place
Needs more volume; recommended level is 12 inches to 20 inches

Rubber Mats or Rubber Pavers:
Pros
Easy to clean
Highly durable
Wheelchair-accessible
Can be purchased in a variety of colors
Cons
More expensive than loose fill solutions
Thickness depends on playset height; can increase costs
May need professional installation around swing set
May clash with natural look of wood playset

Pour-in-Place Rubber:
Pros
Safest surface option
Low maintenance
Wheelchair-accessible
Cons
Most expensive option
Thickness depends on swing set height
Professional installation required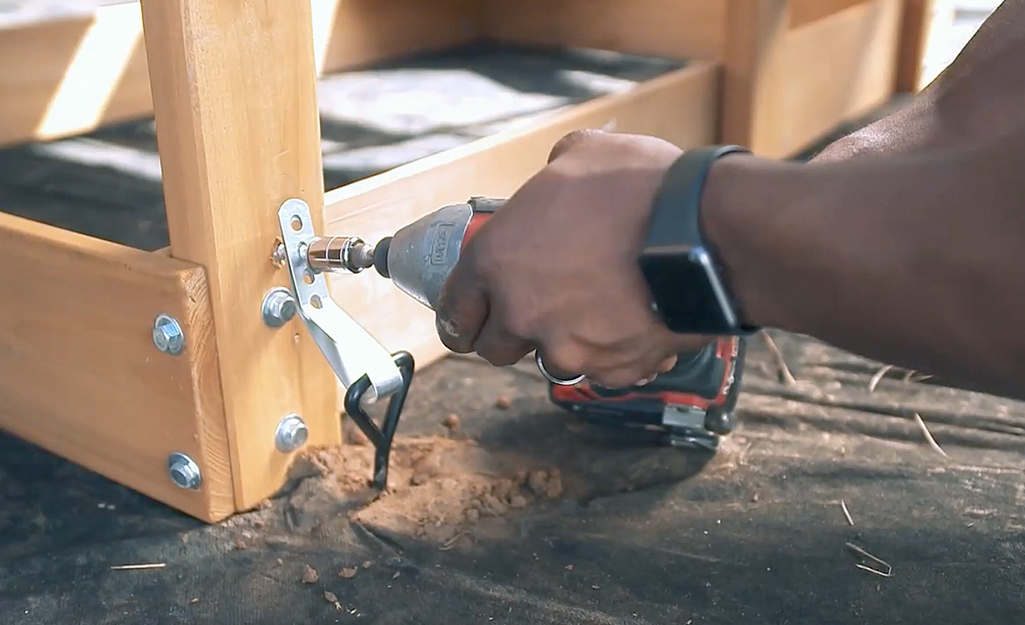 The last step of installing a swing set requires anchoring it in place. 

Wood swing sets purchased as a kit contain metal stakes that keep equipment stable and prevent damage in windy conditions. These swing set anchors are driven or screwed into the ground and then bolted to the swing set when completely assembled—but before a playground surface option is in place. Refer to the anchor manufacturer's installation guide for specific information about how to anchor a wooden swing set without concrete.

Anchors, brackets and other swing set hardware are available for DIY playset construction or as replacement parts.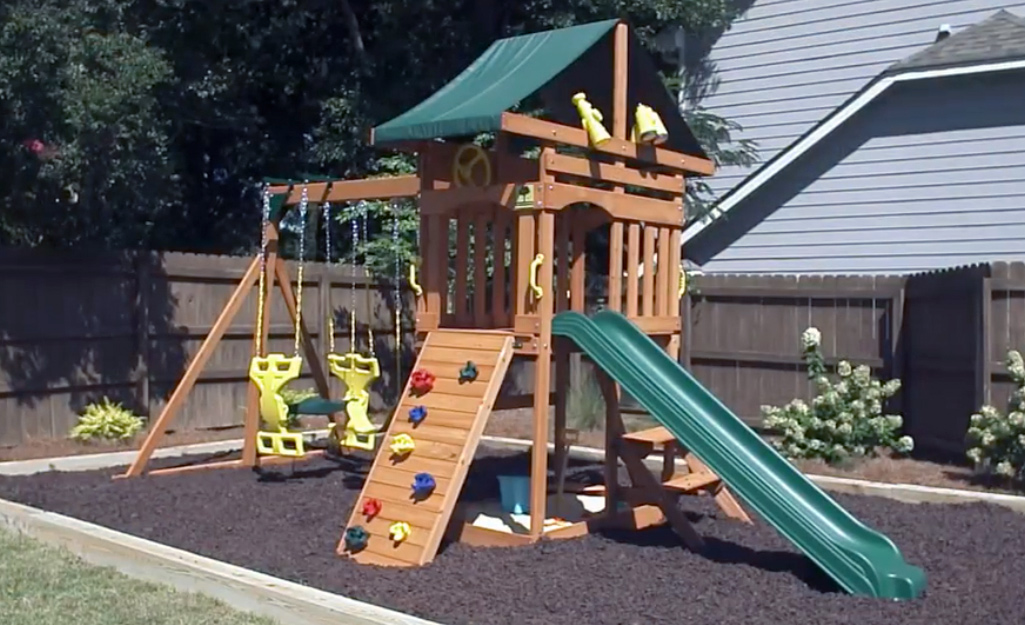 Once your swing set is complete, be sure to test it out for safety. Pull or push down on the various swings, slides and anchors to make sure everything is secure. After that, it's ready for play!
Playgrounds give kids a place to stretch their muscles and interact outdoors. With so many available feature options, you can choose a swing set suited to your backyard. Once you find the right swing set for you, know that The Home Depot delivers. Just say, when, where and how.
Explore More on homedepot.com