Ideas & Inspiration
5 Decor Essentials for Thanksgiving Entertaining
Showcase the bounty of the season when you decorate your home for Thanksgiving. From a welcoming entrance to the feast on the table, surround your guests with the natural beauty of pumpkins, decorative squash, succulents and more.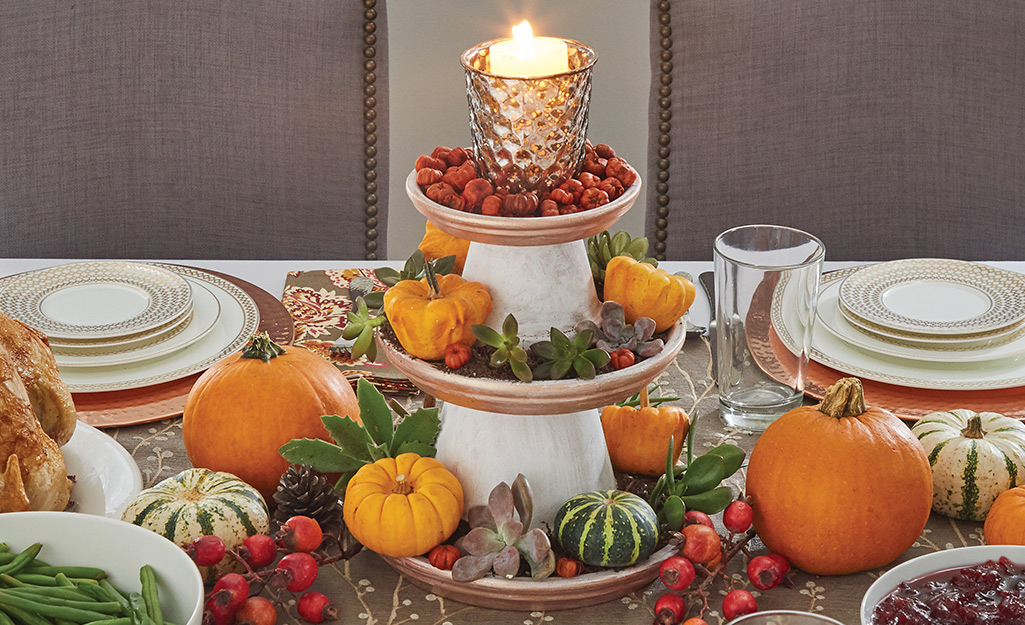 Start with this versatile Tiered Centerpiece project made with terra cotta pots in varying sizes, and embellished with succulents and seasonal ornaments. Learn how to create this simple project.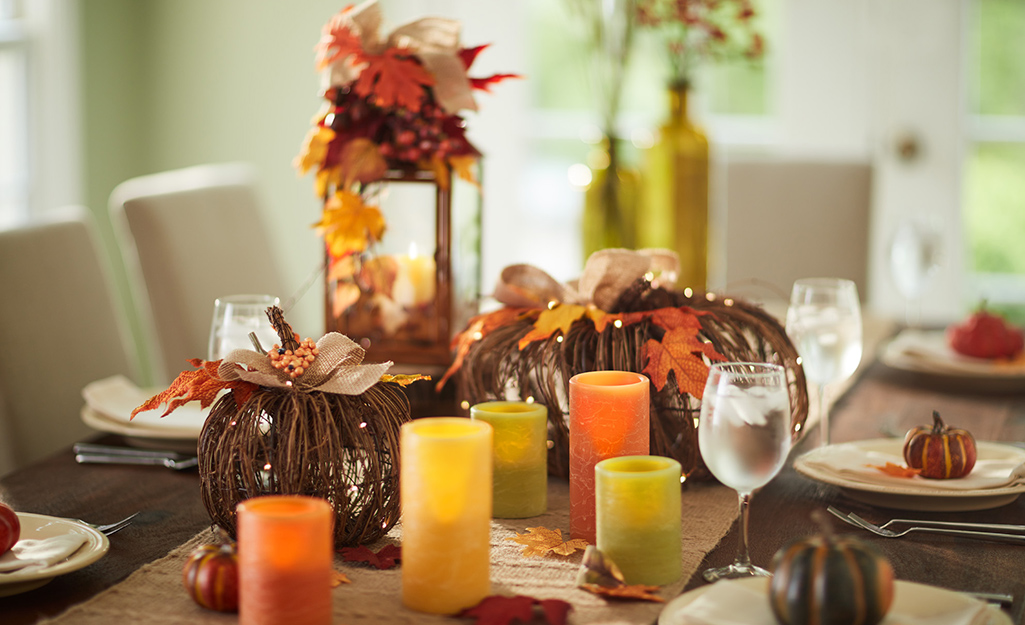 A warm glow from the table enhances the food and the faces at your feast. Look for worry-free LED flameless candles to enjoy the same warm glow of a live flame.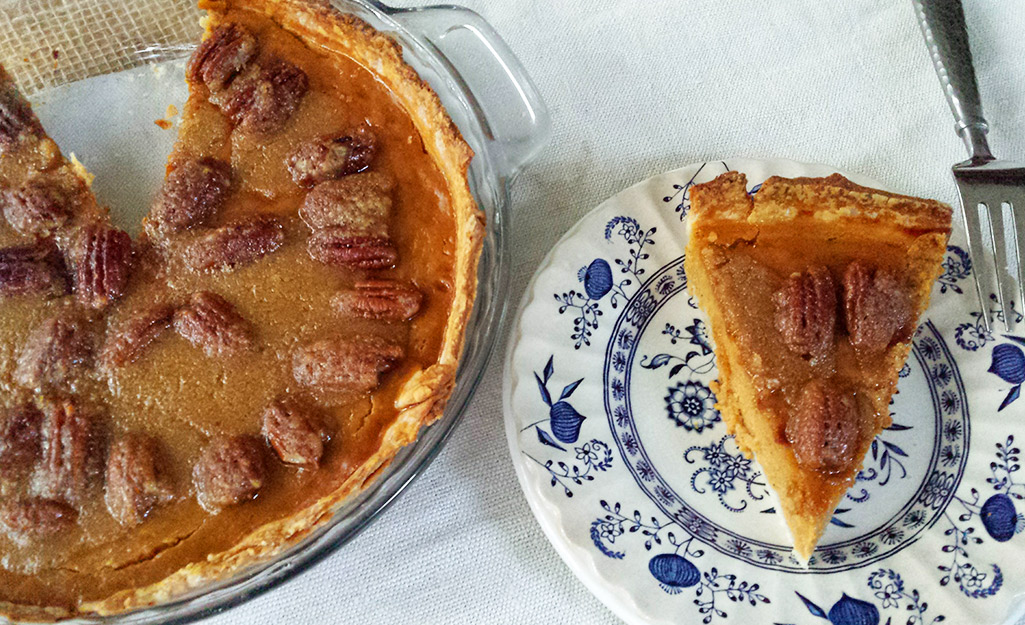 Lovely to look at and delicious to eat, pies make the party. This season, ask your guests to bring their favorite pie, and fill your sideboard with the bounty.
Here's my favorite pumpkin pie recipe:
PUMPKIN PIE WITH BUTTERY PECAN GLAZE
Serves: 10
Simplify the holiday question of pumpkin or pecan by making this silky pumpkin pie with a crunchy pecan topping. You can make your very own pumpkin puree from pie pumpkins or use canned 100 percent pumpkin (not pumpkin pie filling).
INGREDIENTS
1 unbaked 9-inch pie shell
2 eggs, lightly beaten
2 cups pumpkin puree or 1 (15 oz.) can 100 percent pumpkin (not pumpkin pie filling)
3/4 cup sugar
1/2 teaspoon salt
1 teaspoon cinnamon
1/2 teaspoon ginger
1/4 teaspoon cloves
1 2/3 cup evaporated milk
INSTRUCTIONS
Heat oven to 400 degrees Fahrenheit.
Place pumpkin puree in a medium mixing bowl. Stir to loosen it, and add eggs, stirring until blended. Add sugar, salt, cinnamon, ginger and cloves, then mix well. Slowly stir in evaporated milk. Filling will be very thin.
Pour into prepared pie shell. Place pie plate on foil-covered baking sheet to catch any drips and make it easier to pull in and out of the oven. Bake at 400 degrees Fahrenheit for 45 to 55 minutes or until the center no longer jiggles when you touch it. You can also insert a toothpick in the center. If it comes out clean, the pie is cooked through. Remove pie from oven and cool on wire rack before adding topping.
GLAZED PECAN TOPPING
INGREDIENTS
3 tablespoons unsalted butter, softened
2/3 cup brown sugar
2/3 cup pecans
INSTRUCTIONS
Heat the oven broiler and move the uppermost wire rack to about 5 inches from the heat source.
In a small mixing bowl, crumble the butter and sugar together until well blended. Stir in pecans.
Arrange the pecans over the top of the cooled pie, scattering the clumps of butter and sugar evenly over the surface.
Place under the broiler for about four minutes. Keep the timer on and don't walk away. When the pecans are browned and the sugar is melted, the glaze is ready. Remove the pie from the oven and cool on a wire rack.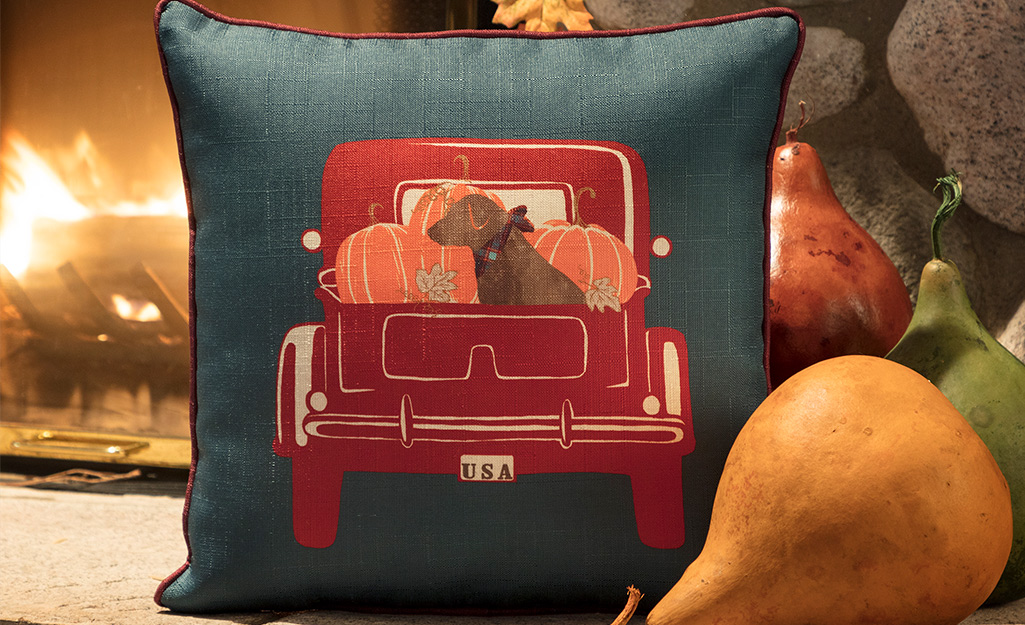 After the feast, get cozy on the sofa with a pile of pillows. Rest your head on a comfy cushion during conversation and naptime.