When you walk into your bathroom, you want the convenience of having all your essentials at hand or nearby. Many people don't have spacious bathrooms to work with, or need to share a space with family. Having a bathroom that isn't very large or that needs to serve a lot of people doesn't mean you have to deal with clutter. This guide will list simple design tips and storage ideas to help you maximize space in your bathroom. 
Bath Vanities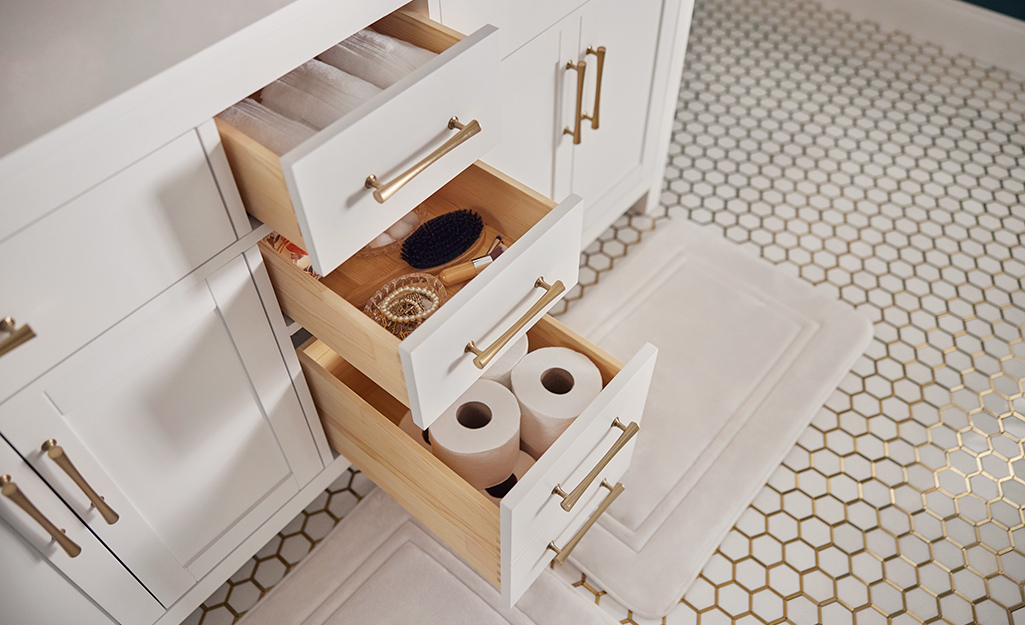 Even if your bathroom is small, most bath vanities come with drawers and cabinets to make storage simple. Plenty of single vanities come with ample storage space, including spacious drawers with interior separators. Easily store bathroom essentials behind these drawers, separating items when needed. 
Other bath vanities have cabinets, while some come with drawers, cabinets and storage shelves. Use these to stack towels, store toilet paper and more. There may even be room on top of your vanity for bath accessories such as a toothbrush holder, soap dispenser or apothecary jar. Wherever you choose to store your accessories, more often than not, there's room in or on your vanity. 
Here are a few more ways to free up space around the vanity: 
Floating vanities are a great design option in smaller bathrooms because they give the illusion of more space. 
Consider hanging a dual purpose mirror/medicine cabinet over your vanity to store toiletries, medication and other items. 
Make drawers and cabinets multi-task by hanging magnetic strips inside to hold onto bobby pins and hair clips, or add removable hooks for grooming tools and cosmetic items. 
Baskets, Bins and Containers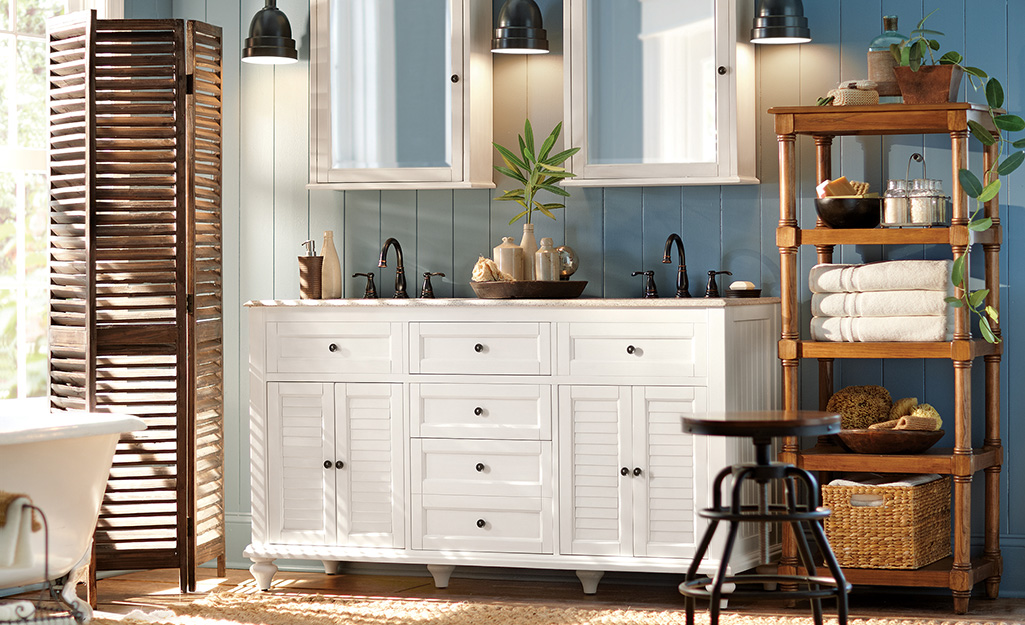 When storing items inside and on top of a vanity isn't enough, consider baskets, bins and containers. Choose from baskets made of natural materials such as wood or wicker, or simply invest in metal baskets that are minimalist yet sturdy, able to work well in most spaces. 
Baskets and bins made of natural materials give your bathroom a casual and sometimes coastal look and feel. Wicker baskets typically come in neutral colors and can efficiently hold everything from towels to magazines. Whatever you decide to put in them, they'll store your items with ease while adding a little beachy flair to your space. If you're looking for a bin or container that's more standard, any metal basket will do the job. 
Considerover-the-toilet storage free-standing shelves to give the bins and baskets a home while also providing more space for towels and toiletries to live. 
Stools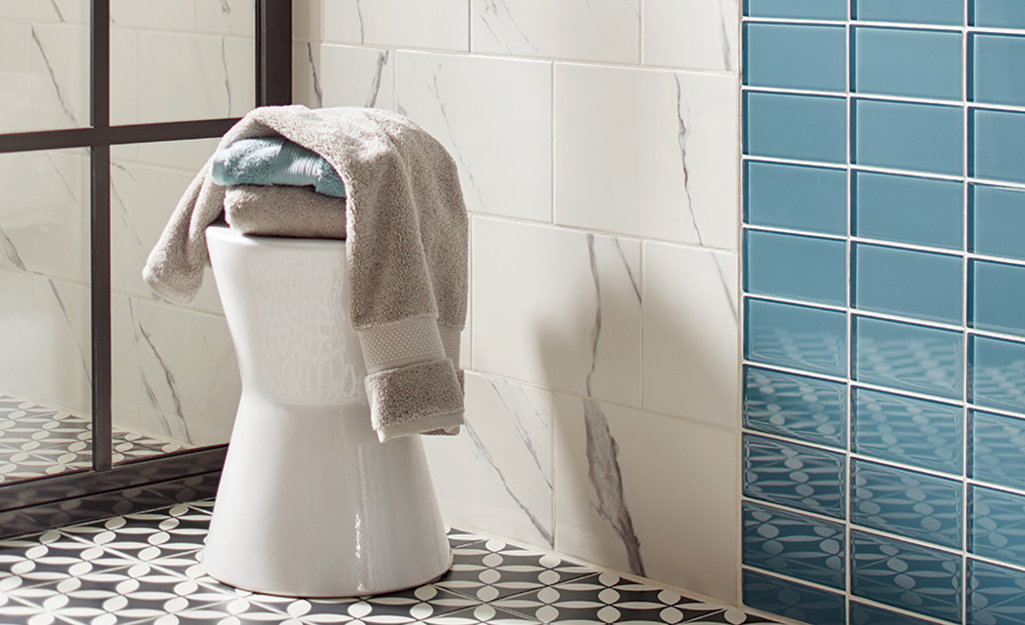 One deeply underrated and underused item in bathrooms are benches and stools. Stools are not only stylish, but useful. If baskets and bins aren't your style, a multipurpose stool will help. Not only can stools be used to store towels, either temporarily or permanently, but they make for a good place to sit while getting ready for the day. 
Whether you're using one to sit in front of your vanity, or simply to sit on momentarily as you get ready, a stool adds that extra something to your space you didn't know you were missing. Outdoor stools are water-resistant and a perfect addition to showers or tubs limited on room for bath and shower items. 
Towel Hooks, Bars and Handles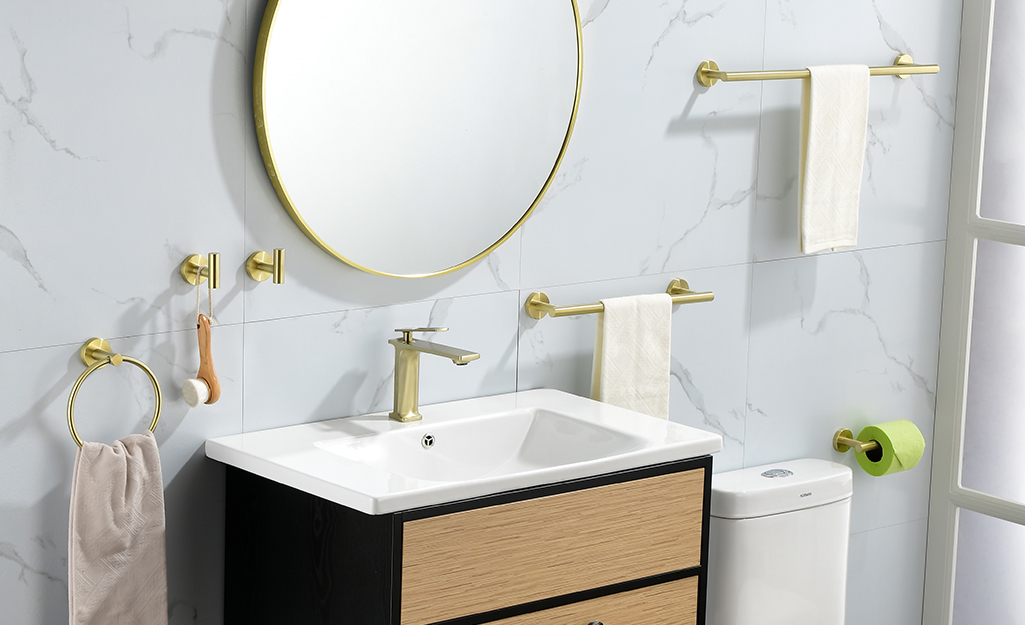 If you're done going low, go high. If you have a bathroom that needs extra floor space, the solution lies above. Enter hooks, bars and handles. Use these to store items above, leaving much more space to move around. For families sharing a smaller bathroom, hanging multiple towel racks and hooks makes it easier to keep everyone's towels and bathroom items organized and separated. It also streamlines the look of the bathroom, while the right finish can up the style factor, too. 
An affordable option, and a way to add a bit of style to your bathroom, hanging shelves will utilize vertical space that would otherwise go unused. Once you've installed your hooks and shelves, start hanging towels and other bathroom decor up and out of the way. 
Hanging things on the wall frees up the floor in your small space, and makes grabbing what you need especially convenient. You can also place decorative trays atop your shelves to store makeup or other bathroom accessories. 
Cabinets and Organizers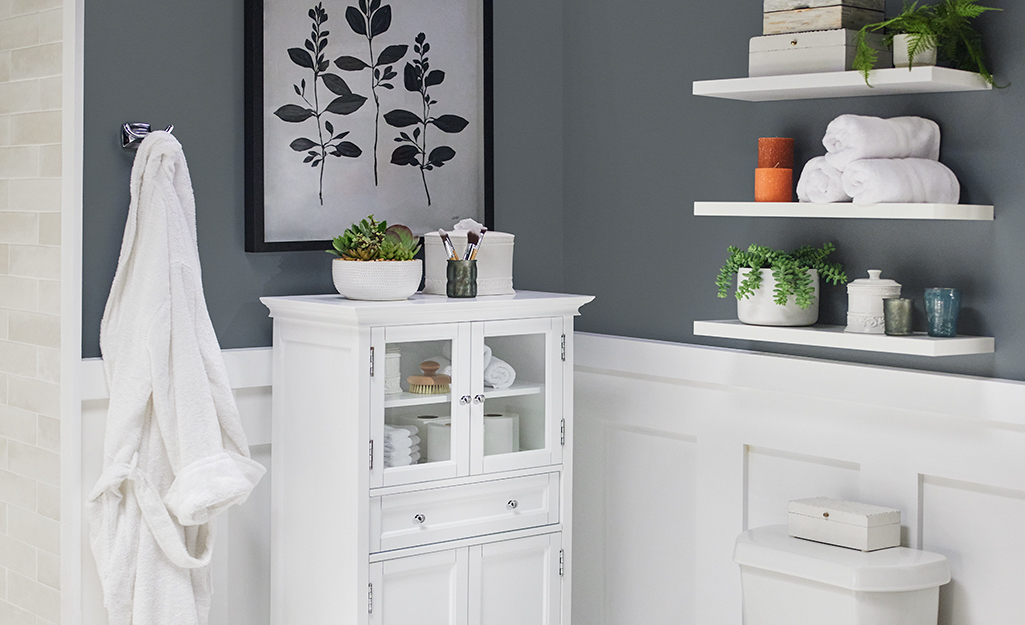 Many bathrooms, especially in older homes, lack storage space. And, unless you're doing a full remodel, finding spots for all your essentials can be tricky.
Once the vanity is full, every countertop is covered and every hook, shelf and basket are being used, consider cabinets. With the ability to keep everything on-hand yet hidden, storage greats like linen cabinets and over-the-toilet cabinets can transform the look of your bath while making the most of the space. Not only are the drawers and cabinets useful in these pieces, but you can also use the surface areas for home accents and other decor. 
Organizers give everything a designated spot. Think: A hanging holder for your hair dryer or a storage tower that easily slides into your new bathroom cabinet. Items like shower caddies or trays can serve dual purposes as decor and storage in one. 
Tip: For homes or apartments that are really short on space, a rolling cart is another great storage solution as you can bring it in and out of the bathroom as needed without taking over the entire space. 
Making the most of your bathroom space can be done easily with the right supplies and a little imagination. Whether you're taking on an entire redesign or need to add in storage items, we're here to help. Use The Home Depot Mobile App to locate products and check inventory. We'll take you to the exact aisle and bay. If you'd like help with creating your ideal bath space, we offer professional bath remodeling services for small updates or full renovations.
Explore More on homedepot.com