Having a small bathroom can be challenging. However, it doesn't take a remodel to make it look and function like a much larger space. For example, you can choose a floating vanity, create the illusion of more space with mirrors, or add clever wall storage for a clutter-free look. Read on for 14 simple ideas you can do yourself to make your small bath feel more spacious. 
Save Space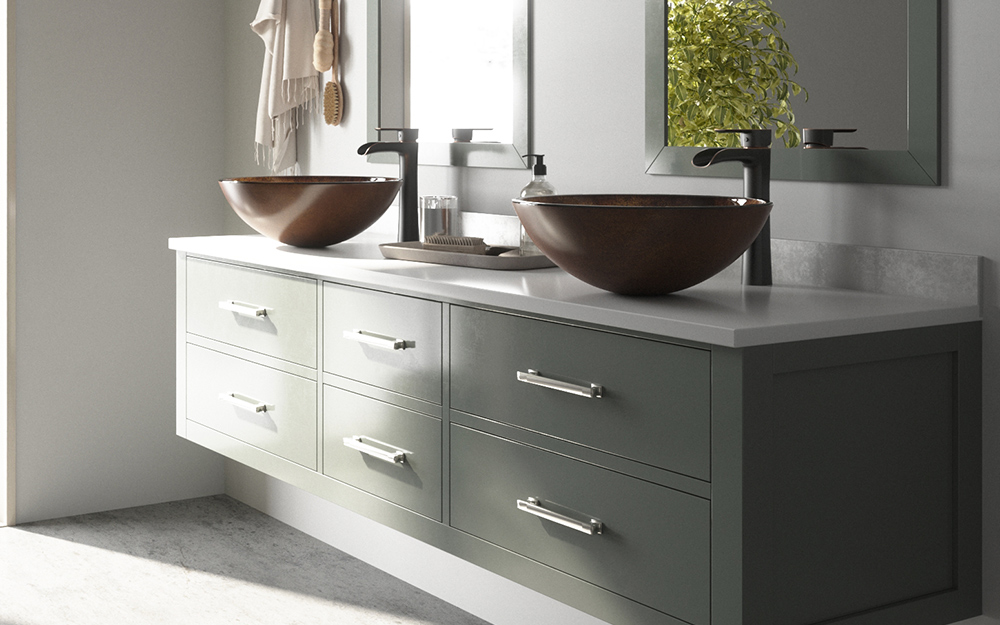 The furniture that usually takes up the most room in a bath is the vanity. A double vanity in a small space can make it feel cramped. A single vanity or pedestal sink is a common choice for small baths. But if you need more than one sink, opt for a floating vanity with two sinks instead. You'll get about the same top and storage space, but the openess underneath will make your bath feel bigger. 
Tip: Switch out a double vanity with two pedestal sinks and a storage tower for a roomier feel. 
Focus on Mirrors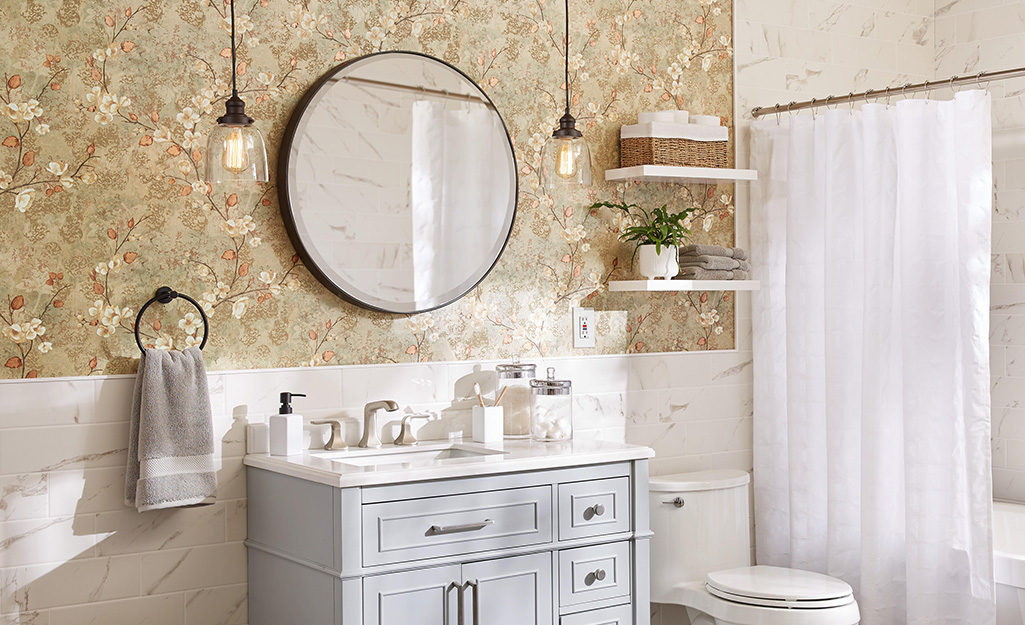 A mirror is an easy way to add the illusion of depth. An oversized mirror can make walls "disappear," making the bathroom feel larger than it is. A mirror reflects light, making your small bath feel brighter and lighter. If possible, hang mirrors facing a window to get the most out of any natural light coming in. Or place mirrors across from one another to give a feeling of infinte space.
Tip: Round frames minimalize the square look of a room, so it looks more open. 
Be Bold with Color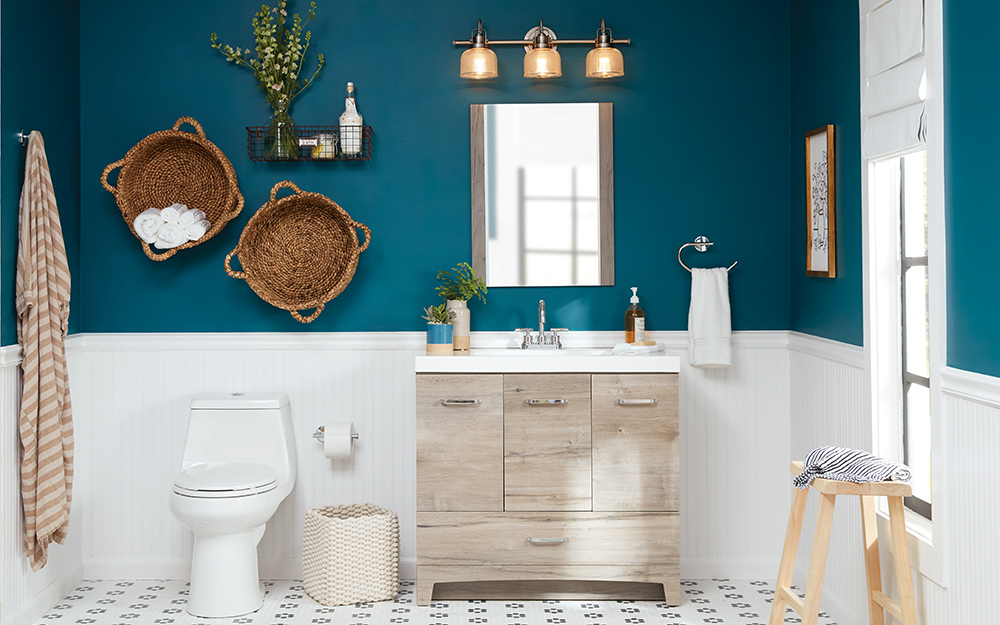 Bold color can be a powerful solution for a tiny bath, especially for an accent wall. Think vibrant blue walls balanced by a crisp white trim and simple fixtures. 
White immediately makes any space feel larger and lighter. For a modern small bathroom idea, choose a semi-gloss or gloss finish. Gloss finishes reflect the light and will amp up the brightness level. 
A neutral color palette featuring a monochromatic look of beige, brown and white will make a small bath feel soothing rather than cramped. 
Use Wall Storage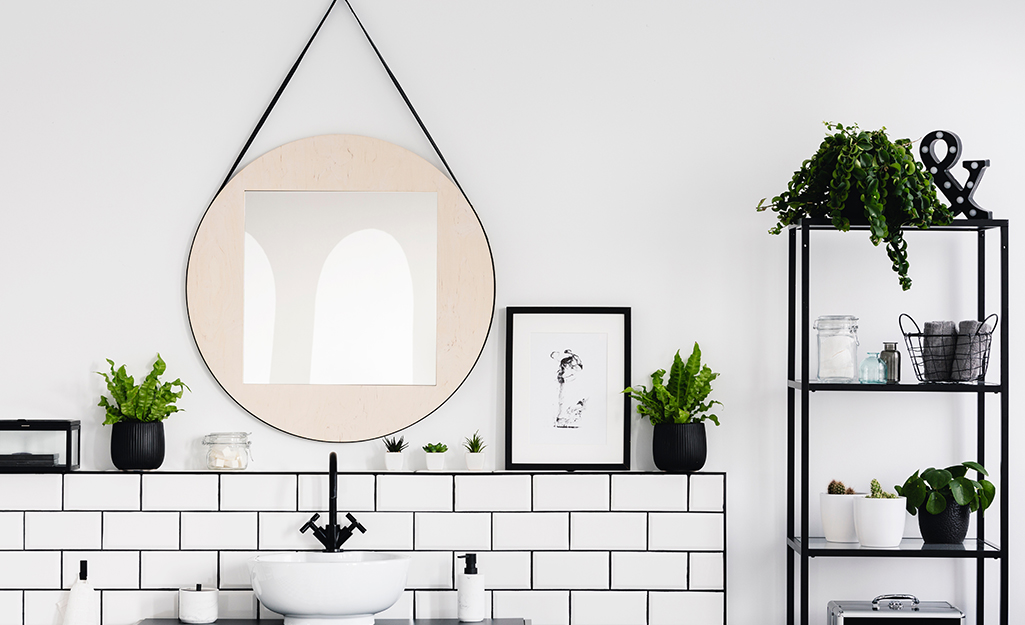 Clutter can quickly make any space feel smaller and less appealing. Put your walls to work. Use every inch of your wall space to store and organize everything from toiletries to towels. There are several ways you can add wall storage.

Tip: Add glass canisters or baskets to display or hide essentials.  
Add Dramatic Patterns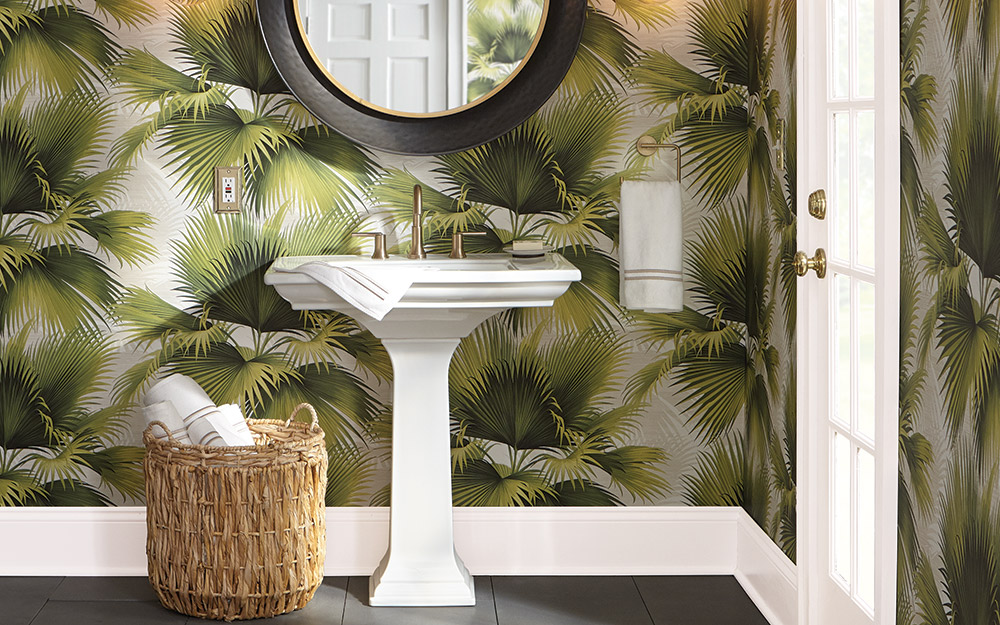 Large, graphic patterns work much better in small spaces than tiny patterns. Small patterns look busy and cluttered to the eye. Keep the look going with fixtures and accessories that accent your wallpaper. For example, bronze-finished faucets look great with luxurious colors and textures. High-end modern, small bathroom ideas such as bold geometric prints work well with an artful glass sink. 
Tip: Turn a small bath into a big event with an oversized print.
Contrast Spaces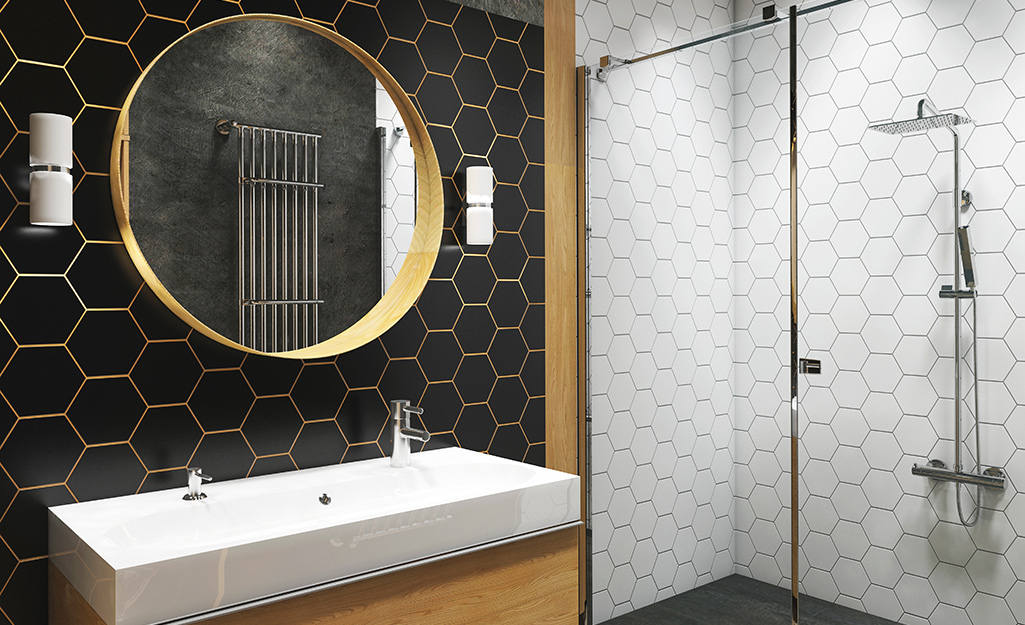 A bathtub or shower can create another "wall" in a bathroom, making it look even smaller. There are also several other things you can do to give the illusion of more space. 
Use a clear glass shower door to remove the "wall" and make the space visually deeper. 
Replace a swing-out shower door with a shower curtain to free up floor space.
Use the same tile in contrasting colors. Use the lighter color in the shower to give it more depth.
Go Horizontal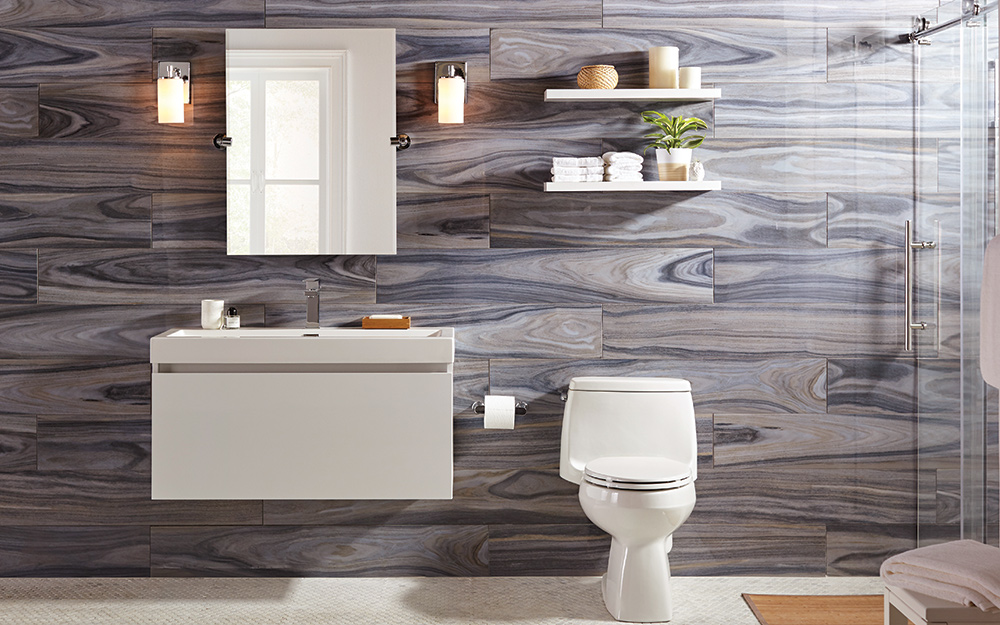 Small bathrooms can quickly feel tunnel-like. Trick the eye with horizontal or vertical lines. Horizontal lines will look like they are "pushing" the adjacent walls apart. Long, vertical lines of tile draw the eye up from the floor, giving the feeling that the ceiling is higher.
Tip: Lay wall or floor tile in a horizontal line to make the room seem wider.
Layer Lighting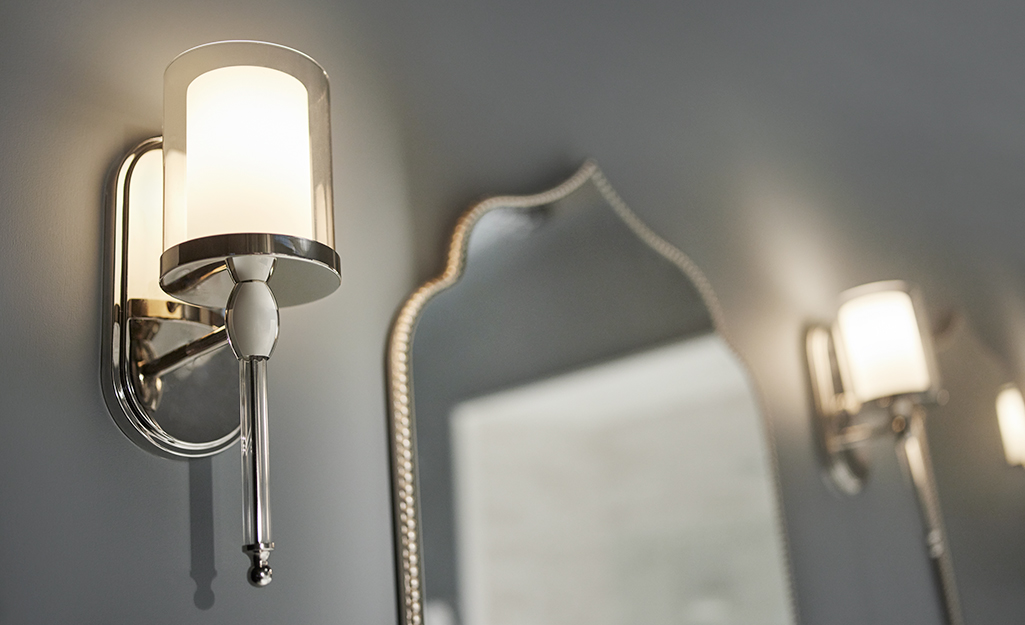 Even the smallest bath can feel brighter and more inviting with lots of lighting. 
Opt for light fixtures in reflective finishes or with crystals so they look good day or night. 
Place lights near or in front of windows or mirrors to double their impact. 
Choose lighted vanity mirrors or medicine cabinets. Use table lamps for task lighting.  
Place strip lights along the floor or inside open cabinets.
Uncover Space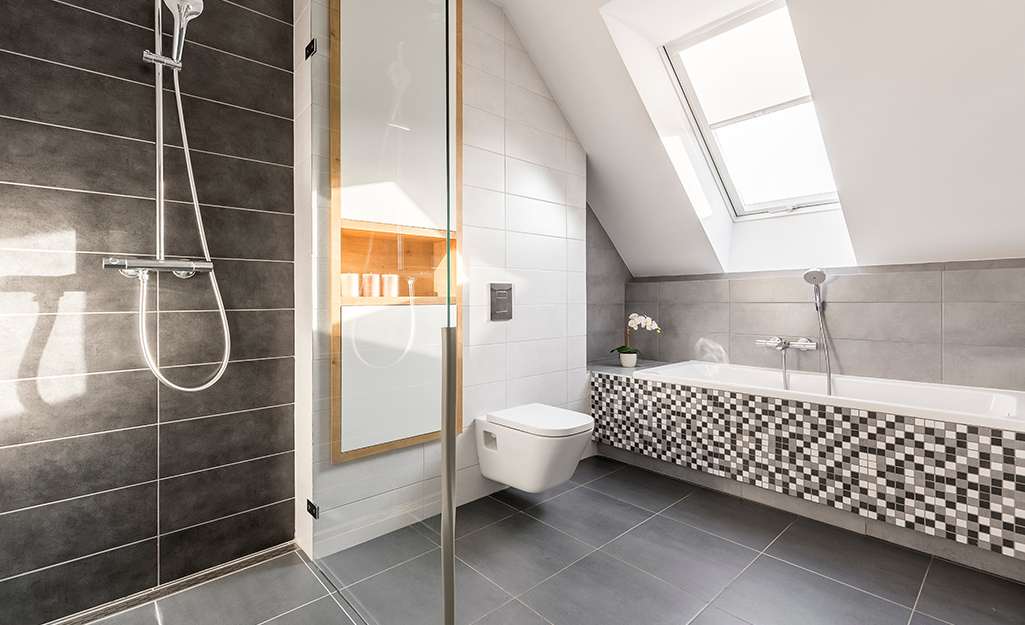 A covered or cluttered floor in a small bath makes it feel more cramped than it really is. Tubs, toilets and other floating fixtures make floors look wider and longer. Use the newly revealed spaces to add airiness or add tucked away and out-of-sight storage. Continue the illusion by using the same flooring throughout the space.
Go Smaller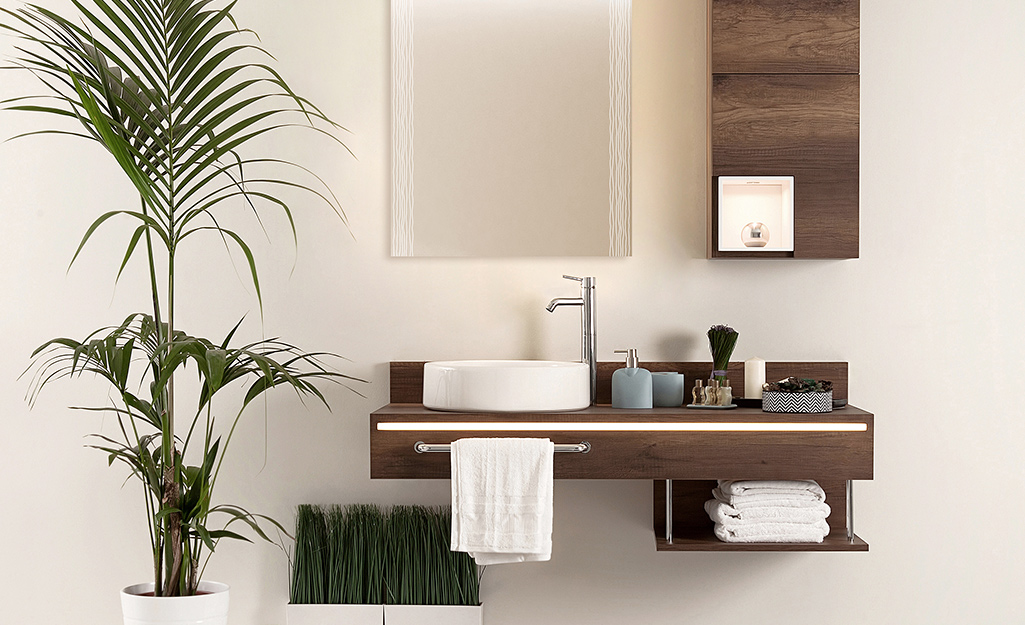 Sometimes the secret to expanding a small bath is decreasing the amount of space you use. Instead of finding pieces that fit the space, choose smaller ones. Replace a single vanity and storage cabinet with a wall vanity half its size. Opt for one with an open shelf and tile rack. Use a slender medicine cabinet and simple mirror. Fill the leftover space with plants for a naturally open feel.
Bring In Cabinets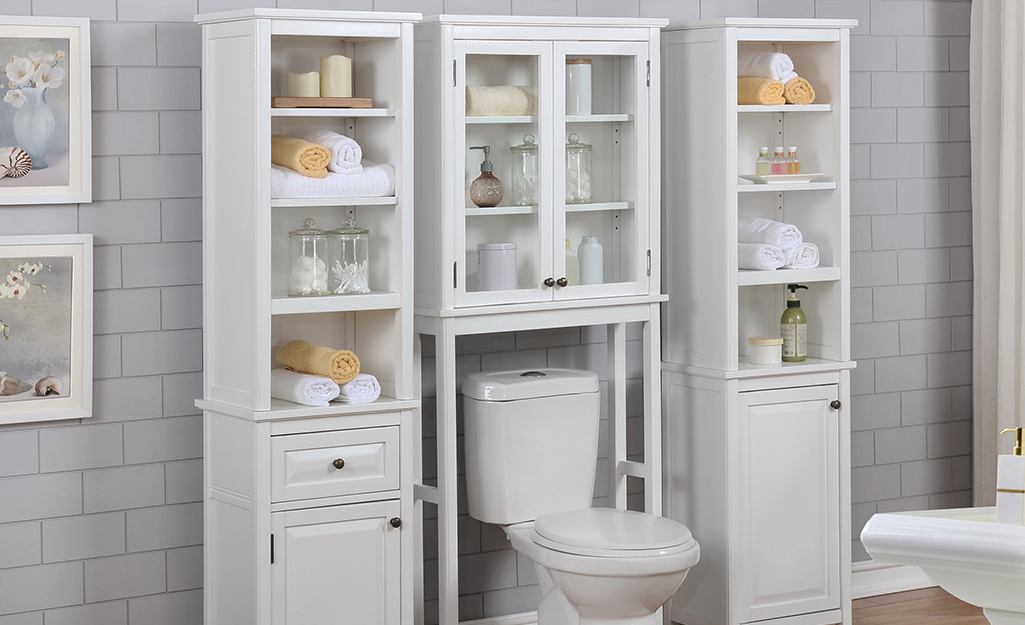 Every inch of storage counts in a small bath. Make yours do double duty by adding freestanding storage cabinets next to and above the toilet. A combination of open shelves and closed drawers solves both display and organizational needs. As an added bonus, the height of the cabinets can make the ceiling feel higher.
Be Open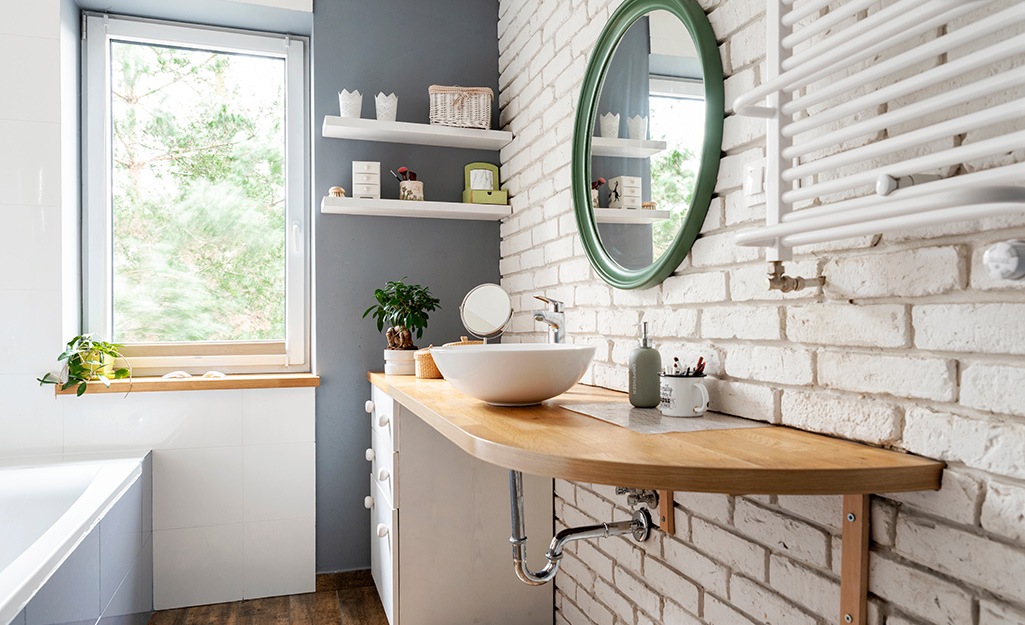 Narrow, small bathrooms can be the most challenging to make roomy. Opt for an "open" look. 
Cover windows with a privacy film instead of curtains. 
Use wall shelves to add depth and storage. 
Instead of a full-size vanity, use a countertop to house a small sink. 
Turn drying racks into the ideal spot for towels. 
Keep It Simple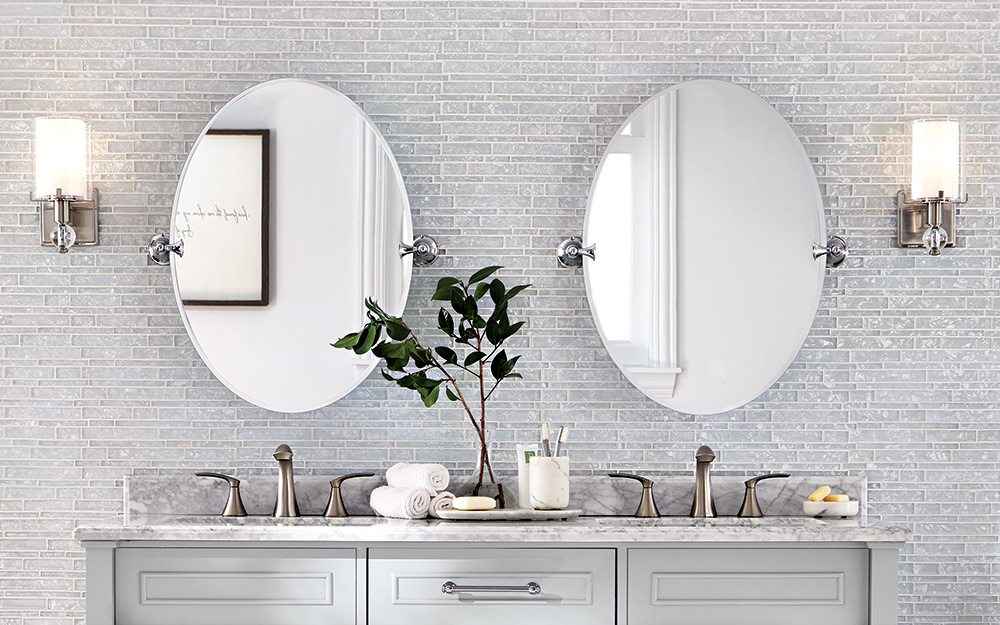 Choose one color and finish and use it for everything. This will create a one-dimensional look that feels bigger. For example, place a gray double vanity against a light gray wall to minimize its depth and size. Accent with lighting and mirrors in silver finishes to add sparkle while keeping the effect streamlined and flat. 
Move Up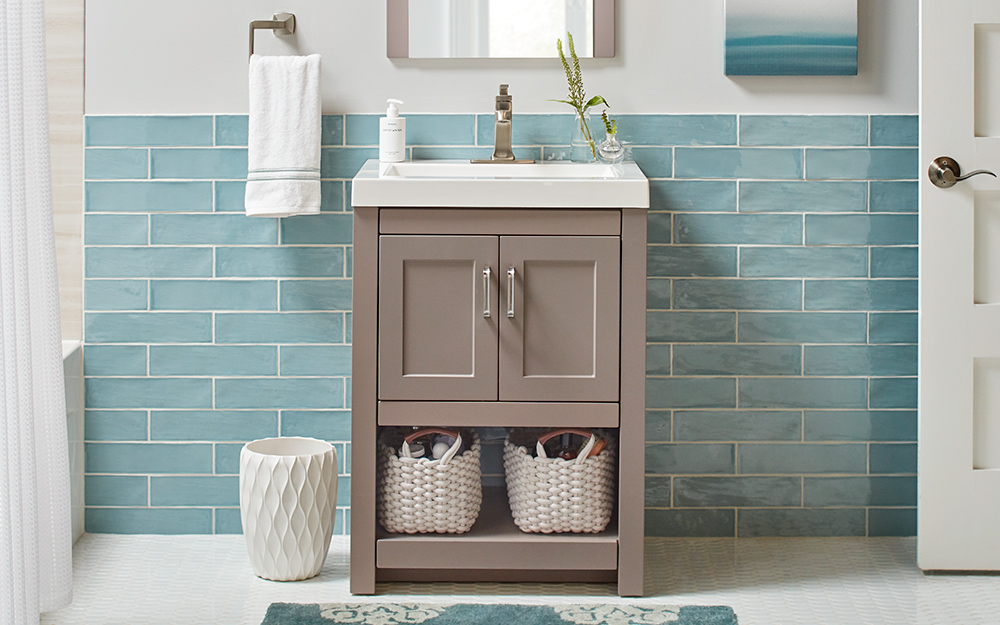 You don't have to add square footage to a small bath to give it the illusion of being a bigger space. Here's some ways to add height: 
Paint the top third of your wall white and lay colorful horizontal tile the rest of the way down. 
Hang a shower curtain at or near the ceiling to draw the eye up.
Choose narrow vanities with thin lines.
Choosing the right bath design can make all the difference when it comes to small bathrooms. Make these spaces feel larger, brighter and more spacious with the right colors, fixtures and decor. Ready to start your bathroom update? Use The Home Depot Mobile App to locate products and check inventory. We'll take you to the exact aisle and bay. If you'd like help with creating your ideal bath space, we offer professional bath remodeling services for small updates or full renovations.
Explore More on homedepot.com