Ideas & Inspiration
8 Small Bathroom Design Ideas
Having a small bathroom can be challenging. However, it doesn't take a remodel to make it look and function like a much larger space. For example, you can choose a floating vanity to create the illusion of more space with mirrors, or add clever wall storage for a clutter-free look. This Home Depot guide gives you 8 simple ideas you can do yourself to make your small bath feel more spacious.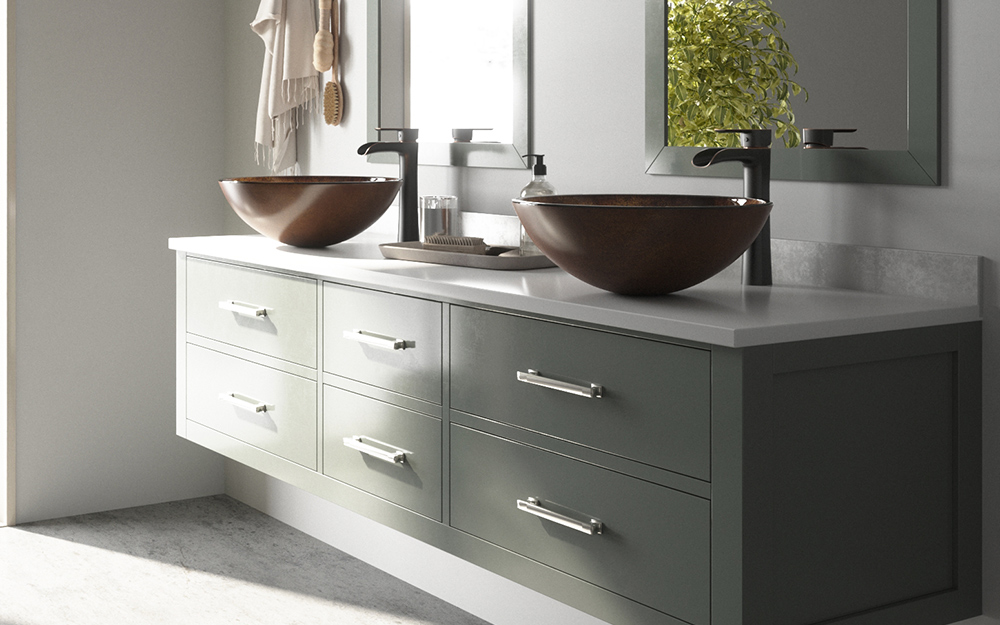 The furniture that usually takes up the most room in a bath is the vanity. A double vanity in a small space can make it feel cramped. A single vanity or pedestal sink is a common choice for small baths. But if you need more than one sink, opt for a floating vanity with two sinks instead. You'll get about the same top and storage space, but the openess underneath will make your bath feel bigger.
Tip: Switch out a double vanity with two pedestal sinks and a storage tower for a roomier feel.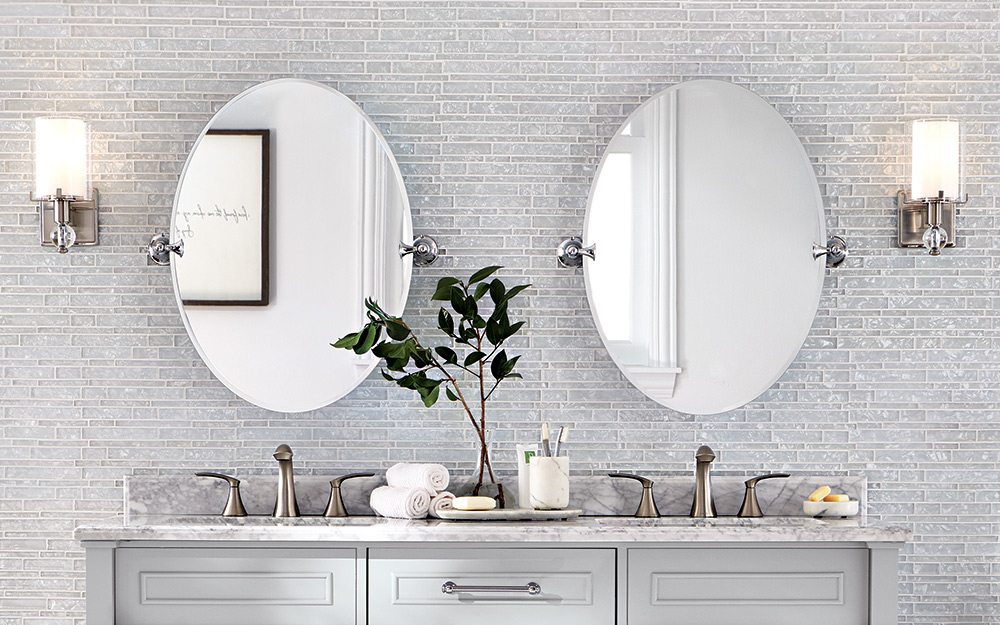 A mirror is an easy way to add the illusion of depth. A mirror reflects light, making your small bath feel brighter and lighter. If possible, hang mirrors facing a window to get the most out of any natural light coming in. Or place mirrors across from one another to give a feeling of infinte space.
Round frames minimalize the square look of a room, so it looks more open.
A big, oversized mirror can make walls "disappear," making the bathroom feel larger than it is.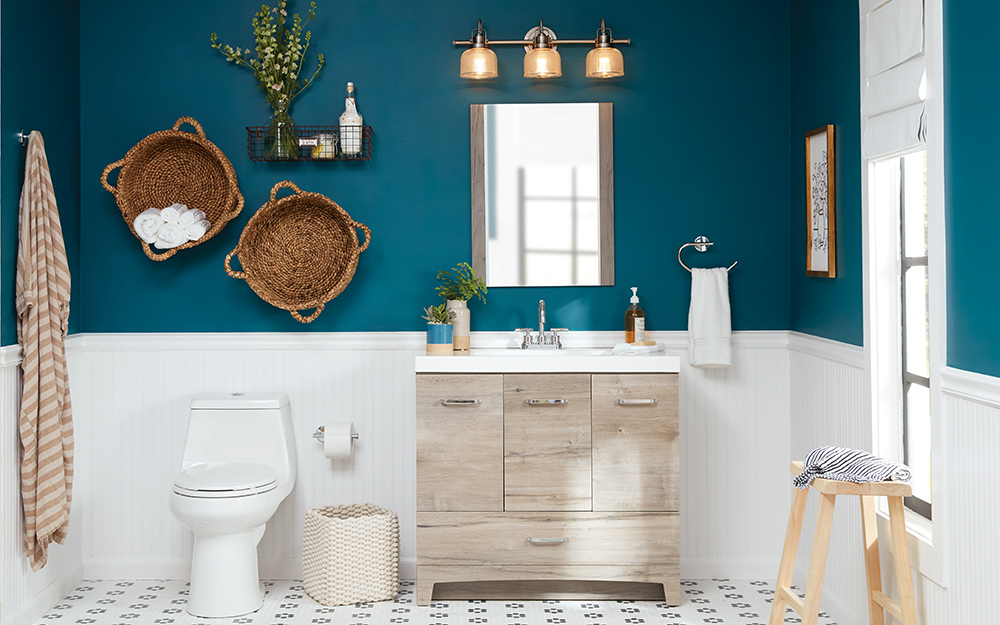 Bold color can be a powerful solution for a tiny bath, especially for an accent wall. Think vibrant blue walls balanced by a crisp white trim and simple fixtures.
White immediately makes any space feel larger and lighter. For a modern small bathroom idea, choose a semi-gloss or gloss finish. Gloss finishes reflect the light and will amp up the brightness level.
A neutral color palette featuring a monochromatic look of beige, brown and white will make a small bath feel soothing rather than cramped.
Tip: For more color ideas, see our guide on how to choose the right color scheme.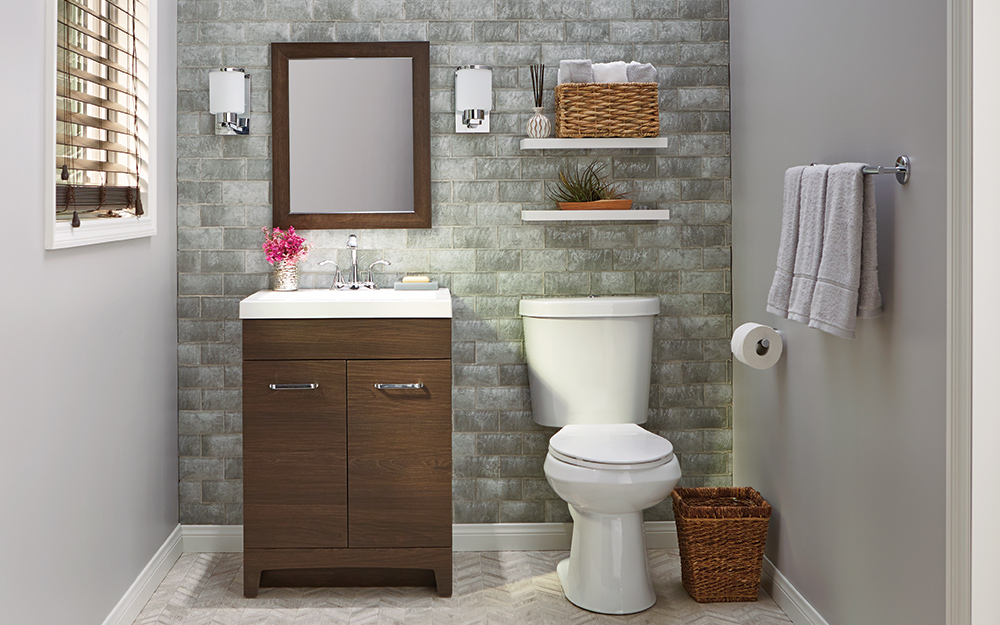 Clutter can quickly make any space feel smaller and less appealing. Put your walls to work with floating shelves, towel bars and hooks. Shelves make use of every inch of your space by storing and organizing everything from toiletries to towels. Hooks are great for hanging towels or robes out of sight on the back of a door.
Tip: Add glass canisters or baskets to display or hide essentials.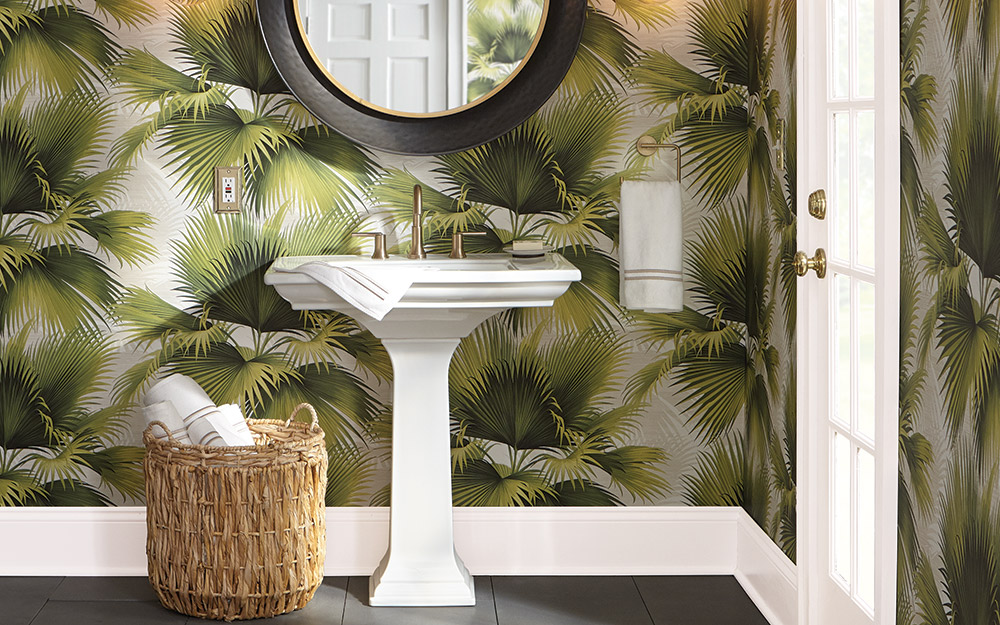 Large, graphic patterns work much better in small spaces than tiny patterns. Small patterns look busy and cluttered to the eye. Keep the look going with fixtures and accessories that accent your wallpaper. For example, bronze-finished faucets look great with luxurious colors and textures. High-end modern, small bathroom ideas such as bold geometric prints work well with an artful glass sink.
Tip: Turn a small bath into a big event with an oversized print.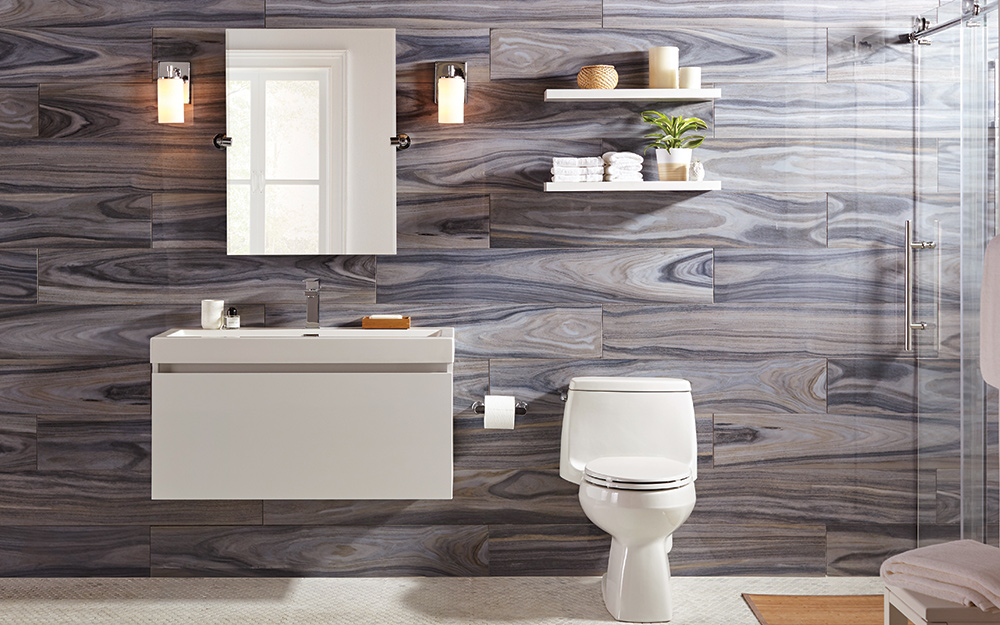 A bathtub or shower can create another "wall" in a bathroom, making it look even smaller. There are several things you can do to give the illusion of more space.
Use a clear glass shower door to remove the "wall" and make the space visually deeper.
Replace a swing-out shower door with a shower curtain to free up floor space.
If you have a freestanding tub, hang the shower curtain at or near the ceiling to give the impression of height.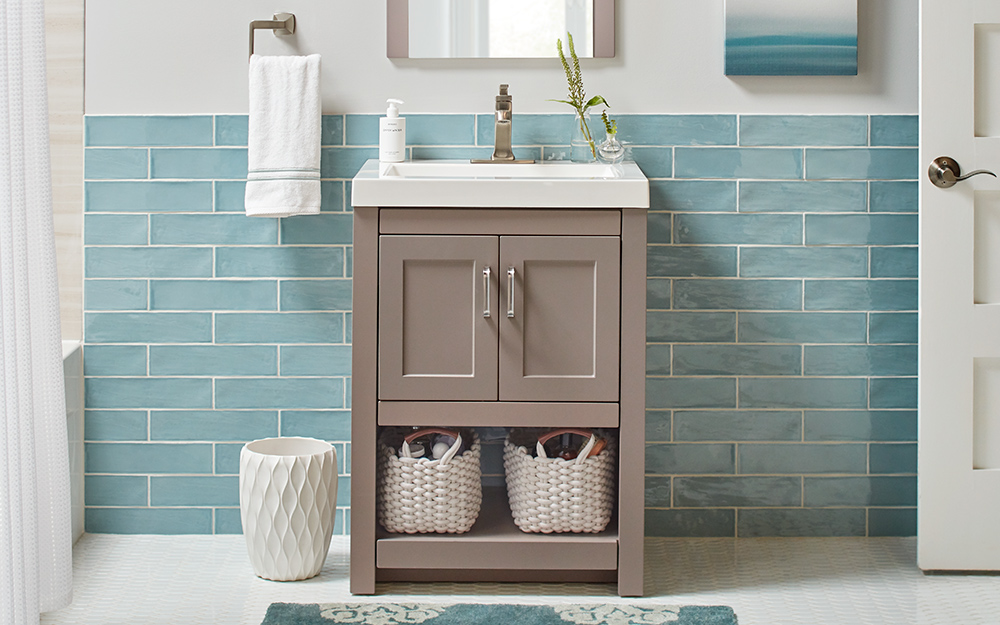 Small bathrooms can quickly feel tunnel-like. Trick the eye with horizontal or vertical lines. Horizontal lines will look like they are "pushing" the adjacent walls apart. Long, vertical lines of tile draw the eye up from the floor, giving the feeling that the ceiling is higher.
Tip: Lay wall or floor tile in a horizontal line to make the room seem wider.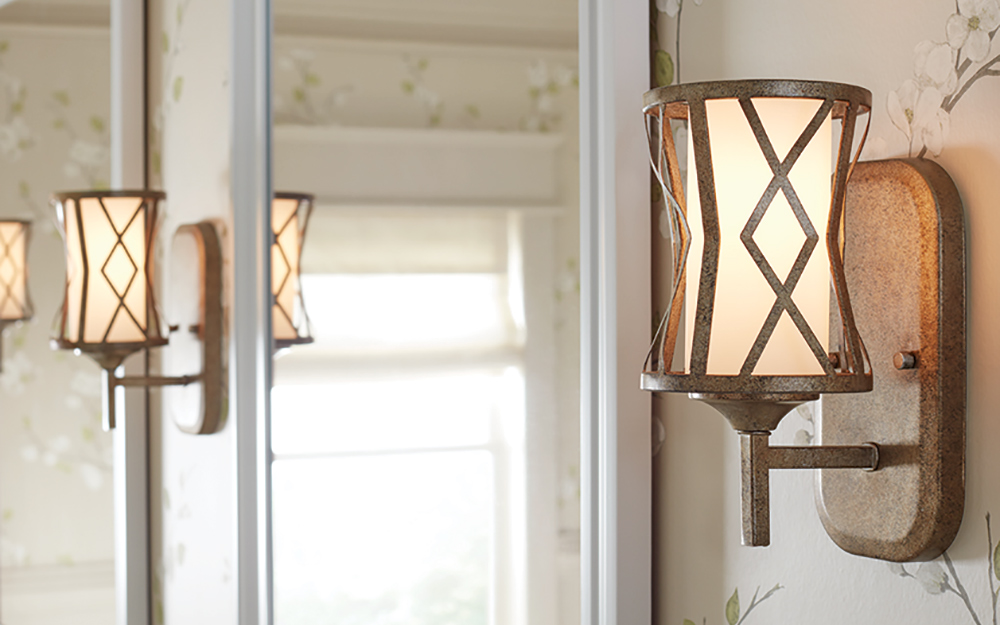 The brighter a space, the more spacious and inviting it can feel. Opt for light fixtures in reflective metals and with opaque shades. Place them near or in front of mirrors or choose lighted mirrors or medicine cabinets.
Add lamps to vanity tops.
Place strip lights under shelves or hanging cabinets to help eliminate shadows.
When updating your bathroom, keep these 8 design ideas in mind. Ready to start your bathroom update? We have options to deliver online orders when and where you need them.