Limited living space doesn't necessarily mean living without a garden when you bring plants into your apartment. You may be bound by space, but you're not limited to just houseplants.
Consider bringing annuals, perennials, herbs, vegetables, succulents and cacti, all in cheery colors, to your balcony or patio while the weather is warm. In winter, many of these plants can be moved indoors.
Keep reading to learn more about patio gardening, container gardening and general apartment gardening tips.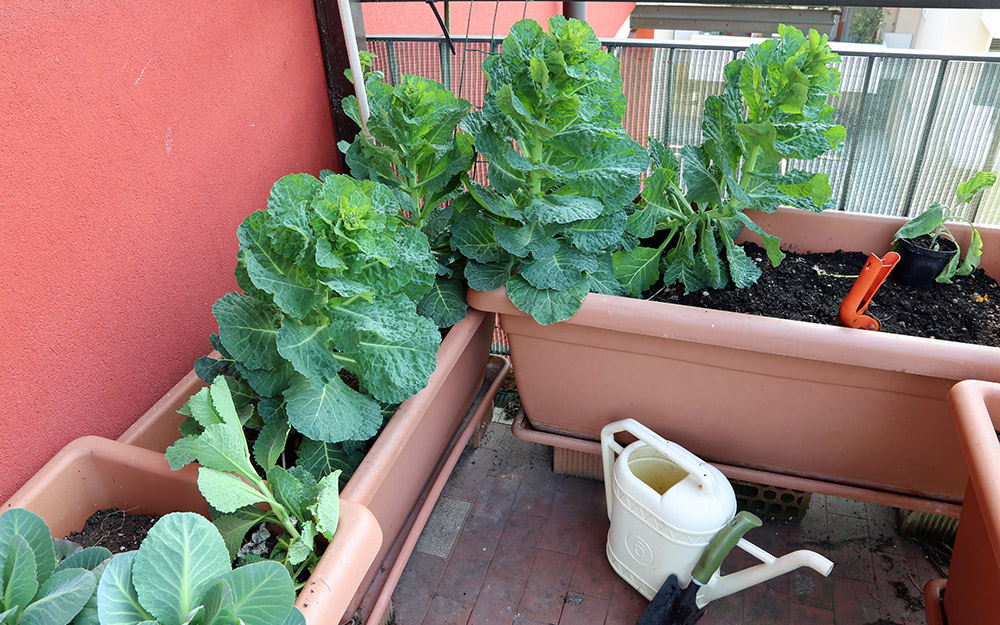 First things first, learn the light in your small space. Observe the light on the patio or balcony and determine how it fits in these categories:
Full sun: six or more hours of direct sun a day.
Partial sun or partial shade: four to six hours of direct sun a day.
Full shade: less than four hours of direct sun a day.
Once you know the light in your space, you can shop for plants. Seek out sun-loving plants, and those that prefer partial or full shade. Houseplants are usually tropicals and can take some heat, although not always direct sun. Vegetables like tomatoes and eggplants need full sun to fruit – and herbs, too – although relief from late afternoon sun in the form of shade is usually welcome.
Tip: Urban environments with lots of asphalt and brick absorb heat. Patios, balconies and rooftops can also get a lot of wind. Plants exposed to these elements will dry out quickly; be prepared to water them frequently. Self-watering containers and drip irrigation may be life savers.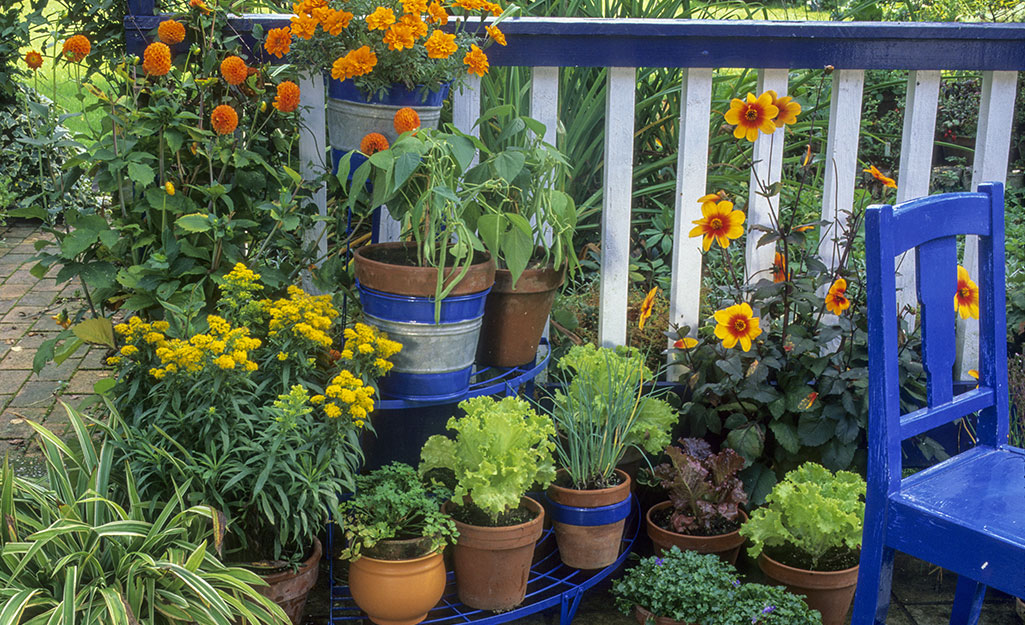 Tropicals and Houseplants. Once you know the site and light requirements, you can select plants. Tropicals like crotons are widely available and can grow outdoors in summer. When the weather cools, they become houseplants until next spring. More tropicals to consider: bromeliads, pothos, sansevieria (snake plant) and rubber plant.
Succulents and Cacti. While the days and nights are warm, succulents will thrive outdoors. When the days get shorter and the nights close to freezing, bring them inside to a sunny room with indirect light. Learn more about growing succulents.
Shrubs. Small shrubs like Proven Winners' "Jazz Hands" loropetalum make fine centerpieces or focal points, especially when placed in a decorative container. Look for plants with a bold foliage and read the plant tag to find the mature size. Likely candidates for balcony gardens are hydrangeas like "Endless Summer," Proven Winners' "Lo and Behold" butterfly bush (buddleia) and dwarf varieties of ninebark, barberry (look for Southern Living Collection's "Orange Rocket") and roses like "Knockout."
Make a statement with glorious perennials like rudbeckia (Black Eyed Susan), perennial sunflower, coreopsis, gaillardia (blanket flower), purple coneflower (echinacea) and more sturdy selections known for drought tolerance and abundant blooms. You can overwinter containers, just look for frost-proof planters and add a layer of mulch to the top. You can also place the container with plants in an unheated garage and check throughout the cold season for adequate moisture.
Vegetables. Of course you can grow vegetables in your apartment garden. Just look for patio-ready vegetable varieties of tomato, pepper and eggplant. The seedlings are easy to transplant into your own containers, but the easiest option is the patio-ready fruiting plant already in a caged container. Selection will vary by location.
Annuals. Whether from seed or seedling, annuals will pump out the color while the weather is warm. Look for favorites like zinnias, coleus, impatiens, petunia and calibrochoa. Pansies are more cold-tolerant than most annuals, able to handle temps as low as 26 degrees Fahrenheit.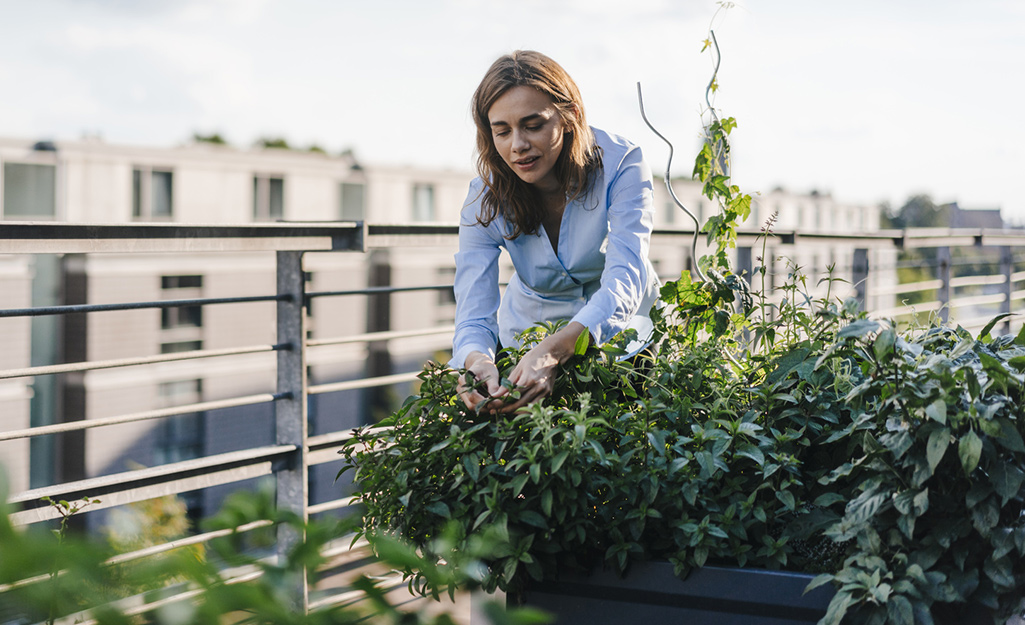 For those lacking in patio space, apartment rooftop gardens are another option. If you live in an apartment complex with several other residents interested in community gardening, creating and nurturing a roof garden is a great way to connect with your neighbors.
Residents can come together to create green roofs and participate in urban farming, usually with container gardens. All it takes to create a vegetable garden, or a vegetable and herb garden, is soil, water, seeds or seedlings, some elbow grease and tender loving care.
Rooftop gardens have different conditions from balcony and patio gardens. Weather is more extreme and plants will need to be protected from intense heat, cold and wind. Drip irrigation is a necessity for rooftop gardens.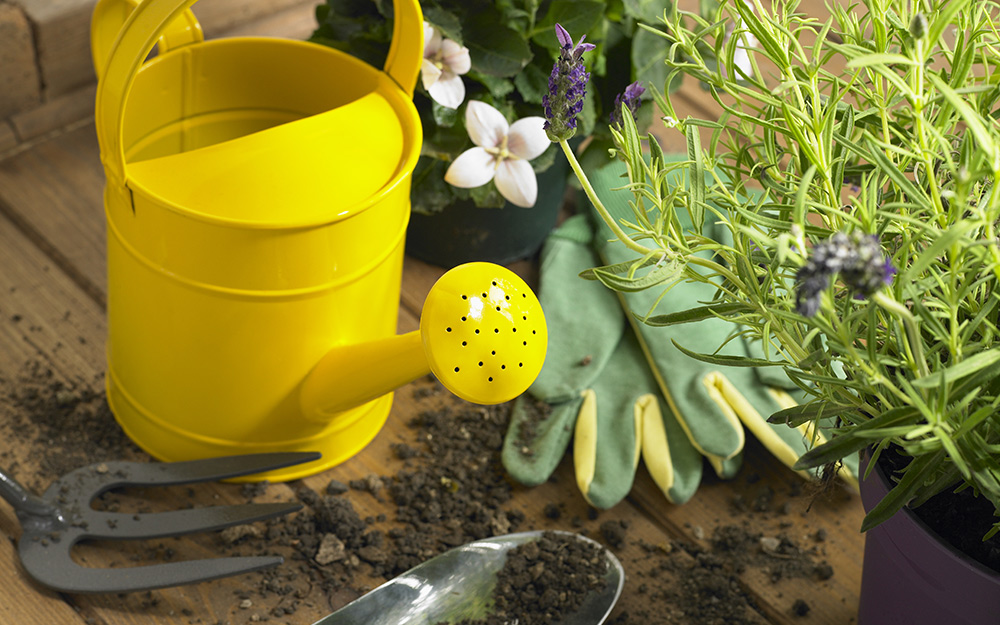 Essential tools and supplies for apartment gardening include gardening gloves, pruners, soil, water, seeds and seedlings, containers for your plants and a watering can or garden hose.
If you live on an upper level, be mindful of the weight of the materials you're carrying to your garden space. Choose lightweight containers (look for self-watering planters if you travel or forget to water), potting mix in small bags and plant caddies to conveniently move heavy planters from outdoors to indoors.
Make the most of limited space with layers of plants, like succulents and shrubs, even edibles. Learn more about making the most of your small-space apartment garden.
Whether you're looking for the right tools, seedlings or garden soil, The Home Depot delivers. Check out online ordering.