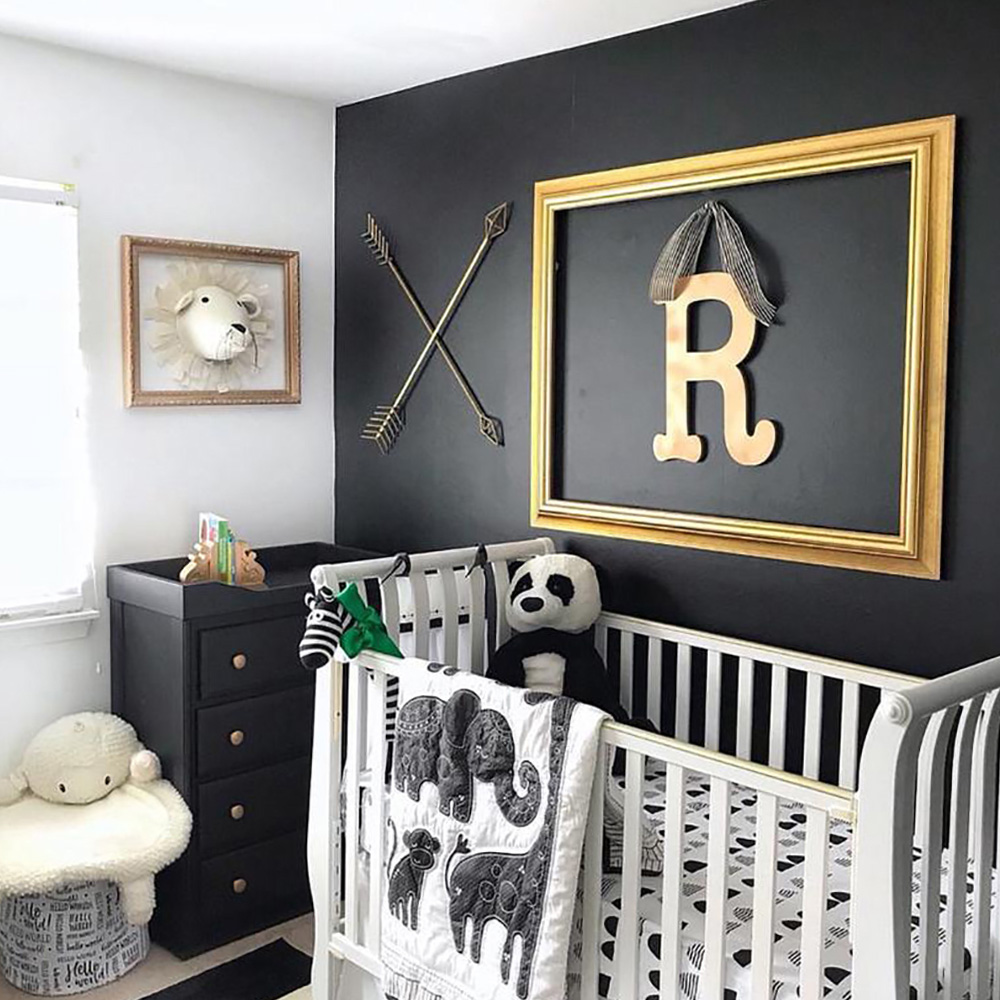 Once you find out a little one is on his way, it's time to start looking for baby boy nursery ideas. Decorating or updating a room with paint and wallpaper and shopping for baby furniture and cute accessories like stuffed animals can be a lot of fun. With a little creativity, your decor can be budget-friendly, too. Start collecting baby boy nursery ideas ahead of time, so you can have the room ready when he arrives. 
Neutral Color Schemes for Baby Boy Nurseries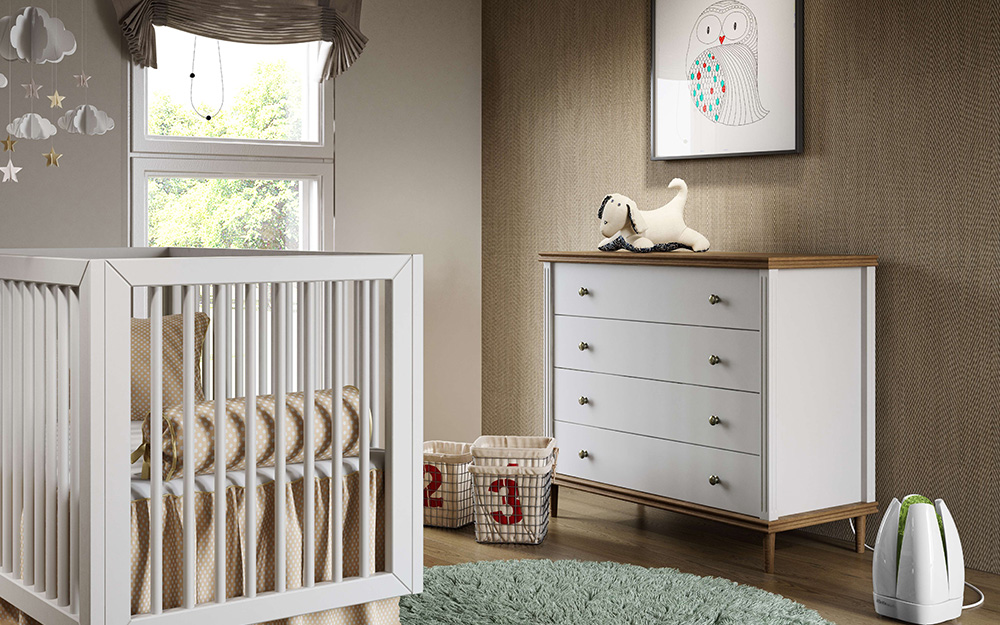 Have fun with playful baby boy nursery ideas or opt for a decorating scheme that's easy to update as your child grows. Consider neutral colors like white, cream, beige, taupe and pale gray, so you can switch accessories, area rugs and curtains by the time your child is ready for school. Peel-and-stick wallpapers with a neutral background or design are also easy to replace.
Traditional Blue and White Color Schemes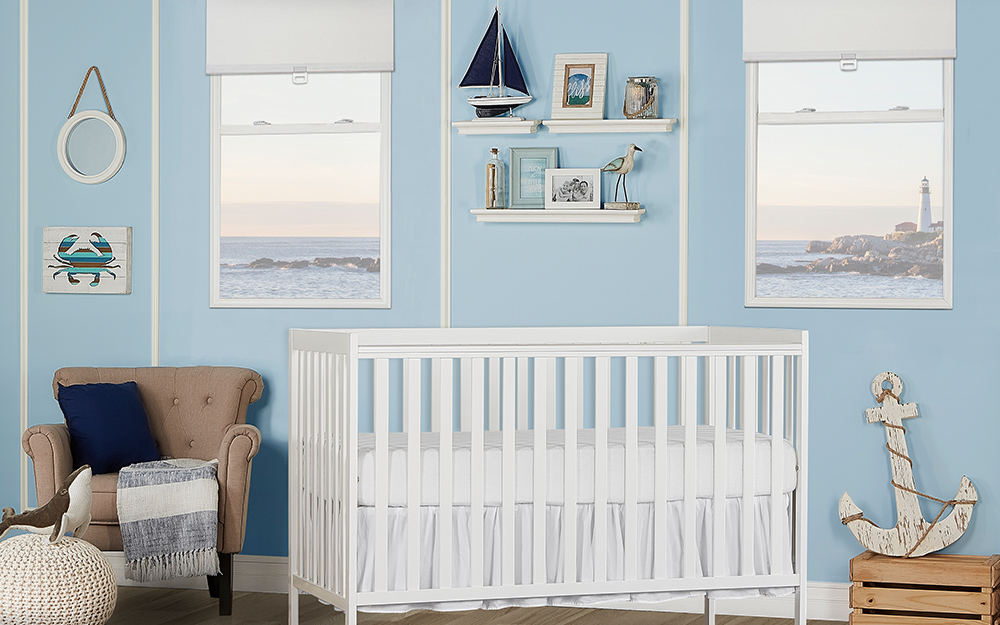 Traditional baby boy nursery ideas call for a blue and white color scheme and a white or light wood crib. Pale blue and white are always in style for crib bedding, paint and wallpaper. Consider a dark blue wall, too, with crisp, white stripes and curtains. Add pops of red or orange or other bright colors with a throw pillow for a rocker or a padded cover for a changing table. 
Animal Themes for Boy Nurseries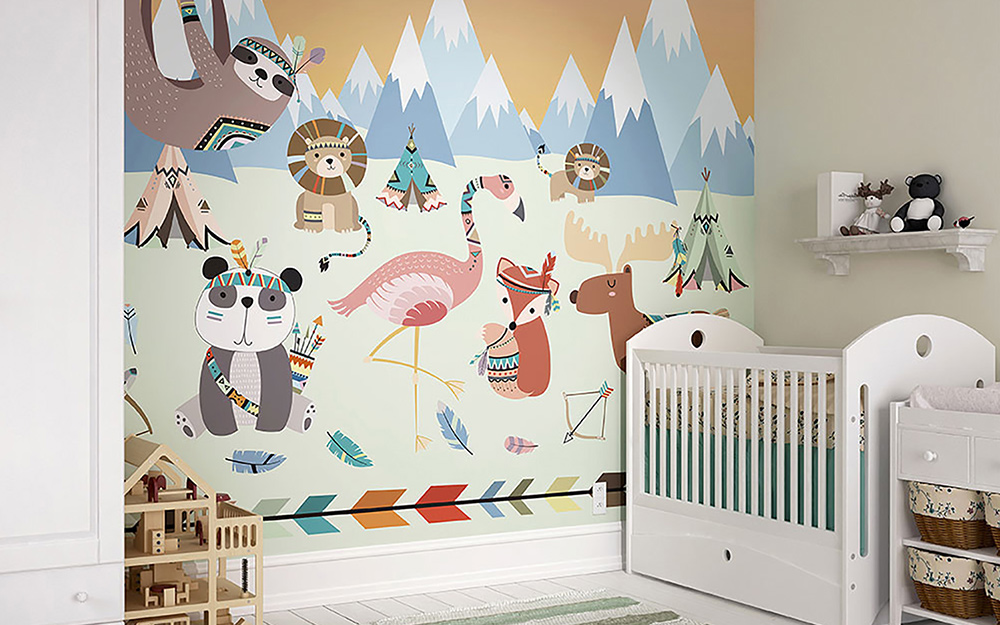 Encourage a love for animals when you use a zoo theme or a Native American theme with animals for your baby boy nursery ideas. Leave the lid of a toy box open so a stuffed fox or lion can peek out (make sure the lid has a safety feature that won't allow it to shut accidentally) and stand a stuffed bear in one corner. Use a wall mural on one wall, or stencil animals on a dresser or chest. 
Gray and White Nursery Themes for Boys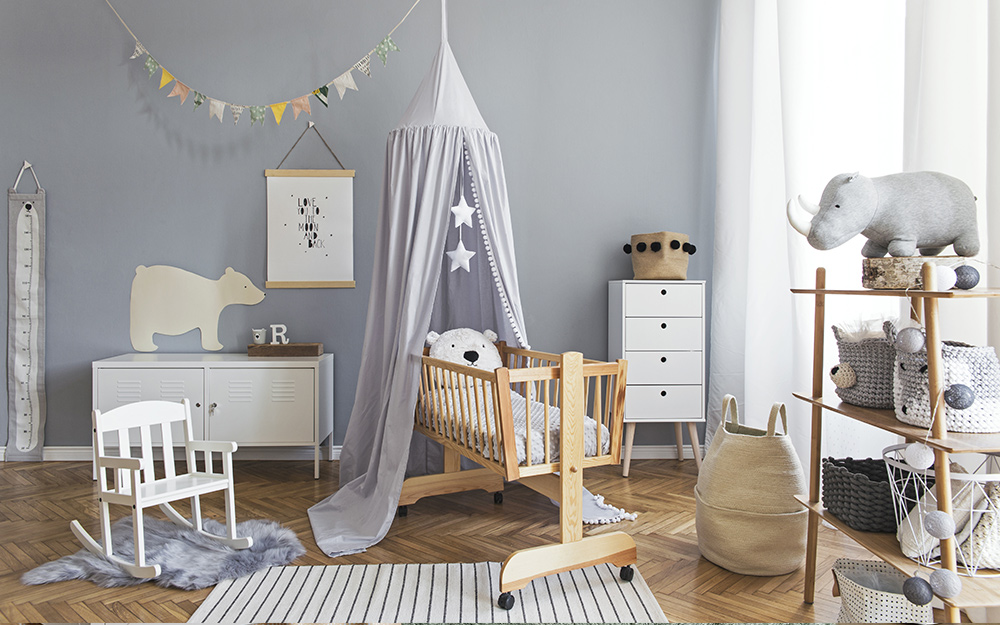 Gray and white nurseries are trending, and because these colors are neutrals, they're easy to use when the room transitions from a nursery to an older child's room. For an explorer's theme, paint a wall pale gray and hang matching canopy over a light wood crib. Add stuffed animals and use baskets that look like animals to hold wipes, diapers and changing table necessities. A flag banner brings in a few accent colors.
Adventure Themes for Baby Boy Nurseries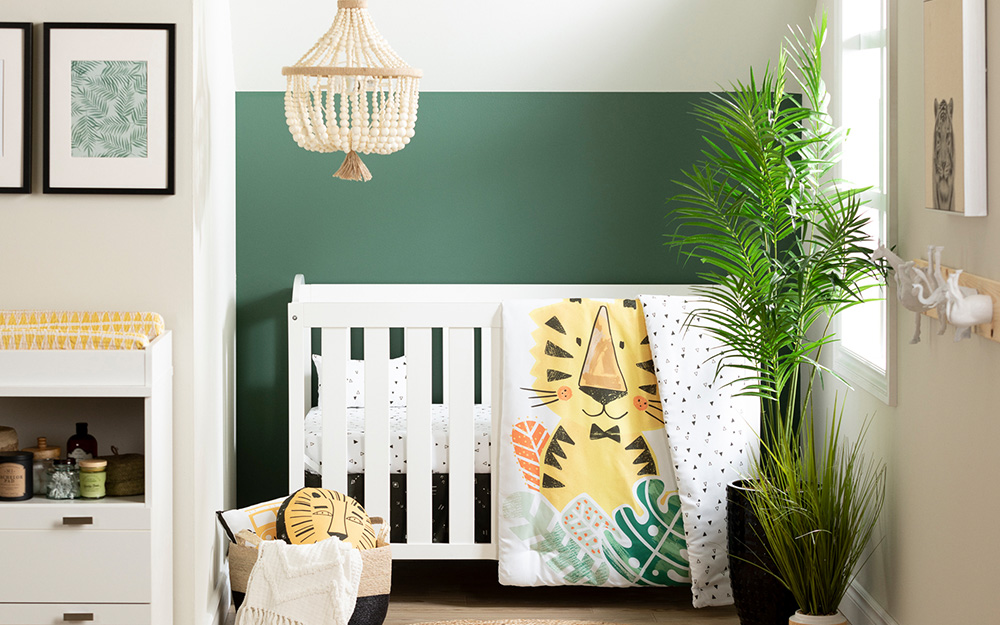 Be adventuresome and use jungle decor for a boy nursery theme. Hang a chandelier with strands of wooden beads and wall hooks that look like animal heads. Toss a jute rug on the floor. Paint one wall deep green, use crib bedding featuring a tiger or other jungle beast and add an artificial, jungle-like plant in one corner of the room.
Train Themes for Boy Nurseries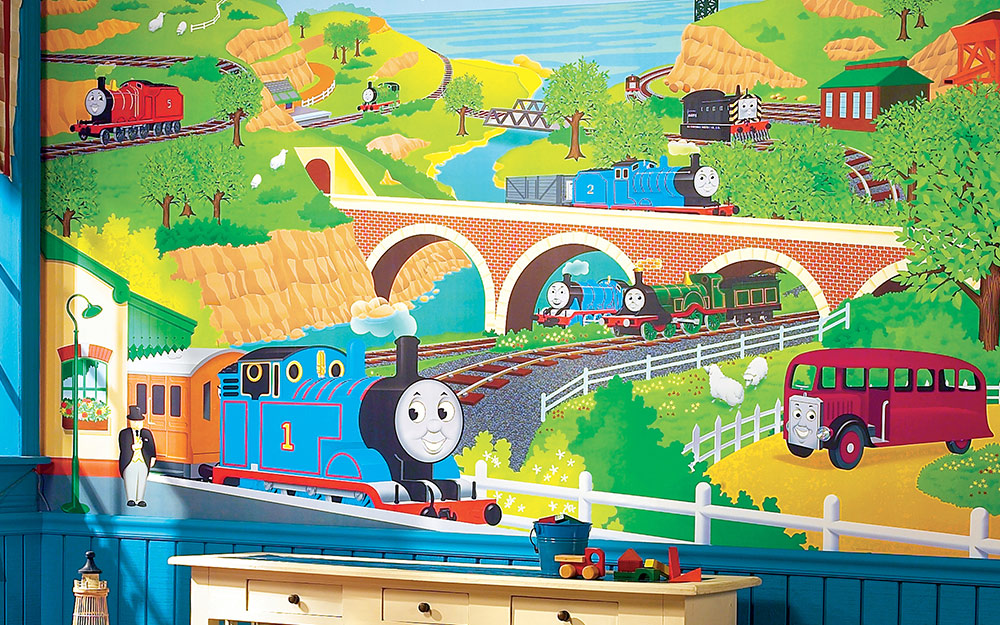 Get onboard with trains when you're looking for baby boy nursery ideas. Let boxcars, engines and cabooses chug across blankets and other crib bedding and line shelves with baby-safe toy trains and age-appropriate books. Hang a railroad crossing sign and a conductor's hat on the door. 
Nautical Nursery Themes for Boys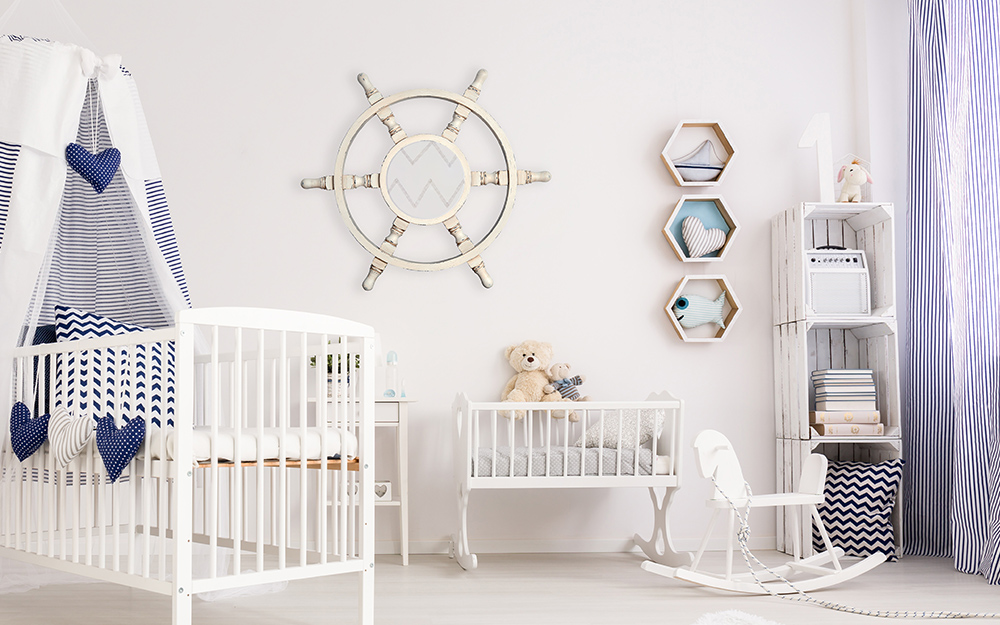 Baby boy room ideas often focus on the ocean, home to whales, ships and sailors. Apply under-the-sea wall decals of fish, anchors and seahorses on the wall and paint a few strings of bubbles. Keep stories about the sea on a bookcase that looks like a rowboat standing on end. Fill a toy box with stuffed sea-creatures like crabs, dolphins and turtles. 
Transportation Themes for Boys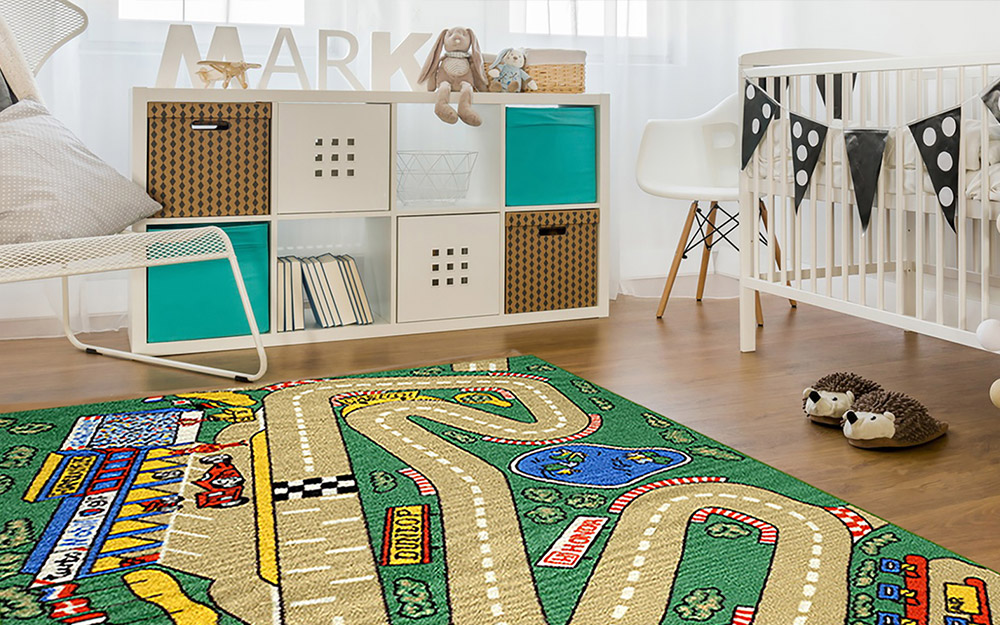 Consider a nursery decorated with wallpaper showing cars, buses and trucks when you're making a list of baby boy room ideas. For a little twist on this nursery design idea, try decals or wallpaper featuring tractors, race cars, limos, bulldozers, cranes and other construction vehicles. Hang a pretend "stop" sign on one wall or put a toy traffic light on the dresser until baby is old enough to play with it safely. 
Outer Space Baby Boy Nursery Ideas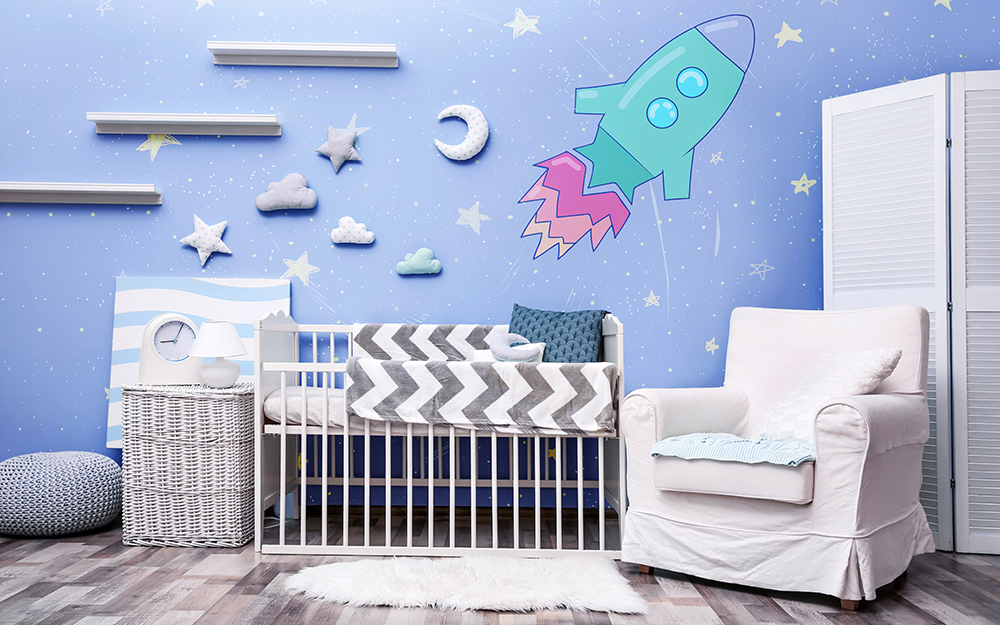 Blast off with baby nursery ideas that focus on outer space. Look for wall decals, wall art or wallpaper featuring stars, planets, moons and rockets and other spacecraft. Paint one wall a dark color and add a painted sun with colorful planets in orbit around it. Don't forget a sign that reads, "love you to the moon and back" and a stuffed astronaut or two for the toy box. 
Outdoor and Mountain Ideas for Boy Nurseries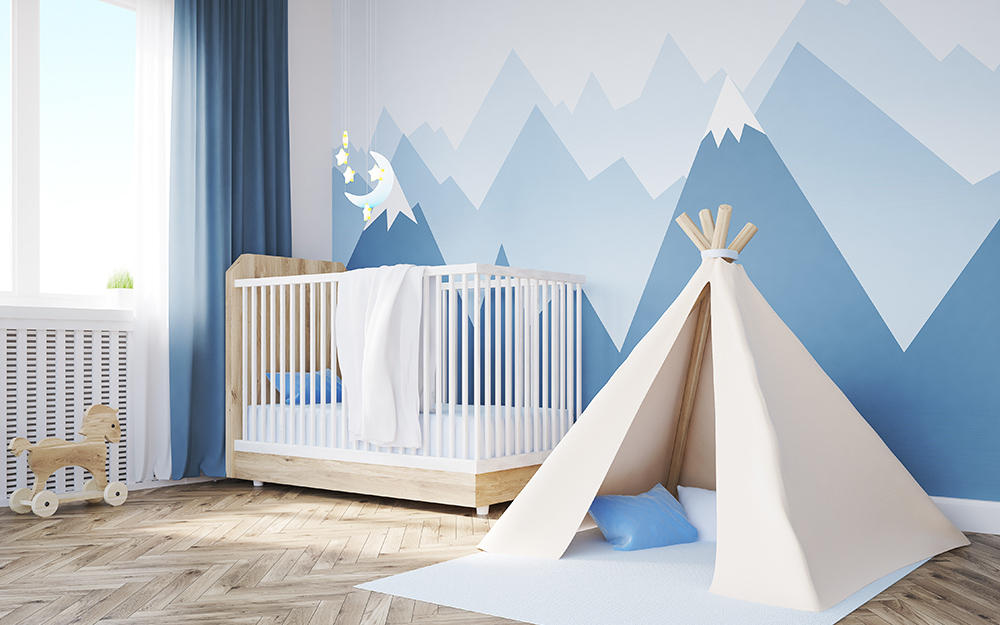 An outdoor theme is another fun baby boy nursery idea. Use wallpaper or a mural showing blue mountains topped with white "snow" and add a small, white tent your child can play in when he's older. Hang a mobile with a moon and stars to represent the outdoors at night.
Travel Themes for Baby Boys
Fill a shelf under a changing table with books about places to go and things to do. Use decals about fun ways to travel. As your child grows up and begins to travel with you, bring home some special souvenirs to update the room with postcards and collectibles. When he's old enough, let him put push pins into a wall map to show where he's been.
Storybook Themes for a Baby Boy Nursery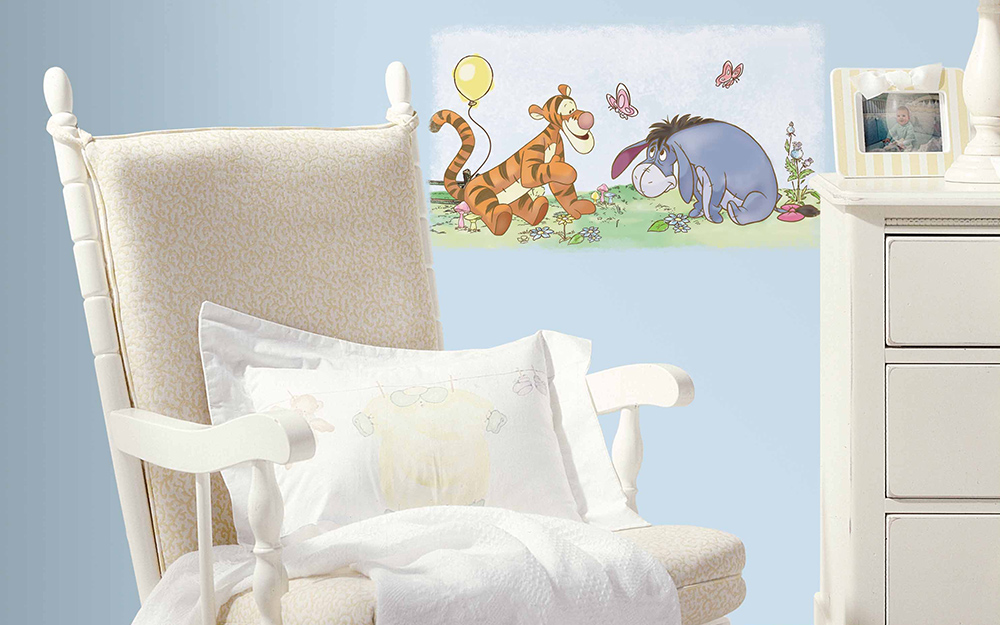 Give your baby boy nursery a storybook theme by including popular characters from children's books. Look for toys, crib bedding, prints to hang on the wall and novelty lamps featuring these characters and their adventures. Paint the nursery walls sky-blue or another complimentary color and choose a white rocking chair and dresser. 
Baby Boy Nursery Ideas and Sports Themes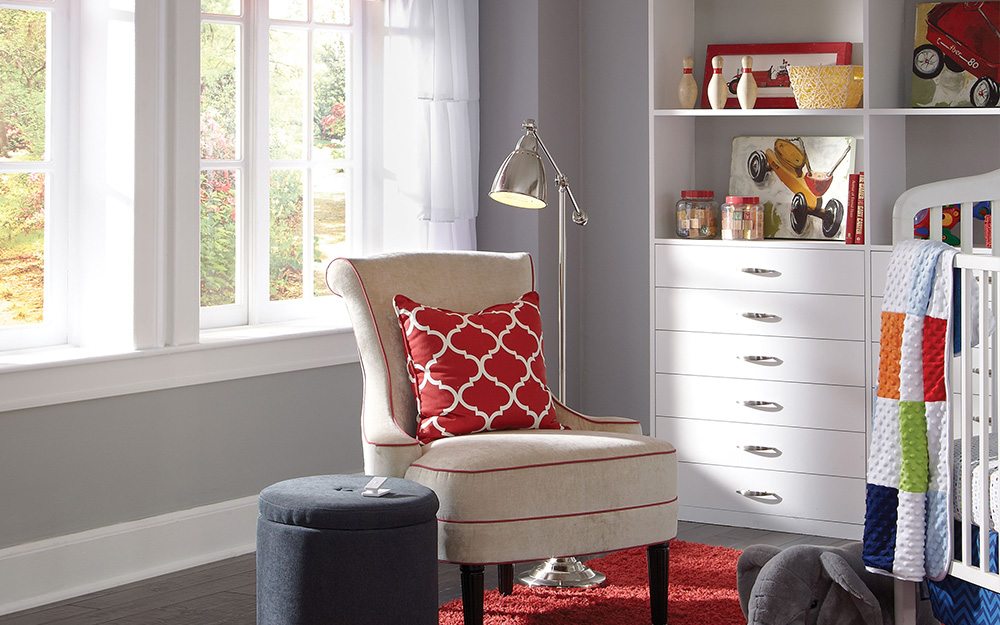 For a baby who's destined to be an all-star, choose a sports-themed nursery. Try pale gray walls, white furniture and bold colors with decals for football, baseball and other popular sports. If you have a favorite team, use the team's colors. Complete the nursery design with a novelty sports-themed lamp on a dresser.
Cowboy Nursery Ideas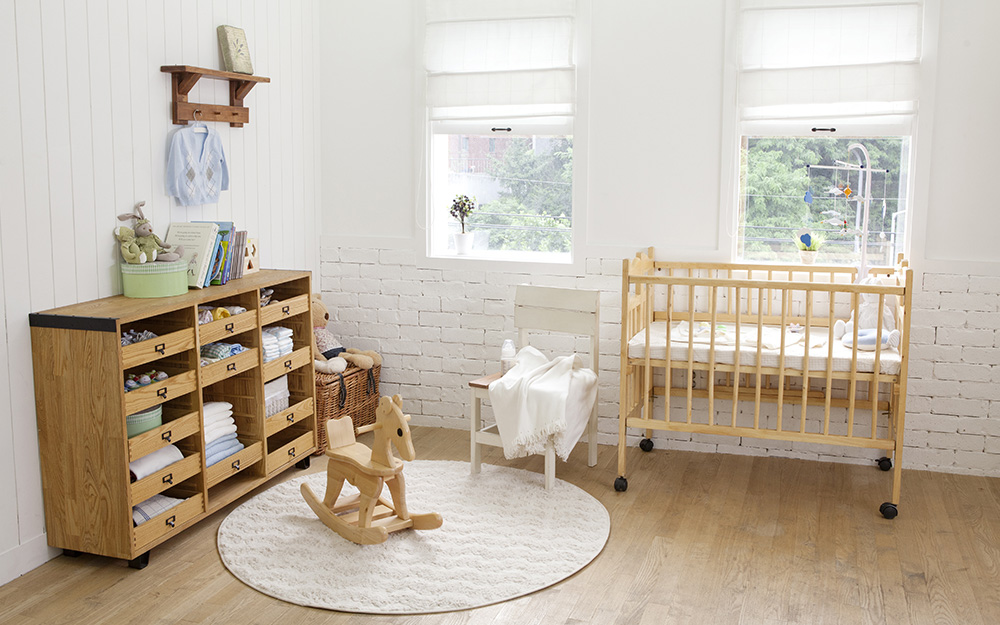 With simple baby boy nursery ideas, you can go in many different directions. Stay with neutral walls, a light wood crib, dresser and floor and add a neutral area rub. Then decorate a cowboy's room with accessories in southwestern colors, a rocking horse and a cowboy hat hung on the door. Corral a stick horse in one corner until your baby is big enough to get up and gallop away. 
Baby Boy Nursery Ideas with Bold Colors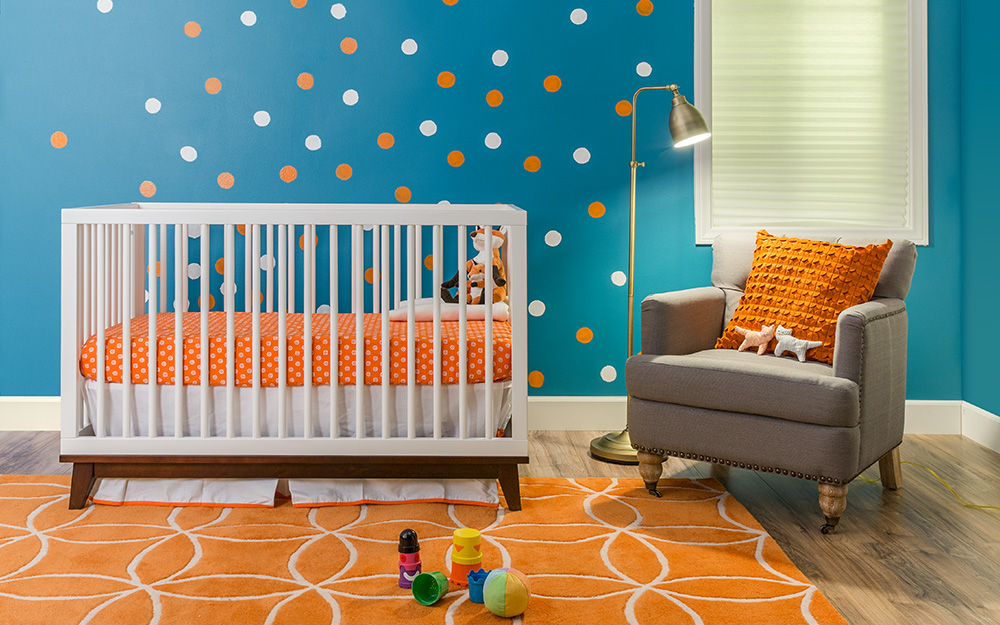 For a boy's nursery with a modern feel, use a bright blue wallpaper studded with white and orange polka dots. Pick up the orange color in an area rug with a geometric design, crib bedding and a pillow on a neutral-colored chair. Keep the window treatments simple, with a white or off-white shade. 
Explore More on homedepot.com