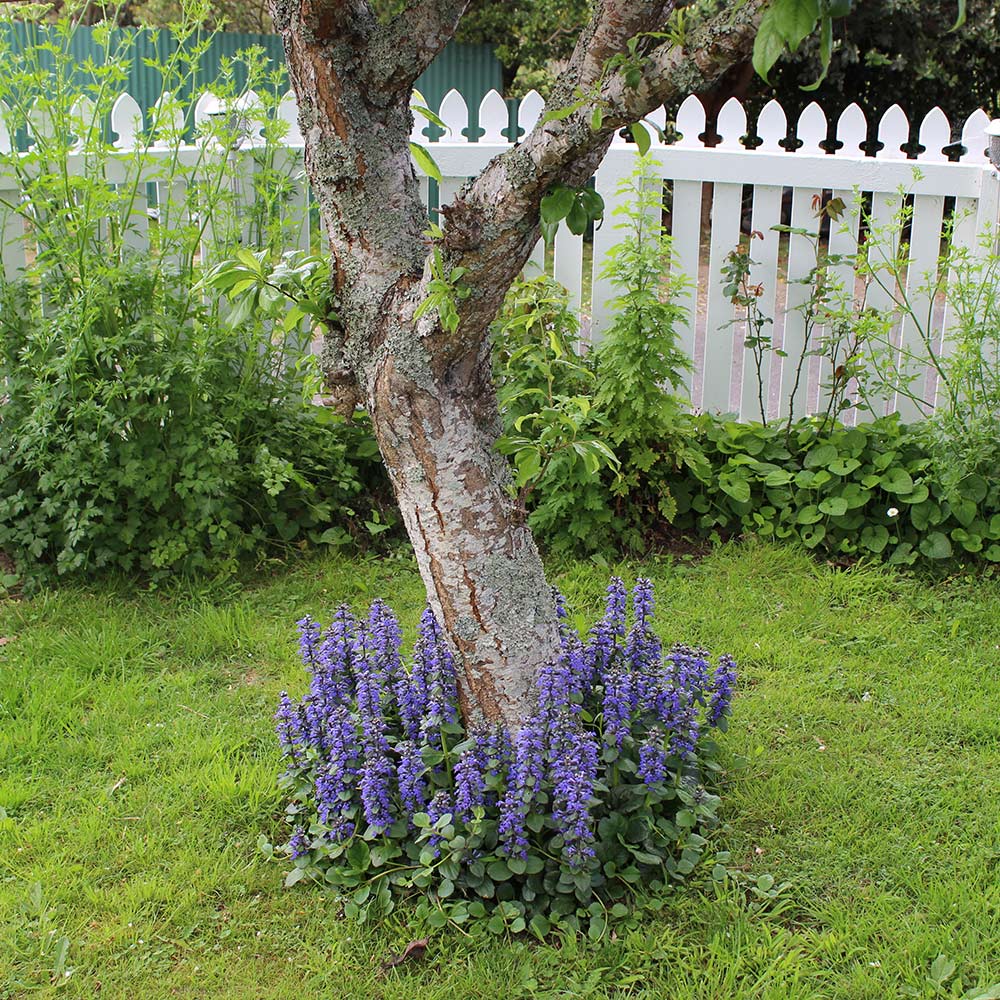 Bring life to areas that receive partial shade in the garden with groundcover plants that feature variegated leaves, colorful blossoms or both. Even when the ground is riddled with tree roots, you can usually find planting pockets for groundcovers.
To get groundcovers started, dig planting holes twice the size of the plants' roots, fill partially with compost, add the plant and then backfill with more compost. Water plants thoroughly before and after planting. Add mulch between plants to retain moisture and prevent weeds.
Lamium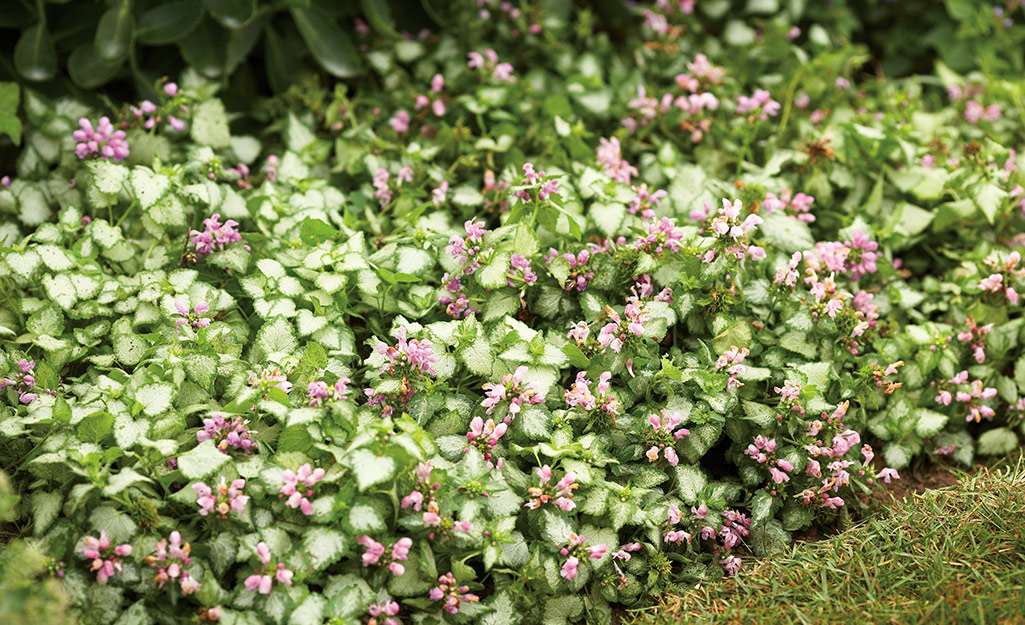 Lamium, also known as dead nettle, is an attractive relative of mint. It thrives in partially shaded areas. Lamium produces delicate flower spikes and variegated leaves. It tolerates sun or shade. It is also deer resistant and heat or drought tolerant once established. Lamium is a perennial in zones 4 through 8. 
Lamium goes perfectly between foundation shrubs or shady sidewalks. 
'White Nancy' variations produce white leaves with green edges and white flowers.
'Beacon Silver' has mostly silver leaves with pink blooms.
'Shell Pink' features pink blooms with silver stripes down the center of each leaf.
Bugleweed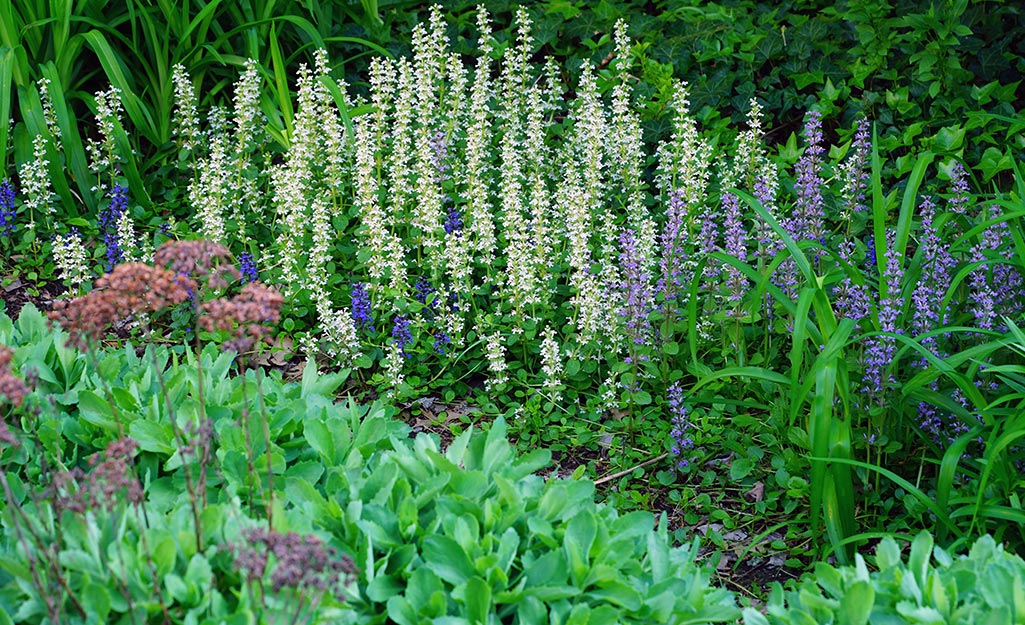 Bugleweed (ajuga) is best known for its spikes of blue flowers in spring. Their colors are appealing to bees and other pollinators. It's not just the flowers that make bugleweed a standout choice. The Burgundy Glow variation has variegated leaves that change their color with the seasons, becoming redder in cool weather. Black Scallop has very dark glossy leaves. 
Bugleweed can become invasive when grown in rich soil in a sunny site. Shade and cold winters will slow its growth, making it easier to manage. To prevent reseeding, use a weed trimmer to cut off the bloom spikes soon after the flowers fade. Do this before mature seeds have time to develop. Bugleweed is hardy in zones 4 to 8. 
Dwarf Periwinkle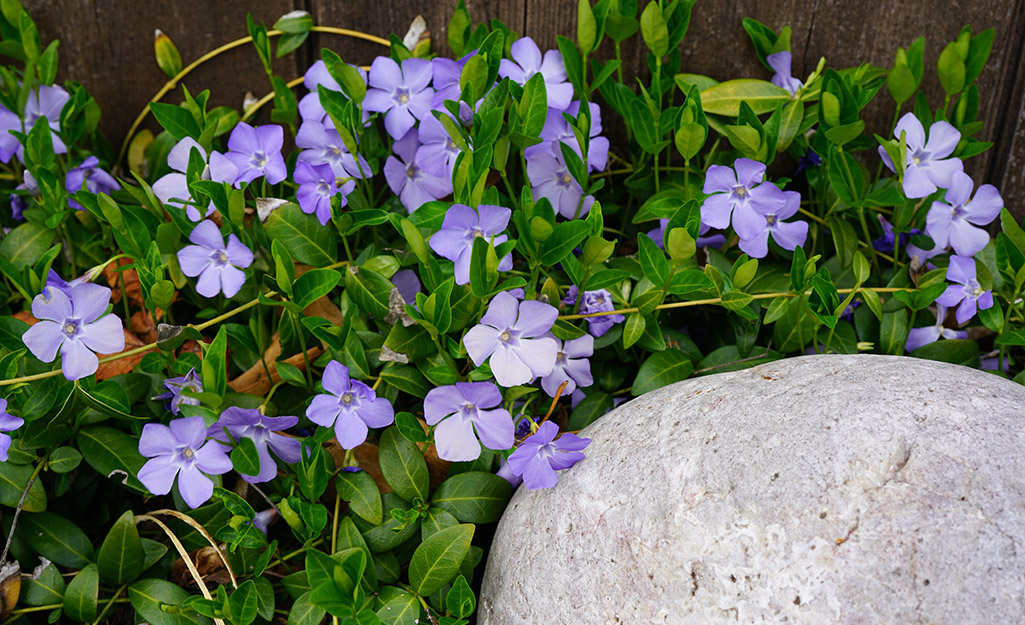 Vinca minor, also known as dwarf periwinkle, covers the ground with starry purple blossoms in spring. Vinca minor with variegated leaves are less aggressive spreaders than those with glossy green leaves. Dwarf periwinkle is one of the few groundcovers that will grow near evergreen trees. They can also help stabilize sloping sites.
Foamflower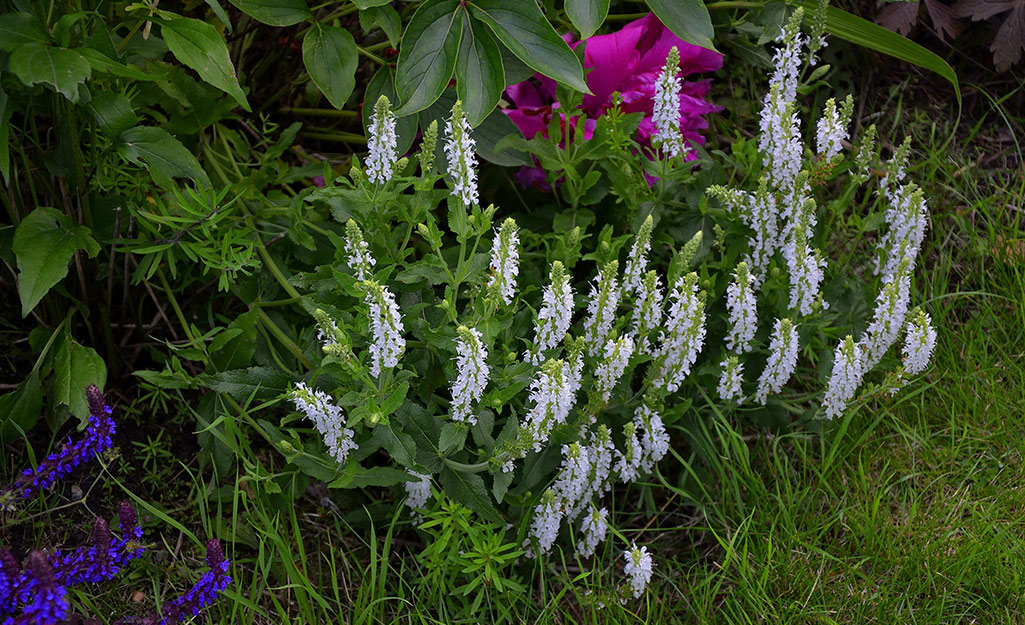 Foamflower, also known as tiarella, is a native perennial. It grows into drifts of green leaves accented with bronze, topped by bottle-brush flowers in spring. Foamflower forms green carpets when planted in moist areas or near water features. The Running Tapestry variety spreads quickly in moist soil. It has green leaves marked with red and white flowers in spring
Violets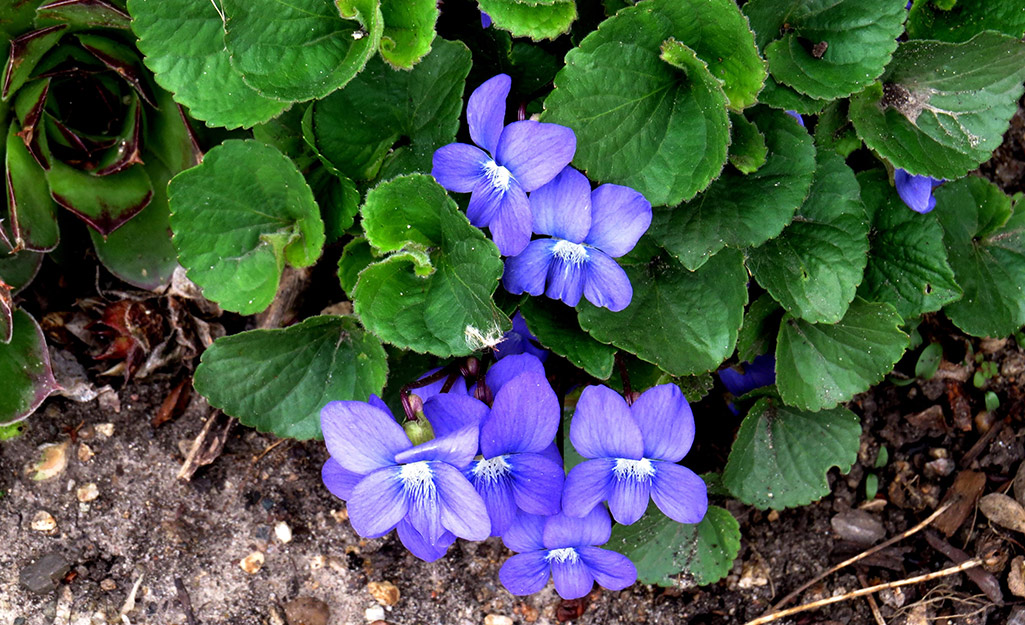 Violets, sometimes thought of as weeds in lawns, are a valuable addition to your shade garden. When grown in clumps, they produce flowers for weeks. They also serve as host plants for bright orange fritillary butterfly larvae. If you have violets in your garden, consider moving them to a shady spot and let them grow undisturbed.
Pachysandra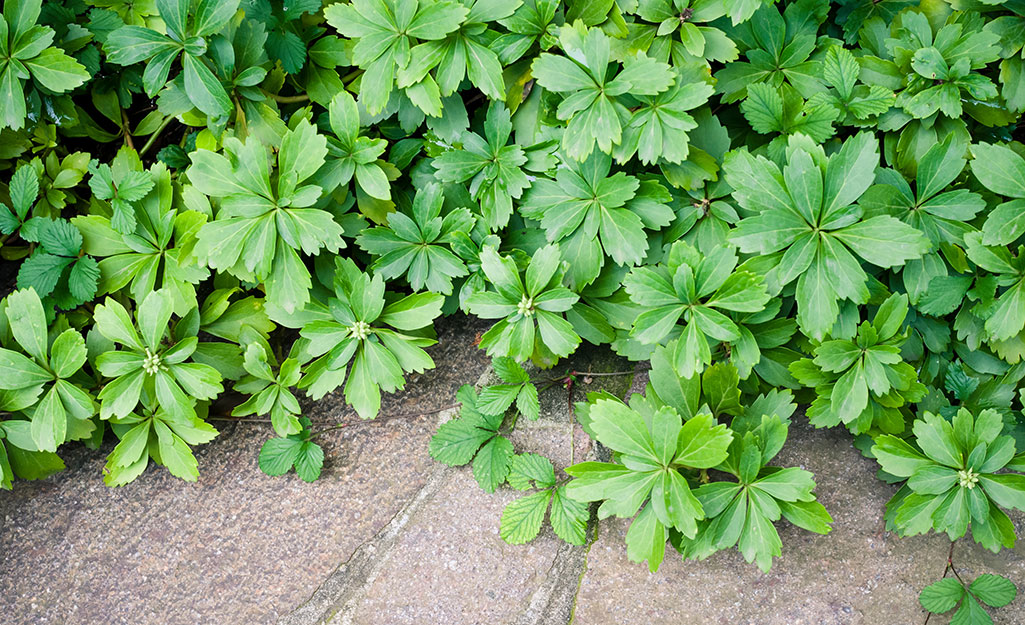 Pachysandra are a great choice for shady gardens. This evergreen plant produces small, white fragrant flowers in the spring. They do best with moist soil and rich organic soil amendments. They have a spread of 18 inches and can grow about eight inches tall. This low-maintenance plant is deer- and rabbit resistant. 
Creeping Phlox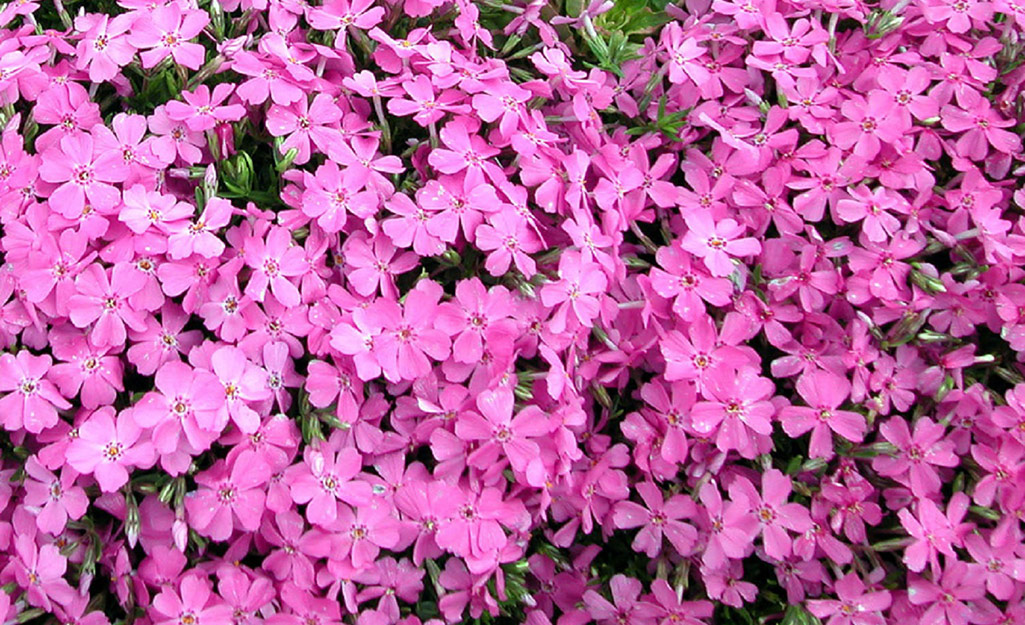 Creeping phlox is one of the most colorful groundcover plants. It produces fragrant five-petal flowers in blue, purple, pink, red or white. Their flowers often attract butterflies and other pollinators. Even after blooms have died, it features a bright green color. It's best to plant creeping phlox in the spring after the frost has passed. It has a moderate growth rate and can grow up to two feet wide. 
Mondo Grass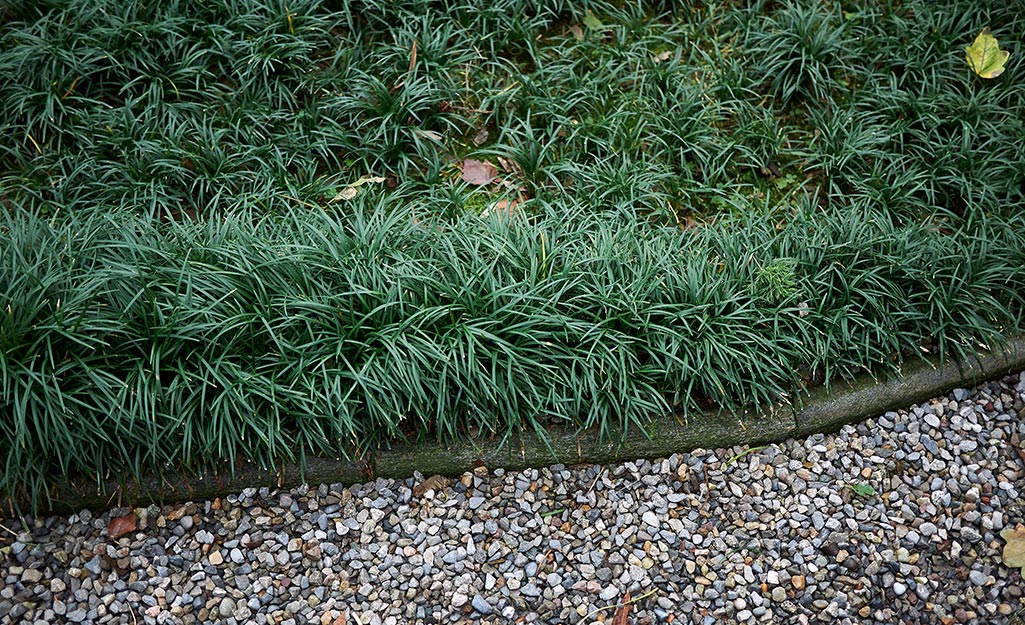 Mondo grass, or monkey grass, is a slow-growing perennial. Its evergreen leaves can help to brighten areas. It will produce mauve bell-like flowers in early summer. Bright blue to black pea-like berries will appear in autumn. It can grow in almost any lighting conditions. It requires adequate moisture and well-draining soil.
How to Plant Groundcover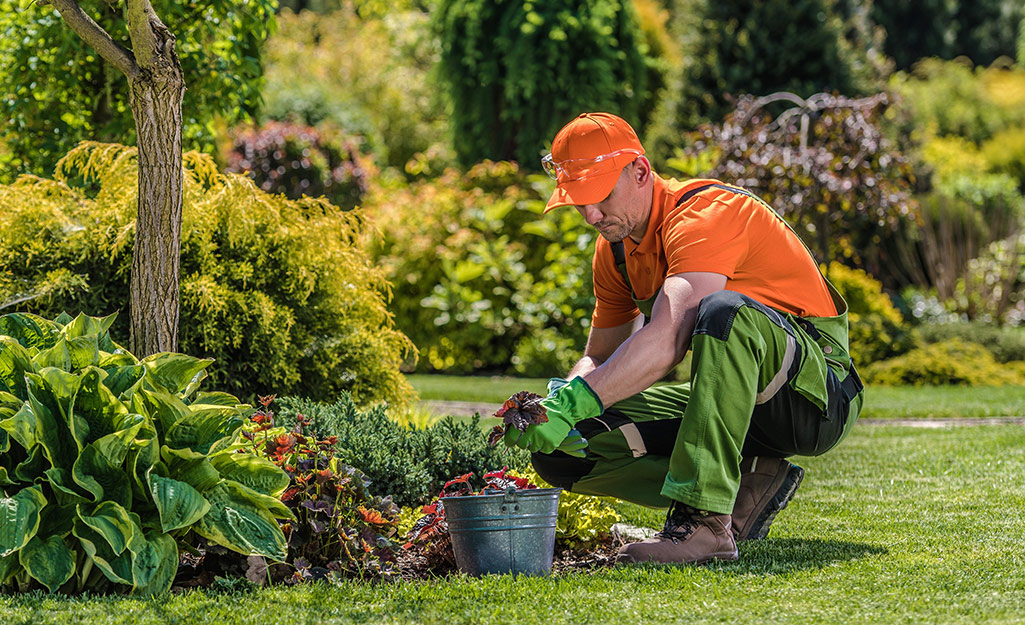 Prepare the soil. Groundcover plants are generally low-maintenance, but most types appreciate organic soil amendments added to the planting bed. Begin with a soil test to give your plants the best start. Amend your soil according to the test recommendations.
Space plants properly to get the solid mat effect that will suppress weeds and prevent erosion. Plance low-growing plants 12 inches apart. Slow growers should be 18 to 24 inches apart.
Keep your new groundcover plantings watered and mulched until they're established.
Tip: Test more than one type of groundcover when starting your garden. One species may like your shady spot more than another.
More Bright Groundcover Varieties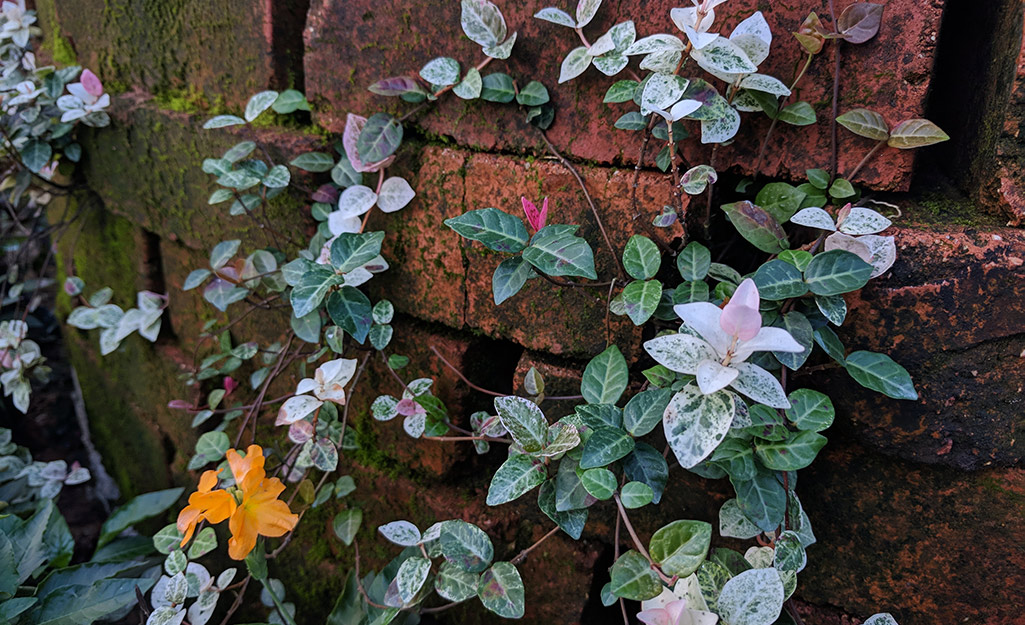 Along with the options listed above, there are many other types of groundcover plants to add to your garden. Look for some of these popular choices:
Asiatic jasmine
Cast iron plant
Ferns, natives like Autumn and Christmas
Mondo grass
Phlox subulata
Sweet woodruff
Groundcover plants are a great addition to shaded areas in your garden. With many varieties to choose from, you're sure to find one that brings color and interest to your landscape. Whether you need the planters, seeds or potting soil, get the supplies you need to grow a beautiful garden. The Home Depot delivers online orders when and where you need them.
Explore More on homedepot.com