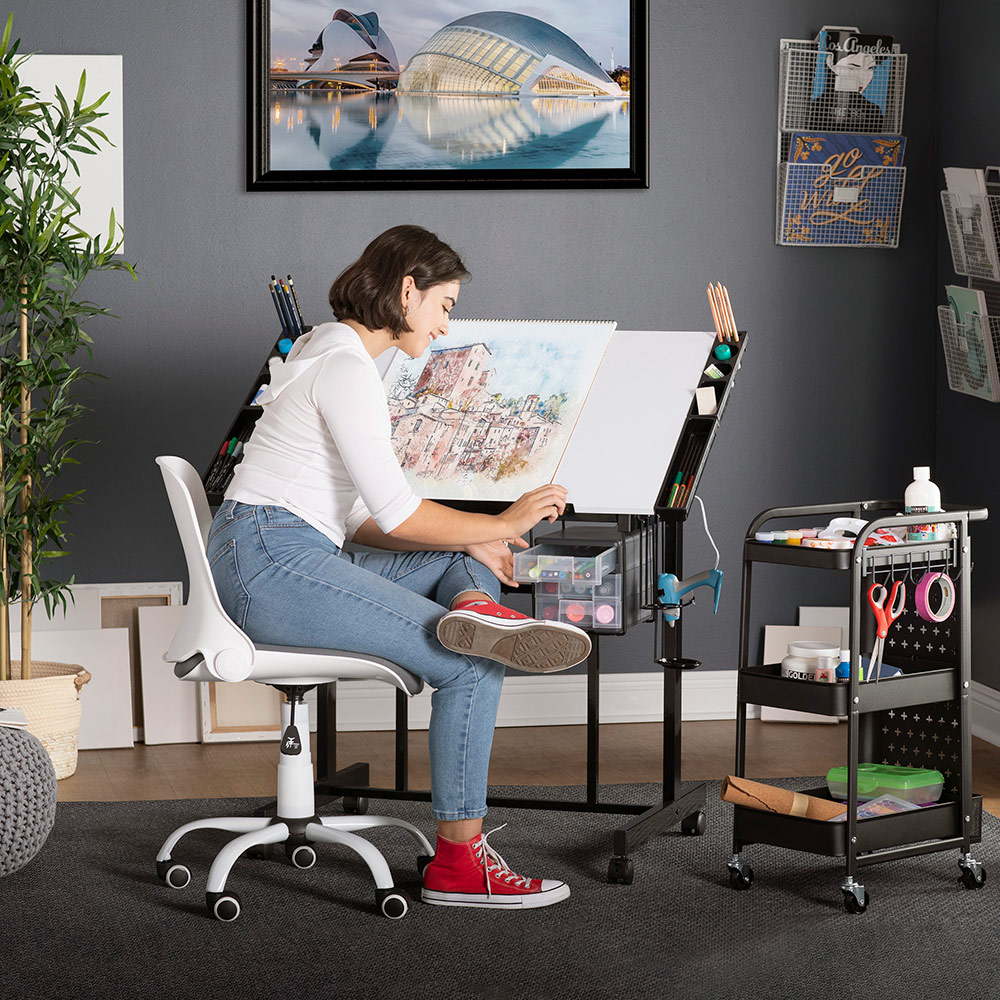 Whether you're a weekend beader or serious quilter, the creative adventure is one in the same. When inspiration hits, you may pull out supplies and set up shop just about anywhere: in the garage, basement, repurposed bedroom or on the kitchen island. 
In a perfect world, having a dedicated craft space is ideal. However, an empty corner or home office fitted with storage can be just as rewarding. The keys to making a craft room work boil down to organization and the right furnishings. Here are multiple craft room ideas to get every crafter's creative juices flowing.
Create a Dedicated Space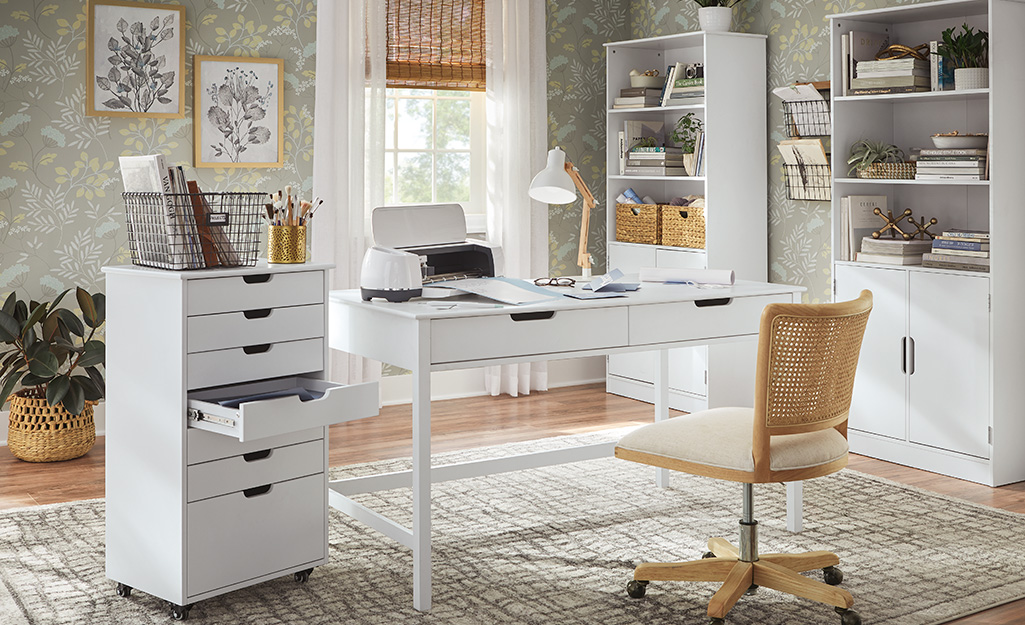 Like any good DIY project, putting together the perfect craft room requires a good amount of planning and the right materials. It's important to design a space that makes sense of how you work.
If you're a quilter or seamstress, a large flat surface for measuring and cutting cloth is a priority. Painters need space for their art easel.  An organized wrapping station is the dream of those who see gift wrapping as an art. Let your creative passions be the guide to setting up a functional crafting area.
Work It In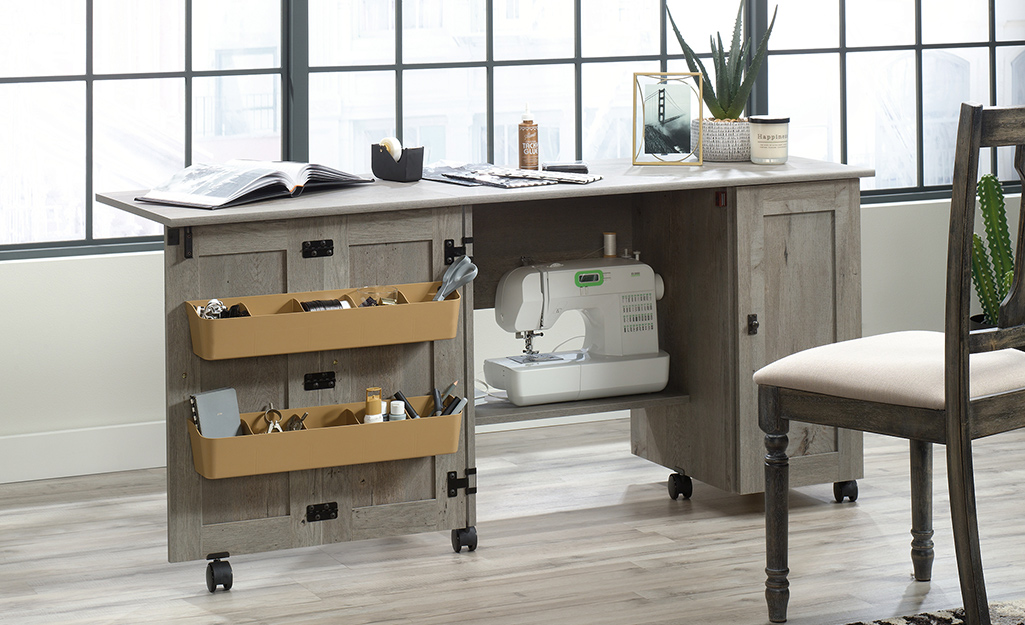 If there's no room for a dedicated DIY area, create a flex space in your home office. An office desk and open bookshelves can easily double as craft room furniture. Office cabinets and filing cabinets help to conceal stacks of folded fabric, scrapbooking paper and other craft supplies.
Carve Out a Corner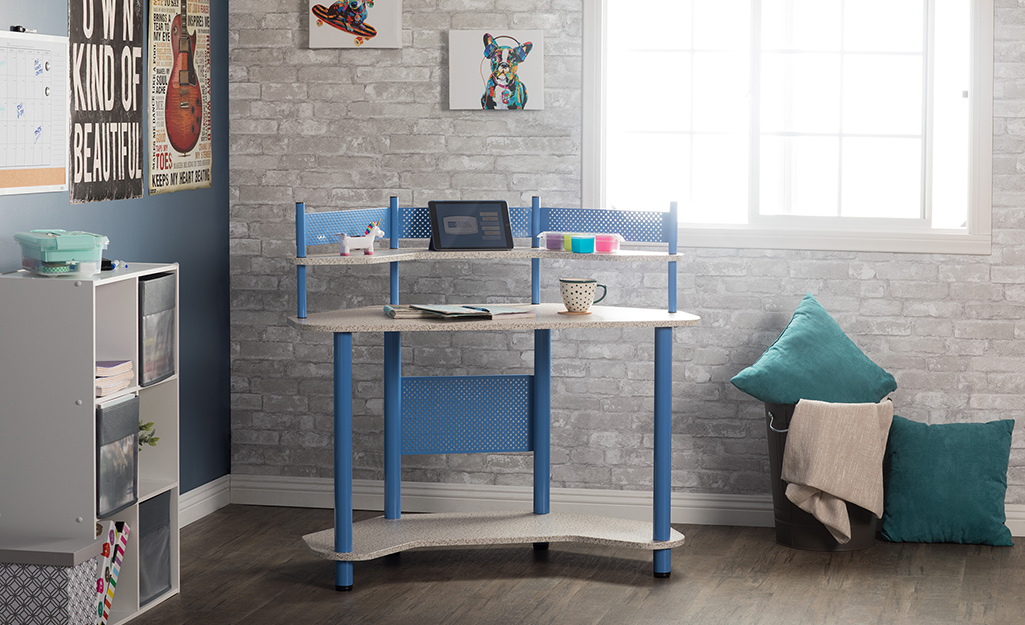 If space is at a premium, set up a crafting or sewing station in the corner of a bedroom, on a second-story landing or in the guest room. Try positioning the work area by a window. If the corner is unlit, add multiple levels of lighting such as floor lamps and desk lamps, to illuminate your projects. 
Invest in a Mobile Workstation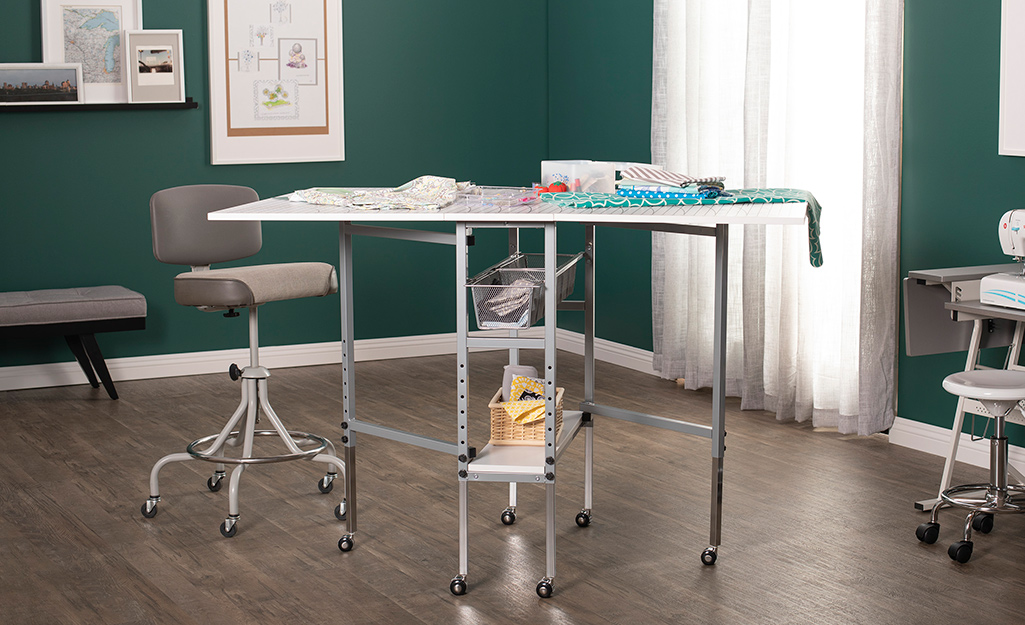 An expansive work surface is important for composing projects and containing supplies. Short on space? Like to craft while watching cooking shows in the living room? A folding hobby table with caster wheels will roll and lock in place just about anywhere. 
Bonus craft table features can include storage baskets and an adjustable height to relieve your back during intense mosaic and beading projects. 
Get Organized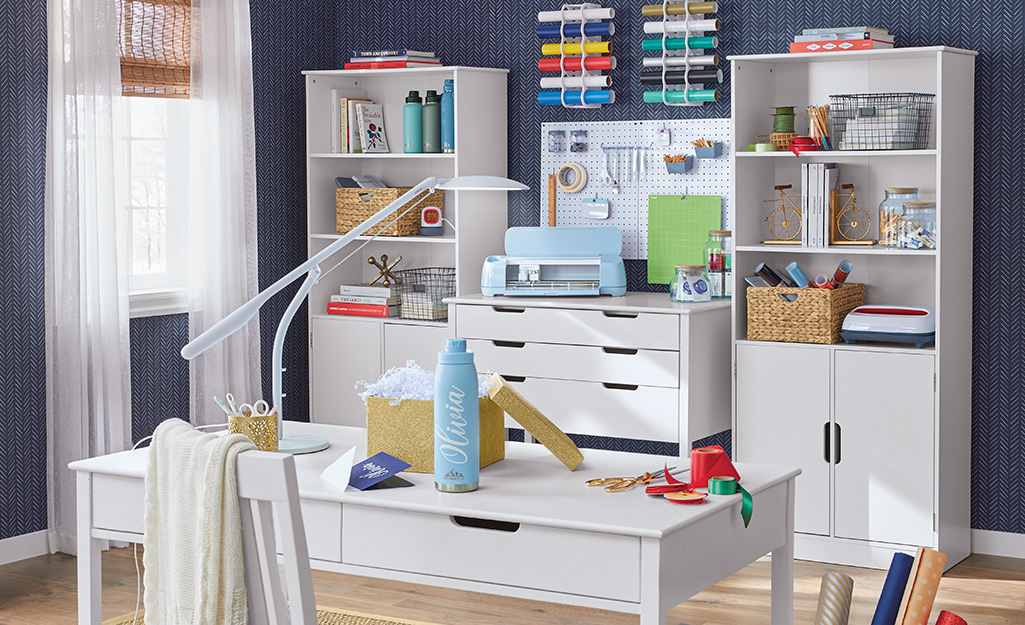 Every crafter needs a space for everything, and everything in its place. Otherwise, you waste time searching for needles, thread and Cricut tools. Since crafters are creative by nature, organizing supplies by type, color and usage eliminates time spent looking for important supplies.
There are so many ways to keep a craft room from looking cluttered. Store colored pencils, paintbrushes, hot glue sticks and other crafting items in all sorts of boxes, textured baskets and bins. When floor space is tight, create vertical storage with multi-drawer carts.
Adding labels or using clear mason jars, boxes and other storage essentials help to easily identify and take stock of your crafting supplies. 
Customize with a Pegboard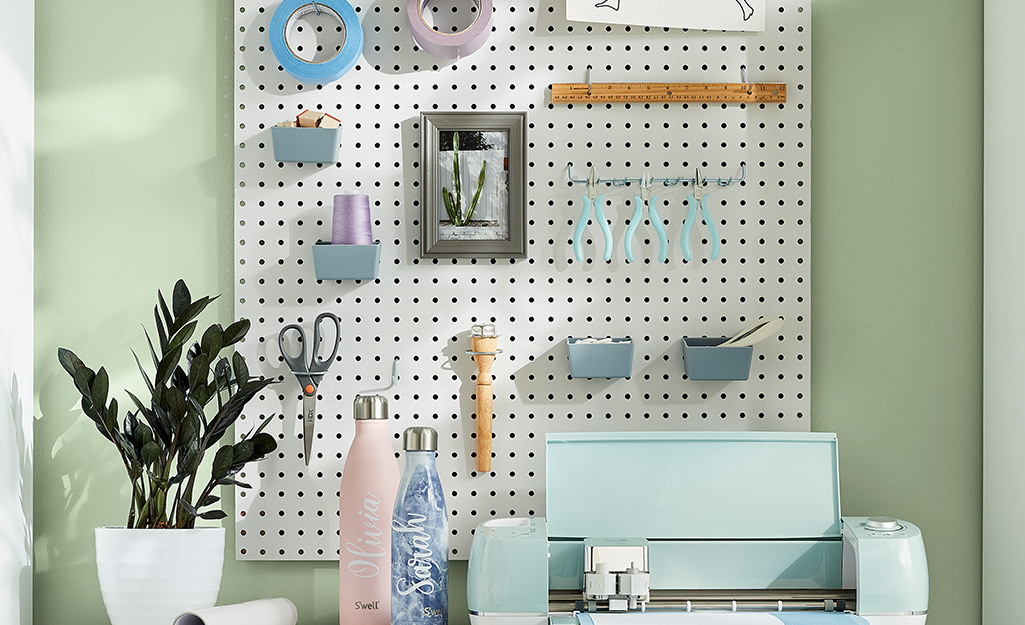 In a craft room, pegboards work like a charm to keep everything nicely displayed and within reach. These lightweight boards can be trimmed and combined to fill in any size wall space, plus, they install quickly. Pegboards are also paintable—a bonus for lovers of colorful decor. Use as many pegboard hooks and baskets as needed to store scissors, washi tape and other crafting space essentials. 
Install Floating Shelves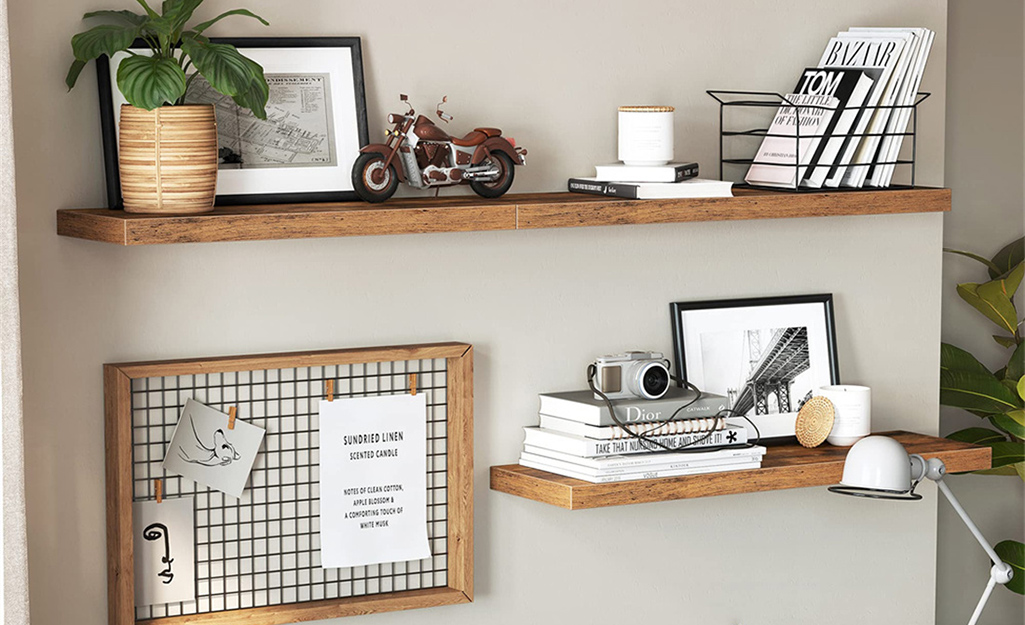 Put the walls to work by installing floating shelves at multiple levels. If you're crafting in a small space, these open shelves are a terrific storage solution. The spare shelves can make the area feel less cramped. Small bins and baskets, and a framed photo or two, give the craft area a purposeful and personal feel. 
Add Storage Cubes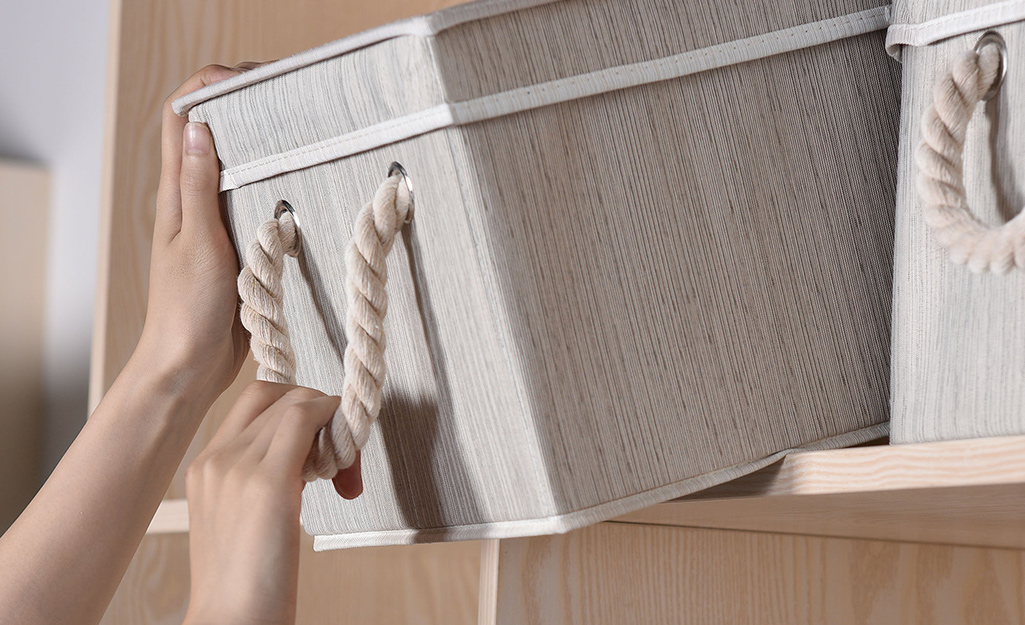 Neatly designed storage systems like closet cubes and cube shelves are great ways to organize the craft room. Whether included with a closet shelving system or purchased separately, collapsible bins and pull-out bins are perfect for corralling beads, acrylic paints, yarn and other unruly creative materials. 
Sit & Get Comfortable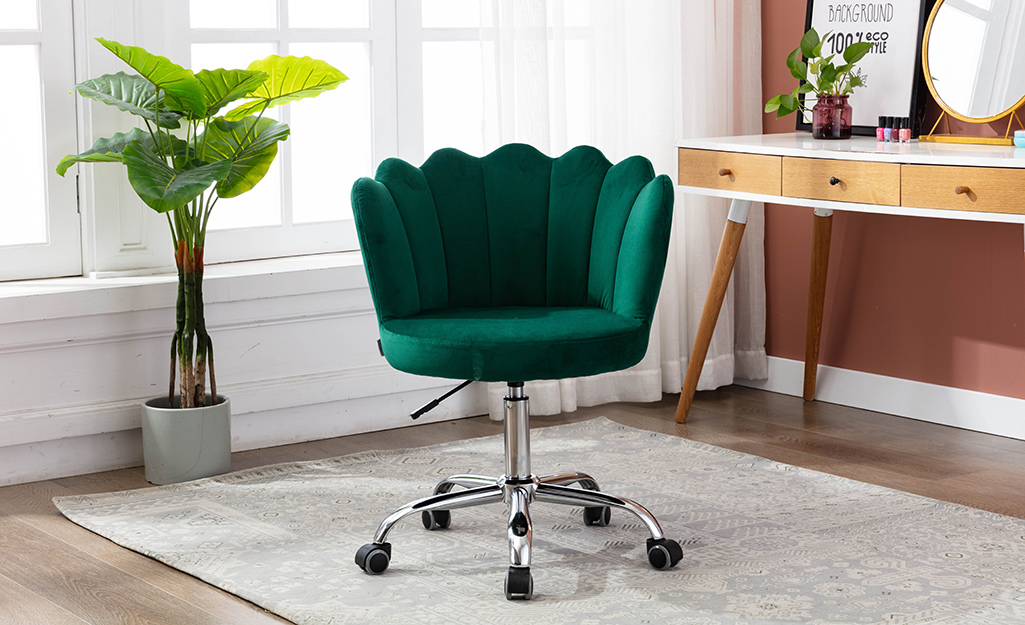 Having an ultra-supportive seat makes you more productive and the hours of fun fly by. Equally important is that your neck, arms, back and wrists will thank you at day's end. 
Choose a comfortable desk chair with good lumbar support and an adjustable-height seat. Swivel chairs are a must if the craft table is an L-shape. In hobby rooms with an adjustable craft table, a telescoping bar stool is a good option for working at any height.
Use these craft room ideas to make your creative space more productive and more like you. All it takes is the right furnishings and a little organizing to make arts and crafts more of a joy. Ready to set up your ultimate craft zone? The Home Depot delivers online orders where and when you need them.
Explore More on homedepot.com