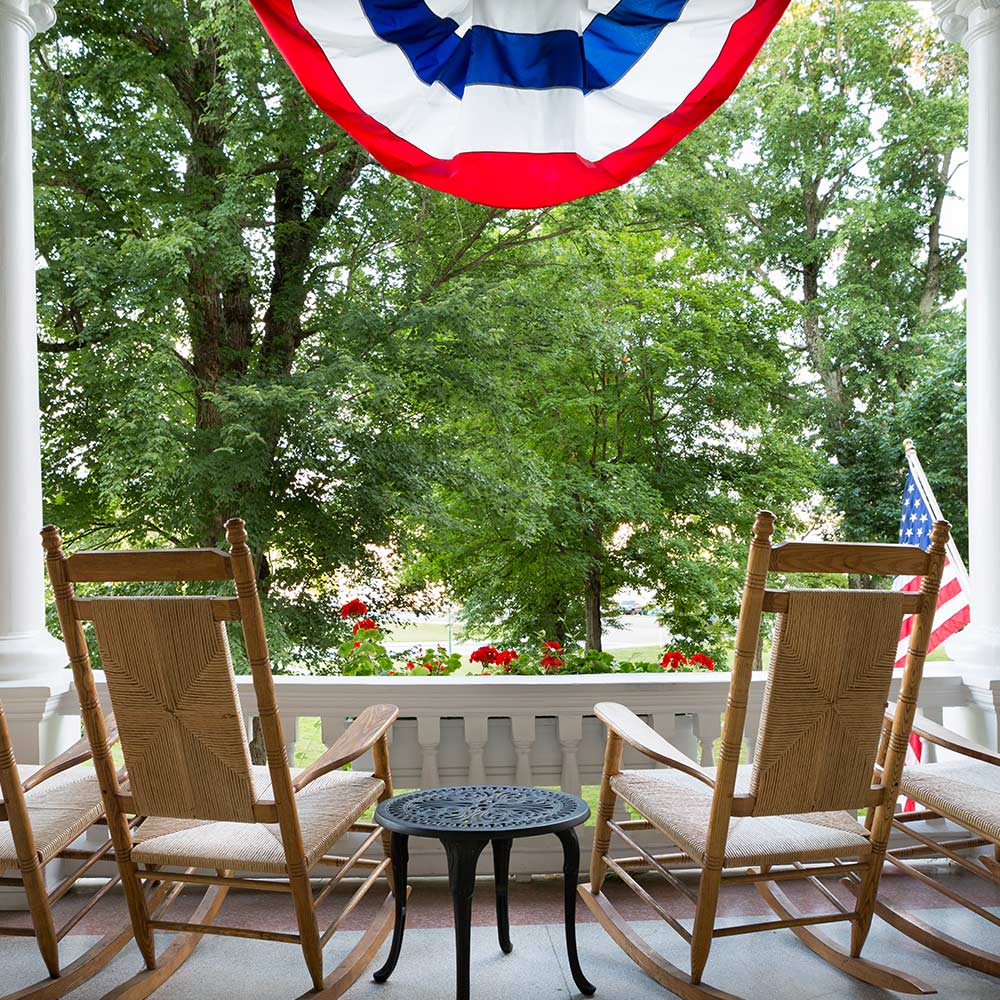 Get in the 4th of July spirit by decorating with red, white and blue. In just a few hours, you can transform your space for Independence Day fun with these easy ideas.
Patriotic Vases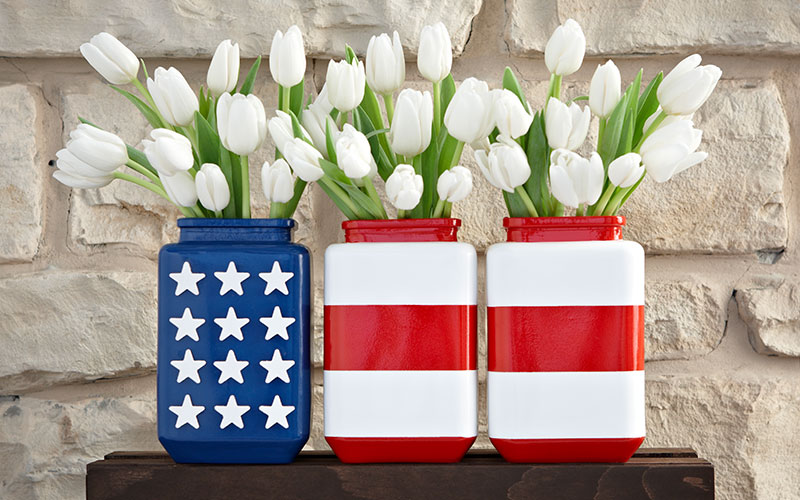 Bring patriotic style to your patio with DIY stars and stripes vases. Just tape stripes and spray on Rust-Oleum spray paint. For the stars, use stencils. Top off the jars with white tulips or other flowers.
Independence Style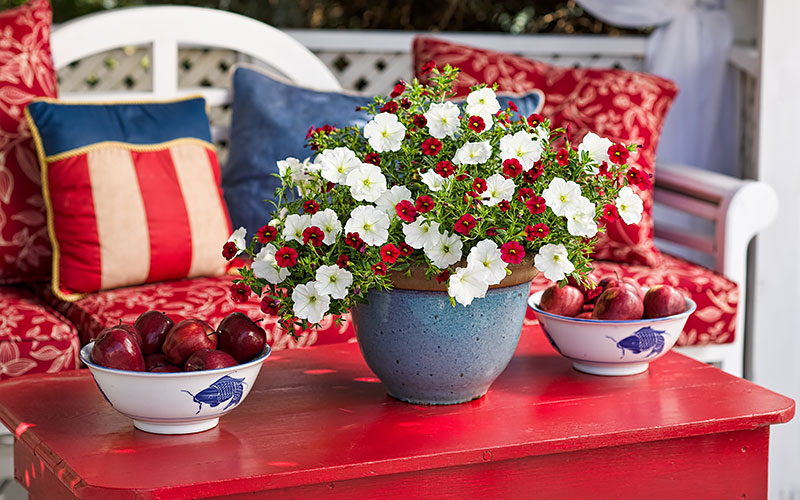 You'll be stylin' with red, white and blue decorative accents. Fill a blue flowerpot with red calibrachoa and white petunias. Decorate with red apples in blue and white bowls. Be sure your patio furniture gets some patriotic colors, too.
Flower Spirit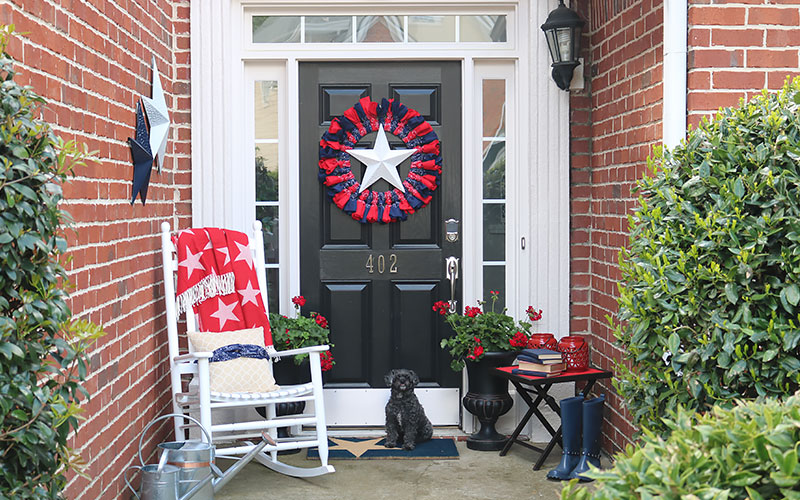 Bring on pops of color with red geraniums in black urns. Flowers definitely put the spirit in your gathering. Add accessories, such as a bandana wreath (see instructions below). 
Festive Lanterns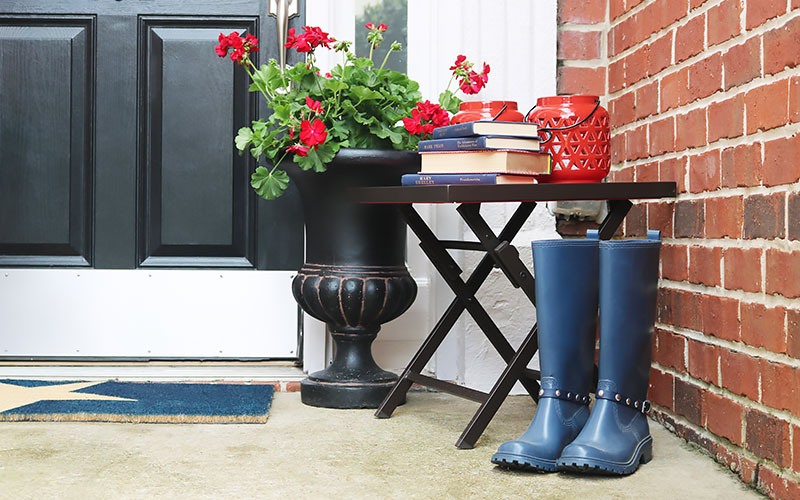 Put some sparkle in the festivities by adding festive lanterns with LED candles.
Flag Power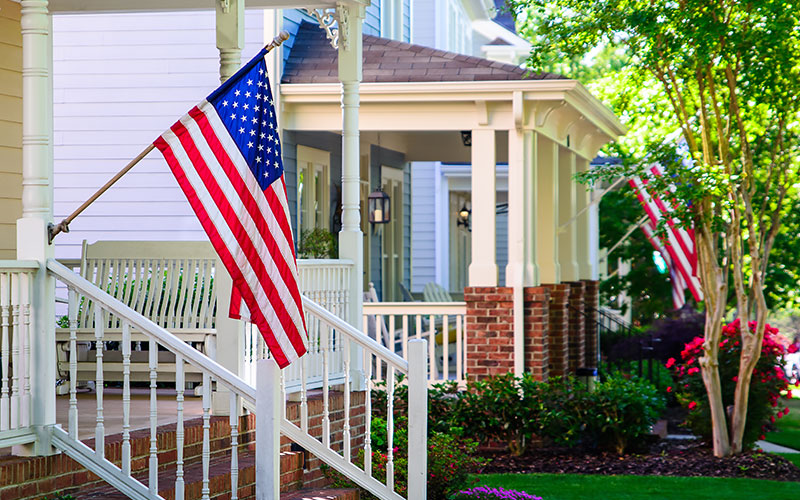 Nothing says patriotic more than a classic American flag or bunting. Hang one and enjoy apple pie and burgers on the grill nearby.
Make a Wreath from Bandanas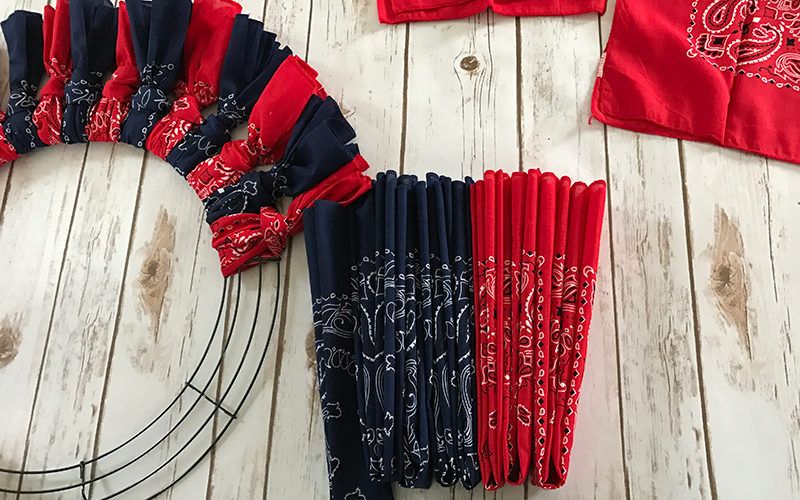 Make a wreath that shows your patriotic side. This red, white and blue wreath is simple to create and involves no sewing or gluing.
To make this DIY bandana wreath, these are the materials you'll need:
18-inch wreath form available at craft stores
Metal star between 14 inches to 18 inches
Spray paint (we used white Rust-Oleum gloss spray paint)
9 blue bandanas
9 red bandanas
Scissors
Floral wire
Door hook or wreath hanger
Step 1: Many of the stars come in packages of three and sizes vary. We chose to use the smallest star in our set, which was 14 inches. Paint the star using white spray paint with a gloss or matte finish. Spray a second coat if necessary.
Step 2: While the painted star is drying, lay out all the bandanas and then fold in half. Now cut each one along the fold line. Bandanas typically come folded so it's easy to use the natural fold.
Step 3: Take your cut bandanas and fold them again so the seams are inside. Fold them to about 2 inches wide, being sure to keep the pattern symmetrical.
Step 4: Now take a folded bandana and tuck underneath the wreath form so the loop remains on the outside and two ends on the inside. Hold the loop in one hand and, in the other, grab the two ends on the inside and wrap over the top of the wreath form and through the loop. Gently pull and tighten around the wreath form.
Step 5: Keep doing this for each bandana, making sure to alternate your bandana colors. You could also change it up with two red and two blue, depending on your preferred design. Or do all blue then all red.
Step 6: When each bandana is tightened, you should have one bandana per inch of space on the 18-inch wreath form.
Step 7: Cut a 10-inch piece of floral wire. Guide the piece of wire through the hole on the back of the star and twist so it holds. Now take the wire from the back of the star and secure it to the wreath form.
Step 8: Tuck the wires underneath the bandanas so they do not show. Once the star is on tight, make an extra loop. Twist to secure so you can hang your project in the next step.
Step 9: Hang the wreath using a removable hook or wreath hanger.
Make a Patriotic Door Mat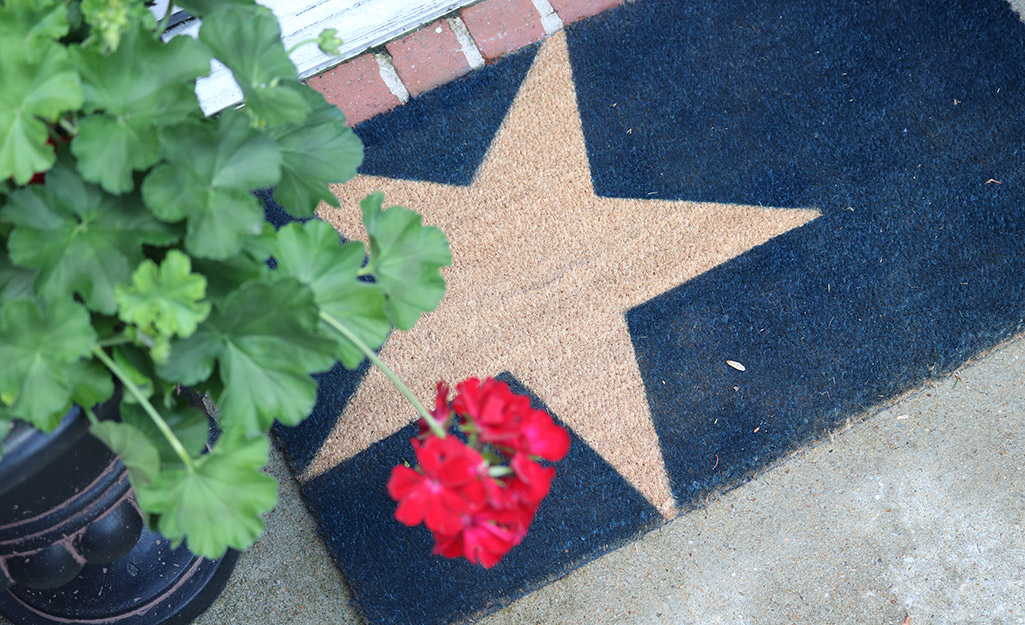 Fifteen minutes is all it takes to get a new look for a plain doormat. Try this quick technique for a pop of patriotic color at your front door.
Materials include:
Plain coir doormat
Spray paint 
18- to 20-inch metal star or star stencil
Step 1: Arrange your star or star stencil on the mat. We used a 20-inch star for the project in these pictures. Don't worry if the edges of the star overlap the edges of the mat.
Step 2: Hold down the star on the mat and begin spraying the color of your choice. We use Rust-Oleum Midnight Blue in satin finish. The color really pops and it looks amazing once placed in front of a door.
Step 3: Once your mat dries, you'll have a refreshed entryway with a fun, new look. It's perfect for all patriotic holidays, including the Fourth of July.
Wondering what to do with the painted metal star? Use the blue painted star as a decorative accent on the wall of your patriotic entryway.
Whether you need the right plants, tools or potting soil, The Home Depot delivers online orders when and where you need them.