Your front door is one of the first things visitors see. It also serves as a charming focal point on your home from the street. Your entry door plays a feature role when it comes to curb appeal. How you style your front door reflects your personal style and preferences. Use this inspiring guide to discover your options for a front door makeover.
Tip: When selecting a door, you'll need to know the "handedness" of the door. An easy way to do this is to simply open the door. Stand in the doorframe with your back along the hinges. If the hand by the doorknob is your right, it's a right-handed door. If it's by your left, you have a left-handed door.  
Craftsman and Mid-Century Modern Front Door Ideas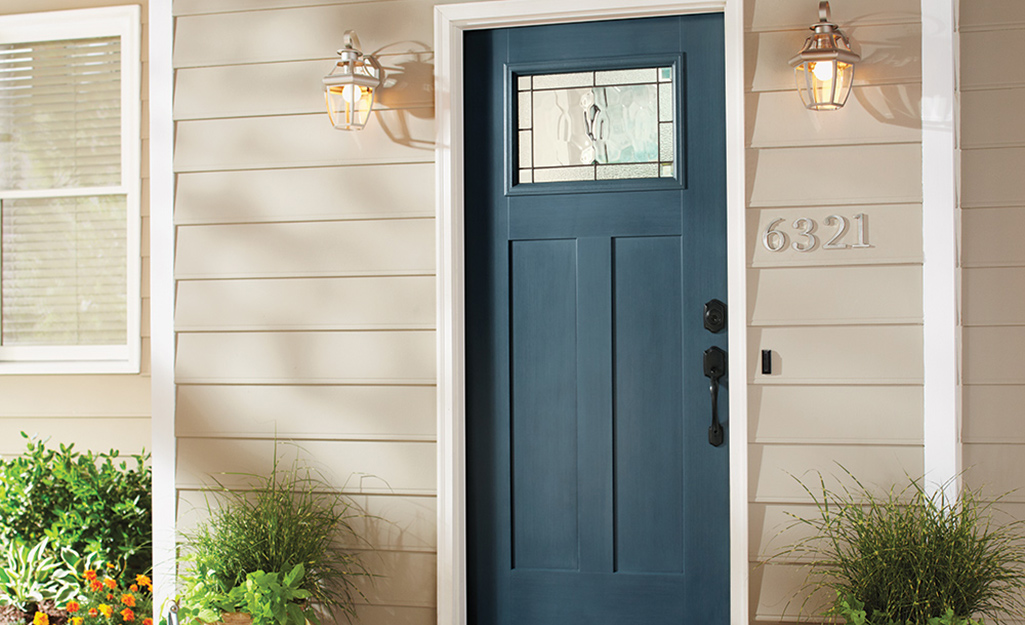 Craftsman and mid-century styles are a popular design option. They give homeowners a vintage-inspired look. Here are a few things to look for if you're interested in a craftsman or mid-century modern front door:
Natural Wood Frame: Wood was the most popular material used for front doors during this era, with mahogany and teak being the most common choices. Distressed wood doors can add a subtle antique look to your exterior without making it look old and worn.
Glass Inlays or Paneling: Stained glass was a popular choice in the craftsman era, but clear or frosted fiberglass doors can update the look of your home. Top-half panels or multiple cutouts let you choose the option that's right for you.
Iron Accents: From door hardware to viewing windows and peephole covers, natural iron accents add mid-century style to your front door.
French Doors: These are also known as double doors and are a great option for larger entryways.
Modern Front Door Ideas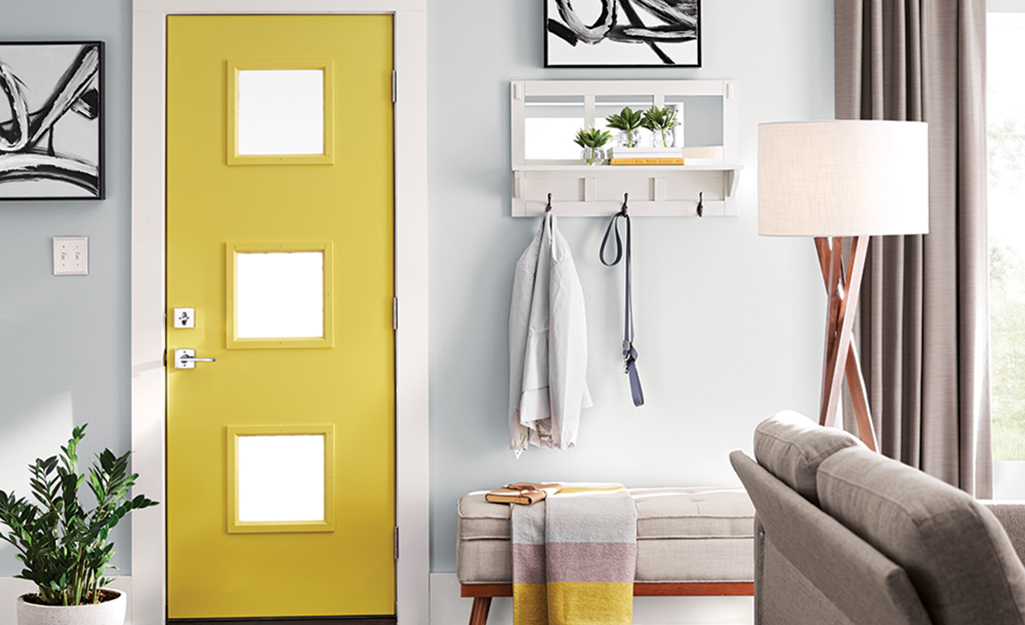 If you prefer a more modern look, use these tips to choose contemporary front doors that match your personal design style. 
Look for modern front doors with architectural details and minimalist design features. Angled stained glass inlays and rows of clear glass paneling add modern style to any entry area.
Choose solid doors made from sleek finished wood like teak or cherry. Solid wood doors look sophisticated and timeless.
Opt for a bold, bright color. Stylish options like red, turquoise and yellow make a modern statement and make your exterior pop.
Steel Front Door Ideas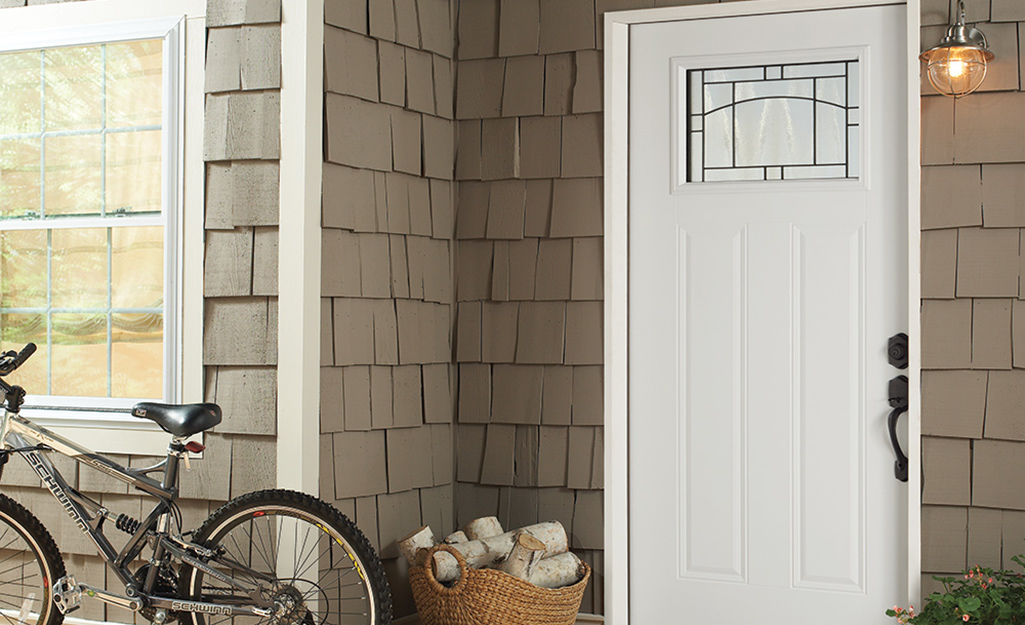 Extremely durable, ultra-secure and energy efficient, steel doors are an excellent choice for front doors, patio doors and back doors. Available in a variety of styles, you can find steel doors to match your existing exterior or give your home a brand new look. Here are a few of the common steel door options:
Classic White and Off-White Styles: These doors work beautifully with almost any exterior and landscaping scheme. You can also find pre-primed unpainted doors so you can choose your own color or finish.
Dark Colors Like Black and Deep Walnut: These often include minimal stained glass inserts or ironwork to add a decorative touch.
Natural Wood Styles: Perfect for traditional homes and classic designs, you can find steel doors that have the look and finish of natural wood.
Large Glass Panels and Window Treatments: Steel doors with glass paneling and mini-blinds are ideal for patio doors, side doors and back doors.
Clear or Frosted Glass Paneling: Some steel doors include rows of glass to make your entrance feel more modern. Shop shades of white or an assortment of bright colors to match your landscaping.
Refresh Your Existing Front Door Designs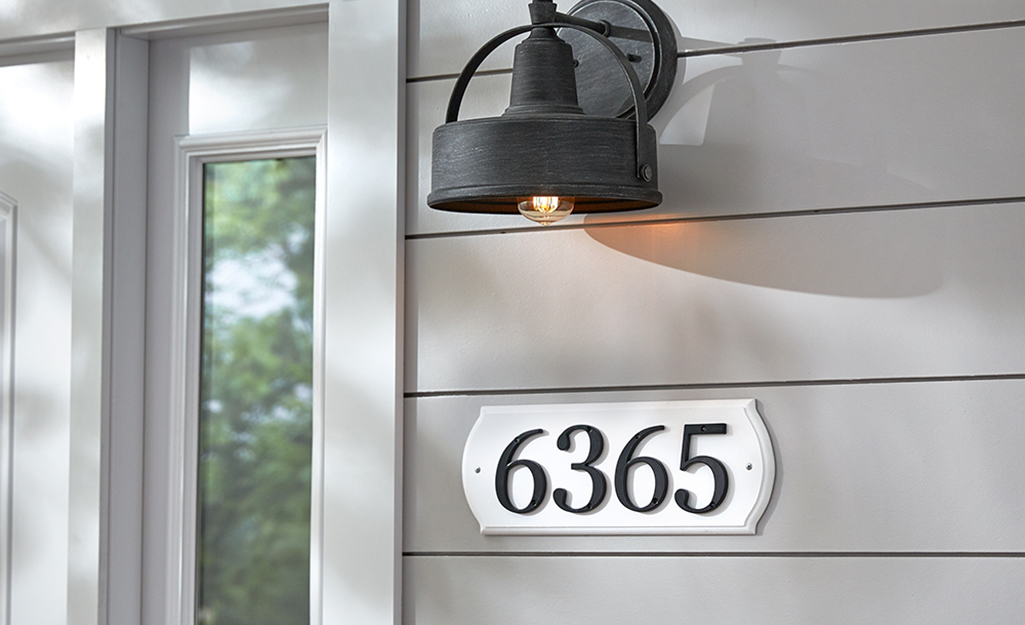 A quality front door can last for many years. If you love the look of yours, but feel you need to update your style, consider updating your existing front door:
Apply a Coat of Paint: A different stain or paint color can dramatically change the look of your front door, especially if you have a natural wood finish.
Change the Door Hardware: Replacing your old hardware can make your whole front door feel new.
Swap Out Address Numbers: Go for a more traditional style or move switch to something more modern.
Add Lighting: Updating your exterior lighting, particularly if you have a fixture next to your front door, can boost the look of your entrance.
Add Plants to Your Entrance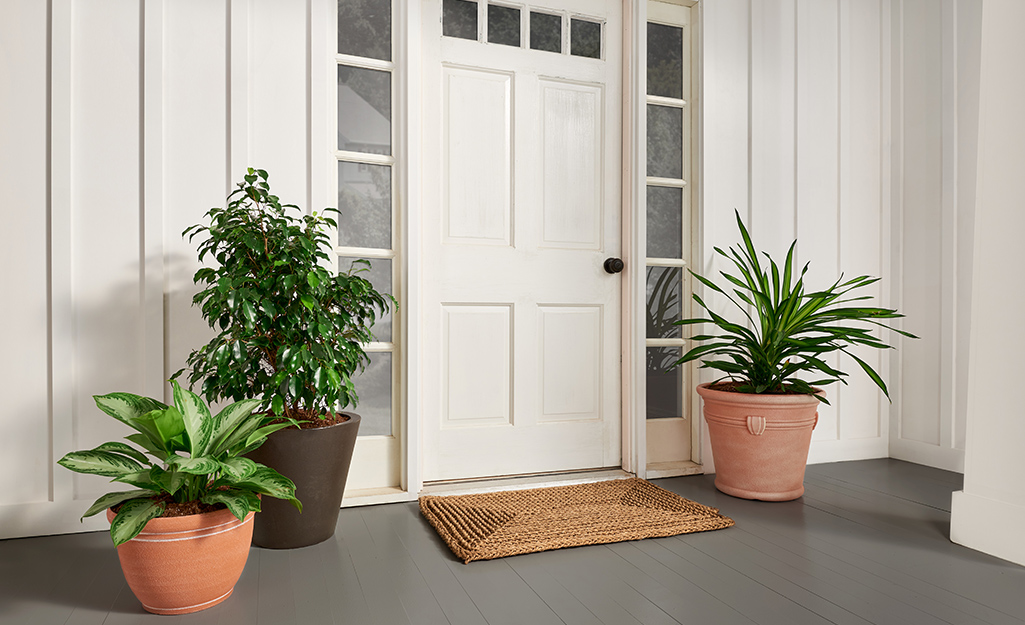 Plants add a natural and vibrant look to your home's front entrance. Below are some of the best outdoor plants to make a bold statement in your entryway:
Boston fern: Boston ferns are lush foliage with beautiful cascading leaves. Keep the soil moist, and they can thrive in partial shade through the spring and summer. In cooler months, bring them indoors.
Boxwood topiary: A classic and welcoming choice, boxwood topiaries offer a way to get creative! Depending on how they're trimmed, they can grow short and bushy or tall and sleek. They're low maintenance and do well in cold weather.
English ivy: English ivy is a beautiful trailing plant. Place a trellis in the planter so the vining stems frame your door with vibrant leaves. English ivy grows well in shady entrances.
Hydrangea: Hydrangeas come in a variety of beautifully bright colors. They do require a lot of water if planted in direct sunlight. Once established, they're low-maintenance, lovely additions to your front door.
Petunias: If your front door gets a lot of sunlight, petunias are a charming, colorful option. Plant them in window boxes or hanging planters and watch them cascade. Or, line your entry steps with petunias in planters for a cottage vibe.
Opt for Inviting Decor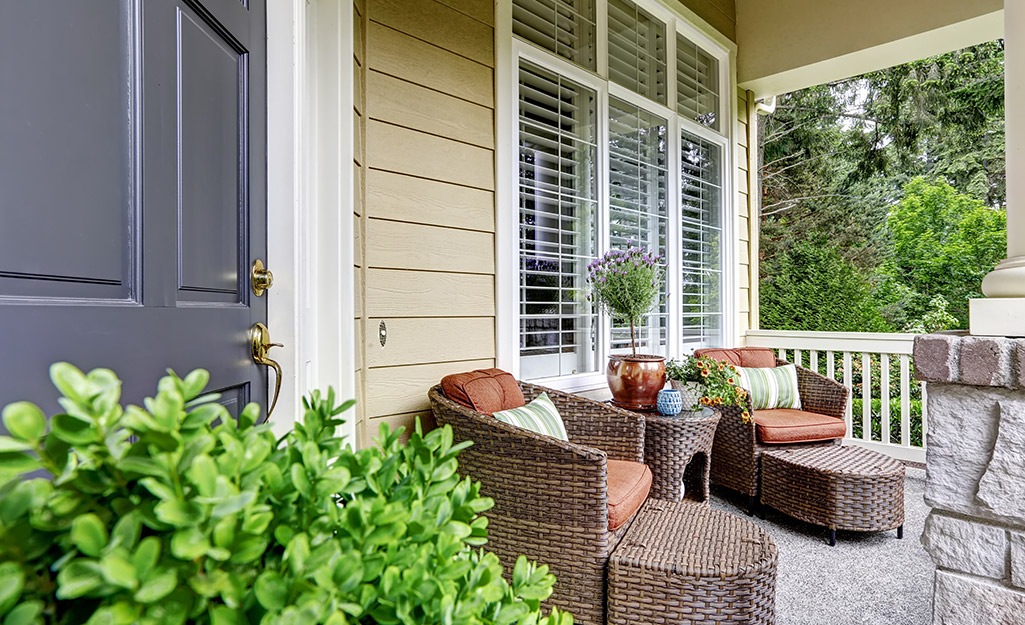 One of the easiest ways to breathe new life into your front door space is to add new decorative elements. Outdoor decor extends your unique sense of style outdoors. A basket of birchwood logs drums up memories of bonfires and cozy nights. Porch lights, door signs and statuettes add a quaint feel that welcomes each guest. A comfortable lounger or patio conversation set offers a place to sit and observe the neighborhood.
Another great way to dress up your front door area is with a welcome mat. The ideal way to keep dirt and dust from piling up inside the home, welcome mats are also a stylish way to add personality and cheer to your entryway. Welcome mats with silly sayings or a play on words bring a smile to visitors' faces. Switch out your welcome mat with the seasons for an additional way to decorate for holidays and special occasions.
Consider an Alternative Door Design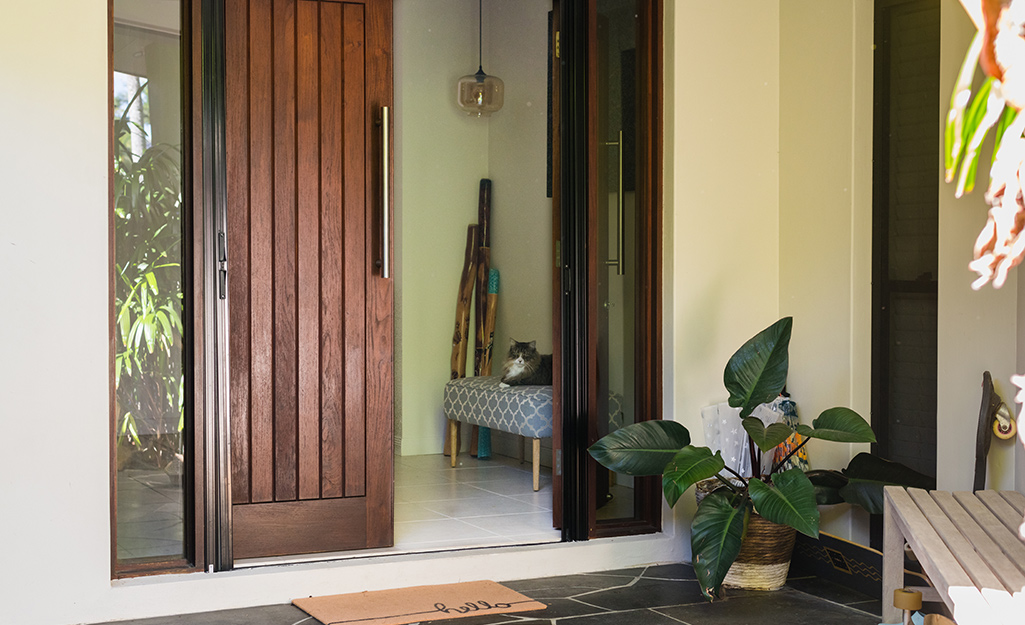 If you're looking for a new door altogether, consider choosing a style off the beaten path. Below are some popular alternative door styles to change up the look of your entrance:
Contemporary: Contemporary front doors are typically made from materials other than wood. They feature interesting patterns or accents and a mix of glass and metal.
Dutch: Dutch doors create a cottage vibe. They open in the middle, allowing you to leave the bottom half of the door latched while opening the top half.
French: French doors are a mix of wood and rectangular glass panes. They are typically slim and open in the middle, swinging outwards on the hinges.
Your front door makes a bold statement about the style of your home. Update your exterior and improve curb appeal with a new door in a style that complements your current design preferences. Or, bring your existing door back to life with accents, decorations and accessories that create a welcoming display.
Whatever your style, updating or replacing your front door can make your home more appealing inviting for you and your guests. When you've found what you need, we've got you covered. The Home Depot delivers online orders where and when you need them.
Explore More on homedepot.com