The garage is an essential space that you use for storing everything from holiday decorations to camping gear. You probably use your garage for bike storage, tool storage and as a workspace as well. Useful as this utility space may be, garage clutter can get out of control in a hurry.
Use this guide to pick up a few easy-to-implement garage storage ideas for your home. You'll learn how to use and install shelving, cabinets, tracking systems and more so you can regain control over your garage for good.
Clean Out the Garage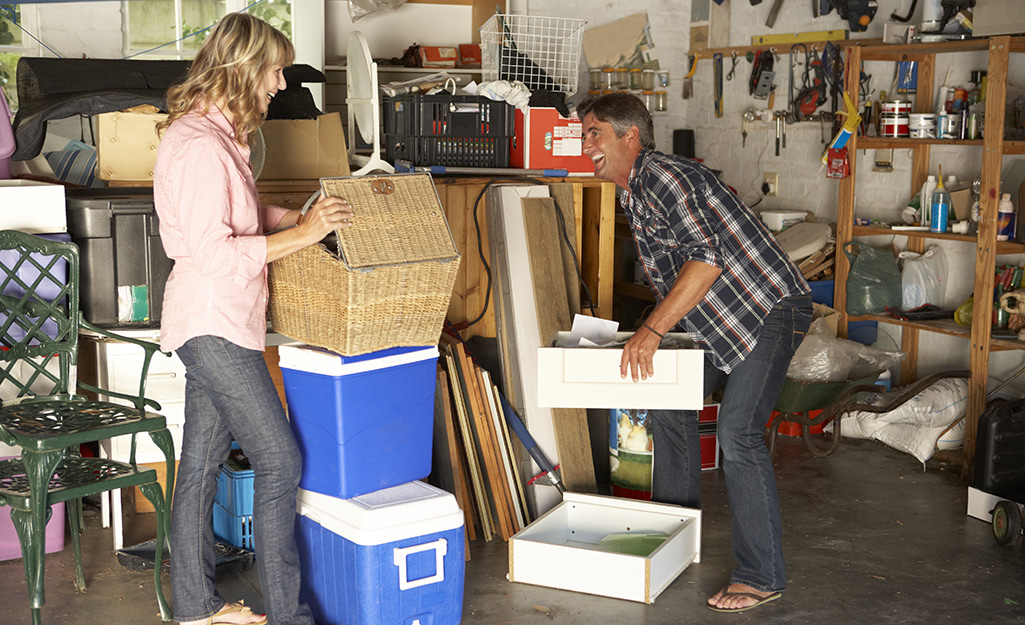 Before adding any type of garage organization system or garage wall shelves, take some time to clean out your garage. Being able to clearly see the garage floor and how much garage wall storage you have can help you choose the right organization system.
Gather garbage bags and empty boxes. Start by sorting out items that need to be thrown away, donated or saved elsewhere. This simple step will make the garage less crowded and free up space to make installation and future storage easier. 
Many garage storage ideas include placing items in shelves and cabinets. This will expose more of the floor, so consider upgrading the garage flooring. Installing garage floor tiles or garage floor mats and strategically placing doormats around entryways can help you keep things neat and tidy. 
Once your garage is clear, make a plan for your garage organization ideas. Consider designating a workstation with a tool bench, a place for trash and recycling and other zones based on your needs. Drawing a diagram of your garage can help.
During this process, identify the locations of wall studs, outlets and other fixtures that will impact the ideal placement of storage systems.
Garage Shelving Ideas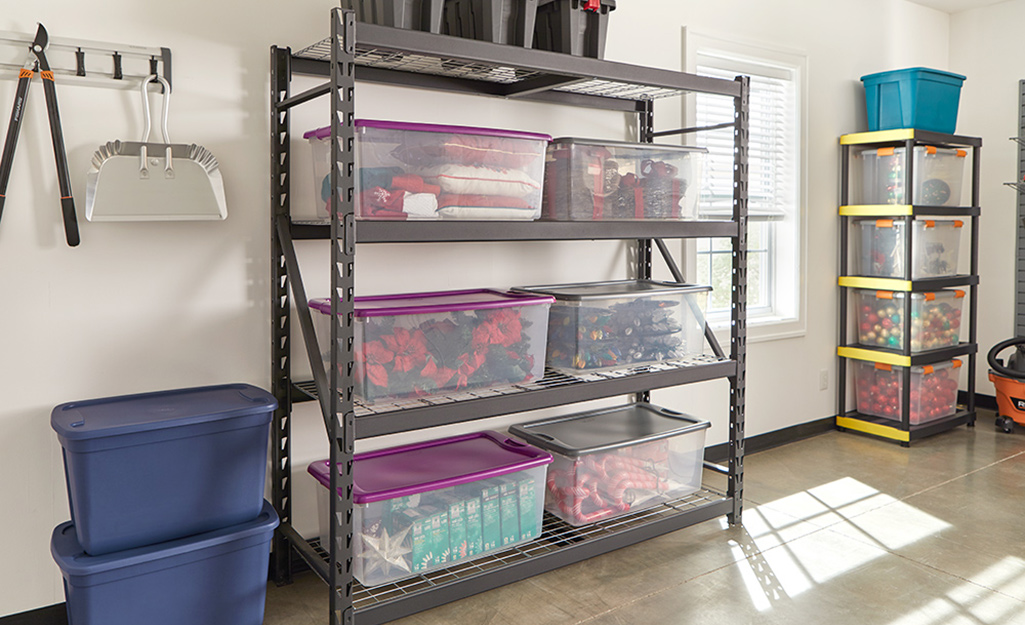 Garage shelves come in lots of varieties, allowing you to tailor the space to your needs. One of the most popular options is to include freestanding units anchored to the walls for support. Overhead storage attached to the ceiling can help maximize potential storage space as well.
Here are a few tips to help you choose the right garage shelving for your space:
Choose from shelving made from different materials such as steel, plastic or wood, depending upon the desired strength. Very heavy items like power tools obviously fare better on shelves that can support more weight. Holiday decorations and decorative home items may not require such support.
Check the manufacturer's instructions for the weight limit of each shelving unit.
Take time to understand how to properly install your new shelving. Shelving installation is relatively easy and involves installing anchors, brackets and horizontal shelving surfaces.
Make sure the system is level. A level garage shelf or shelving unit will prevent damage to your belongings down the road.
Utilize corner shelving units to maximize otherwise lost wall space. Corner units are designed to make the most of awkward, hard-to-use areas.
Consider ceiling-mounted shelving systems for items you don't need daily access to. These items can be reached with ladders, pulleys and hydraulic lifts quickly and easily.
Build DIY garage shelves if you're handy. Building your own shelves makes it easy to tailor your garage shelving system to your exact needs.
Garage Storage Racks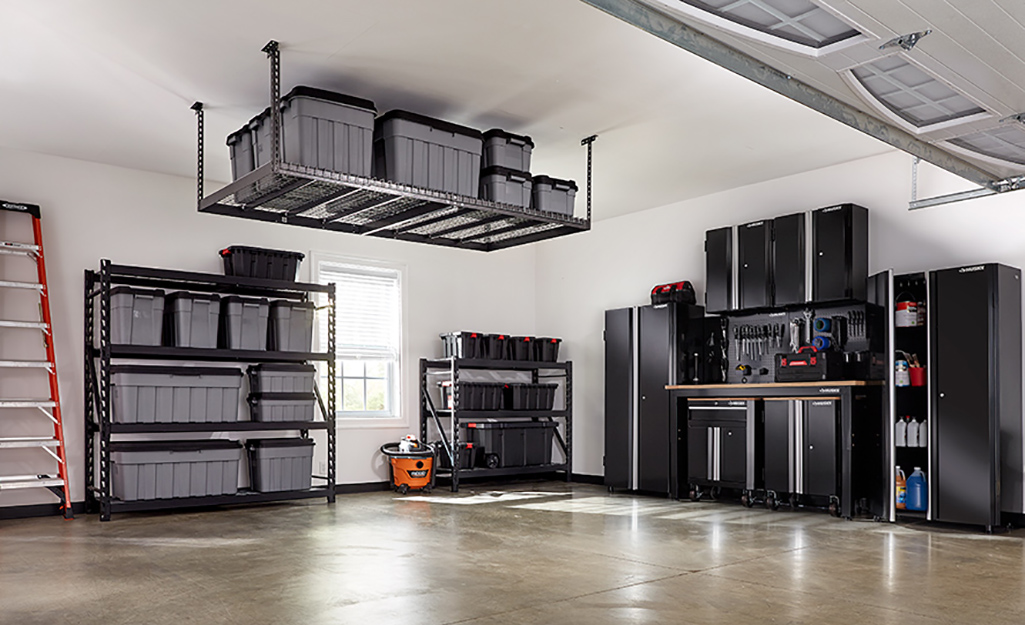 Garage storage racks are frameworks often made of bars, wires or pegs and used in conjunction with horizontal shelving. They should be installed at heights that are safe and convenient to the household members who will use them the most.
Here are a few tips to help you make the most of a sturdy garage storage rack:
Buy racks with adjustable shelves. Configurations using sturdy wire storage racks with adjustable shelves provide easy access to items like garden tools, car supplies and sports gear.
Utilize overhead storage racks. Overhead storage racks attach to the ceiling to provide a safe, dry area for luggage, seasonal items, holiday decorations and other belongings you need only occasionally.
Buy racks that can be configured to hold bulkier items or for more general use. Wire storage racks are an excellent, easy-to-implement choice for lightweight items.
Adding bike racks designed to hold multiple bikes off the floor may be ideal for larger families.
Adding utility racks designed to hold sports equipment can keep skis, bats, balls, cleats and more all in one spot.
Garage Cabinets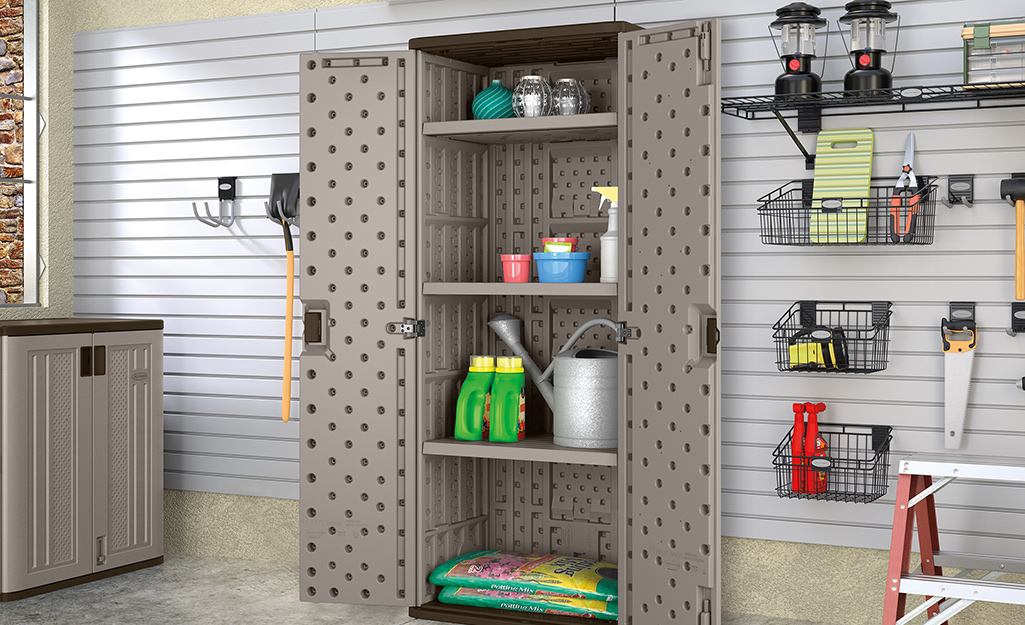 Garage cabinets make your space look neat and tidy since they keep all of your items out of view. They also offer increased safety since models with locks can keep dangerous items such as chemicals out of the reach of children. 
Here are a few tips to help you implement garage cabinets correctly:
Look for cabinets with adjustable shelves. These will allow you to make the most of limited cabinet space.
Check the weight capacity of garage cabinets to make sure they fit your needs before installing them.
Measure your space to make sure doors and windows can open freely before installing cabinets.
Consider freestanding cabinets since they don't require special installation. They do take up extra floor space however, so they aren't always the best pick in tight garage spaces.
Anchor freestanding cabinets to walls as recommended to avoid tipping. This may not be required for lightweight plastic cabinet installation depending on what you put inside.
Add casters to freestanding cabinets to make them easier to move. This is especially important if you may need to move your freestanding cabinets around from time to time.
Pegboards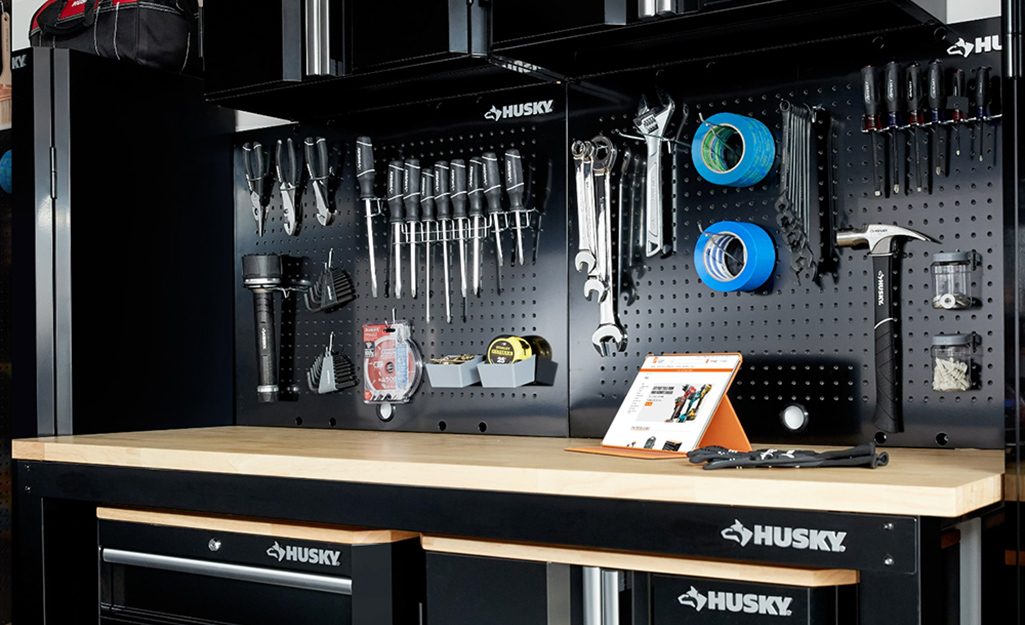 Basic pegboard is a mainstay in every garage, but it's often overlooked as a serious storage solution. However, pegboard is inexpensive and versatile, making it a go-to choice for organizers.
Pegboards feature pre-drilled holes designed to be strong enough to support most household hand tools and offer a way to store and vertically organize items in plain sight. The vertical storage systems also provide a splash of contrast color on your walls. 
Here are some tips to help you utilize a pegboard organizer:
Cut pegboard to size before hanging it. Pegboard is easy to cut down to fit any size wall.
Install one-inch furring strips to provide room behind the board for the foot of the hooks when installing on drywall.
Attach storage accessories like hooks, tool holders and organizers once you have your pegboard organizer hung. You can find a variety of pegboard hook styles and adjustable wall brackets for tools, garden supplies and more.
Draw outlines of the tools when they're hanging in place. That will allow you to easily re-hang tools after you've finished with them.
Garage Track Systems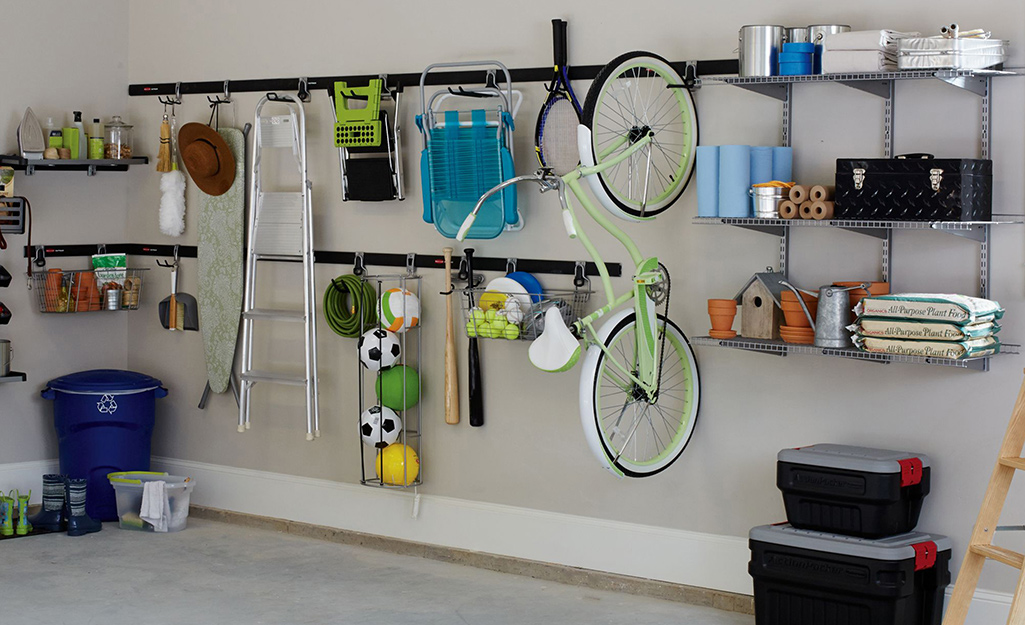 If you like the benefits of a pegboard but need more space to store larger tools, consider installing slatwall panels or a track system. Like pegboard, track systems offer vertical storage options that can be used with hooks and shelving and can be customized to your needs.
Here are a few things to know about garage track systems:
Metal tracks or channels can usually be mounted on bare studs or drywall.
Tracks often have a high weight capacity for hanging heavy, bulky or unusually shaped items such as shovels, hedge trimmers and other large tools.
Garage track systems are great for adding a hanging bike rack since they can support some serious weight when mounted properly.
Tool Chests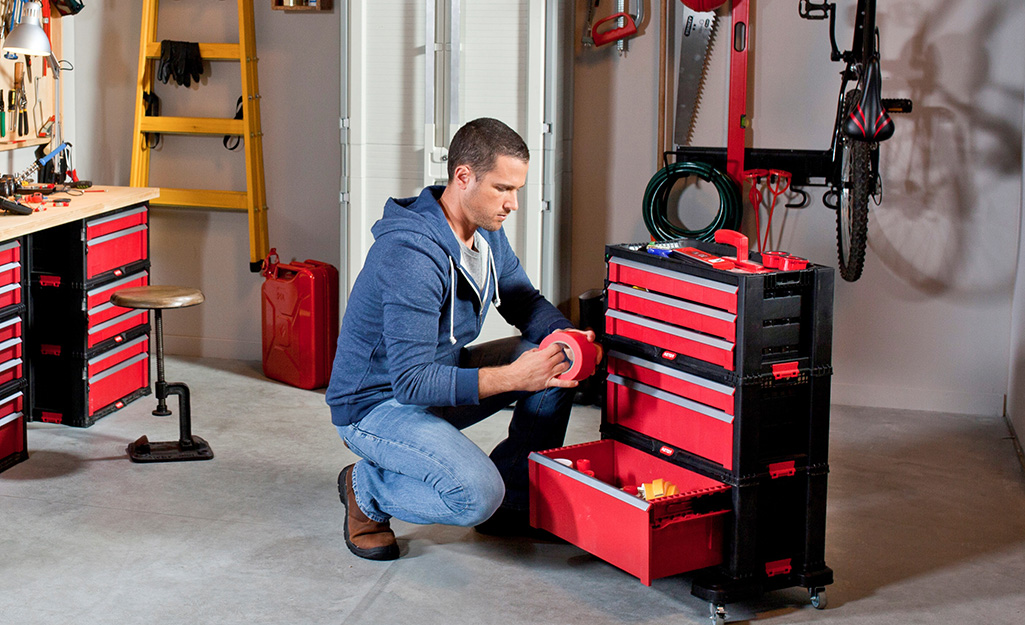 Tool chests provide organizational space for tools, hardware, car supplies and other frequently used items. For many people, a functional tool chest is a must-have in the garage.
Look for large tool chests that feature multiple drawers of different sizes, lockable drawers and wheels for portability. Larger tool chests contain shelving and provide work surfaces as well.
Shop for a model with a built-in toolbox. Many tool chests include small built-in containers for screws, drill bits and other easily misplaced items.
Look for drawer units that ride on ball-bearing glides. These are easier to move even when they get heavy.
Find the tool chest that matches your durability needs. Common tool chest materials include aluminum, steel and plastic. If you frequently use your tool chest you should look for a durable model.
Workbenches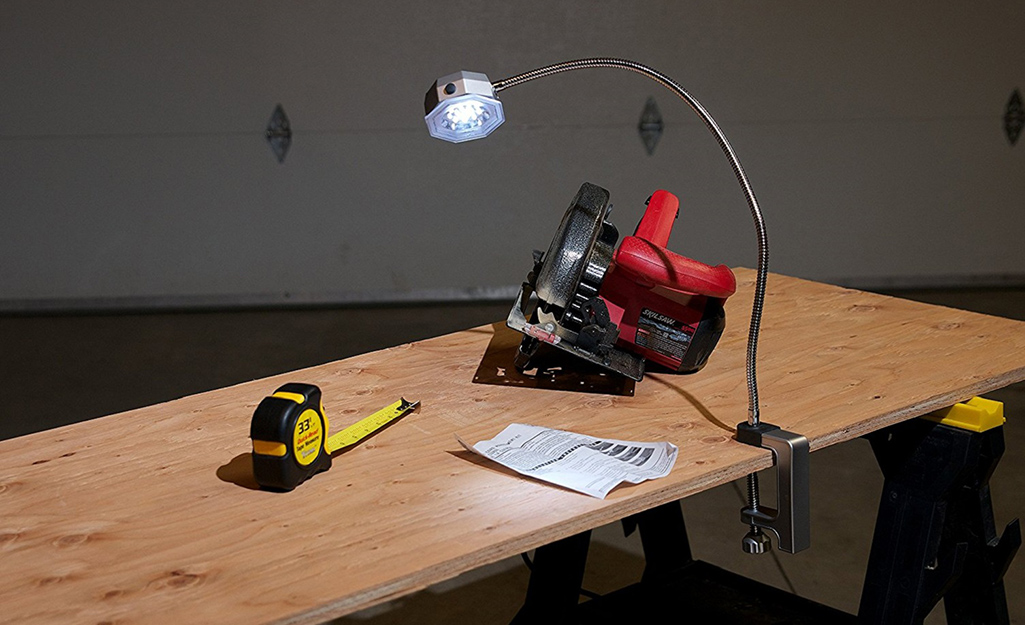 Workbenches can provide a surface and storage space that's particularly helpful for DIY projects. Here are a few tips to help you find the perfect garage workbench:
Look for a garage workbench with adjustable legs. Some workbench designs include adjustable legs so you can sit or stand while working.
Look for a model that has open space beneath the work surface for placing tool chests or storage cabinets. These open spaces are great for stacking plastic bins for more storage in your garage.
Consider placing your workbench against your pegboard to keep tools close at hand.
Tip: A wall-mounted towel holder and soap dispenser will come in handy if you do a lot of work in a garage equipped with a sink. Magnetic towel holders and soap dispensers can also attach to large tool chests.
Wall Hooks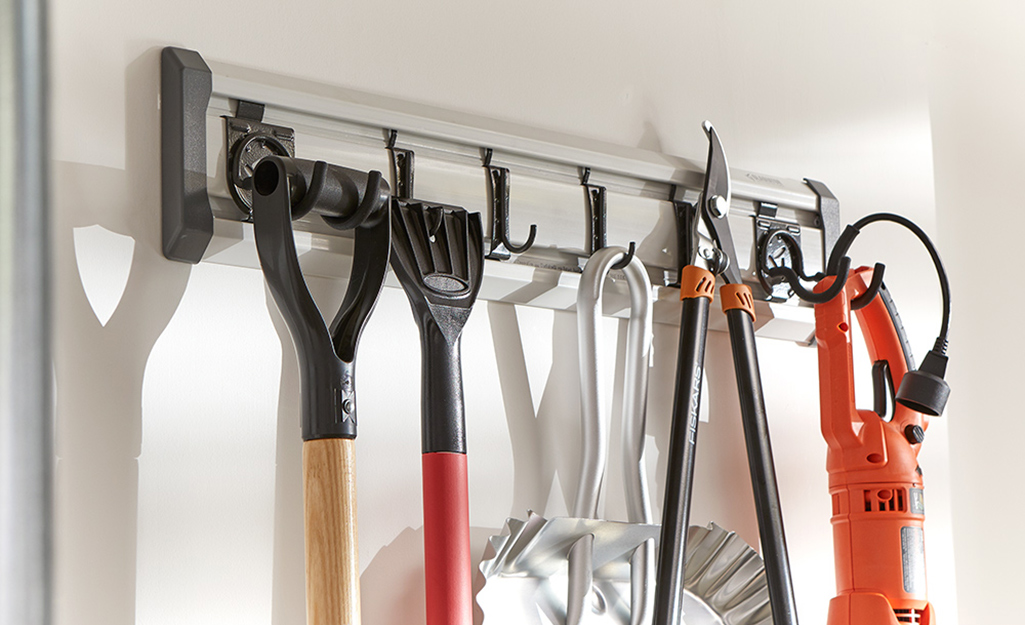 With your larger storage pieces in place, you can now begin refining how you keep your space tidy. Wall hooks are particularly helpful for hanging bicycles, other sports gear and awkwardly shaped items like weed trimmers up and off the floor, so you've got more open space.
Here are a few ways to utilize wall hooks in your garage:
Use small hooks for lightweight items like tools, keys and extension cords. Reserve larger ones to support items like bicycles and other heavy equipment.
Take time to find the right style of hook for your needs. We've got a range of styles including cradle, scoop, tool, twin, utility and more. We've got metal styles and plastic-coated metal designs to match your needs as well.
Utilize simple coat hooks for items like garden gloves, hats and pet leashes.
Bins and Baskets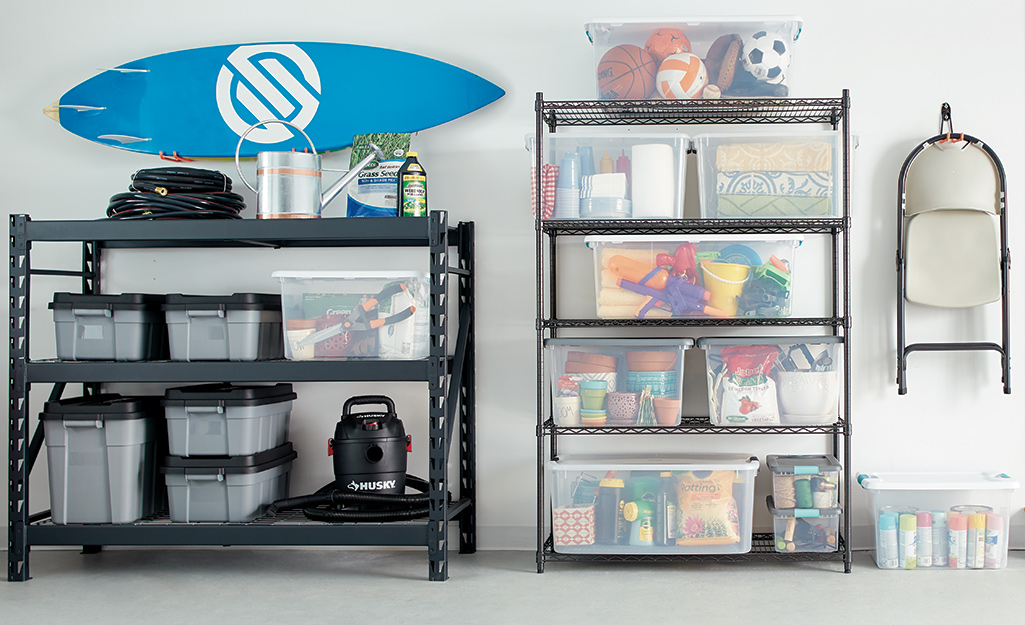 Storage bins and baskets can be crucial to keeping your garage organized. More durable than cardboard boxes, plastic bins, baskets and tubs offer storage solutions for an assortment of different common household items.
Here are a few tips to make the most of your bins and baskets:
Buy styles with lids to protect the contents of your bins from gathering dust and being damaged by moisture.
Shop for transparent plastic designs. Bins made of transparent plastic allow you to see what's inside without opening the lid.
Opt for stackable bins and baskets. Stackable units are designed to use space more efficiently.
Choose the right shape. Square or rectangular bins can more easily fit on shelves or in corners than round ones.
Clearly label bins so you can easily tell what they contain.
Try something decorative for outward-facing areas. Terra cotta storage solutions are durable and elegant looking in most garages.
Enjoy Your Organized Space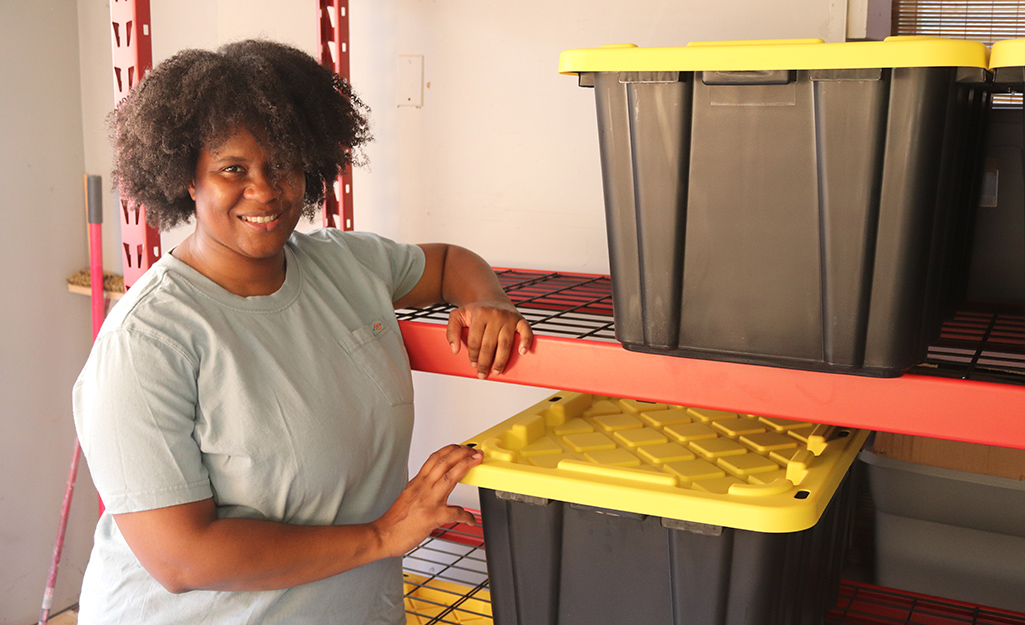 Garage storage ideas can include shelving, cabinets, rack systems, track systems and more. Choosing the best garage storage ideas for your home and learning how to organize a garage can free up space and help you access your belongings more efficiently. 
Ready to tackle your garage storage project? Shop online for everything you need to get the garage in order. The Home Depot delivers online orders where and when you need them. If you need even further assistance with garage storage installation, Home Services is here to help.
Explore More on homedepot.com