Ideas & Inspiration
Get to Know Red Hot and Pink Geraniums
If there's an easygoing flower to plant this season, it's a geranium.
These annuals come in an array of colors, including red hot and pink. Geranium leaves also add to the allure with their wavy, scalloped edges, some boasting grayish-purple rings.
Geraniums bring endless bright blooms right up to the first cold snap. Just plant them anywhere you have full morning sun and part afternoon shade.
They'll do well in the garden bed or a window box. They also work well in hanging baskets or containers. You can't go wrong.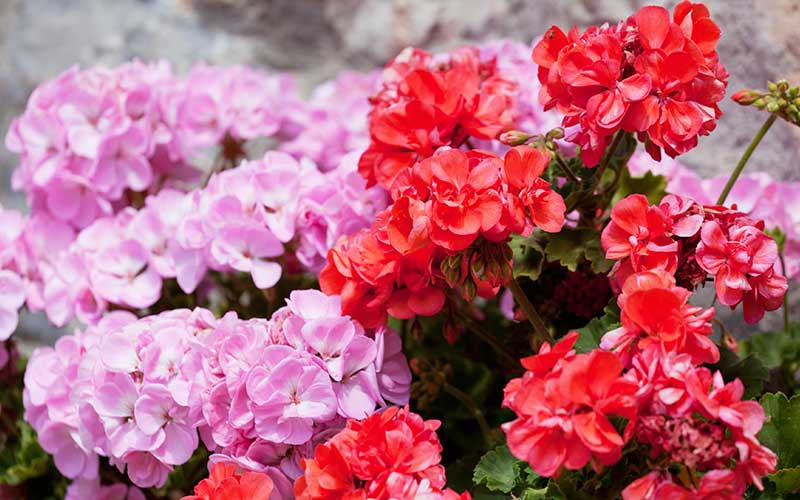 1. Pinch for blooms. When you regularly pinch, snip or deadhead geraniums, they'll reward you with a steady stream of brightly colored flowers. A great tool for the job is the Micro-Tip Pruning Snip by Fiskars.
2. Fertilize once. Geraniums are considered heavy feeders. Feed with a slow-release fertilizer, such as Osmocote, once every four months and less in winter if overwintering.
3. Easy care. Geraniums like to stay moist. When kept in containers, these flowers need watering more regularly, but not too much, because that could cause root rot. Let the soil dry out between watering.
4. Few pests. With the exception of slugs in wet weather, you won't need to worry about geraniums. Rabbits and deer don't like them. If you do see pests, check out our pest problem-solver tool for help.
5. Overwintering works. If you want more than just one season out of your geranium, try overwintering them indoors. The best method is to root a new cutting at the end of August or early September. You could also cut back the top half of the plant to 6 inches. Place your flowers in a sunny window with southern exposure. Reduce watering and fertilizer until spring.
Most common geraniums are annuals. But there are other types to enjoy, including some that ward off mosquitoes.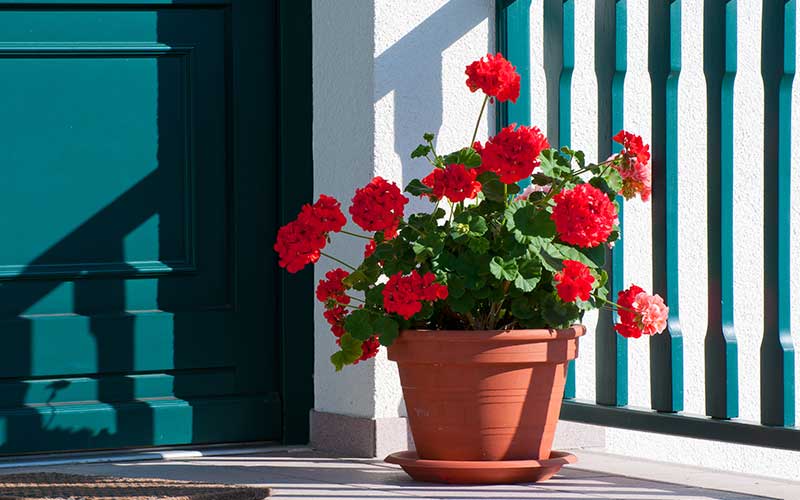 Scented-leaf geraniums. The mosquito geranium is among the most common of scented-leaf geraniums. Known also as the citronella plant, it can help deter mosquitoes, just like many herbs. Other scented geraniums include those that smell like ginger, rose, cinnamon and pineapple.
Ivy-leaf geraniums. Just like ivy, these geraniums take on a trailing effect. They work best in hanging baskets and prefer more moderate temperatures instead of hot sun.
Perennial geraniums. Known as cranesbill geraniums, these are extremely hardy and come back year after year. They come in many varieties, including the 'Rozanne' geranium with its pretty, blue heat-tolerant flowers.
Indoor geraniums. Varieties such as Martha Washington and Regal Geraniums are available during winter and perform best indoors.