Kick off your Halloween season by transforming your home into your very own haunted house. With a few decorations, you can create a full-blown spooky experience. Whether you want to add a little spirit to the neighborhood or give kids a fun experience, this guide will show you the easiest haunted house ideas to create a memorable Halloween. 
How to Prep for a Haunted House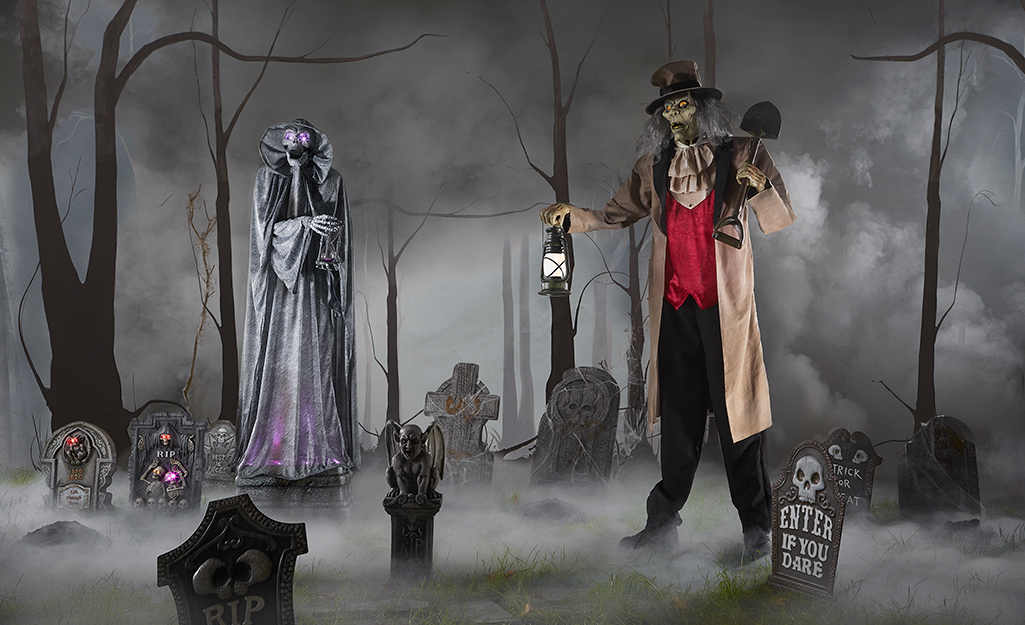 Even if you're only planning to entertain your immediate household, a haunted house is a fun way to celebrate Halloween. Transforming your home into a house of terror takes some creativity and planning. Still, the screams and laughter on Halloween night will be well worth all the work. 
Here are some steps to help you prepare for your haunted house:
Pick a date. Of course, Halloween falls on October 31, but decide if want your home decorated for one day or more.
Make sure your decor is age-appropriate for your expected guests or family members. You don't want anything too scary for young children.
Plan a path. Before you start decorating, you need to decide what you want your guests to see. Do you want to decorate the outside of the house, or will you just focus on the inside? Will you be planning a kid-friendly scavenger hunt? How many rooms will be involved?
Select a theme. A theme makes it easier to shop for supplies and decor. Some popular haunted house themes include zombie apocalypse, haunted hospital, graveyard, monsters or spooky ghosts.
Make a list. Create a detailed list of what you need before you head out to buy Halloween decor.
Outside Decorating Ideas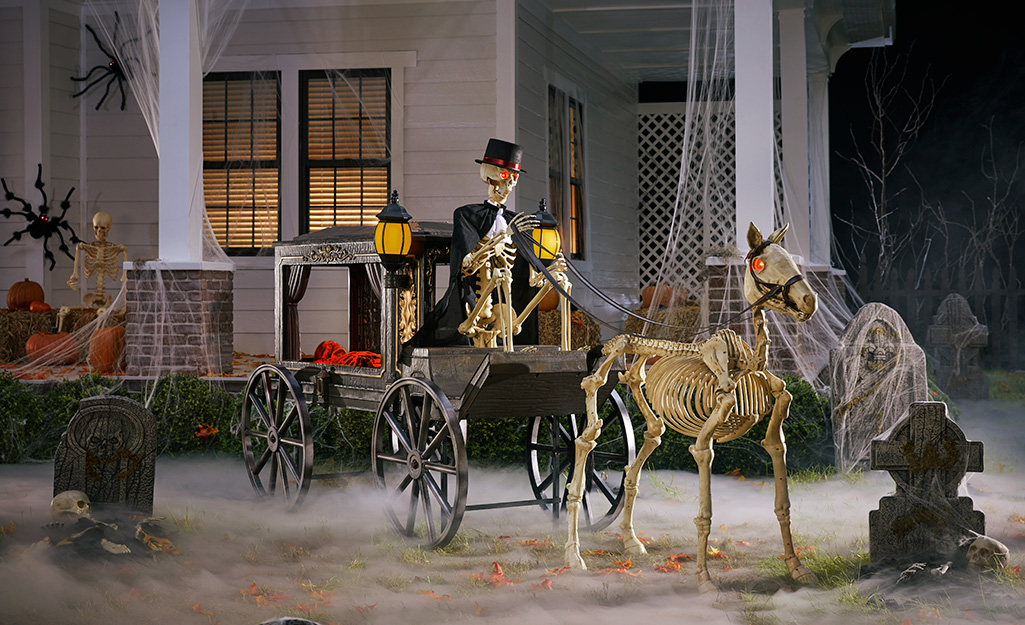 Start with outdoor Halloween decorations to add some moody ambiance. Use these haunted house ideas to create a scary scene in your front yard to frighten trick-or-treaters and passersby:
Go for the full haunted look with a spooky horse and carriage, spiderwebs and skeletons. Add in smoke for a truly frightening effect.
Make a graveyard. Spread faux tombstones in your front yard for an eerily, frightening sight. Add some upturned dirt and place faux skeleton pieces on top to add to the creepy effect.
Hang skeletons from your roof and windows. Use lightweight, plastic skeletons and dangle them from your roof and windows.
Create a spooky Halloween light show of floating, glowing eyes or dancing skeletons on your windows with a LED projection light.
Use trash bags, duct tape and newspaper to make a fake body to leave by your front door.
Set the Scene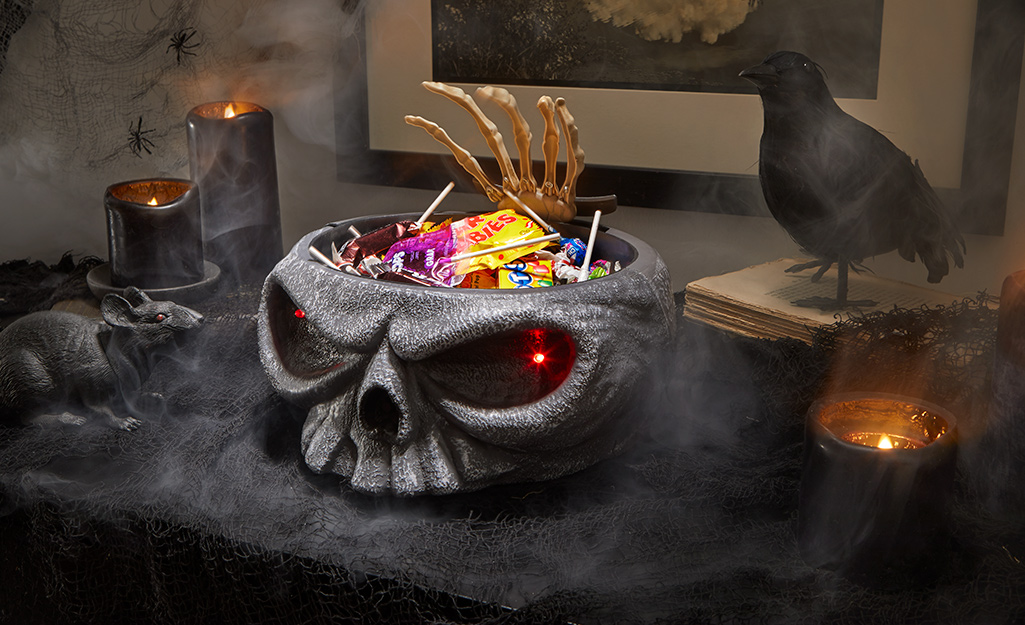 Extras like eerie lighting and table decor are key to making a scary haunted house. Go the extra mile with lighting and accessories to create a haunting effect: 
Replace the light bulbs in your home with dim, green bulbs.
Drape lamps with cobwebs and tape fake bats or spiders to the insides.
Create a creepy shadow with a spotlight under a spiderweb or other scary bugs.
Transform side tables, countertops and other areas of your home with accessories that look like they're straight out of a haunted house.
Use mirrors, black lights, strobe lights, a fog machine or dry ice to confuse the visitors as they wander through your haunted home.
Candles are an inexpensive way to add eerie ambience to a room. Use black or red candles to boost up the creepy factor. For safety, use flameless candles that operate on batteries. Avoid open flames.
Haunting Noises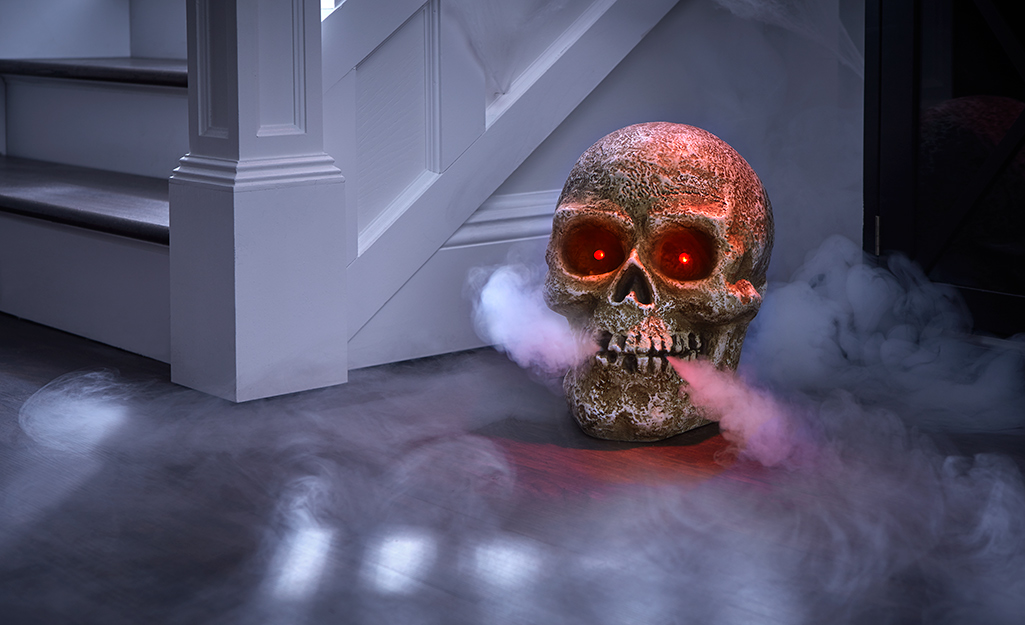 The sounds in the haunted house can be the scariest part of the whole adventure. The key to using sounds is to not to overdo it. Create creepy sounds for your haunted house project with these tricks: 
Use a different prerecorded scary sound in every room.
Go low tech. Recruit volunteers to hide in the dark to make moaning or scratching sounds.
Have creepy music playing softly in the background.
Keep it quiet. Picking key moments to cut the sound will freak out your guests.
Props and Actors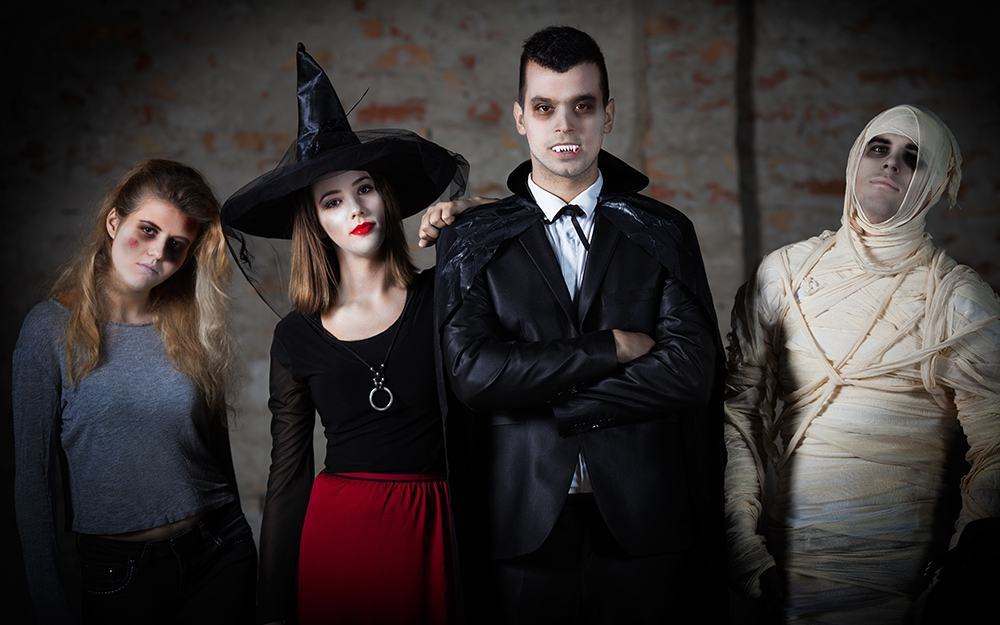 One of the thrills of a haunted house is when someone (or something) jumps out at you or chases you in the darkness. Recruit family members to play scary characters to haunt guests. 
A good old jump scare is effective. Have someone pop out of a closet.
Have people staged at various turns to lightly touch the shoulders of unsuspecting guests.
Dress up like a famous horror film character, covered in fake blood, or as the grim reaper. Scare your guests even more by chasing them down a hall.
Place glass jars with creepy "specimens" on tables throughout your home. Fill a specimen jar with water dyed with food coloring and fake eyes that can float in it.
Drape walls with fake spider webs or other scene setters to transform your room into an old Gothic mansion or a creepy, abandoned hospital.
Create a Kid-Friendly Option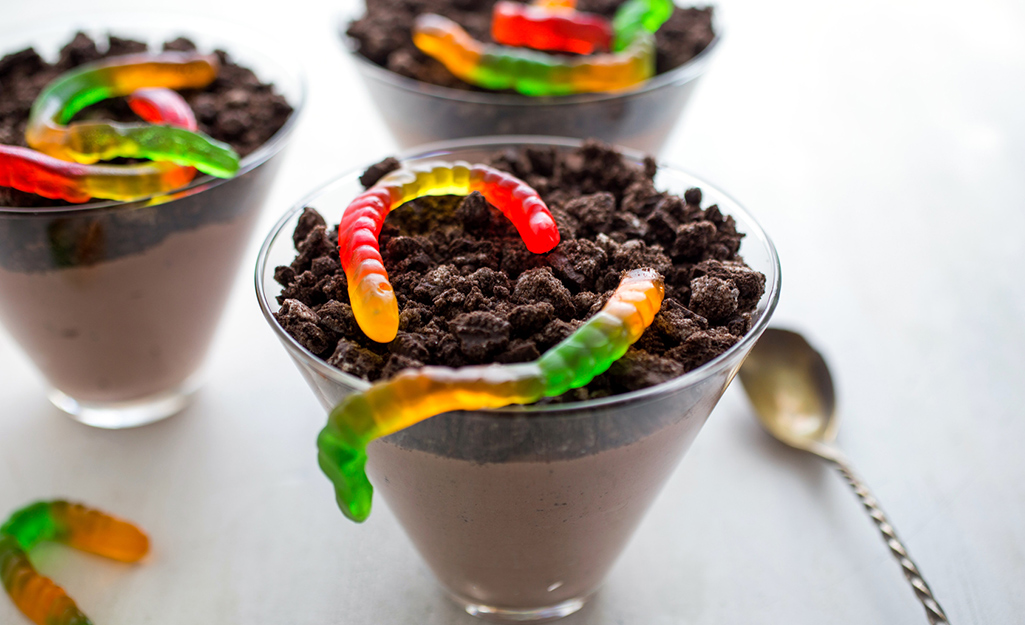 When it comes to thrills and frighteningly good fun, don't forget the little ones. Here are a few ideas for making Halloween night extra special for kids:
Set up a scavenger hunt: Whether you opt for indoors or outdoors, creating a scavenger hunt for kids can add a bit of age-appropriate fun to Halloween. Hide tiny pumpkins, bats, ghosts and other spooky items around the house and let the kids run wild looking for them.
Create a sensory haunted house: Make a mini-haunted house inside your home complete with sensory activities to get little minds going. Use tarps or sheets to make sure the area is dark or ask kids to use blindfolds. Then, lead them through a pre-planned maze. Have them stick their hands in "eyeballs" aka grapes and cold spaghetti as "worms." Wait for the shrieks and screams as they explore and have a great time.
Plan kid-friendly food: What's better than a haunted house? One with yummy snacks that reflect the season. Bake up dirt cups (pudding and cookie crumbles with gummy worms), witch fingers cookies and other treats that will delight kids.
Check with parents to make sure kids can handle the experiences you offer. You don't want to give anyone a real-life nightmare.
Get in the Halloween spirit and make your haunted house unforgettable. Ready to get all the supplies and Halloween decor you need to make your home a fun haunted attraction? The Home Depot delivers online orders when and where you need them.
Explore More on homedepot.com