Nothing gets you in the holiday spirit quite like decking the halls. Make your neighbors jealous this year by kicking up your outdoor light display a notch.
Start by planning your display ahead of time. (Of course, if you want to go full Griswold and throw piles of lights on everything you see, we're not going to stop you!)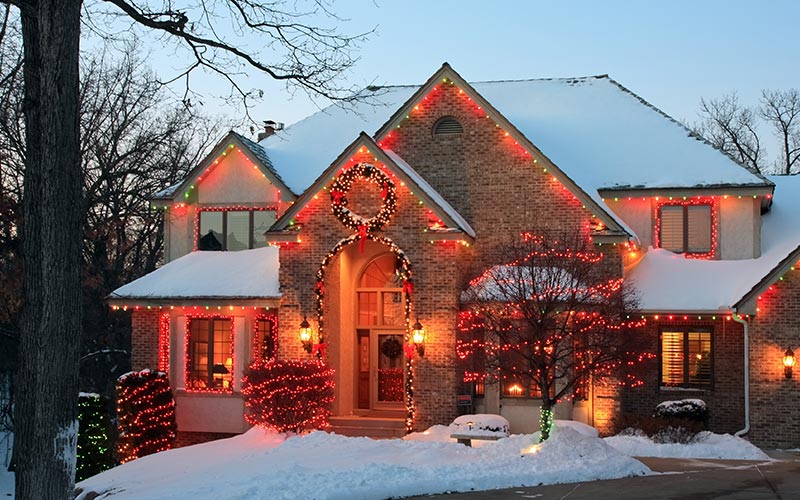 If you're outlining portions of your house, measure the length of space you'll be covering and factor in any extra length needed to reach electrical outlets.
To string lights on outdoor trees, plan on using 100 mini or 25 C-sized bulbs (C3, C5, C6, C7, or C9) for a 4-foot tree; 200 minis or 50 Cs for a 6-foot tree; 300 minis or 100 Cs for an 8-foot tree, and so on.
Most C-sized light strings space the bulbs 4 to 5 inches apart, while mini light strings typically have bulbs spaced 2 to 3 inches apart.
If you'd like more saturation in your decorations, double the strings on top of each other, staggering the bulbs. Check out this handy reference infographic to determine the number of light's you'll need for your project.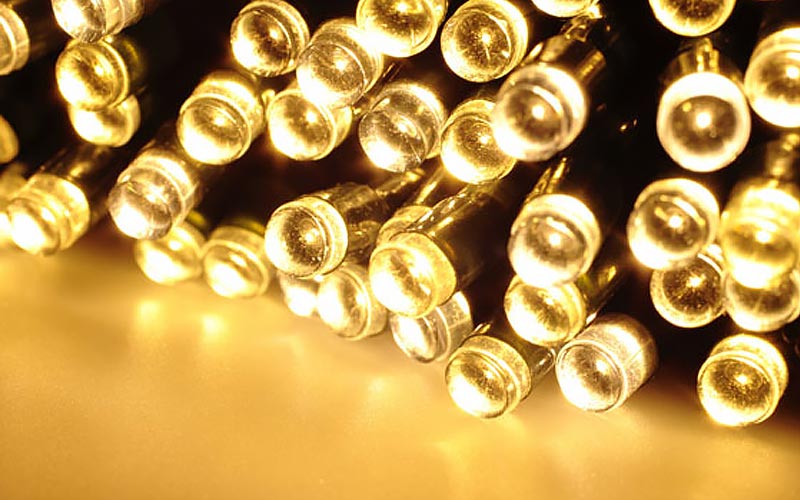 Now that you know how many lights you need, it's time to get creative and select the type you want to use.
LED lights have become the most widely used outdoor lighting option over the past few years, and for good reason. LEDs consume up to 50 percent less energy, effectively cutting your electric bill in half. They can last up to 25 times longer than traditional bulbs and generate significantly less heat than traditional bulbs, posing a much lower fire risk.
If you were reluctant to try LEDs when they were first introduced on the market because they didn't match the look of your other holiday bulbs, you're in luck. The technology has improved vastly over the last few years. You can now purchase these energy-saving bulbs in different shades of white, which let you exactly match your old bulbs.
For a warm, golden-hued light reminiscent of candlelight or more traditional bulbs, use warm white LED bulbs. Cool white LEDs produce a white similar to that of a fluorescent lantern and are often said to have a blue tint.
Of course, both LEDs and traditional bulbs are available in a variety of colors. You can get LED bulbs that have dome tops (either flat heads or softly rounded heads), or are molded into the traditional teardrop shape.
Whether you prefer all-white or a rainbow of colors, LED or traditional, mini or C-sized lights, there are limitless decorating options. You can decorate with light sets that blink in a synchronized pattern, icicles that look like they're melting as they blink in a drip-down pattern, or "chasing" lights that quickly blink in a row and dart quickly through the string.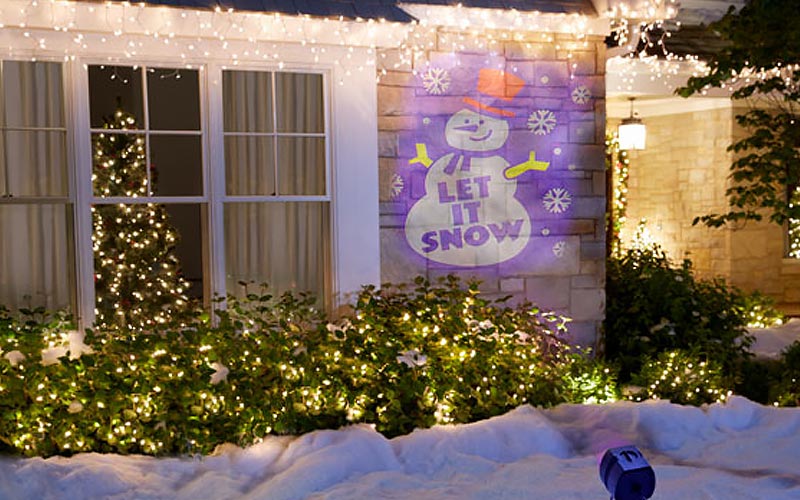 Not big on stringing lights? If you prefer to decorate using outdoor signs or blow-up decorations, set up spotlights to draw attention to your work well after sundown. Spotlights come in a variety of colors, and you can even attach a kaleidoscope to turn the entire front of your house into a canvas.
Looking for lots of impact with minimal effort? Try the Star Shower Motion Laser Light Projector to make thousands of green and red stars explode into motion on your house.