Christmas lights are one of the holiday season's most iconic decorations. Unfortunately, they are also notorious for having lighting issues. Troubleshooting plug-in Christmas lights or pre-lit artificial trees can take more time than necessary. Read on to learn how to fix Christmas lights quickly. Get the tips and tools you need to identify problems before they start.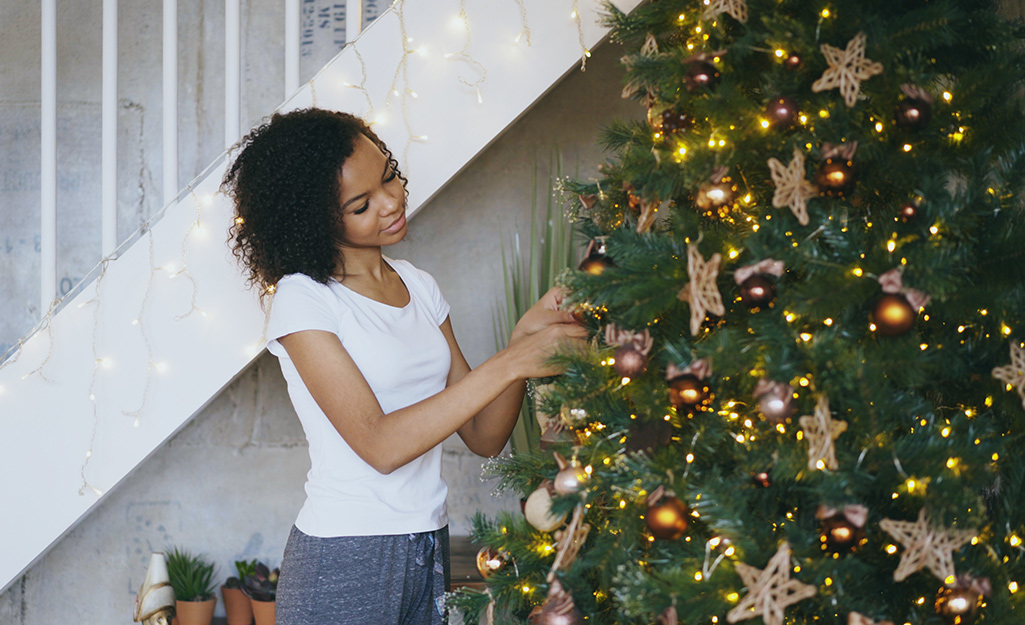 Whether you're using traditional incandescent lights or LED lights, your plug in Christmas lights may have gone out for any of the following reasons:
The circuit isn't carrying power.
A fuse has blown.
A bulb has burnt out and has created a cascading outage.
The wire has broken.
One or more bulbs are not seated properly in their sockets.
A bulb has burnt out and its shunt is not passing on electricity.
If you're using battery-operated Christmas lights, start by replacing or charging the batteries.
Use the following steps to check for and solve these common holiday lighting problems.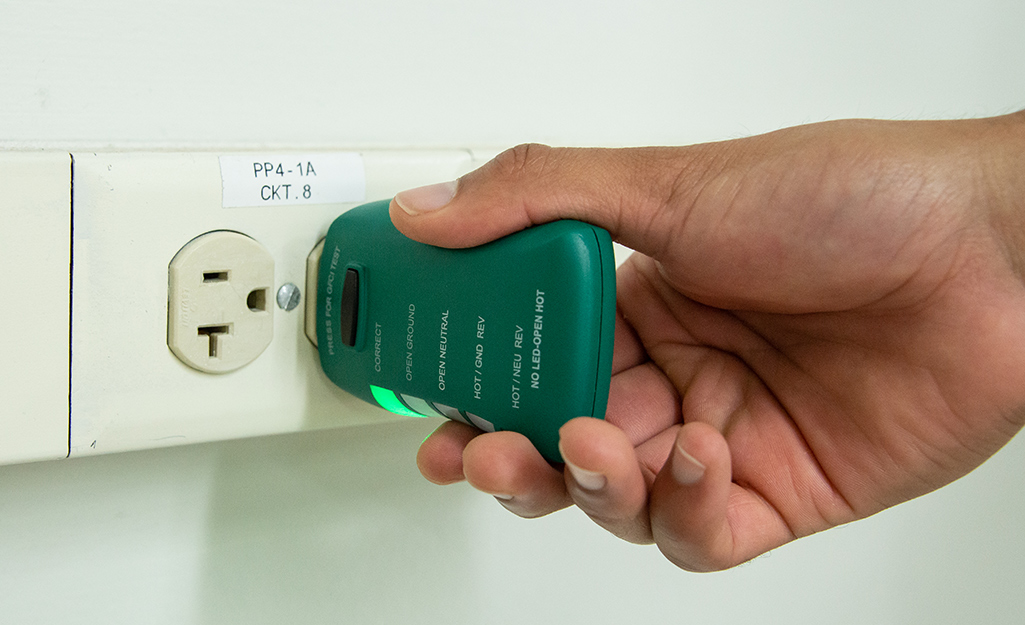 If a strand is plugged into your chosen outlet and isn't working, check the main service panel first. Make sure the circuit breaker is ON and has not tripped. 
If that doesn't work, test the outlet. You can plug in a strand that you know works or use a circuit tester. If the outlet is still not working, consider another outlet, call an electrician to fix the broken outlet or move on to Step 3.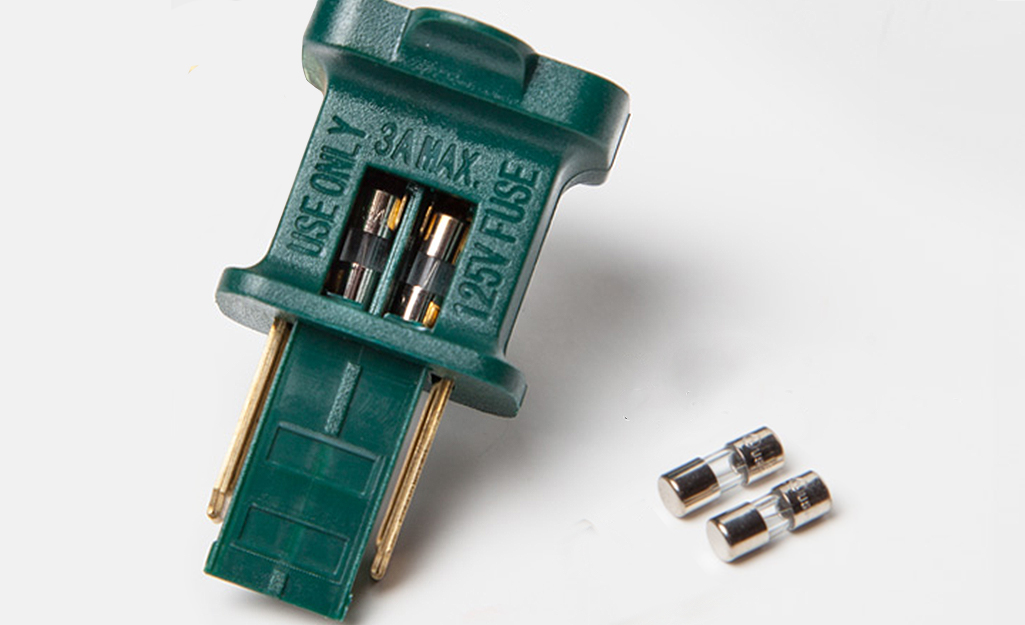 Strands of traditional and LED holiday lights usually have cartridge fuses in a small compartment in the cord plug behind a sliding door. The fuse is a small, glass cylinder with metal-plated ends and an internal metal filament. You can sometimes tell by sight if a fuse has blown; the metal filament inside the glass cylinder will have a break in it. Learning how to change a fuse in Christmas lights is simple: 
Open the sliding compartment door and remove the fuse(s). 
Replace the blown fuse with a replacement fuse of identical size and rating.
If you can't tell by sight that a fuse is broken, test each fuse. Replace them one by one with a new fuse until the lights come on. 
If all the fuses are functioning, but the lights are still out move on to step 4.
Tip: If your strand of lights does not appear to have accessible fuses, move on to step 4.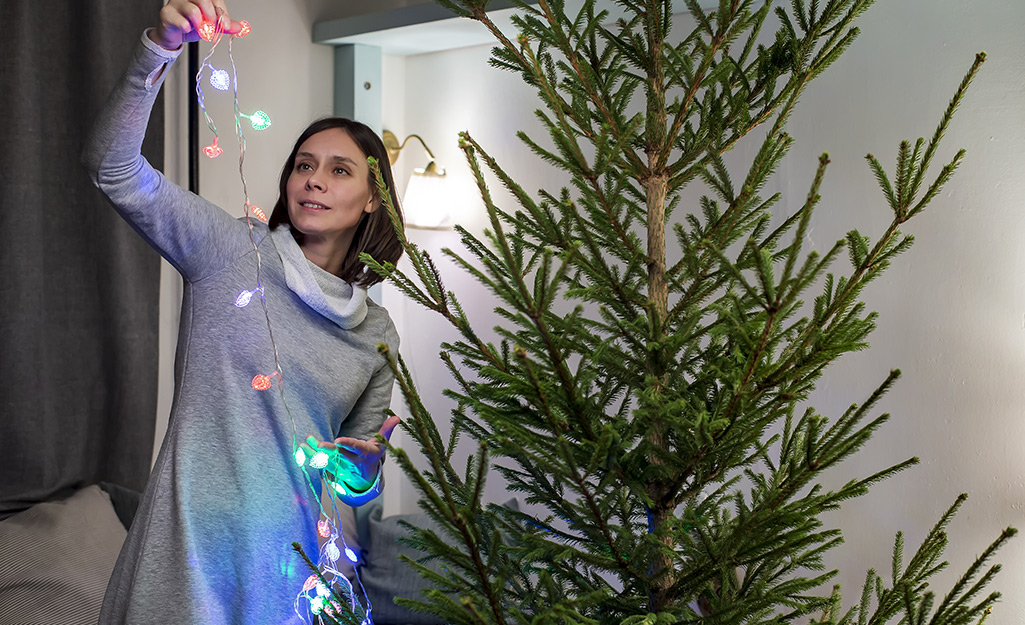 Completely unravel your string lights and check for broken wires and sockets. Keep in mind that all the "wires" on the strand may not actually be electrical wires—some are there for aesthetic or support reasons and are not a part of the circuit panel. 
If there are broken parts of the strand that do not appear to have any electrical wires inside, then they are likely not affecting the lights.
If a broken strand does have electrical wires poking through, then discard the strand. Reserve the bulbs to use as replacements for other strands of Christmas lights.
If the strand appears fine, move on to inspecting the individual sockets and bulbs.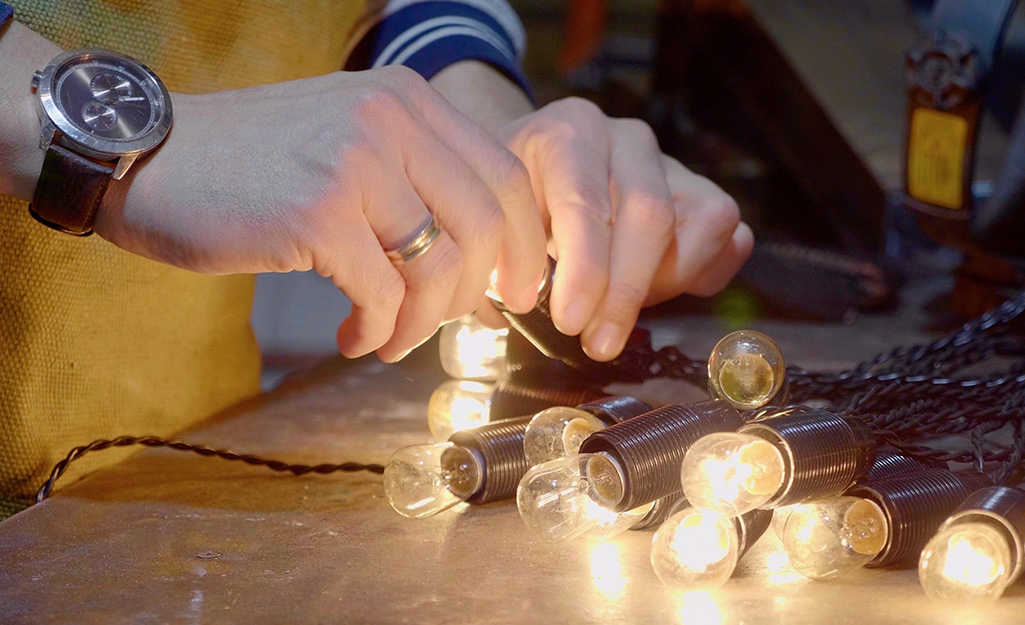 String lights usually come with extra bulbs. Christmas light bulbs come in all voltage ratings, including replacement C9 Christmas light bulbs and replacement C7 Christmas light bulbs. They are also available in both colored and clear replacement Christmas light bulbs.
Ensure each bulb is seated properly and fully in its socket. 
Bulbs that have burned out should be easily detectible, since the glass will be darkened around the broken filament. 
Unplug the strand and replace the bad bulb with a new bulb of the same size and the same voltage rating. 
If you cannot detect any burnt-out bulbs or a large chunk of lights are still not functioning, move on to Step 6.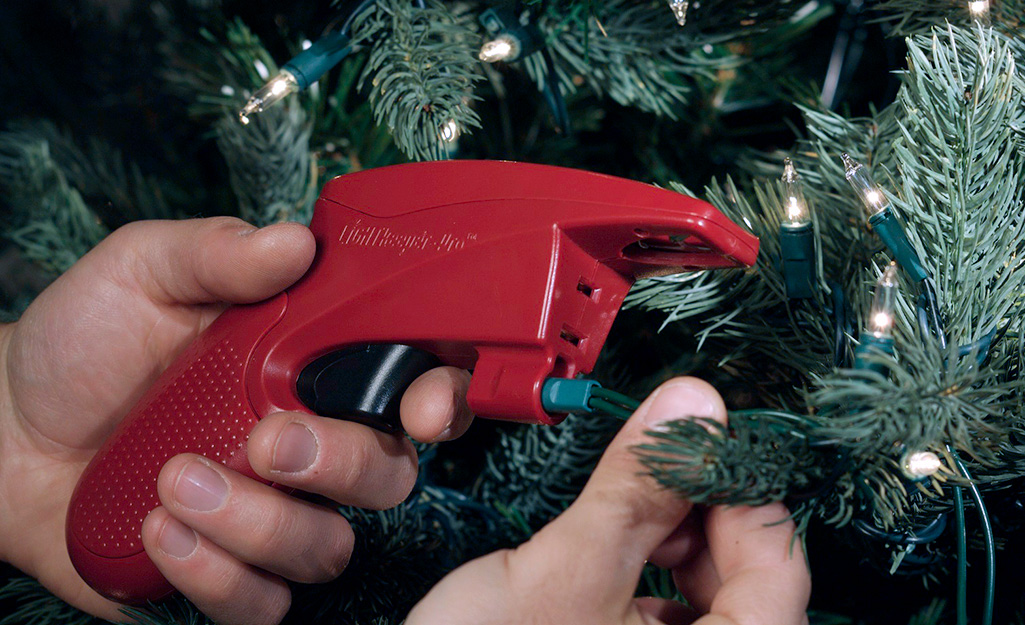 Use a Christmas tree light tester to test each bulb individually. Sometimes nonfunctioning Christmas light bulbs can appear to be perfectly normal, so a light tester is the most efficient and reliable way to single out broken bulbs. You can test both traditional and LED bulbs. Replace all nonfunctioning bulbs.
Here's how to test the bulbs without a light tester:
Find a socket on the strand that you know works and mark it with a piece of tape. 
Remove all the bulbs from the nonfunctioning section of the strand. 
Put them in a bowl for untested bulbs. Use a separate bowl for tested and working bulbs. 
Plug in the strand and start testing each bulb by putting it in the indicated socket. 
If it lights up, you know the bulb works. Place it in the working bulbs bowl. 
Continue this process until you have tested every bulb. Put the working bulbs back in the sockets.
Discard any bulbs that did not light up.   
7
More Troubleshooting Tips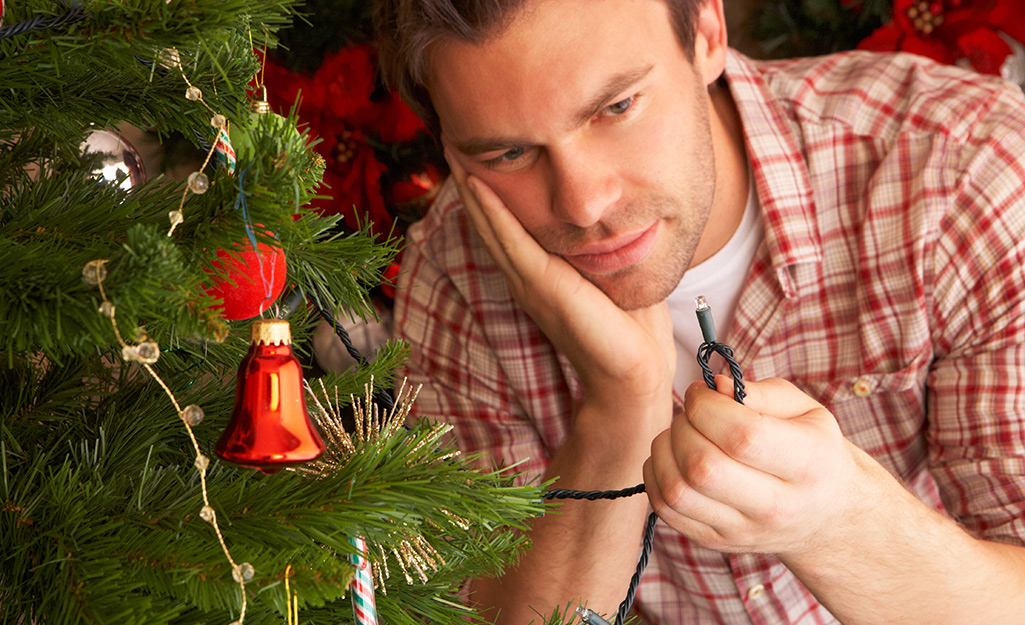 Keep in mind the following when you're trying to fix Christmas lights:
Modern string lights have shunts to redirect the flow of electricity. When a bulb burns out, only the individual light bulb is affected. If an entire panel of lights is out, it's usually not a single burnt-out bulb. Buying Christmas light replacement bulbs should always be your last step. 
Replace burnt-out string bulbs quickly to prevent a cascading outage. When a single bulb goes out, its shunt passes along the electricity to the next bulb. This makes each bulb burn brighter until it eventually burns out. If a major outage has already happened, you must replace the first burnt-out bulb and every bulb that follows it.
Replace your string lights regularly. The typical holiday light strand lasts between 1,000 and 1,500 hours or about two to three holiday seasons. LED Christmas lights have a considerably longer life, usually lasting up to 10 times longer than traditional lights
8
How to Care for Your Christmas Lights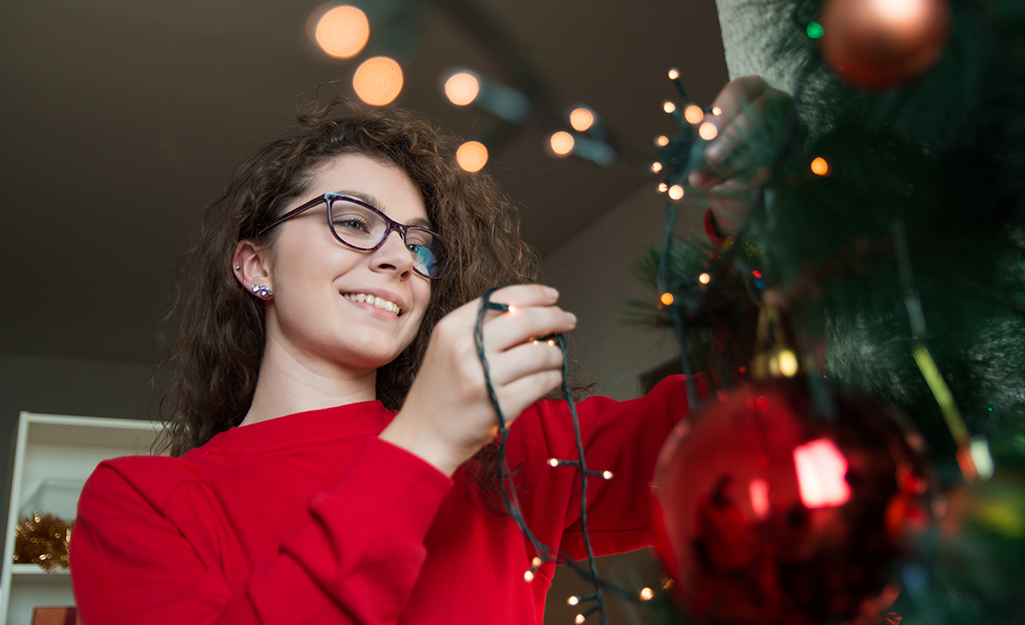 Christmas string lights are fragile. Take care of them properly.
Holiday season care:
Turn off and disconnect plug-in Christmas lights when not in use and before going to sleep at night.
Hang ornaments from the branches of your tree. Never hang them from the light strand.
Keep natural trees well-watered, because dry branches and needles are significantly more flammable.
After-season storage:
Take down the Christmas lights carefully, without pulling on or twisting them. 
Plug the light strands in before storing them, to ensure they are still functioning.
Replace malfunctioning bulbs and fuses so that the lights are ready for next season.
Coil the strand loosely and secure it with twist ties, so that it does not tangle with other strands in storage.
Place the strands in their original packaging or a similar container and store them in a dry, safe area away from children and pets.
9
Troubleshooting Pre-Lit Artificial Christmas Trees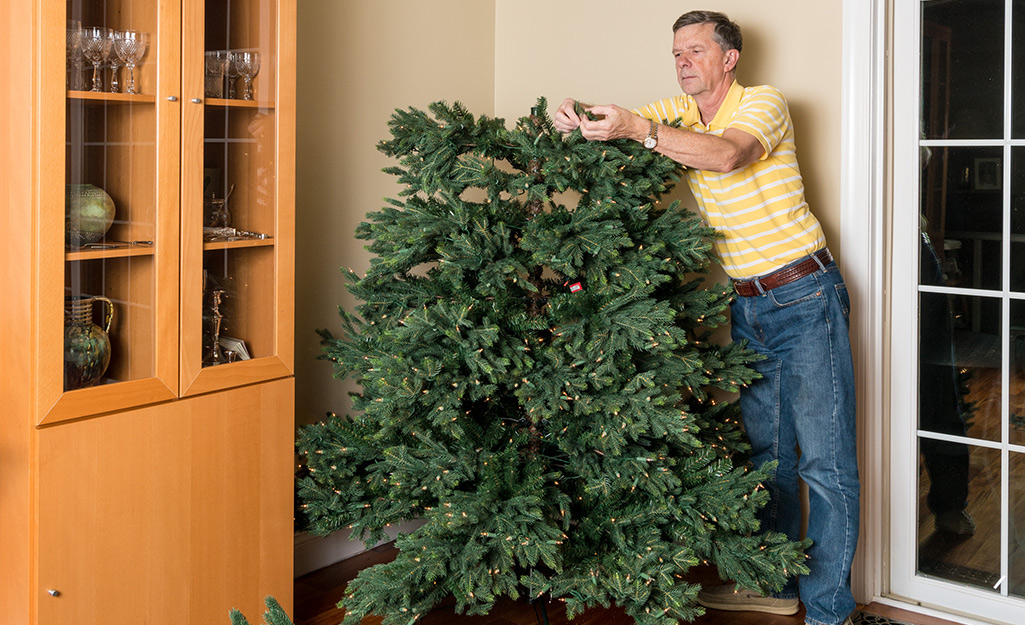 Pre-lit Christmas trees are the ultimate in holiday convenience. However, if your pre-lit artificial tree does not fully light up, the following suggestions could have it shining brightly in no time. 

Make sure your pre-lit tree is plugged into a working outlet (see Step 1). 
If the tree has a remote, try replacing or recharging the batteries. 
If you've never used the tree before, you may need to remove the plastic tab in the remote case. 
Check the connections between any unlit sections. Make sure each section is firmly placed into the adjoining section. 
Look for any broken or burned-out bulbs. Replace them. 
If a section is half-lit, check the fuses. The fuses are usually located in the end of the plug with the blades. 
If there's a foot pedal, step on and off it. 
Double check the sections. One of the plugs may have become partially or fully disconnected. Larger trees will have two to three strands, and the main plug may not be at the lowest section of the tree. 
Knowing how to fix Christmas lights will help you enjoy your holiday better. From checking fuses to replacing bulbs, there are several steps you can take to keep all your holiday lights working. Ready for new icicle lights, LED Christmas lights or other string lights? The Home Depot delivers online orders when and where you need them.
Explore More on homedepot.com