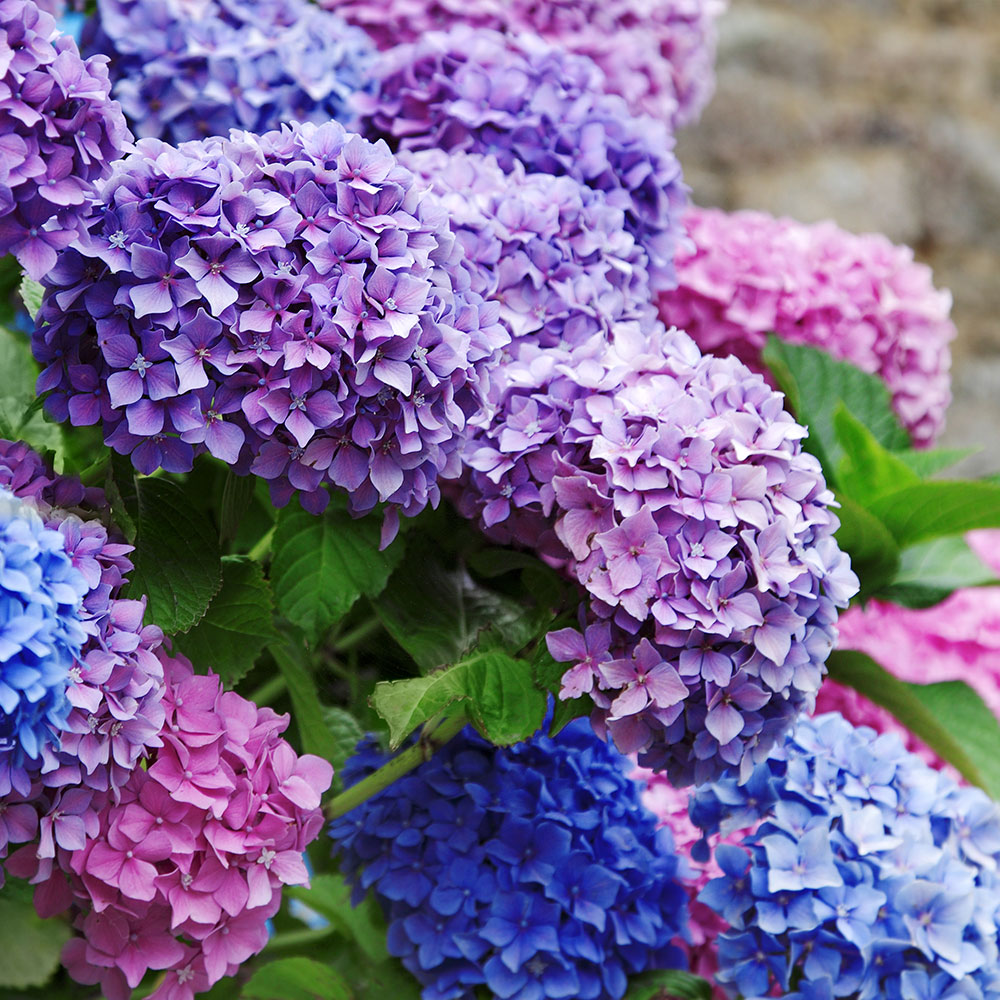 Plant and enjoy top perennials for your summer garden. See our list that includes a variety of perennial favorites for summer. You'll also find ideas for companion plants and care tips.
Good companion plants help their partners by shading roots and controlling weeds organically.
Hydrangeas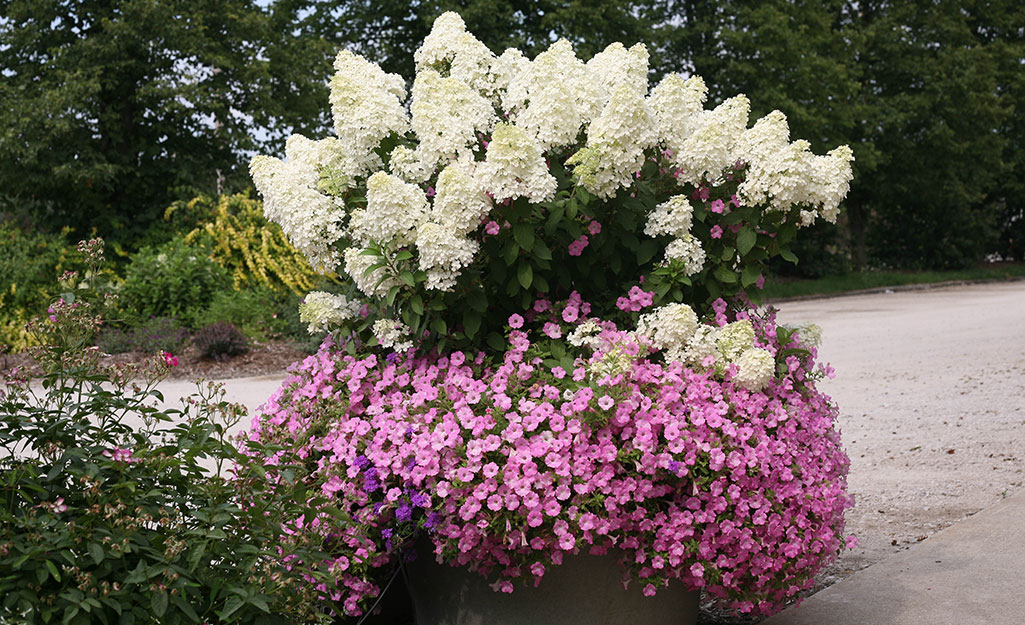 Plant a colorful garden or container garden with hydrangeas. These carefree perennial shrubs send out big, beautiful blossoms in summer. Think pops of pink, blue, lavender and snowy-white in the landscape. Sometimes there are that many colors on the same shrub.
Hydrangeas don't attract deer, making them an easy choice for any garden. Just give hydrangeas morning sun and afternoon shade, especially in warmer climates, for a total of four to six hours a day.
Try growing re-blooming hydrangeas such as Little Lime Hardy, a container variety by Proven Winners for USDA Plant Hardiness Zones 3 to 9 and Endless Summer collection for zones 4 to 9.
If you're growing hydrangeas in large containers, choose spilling sweet potato vine as a companion. In the garden, pair hydrangeas with shady partners, including hosta and heuchera.
Roses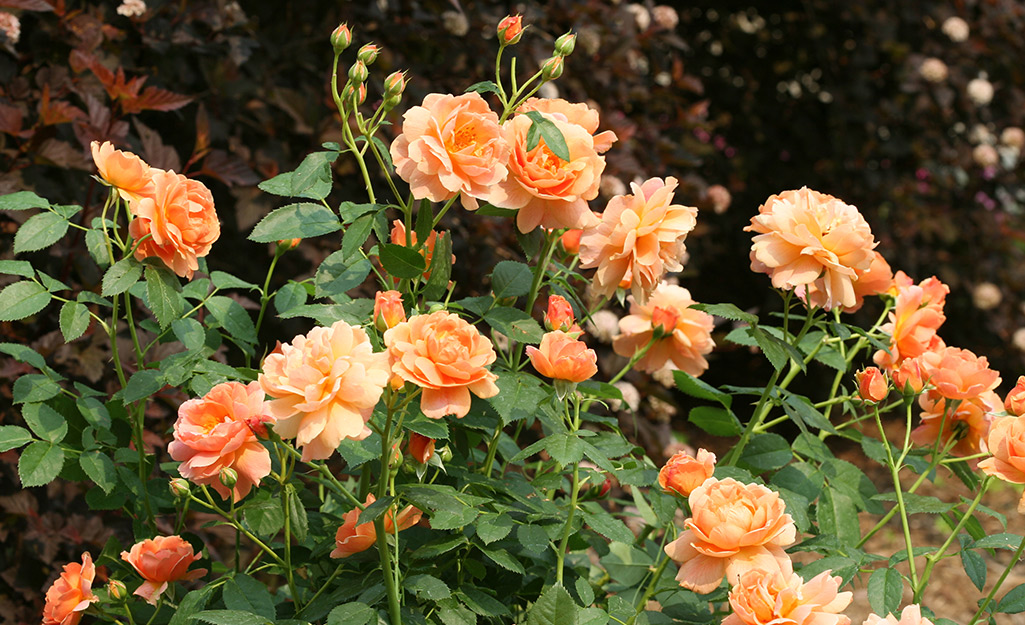 The beauty of these perennial shrubs can make you forget their diva-like nature. Roses do need pruning and regular insecticidal soap treatments. But the rewards far exceed the effort.
Check out the types of roses to choose for your garden, including those that grow well in containers in small-space gardens. Find out more about caring for roses.
If you're growing roses in containers or in a garden, pair them with catmint, daisies, lavender, verbena, lantana and more. 
Hostas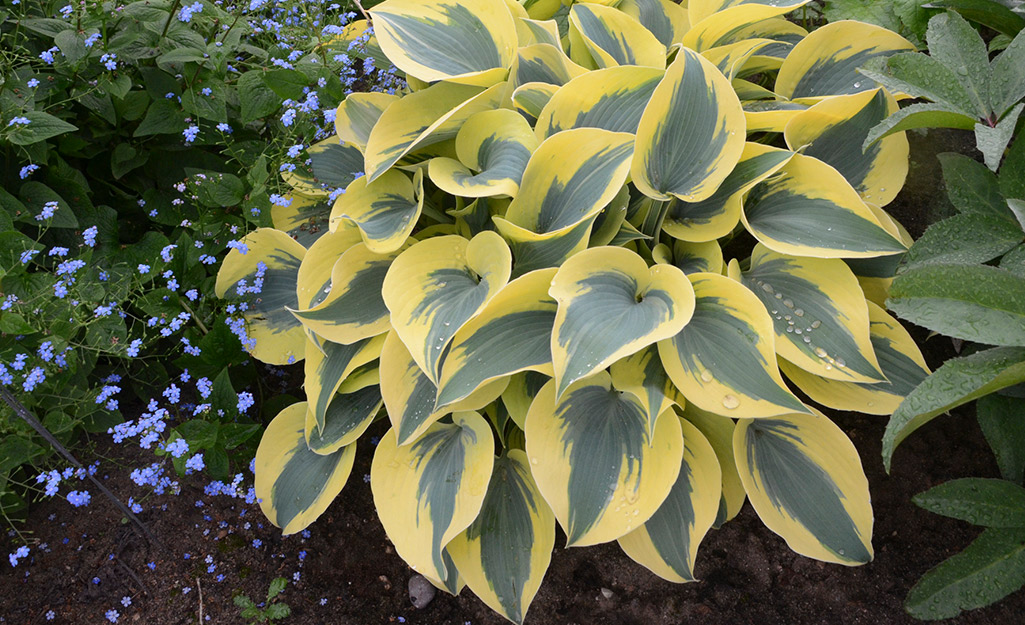 These somewhat addictive plants vary in size from minis that grow to 7 inches high, to giants more than 30 inches high.
Hardy hostas look beautiful in gardens due to variations in leaf texture and color, everything from Shamrock and lime green to blues accented with white or yellow.
Get hostas for any shady area in your garden. Hosta leaves have a natural waxy coating that will melt in direct sun, so plant them in shade to ensure they keep their color. Hostas will need lots of water, especially after first planting, until they become established.
Get tips on growing hosta and how to divide them for free plants. Pair hosta with heuchera and other shade lovers. Grow hosta in zones 3 to 9 and year-round in Florida.
Heucheras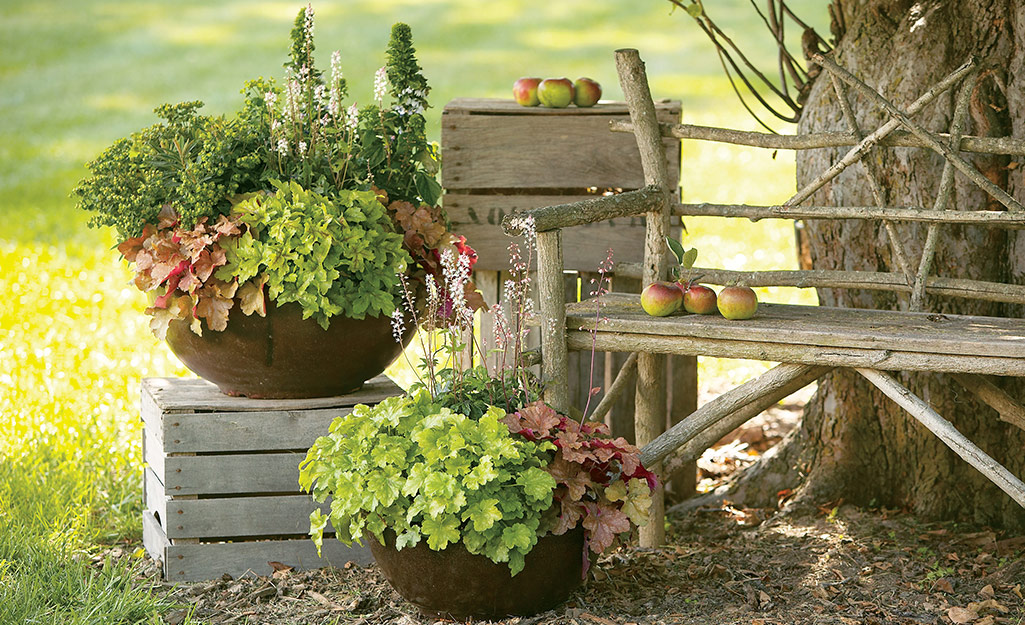 Shade-loving heucheras (commonly called coral bells) are grown for their colorful foliage, not the sweet petite blooms they send up in spring and mid-summer.
Though heucheras prefer average moisture, they're anything but average with foliage in peachy hues, dark purples and more. Be sure to work plenty of organic matter into the soil to give your heucheras a well-draining bed.
Pair heucheras with hostas and ferns in a shade-loving garden or with other shade-loving plants in a container. Grow heuchera as a perennial in zones 4 to 8.
Gaillardia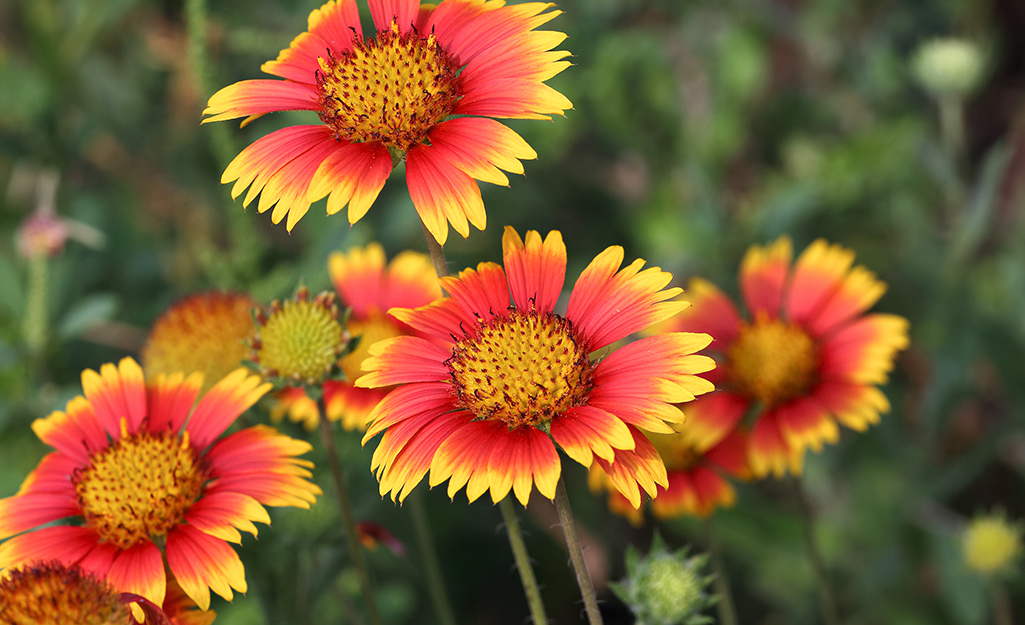 From early summer through fall, gaillardia bursts with striking, vivid flowers. They're easy to grow from seed and germinate quickly in the garden.
Known also as blanket flower, these hardy bloomers make for a bold accent in your flower garden. Gaillardia plants can grow dozens of blooms at once. As a result, hummingbirds and butterflies flock to gaillardia.
This repeat bloomer is traditionally rust-colored with a yellow rim, though some newer varieties feature red and burgundy colors.
Just give these flowers sun and they'll provide plenty of color until frost. Plant companions, including black-eyed Susans, sedum, coneflower, daisies and more, in containers or in your garden. Grow in full sun in zones 3 to 10.
Black-Eyed Susans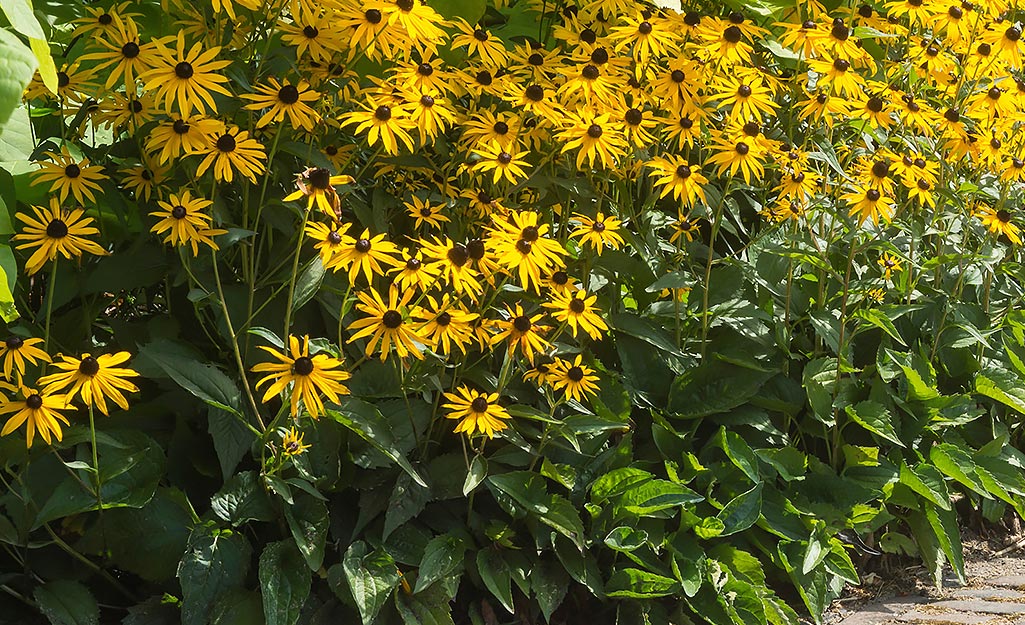 Known also as rudbeckia, this smiling daisy-like flower is popular with bees and other pollinators. Besides the signature sunny yellow, black-eyed Susans come in bronze, mahogany and red with a signature black eye in the center. These native perennials are easy to grow, performing well even in poor soil and dry conditions.
Black-eyed Susans pair well with lavender, coneflower, catmint, sedum and more in containers and in the garden. Grow in full sun in zones 4 to 9.
Coneflower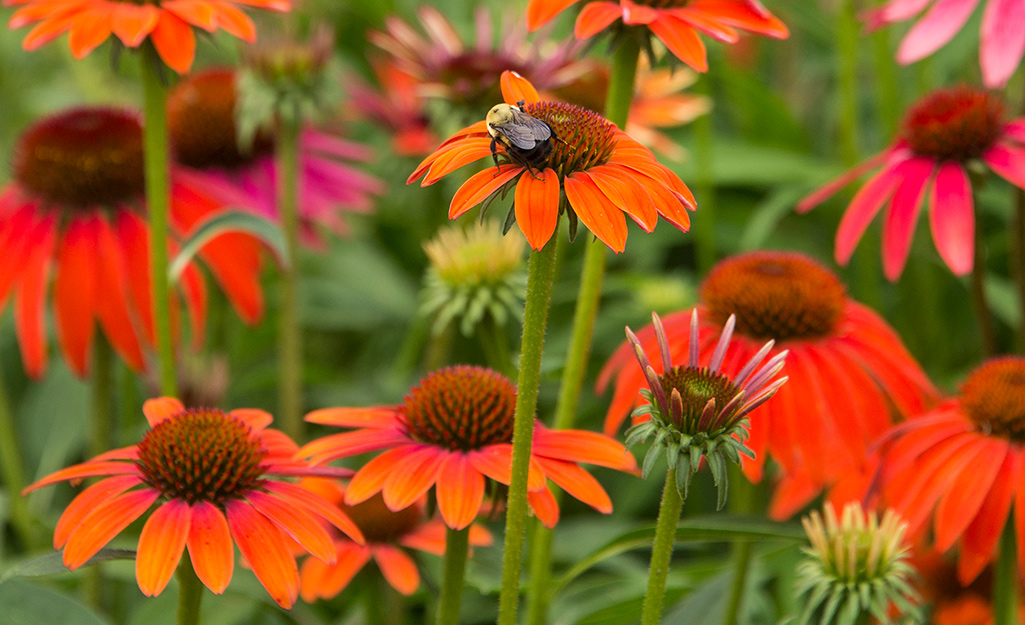 Grow dependable coneflower and you'll enjoy an easygoing, heat-loving flower that's a perennial must for every garden. Coneflower, known also as echinacea, is easy to grow from seed, too.
Colorful coneflower blooms can grow several feet tall in full sun. Coneflower makes a great companion to other flowers and plants, including ornamental grasses, catmint, coreopsis, black-eyed Susans and more.
These beauties make excellent cut flowers and they're guaranteed to attract bees and butterflies from summer to late fall. If you have time to deadhead the spent blooms, these flowers last until the first frost. After frost, leave the seed heads for birds to snack on all winter.
Try them in hellstrip gardens, container gardens or at the back of the garden, so their tall stems form a backdrop to smaller flowers in the foreground. Grow in full sun in zones 3 to 9.
Catmint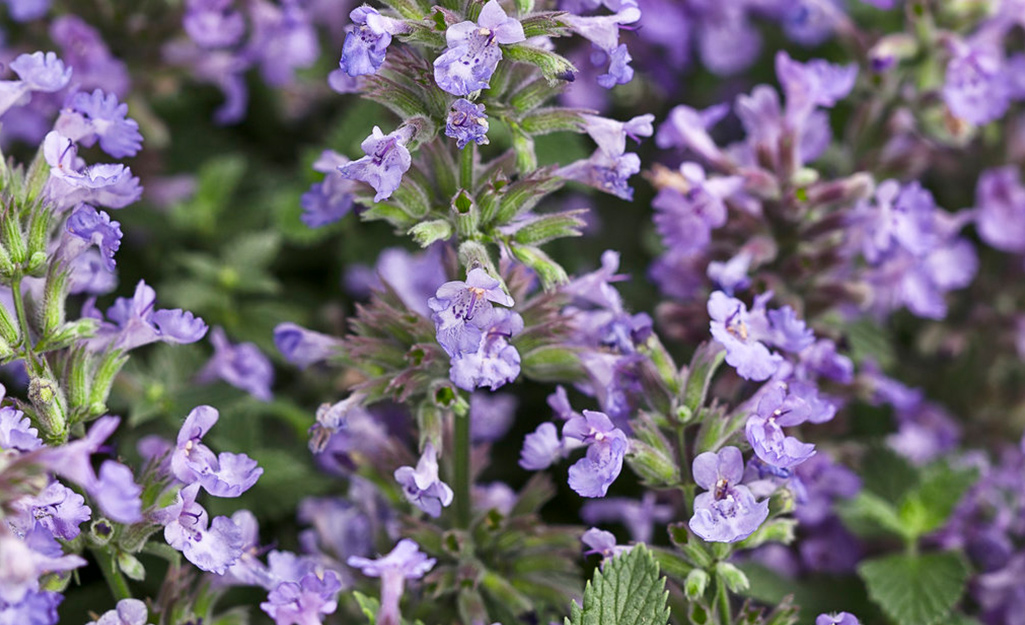 Catmint thrives on neglect and survives almost anywhere in the garden, whether in sun, part sun or shade. It's also a plant that naturally repels mosquitos. What's not to love? With some varieties featuring blue flowers, it almost looks like lavender, but it's not.
With never-ending blooms, this perennial explodes with showy flowers in shades of lavender, blue or pink. It's such a treat to have catmint in the garden, but don't overlook its gray-green foliage, which brings much to the show, too. Depending on variety, catmint can grow taller than 5 feet. Try the Greek catmint variety for height.
Catmint is not disease or pest-prone, making it a must-have for the garden. In case you're wondering about the name, this favorite is beloved by cats, too. Outdoor frolicking felines will love licking and biting the leaves, similar to another type of catmint, catnip.
Catmint works well with roses, coneflower, black-eyed Susan and more. Grow catmint in zones 3 to 8.
Lilies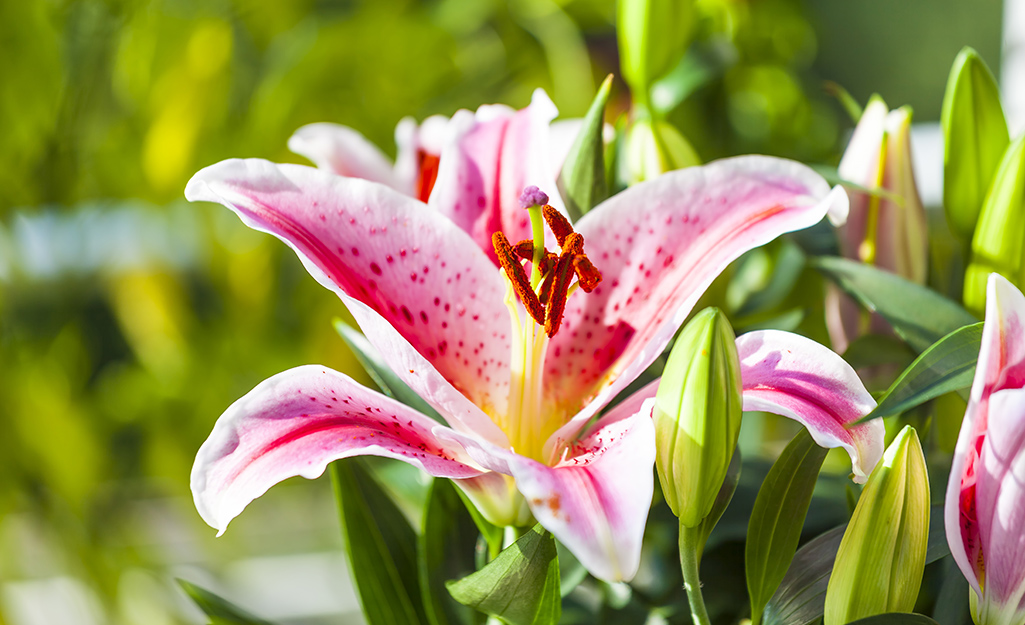 Rugged lilies come in many varieties, including the showy "Stargazer" (shown above). Fragrant stargazers burst into action in spring. By planting different varieties, you're sure to get blooms up until the first frost.
Another type, daylilies, store extra water, making them extremely drought-tolerant.
Plant lilies in full to partial sun. Water to establish, then as needed. Lilies pair well with ornamental grasses, but they're so beautiful, you may want to just keep clusters by themselves in the garden. While lily bulbs can be planted in spring for summer blooms, you can also find lily plants in season. Lilies grow best in zones 4 to 8.
Lavender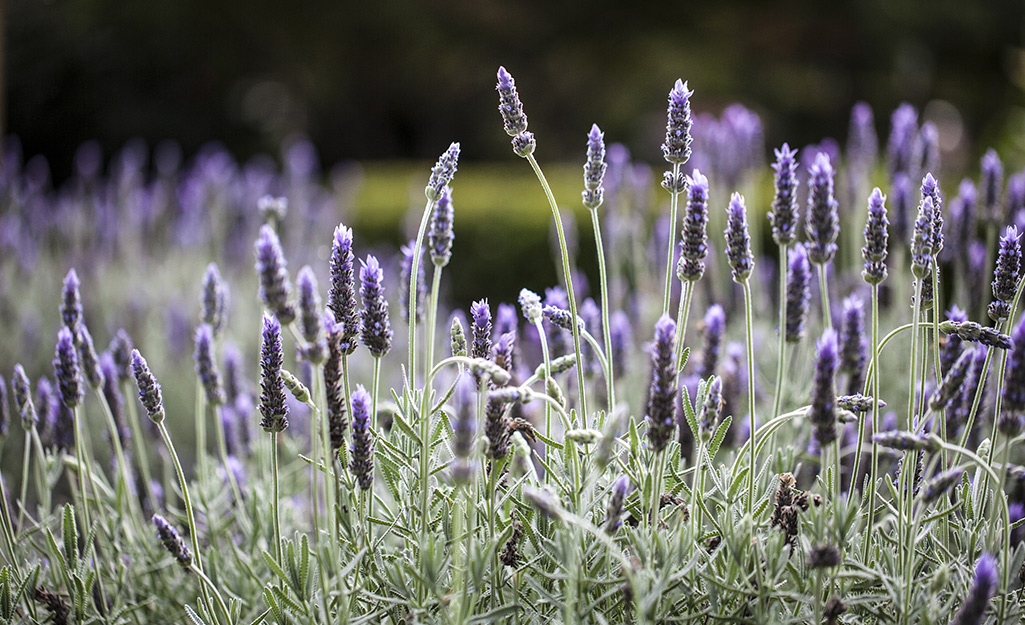 This low-maintenance woody perennial tolerates dry conditions and loves the heat. Bees love it, but deer and rabbits tend to skip it. Lavender blooms add perfume to the entire garden and can be used to flavor dishes.
Grow in full sun in zones 5 to 10 in containers or in a garden with well-draining alkaline soil. Learn more about growing and using lavender.
Ready to get growing? Shop The Home Depot online for everything you need to start your summer garden. The Home Depot delivers online orders when and where you need them.
Explore More on homedepot.com