Come mid-summer, it's time to think about what veggies to plant in your fall garden. From leafy greens to cauliflower, cool-season veggies tolerate a light frost. These plants thrive in short daylight hours and taste best when temperatures fall.
This guide covers tips and vegetable options to enjoy in your fall garden. If you're a warm season gardener looking for inspiration, follow this basic guidance to have successful fall crops.
Fall Vegetable Growing Tips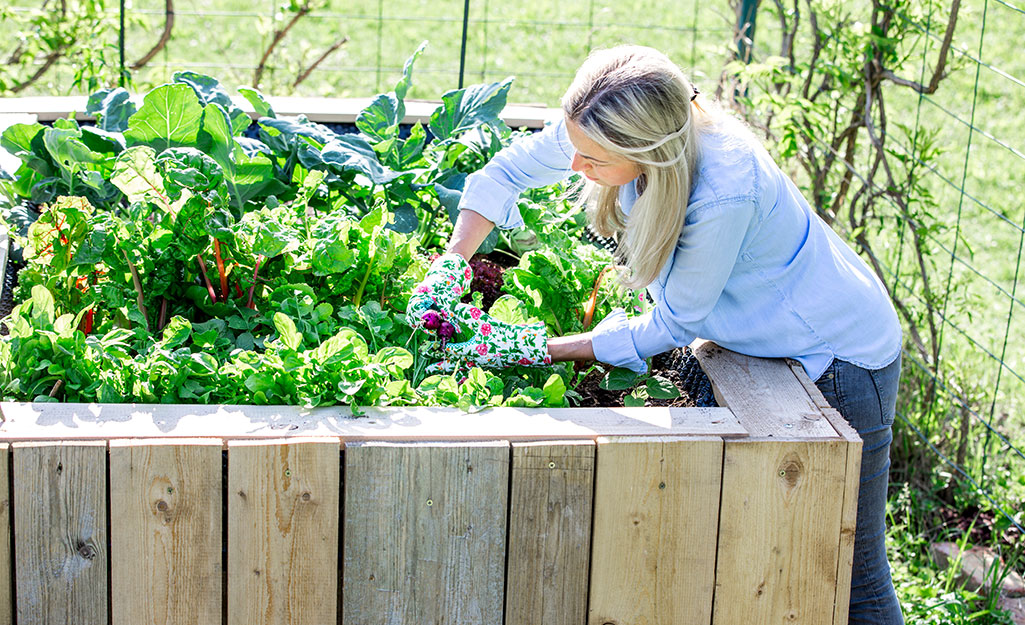 Starting with seeds is cost-effective, but many vegetables can start as seedlings. The plants easiest to grow from seed are spinach, leaf lettuces, beets, carrots and radishes. Just make sure you have enough time before the first frost.
Your best bet is to start planting from seedlings. Plug veggie seedlings into open spaces in your mid to late summer garden. They'll benefit from the shade of summer crops while the weather is still hot. When cool weather turns to frost, extend the season even longer with row covers.
When daytime temperatures are around 70 degrees Fahrenheit, cut summer crops back. Cut their growth all the way back to the ground. This move will allow your fall veggies to receive full sun.
When figuring out the best time for planting your seeds, it depends on your region. You'll want to plant your seeds long enough before the first frost. For example, look at Georgia. If you're planting fall vegetables in Georgia, you'll want to plant most seeds in July or August. Some plants, like onions, spinach or radish can be planted in September or October. Find a seed sowing chart for your region before you plan your garden. Use a frost date calendar as a gardening guide. It'll help you know the average first and last dates of frost in spring and fall. This calendar is measured over a 30-year period in your local area.
Raised beds are ideal for growing vegetables, especially in the fall. This is because the bed retains warmth. Keep in mind that vegetables also grow well in patio containers. When annuals, tomatoes and other warm plants are done, pull them out of your containers. Replace them and sow fall vegetable seeds and seedlings. 
Check out these favorites below for fall veggie gardening:
Tender greens sown when the weather is cool and harvested before the first frost: spinach and leaf lettuces.
Root vegetables:
Beets
Carrots
Leeks
Radish
Turnips
Cole crops (Brassicas):
Broccoli
Brussels sprouts
Cabbage
Cauliflower
Collards
Kale
Kohlrabi
Swiss chard
Beets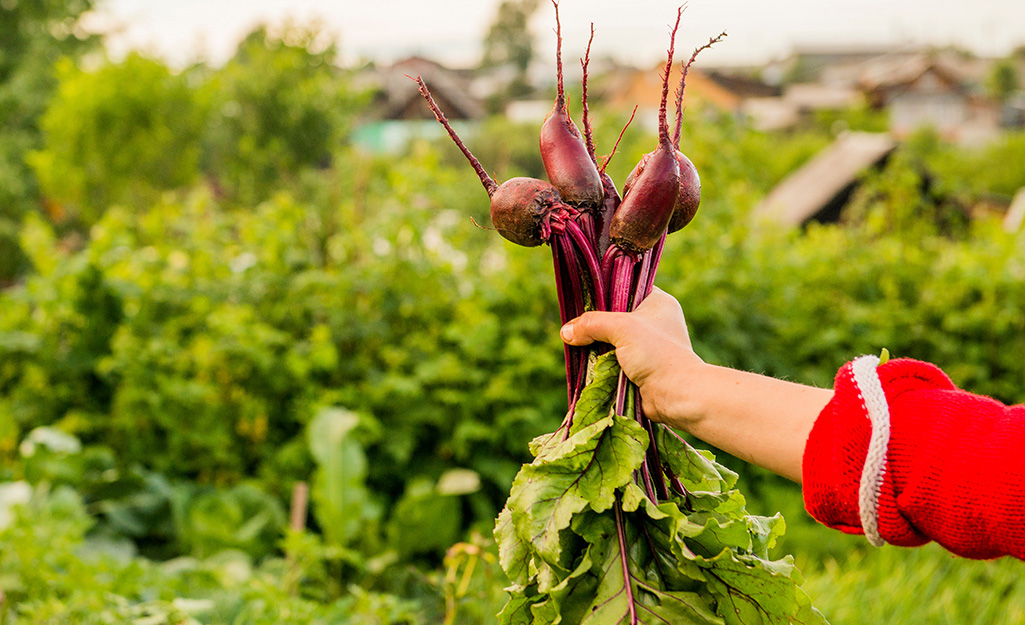 When planting beets in the fall, leave at least a month before your first expected frost. In warm climates, you can plant in the fall for a winter harvest. Beets are good in the ground or in a container. Make sure it's a sunny spot and has good soil drainage. Plant away from Swiss Chard and spinach because they share similar pests and diseases.
Seeds should be 1 to 2 inches apart. Space rows about a foot apart. When seedlings reach 3 to 4 inches tall, thin them to around 4 inches apart. Beet seedlings take about 55 to 70 days to mature.
Bok Choy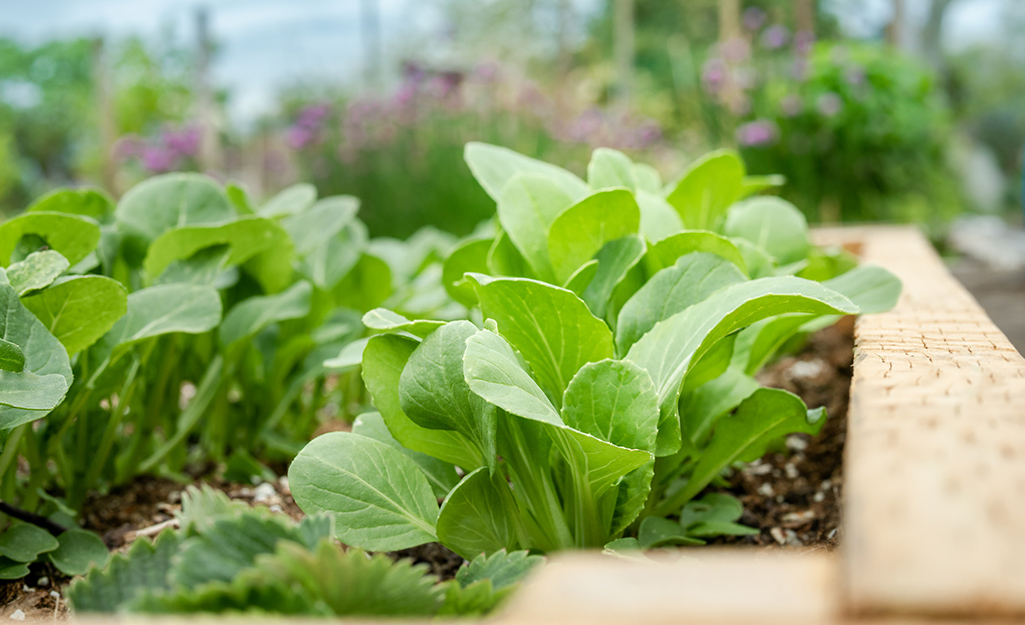 Bok choy's dainty looks are deceiving. The seeds germinate right away. The pest-resistant plants quickly bulk up with crunchy, spoon-shaped leaves. Bok choy grown in spring often bolts (flowers) before it reaches full size. But fall-grown plants last much longer in the garden. Bok choy loves short days, cool weather and rain, and can handle a late frost.
The planting site must have well-draining rich, fertile soil. Rain should be able to saturate the ground. If you're planting seedlings, space them 6 to 12 inches apart for growth.
Broccoli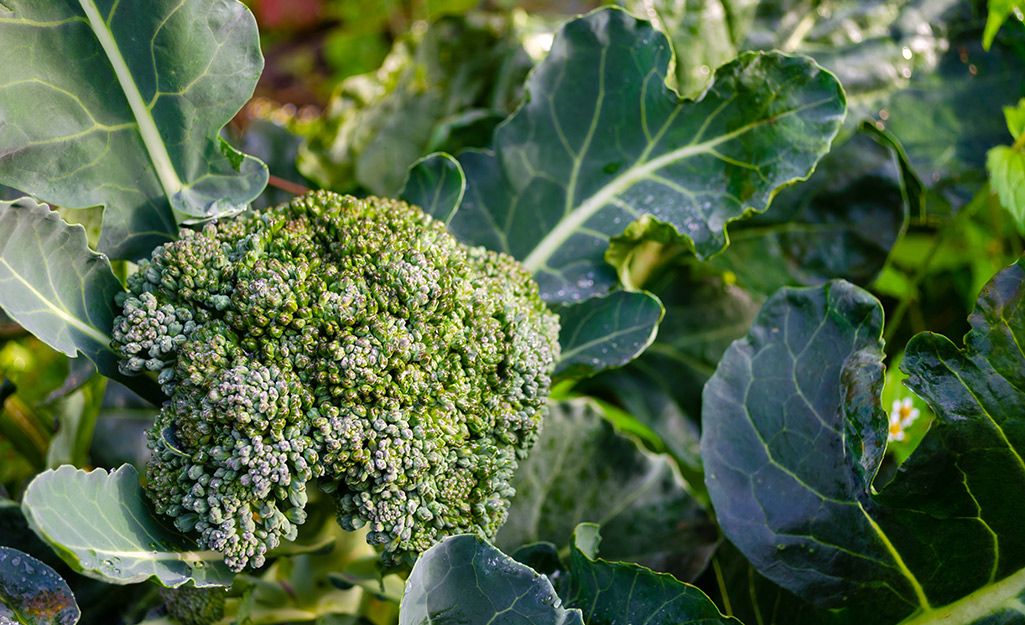 Before planting seedlings, amend soil with organic compost. Feed regularly all season long. Good companion plants are dill, rosemary, cucumbers and celery. Plant away from sweet corn and asparagus.
Broccoli grown from seed will mature in 100 to 150 days, so you'll want to plant seedlings. Plant seedlings 1/2 an inch deep and a 12 to 20 inches apart. The broccoli buds will be ready to harvest in 55 to 80 days from the time they're placed. Give broccoli lots of sun, at least six hours a day, and rich soil. 
Brussels Sprouts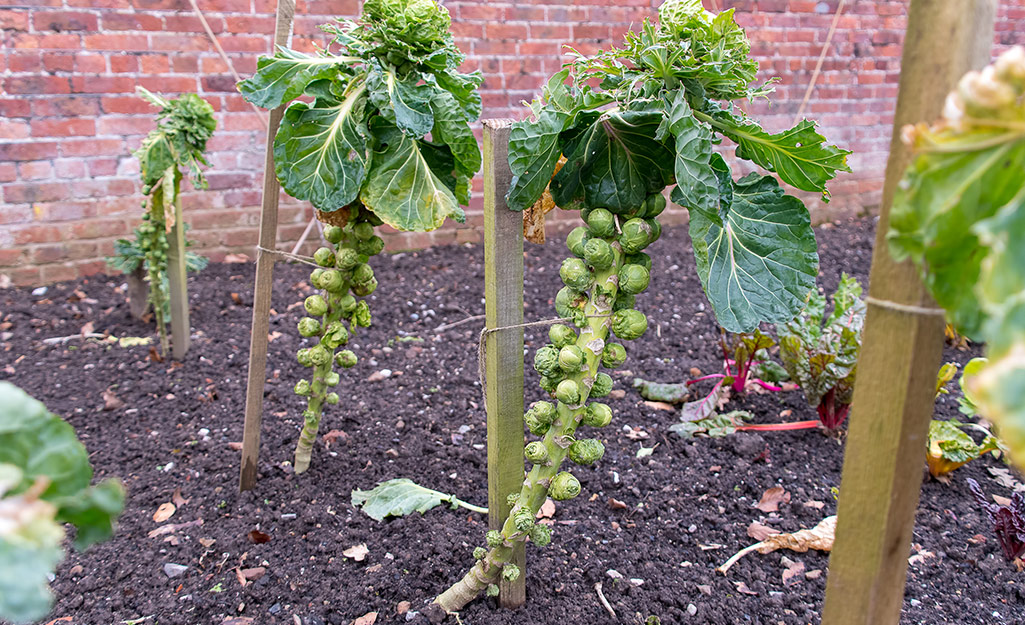 Sprouts love cool temps and will be at their sweetest in light, frosty weather. These plants need room to grow. Plant seeds around a half inch deep and 3 inches apart. Plant seeds  four months prior to your area's projected first fall frost date. Pick an area with lots of sun with sharp soil drainage. Add support stakes to keep the buds plants from toppling over.
Seedlings should be thinned to around 18 to 24 inches apart once they reach 6 inches tall. Brussels sprouts seedlings take about 80 days to mature.
Cabbage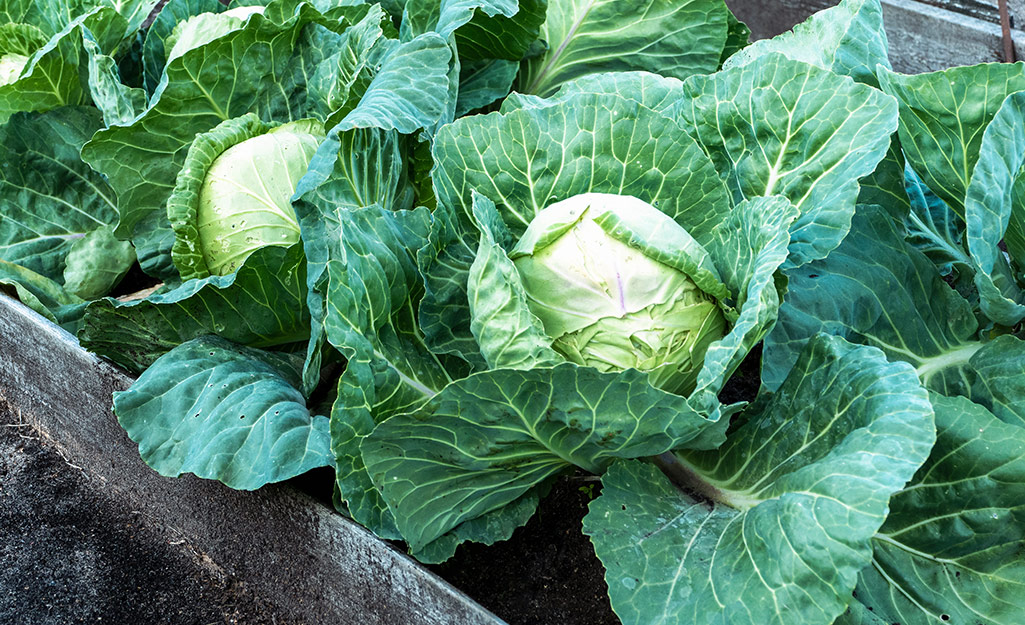 Cabbage has a relatively rapid growth rate. It's perfect for fall because it will wilt in hot weather. Plant seeds in the garden in the late summer after the hottest weather has passed. Containers work, but the yield will be smaller. Plant in a sunny spot with good drainage. Plant seeds about 1/4 inch deep. Thin seedlings to around 18 inches to 2 feet apart. The more space, the more growth. It matures 70 days after planting.
Cauliflower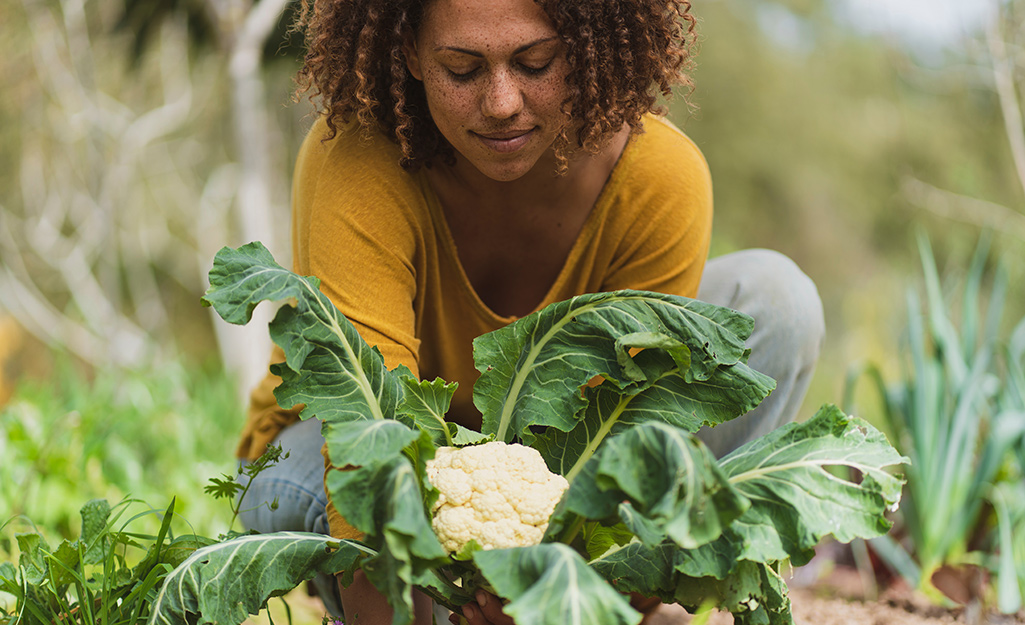 Cauliflower plants like cool (but not cold) weather. They are best planted in midsummer for a fall harvest. Their growth rate is slow. They are ready for harvest 2 to 3 months from planting.
They aren't recommended for containers as they don't like their roots disturbed. Space plants about 18 to 24 inches apart, with rows spaced 30 inches apart. This gives the outer leaves plenty of room. They like full soon and consistent moisture. Without enough moisture, the heads will be bitter. With long maturation, add fertilizer every 2 to 4 weeks.
Carrots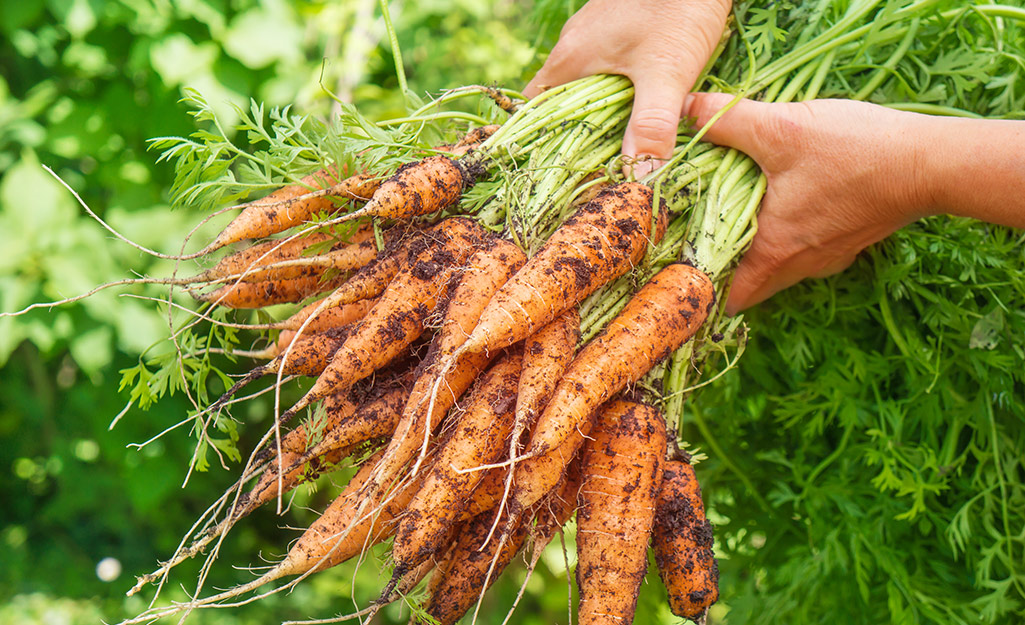 Carrots are easy to grow and tolerate light frost. The fastest-growing varieties will mature in about 60 days. The longer-growing selections take just 80 days from seed until harvest. If temperatures turn cold, harvest before maturation for baby carrots.
In planting, prepare your garden bed by using a digging fork. Cultivate the soil 12 inches deep. Spread a 2-inch layer of compost over the surface. Add a light application of balanced organic veggie fertilizer. Dig through the bed again. Rake out any rocks or roots, and thoroughly water the bed. Wait until rain is predicted to plant carrots.
The night before planting seeds, place them in a strainer. Rinse the seeds with lukewarm water. Spread wet seeds on a paper towel and place in an airtight container. The next day, shake the seeds onto a dry paper towel. Allow them to air-dry for about an hour. Make a quarter-inch deep planting trench for your seeds in the garden bed. Carrots are easiest to maintain when planted in double or triple rows. Space your rows 8 inches apart.
Drop seeds an inch apart into the row and cover with loose soil. Gently pat in place. Water thoroughly but gently. Cover the plants with a sheet, folded in half. Or, use a double thickness of garden row cover to maintain soil moisture. Water as needed to keep the soil lightly moist. This usually means at least once a day in dry weather. Thin carrot seedlings to 3 inches apart about a month after planting.
Collards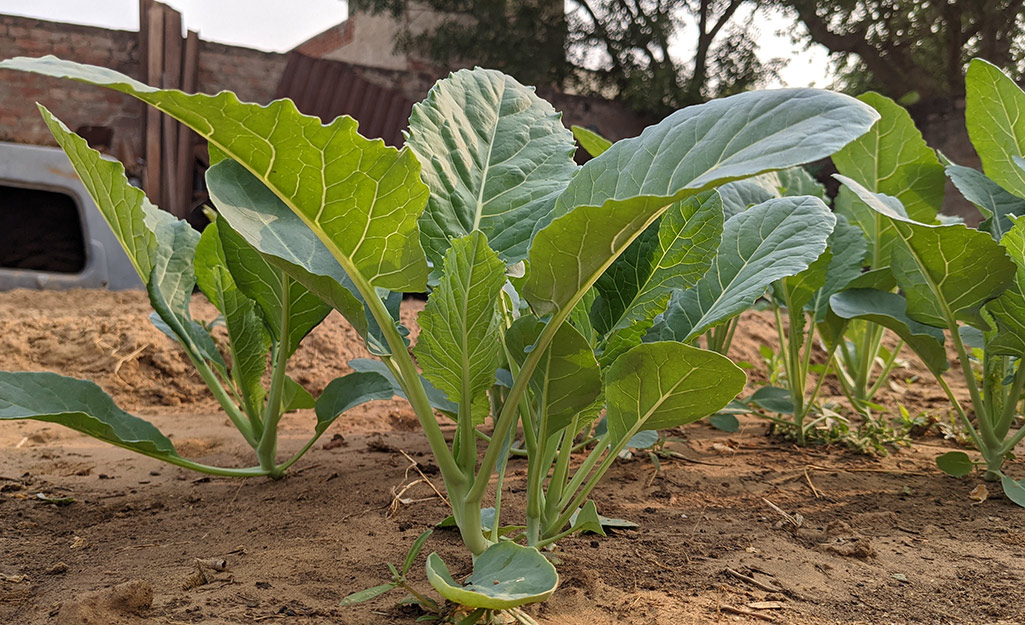 Most collards varieties are ready to harvest in 55 to 75 days. You can start collard plants from seed or nursery transplants. Plant seedlings right around your last frost date. Collards are great at handling chilly weather. For a fall harvest in cool climates, plant seeds in mid-summer. That's around 6 to 8 weeks before the first frost date. With covers, you can harvest collards well into winter.
Sow seed 1/4 to 1/2 in. deep. Collards are large, open plants. You can space them 18 to 24 inches apart or plant them more thickly. If you plant thick, thin and eat young plants until you reach the desired spacing.
In USDA hardiness zones 8 and up, you get your tastiest crop by fall planting. Cool weather sweetens most cooking greens and collard greens are no exception.
Kale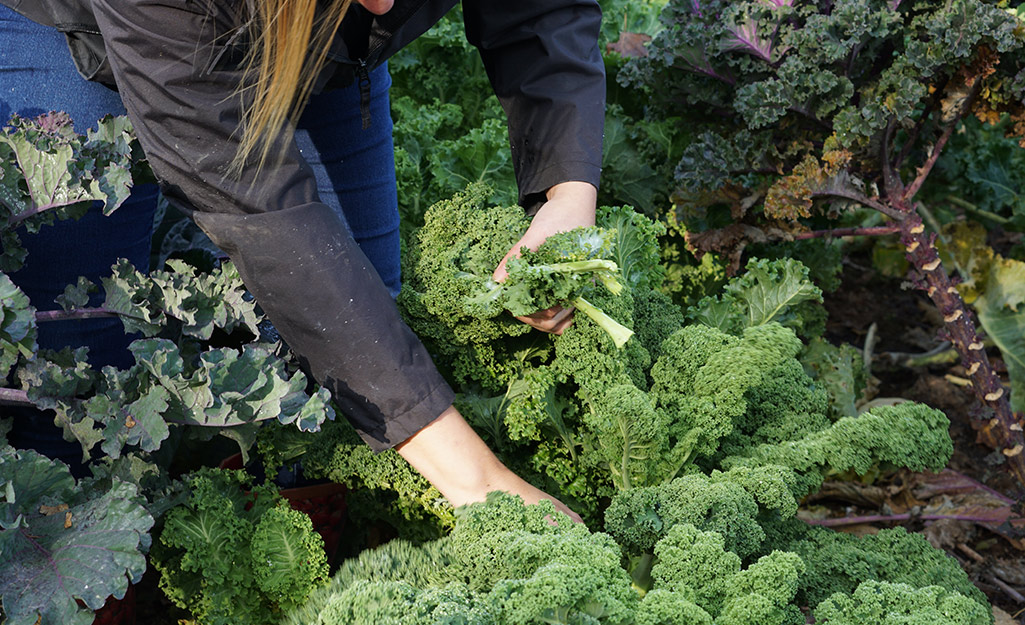 Kale has a fast growth rate and can grow from seed to harvest in about 3 months. It is best planted in the late summer for a fall to winter harvest. Plant in late summer roughly six to eight weeks before your first fall frost. Kale comes back every year, but is a biennial plant. It takes two years to complete its growth cycle—so it grows leaves in its first year. Seeds and flowers develop in its second growing season.
Kale grows well in pots, garden soil, raised garden beds, and other containers. Space kale plants roughly 1 1/2 to 2 feet apart. Seeds should be planted around 1/2 inch deep. In a cooler climate, give kale full sun. In a hot climate, give partial shade so leaves don't wilt.
Kohlrabi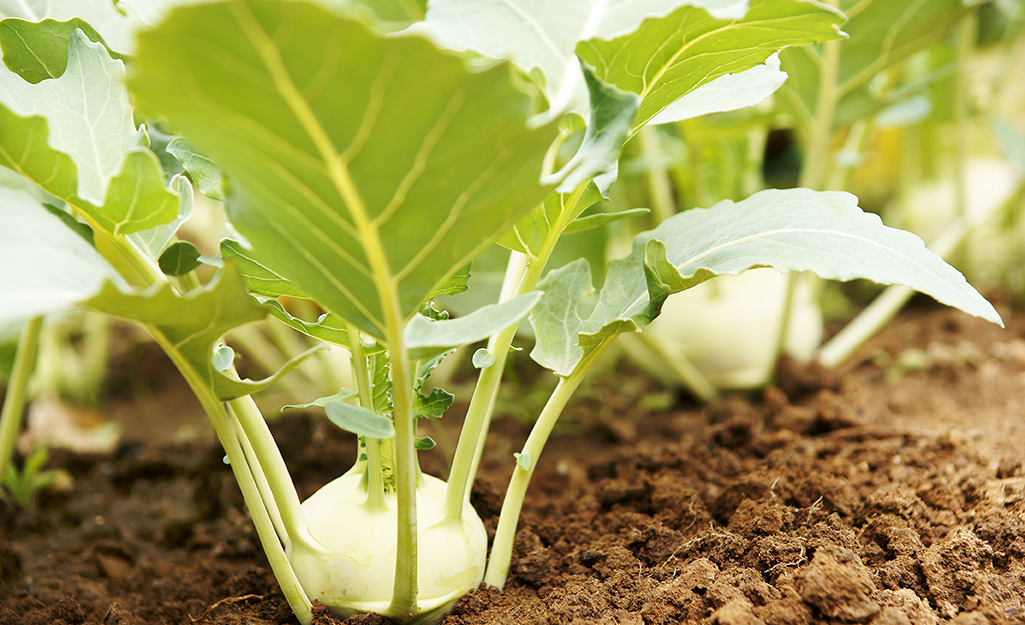 Kohlrabi is a great substitute for cabbage or broccoli. Kohlrabi reaches harvest maturity 45 to 60 days after the seeds germinate. As a fall crop, plant the seeds 90 days before the expected first frost date.
Plant seeds in the fall with enough time to harvest before the first hard freeze. Press the seeds 1/4 to 1/2 inch deep into the soil with one-inch spacing. For row planting, space the rows 12 inches apart. Thin the seedlings to four inches apart after leaves develop. Raised beds with full seen yields good numbers. Add manure at planting time and side-dress rows with compost until harvest.
Leaf Lettuces and Spinach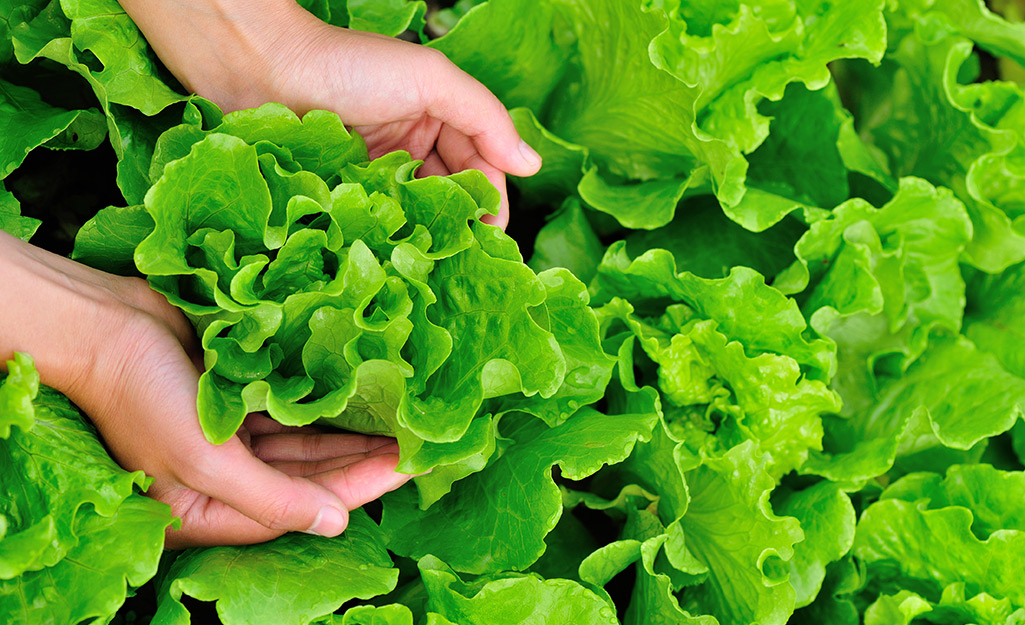 Seasoned gardeners know that the freshest lettuce and spinach come from your garden.  Greens can be harvested after about a month of growing. Thin crowded plants and pick often. Most greens survive winter when covered, and will return again in early spring. Try lettuce, kale, chard and collards.
Leeks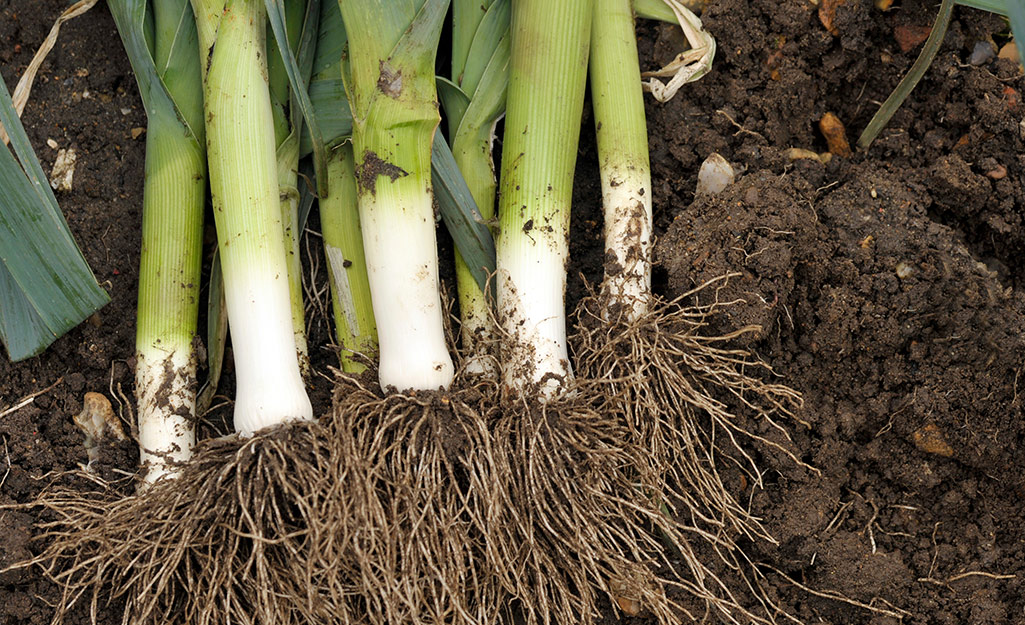 Young plants can survive a light frost, and mature plants can withstand heavy frosts. In climates with mild winters, you also can plant in the fall. Fall planting is recommended for zones 7 and above. Pick a sunny spot in your garden, or use a raised bed or container. Leeks are shallow-rooted, so plan accordingly. Plant seeds roughly 1/4 inch deep and 6 to 8 inches apart. 
When planting seedlings, mound soil around the stem up to the first green leaf. Rows should be at least a foot apart. Amend your soil with compost or organic matter. Deep water at least once a week. If it's extra hot, water more than once a week. Depending on the variety, they mature in 50 to 100 days. Check which variety you have for the best results.
Radishes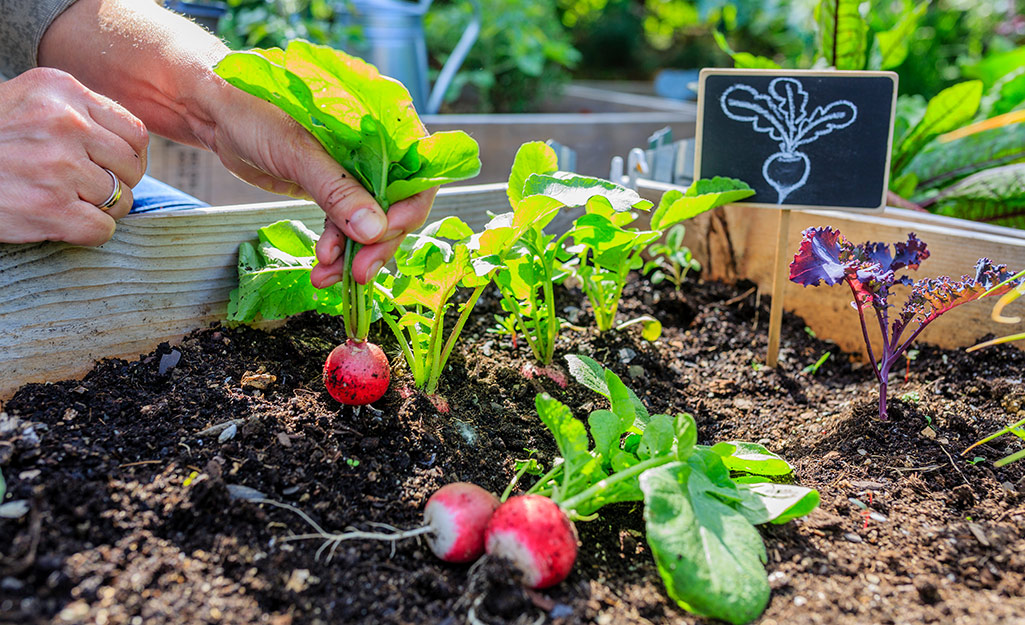 If you have 7 weeks before the first frost, you have time to grow radishes from seed. Give radishes plenty of sun and water. Sow in succession (once a week) for a supply of crispy, crunchy radishes. Smaller varieties mature in as few as 30 days. The larger varieties can keep you waiting for up to 60 days.
Swiss Chard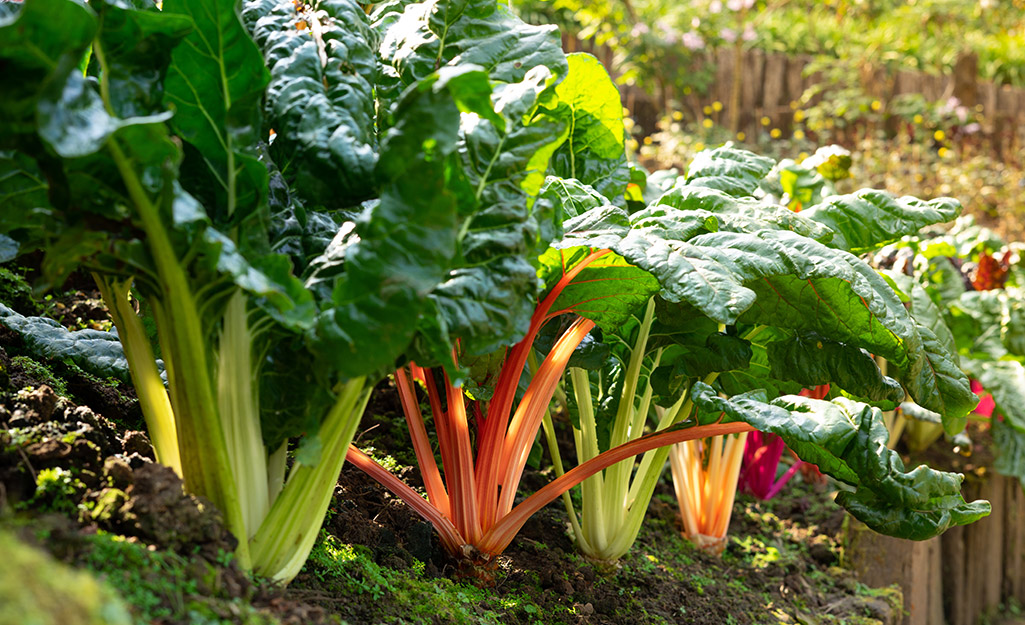 Swiss chard has a fast growth rate, with its best growth occurring in mild temperatures. Plant it in the early spring or late summer. Plant seeds in the late summer, about 6 weeks before the first fall frost, for fall gardens. Plant seeds about 1/2 to 3/4 inch deep and 2 to 4 inches apart. If you have seedlings, plant them about 4 to 8 inches apart. It does best in full sun, but can tolerate partial shade. Keep soil moist but not soggy. Chard can overwinter in hardiness zones 6 to 10.
Turnips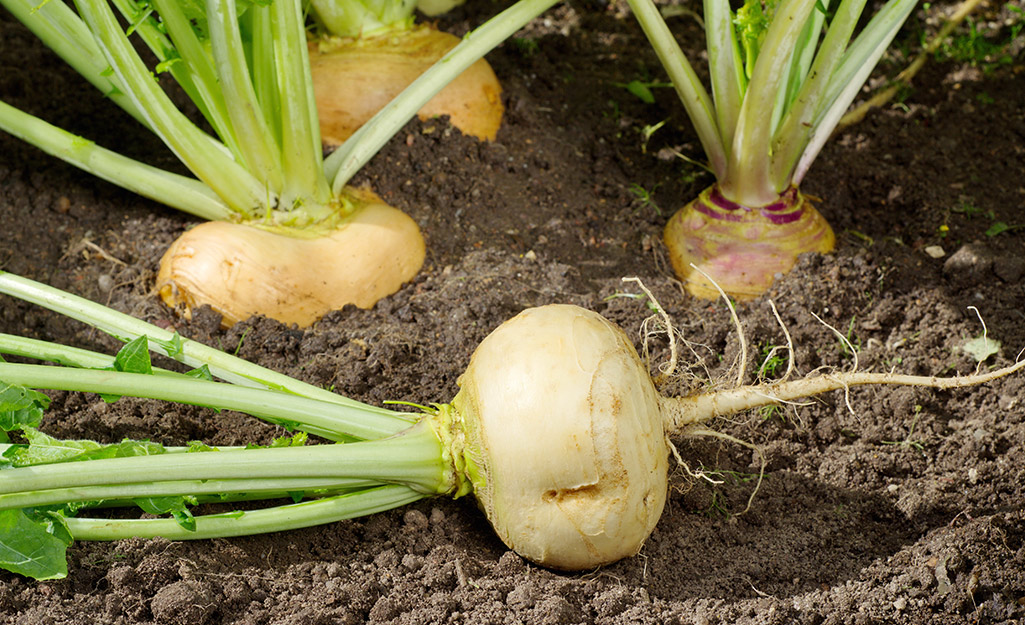 Turnips are a perfect match for fall growing conditions. Fast-growing salad turnips plump up only a few weeks after sowing. You can grow turnips for their nutritious greens, too, which become more tender after they've been exposed to a light frost.
Whether you need the right plants, seeds or garden soil, The Home Depot delivers online orders when and where you need them. 
Explore More on homedepot.com