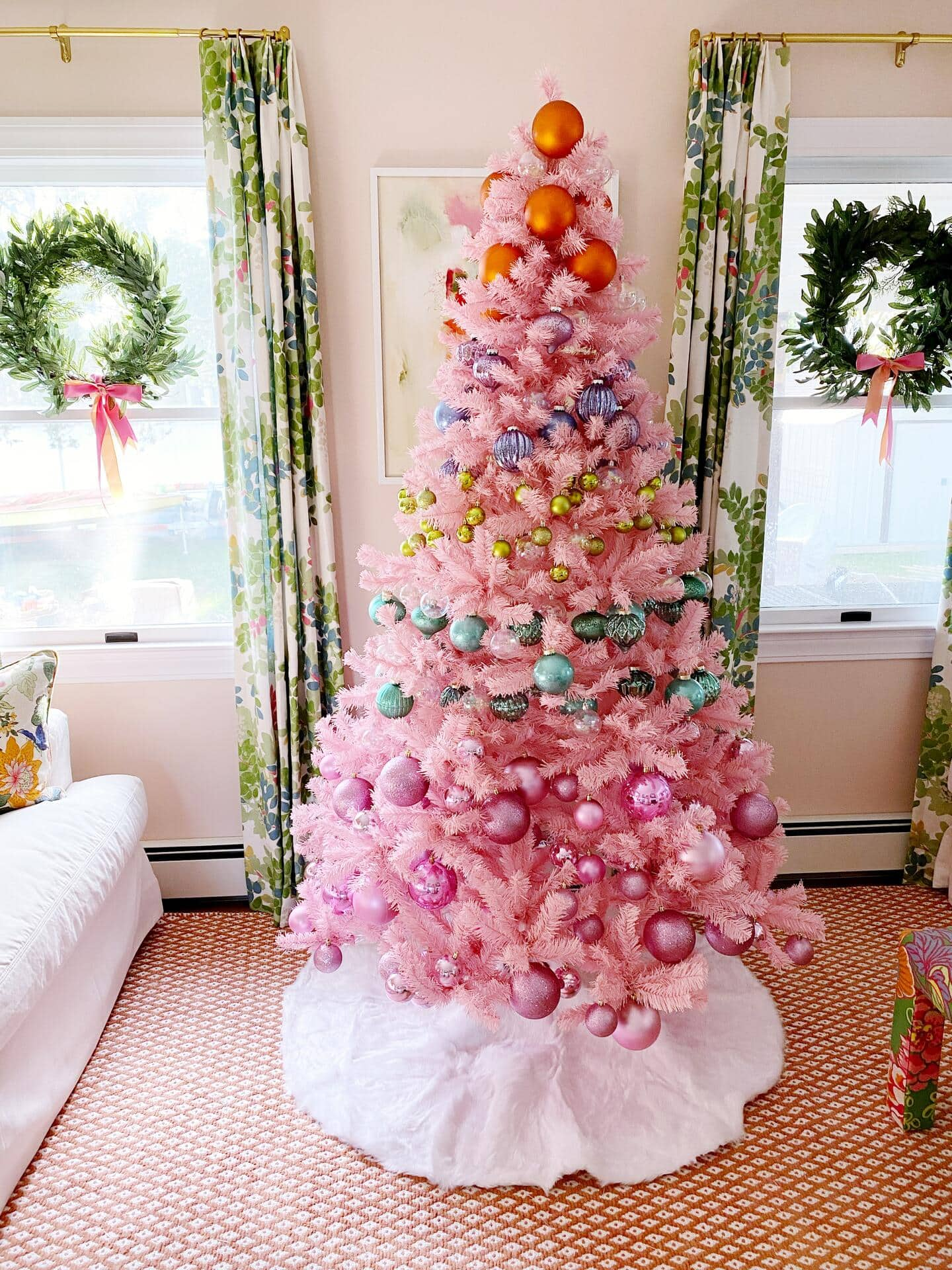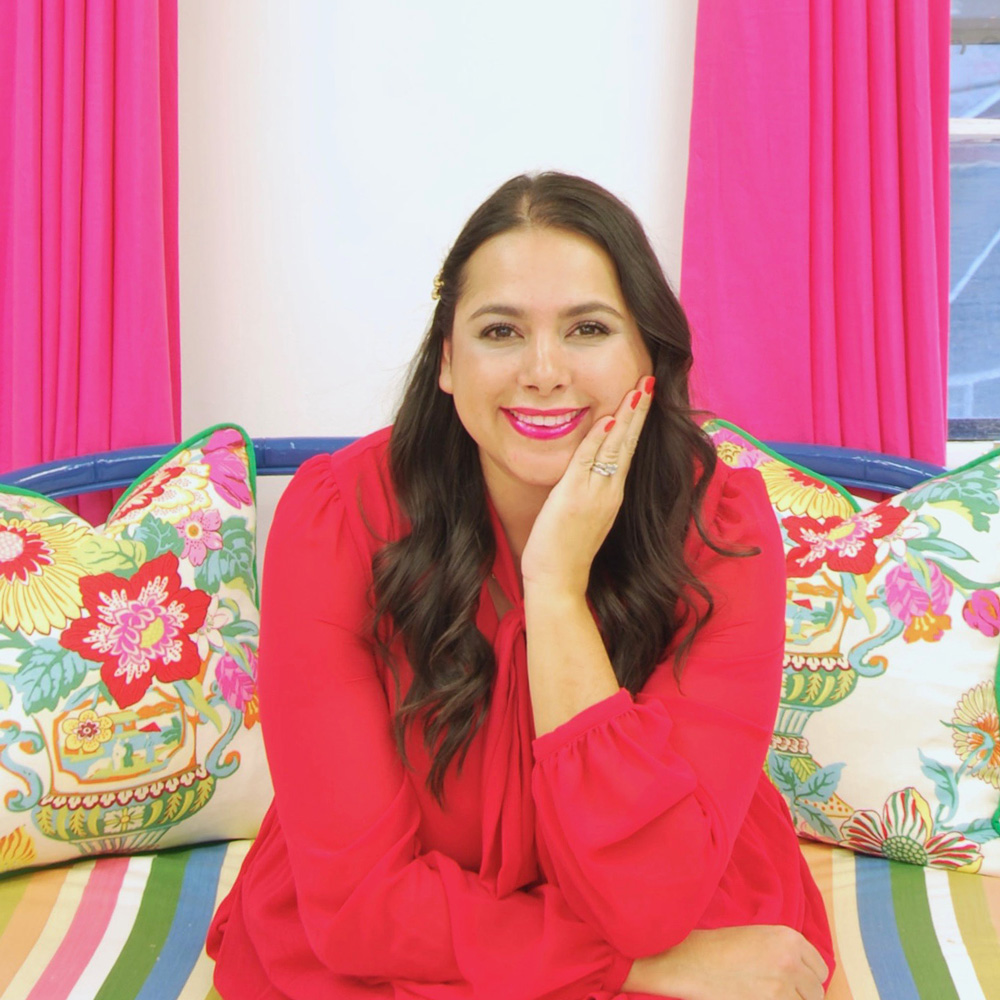 A Note From The Home Depot
Are you looking to try something different this holiday season with your decor? Camila of Camila Pavone Interiors shows how she incorporates her own style by using nontraditional holiday colors in her decorations this year!
1
How To Decorate with Nontraditional Holiday Colors
When holiday season comes around everyone typically reaches for green and red along with metallics. When you see those colors it is quintessential holiday vibes, but lately holiday decorations have gotten a bit of a face lift. People are now more daring when it comes to interiors and they are embracing colors and patterns which oftentimes clash with traditional holiday decor.
2
Living Room Before Holiday Decor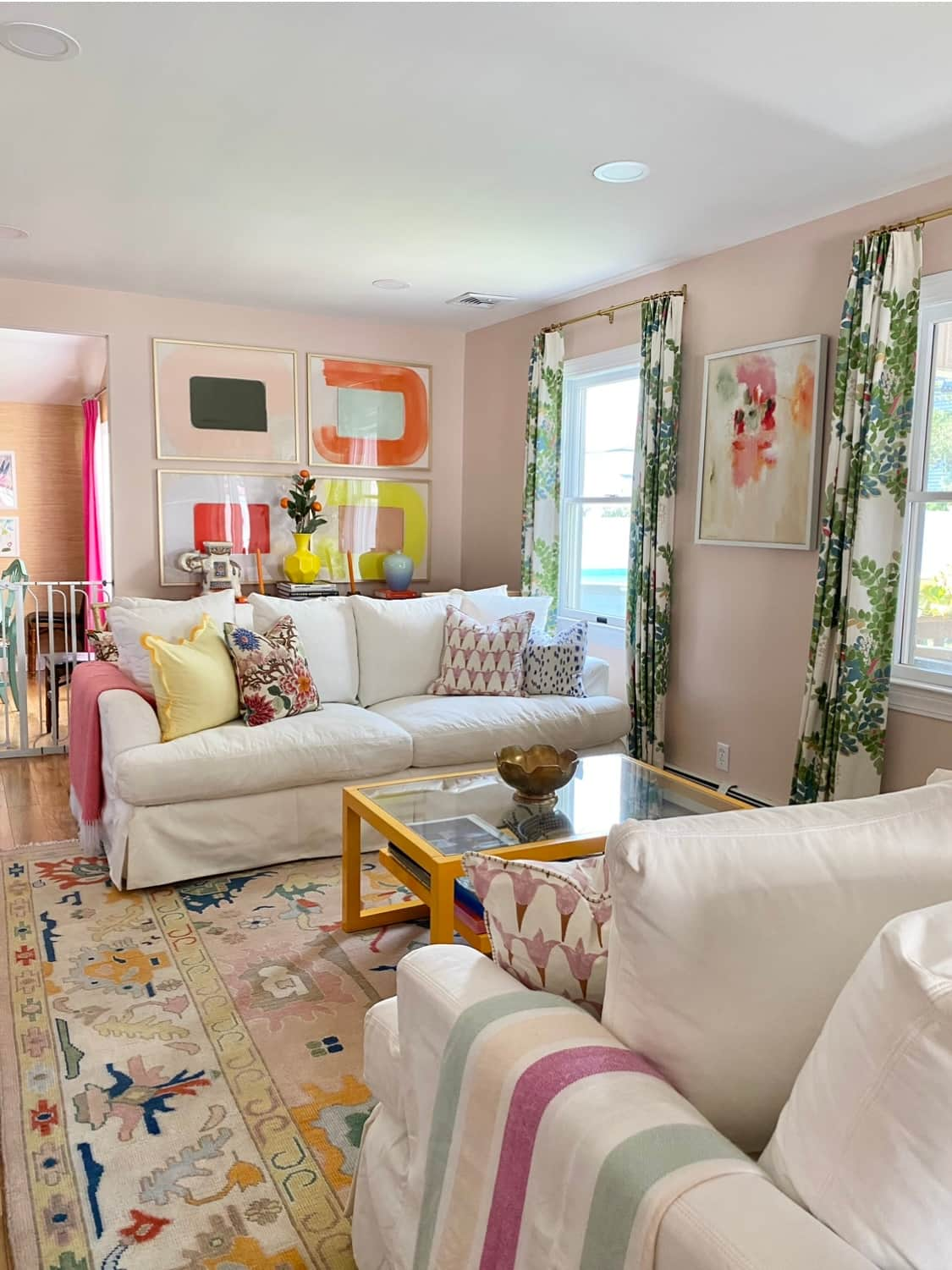 If your home's design has stepped away from the neutral zone and you want to update your take on your holiday decorating, then here are some tips for how to embrace the holidays with nontraditional colors with the help of The Home Depot.
3
Tip 1: Be Daring With Your Tree!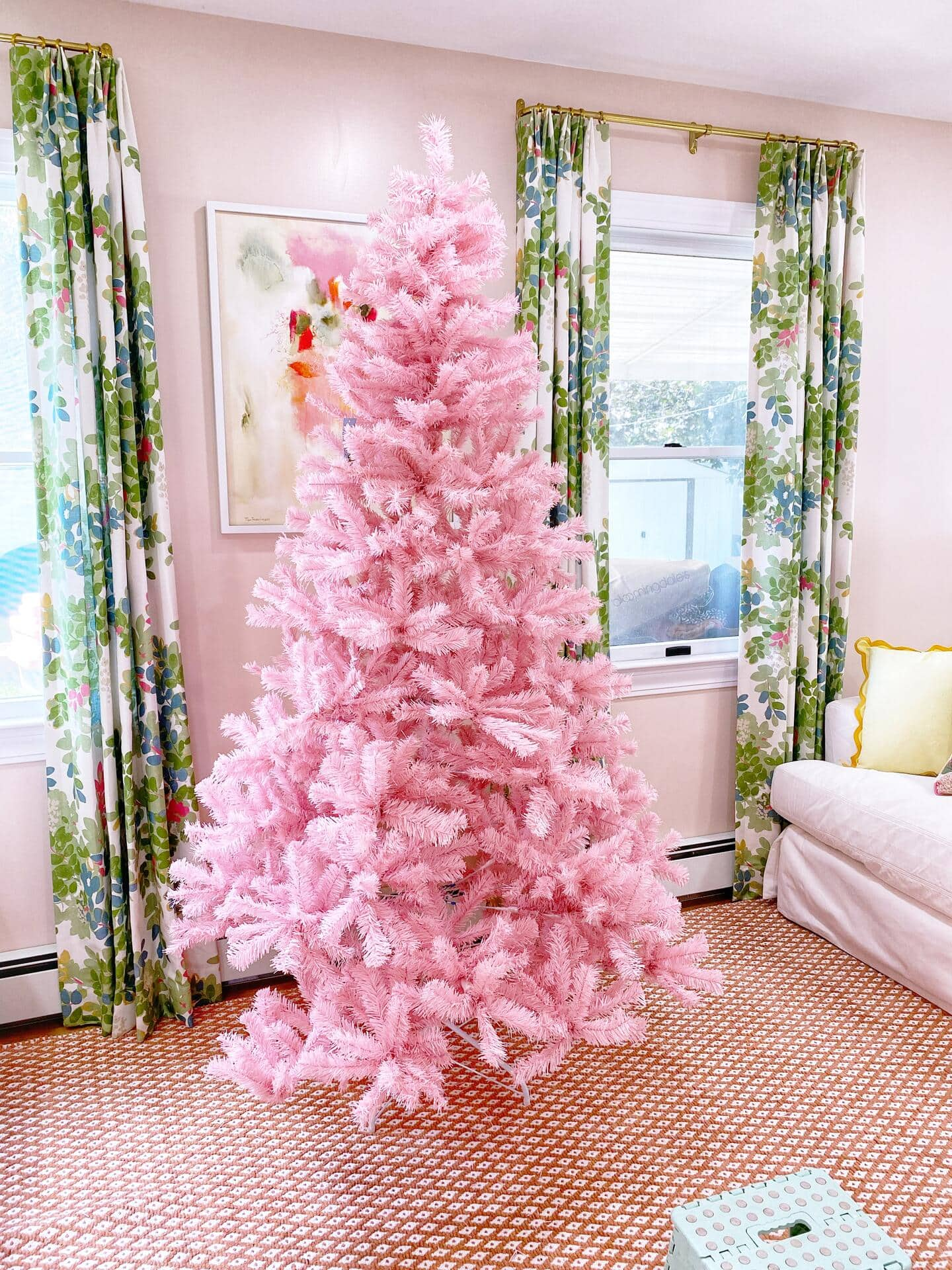 I have said it time and time again, but it always takes a little convincing to get people on board. Pink is a neutral! As an interior designer, I use pink all the time as the foundation for a room and then build upon it. It comes in a variety of shades, plays nicely with all other colors and works in the majority of design styles.
The Home Depot has an array of pink Christmas trees available. I was easily able to find one that worked with my ceiling height, and it was very easy to assemble and get to work.
5
Tip 2: Focus on Color and Less on Lots of Pattern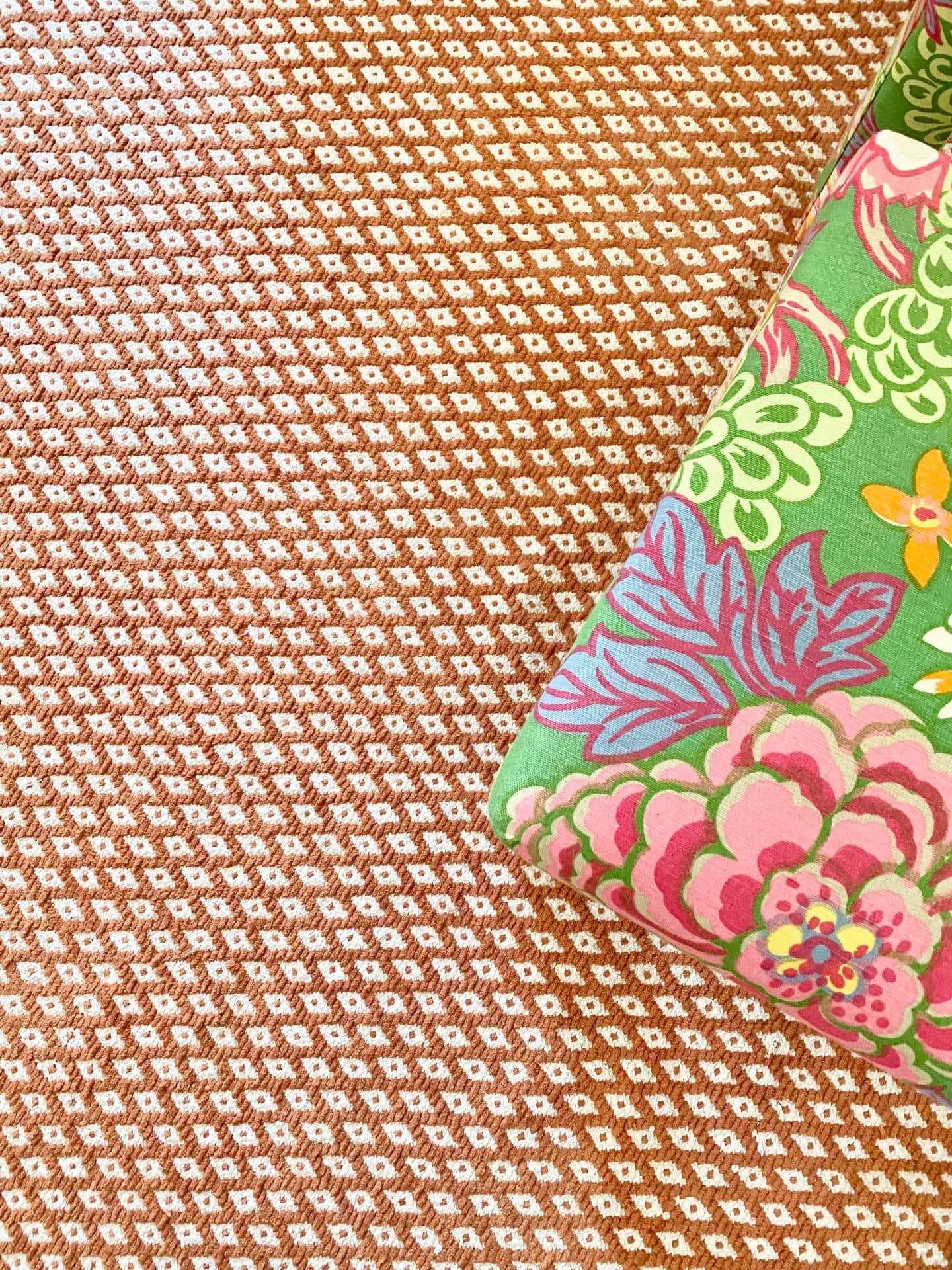 Normally, I'm all about pattern play and because of that my home is full of patterns. When it comes to decorating for the holidays in nontraditional colors, I find it's easiest to blend it in your homes' decor when you stick with solids.
In my case I swapped out a very busy living room rug with an almost solid colored rug. The pattern on it is a very small diamond that is mainly burnt orange with little bits of white. When you look at it from a far it looks like a solid color. It's only when you get close to it that you notice the small pattern.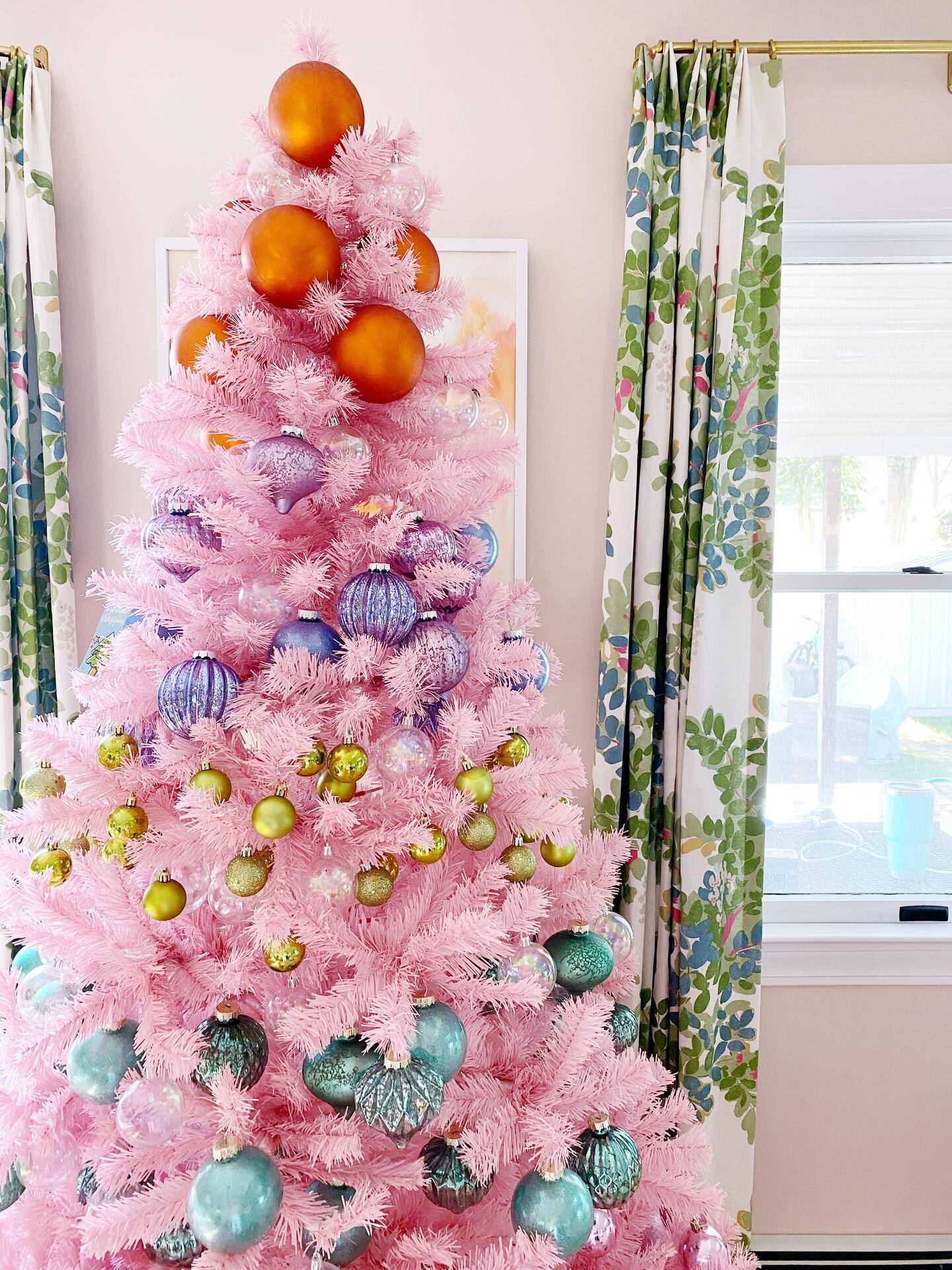 When I decorated the tree, I also chose to focus on color only. So I picked up a rainbow array of ball ornaments and then layered them in tiers. I love the finished look! It always puts a smile on my face!
8
Tip 3: Be Consistent With Your Non-Traditional Colors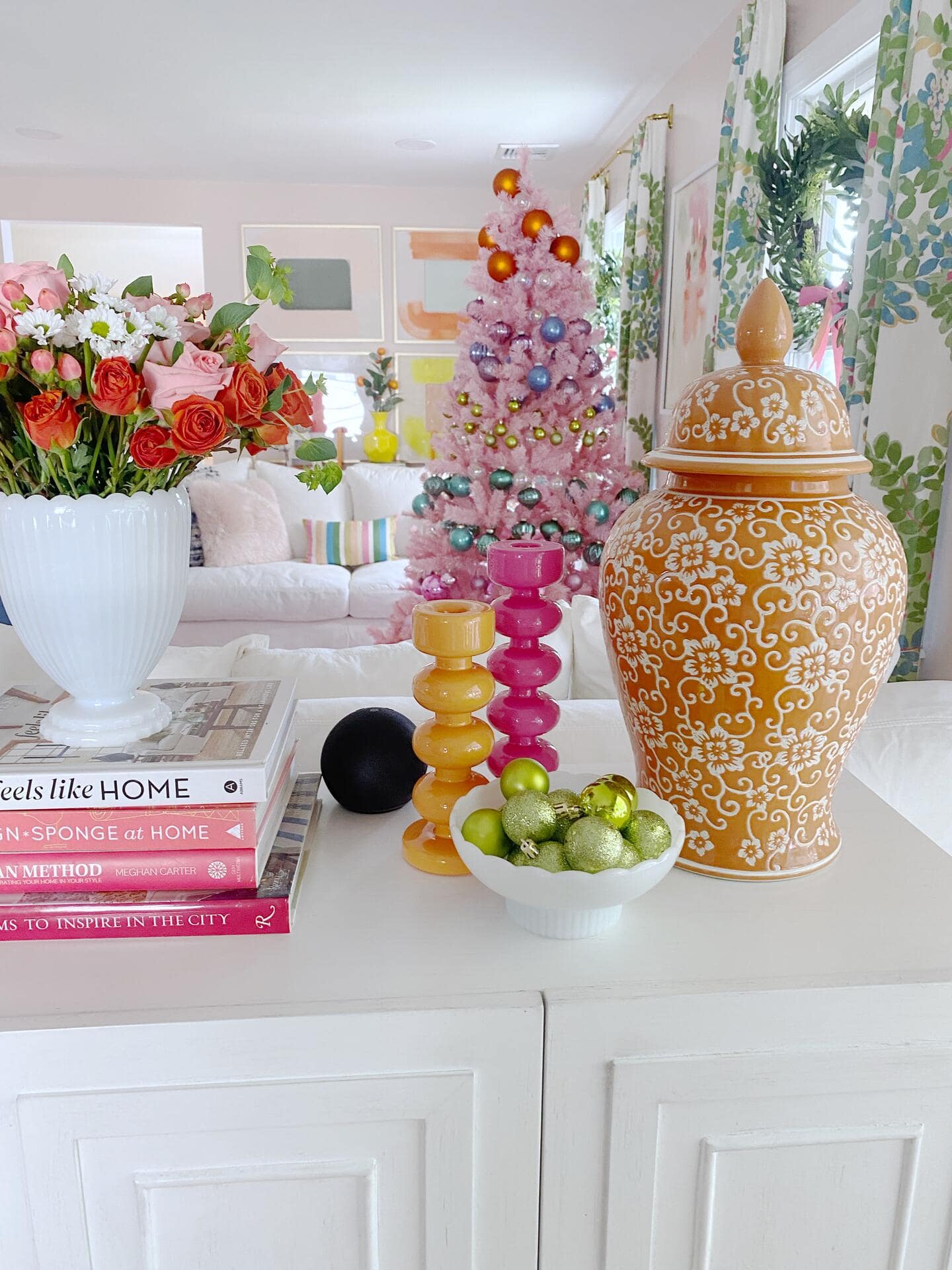 In order to make everything look like it's meant to be and not like chaos, it's a good idea to pick two colors that work with your color scheme and repeat them throughout the room. This way there is a common thread going through the decor.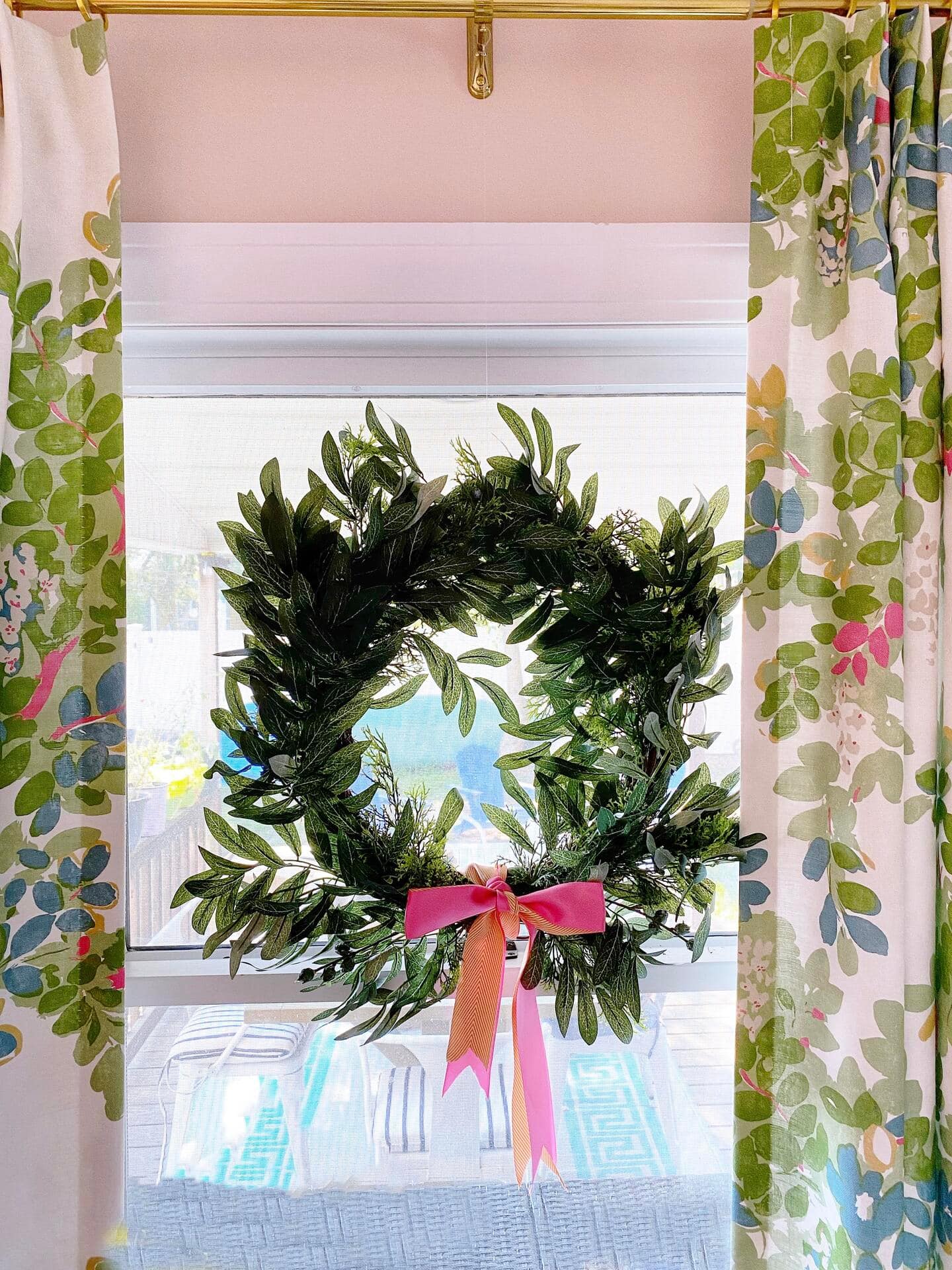 In my living room, I chose to go with pink and orange. It's not traditional Christmas, but by using it in ornaments, ribbons on the [wreath](https://www.homedepot.com/p/SULLIVANS-24-Artificial-Olive-Berry-Wreath-OLBWR/318382223 "24" Artificial Olive & Berry Wreath") and flowers, it gave the same festive feel of traditional green and red.
11
Tip 4: Layer in Texture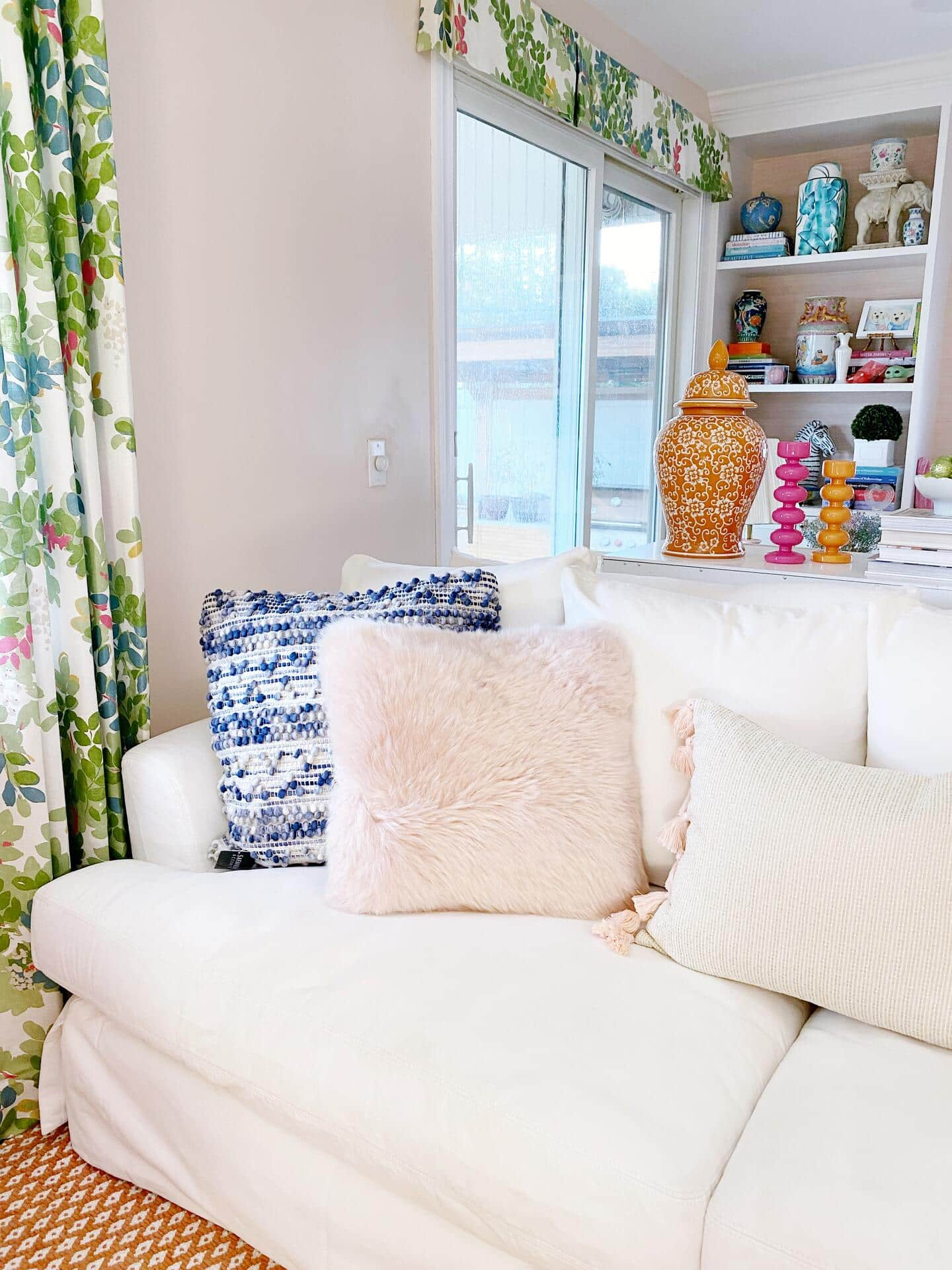 Just because you are not adding a ton of pattern doesn't mean you can't treat the eye to some variety. I like doing this by injecting texture in the space. Texture gives us the same design layer as pattern but it also evokes a feeling of coziness which is perfect for the holiday season.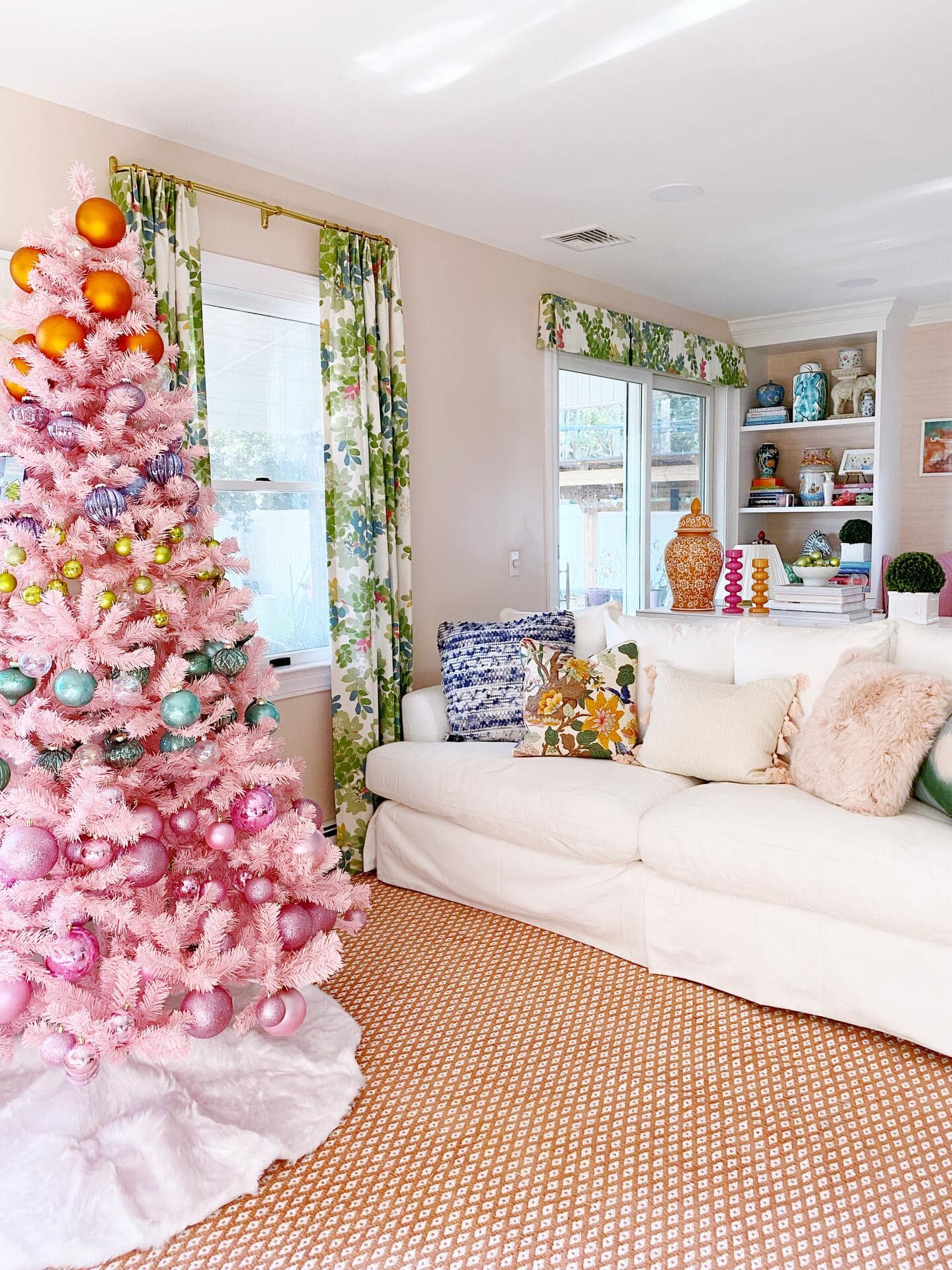 I swapped in some textured pillows into my existing pillow mix. I was delighted to find so many options that worked and did a mix of knotted yarn in shades of blue and green, a faux fur in pink and then a lumbar pillow with gold threading and tassels! All very festive and oozing wintery vibes.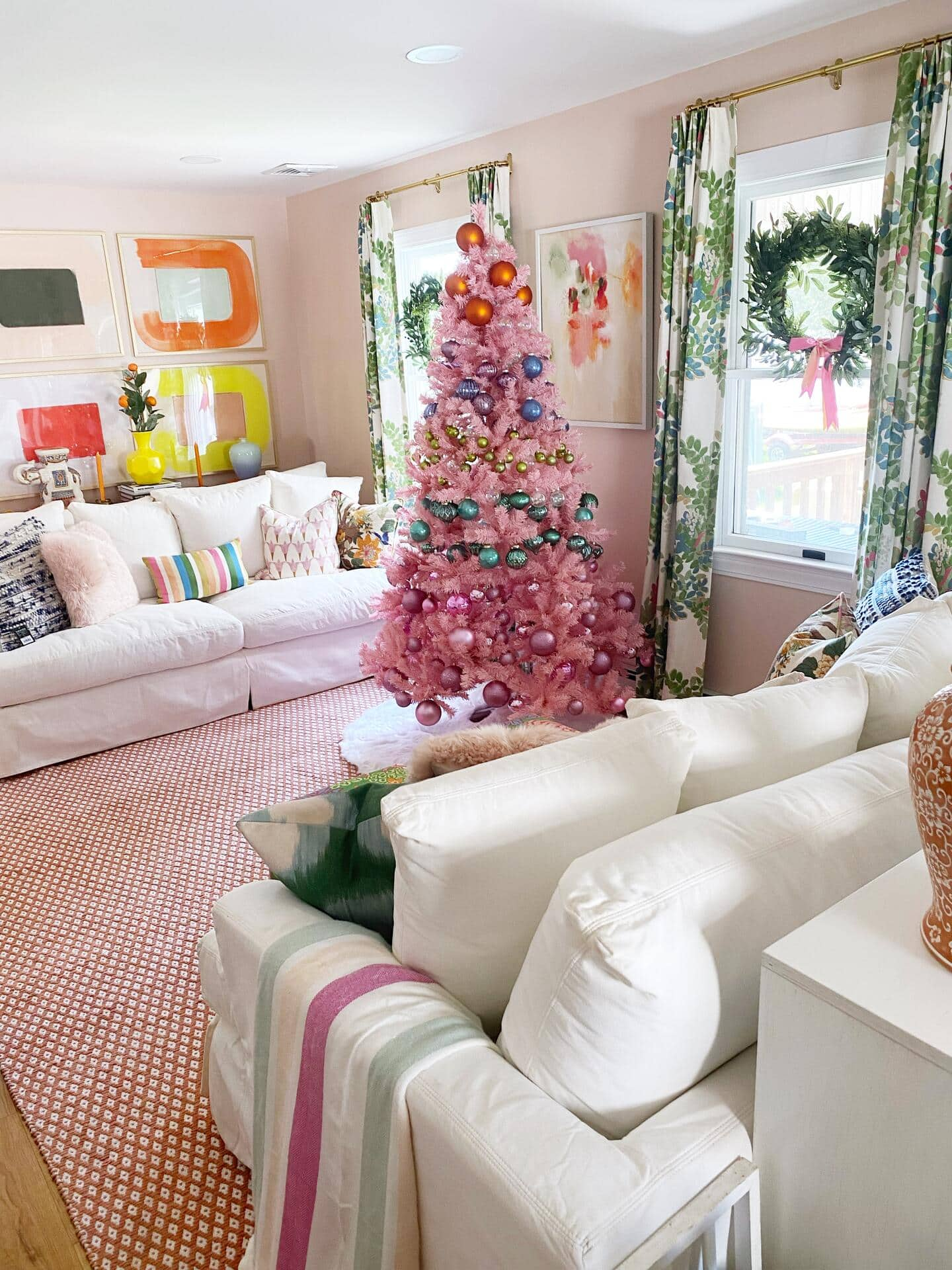 Decorating for the holidays should be fun! It's your home and you should you use it as your own design lab. Get in there and add that colored tree or go wild with your ornaments. It's always easy to take a step back when you are done and either add more or take some away.
This post was created in partnership with The Home Depot. The author may have received compensation for this article and associated images or video, potentially in the form of products and/or services. All expressed opinions and experiences are the author's own words.