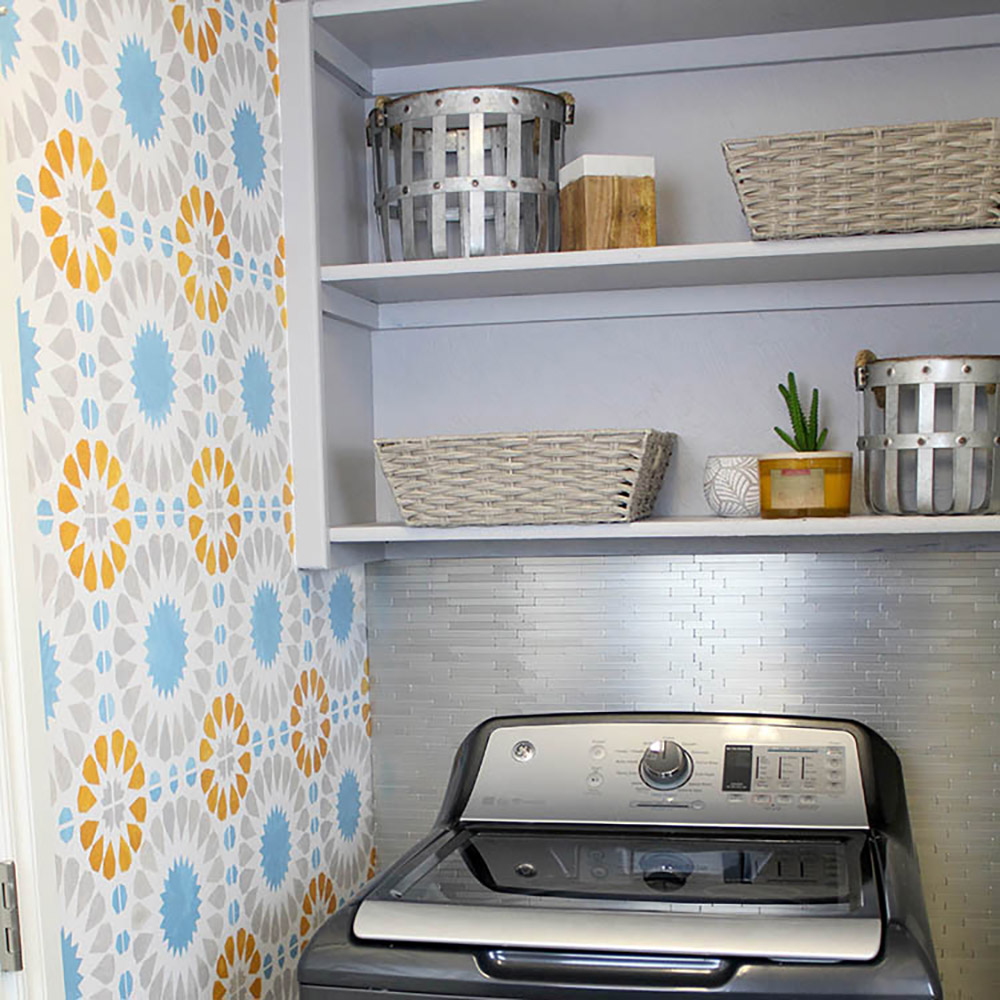 A Note From The Home Depot
Follow along as Ashley from Handmade Haven takes you through her laundry room makeover. See the before and after transformation below.
1
Choosing the Perfect Washer and Dryer Set for a Laundry Room Refresh
When I moved into my new house, I inherited an old washer and dryer from my previous living space. Not too long after moving in, I knew that the time would come to replace them. I wanted to makeover my laundry room, but was holding off because I didn't want to do a big makeover with old appliances. Eventually, my washer began to fail and it was time to finally upgrade.
Although my laundry room was super small, I was confident that a little paint, new flooring and some new laundry appliances could really bring the space to life. Read on to check out the before and after.
Picking out laundry appliances can sometimes be a little daunting. With all of the technology and new features that laundry sets come equipped with, picking out the right appliances can be a real task. Here's why this GE Top Load Washing Machine and GE Dryer set was the perfect match for me and my laundry room.
As an engineer, I am very in-tune with my technological side, so the Wi-Fi connected feature on the washer and dryer was a no-brainer. The GE Washer has the ability to connect to your phone and allows you to control the washer with your phone and voice commands. From anywhere in the house, you can control and monitor your laundry status with your phone.
This can all be done through the GE Laundry App, which was very easy to download and setup. This app has many features, including the ability to extend your dryer cycles, monitor cycle status and time remaining and track levels of SmartDispense tanks. This is a feature I love because I am always wondering when the load will be finished. Getting a notification to my phone that the cycle is complete and ready for the next load is so convenient.
10
SmartDispense Technology
The SmartDispense Technology allows you to put up to 75 oz. of detergent into the washer and automatically dispenses the right amount of detergent into each load. How cool is that? I hate pouring detergent into the cup every time I need to wash clothes, so this is a game changer.
This GE washer and dryer set is ENERGY STAR qualified, meaning it meets/exceeds federal guidelines for energy efficiency. When I saw that, I immediately thought: money savings. I am constantly washing clothes, so being energy efficient is definitely something I want to keep in mind. If you are someone who likes to save, then this is a great option for you.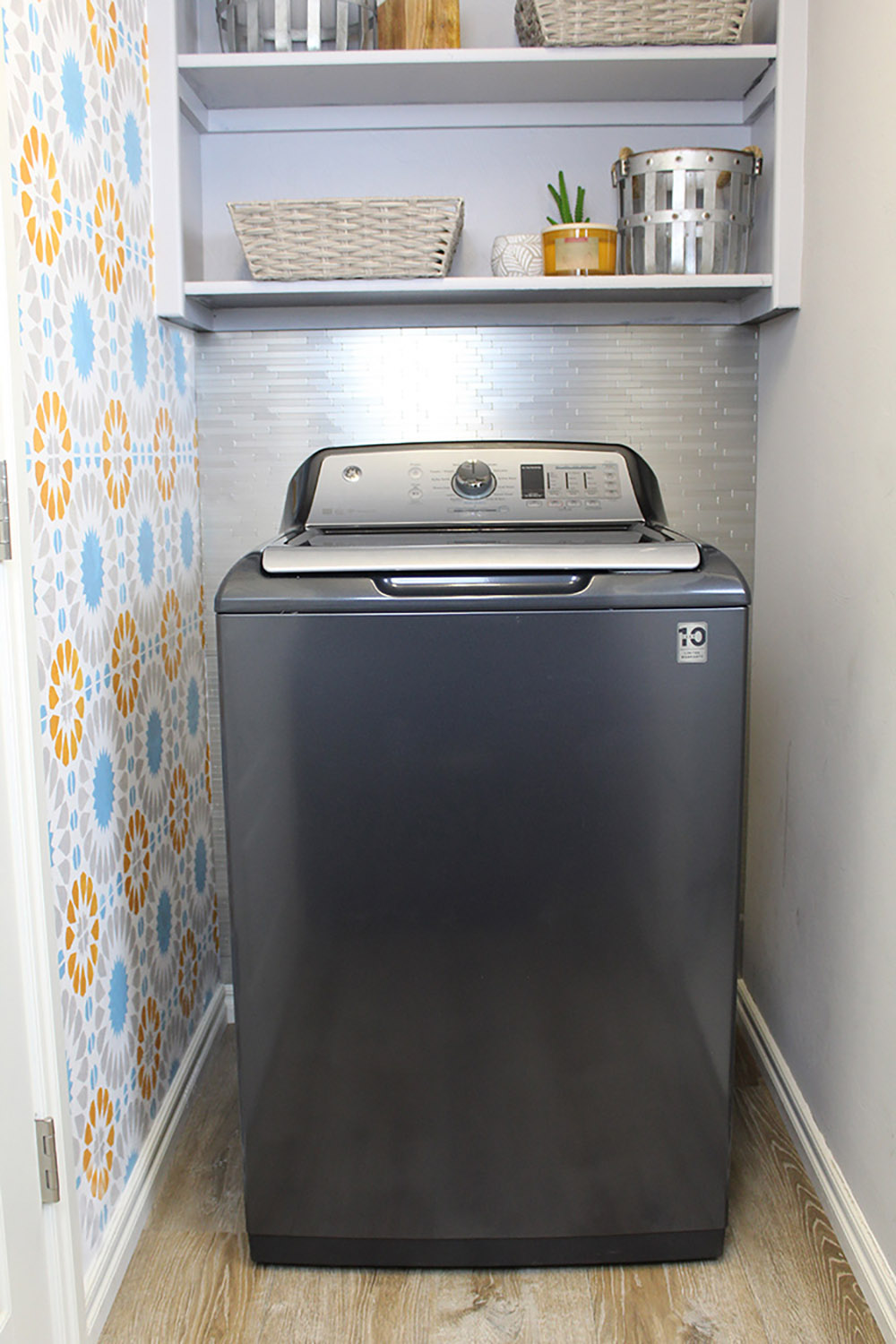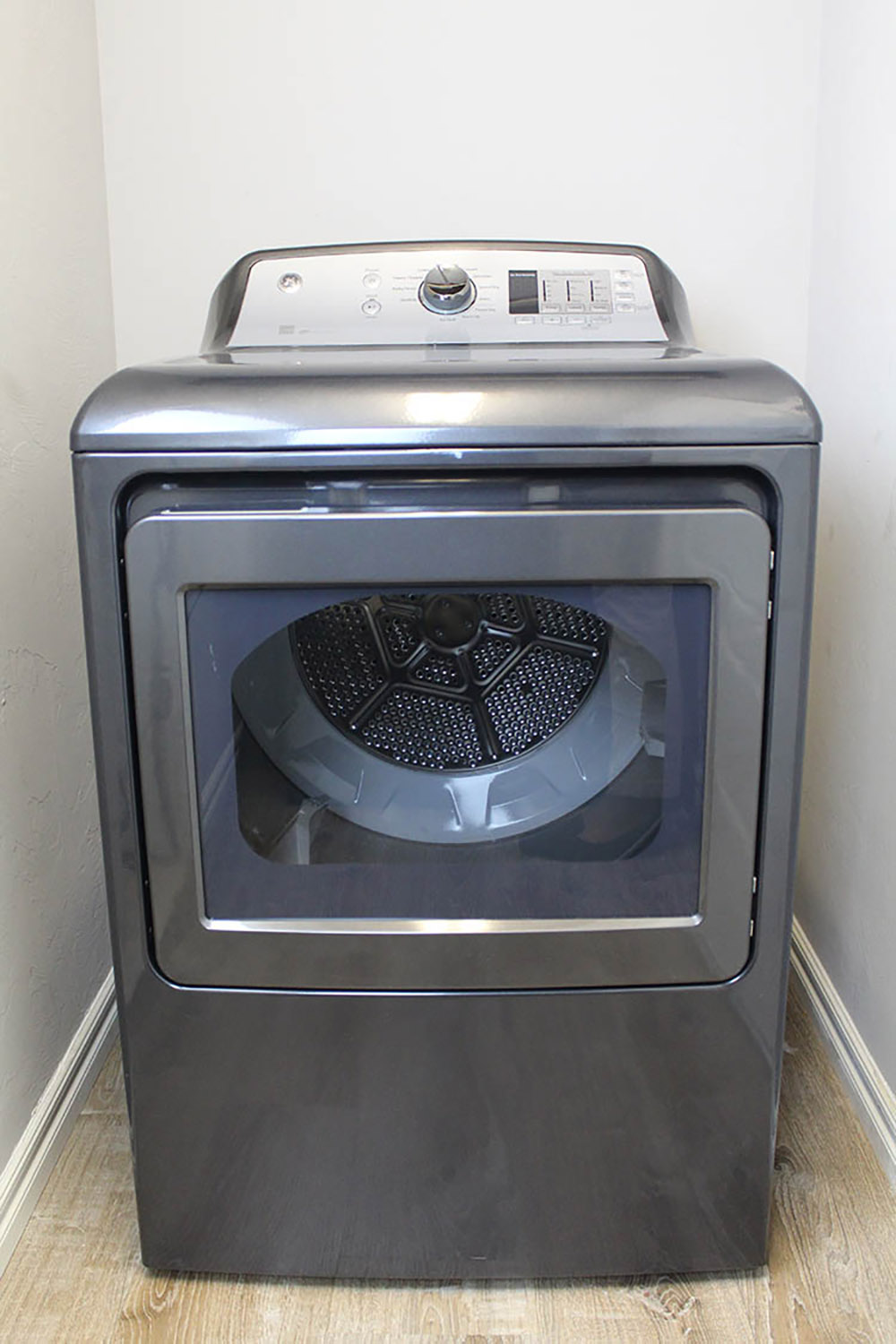 That wraps up the main features that make this GE washer and dryer set perfect for me, but it comes equipped with a ton of other great features, as well.
Water Station allows you to pre-wash clothes easily with a faucet inside the washer that dispenses detergent and water
Auto Soak loosens stains by soaking clothes before the wash cycle
Speed Wash allows you to perform a quick wash for items needed in a hurry
Extended Tumble tumbles clothes without heat to eliminate wrinkles and creasing
HE Sensor Dry senses the moisture of the clothes in the dry cycle to know when clothes are fully dry
Steam Select allows you to customize your dry cycle by specifying the amount of clothes that need to be steamed
Check out this before and after to see just how much of a difference some paint and new laundry appliances can make in a room. For more details on how I transformed my laundry room space, check out my blog post here.
This post was created in partnership with The Home Depot. The author may have received compensation for this article and associated images or video, potentially in the form of products and/or services. All expressed opinions and experiences are the author's own words.
Explore More on homedepot.com