Upgrade your kitchen faucet and save on water bills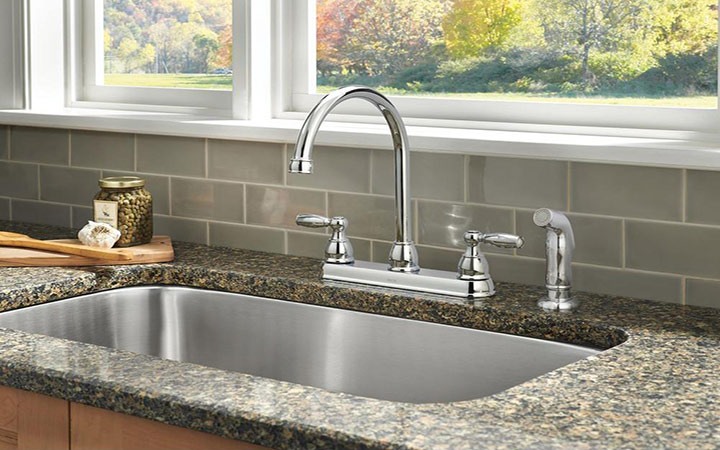 Your kitchen faucet is one of the most frequently used fixtures in your home and one of the key focal points in your kitchen. Once simply a tool for food preparation and washing dishes, today's kitchen faucets offer exciting new features and enhanced functionality designed to provide ease-of-use and years of trouble-free operation.

Tip: Take note of the number of holes in your sink to ensure you shop for a compatible faucet.

Faucet Holes and Deck Plates
Kitchen sinks and countertops typically have between one and five holes to accommodate various configurations of handles, spouts and any accessories like side sprayers or soap dispensers.

Deck Plates

Kitchen faucets can be mounted either with or without a deck plate, which contains your faucet's spout and handles in one mounting plate. These units can cover up to three holes in your sink.

Faucets without deck plates require each component, such as the spout, handles, sprayer and lotion or soap dispenser, to be mounted individually on the sink or countertop.



One hole – Sinks with one hole typically fit single-handle faucets. Some double-handle units can accommodate sinks with a single hole.
Two holes – Two-hole sink configurations are typically suited to single-handle faucets and an accessory such as a sprayer or soap dispenser.

Three holes – Double-handle faucets require three holes, one for each handle and one for the spout. You can install units with or without deck plates in three hole sinks.

Four or five holes – Sinks with more holes allow you flexibility during installation. Install a single- or double-handle faucet and use the remaining holes for accessories, or cover any unused spaces with sink hole covers. You can also install units with or without deck plates.


Tip: If you've found a faucet that requires fewer holes than are available in your sink, use sink hole covers to conceal any unused spaces.
Handles and Accessories

Once you know the number of holes your faucet requires and which mounting option you prefer, you're ready to consider handle, sprayer and spout options.

Handles


Single-handle faucets can be attached to the faucet base or stand alone and require one or two sink holes. Many models come with a mounting plate to cover up to three unused holes and are ADA compliant for people with disabilities. A side sprayer can be integrated in the main faucet deck or as part of the faucet spout.
Double-handle faucets have separate handles for hot and cold water and require three sink holes. The handles may be integrated with a deck plate or mounted separately. The sprayer is typically separate from the faucet head.

Sprayers

Sprayers may be located on the faucet spout or to the side. Some faucets incorporate pull-out or pull-down spray heads into the spout that allow you to direct water wherever you choose, providing added convenience and versatility for cooking and cleaning.
Pull-out sprayers have faucet spouts that are curved or angled, allowing the head to be pulled out and extended. They are available for single-handle faucets and useful for washing dishes and vegetables and rinsing the sink. Some units offer an additional spray and/or pause function located within the main faucet head.
Pull-down sprayer have faucet spouts that rise into a high arc, allowing the head to be pulled down into the sink. They are available for single- or double-handle faucets and allow more space and flexibility in the sink. The pull-down feature often includes a spray and/or pause function.
Side sprayers mount to the side of the faucet and require a separate hole in the sink or countertop. They extend water flow to hard-to-reach areas and make cleaning large pots or preparing food easier and retract when not in use. Side sprayers can often be matched with your existing faucet.
Spouts

Select a faucet with a spout that reaches as close to the center of the sink as possible. Average sized sinks require an 8- to 10-inch spout while larger sinks and sinks with multiple bowls may require a 12- to 14-inch spout.

Standard spouts commonly rest 3 to 5 inches above the plane of the sink. High-arc spouts, also known as Gooseneck spouts, are commonly 8 to 10 inches above the plane of the sink. They add an elegant look, provide more work room and increase range by rotating as much as 180 degrees.
Finishes

Your faucet's finish is the surface coating on the spout and handles. Consider a finish that complements your kitchen's decor and coordinates with your lighting and appliances. Many manufacturers have special processes that make their finishes highly durable and resistant to abrasion and discoloration. Some of the more popular finishes are chrome, satin nickel, stainless steel, bronze and brass.

Many also provide lifetime guarantees that protect the faucet against tarnish, so look for a finish backed by a strong warranty.
Chrome faucets may have a polished, brushed or matte finish. Durable, economical and easy to clean, they resist oxidation but does show water marks more than some other finishes.
Stainless steel faucets may have a polished, brushed or matte finish. Like chrome faucets, they are durable, easy to clean and resist oxidation.
Nickel faucets may have a brushed or satin look and is stylish, durable and easy to clean. Look for units with a titanium finish to better resist scratching and tarnish.
Mixed colors and metallic tones can be matched to your kitchen's color scheme. Striking combinations include satin nickel and polished brass, brushed nickel and polished chrome, satin nickel and white, and more.

Brass faucets may have a high gloss, satin or antique finish and are ideal for traditional décor

Bronze faucets complement neutral color palettes and are popular choices for those looking to achieve a rustic look. They may have a polished, brushed or darker oil-rubbed look with highlights and resist scratches, tarnishing and corrosion.
Solid color faucets may be epoxy or baked-on enamel and clean easily. Popular options include white, black and ivory.


Secondary sinks and bar faucets provide added convenience for preparing food or entertaining. When selecting a faucet for a secondary sink, choose one that complements the style and finish of your primary faucet.
Faucets for food preparation should have both hot and cold water and sprays with high functionality.
Faucets for entertaining may require cold water only, enhanced with a water filtration system.
Features

An adjustable flow-rate restrictor provides complete control over how much water you use. These are ideal for areas where water supply is limited or if you're concerned about conserving water.
Dishwashing chores are made easier with a sprayer that features a scraper or brush.

Pot-filler faucet: A faucet mounted over the stove allows you to fill heavy pots without carrying them back and forth to the sink. Many of these faucets feature a double-jointed spout that makes it easy to fill pots on both the front and back burners. This design also allows the unit to fold back against the wall when not in use to keep it out of the way. Some units offer both hot and cold valves.

If you have an extra sink hole, consider installing a faucet component that dispenses immediate hot or chilled water.

While most faucets require the addition of a separate filter, some feature a built-in filtration unit that strains impurities such as dirt, rust and chemicals to provide better tasting water for drinking and cooking. Upscale models combine a pullout sprayer with a filter and some have an LCD indicator that monitors filter life.

Touchless faucets turn on automatically using light and infrared sensors. They offer convenient operation when hands are soapy or dirty, help stop the spread of germs, and save money and water.