Give your kitchen a quick update by knowing how to remove a kitchen sink faucet. Removing a kitchen faucet can be simple or time-consuming, depending on how old the faucet is. This guide tells you what tools and supplies you'll need. Read for steps on how to remove a kitchen faucet, plus tips on handling a difficult kitchen sink faucet removal.
1
Tools and Supplies for Removing a Kitchen Faucet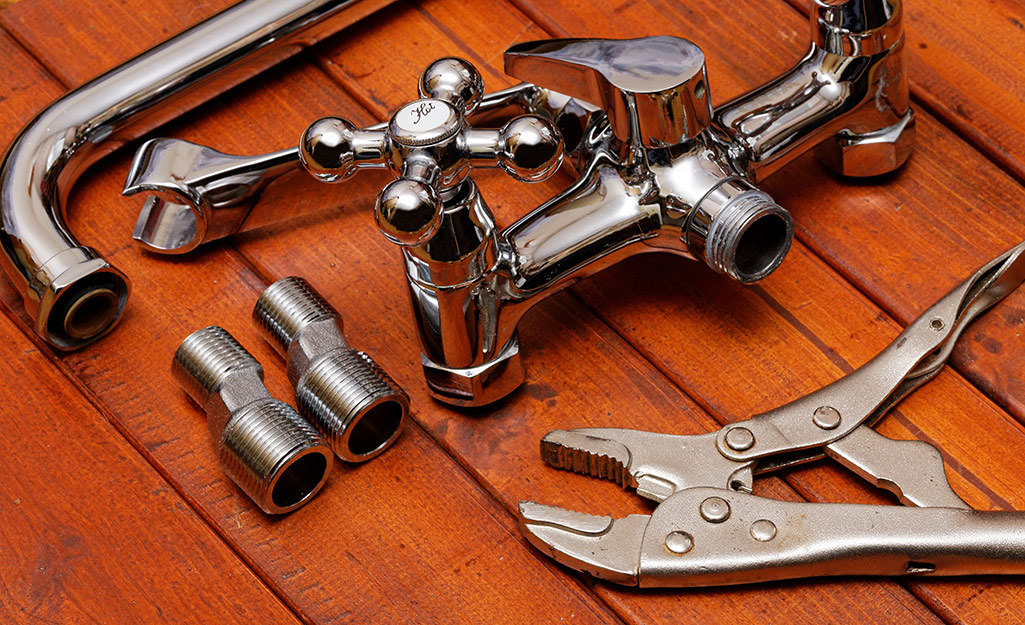 Removing a kitchen faucet requires two must-have tools: a basin wrench and an adjustable wrench. Use the adjustable wrench to give you the leverage you need. Unscrew the nuts and disconnect the water supply lines. The basin wrench is designed to work in tight spaces. You'll use it to remove the different nuts that are involved in a faucet removal. 
You'll may also need a screwdriver and a utility knife or putty knife to remove any old caulk from around the faucet. It's good to have work gloves, penetrating oil, a plastic bucket and paper towels on hand as well.
Tip: If you have a wall-mounted kitchen sink faucet, consider professional faucet replacement services.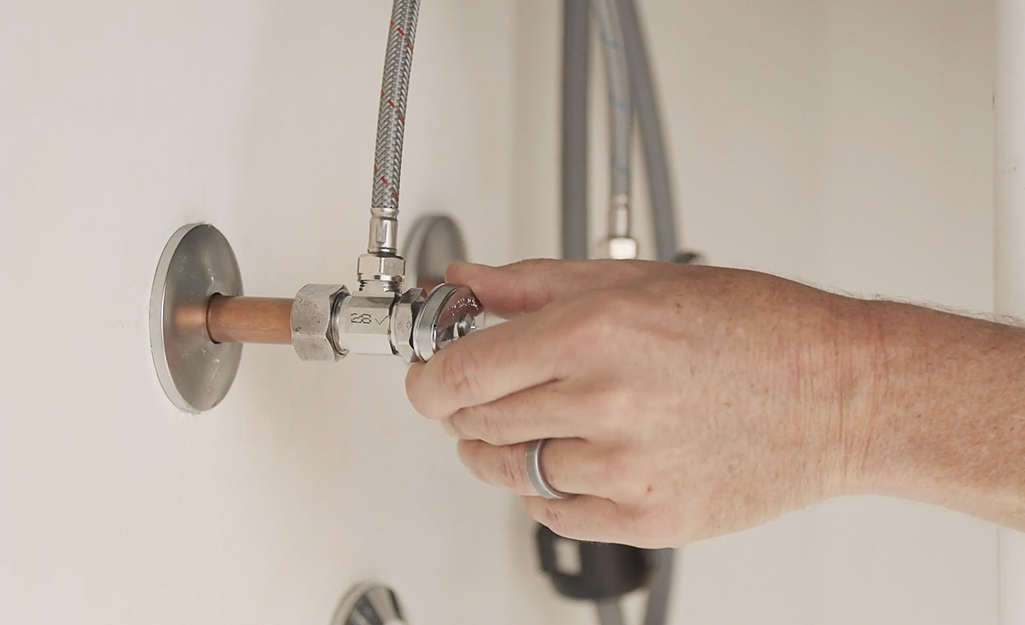 Whether you're updating or replacing a leaky faucet, always turn off the water first. This will make removing a kitchen faucet easier and less messy.

Locate the shut-off valves underneath the sink. Turn them firmly into the "Off" position. 
If there are no water shut-offs under the sink, then you'll need to turn off the main water supply to your home. This main water supply shut-off valve is usually located in a basement or a garage. 
Once the water is off, turn the kitchen faucet fully on. This will drain any water that might still be in the lines. If you have a kitchen faucet sprayer, drain that as well.
Tip: For shut-off valves that are difficult to turn, apply a penetrating oil and let it soak in.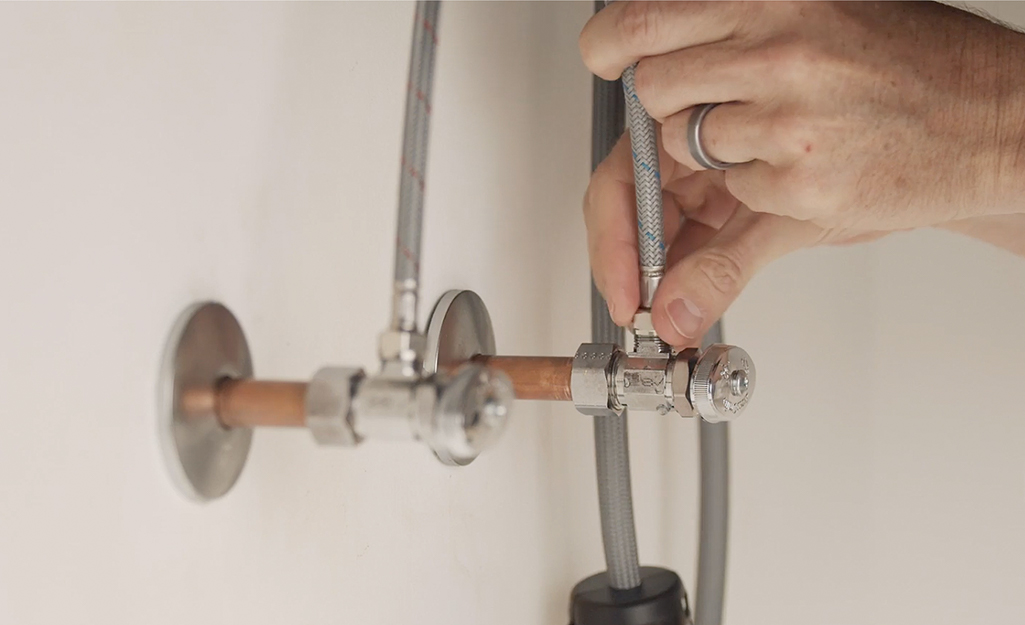 Knowing how to remove a kitchen faucet starts with properly disconnecting the water supply lines. The water supply lines are located under the sink, right beneath the faucet. Whether you have a single handle kitchen faucet or a double handle kitchen faucet, there are two lines. One for hot water and one for cold water. 
Before you start, block the sink drain with a cloth. You can also place bucket under the sink to catch any dripping water. Using the adjustable wrench, loosen the nuts that are attaching the supply lines to the sink. Continue turning the nuts until both water supply lines are free. 
Tip: Place towels on the edge of the lower kitchen sink cabinet. When you lay down and work, it won't dig into your back.
4
Remove Mounting Nuts Or Screws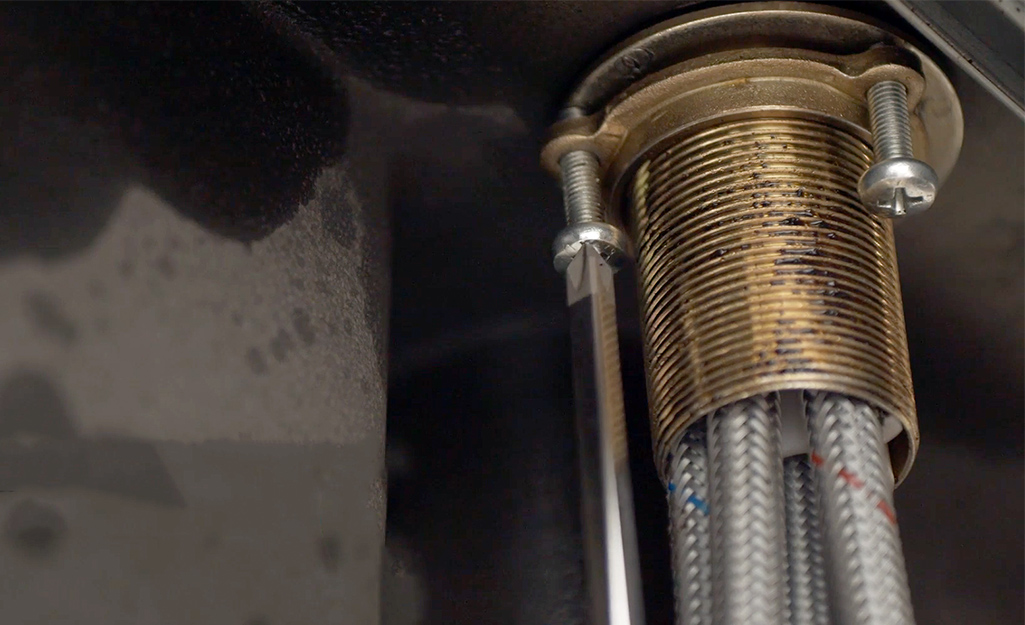 After you've disconnected the water supply lines, it's time to separate the faucet from the sink, countertop or wall. Faucets experience a lot of friction from running water and everyday use. A locking nut or screws keeps a faucet firmly attached to the sink.
Locate this nut and use the basin wrench to loosen and unscrew it. This nut can prove difficult to remove, depending on how long the old faucet has been in use. If the nut is stuck after several attempts, spray it with a penetrating oil. Wait 15 minutes. Then try to loosen the nut counter-clockwise with the basin wrench.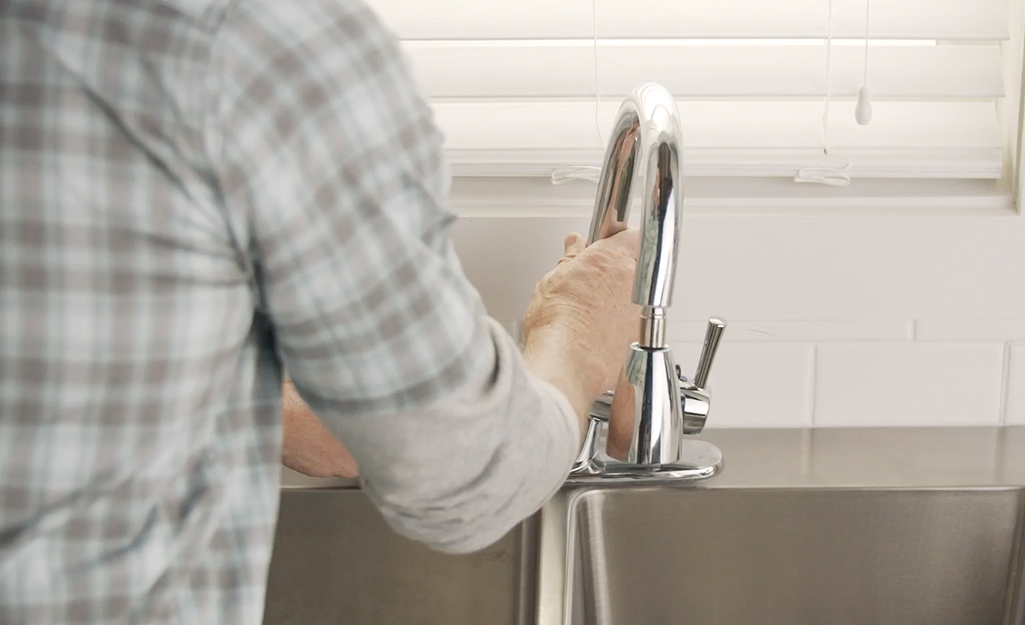 Once you've removed the nuts attaching the faucet to the sink, you can take out the faucet. Use every precaution to avoid cracking or chipping the countertop. 
Gently pull the entire faucet straight up. If it sticks, use the edge of a plastic putty knife to carefully work it loose. Use the putty knife to remove any old plumbers putty or caulk from the sink surface after removal. Be careful not to scratch the sink.
Tip: You may need to take apart the faucet pieces before removing it. For example, if you're removing a single handle faucet, unscrew the handle from the main valve. Always check a faucet's manufacturer's manual for specific removal instructions. 
6
More Tips on Removing a Kitchen Faucet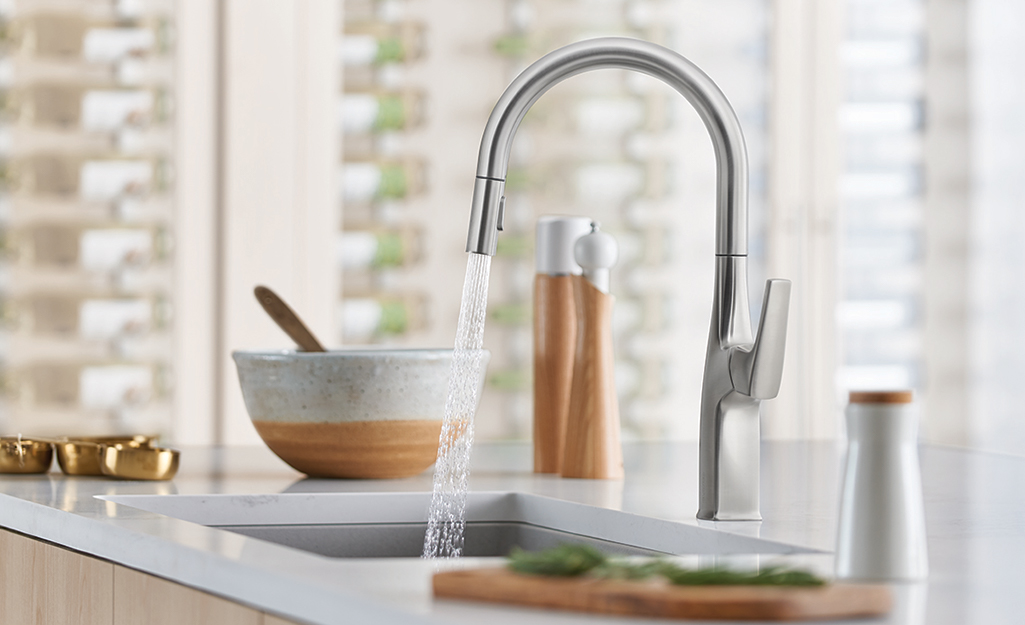 Some faucets that have been in use for a long period of time can seem impossible to remove. Corrosion or mineral deposits can freeze the nuts or bolts. There are several things you can do to remedy the situation.

First, saturate stuck nuts, valve handles and screws with a penetrating oil. The longer you let it soak in the better. If using penetrating oil doesn't work, here are a few other solutions you can try:

Apply heat directly to the nut or screw. Heat can expand the metal enough to turn it. 
Hit the nut gently with a hammer to force it to turn.
If the stuck nut or bolt that is covered in mineral deposits, remove them with white vinegar and a wire brush.
Use a hacksaw to cut the bolt or screw.
Tip: When you remove a kitchen faucet, consider replacing the supply lines. Old supply lines can have worn gaskets and leak.
Knowing how to remove a kitchen faucet is a simple DIY project most anyone can learn.  All you'll need are the right tools and some time. Follow the steps above and consult the manufacturer's instructions for your particular kitchen sink faucet. Many can be found online. Consider taking your old faucet to a metal recycling center instead of tossing it in the trash. 
Looking for a similar replacement faucet or need help identifying a tool? Find products fast with image search in The Home Depot app. Snap a picture of an item you like and we'll show you similar products. If you need help with your faucet, contact our professional faucet replacement services and get the job done for you.
Explore More on homedepot.com