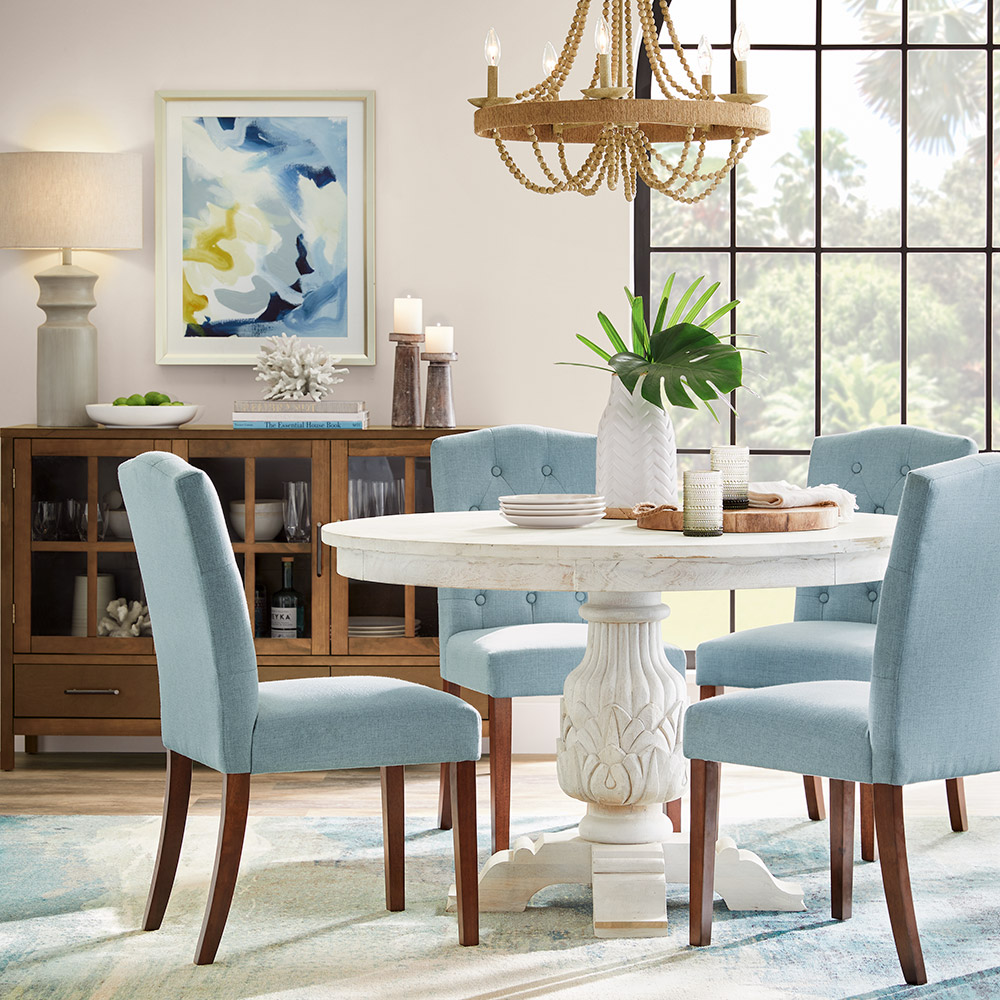 Dining room tables come in many sizes, styles, shapes, colors and materials. Choosing a table can be overwhelming. During the buying process, answering several questions can help narrow your decision. 
This guide will walk you through four questions to help you choose the best dining room table for your home. 
What's Your Dining Room Table Style?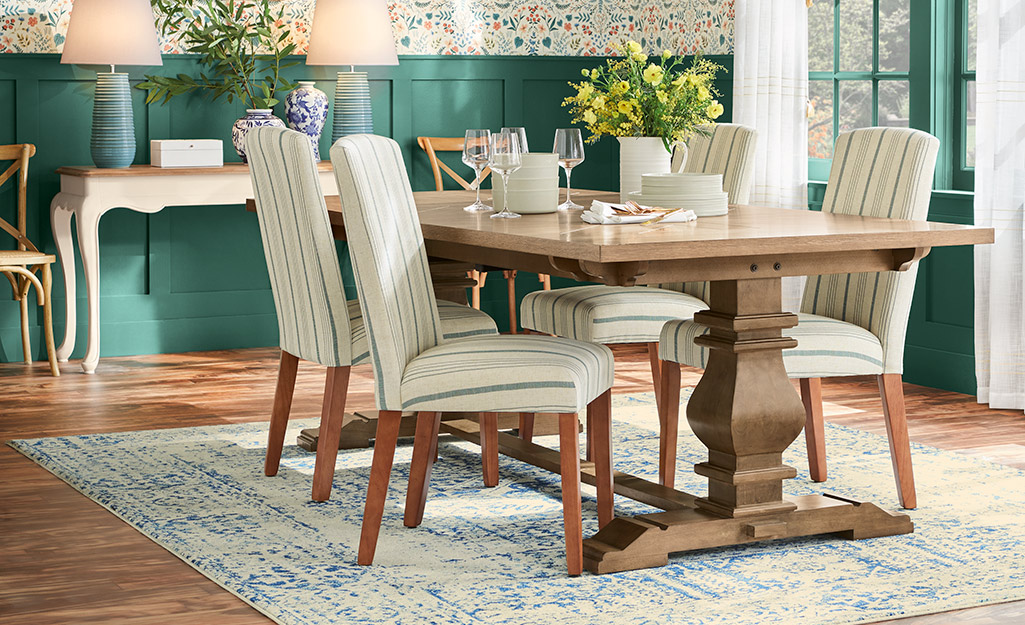 A good dining room table should last at least 10 years. A well-built table can last even longer. Because you'll be living with your table for a while, it's important to choose a style that you love.
Some of the top dining room table styles are: 
Farm Style
Farm style is casual, warm and inviting. People feel comfortable with the laid-back feel of a farm-style room. Farm style tables reflect this level of comfort and ease. Most are made of wood. They're often left unfinished or simply stained for a more rustic effect. They have simple lines and tend to be rectangular in shape. To add color, sometimes the legs and skirt of the table are painted, while the tabletop is left with its original wood finish. Scratches, dents and an uneven finish give farm-style dining room tables the well-loved look that so many people desire. Complement this casual style with a bench or dress up the look with slipcovered chairs.
Traditional Style
Traditional style is formal and elegant. Tables in this style are made from dark woods such as walnut and cherry, have turned legs, decorative moulding and feature pedestal legs or traditional corner legs. Traditional tables often come with matching chairs.
Modern Style
Modern style has simple, clean lines. Modern tables emphasize horizonal and vertical lines and have very little carving or adornment. They also feature natural, modern materials such as steel legs and stone and glass tabletops.
Retro Style
Retro style is a nostalgic throwback to past styles that were popular in the 1950s and 1960s. Retro wood tables are usually made of cherry, teak and walnut. Laminate tables are another type of retro table style. These tables bring diners and classic cars to mind. Available in bright colors like yellow, red and blue, they have laminate tops and chrome-plated steel legs. The chairs often match the table's bright hues. A laminate tabletop may feature geometric patterns. Retro tables add playfulness to your dining decor. 
Regardless of the style of table you choose, you'll also have to select a table shape. Rectangular, square, round and oval are standard dining room table shapes. If you need extra table space for entertaining guests, look for a table that has an extension leaf that can be popped in when needed. 
What Materials Are Used to Make Dining Room Tables?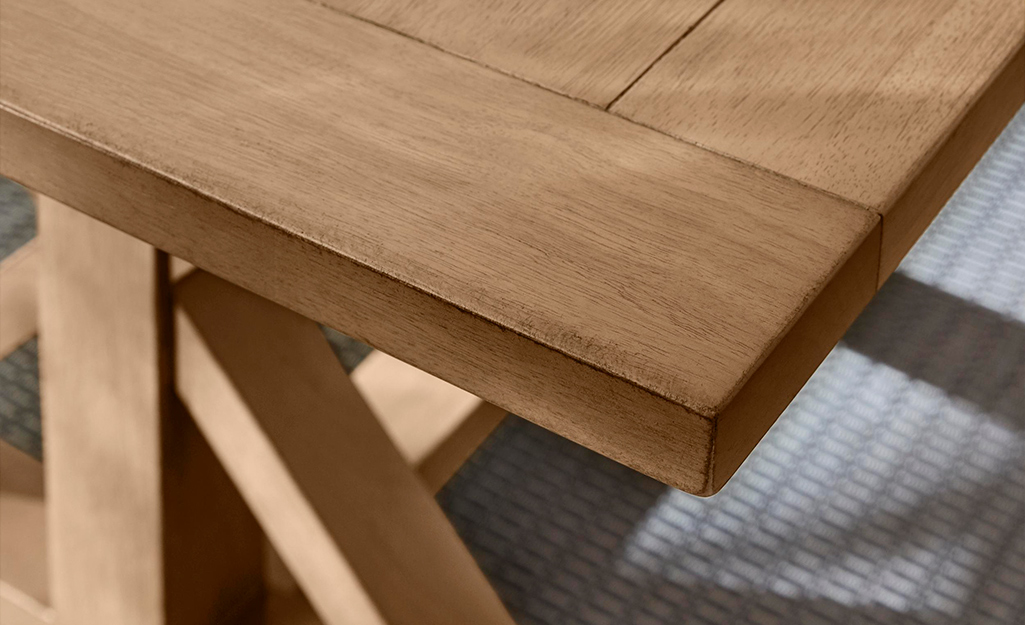 Dining room tables can be made from many different types of materials. Some are easier to maintain and keep clean, however. 
Solid Wood
Solid wood tables are sturdy and can withstand years of wear and tear. They can also be refinished for an updated look. However, you do need to take care with wood tables. Avoid placing hot pots or wet glasses directly on wood tabletops that have a shiny finish. Heat and moisture can ruin the lacquered coating or leave rings.
Glass
Glass is a decorative tabletop material that's easy to clean. Most glass tabletops are made of tempered glass. For safety, if they break, they will shatter into tiny pieces instead of break into shards. Glass can withstand both water and heat, but it can be hard to maintain because it shows fingerprints, smudges and dirt. 
Metal
Metal is common for both tabletops and legs. A completely metal table is virtually indestructible, easy to clean and easy to maintain. The only concern is moisture, so be sure that your metal table has a protective coating. 
Laminate
Like laminate countertops, laminate tables are designed to withstand heavy use. They clean up easy and are available in interesting designs and colors. Laminate repels water, but you'll need to be careful with hot pots and pans. Heat will damage a laminate finish.
How Will You Use Your Dining Room Table?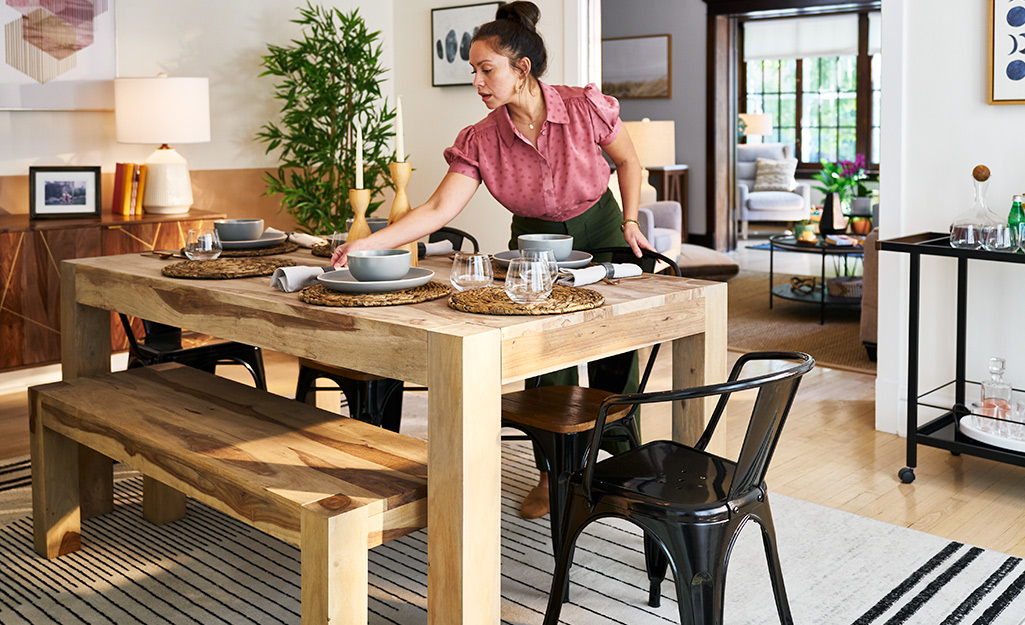 More than ever, dining room tables have become multi-purpose. Designed for meals and entertaining, they also serve as office space, homework areas and crafting stations. If your dining room table needs to serve several purposes, keep this in mind as you shop. Consider whether you'll need a protective pad to place under a computer or sewing machine. This is another way a leaf extension can come in handy. A leaf or two can extend the surface area of your dining room table for all its multi-purpose needs.
How Big is Your Space?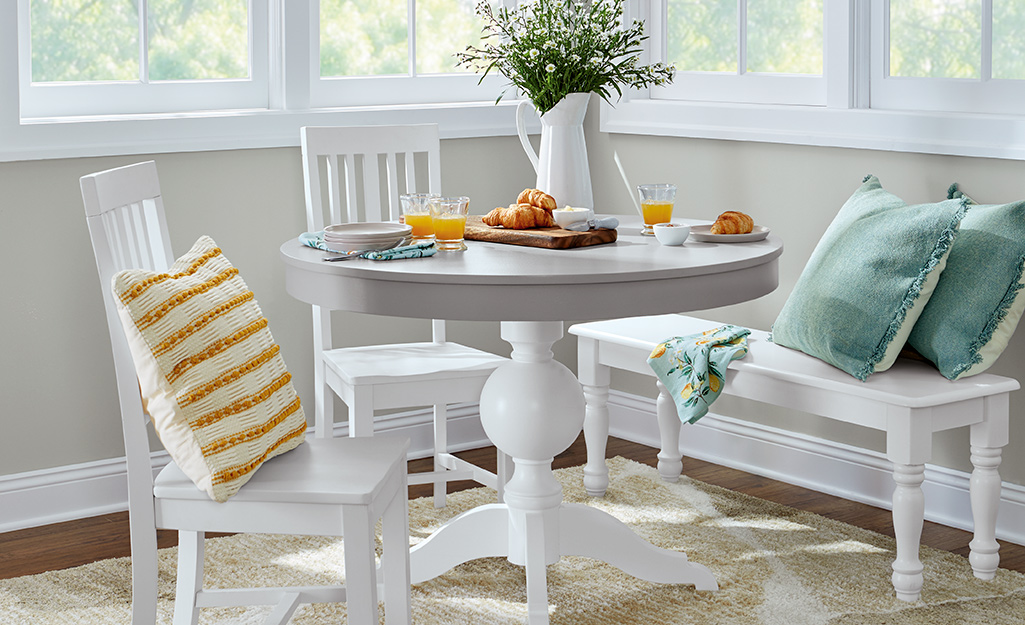 No matter how much you like a table, function must always follow form, or style. Your dining room table has got to fit in your space to be useful. To choose the perfect size, you need at least 48 inches of space around the entire table to allow people can slide chairs in and out. This buffer space will also let you walk around the table easily. Each place setting needs 22 to 24 inches of table space to accommodate a person and a chair. If you like to entertain, purchase a bigger table and buy extra chairs. Once again, a leaf extension will help you expand your dining space to accommodate guests.
Before buying a dining room table, consider that some shapes fit better in certain rooms. For example, a circular table fits well in a square space while an oval table complements a rectangular room. A circular table is usually too small for a rectangular dining room, unless you plan to add a hutch or sideboard. Likewise, a rectangular table in a square room interrupts traffic flow around the table.
The Home Depot and The Home Depot Mobile App have a variety of dining room tables and dining room accessories to shop from, but if you still can't make a decision on a table that's best for your space and needs, draw your room on a piece of graph paper to scale, then do the same for the various shapes of tables that you are considering. A visual of the dining table placed in the room can help you make a smart choice. 
Explore More on homedepot.com