Whether you use your dining room daily or only when you entertain, you want your space to be comfortable and inviting. Furniture and decor go a long way toward setting the mood in the area. As a result, you want to design a dining room that reflects your sense of style. This guide will teach you how to do just that with fresh dining room decorating ideas that you can try.
Choose a Style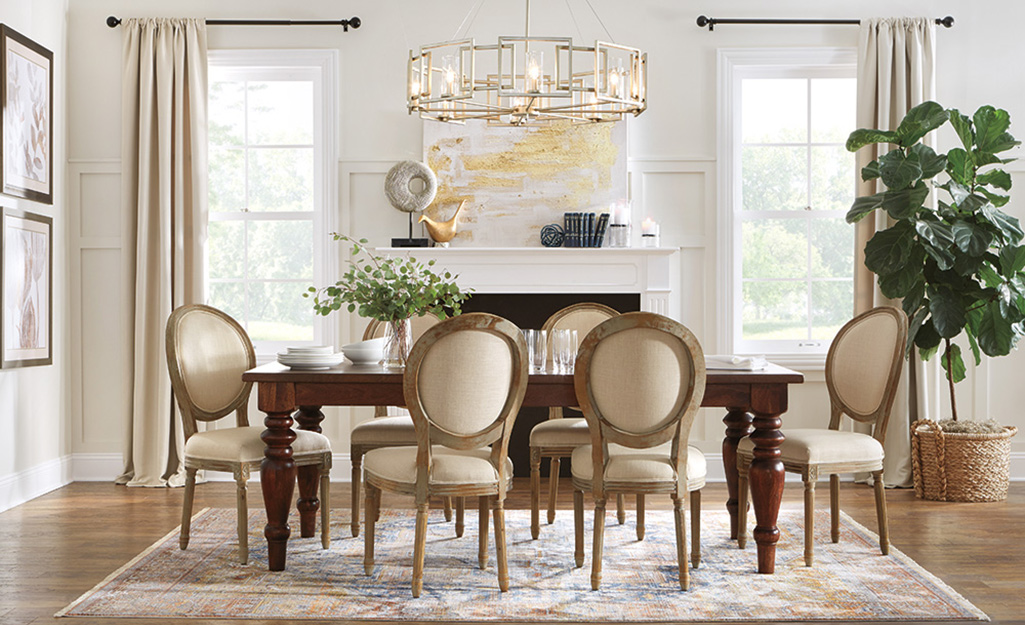 Before you get into the details of your dining room, choose an interior design style for the space.
Here are some to consider:
Traditional: Traditional spaces have timeless appeal and can range from formal to casual
Glam: Glam up the dining room and set the stage for upscale dining at home
Contemporary: Contemporary dining rooms are trendy and chic. Like traditional decor, it can range from casual to formal.
Mid-century: Mid-century dining room furniture and decor can make for a functional dining room with retro appeal
Coastal: Give your dining room some laid-back beachy vibes with coastal decor
Farmhouse: For a cozy, relaxed mood, consider decor inspired by the classic farmhouse
Tip: When shopping online, filter products by style, so you can quickly focus on items that fit your theme.
Dining Room Seating and Tables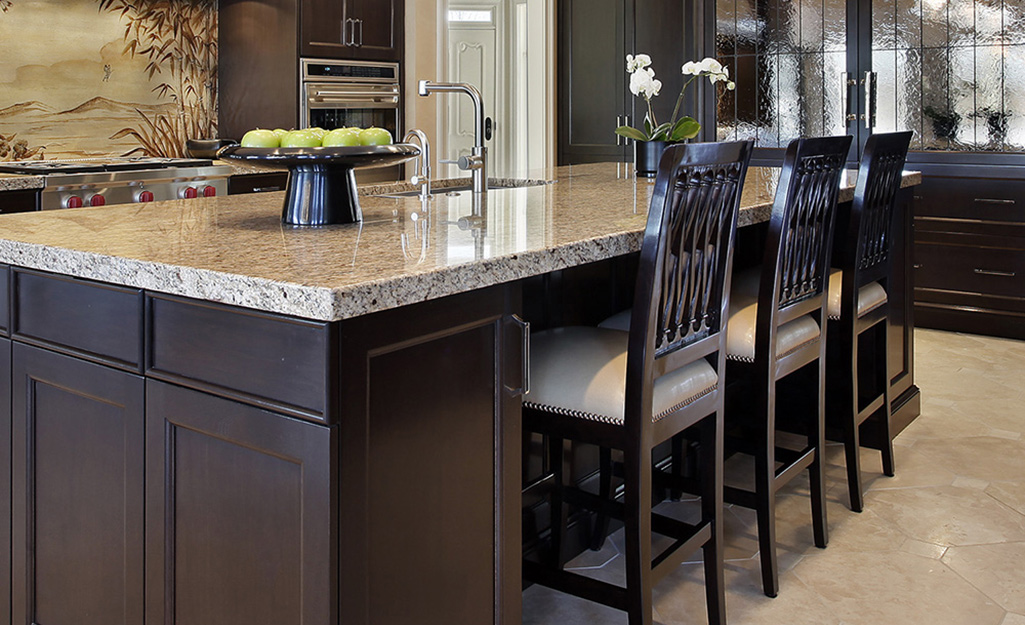 The dining area is the heart of a dining room, so start there with decorating. Think about how many people you'll need to seat and look for dining tables that are the right size.
Generally, you should have at least 24 inches of width for each person. If you entertain occasionally and want all your guests to sit together during the meal, consider an extendable dining table.
After you choose a dining table that appeals to you, select the dining chairs that go with it. If you opted for a rectangular table, you may wish to put armchairs at the ends and armless side chairs along the sides. Or, you can use the same chairs all the way around the table.
Opt for upholstered and padded dining chairs with soft foam seats if you'd like more cushioning. For those with small children or a busy household, seating that won't stain easily can simplify care.
While the dining room is a popular gathering place, kitchen islands can also serve as eating areas. If you have a small space, combine the kitchen and dining area by extending the island countertop into a tabletop. The redesign will make it more functional and can create more dining space in the area. Add counter-height stools to your eat-in kitchen for seating. Like dining chairs, stools come in a variety of materials, from simple classic wood to luxurious upholstered pieces.
Tip: Dining room sets take the guesswork out of shopping by providing a table and chairs that match.
Dining Room Wall Decor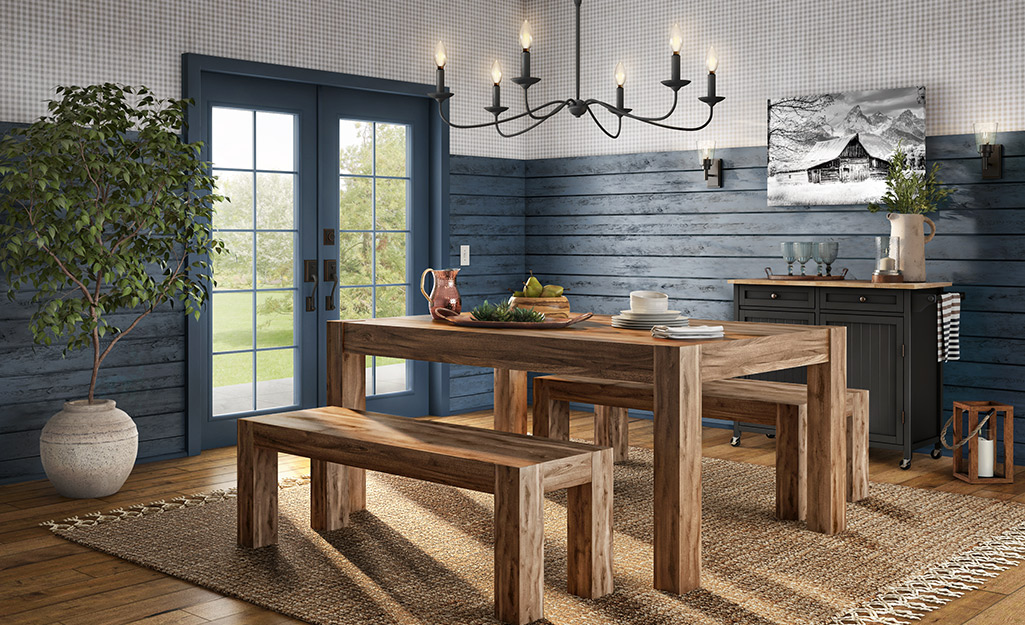 Depending on your style or preferred theme, the right wall art can add a simple elegance to your dining room decor. Look for pieces that go with the style of your room. For example, an abstract canvas print can embolden a contemporary room.
Consider making one wall a dramatic accent. Paint it a different color or cover it with wallpaper in a print that fits your theme.
Don't be afraid to repurpose items into wall decor. Baskets used as art can boost the farmhouse flair of a room. Hanging decorative plates can spice up a traditional or glam room.
Dining Room Flooring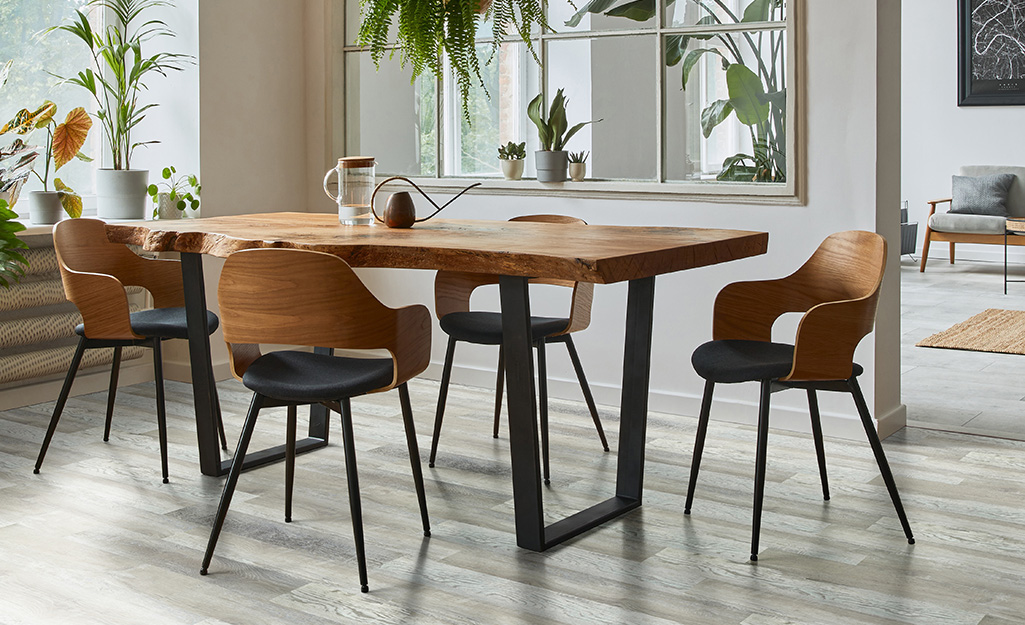 Flooring can change the entire dynamic of a room. You can easily update your dining space with stylish floors that grab attention when guests walk in.
Certain scratchproof and waterproof flooring can also make dinnertime less stressful, particularly in a house filled with kids or pets.
When choosing a decorative product, vinyl planks offer durability and affordability. Plus, they're easy to install.
Dining Room Rugs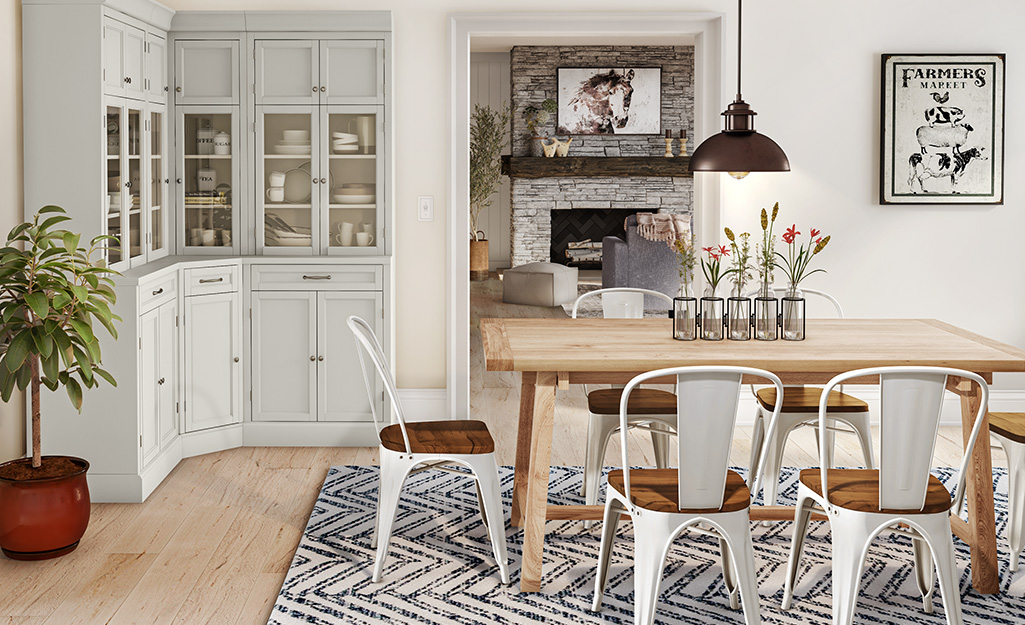 Sinking your toes into a soft area rug can make dining more enjoyable. Choose one large enough to leave 18 to 24 inches of rug on all sides of the dining table and chairs.
If you already have other bold accents in a room, stick with rugs in solid colors or simple patterns. On the other hand, rugs with detailed or oversize motifs can add personality.
Because accidents can happen during meals, look for rugs with stain-resistant fibers. Washable rugs can make cleanup much easier.
Dining Room Lighting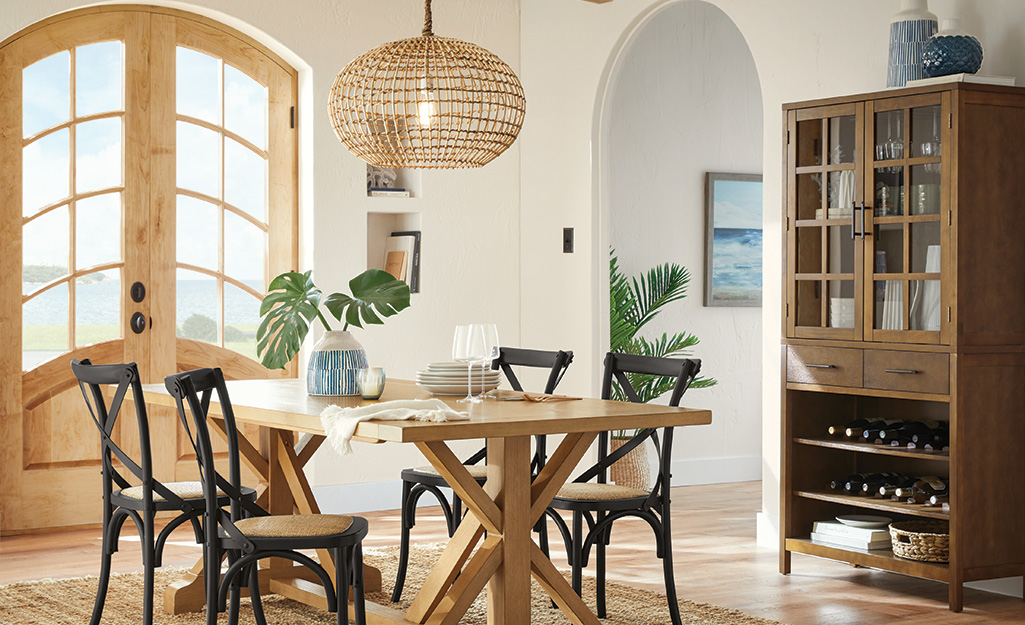 Lighting sets the tone for any occasion. Layering lights will help to brighten up the room.
Recessed lighting will direct focus and brighten the room as a whole. If your dining room is small, a chandelier or pendant hung over the table may provide enough light for the entire space.
Brighten shadowy spots with floor lamps or wall sconces, or put a table lamp on a piece of furniture.
Tip: Add a dimmer switch so you can control the brightness of your dining room lighting.
Dining Room Window Treatments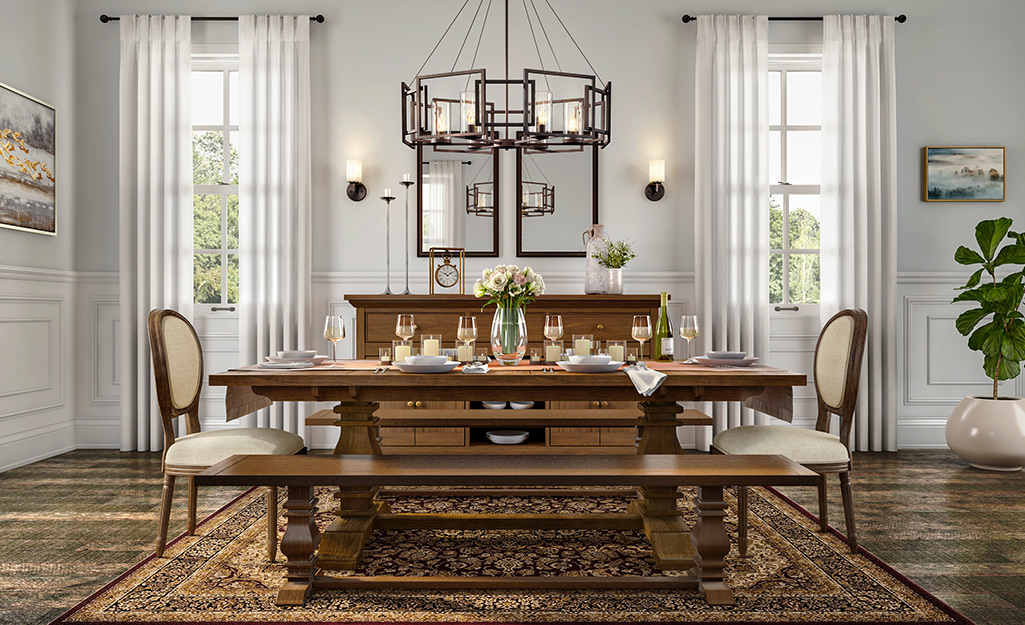 Dress up the windows in your dining room with curtains and drapes that fit your theme. As with rugs, the best way to choose prints and colors is to think about the room as a whole.
Window treatments also provide light control in dining rooms. If your dining area gets direct morning or afternoon sun, blinds or shades can help to ensure that no one needs to squint while eating. In dining rooms that face the street, shades or blinds also increase privacy when dining at night.
Dining Room Storage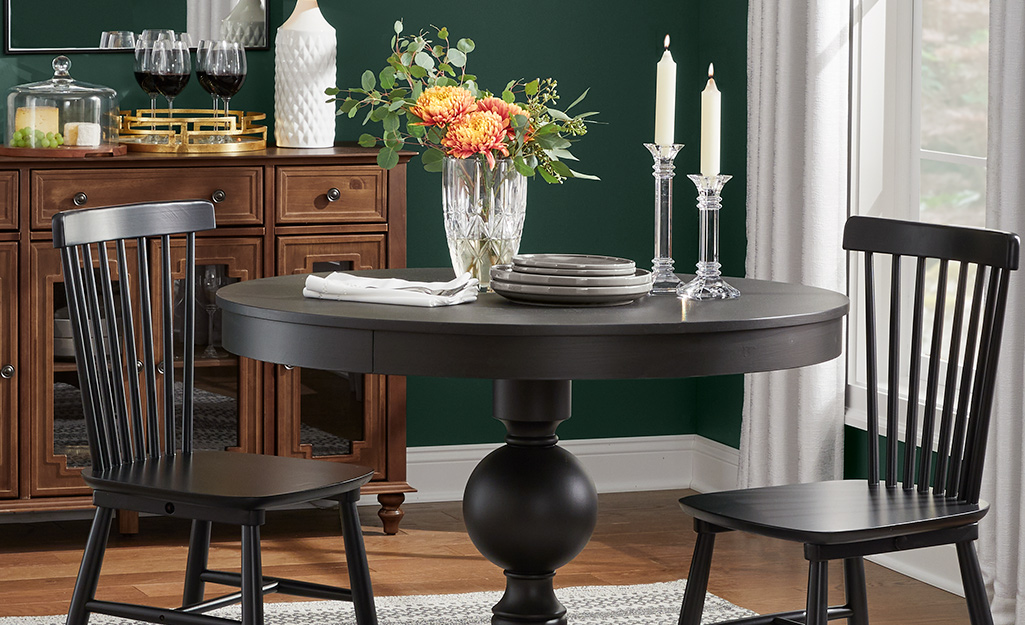 Depending on the size of your home, your dining room may need to do double-duty as a storage area. If so, think about what needs to go in the space.
Choose sideboards and buffets to keep silverware, serving trays and other items organized. Ones with open shelves or glass doors allow you to show off decorative pieces. You can also use the top as a display area for items.
In a smaller space, a dining table with built-in storage space will help you tuck away tableware such as plates, glasses and dining accessories to keep your dining area free of clutter. Another way to expand storage is to mount shelves on the walls.
Dining Room Finishing Touches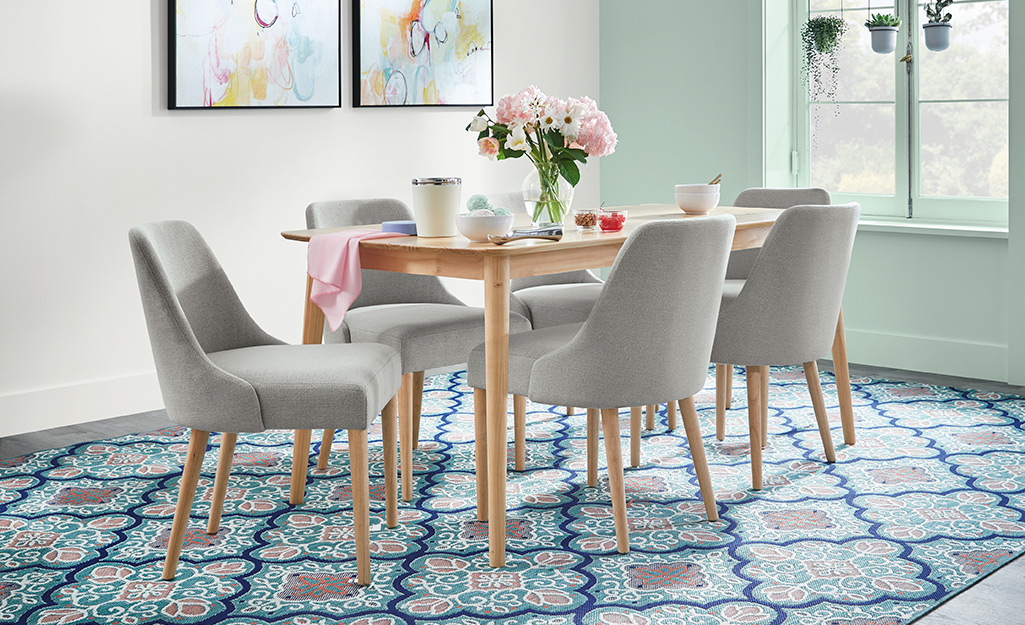 Decorative items are small details that can make a big impact on your room. Look for places where you can add items to bring color and texture to the room.
As the main furniture in the room, your dining table is a great place to start. Add a table runner or tablecloth that matches the rest of the space. Then, top it off with candle holders.
Fill in bare spots on sideboards, shelves and other surfaces with vases and other pieces. Remember that your dinnerware and serveware can also double as decorative accents.
Decorating a dining room becomes easier when you go step-by-step. Start big by choosing furniture, wall decor and flooring. Then add lighting, window treatments and decorative accents. Reuse and upcycle things you already have at home and shop The Home Depot for whatever you need to finish your space and bring your dining room ideas to life. The Home Depot delivers online orders when and where you need them.
Explore More on homedepot.com