Buying Guide
Types of Coolers for Every Occasion
Don't let the wrong cooler spoil your food and waste your money. The best coolers keep ice, drinks and foods cold for as long as you're enjoying the beach, camping, tailgating or grilling in your own backyard.
Use this guide to learn about the different types of coolers and choose the best cooler for your lifestyle.
What to Look for When Choosing a Cooler
Before you shop, think about how you'll use the cooler. The best cooler is the one that fits your needs and budget. If you're cooking burgers in the backyard and keeping a few canned drinks at hand, consider a small, soft-sided cooler on the lower end of the price range.
If you're camping, boating or hunting, or you'll be away for days or weeks, look for a large, hard-sided cooler, or chest cooler. It will have room for bags or blocks of ice as well as drinks and food. The best ice chests for outdoor activities have well-insulated walls and useful options, like a bottle opener with an attached magnet or bin to catch caps.
Large, economical coolers and no-features coolers are also available. Some are made of less expensive materials or with parts that are pieced together. These budget-friendlier ice chests offer good storage capacity. Read the manufacturer's box or label for details on how long they can keep perishables cold.
Different types of coolers are made from materials like foam, plastic, metal or fabric. Stainless steel coolers and other metal coolers are known for their durable construction.
Coolers also come in different shapes and sizes. If you're torn between two sizes, consider buying the larger one.
Looking for a tailgating cooler? You'll likely only need to keep items cold for one day. Choose from a chest cooler, soft-sided cooler or beverage jug cooler. Consider how much you'll need to move it - you might not need wheels, but make sure the handles or straps are sturdy enough. Think about an easy-access lid, or a cooler with a lid-within-a-lid, so your air and ice stay cold.
The best small cooler, such as an insulated lunch bag, may be all you need if you're only packing lunch every day for yourself or your kids.
A cooler's storage capacity is shown in quarts, but a 40-quart cooler may not have a full 40 quarts of cold storage. Some of that space may only keep items dry and out of melted water.
Before you buy, make sure your trunk has room for the chest you're considering. Hard-sided coolers take up the same amount of room whether they're full or empty, but soft-sided coolers and cooler bags have a some "give," in case you need to push them around a little to make them fit.
Also, think about who will help you carry the cooler. If you're going in alone with a heavy load, look for a wheeled ice chest. Some have a single handle with rubber grips to take the strain off your hands. If a friend can help, look for dual handles. Handles molded into the body of the cooler usually last longer. No matter how they are made, they should be strong enough to hold up under the weight of whatever you put inside.
Some of the best hard-sided coolers are made of plastic, which makes them strong and durable. Many people consider a rotomolded cooler one of the best ice chests on the market. Rotomolded ice chests are made from one continuous piece of plastic, rather than individual parts joined together, so they're also waterproof and leakproof. One-piece coolers are less likely to crack or break at corners and other stress points.
Depending on the manufacturer, rotomolded coolers, or rotationally molded coolers, can keep ice cold for several days up to a week or more. Check the manufacturer's label for specifics. They last a long time, and many have heavy-duty latches and hinges to deter animals and withstand heavy use. Models made from UV-treated plastic keep ice and foods cold for a long time even if they're exposed to the sun.
Rotomolded coolers are typically heavier than other kinds. Some have handles with hinges for easier lifting, and some have molded handles that do not move. Once these rotomolded coolers are fully loaded, you'll need two people to carry them or lift them onto a boat or into the bed of a truck.
For a less expensive option, consider hard-sided coolers with thickly insulated walls and lids. Some have lid latches, while others have recessed hand-holds on the lids so you can open them. Stretch your dollars by choosing a model with replaceable wheels, hinges and other parts, so it can be repaired, rather than discarded, if something wears out or breaks.
Coolers made from fabric are usually collapsible, which makes them easy to store when they're empty. Because they're lightweight and portable, soft-sided coolers are among the best coolers for a few hours at a picnic or the beach.
Soft-sided cooler options include wheels and telescoping handles, padded grips on the handles, exterior bungee cords and mesh pockets for small extras.
You can also find lightweight cooler bags. Some are designed to look like handbags or tote bags. For wine enthusiasts, the best cooler bag may be one that comes with wine glasses, space for wine bottles, a cheese board and a blanket.
The best soft cooler models are made of sturdy materials like nylon, cotton-twill, heavy-duty vinyl, canvas or other fabrics, and they'll last a long time with a little care. A soft cooler or cooler bag with a removable liner and a stain resistant exterior makes clean-up easy. Look for a soft cooler that is also leak-resistant, with a leak-resistant zipper.
If you only need a cooler to use in your backyard, consider a stationary or wheeled patio cooler. These coolers have a raised design, which makes them easy to reach in for food, ice and drinks. They come in a variety of decorative colors and styles, and some have locking casters, so they won't roll around. Buffet-style coolers are also available. They typically feature one or two cabinets for storing glasses, napkins and other necessities, a countertop for mixing drinks and serving and a built-in cooler area for ice and food.
Insulated backpack coolers or cooler bags can be a budget-friendly choice if you don't need a lot of storage area. Some are designed to be waterproof and have leak-resistant zippers, while others come with dry bags, so you won't walk around with melted ice trickling down your back. Some of the best backpack coolers have comfortable shoulder straps to distribute the weight of the items you're carrying. Also, look for a model with a liner that's been treated to resist or kill bacteria and mildew. While some of these coolers have built-in drain plugs, others must be emptied by turning them upside down or on their side. Models with dry storage compartments allow you to take paper plates, utensils and other picnic necessities.
Fishing & Camping Coolers
Some of the best coolers for camping will have the lifestyle options you want and the storage capacity you need. If you want a wheeled cooler, look for one with oversized, heavy-duty rubber wheels to help you move it over rocks and other rough terrain. You may also need heavy-duty latches and hinges and a lockable lid to deter hungry bears and other wildlife. If you want another seat around the campfire, look for a hard-sided or rotomolded cooler that the manufacturer says is strong enough to sit on.
Your camp cooler should be weather-resistant and have enough insulation to keep ice and other items cold for as long as you'll be out. Check the manufacturer's label for how long you can expect it to keep perishables chilled.
If fishing is part of your plans, you'll want to keep your catch fresh in a cooler until you can get home. Consider a dual-compartment cooler with a space for your items plus your haul. A true fishing cooler will have a place to attach your fishing rods and have a lid sturdy enough for you to sit. You may want to be portable, but consider a hard-top cooler with no wheels for boat fishing. Some fishing coolers come with rulers made into the lid, so you can easily measure your catch when you're fishing.
Tip: Rinse off your cooler if you've been in saltwater to keep it in top shape.
Before you hit the road, consider a travel cooler that works with your electronic devices. Some travel coolers have weather-resistant storage spaces for cell phones, laptops and tablets, but others offer even more features. Many of the best coolers for travel and a plugged-in lifestyle keep items cold, stream music from Bluetooth-enabled devices and charge your phone.
Some travel coolers have SD and USB digital music players and inputs for microphones and auxiliary jacks. Some travel models have wheels while others feature comfortable carrying handles or padded shoulder straps.
Beverage jugs, sometimes called beverage coolers, are also great for trips. Take a beverage jug along to dispense cold water when your child has soccer practice or you're going to a picnic.
Some people say the best beach cooler is actually a beverage jug that's big enough to fill with ice and cans, and where they don't use the built-in faucet except to drain melted ice.
Some beach-goers like to use a cooler bag. If style matters, the best cooler bag for you may be a soft-sided model that looks like a handbag.
Thermoelectric coolers that don't even require ice are also great for travel. They run on 12 volts, so you can plug them into your vehicle to keep drinks and snacks cold.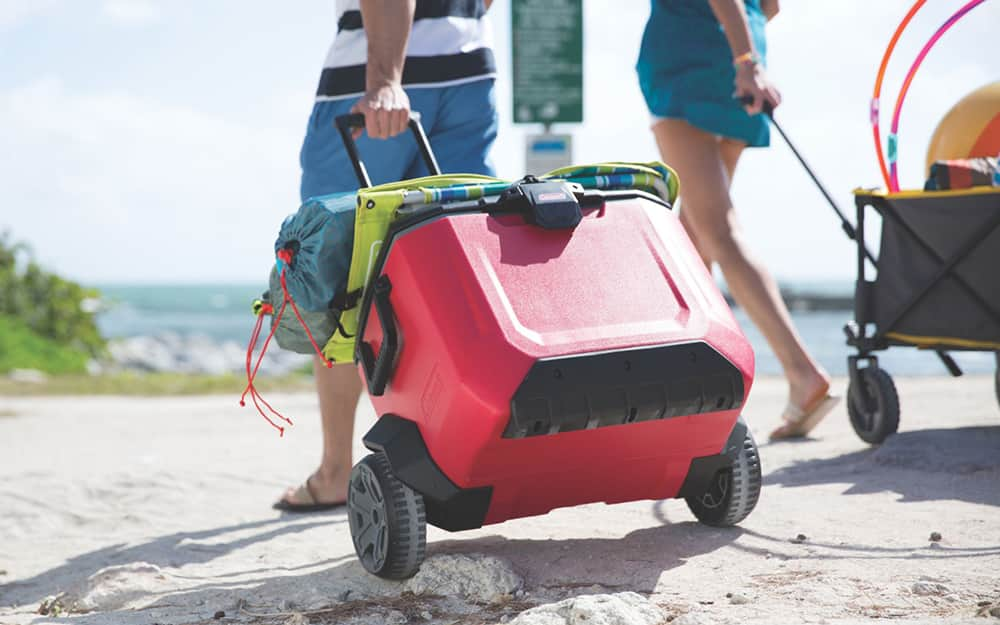 Remember, the best cooler is one that fits your lifestyle, whether you're carrying baby bottles or beer bottles, and works with your budget. If you're headed to the shore, look for a beach cooler with wheels that rolls easily over the sand and its parts that won't corrode from sea water. Another good option: a lightweight, waterproof cooler with comfortable shoulder straps or carrying handles. Ideally, a beach cooler won't tip over when you put it down.
Dry storage space is a nice option, so you can safely stow your sunscreen, keys and a book. If you plan to take a towel, look for a beach cooler with a bungee cord or mesh compartment, so you can roll it up and keep the wet towel away from everything else.
Ice, drinks and foods will stay cold longer if you pre-chill your cooler. Try adding ice packs or bags of ice to your cooler the night before you plan to use it, and make sure your drinks and foods are already cold when you put them in. Even if the bagged ice starts to melts, it will lower the internal temperature to help keep things chilled.
If your cooler gets a lot of use, you might want a freestanding ice maker, so you can re-stock it without paying for bagged ice every time you need it. Another option: when you purchase a new refrigerator, look for one with dual icemakers, such as a cube dispenser in the door and a bin that holds a generous supply of extra ice.
Features and Accessories for Coolers
Look for a cooler with built-in features or choose from a variety of cooler accessories. Options include:
Side storage pockets to access items without opening the cooler.
Wheels with lockable casters to keep your cooler in place.
Removable, antimicrobial liners for odor-, mold- and mildew-resistance.
Drain plugs that unscrew or pop open to let water escape, or oversized plugs that quickly release water from large coolers.
Protective covers (some are insulated).
Skid-free, no-slip feet to hold the cooler securely on a table or other smooth surface.
Textured lids to keep items from sliding off.
Collapsible or retractable handles for easy moving and storing.
Adjustable shoulder straps to fit every person.
Divided or dry storage areas to keep food and other items out of melted water.
Split lids for quick access to items without having to open the entire cooler.
Attached bottle openers with magnets or bins to catch the caps.
Built-in cup or drink holders for when you want to use your cooler as a table.
Stainless steel frames for strength and durability.
Removable bins for small items.
Cutting boards to help with cooking out.
Sensors that monitor the cooler's interior temperature.
Built-in slots for ice packs.
Towing handles or pivoting handles to make maneuvering easier.
Dual lid locks keep your cooler securely shut.
Detachable, refillable paper cup holders for convenience.
When you're thinking about what size cooler is best for you, don't forget a large portion of the space will be filled with ice. Tightly packed coolers keep food colder and longer, so avoid buying a larger cooler than you need. Buy a cooler you feel comfortable carrying, and if you need more space, consider buying two to even the load.
Get a cooler that performs well and is affordable. We have a range of cooler types. The Home Depot delivers when and where you need them.