Choosing the best bath towels for your bathroom comes down to personal preference. Are you looking for soft, thick bath sheets or fast-drying bath towels for the gym? Do you want to freshen up your bathroom decor and create a luxurious spa experience?  Learn which are the most absorbent bath towels, and the difference between Egyptian and Turkish cotton. Plus, find out the different bath towel sizes available, how to choose a bath towel vs. a bath sheet and more.
Best Materials for Bath Towels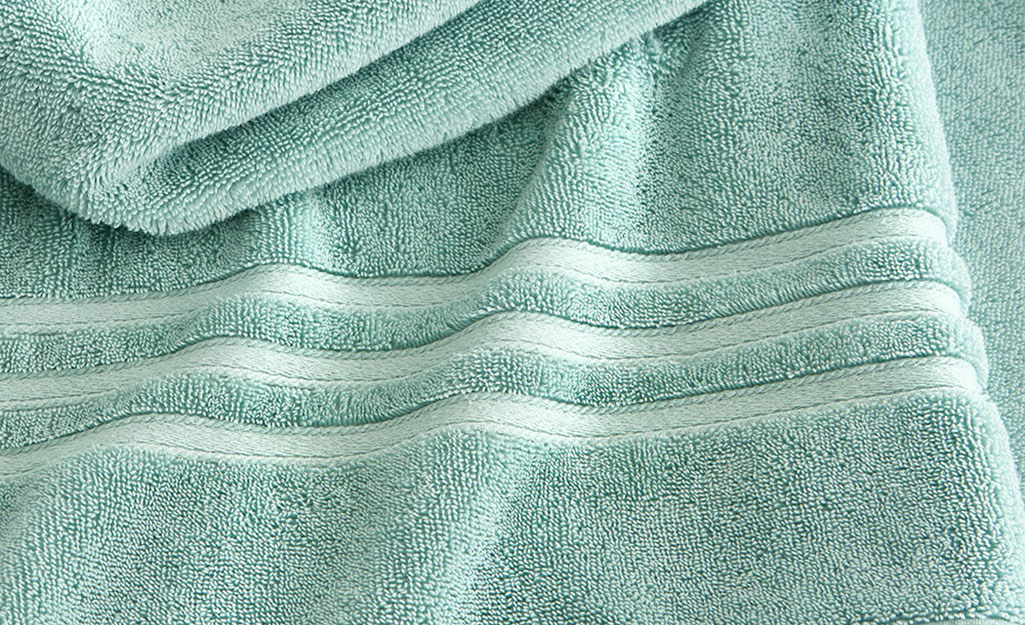 Bath towels are made from natural and man-made fibers such as cotton and cotton blends, organics, modal, bamboo and microfiber.
Cotton is a popular fiber and the choice of many for the best bath towels. This fiber is very durable and resists fading. A towel that is 100 percent cotton is the softest and most absorbent choice. Everyday towels are made using short-staple cotton fibers and are soft, strong and relatively inexpensive.
Premium cotton towels are made with the highly absorbent, long-staple fibers like those found in Egyptian cotton or Turkish cotton.
Organic cotton towels are made with cotton fiber from plants grown without the use of fertilizers or pesticides.
Modal is a natural fiber made from beachwood that is combined with premium cotton to produce a more absorbant and silkier towel. Polyester towels are budget-friendly and quick drying. They're not as soft or comfy as other options available.
Bamboo towels are very absorbent, hypoallergenic, antibacterial and odor resistant. They resist fading and usually have a plush feel.
Microfiber is a highly absorbent synthetic. A microfiber bath towel is not as soft as cotton, but is very durable.
Towels made from natural linen or a linen blend are much lighter and thinner than traditional towels. Linen is naturally antimicrobial, dries very quickly. It's soft against your skin and doesn't take up much room in linen closets.
Egyptian vs. Turkish Cotton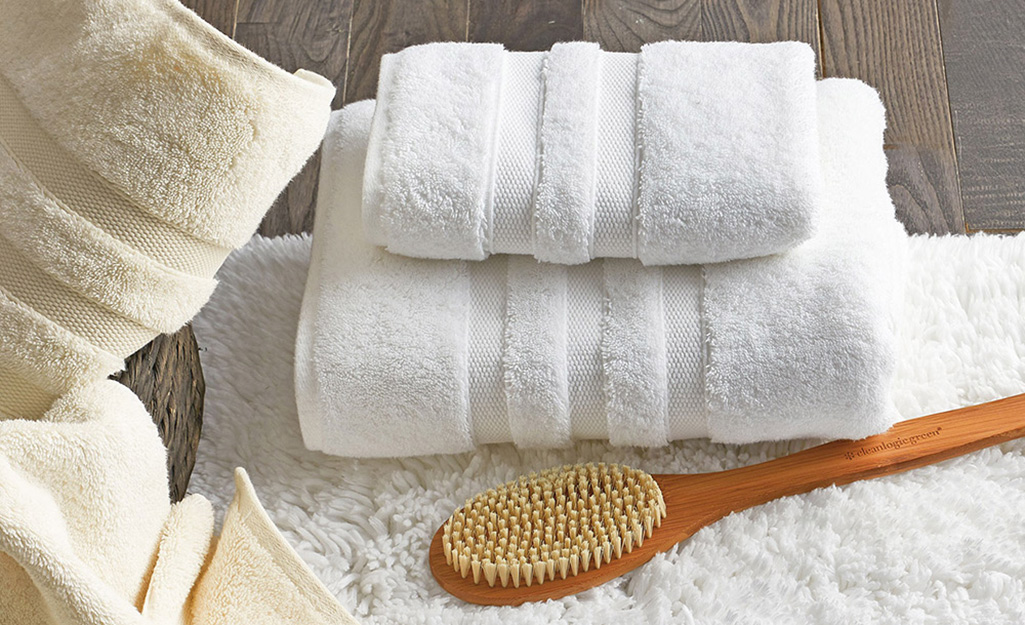 Made from premium, long stable cotton, both Egyptian cotton and Turkish cotton have a lot in common. But there are differences.
Egyptian cotton towels are plush, extra soft, and are less likely to fuzz. The more you wash them, the softer they get. They are able to absorb lots of water and can have a longer drying time.
Turkish cotton towels are known for being thicker, plusher and heavier. These are the towels you'll see most often at resorts, spas and hotels. Rather than absorb water, they tend to whisk the water off your skin. This allows Turkish towels to dry quicker than those made with Egyptian cotton.
Eygptian cotton grown in the U.S. is called Pima cotton. It has the same qualities of imported cotton, but is more wallet-friendly. (Supima is a brand name of Pima cotton.)
Tip: All quality, well-made towels have folded and stitched edges that prevent fraying and increase durability.
Bath Towel Construction Facts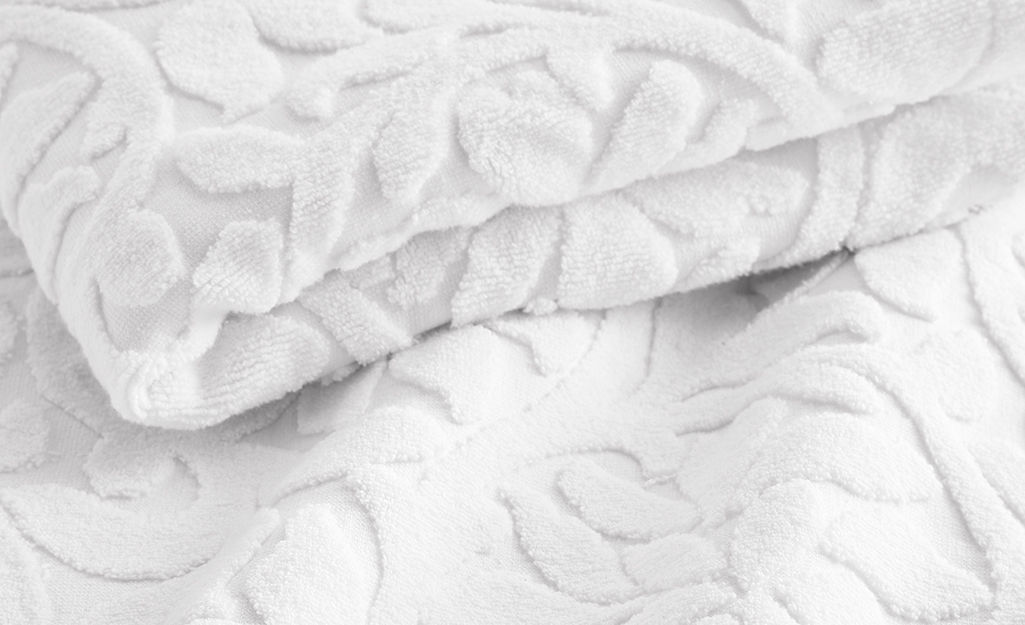 How a towel is made affects how it looks, feels and dries. A few common methods:
Ring-spun cotton towels gets their smooth, silky feel from loops of tightly twisted long and short fibers.
Combed cotton is created by brushing out the short fibers in cotton and leaving the longer ones for a towel that's softer, more durable and has less pilling.
Zero- or low-twist towels absorb well and dry quickly. They are constructed with yarn made from long-staple cotton fibers that are not twisted. The result is a softer, plusher and more durable towel.
High-twist towels use short-staple cotton. They are durable, but also stiffer and less absorbent.
Terry cloth is a special type of weaving. It is made with uncut loops (known as pile) that stand off the base. Terry is a super absorbent and cozy towel.
Bath Towel Sizes & Use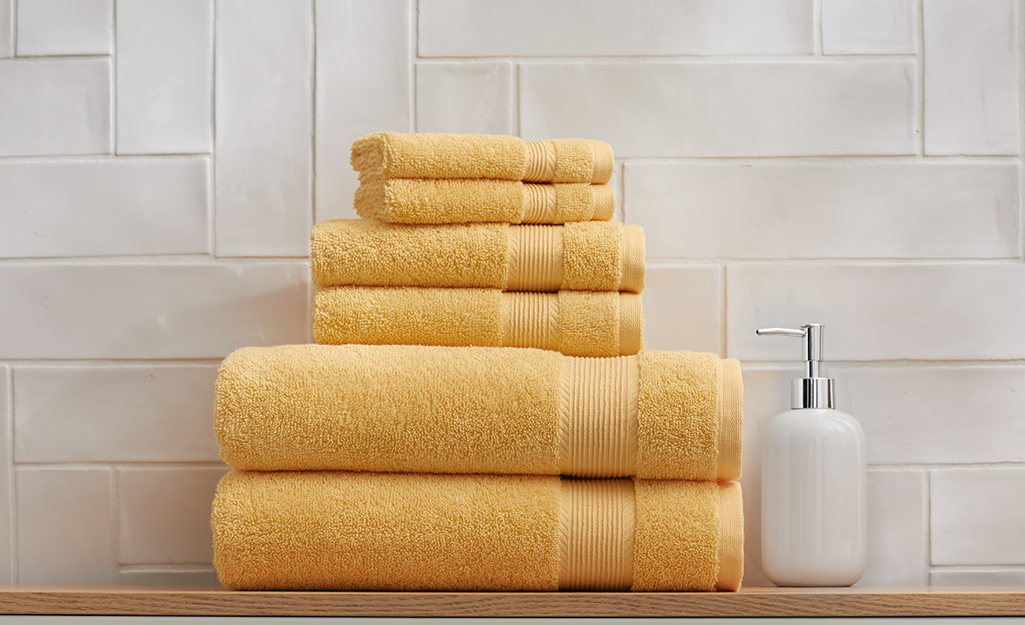 While there are many factors to consider, towel size names and ranges are fairly standard across brands and manufacturers. This makes it easy to shop for the exact ones you need. Here are common sizes and uses:
Washcloth:
Size: 12- or 13-inch square
Use: Cleans face, hands and body in shower or bath
Fingertip Towel:
Size: 11 x 18 inches
Use: Decorative hand towel commonly used in guest baths
Hand Towel:
Size: 15 x 18 inches
Use: Dries hands after washing them at a sink
Bath Towel:
Size: 20 to 30 inches x 40 to 58 inches
Use: Dries body and hair after a bath or shower
Bath Sheet:
Size: 35 to 40 inches x 60 to 70 inches
Use: A coverup for extra warmth after a bath or shower
Bath Mat Towel:
Size: 27 x 52 inches
Use: Protects the floor after a bath or shower
Bath Towel Weights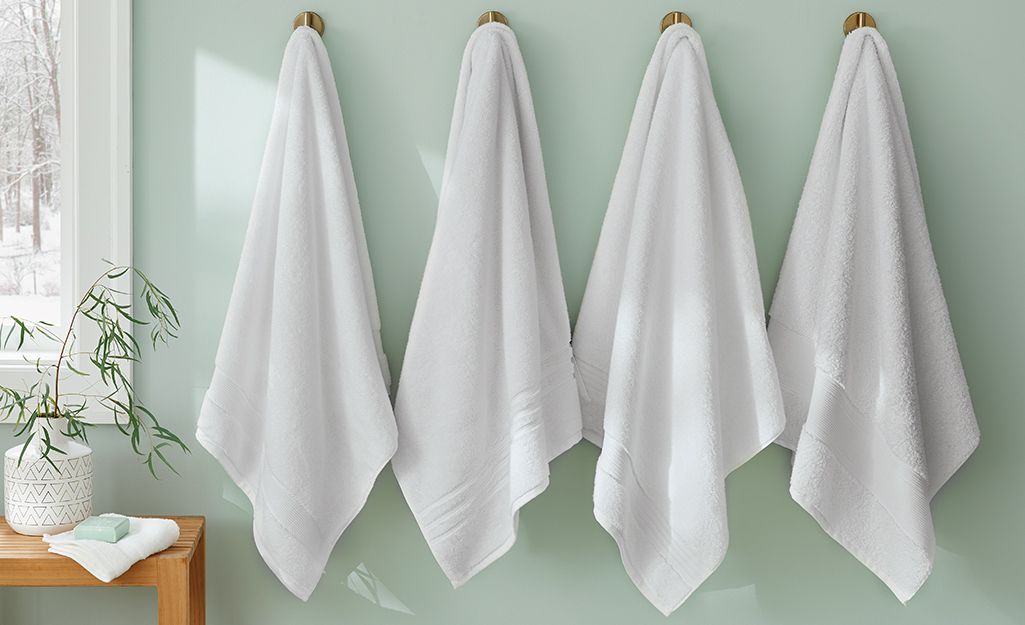 Towels come in weights called GSMs (grams per square meter). GSMs measure density and range from 300 to 900. Knowing a towel's GSM will help you choose the best towels for you based on fluffiness and feel. GSM is a standard measurement for a towel's weight and density, and you'll find it listed in the product specifications. A few guidelines:
300 - 400 GSM is lighter, thinner and faster drying.
400 - 600 GSM is medium weight and ideal for every day use.
600 - 900 GSM is heavier, more luxurious and perfect for a spa-like experience.
Bath Towel Care Tips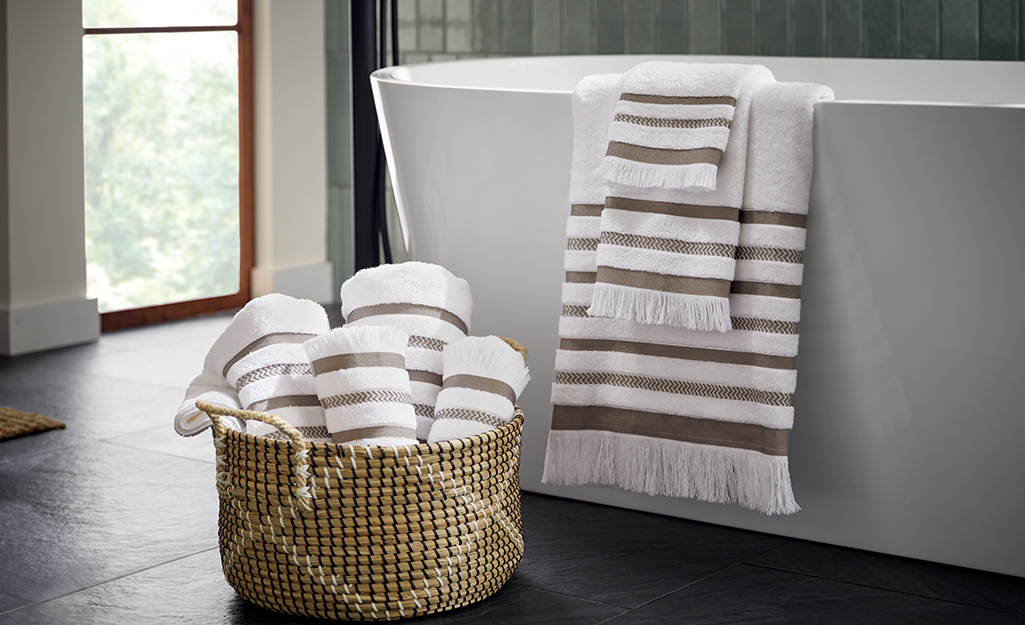 Towels should be washed and dried after about three uses to prevent odor, mold and mildew. A towel warmer can be an effective way to dry and warm towels between uses. Follow these simple tips to keep your bath towels looking their best. 
After each use, hang your towels on a hook to dry. Spread out a large bath towel or bath sheet on a bar or shower rod.
Sort towels before washing to resist fading and to cut down on transferring lint from lighter colors.
Keep shrinkage to a minimum by washing in cool or warm water.
Follow the dryer heat setting listed on the towel's manufactuer's label.
Wash whites separately. Add a bleaching agent to brighten them if necessary.
Use dryer sheets but avoid liquid fabric softeners. They leave a film that compromises absorbency.
Run the bathroom exhaust fan to remove humidity from the air.
Shake towels out before tossing them into the dryer. This will prevent them from twisting and tangling.
Add a couple of wool laundry balls to help air better circulate and reduce drying time.
Tip: Wash new towels before you use them to prevent shedding, to set their color and to improve absorbency. New towels are coated with a finish that makes them look fluffy on shelves but prevents absorbency. 
When to Replace Bath Towels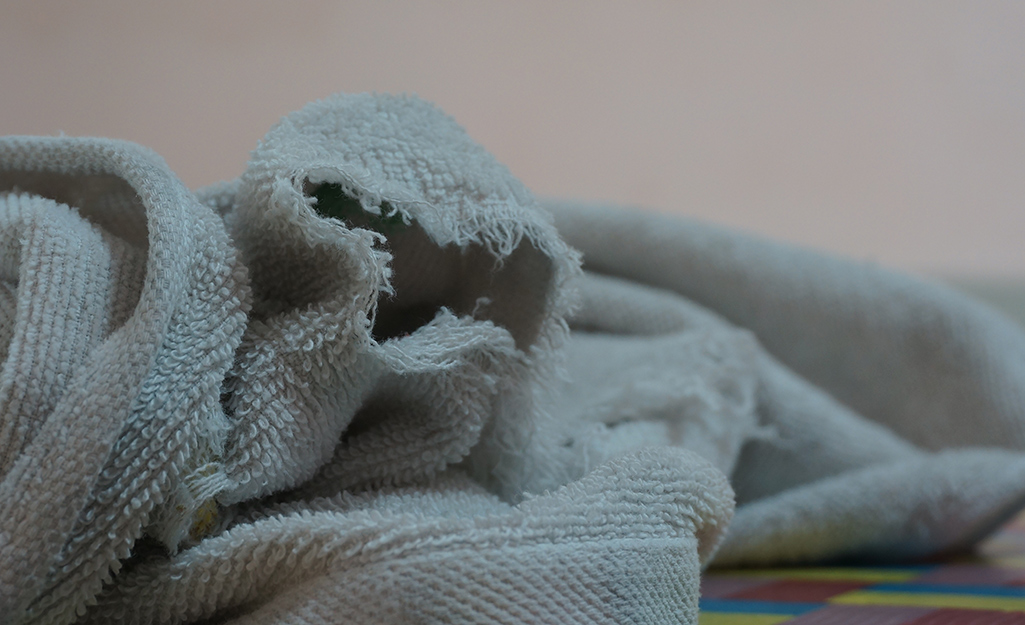 Even quality towels that are cared for properly will eventually wear out. Here's how to tell you need new ones:
Towels that aren't absorbing as well as they used to.
Visible signs of wear like fraying, fading or bare spots.
Towels are 2 or more years old and are used daily.
Repurpose old bath towels for cleaning, pet care and other uses.
Fluffy, absorbent towels can make your morning shower feel like a trip to a fancy hotel. Towels come in a wide variety of sizes, thickness and materials, so it's important to consider your personal preferences and family's needs while shopping. Ready for new bath towels? The Home Depot delivers online orders when and where you need them.
Explore More on homedepot.com