Buying Guide
Best Bathroom Vanities and Sinks for Your Home
Different types of bathroom vanities are available in a variety of styles, sizes and materials. You can buy bathroom vanities with tops and without. There are both double sink vanities and single sink vanities. When choosing a bathroom vanity, consider your budget, storage needs and the size of your bathroom. You'll find all types of bathroom vanities at The Home Depot, along with professional installation help and tool and truck rentals.

Need it today? We'll deliver on your schedule. Order before noon for convenient scheduled same-day delivery.
Bathroom Vanity Types and Styles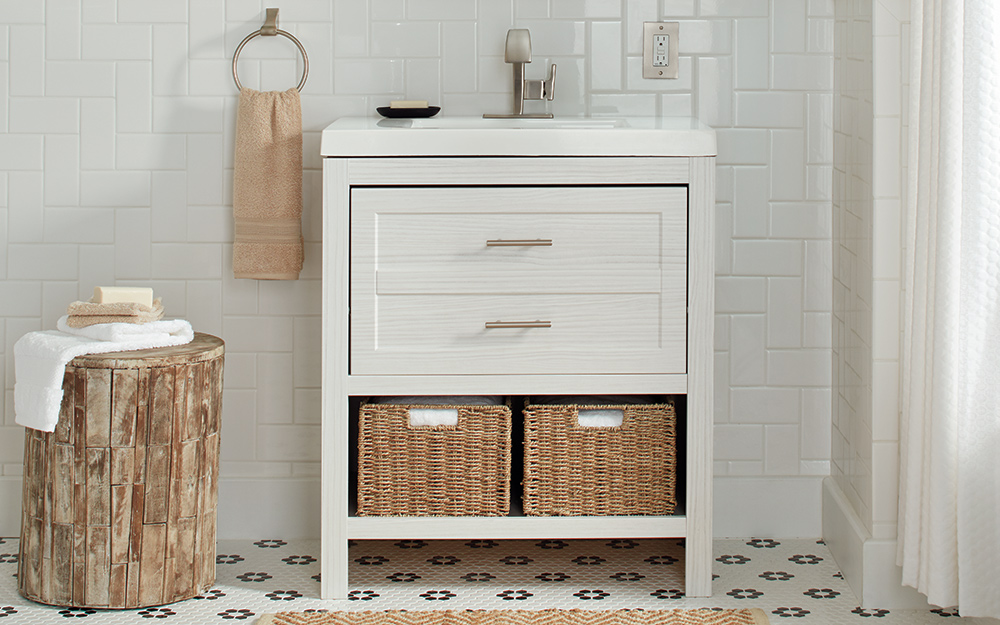 There are several types of bathroom vanities.
Bathroom vanities come in several popular decorating styles.
Modern or contemporary vanities have sleek cabinetry, symmetrical elements, unique curves and monochromatic colors.
Traditional or classic vanities often have furniture-style cabinets, decorative trim, ornate molding and subdued color schemes
Casual vanities have a natural, relaxed and uncomplicated aesthetic.
Eclectic bath vanities combine unexpected textures, patterns and colors.
Vanity Materials and Finishes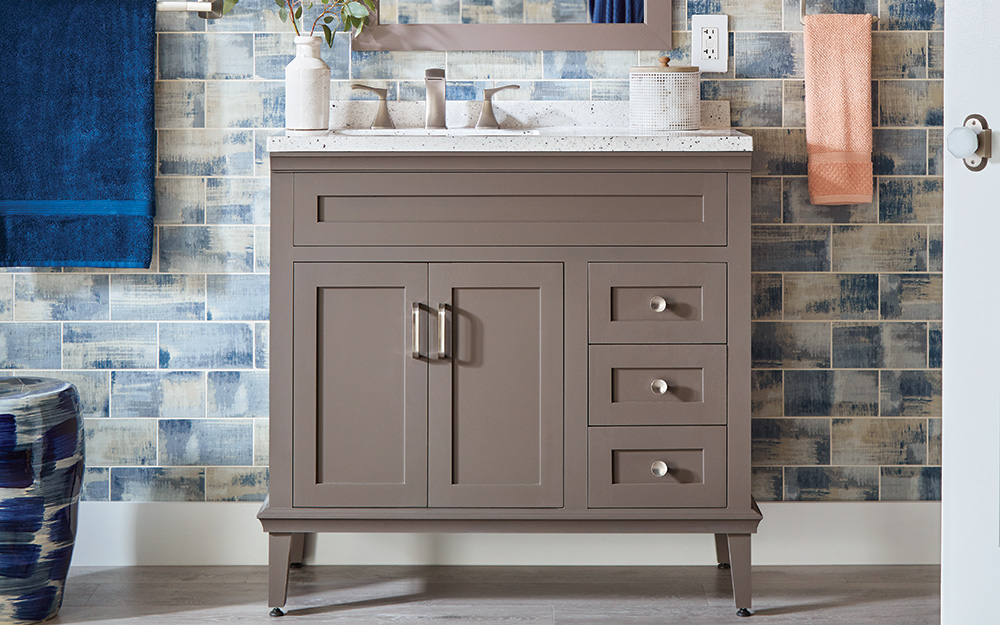 Veneers give the same look as wood but are less expensive and come in a variety of colors and finishes.
Solid woods like oak, maple and cherry are beautiful, durable and can be stained or dyed to a desired finish or tone.
Laminates are made out of long-lasting, low-maintenence synthetic materials.
Vanity Countertop Choices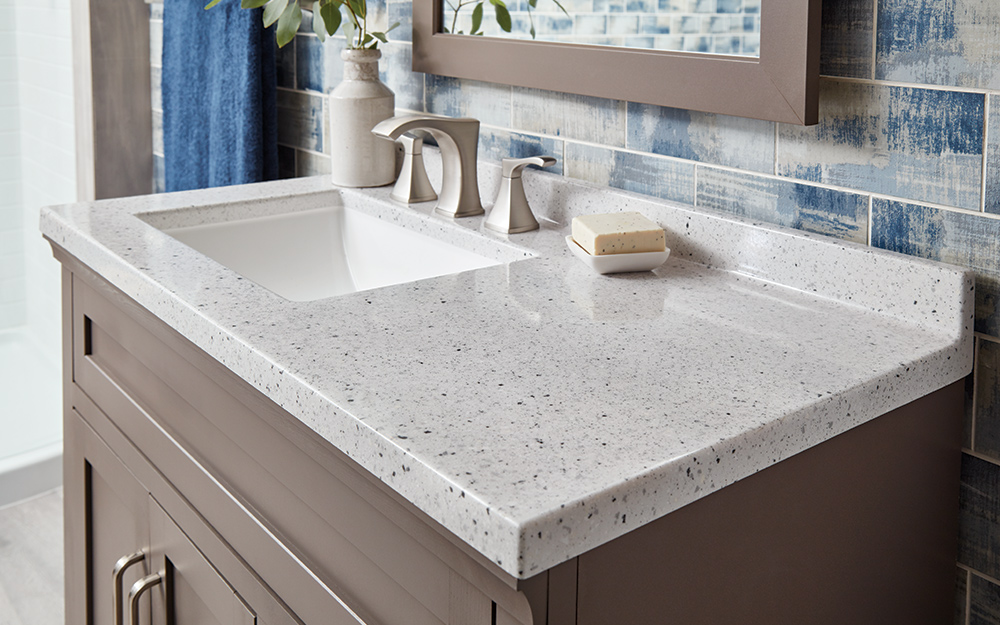 Vanity countertops are available in a wide variety of colors and textures.
Cast polymers feature cultured marble, onyx and granite designs that resist stains and are easy to clean but not repair.
Ceramic tile is durable, easy to clean, moisture-resistant and requires periodic sealing.
Solid-surface materials are highly durable, water-resistant composites that require a sturdy base and professional installation.
Natural stone slabs or tiles of granite, marble or other natural stone are stain-resistant, highly durable, easy to clean and need regular polishing.
Engineered stone or quartz composite tops look like stone but are more durable and resist stains, mildew and bacteria.
Laminate is the most economical, low maintenance option but scratches and chips cannot be repaired.
Vanity Cabinetry and Storage Options
Below are the most common bathroom vanity cabinets.
Furniture-style vanities are known for intricate carvings, distinctive hardware and rich finishes.
Framless or Euro vanities have doors that hang directly on the side of the cabinet.
Framed vanities have doors that hang on the front of a box-like frame.
Different vanity storage options include:
Doors and drawers for keeping extra toiletries and towels handy and hidden
Tilt-down drawers as space-saving storage solutions for bathroom supplies
Open shelves that work equally well as extra storage and display areas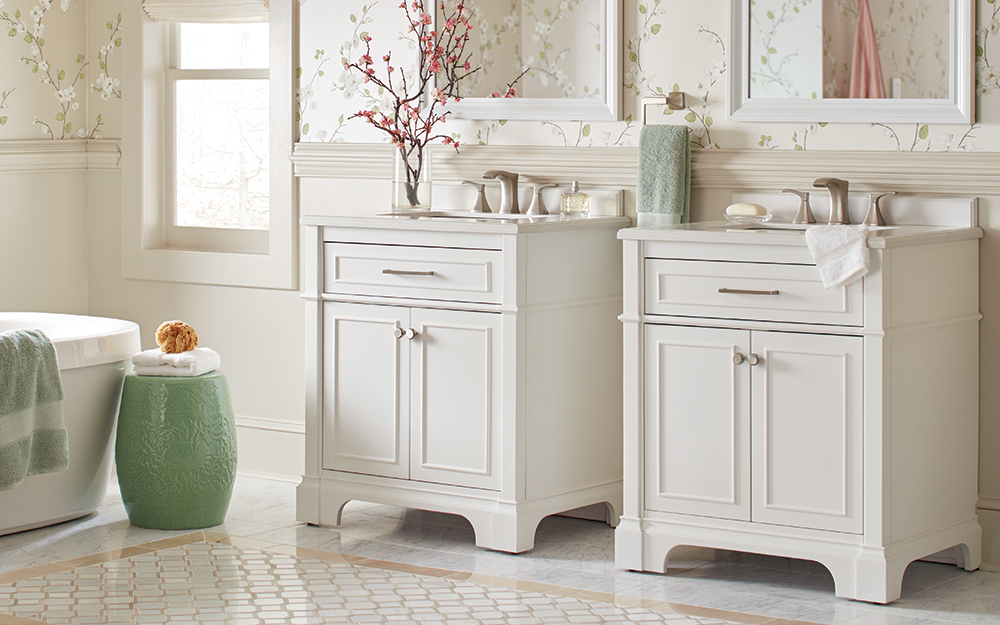 Your available space will determine the dimensions of the bathroom vanity you need. Also, consider ease of use when choosing the vanity height. You should be able to use the sink without reaching up or bending over too far.
Standard vanity widths are 24-inches, 30-inches, 36-inches, 48-inches, 60-inches and 72-inches.
Bathroom vanity depths range from 17-inches to 24-inches, so choose a depth that leaves room for you to move around easily.
Most standard vanities are 31-inches high. Some vanities go up to 35-inches high. Shorter vanities often work well for children.
Tip: You can choose the size, style, colors and options you want in a customized vanity.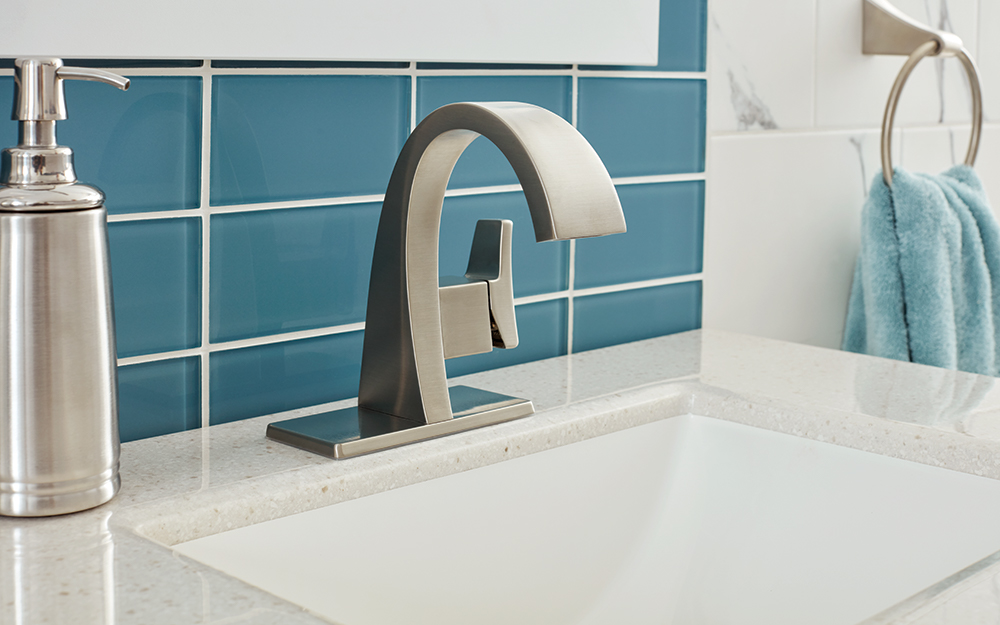 Under-mount sinks attach to the underside of the countertop and are suitable for solid-surface or natural stone countertops.
Self-rimming or drop-in sinks rest on the top of the counter and are the easiest sinks to install.
Integral sinks are formed from the same materials as the countertop for a clean, customized look.
Vessel or deck-mounted sinks have a sink basin that sits on top of the countertop.
Console sinks are table-like fixtures with ornamental legs or brackets and resemble small vanity tables.