With so many styles to choose from, you can quickly find bathroom vanity ideas that complement your decor. Base your vanity decor ideas around the size of your bathroom, a theme color or your home's style. This guide will offer ideas for bathroom vanities to help you find the right one for your bathroom update. 
Small Space Solutions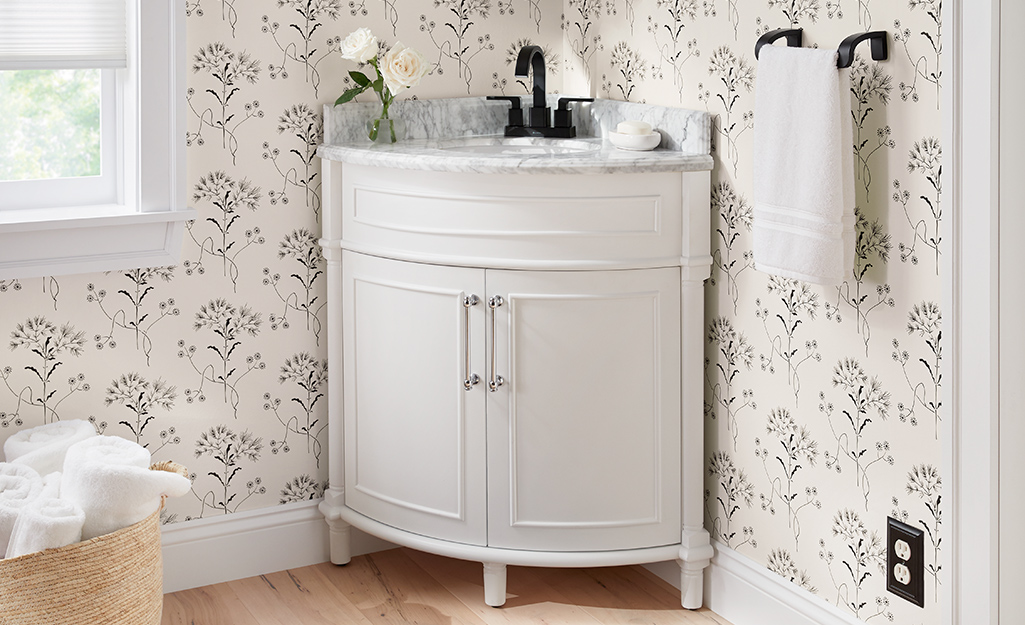 When you need small bathroom vanity ideas, start with a corner vanity. A corner vanity can open up your bathroom and give you more room to move around.  
Choose a light-colored vanity. Light-colored vanities will bounce light around the room, helping a small bath or powder room feel more spacious. A dark, dramatic wood can also be effective. When paired with lighter decor, a dark-colored vanity draws your attention and can make the surrounding room feel larger. 
Freestanding Vanities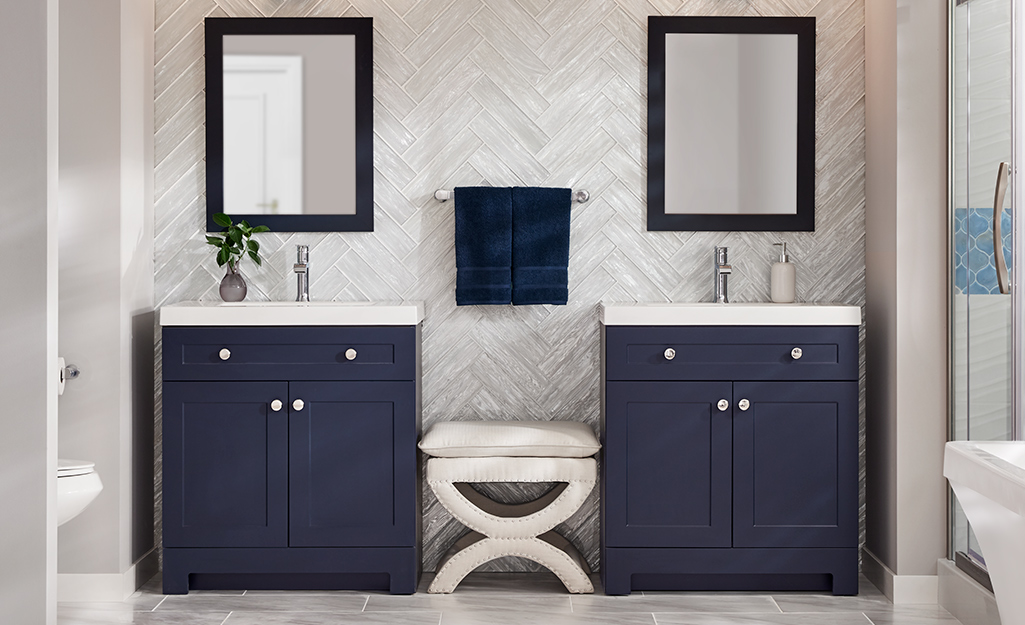 A freestanding bathroom vanity makes installation easier. Different styles can accommodate the size and overall decor of your bathroom. A pedestal sink has a slim base that saves space when you need small bathroom vanity ideas. Add wall shelves and baskets to make up for the lack of counter space. 
Cabinet-Style Vanities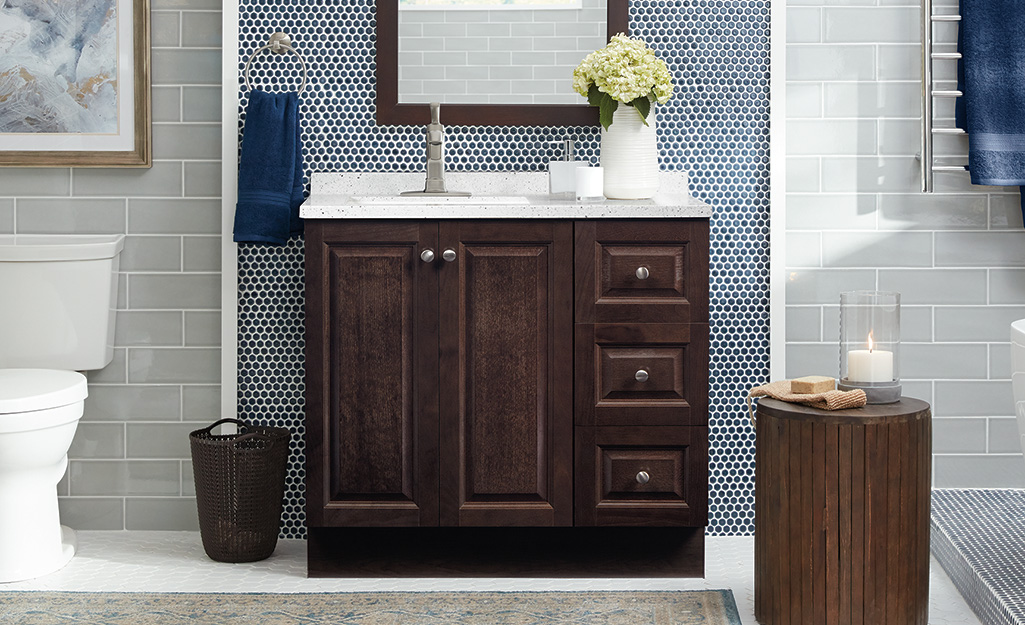 Cabinet-style vanities provide plenty of storage and counter space. They have broad tops and cabinets that meet the floor on all sides. These vanities are available in a range of colors. Plus, you can easily update their look later with paint, stencils or a change of hardware. This design does not require the entire bathroom floor to be finished, so it saves on tile costs. 
Furniture-Style Vanities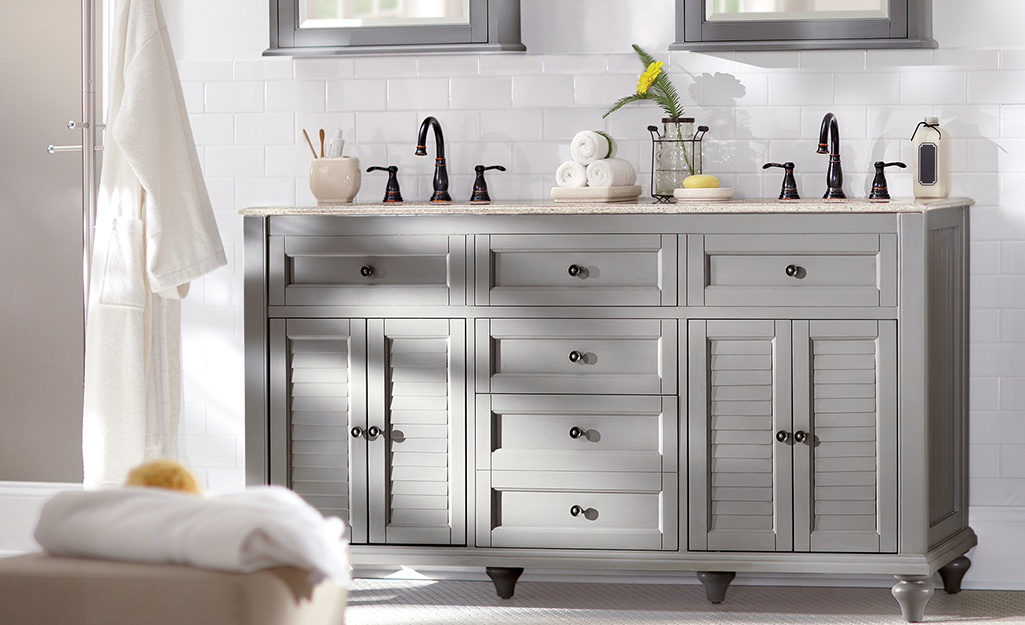 The furniture-style vanity is a fashionable option with a range of styles to highlight any decor. While they typically cost more than other bath vanity styles, they bring elegance to the bathroom. They also provide a lot of storage behind their doors. 
Floating Vanities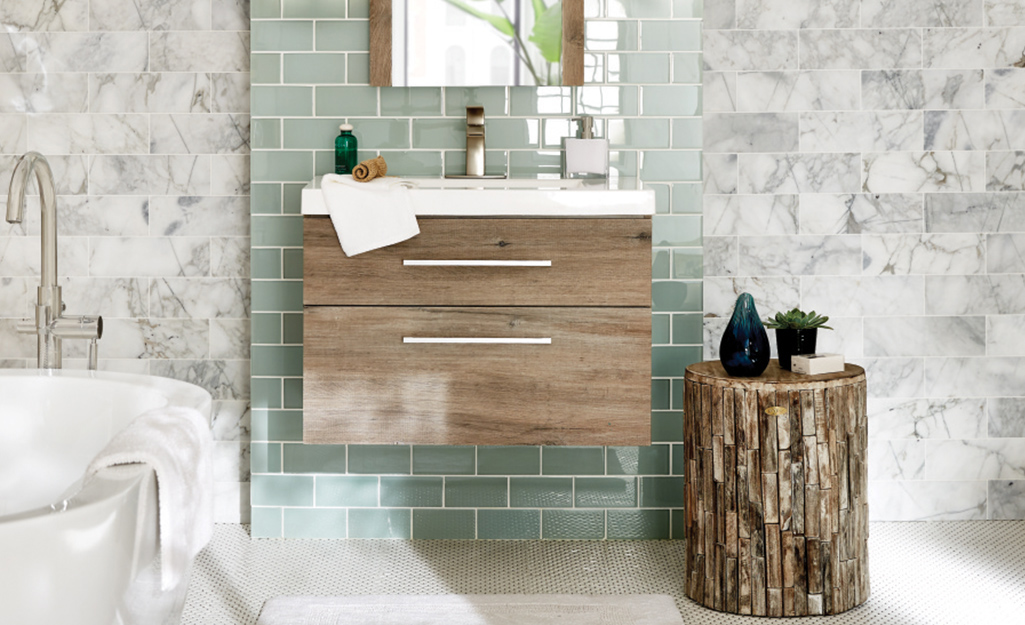 A floating bathroom vanity creates a modern, airy look. A floating vanity can create the illusion of more space by opening up the floor space underneath. This makes them ideal for small bathrooms. Cleaning is much easier with a floating vanity, since the entire floor is easy to access. 
A wall-mounted sink is an attractive addition to the style of a floating vanity. Since vanities in that style have limited storage, you can mount floating wall shelves that coordinate with your vanity. Rolling carts, bins or baskets are also an option to hold towels or other bath needs neatly tucked under the vanity.   
A floating vanity is also a good opportunity to add a tile wall or backsplash.  
Tip: Floating vanities require professional installation because they need reinforced frames to stay safely in place. 
Double Sink Vanities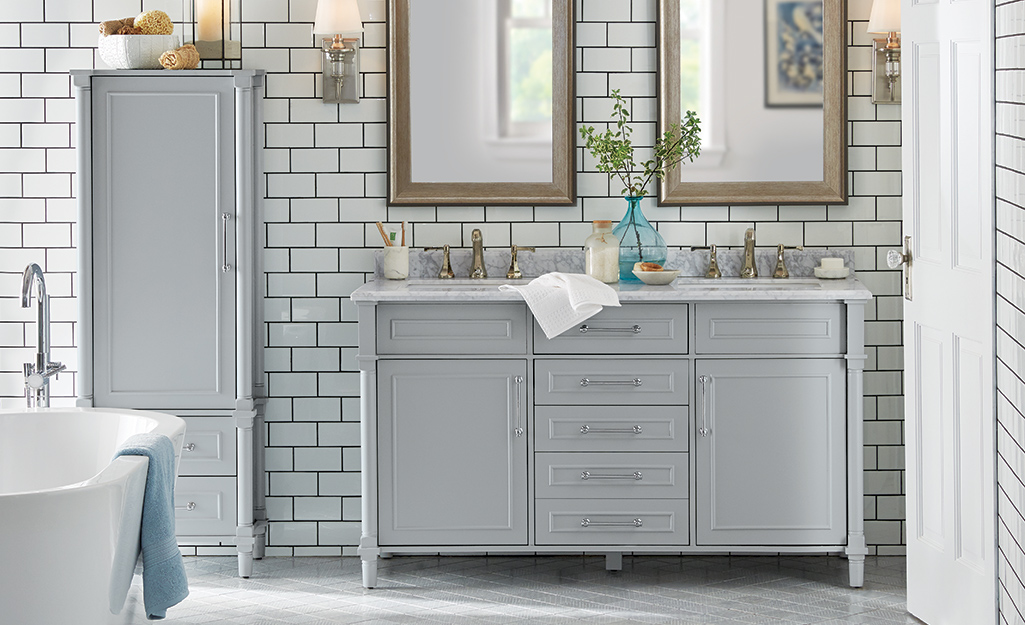 When it comes to master bathroom vanity ideas, make sure each person has their own sink area. A double vanity is perfect in this type of space. You can opt to keep it simple and classic with cabinet-style vanities or go for a more clean, modern take on this timeless idea. 
Black Bathroom Vanities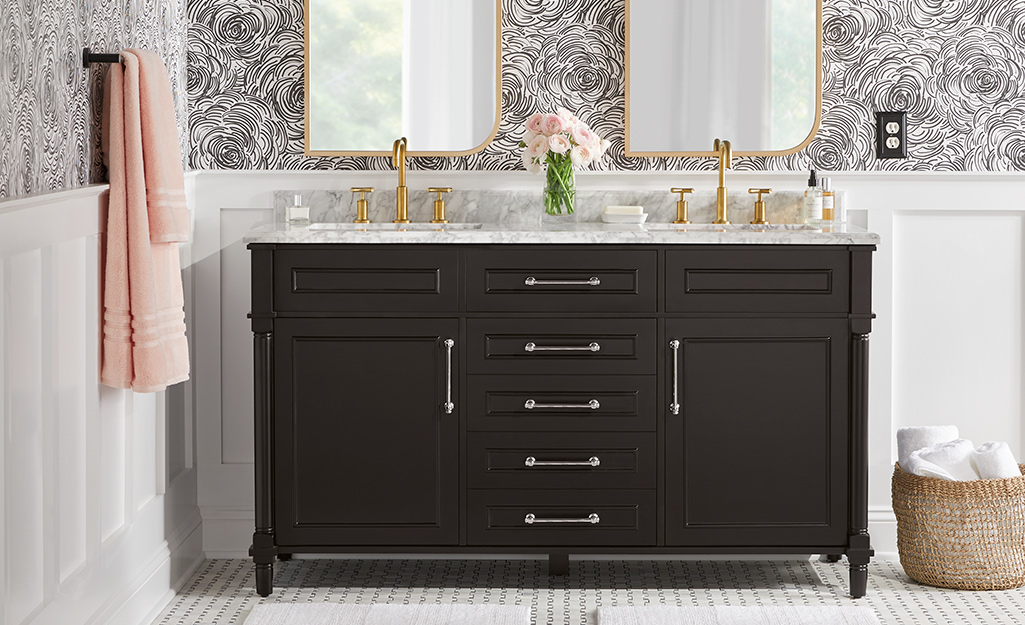 Black bathroom vanities are versatile and can be incorporated into a range of styles. When paired with other black decor, they can make large bathrooms feel intimate, making them a great choice when you need large bathroom vanity ideas. When paired with lighter decor, they can be an eye-catching accent piece. Mid-century modern bathroom vanities and modern bathroom vanities both look striking in black. 
White Vanities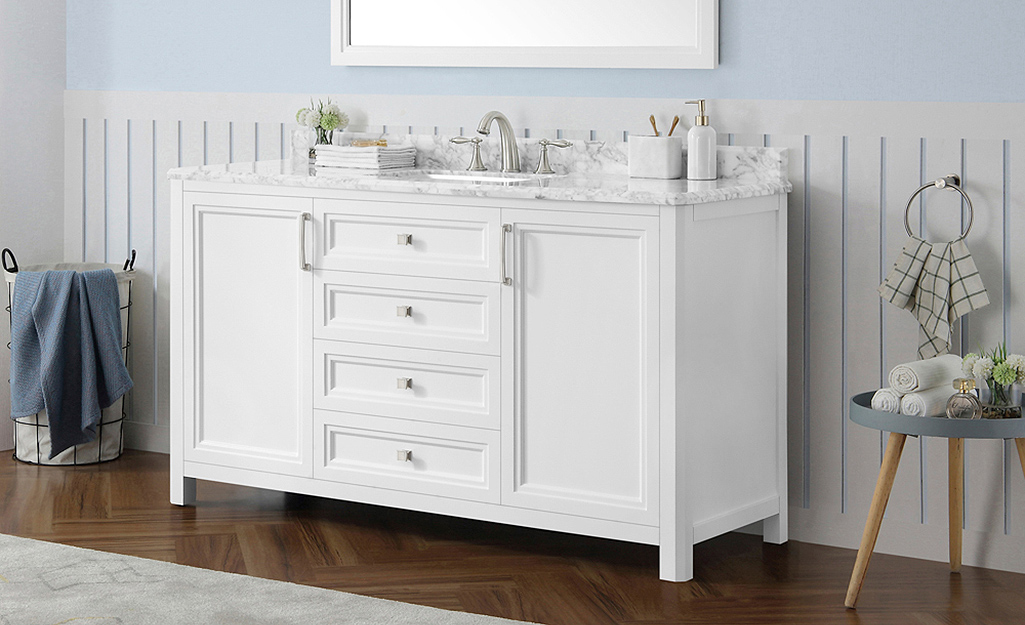 White bathroom vanities are another versatile choice that pairs well with many styles. Choose white when you want a clean, simple and airy look. White vanities can help make small bathrooms and powder rooms feel open and neat.  
Blue Vanities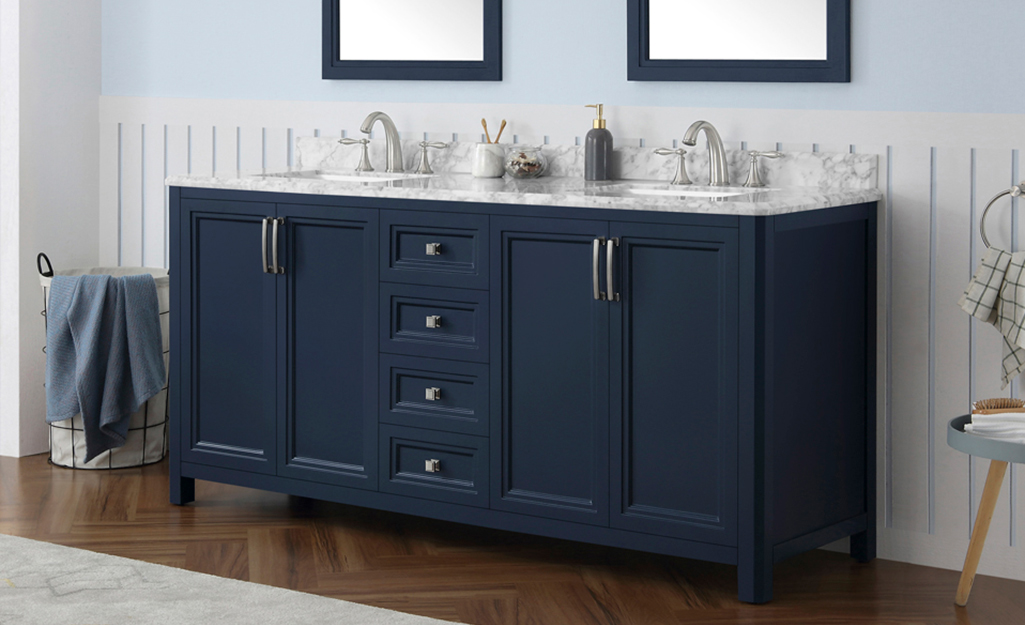 Depending on the shade you choose, blue bathroom vanities can be either an accent piece or a subtle complement to the rest of your decor. A dark navy can serve as a neutral, while a bright blue modern vanity can make a statement.  
Gray Vanities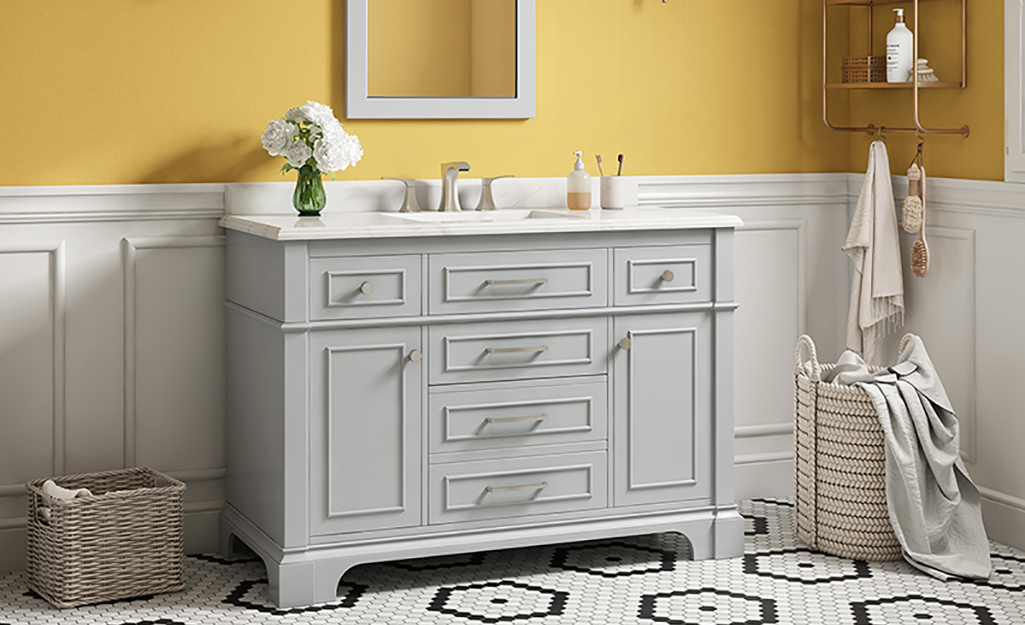 A gray bathroom vanity can soften the look of your bathroom. Not quite as striking as black, but more unique than white, gray vanities can suit any style of bathroom. If you want a clean-looking neutral for a small bathroom, but don't want a white vanity, consider a light gray vanity instead. Weathered gray vanities blend beautifully with a rustic home, and glossy gray vanities are perfect for transitional or modern styles. 
Rustic Vanities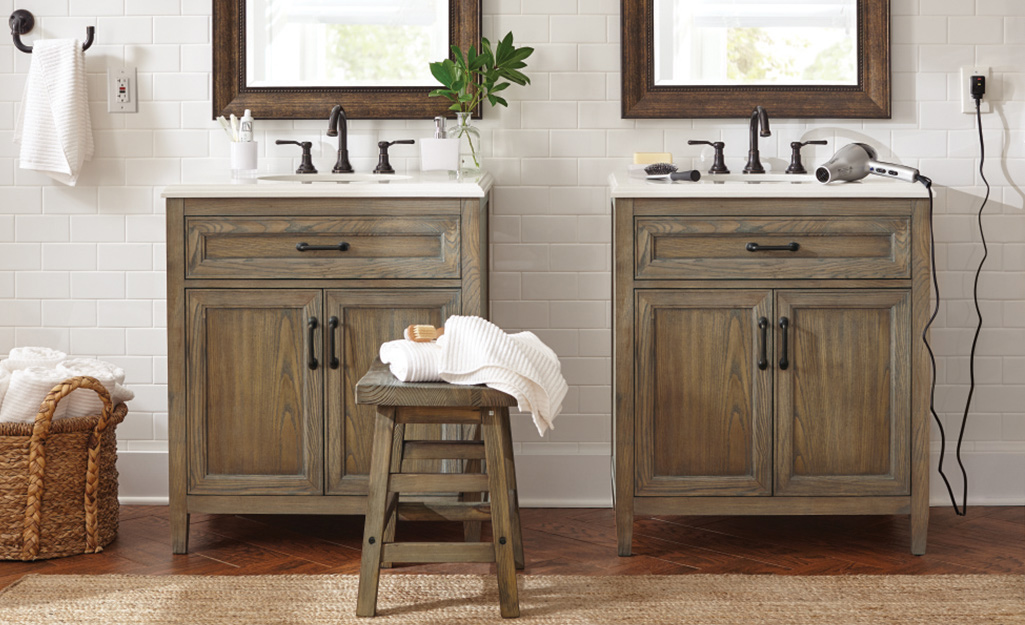 Rustic bathroom vanities showcase the beauty of natural wood. These vanities are often complemented by simple accessories and pull in muted metal finishes. Rustic vanities often give you all the cabinet and drawer space you need. 
Farmhouse Vanities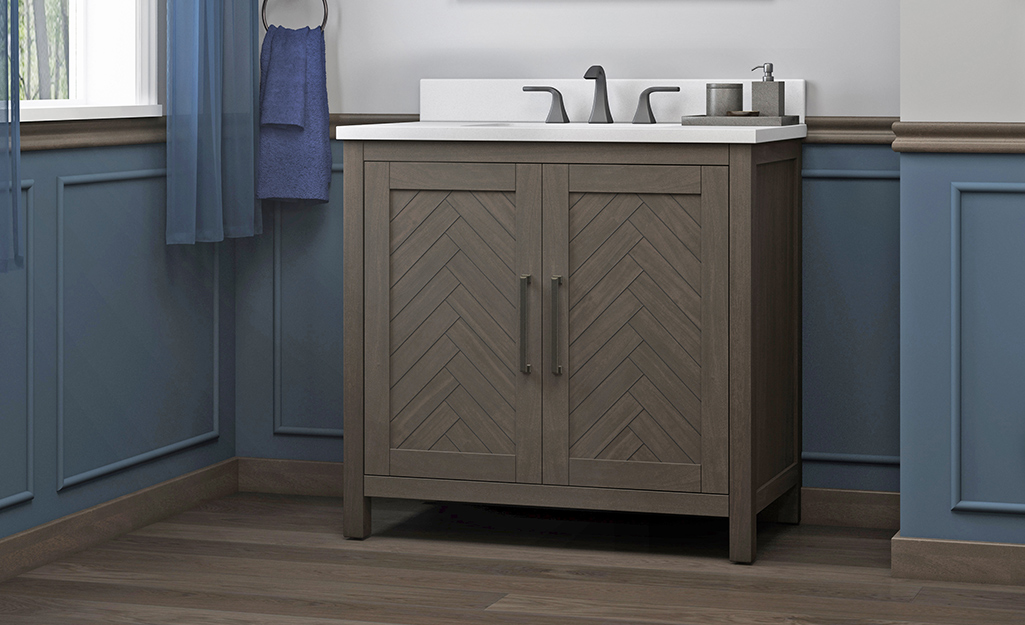 Farmhouse bathroom vanities impart a casual, yet elegant, style highlighted by rich woods with distressed metal hardware. For farmhouse vanity decorating ideas, consider adding diffused lighting and the natural textures of woven rugs and baskets. These additions will carry the style through the entire bathroom. 
Coastal Vanities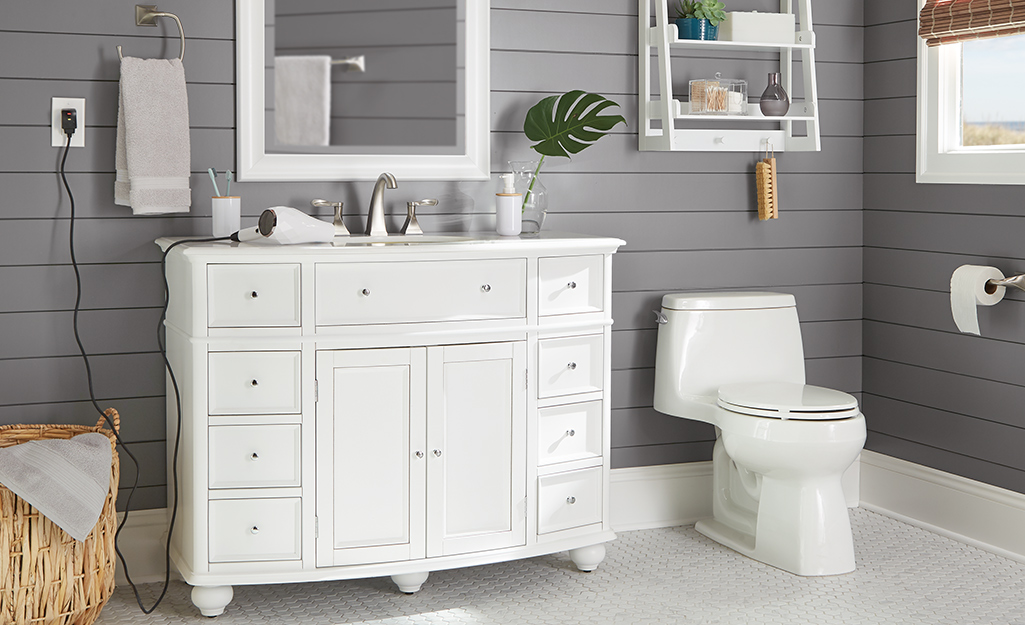 Coastal bathroom vanities feel like they belong by the sea. This style features light, distressed woods and beachy blues and grays. The sinks in coastal vanities are usually rectangular and deep, perfect for washing up after a long day outside.  
Classic Vanities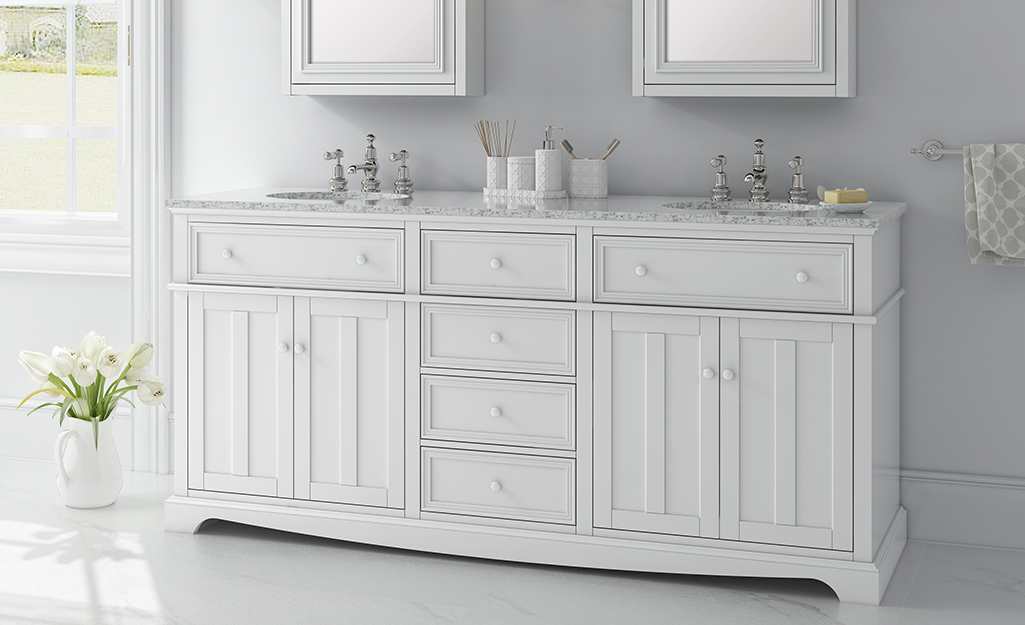 Classic bathroom vanities have an elegant, traditional look. Usually cabinet or furniture-style, these vanities are a good choice when you want an understated look with a lot of storage space. Classic vanities are versatile and never go out of style, making them a safe choice even if you frequently change your home's decor. Accentuate the traditional beauty of classic vanities with elegant cabinet pulls and hardware. 
Modern Vanities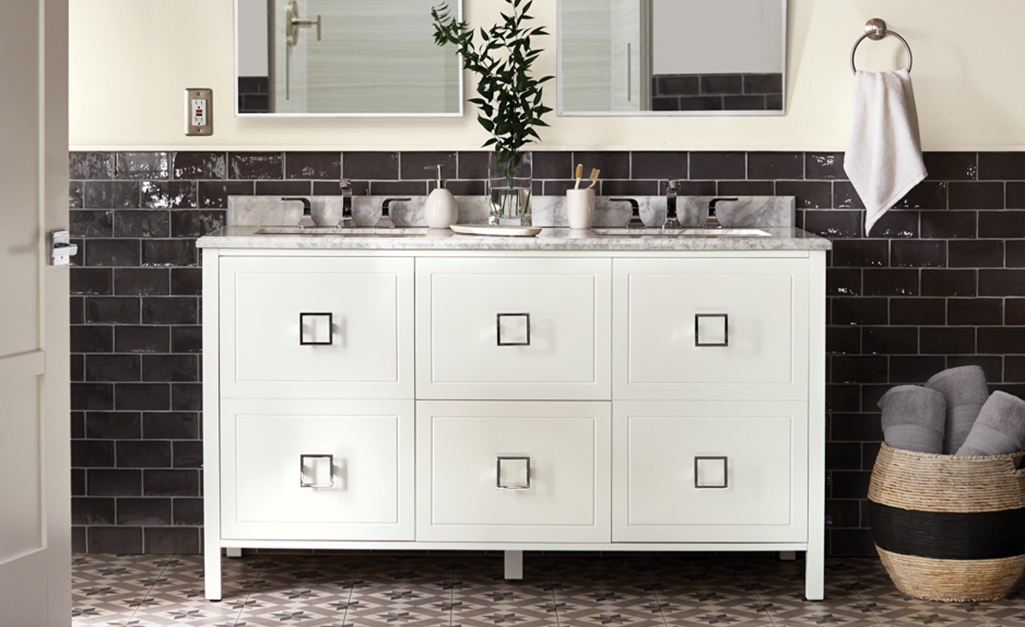 Bathroom vanity designs should match the rest of your home's style. Naturally, a modern home with sleek walls and clean lines should also have a modern bath. Modern bathroom vanities offer sleek lines in sophisticated colors with decorative finishes. Build on the focal point of the vanity with modern lighting and uncluttered storage to amplify the minimalist look. 
Industrial Vanities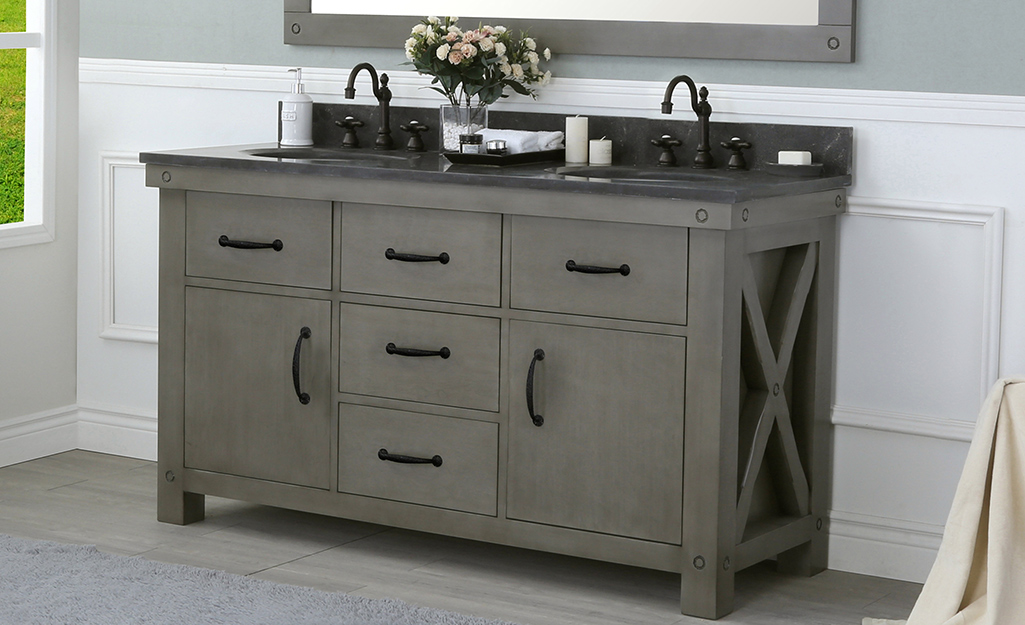 Industrial bathroom vanities typically have a blend of styles. They may have aspects of rustic vanities paired with modern or minimalist hardware and silhouettes. Industrial vanities typically have dark metal accents and natural wood tones. They may also feature other materials such as stone, concrete or reclaimed wood. Many floating vanities are also industrial, especially if they have exposed plumbing.
Transitional Vanities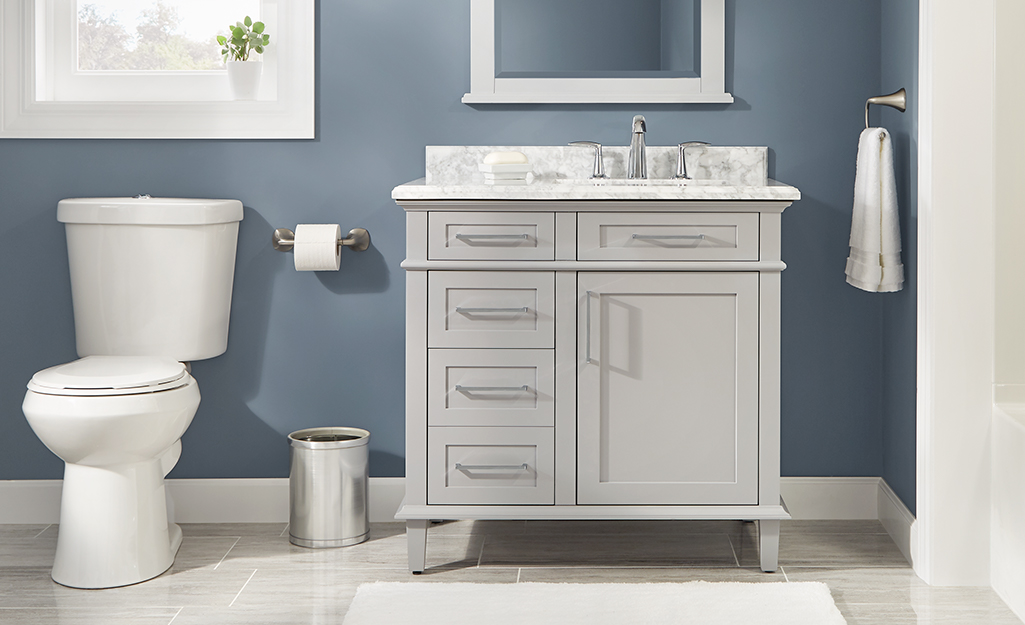 Transitional bathroom vanities strike a balance between classic and modern. The perfect mix of form and function, these vanities offer a lot of design choices. They have more color options than classic vanities, while still having some of the traditional shapes of classic vanities. These vanities typically blend in better with more home styles than modern vanities do. 
Revamp Your Vanity Your Way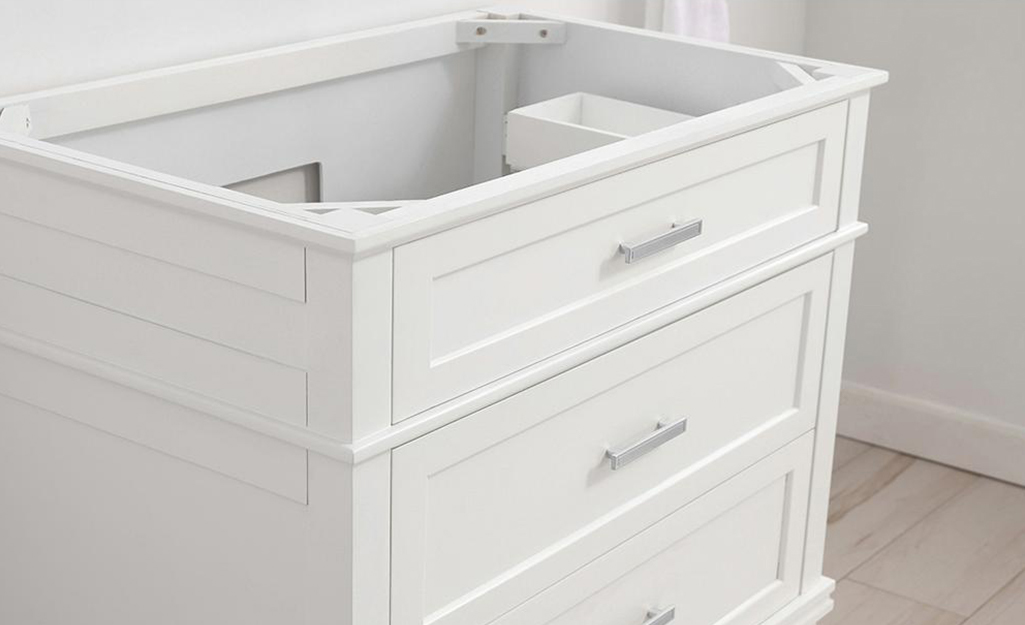 Whether you want to completely overhaul your bathroom or just need a quick makeover, the options are almost endless. Most bathroom vanities with tops are available in an array of styles, from rustic to modern, so you are likely to find one that matches your home's style. However, if you want a more customized look, you can purchase a bathroom vanity without a top and then choose from a selection of bathroom vanity tops that meet your needs.  
Tip: Keep in mind that with any of these options, you will need to purchase bathroom sink faucets separately. 
There are plenty of bathroom vanity ideas out there that will suit your home. If none of these bathroom vanity ideas are exactly what you need, consider creating your own custom bathroom vanity. Then let our professional bathroom installation services update your bathroom for you. 
Explore More on homedepot.com