With so many styles to choose from, you can quickly find a bathroom vanity that complements your decor. There are a wide range of options to consider, from the awe-inspiring vessel sink vanity which gives the illusion of a bowl resting on top of the counter, to a double vanity that can make the most out of your bathroom space. Depending on your home's style and your family's needs, how you decorate your bathroom with a vanity will vary. This guide will show you bathroom vanity ideas based on home styles and vanity types to help you update your bath.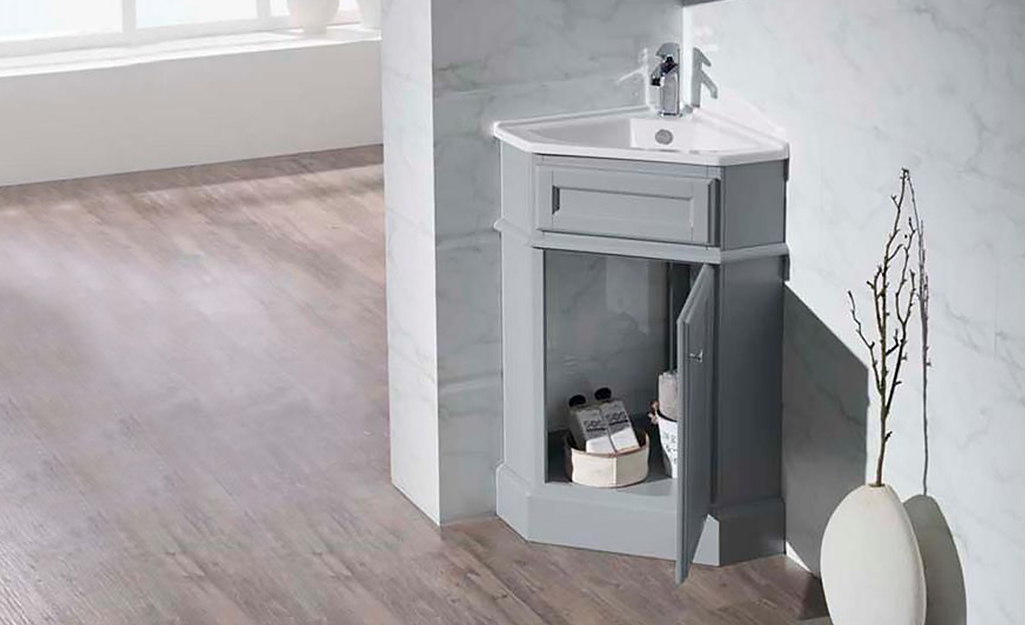 A great vanity idea for small spaces, a corner vanity can open up your bathroom to increase the usable space and give it an airy feel.

When it comes to color, a light-colored corner vanity will bounce light around the room, helping a small bath or powder room feel more spacious. A dark, dramatic wood can also be effective when paired with lighter decor, since it pulls the focus to the vanity and allows the other decor elements to recede into the background.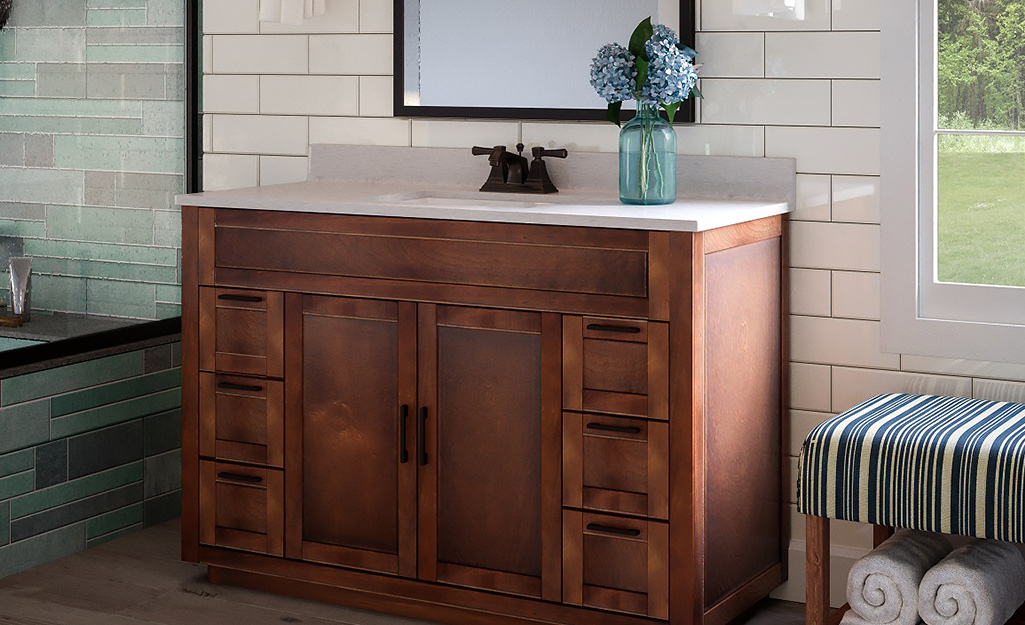 If a simple update to your existing vanity is what you're looking for, try adding in a bathroom vanity sidesplash or backsplash. Available in styles such as Carrara marble and granite, sidesplashes and backsplashes are two of our favorite vanity decor ideas because they're an afforable way to elevate the everyday look of your bathroom without spending money on an entirely new vanity.
Freestanding Bathroom Vanities
A freestanding bath vanity simplifies installation, and different styles can accommodate the size and overall decor of your bathroom. A pedestal sink has a space-saving slim base, making it a great option for powder rooms. Add wall shelves and baskets to make up for the lack of counter space.
Cabinet-Style Bathroom Vanities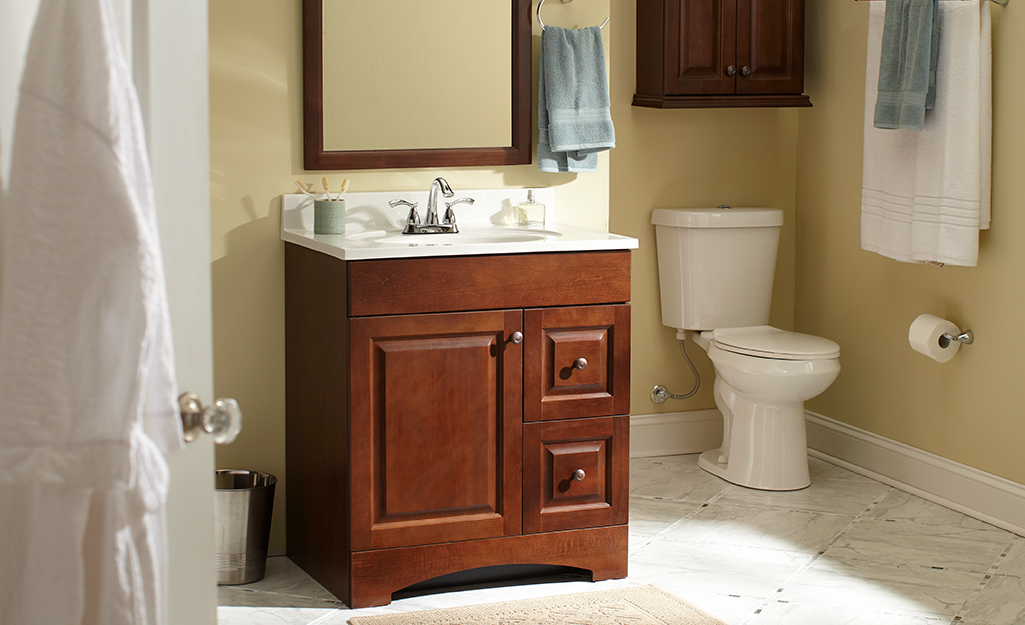 Cabinet-style vanities provide lots of storage and counter space with broad tops and cabinets that meet the floor on all sides. These vanities are often available in a range of colors and you can easily update the look over time with paint, stencils or a change of hardware. This design does not require the entire bathroom floor to be finished, so it saves on tile costs.
Floating Bathroom Vanities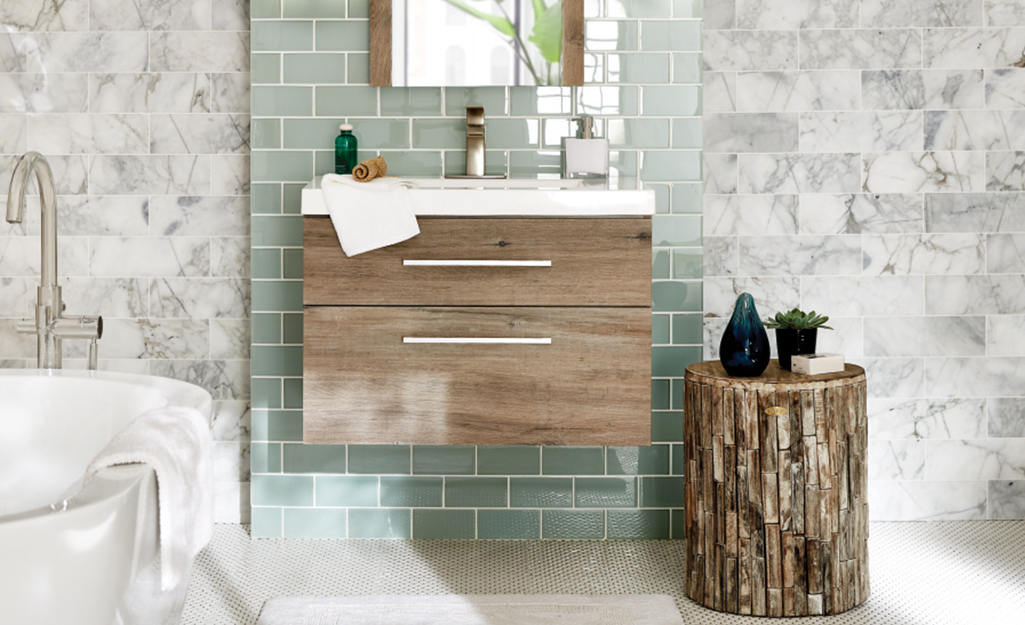 A floating bathroom vanity is typically used to create a modern, airy look. A floating vanity can create the illusion of more space by opening up the floor space under the vanity. This makes them ideal for small bathrooms. Cleaning is much easier with a floating vanity, since the entire floor is easily accessible.
Tip: Floating vanities require professional installation as they need reinforced frames to ensure they stay safely in place.
Creative Design With Floating Bathroom Vanities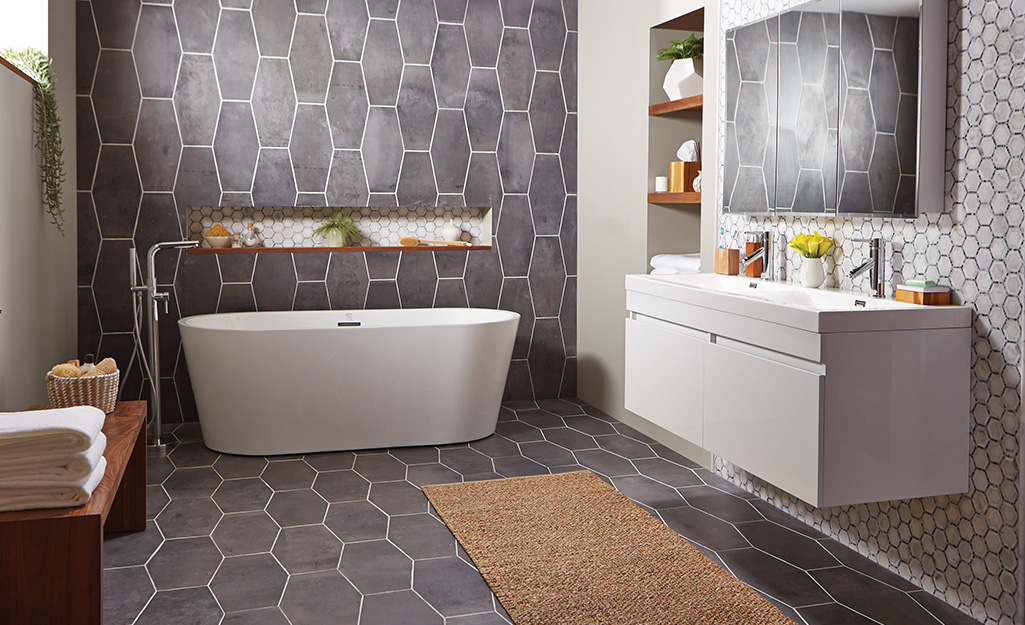 A wall-mounted sink in a graceful design is an attractive addition to the style of a floating vanity. Since vanities in that style have limited storage, you can choose floating wall shelves that coordinate with your vanity to mount above or at the sides of the sink. Rolling carts, bins or baskets are also an option to hold towels or other bath implements neatly tucked under the vanity.
A floating vanity is also ideal for incorporating a tile wall or backsplash.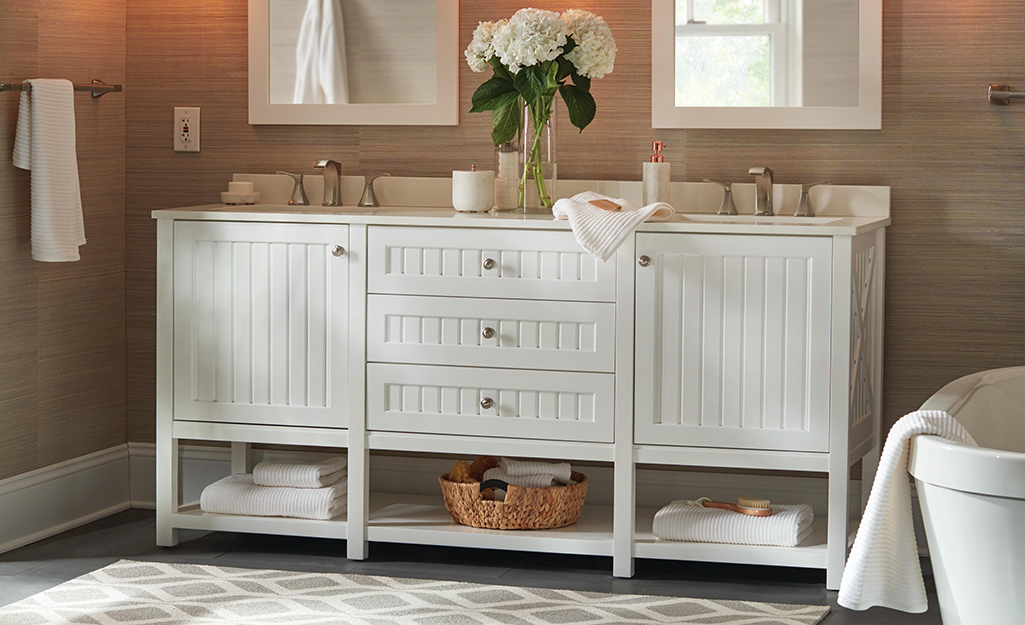 When it comes to master bathroom vanity ideas, you want to make sure each person has their own sink and prep area. A double vanity is perfect in this type of space. You can opt to keep it simple and classic with white bathroom vanities or go for a more clean, modern take on this timeless idea.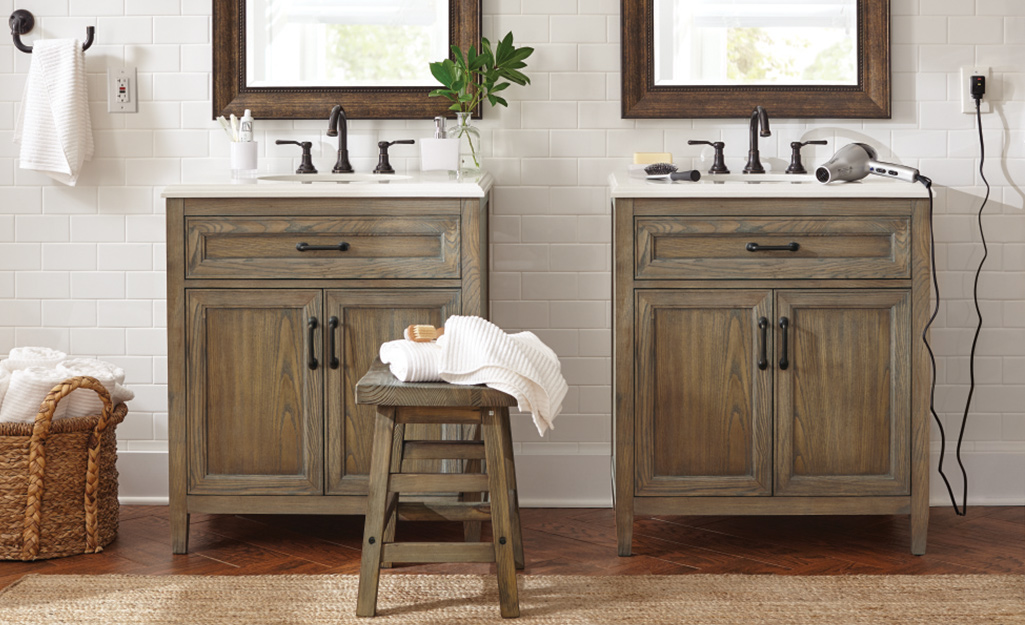 Rustic bathroom vanities showcase the beauty of natural wood. These vanities are often complemented by simple accessories and pull in muted metal finishes or simple white. When it comes to vanity organization ideas, rustic bathroom vanities often give you all the cabinet and drawer space you need.
Farmhouse Bathroom Vanities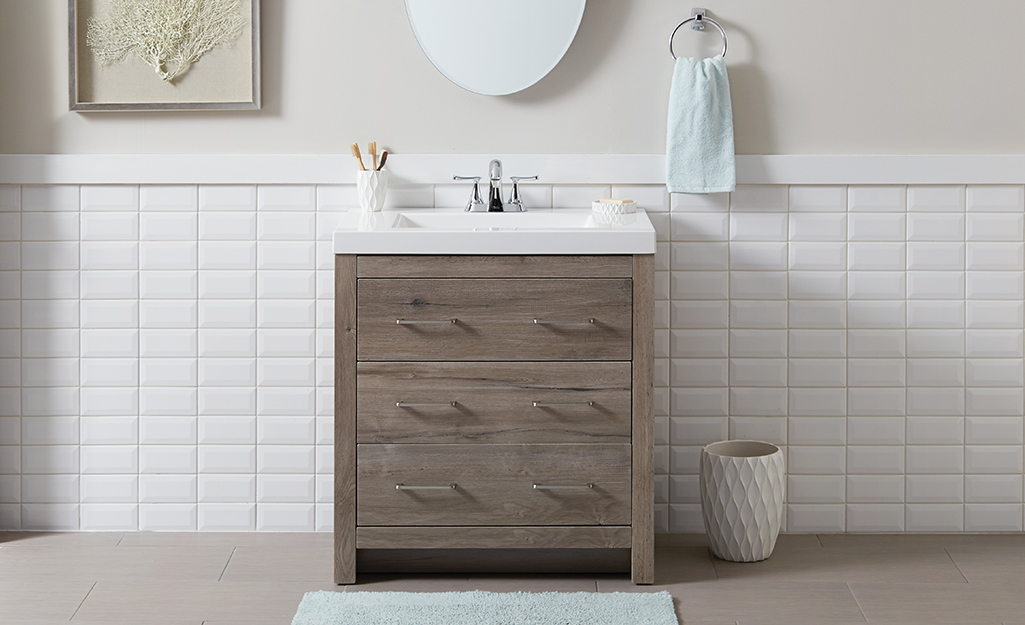 Farmhouse-style bathroom vanities impart a casual yet elegant style highlighted by rich woods with distressed metal pulls and accessories. Add diffused lighting and the natural textures of woven rugs and baskets to carry the style through the entire bathroom.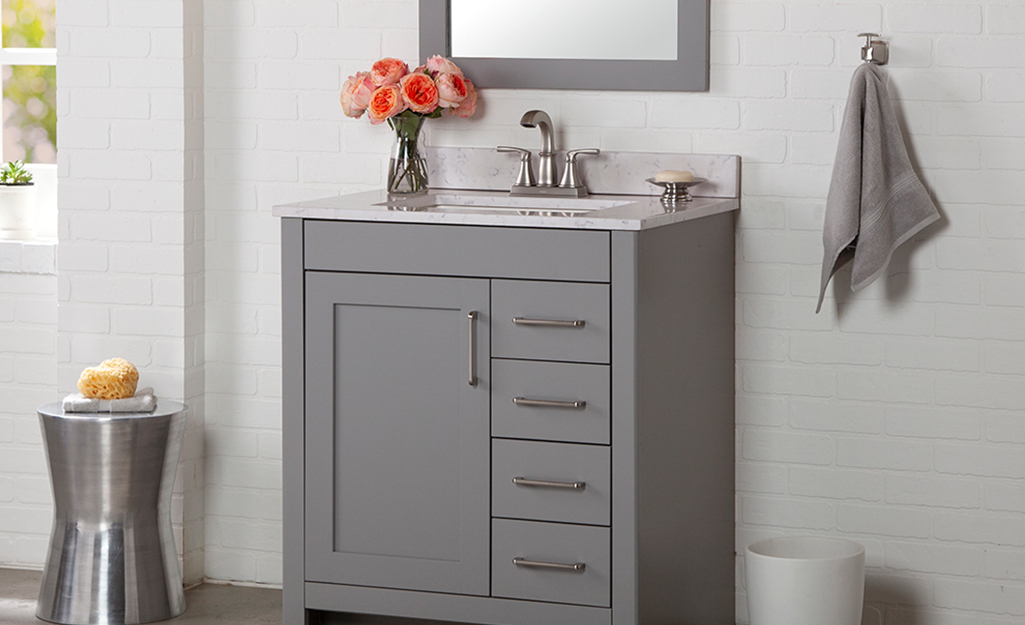 Bathroom vanity designs should match the rest of your home's style. So a modern home with sleek walls and clean lines should also have a modern bath. Modern bathroom vanities offer sleek lines in sophisticated colors with decorative finishes. Build on the focal point of the vanity with modern lighting and uncluttered storage to amplify the clean look.
Mid-Century Modern Bathroom Vanities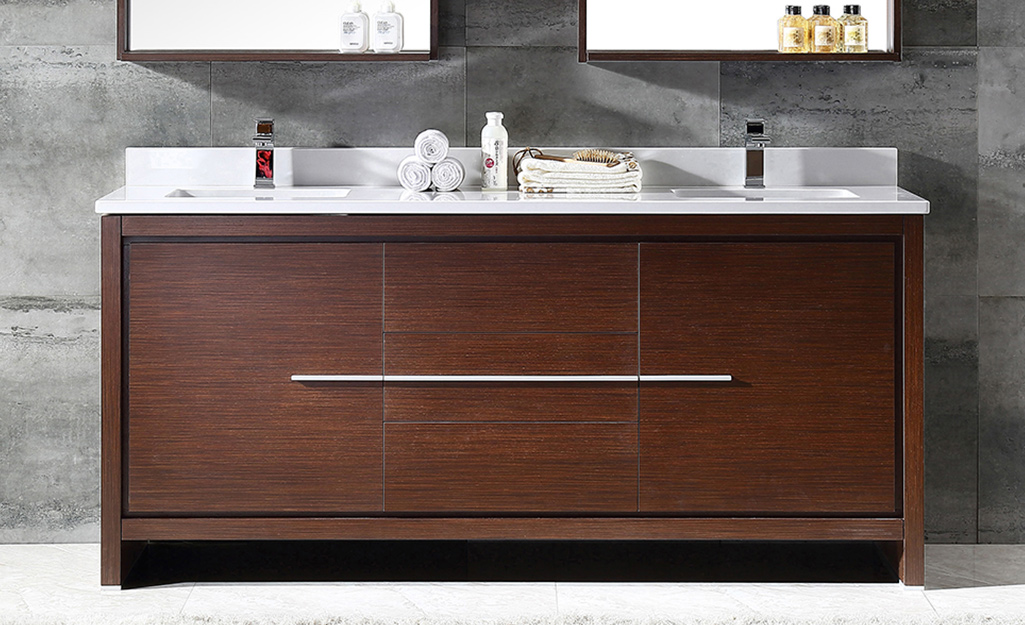 Mid-Century modern bathroom vanities are high-impact with rich colors and wood tones mingling with stone and glass to elevate your bathroom style. Complement the vanity with minimalist lighting fixtures, creative storage options and paint and tile in sophisticated shades of greyscale.
Revamp Your Vanity Your Way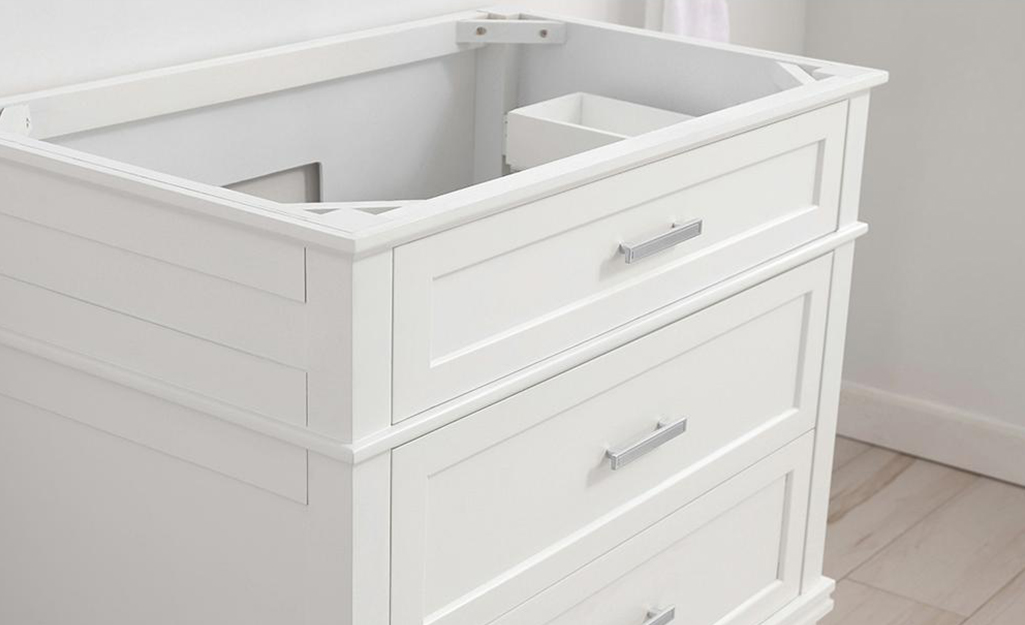 Whether you want to completely overhaul your bathroom or just need a quick makeover, the options are almost endless. Most bathroom vanities with tops are available in an array of styles, from cottage to modern, so you are likely to find one that matches your home's style. However, if you want a more customized look, you can purchase a bathroom vanity without a top and then choose from a selection of bathroom vanity tops that meet your needs.
Keep in mind with any of these options, you will need to purchase faucets separately.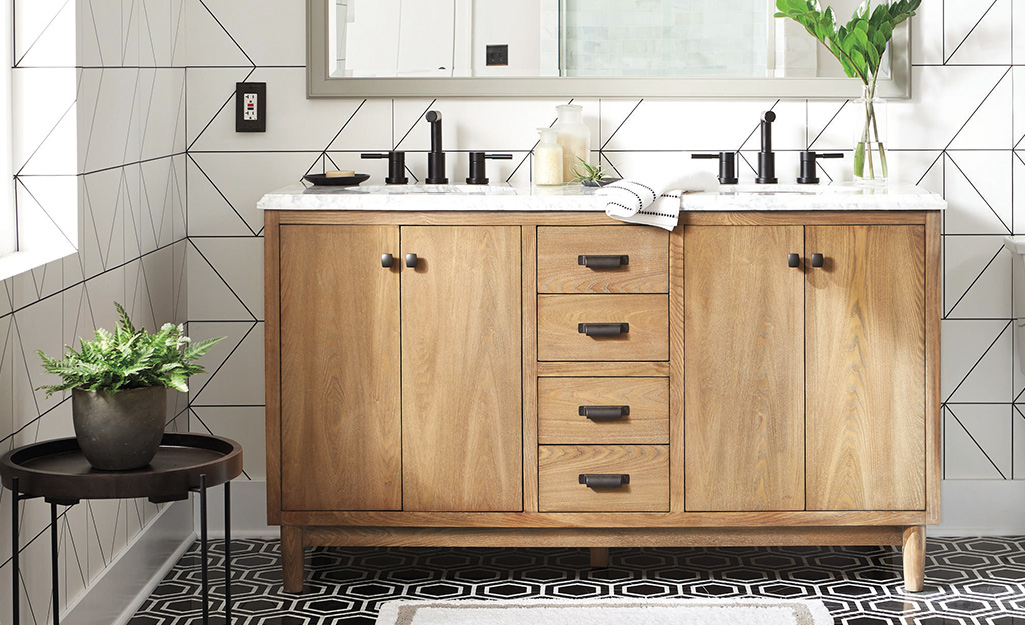 When it's time to update your bathroom, keep these simple tips in mind:
A bathroom vanity should always be hung at a comfortable height for the person using it. The typical suggestion is that your vanity should be 32-inches high. More modern vanities are around 36-inches high.
The type of material used on bathroom vanity tops differs. What you purchase will depend solely on your style and needs.
Depending on the style of vanity you choose, your vanity will usually be made of wood or MDF.
If a few people have to share the space, look for a doube vanity or one with a lot of storage.
When transportation of a bathroom vanity is a challenge, The Home Depot truck rental can help. From pickups and vans to moving trucks, we've got you covered.