Improving the look of your bathroom can be as simple as replacing your old bathroom vanity countertops. Durability and beauty are both key issues when selecting a bathroom vanity top. Choosing the right countertop means understanding the benefits of the different materials, figuring out a budget and selecting a look that complements your bathroom's overall style. This guide will help you find the best bathroom vanity tops for your lifestyle and budget. 
Things to Consider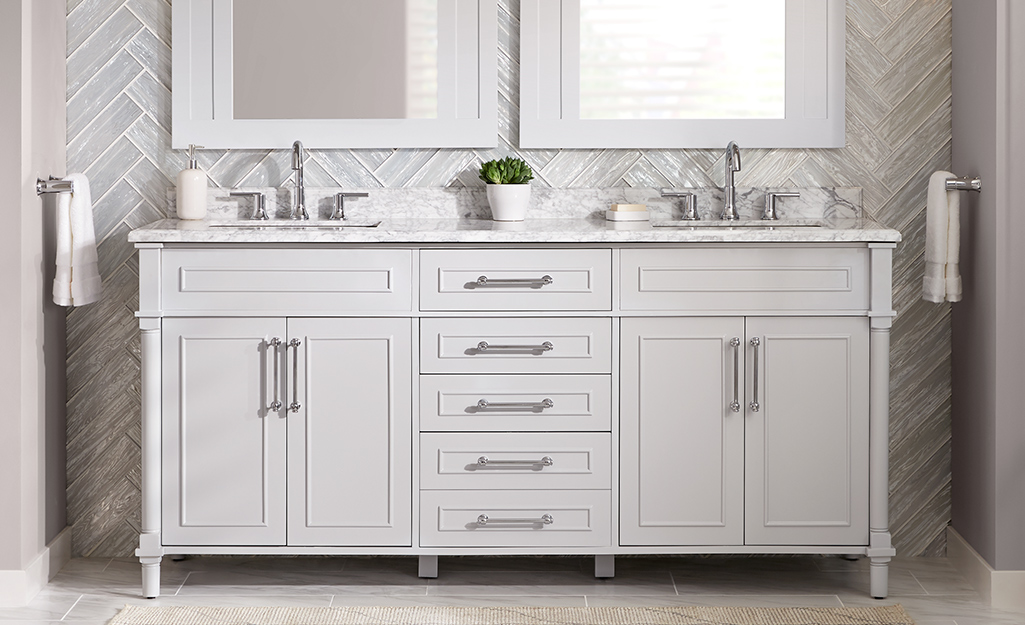 When it's time to update or upgrade your bathroom vanity top, things like size, sink shape and color are important factors. Take a look at some things to keep in mind when looking for the best countertop for your bathroom. 
Budget: As with any new home project, you'll want to keep your budget top of mind. With so many types of bathroom countertops available, finding the look you love at the right price point is relatively easy. 
Size: It may seem obvious, but always measure your current vanity top and bath vanity before selecting a new one. Vanity tops don't have one standard size, and are cut to match standard vanity sizes. Measure the width at the front and back of the vanity top and measure from the front edge to the back of your old countertop to find out the depth. If you're adding a top to a bath vanity without a top, add about one-inch to the depth measurement.
Sink shape: When searching for the best countertop for your bathroom, it's important to select one that fits your sink or sinks. Determine if you want an undermount sink, intergrated sink, meaning it's part of the vanity top, double sink or another option. 
Faucet: Most vanity tops come with pre-drilled holes for faucets. Decide if you want a widespread, centerset or single faucet. Always check the drillings on your current top as switching the faucet style will involve a bit more work. 
Style: Choosing the best bathroom countertop for your vanity also comes down to style. A modern vanity cabinet may stand out even more with a marble countertop while a classic style vanity may benefit from another material. Choose what works in your space and complements your home's aesthetic. 
Other upgrades: Will you also be installing vanity side and backsplash? Make sure your countertop is fully installed before doing so. 
Tip: If you need help creating the best countertop for bathroom vanities, consider creating your own custom bathroom vanity top. 
Quartz Bathroom Vanity Countertops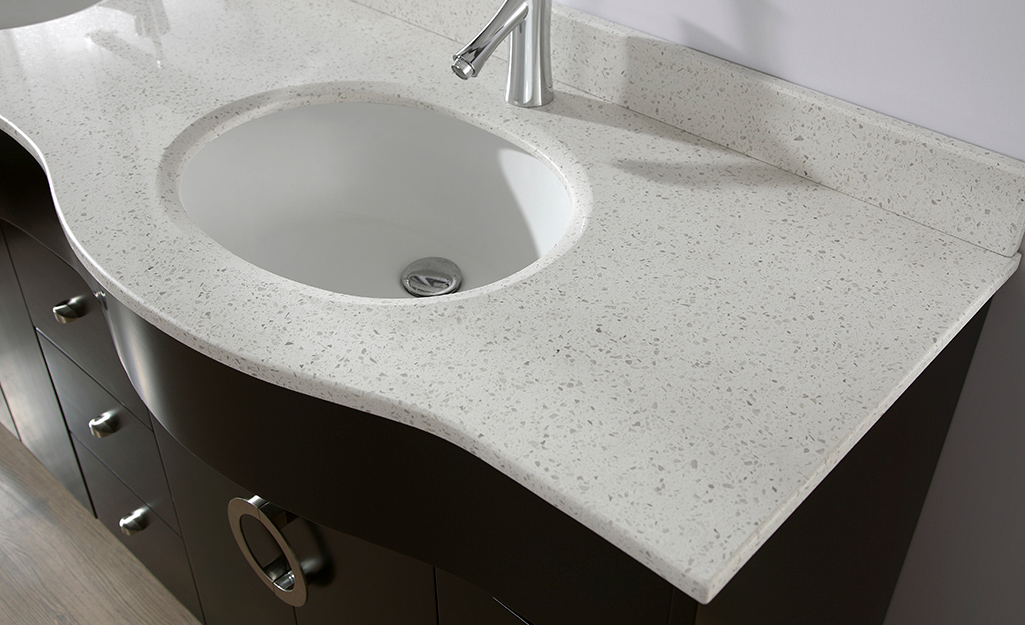 Quartz bathroom vanity countertops are made from a composite material that is anti-microbial and ideal for high-traffic, high-use bathrooms.
Comes in a wide range of natural stone or vibrant tones 
Resists scratches and stains 
Never needs sealing or polishing 
Available ready to install with attached under mount sink
Built-in Microban anti-microbial protection improves hygiene in busy bathrooms
Cost (relative to other countertop materials):
Solid Surface Bathroom Vanity Counterops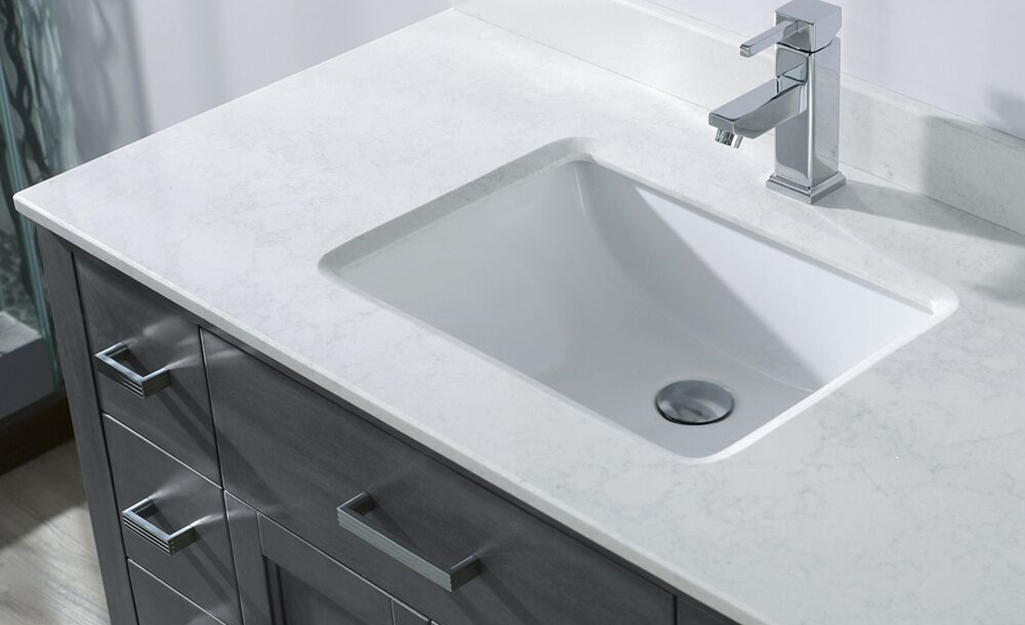 Solid surface vanity tops are made of synthetic particles and resins and molded into surfaces that resemble different types of stone. They work very well in main bathrooms that get a lot of use.
Water and stain resistant, easy to clean, easy to repair
Can be shaped into seamless countertops
Sinks can be integrated for a one-piece design
Consistent color and pattern allows pieces to be easily matched
Cost (relative to other countertop materials):
Tip: Heat tools can scorch the surface so use caution with hair and other grooming appliances.
Granite Bathroom Vanity Countertops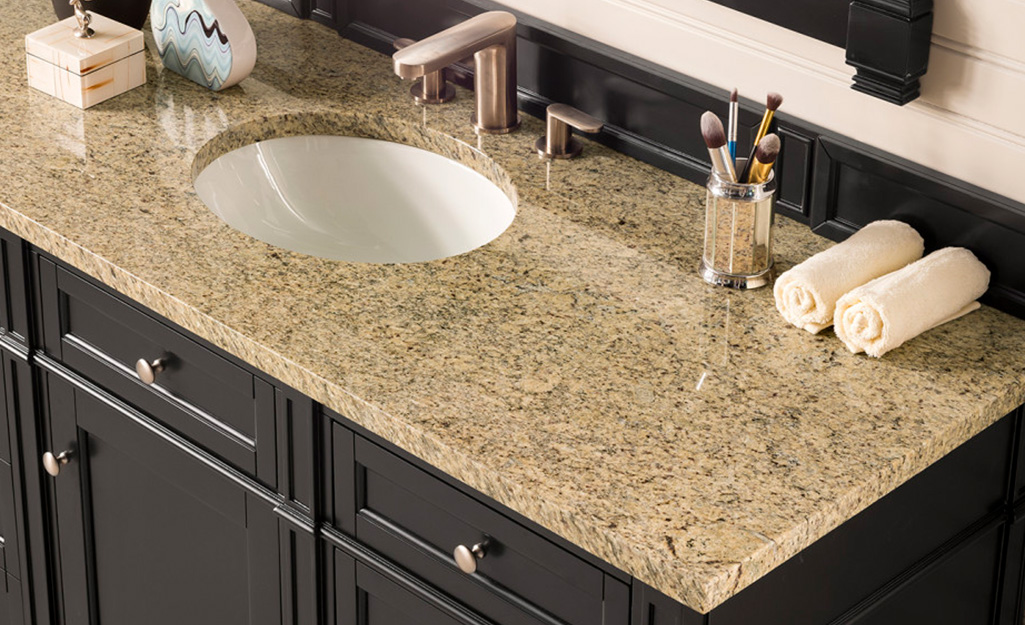 The most durable vanity top of the natural stone options, granite bathroom countertops are perfect for high-traffic powder rooms or master baths.
High-end designer look 
Superior durability 
Water and stain resistant, easy to clean 
Available ready to install with attached under mount sink (or order sink separately)
Cost (relative to other countertop materials):
Engineered Quartz Bathroom Vanity Countertops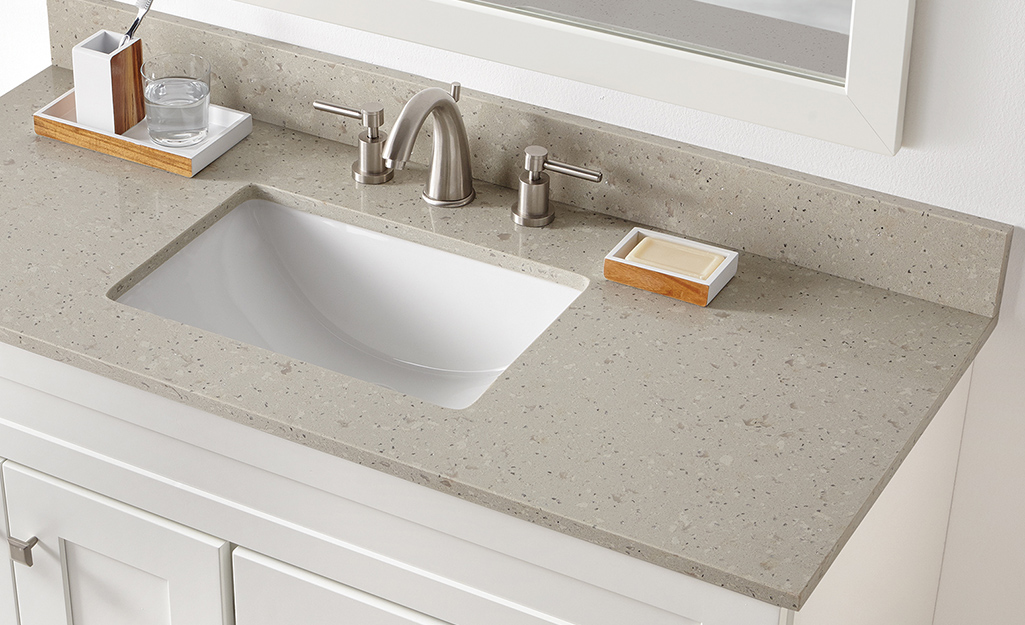 Engineered quartz vanity countertops are made from quartz crystals and resin. One of the best types of countertops for bathrooms in family homes, engineered quartz is non-porous and won't absorb liquids. 
High-end, natural stone look 
Available in a wide variety of colors 
Resistant to cuts and scratches
Water and stain resistant, easy to clean 
Able to withstand heat
Cost (relative to other countertop materials):
Marble Bathroom Vanity Countertops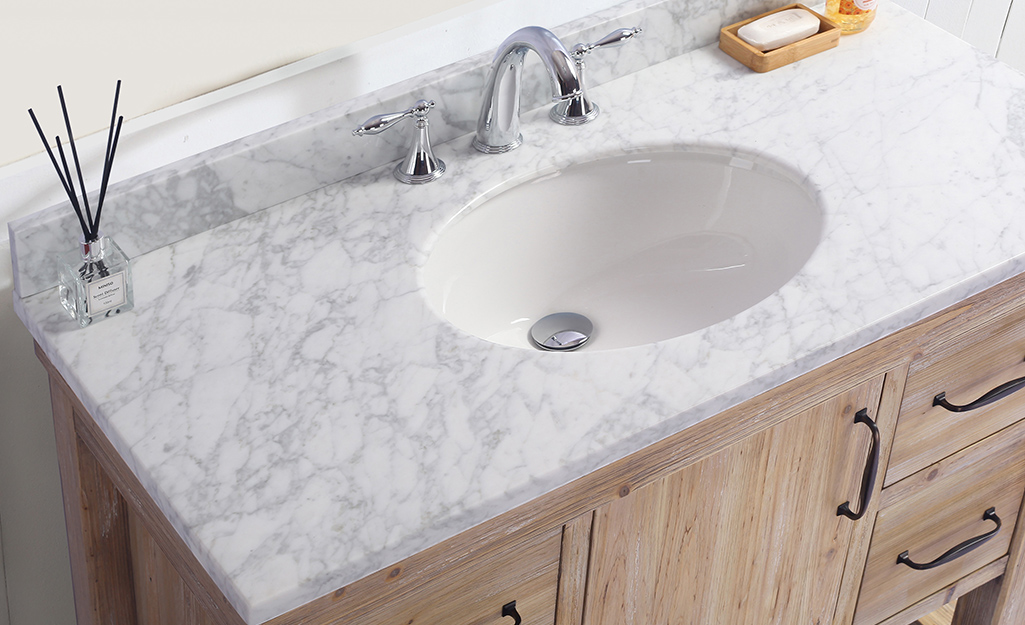 Marble bathroom countertops offer unmatched elegance and impart a regal look to any bathroom design style. 
High-end look in a range of colors 
Heat-resistant
Pattern matching can be difficult; shades vary from stone to stone
More porous than granite, susceptible to staining and can be easily scratched
Should be sealed annually
Cost (relative to other countertop materials):
Stone Effects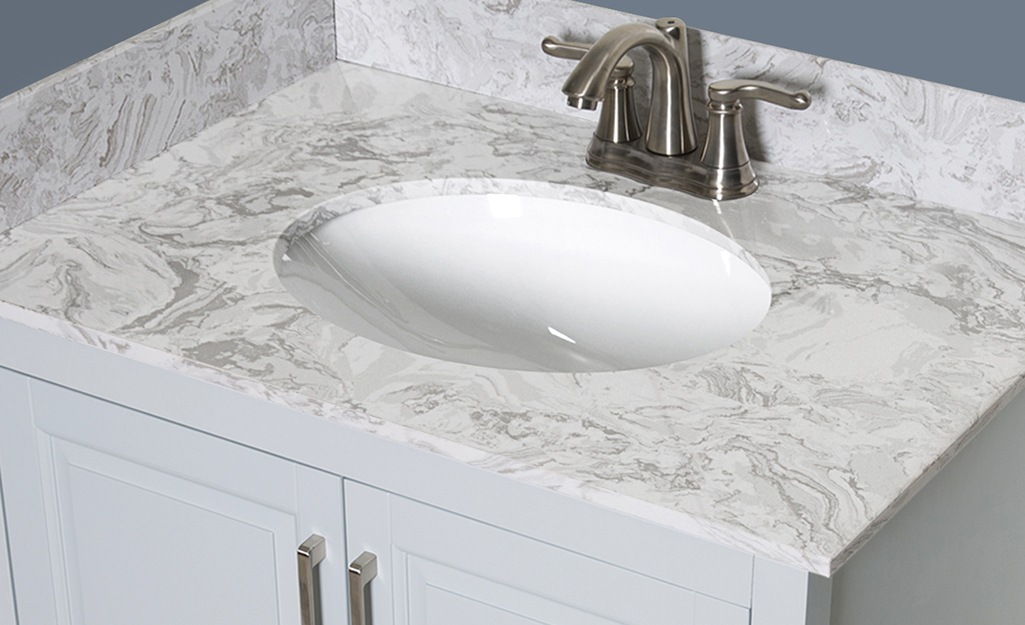 One of the most popular types of bathroom countertops, stone effects, or engineered stone, mimics the natural appeal of real stone patterns. 
Surface is bacteria, mold and mildew resistant.
Made of engineered stone, the material is also resilient against stains and scratches to help preserve its original appearance. 
Care and Maintenance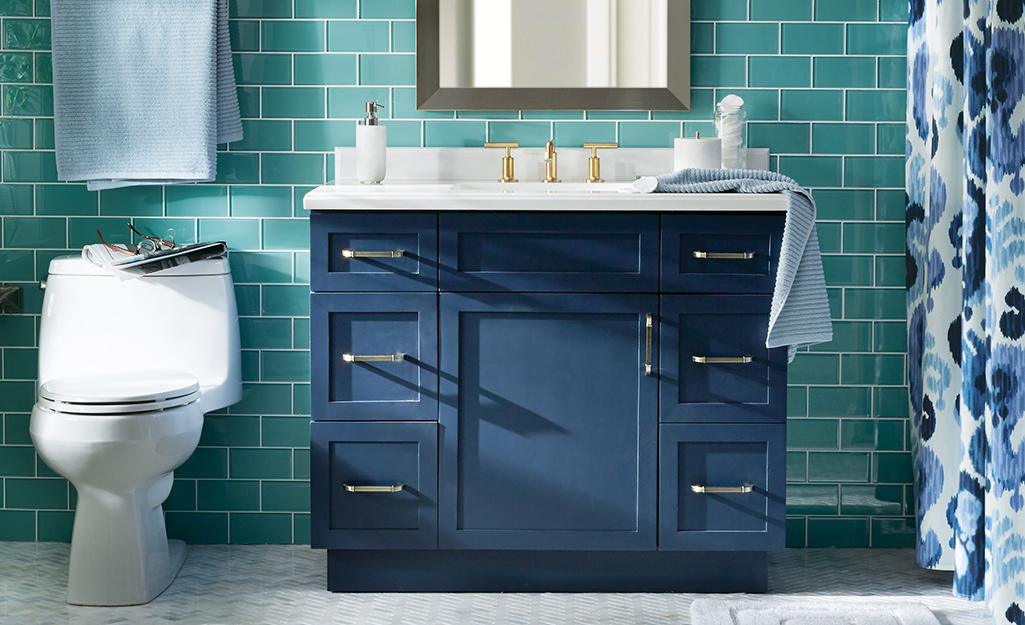 Once you've chosen the best countertop for your bathroom, you'll need to care for it to keep it looking like new. 

Different countertop materials have unique care needs. Most, if not all, require cleaning supplies that remove dirt and soap film without scratching or damaging the finish. You can clean most vanity tops with warm, soapy water or a neutral cleaning spray.
To clean stains off of engineered stone vanity tops, use denatured alcohol. 
Never use a scouring pad or brush on a natural stone or marble vanity top. 
Never use bleach or other harsh cleaners on a vanity top. 
Check your manufacturer's instructions for specifics on how to care for your countertop.
Tip: Certain premium surfaces are covered by a 15-year limited warranty.
Finding the best countertop material for your bathroom vanity is about understanding your lifestyle and budget. With a wide array of countertop options, plus bathroom installation services we're here to help you get your project finished. 
Explore More on homedepot.com