With so much to plan for and pack, moving can be time-consuming and stressful. Choosing the best boxes for moving can make the job of packing up every room in your house more organized and efficient. This guide will teach you which boxes are best for moving, from moving box sizes to the perfect amount for your move. 
Things to Consider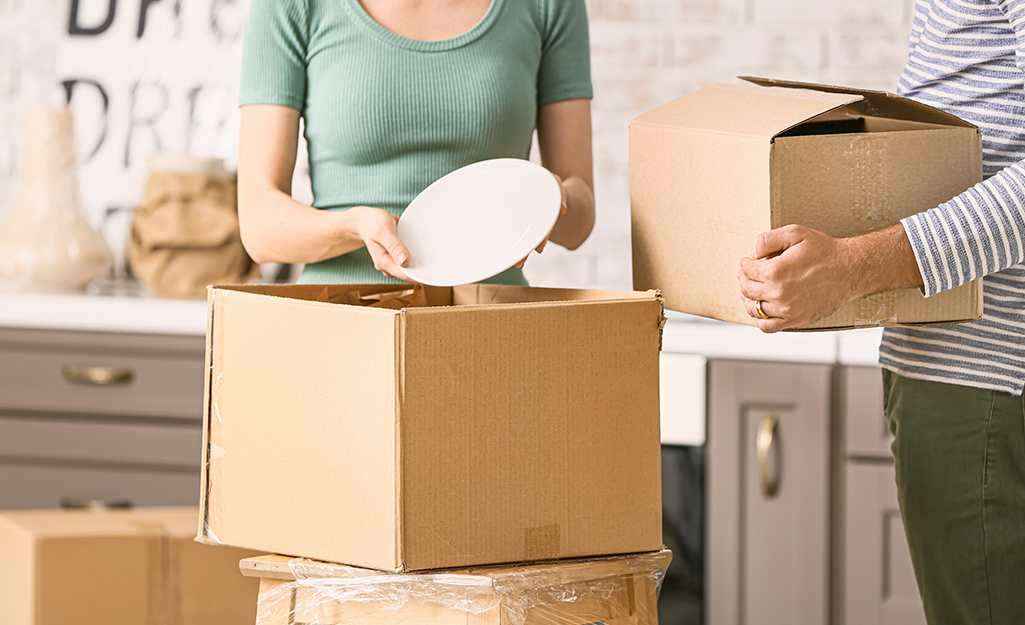 From the amount and type of rooms you're packing up to the cost of boxes, there are few things to consider when searching for moving boxes. 
A moving box that will work well for your clothing doesn't make much sense for packing dishes or kitchen appliances.
Be sure to pick moving boxes that are the right size and type for the room you're packing so your items remain protected in transit. For example, you don't want to use a large box in place of a TV box.
While you can opt for bins or other methods of packing, it's important to understand why corrugated brown cardboard boxes, aka moving boxes, are the most widely used for moving. Here are the main reasons they are often chosen:
Strength: There are two ways to measure how tough a corrugated box is: the Bursting Strengh Test, which measures in pounds the amount of force it would take to damage a box, and the Edge Crush Test, which determines the maximum pounds per load a box can take. A standard medium box will hold up to 65 pounds while a heavy duty box will hold up to 80 pounds. For heavier loads, use double-walled boxes, which can hold 80 to 120 lbs. The box will typically be marked with its capacity measurements.
Weight: While you want strong boxes, you don't want the boxes themselves to weight a lot, especially since movers will be charging you by the pound. Corrugated moving boxes are impact-resistant, but light enough to keep costs low when packed well.
Cost: An affordable option, moving boxes range between $1 to $17, depending on the size and type.
Versatile: Able to be shipped, if needed.
Eco-friendly: Our moving boxes are made from recycled materials and can be repurposed after being unpacked.
Where to find moving boxes: We offer a wide range of moving boxes.
Choosing the Right Size and Type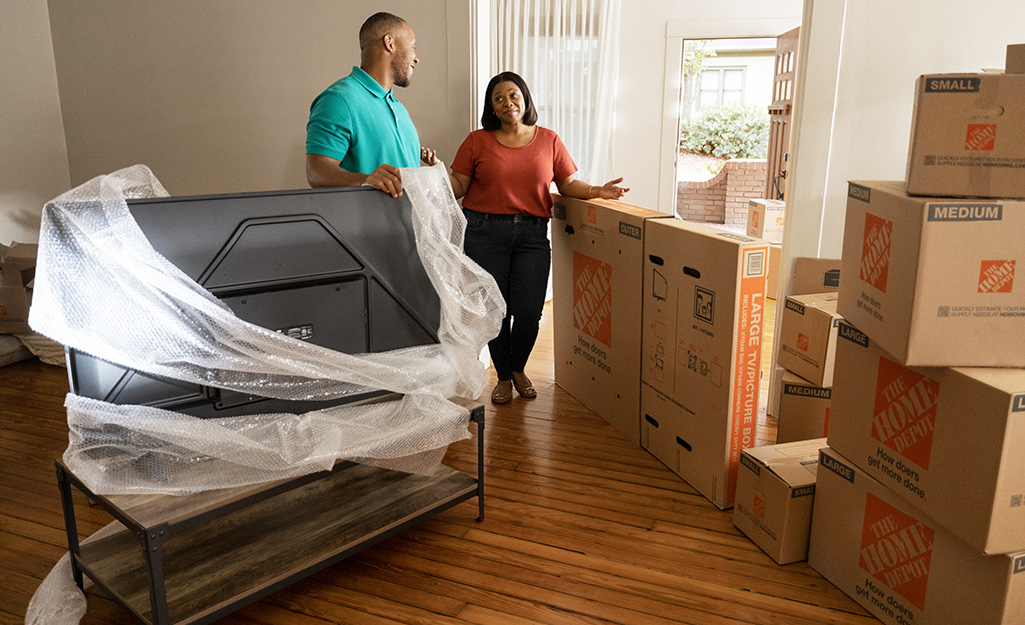 Once you've broken down the rooms in your house that require boxes, you will need to determine what size boxes you'll need. When it comes to moving box rules, always remember that the heavier items should be packed in smaller boxes, while lighter items, or things like pillows, clothes and blankets are better suited for larger boxes. Oftentimes, you will need more medium boxes than any other size. Let's take a look at box measurements. 
Extra small (15 x 12 x 10 inches): Ideal for collectibles, books and tools.
Small boxes (16 x 12 x 12 inches or 1.5 cubic feet): The best boxes for moving books, small boxes are also perfect for packing DVDs, magazines, collectibles, canned food, small appliances, glasses and dishes.
Medium boxes (18 x 18 x 15 inches, 22 x 16 x 15 inches or 3 cubic feet): The most common moving box, this size is good for office supplies, records, toys, small appliances, decor, photo albums and most household items.
Large boxes (18 x 18 x 24 inches or 4.5 cubic feet): Made for bulkier items such as comforters, pillows, linens, vases, large dishes, board games and more.
Extra large boxes (22 x 22 x 21.5 inches): Bulky items like large pillows, towels and blankets.
You may also need to consider specialty boxes:
Wardrobe boxes: A tall box made for hanging clothes, wardrobe boxes will keep your clothing from wrinkling during the move thanks to the handy hang bars. Can also fit shoes, pillows, purses and belts.
Dish boxes: For fragile dishes or those you don't want to pack in a small moving box, use dish packs. A packing carton made to protect breakable items, dish packs have an extra layer of corrugated cardboard.
TV boxes: TVs are fragile, so using a corrugated, heavy duty TV box is the best way to move a newer model. Be sure to wrap the TV with bubble wrap to ensure it doesnt move around during transport. Also sometimes used as mirror boxes or picture boxes, TV boxes often include a foam bag and corners for extra protection.
File boxes: Also called bankers boxes, this type is sturdy and made for transporting files, important documents, books and photos.
A great solution for any household, our moving box kits make moving easy. Depending on your household size and needs, you can buy compiled kits that include everything from moving boxes to packing tape, packing paper, bubble wrap and dish packs.
How Many Boxes Will You Need?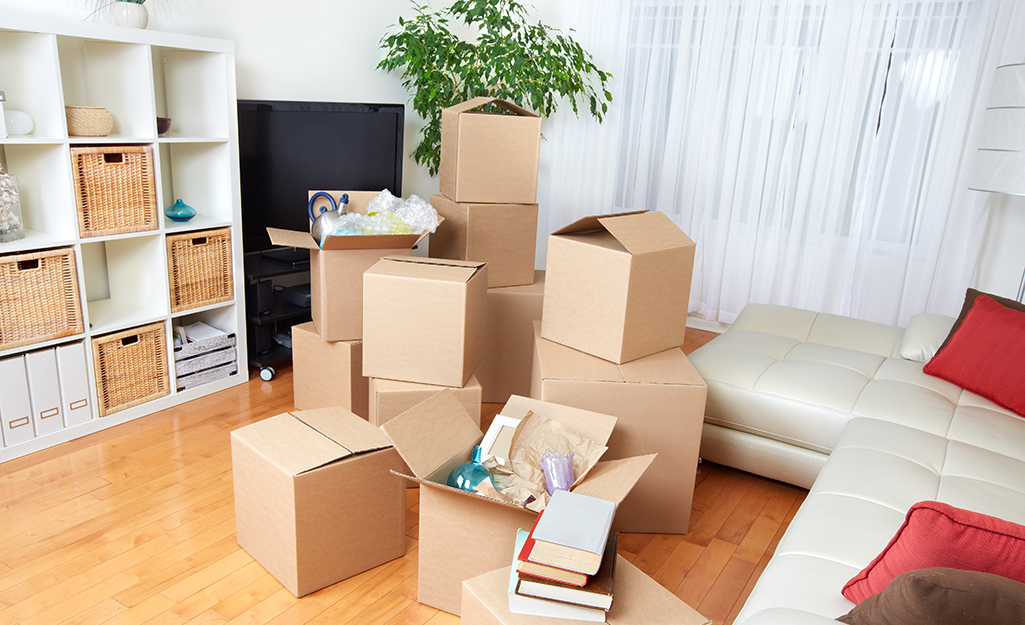 Now that you're familiar with the sizes and types of boxes, you're left wondering, how many boxes do I need to move? The truth is that it's always better to overestimate than to make multiple trips to the store. 
Use our moving calculator for a quick and easy way to estimate how many you likely need of each box type. Once you've calculated the amount of boxes, don't forget to purchase the rest of your important moving supplies like packing tape, stretch wrap and moving blankets. 
Using Plastic Bins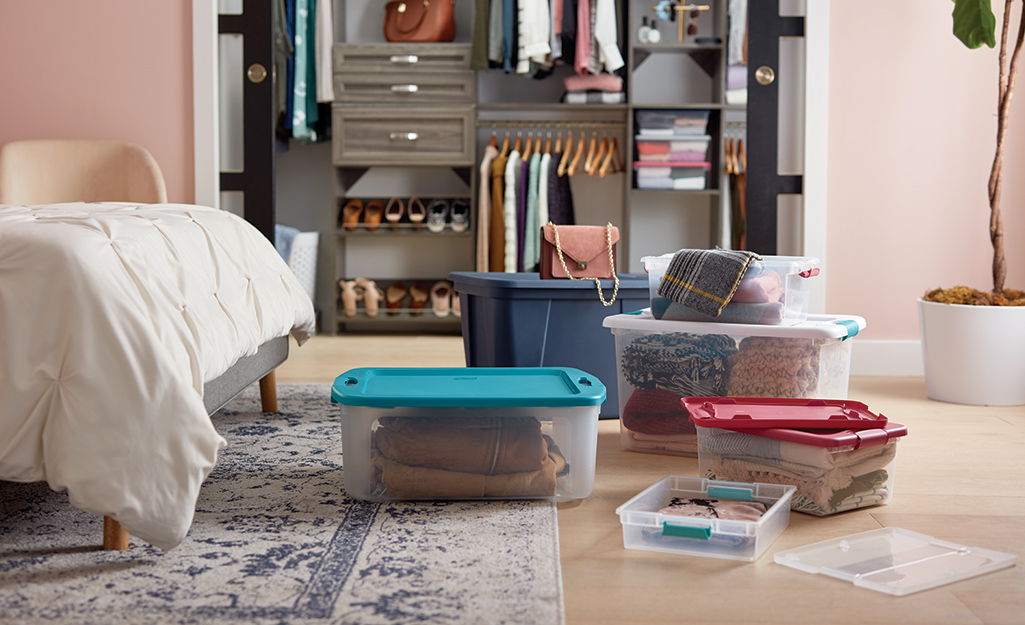 While cardboard moving boxes are the go-to, certain items may call for storage containers when packing up the house. Because they are waterproof, they may come in handy for household cleaning products and nail polish. However, there are other reasons to consider using plastic bins for some items. Use plastic bins to pack and store seasonal items, from decor to winter clothing that you won't be using for awhile, tools and even items you aren't ready to part with yet, such as baby clothing or toys. Plastic bins are also a great way to move kitchen utensils and spices. And since they're stackable, they're easy to store in closets or garages at your new home. 
Tip: Purchase clear bins so that you can see what items are inside.  
Moving Box Tips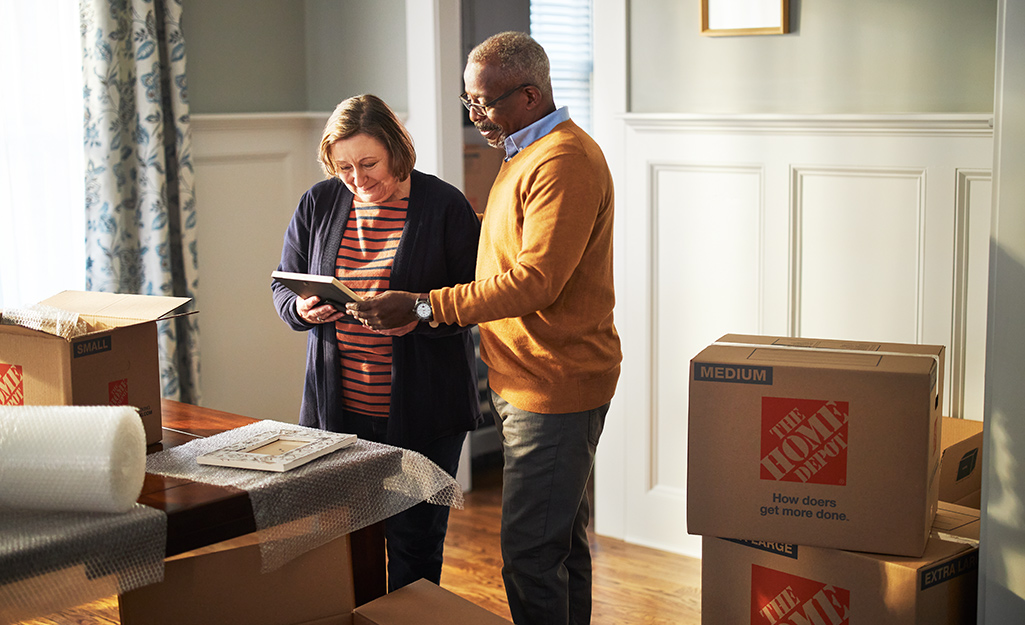 While no move is the same, there are a few basic tips that can make your experience a bit easier. 
Always put heavier items on the bottom of the box while keeping lighter items on top. Fill in any empty spaces in moving boxes with wadded up packing paper, towels or clothing. This will prevent items inside from moving. Additionally, movers will not move boxes that are half packed or loosely packed.
Make packing and unpacking easier by keeping all room items together and not mixing rooms in the same box.
Label every box with the room it's meant for and what's inside.
Choosing the best boxes for moving your home will make the process easier from start to finish. Whether you are moving by yourself or hiring professional movers, the right boxes make all the difference. Get all the sizes you need, from specialty wardrobe boxes to small packing boxes and everything in between. Ready to pack? The Home Depot delivers online orders when and where you need them. Plus, rent the equipment to move boxes or appliances and more, without the upfront investment, with our lifting equipment tool rental or moving truck rentals.
Explore More on homedepot.com